As an Amazon Associate, I earn from qualifying purchases. Read the full disclosure here.
A lighter recipe for classic ambrosia fruit salad.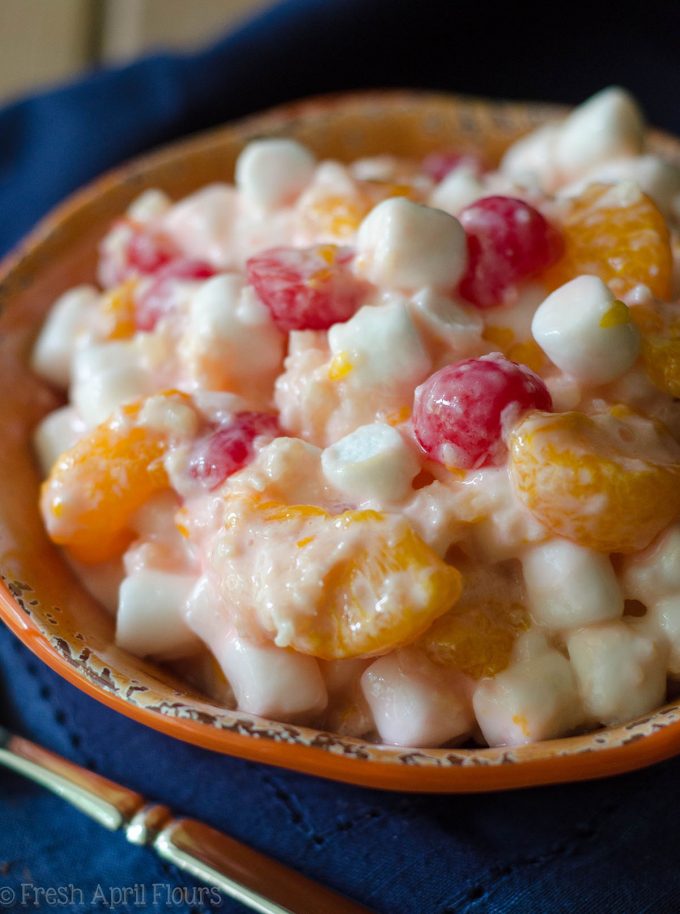 I have to thank Snapchat for reminding me to bring this post to the blog this week, because it notified me OH SO WONDERFULLY a couple days ago that there is only one month until the start of summer.
One. Month. ONE MONTH! How exciting is that?!
Alsooooo, this recipe is coming to you a year later than I had originally hoped.
Last April, I asked you all for recipe ideas for the summer, and then I had this baby thing happen, and I got to just a few of the recipes I was hoping to before he came and made our whole summer absolutely cray.
You can blame him! But don't really. He's real cute. And he's sorry.
When you think of summer, what do you think of? Besides the obvious (the pool, the ocean, the beach trips, the sunshine, the flip flops, the sun dresses…).
Do you think picnics?
BBQs?
Campfires?
Parties?
I think all of the above, because, duh, summer revolves around friends and gathering and enjoying each other's company outside as much as possible.
Don't you agree?
Before Matt and I got engaged, he was still in school and I was living in my own apartment in the town where we both went to college. We spent 4 summers at his parents' house on the weekends, because that's where the fun was.
Food, friends, siblings, a big back yard to play frisbee– it was great. And one thing that was always going down in that house was some sort of gathering.
Whether it be relatives or friends coming over for general merriment or just a "celebration" every weekend that all of the kids were together, there was always something to celebrate.
When I think of summers dating Matt, I have those fond memories of sitting in his parents' kitchen or on the back porch noshing on cheese, crackers, veggies, dips, and 97% of the time, ambrosia salad.
It's one of my MIL's signature dishes she brings to family parties, and I have to say, it's a favorite of mine. I never actually had it until I met Matt's family, so I spent 22 years of my life without ever having this wonderful concoction!
Now, there are about a billion different combinations for ambrosia salad, and this is just one of them. If you prefer your ambrosia a different way, by all means, continue doing that. This is my version.
A slightly healthier version that does not use shredded coconut or nuts.
Why? Just because. This is ambrosia á la Lynn.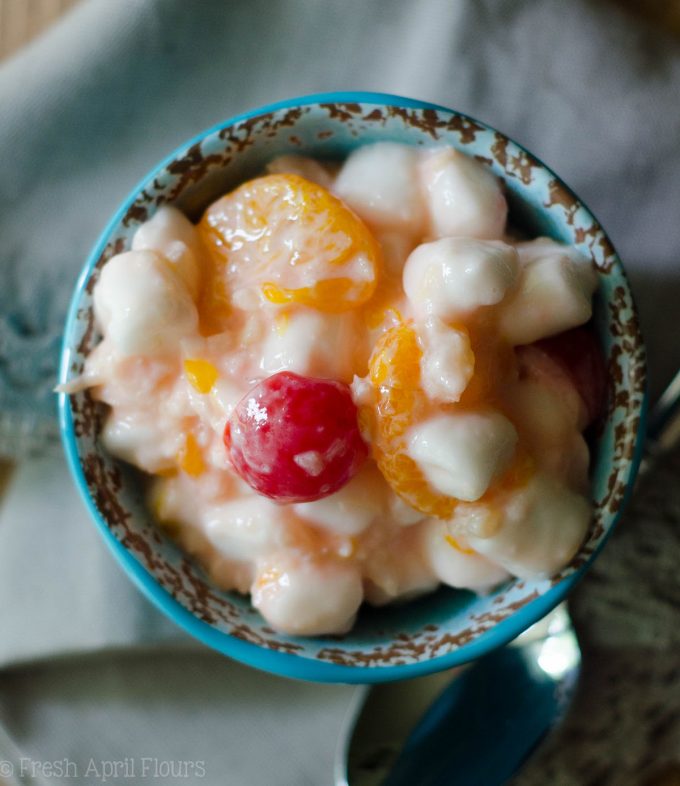 So what makes my ambrosia dessert healthier? A few things. First off, we're using mandarin oranges that have been canned in pear juice. Not heavy or light syrup, and not in any sort of artificial sweetener.
In fact, you're welcome to cut your own oranges here, but part of the idea here is easy lighter sides for summer.
But you do you!
Next up, crushed pineapple. I prefer crushed because it spreads the texture and the flavor of the pineapple all over the salad. I've had it with chunks, and I just like how the crushed works overall in this style of ambrosia.
Lastly for the fruit: maraschino cherries.
Again, go for the real deal and use bing cherries if you'd like, because maraschino cherries are one of the last things I would call "healthy," (especially when they're in cookies!) but hey– we're still going for easy here!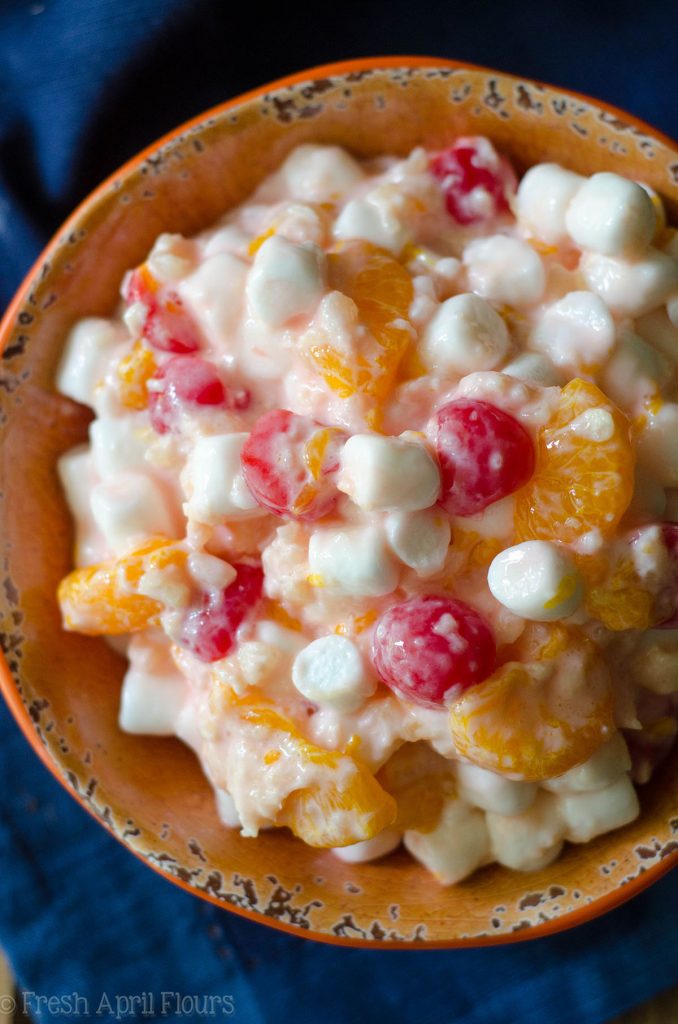 The last parts of this ambrosia salad are plain Greek yogurt and mini marshmallows. Many ambrosia recipes call for some sort of sweetened whipped topping (don't even get me started on ambrosia salad with Cool Whip *BARF*), sweetened shredded coconut, and/or vanilla or other flavored yogurt.
All of that is totally unnecessary sugar.
While we can't exactly do ambrosia without marshmallows, we can use plain Greek yogurt (OR sour cream) and allow the mixture to sit for at least 8 hours before serving it.
That "soaking" for the marshmallows does wonders for distributing that sweetness without having to add anything else.
Once your ambrosia dessert has "marinated" for 8 hours, it's ready to serve. It goes great at a cookout as a light dessert or a sweeter, more fun fruit option with the main course.
It's really appropriate wherever you see fit, because when it comes to summer, there aren't exactly rules when it comes to how you do yours.
If you've never had this sweet, creamy, texture-ful salad, you're totally missing out! Plus, if you've got leftover fruit that you think might go well with oranges, pineapple, and cherries, add 'em to the bunch and make your ambrosia á la you!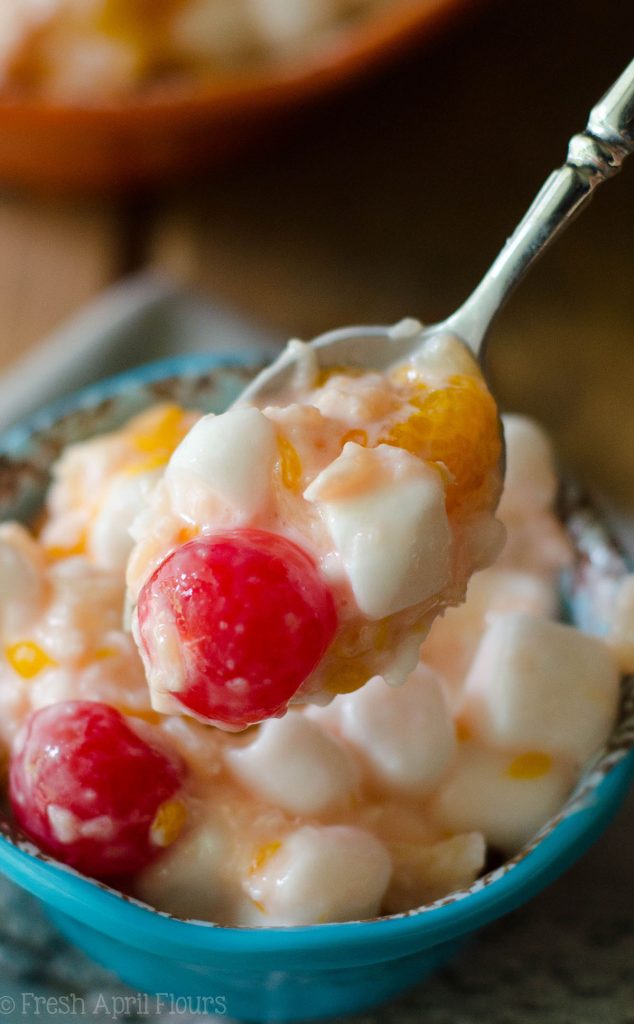 Strawberries, pears, peaches, raspberries… Remix it up because summer is all about the fun!
Healthier Ambrosia Salad
A lighter recipe for classic ambrosia fruit salad.
Ingredients
2-11

ounce

can mandarin oranges

drained*

1-20

ounce

can crushed pineapple

drained (as well as you can)

10

ounces

maraschino cherries

drained, stem removed, and halved (approximately 1 cup)

1

cup

plain Greek yogurt (or sour cream)

any fat content

10

ounces

mini marshmallows
Instructions
Place all of fruit and the yogurt into a large bowl. Stir to combine.

Add the mini marshmallows and stir to distribute evenly. Cover bowl and chill in the refrigerator at least 8 hours. Stir again before serving. Store in a covered or sealed container in the refrigerator up to 5 days.
Notes
*To keep this recipe on the healthier side, go for mandarin oranges in pear juice as opposed to any sort of syrup or artificial sweetener.
Nutrition Disclosure
All nutritional values are approximate and provided to the reader as a courtesy. Changing ingredients and/or quantities will alter the estimated nutritional calculations.