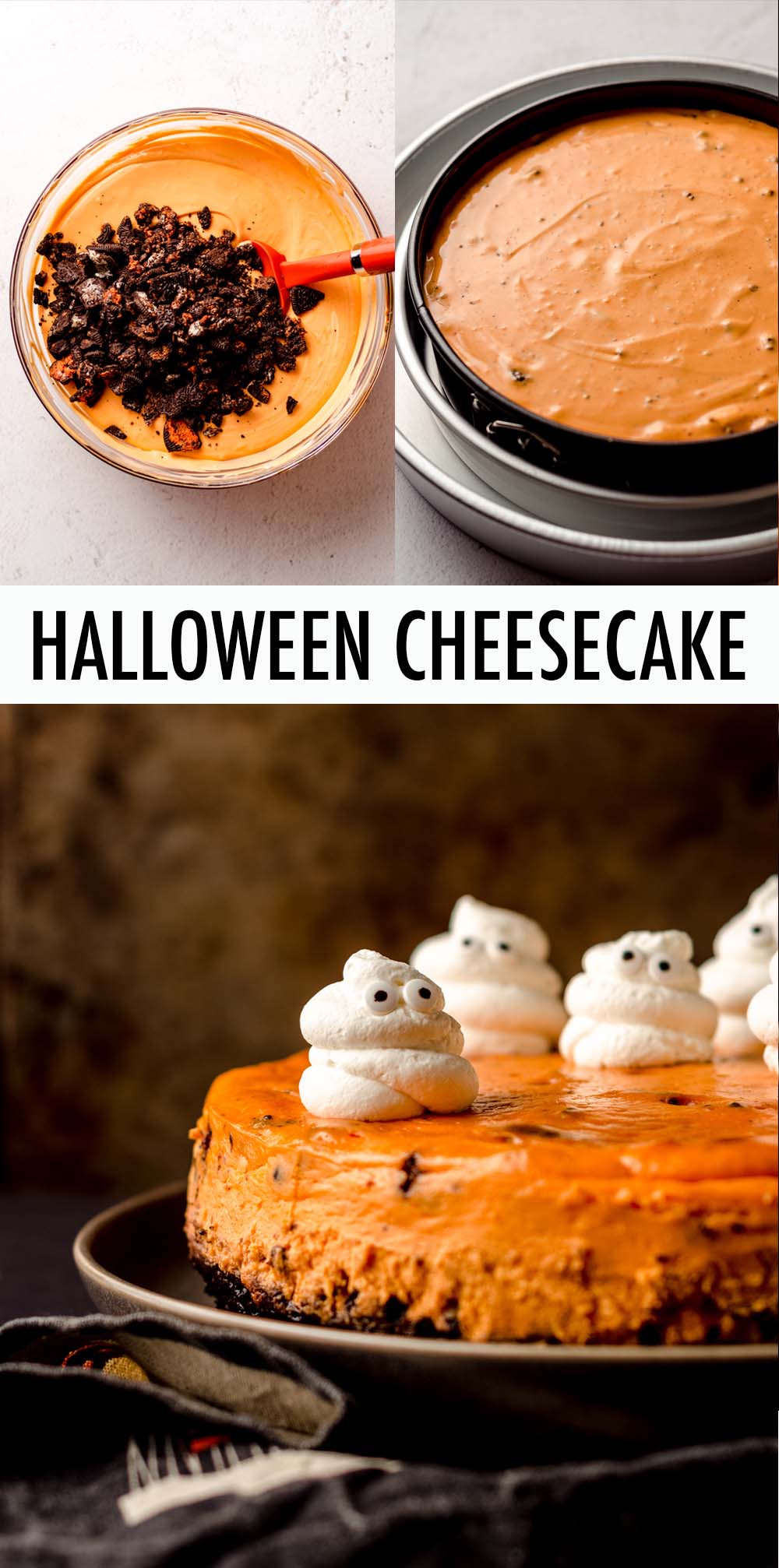 As an Amazon Associate, I earn from qualifying purchases. Read the full disclosure here.
A basic cookies and cream cheesecake tinted orange and filled with chunks of Halloween Oreos, sitting atop a Halloween Oreo crust. Top with adorable whipped cream ghosts for a spooky treat, or use classic Oreos and leave out the orange coloring for a luscious cheesecake variation all year round!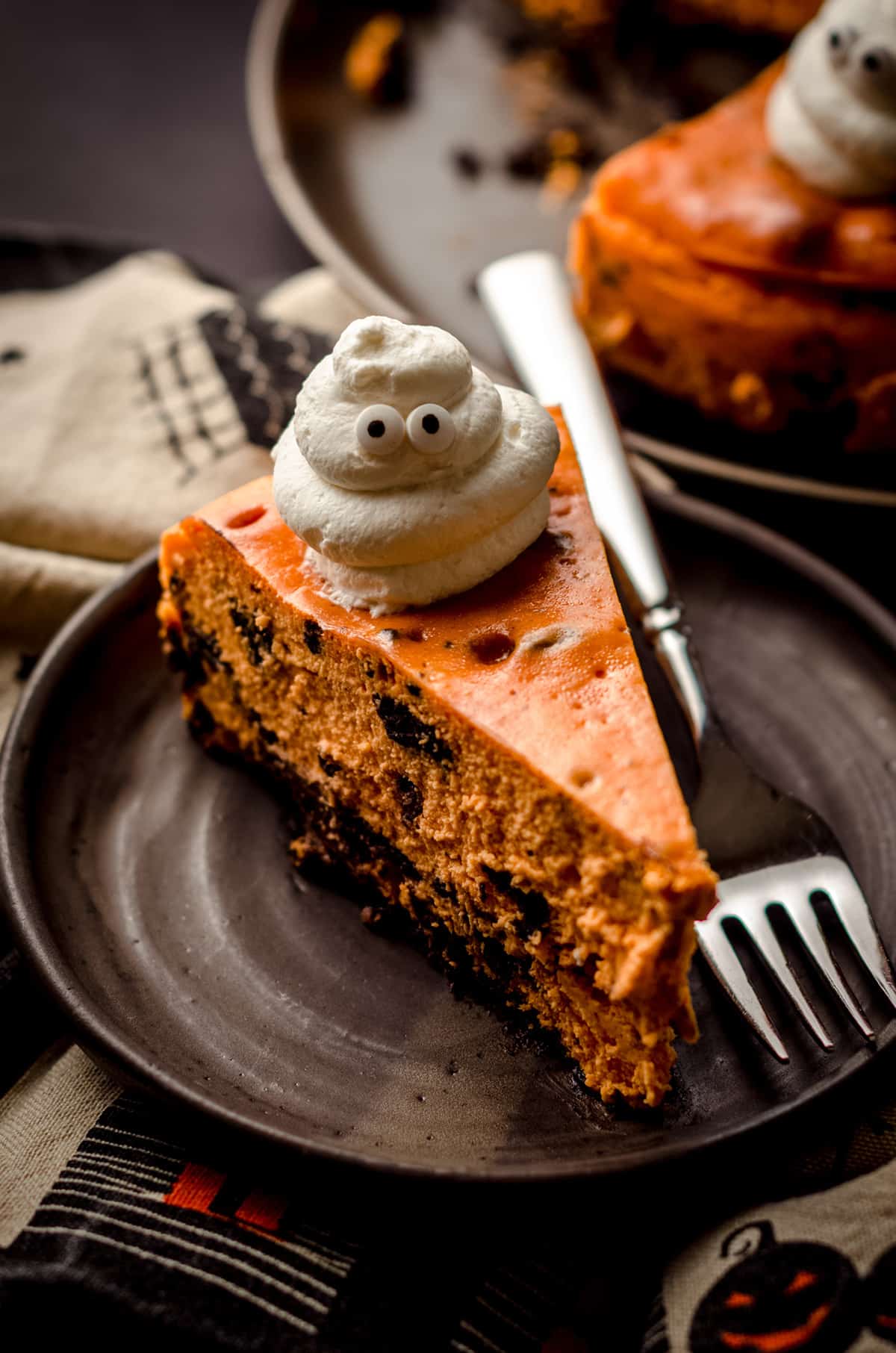 Welcome to the 4th annual #HalloweenTreatsWeek! This is a yearly Halloween blogging event that is hosted by Angie from Big Bear's Wife. It's a creepy and haunting week-long event filled with some amazingly wicked Halloween treats, recipes, and some frightfully fun giveaways.
It's that time of year when we take regular bakes and turn them spooky, and I am here.for.it!
Like brownies turned mummies, traditionally red cakes turned black, pretzel rods turned witchy, and classic cut-out sugar cookies turned pumpkin spice style and into ghost shapes, so does one of my favs (cheesecake) need a spooky makeover for Halloween this year, and I think you're going to love this one.
If you've been a regular reader of mine for any amount of time, you might know that earlier this year, I conquered my "fear" of baking a cheesecake, and have since added a cinnamon roll cheesecake as well as a peach cheesecake to my recipe collection, and I'm not stopping any time soon with the cheesecake recipes!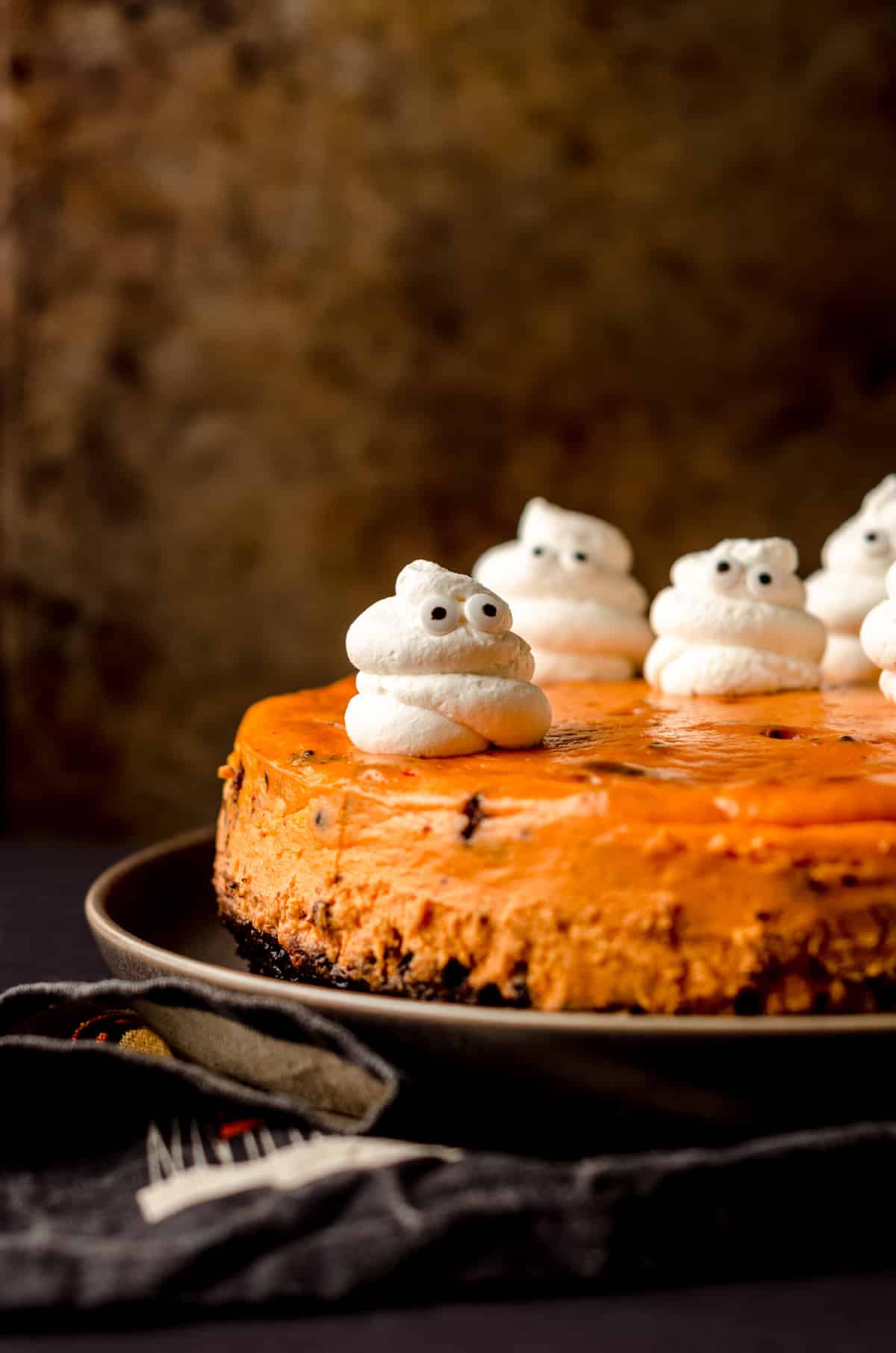 I knew that come fall, I had to add a Halloween cheesecake to my recipe collection, and I knew that a cookies and cream cheesecake would be a great way to combine two of my favorites: funfetti cheesecake and no bake Oreo pie.
And, of course, no orange colored Halloween dessert is complete without some whipped cream ghosts, right?
But we'll get to that. First, let's talk cheesecake.
WHAT IS IN CHEESECAKE?
Cheesecake, while not exactly a cake of cheese in the traditional sense, is a rich dessert cake typically baked on a graham cracker or cookie crust. It is made mostly of cream cheese, thickened with other dairy ingredients like sour cream/yogurt and heavy whipping cream, sweetened with sugar, and made stable with eggs and egg yolks.
Classic cheesecake is typically topped with a basic fruit sauce or curd (like peach curd) or eaten plain, but of course, it's always fun to jazz up the inside of classic desserts, especially when that jazziness is brought to you by chopped Oreos.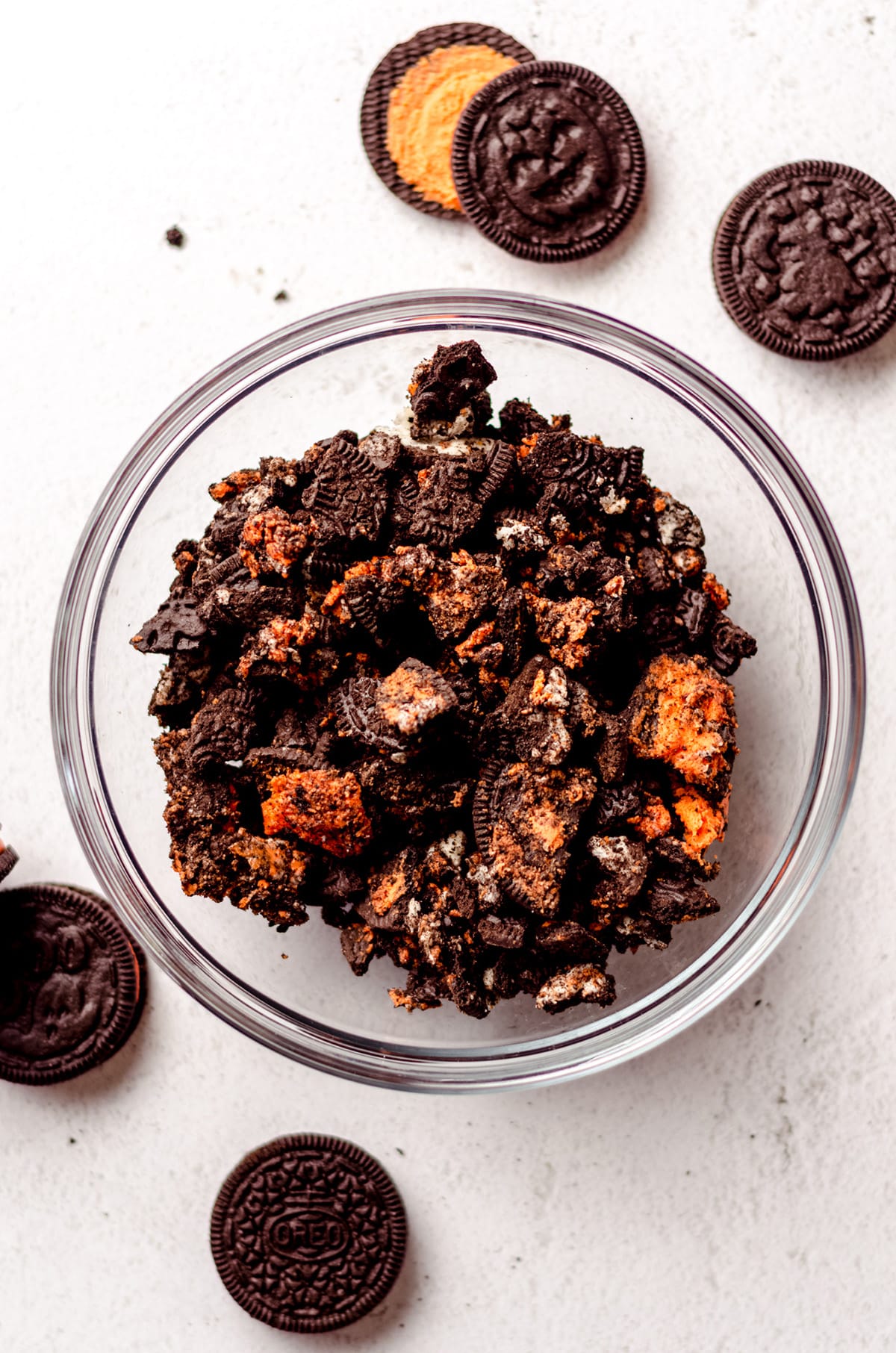 In reality, if you wanted to, you could leave out the Oreos and the orange food coloring from this Halloween cookies and cream cheesecake recipe and be left with a gorgeous classic cheesecake. Or you could just leave out the coloring and a cookies and cream cheesecake awaits your plate and fork (I hope you try all of the above!).
USE ROOM TEMPERATURE INGREDIENTS
In almost all of my cake and cookie recipes, I ask you to prepare your ingredients at room temperature, but with cheesecake, it's even more imperative that you follow this instruction to insure your cheesecake batter is as smooth as can be.
For this Halloween cheesecake, I sliced all 4 of my blocks of cream cheese into 16 squares, put them in a large bowl, and let all of that sit at room temperature for 2 hours.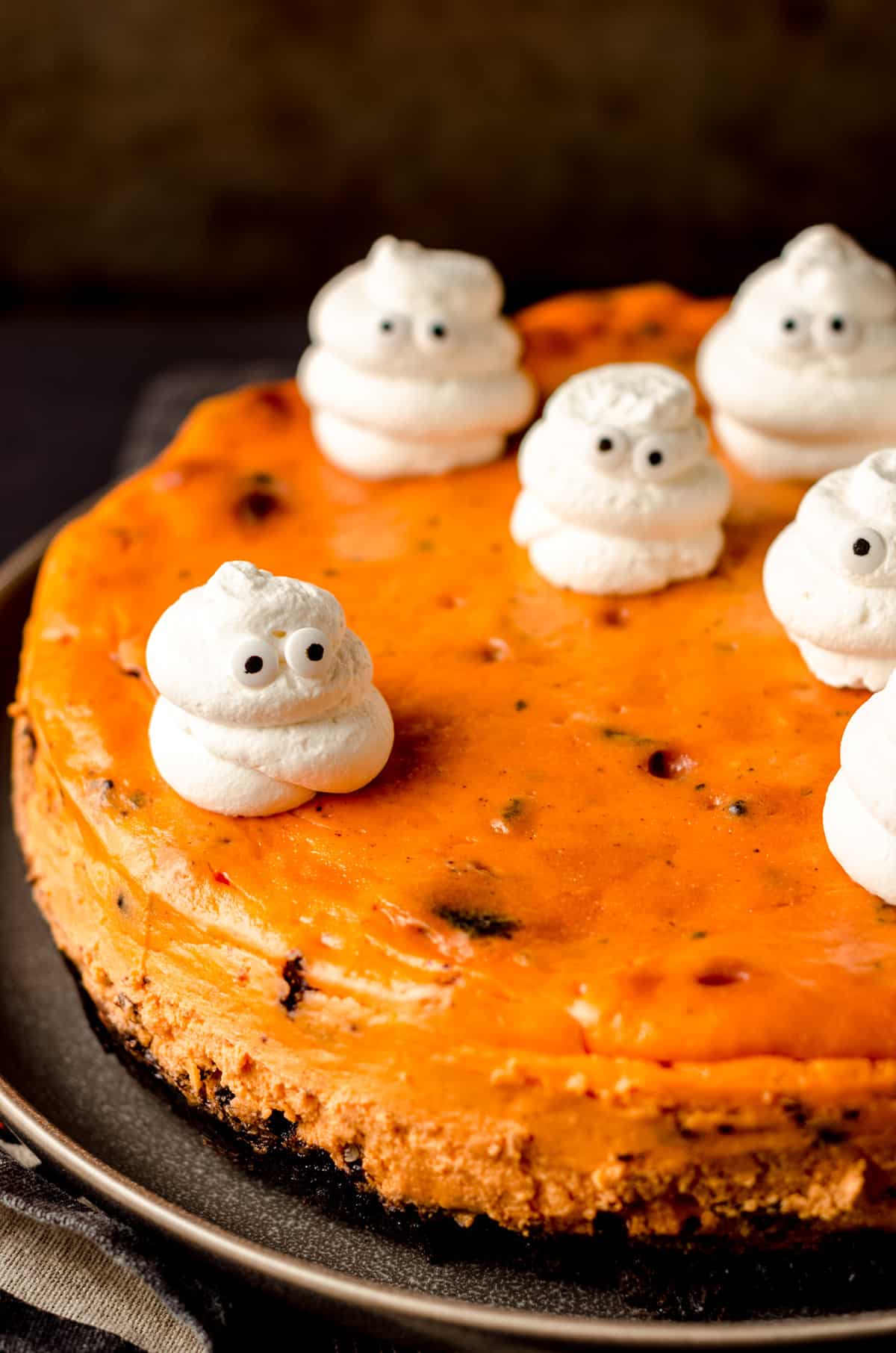 If you're pressed for time, you can let the cubed cream cheese sit in a warm oven or microwave, just be sure not to melt the cream cheese, because that's too soft.
Other ingredients will be at room temperature in more like 45 to 60 minutes. But definitely don't skip this step, or you'll wind up with a lumpy cheesecake.
So let's talk about how all of those ingredients get to their final presentation.
USE A SPRINGFORM PAN
You'll be using a 9″ springform pan to bake your cheesecake, which is what I like to use when I make any of my cookie cakes. What a springform pan does is allows you to bake something and then remove the outer ring, leaving the cake/cookie cake/cheesecake/whatever it is on a platform.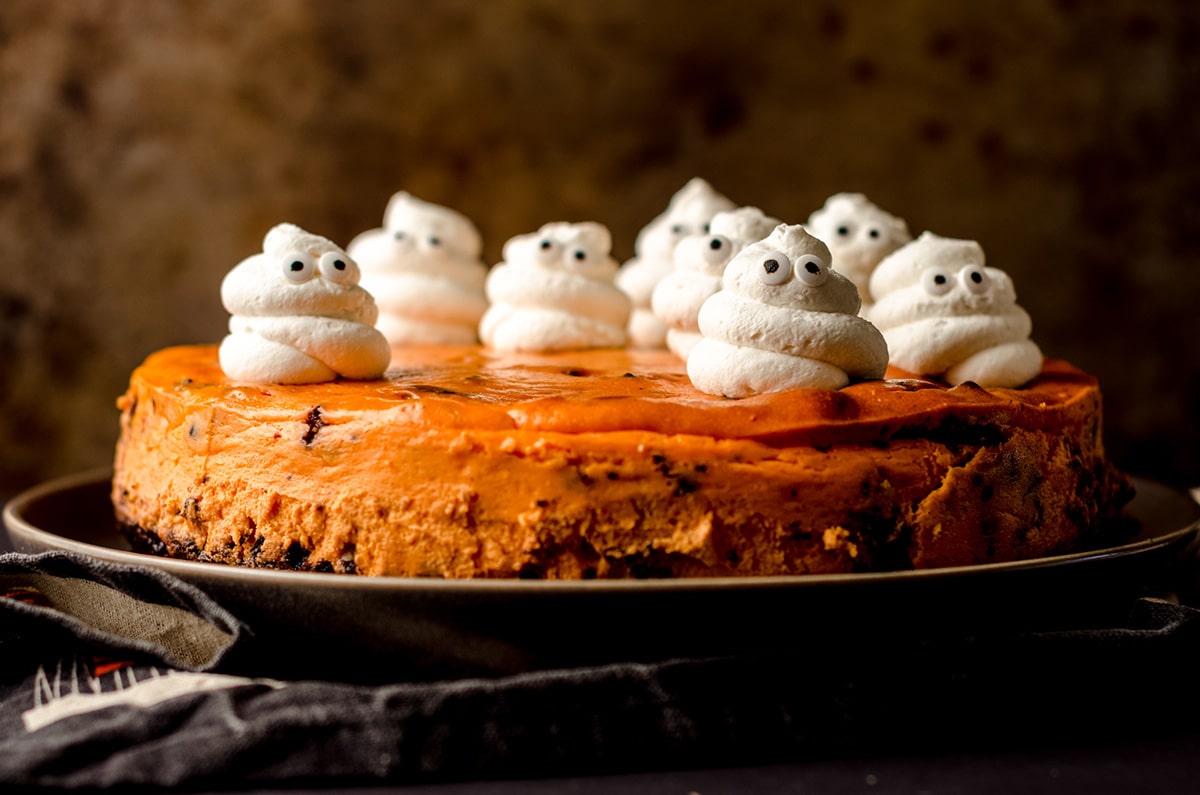 The springform pan makes for easier removal of delicate cakes and tortes and other cakes with loose toppings. Though you can bake a cheesecake without a springform pan, know that you'll be digging into your cake pan to remove slices and they will absolutely lose their shape (but of course, still taste perfect!).
MAKE AN EASY OREO CRUST
This Oreo crust is nothing fancy. Just crushed Oreos and some melted butter.
Since this is a Halloween cheesecake after all, I did use the Halloween Oreos. Classic work just fine, and I actually did use about half Halloween and half regular for this particular cheesecake, so whatever you have on hand or can find works great.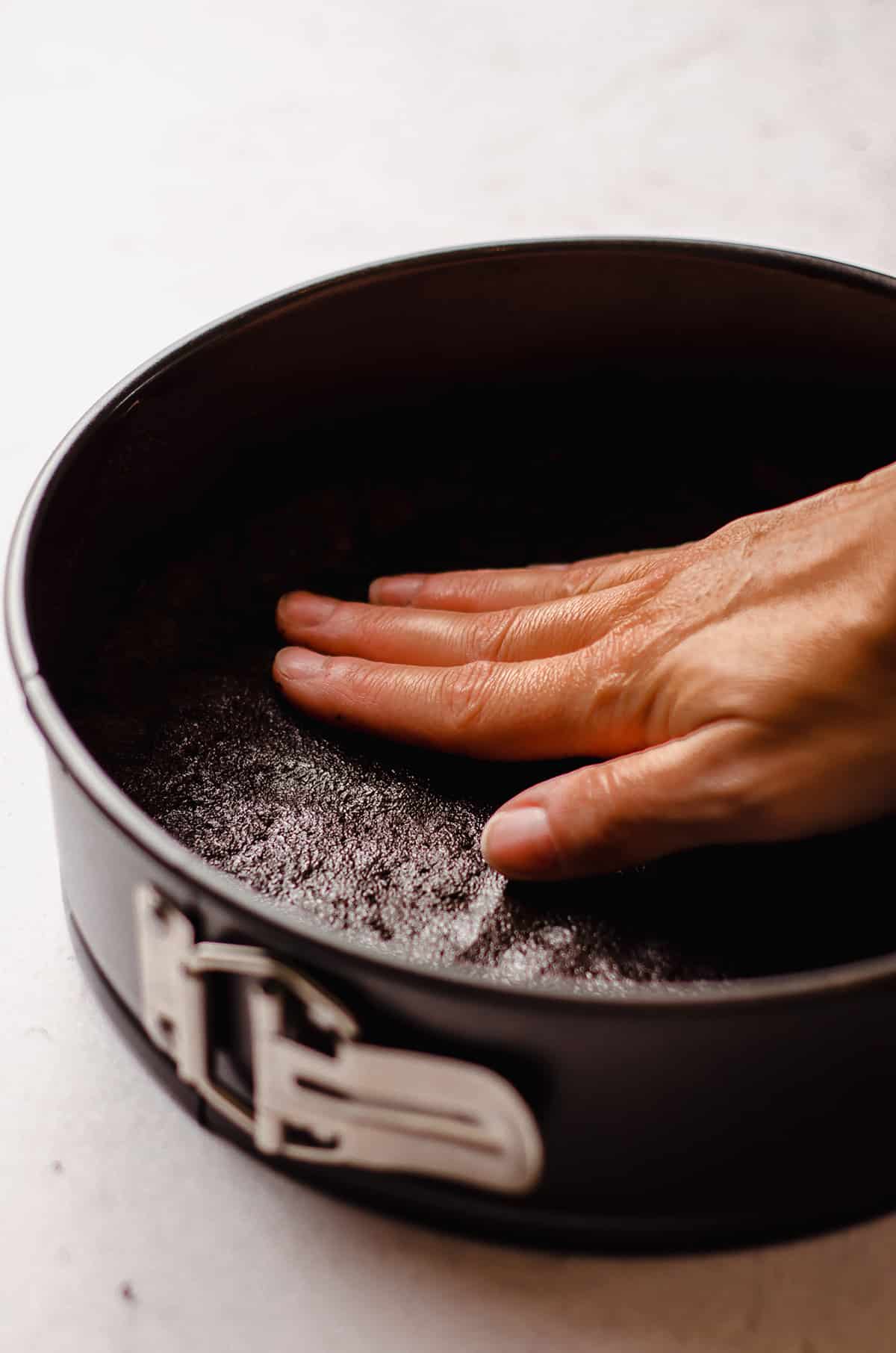 Press this Oreo and butter mixture into the springform pan and up the sides just a bit. This does not have to be perfect. Just make sure the whole bottom of the springform pan is covered in Oreo crust before moving up the sides. The bottom is the most important part!
MAKE AN EASY WATER BATH WITHOUT FOIL
The water bath seems to be the most intimidating part of baking a cheesecake, but it's actually crucial in creating that beautiful smooth top, even the whole way across, and without cracks.
And I promise a proper water bath is nothing complicated.
What you'll do is place the springform pan (this recipe calls for a 9″ springform pan) inside a slightly larger round pan (I used a 10″ cake pan), and then put both of those into a larger cake pan (I used a 12″ cake pan) or roasting pan that you'll fill with water (here is a bundle that includes all the pans!).
Sound confusing? It's not. Here's a visual.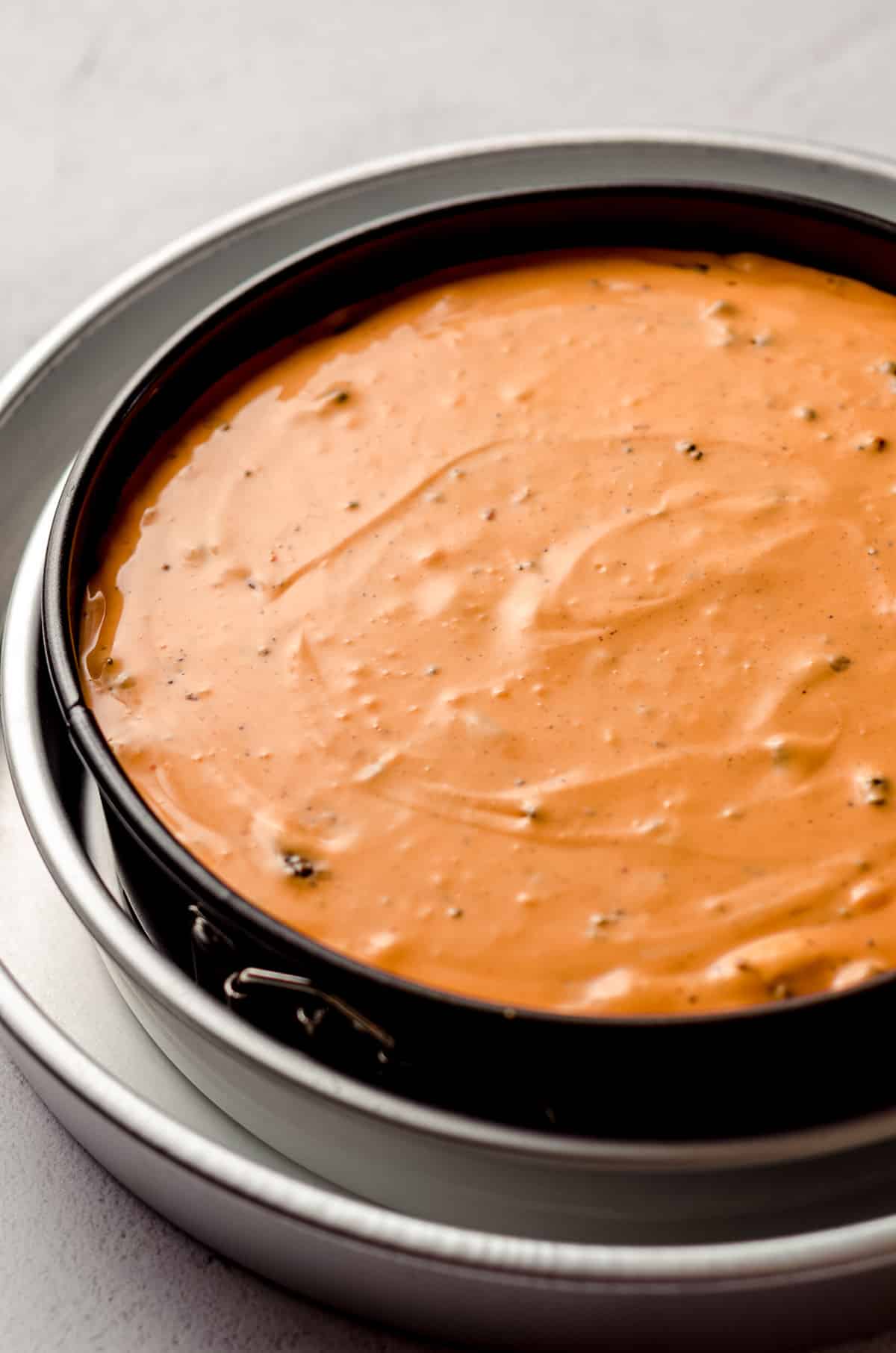 If you don't use that second slightly larger pan, you'll need to wrap the entire springform pan in foil really well to insure no water gets into the cheesecake. The foil wrapped springform pan would then go directly into that pan of water.
WHAT IS THE PURPOSE OF A WATER BATH?
Cheesecake uses a humid environment to rise evenly. The steam from the hot water lifts the cheesecake up slowly and evenly, which not only reduces the risk of cracks on the surface, but also allows it to continue standing tall after it cools, rather than sinking back down and creating a welled center.
Don't skip that water bath!!
You'll bake this Halloween cookies and cream cheesecake for quite awhile– about an hour and a half. Though I did start checking mine around 1 hour and 10 minutes.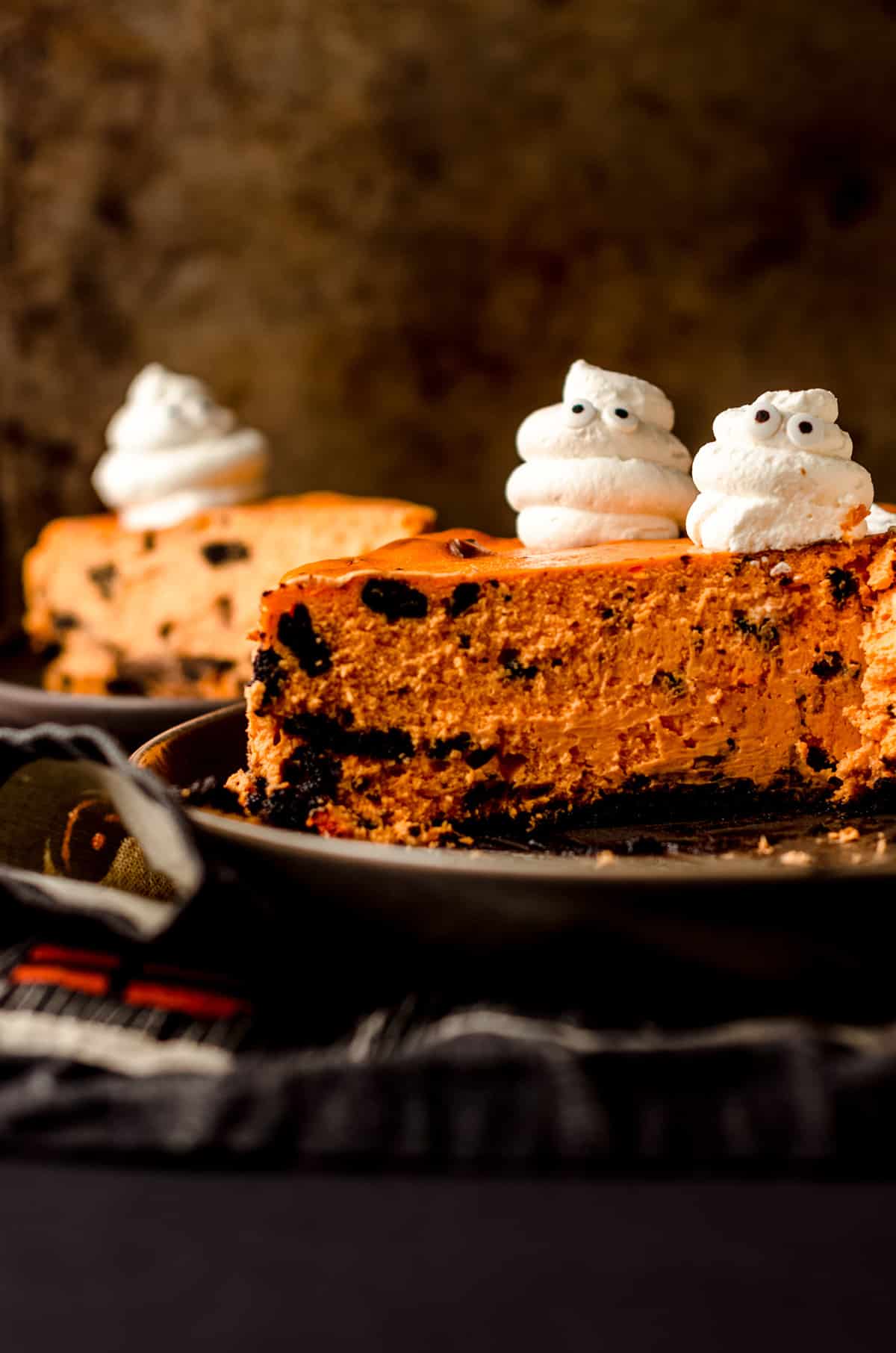 HOW DO I KNOW MY CHEESECAKE IS DONE?
You'll want to look for two things to check for doneness of your cheesecake.
First: visual– gently wiggle the outer/roasting pan. A finished cheesecake will jiggle just a little bit (you're looking for a couple inch radius in just the center of the cheesecake to jiggle, not the entire top).
Second: internal temperature– you'll want an internal temperature of 145ºF (63ºC), which you can test with a digital instant read thermometer. Just know that if you're inserting it in the center, there will be a hole. You can, of course, cover this with something if you prefer.
ALLOW THE CHEESECAKE TO COOL IN THE OVEN
After you're sure that the cheesecake is done, it needs to slowly cool down for 1 hour. I like to prop the oven door open with a wooden spoon or spatula for this step.
Once the cheesecake has cooled for 1 hour, remove the springform pan from the inner pan and allow the cheesecake to continue cooling on a cooling rack on the counter for about 2 hours. Then, chill it in the refrigerator at minimum 6 hours, or at best, overnight.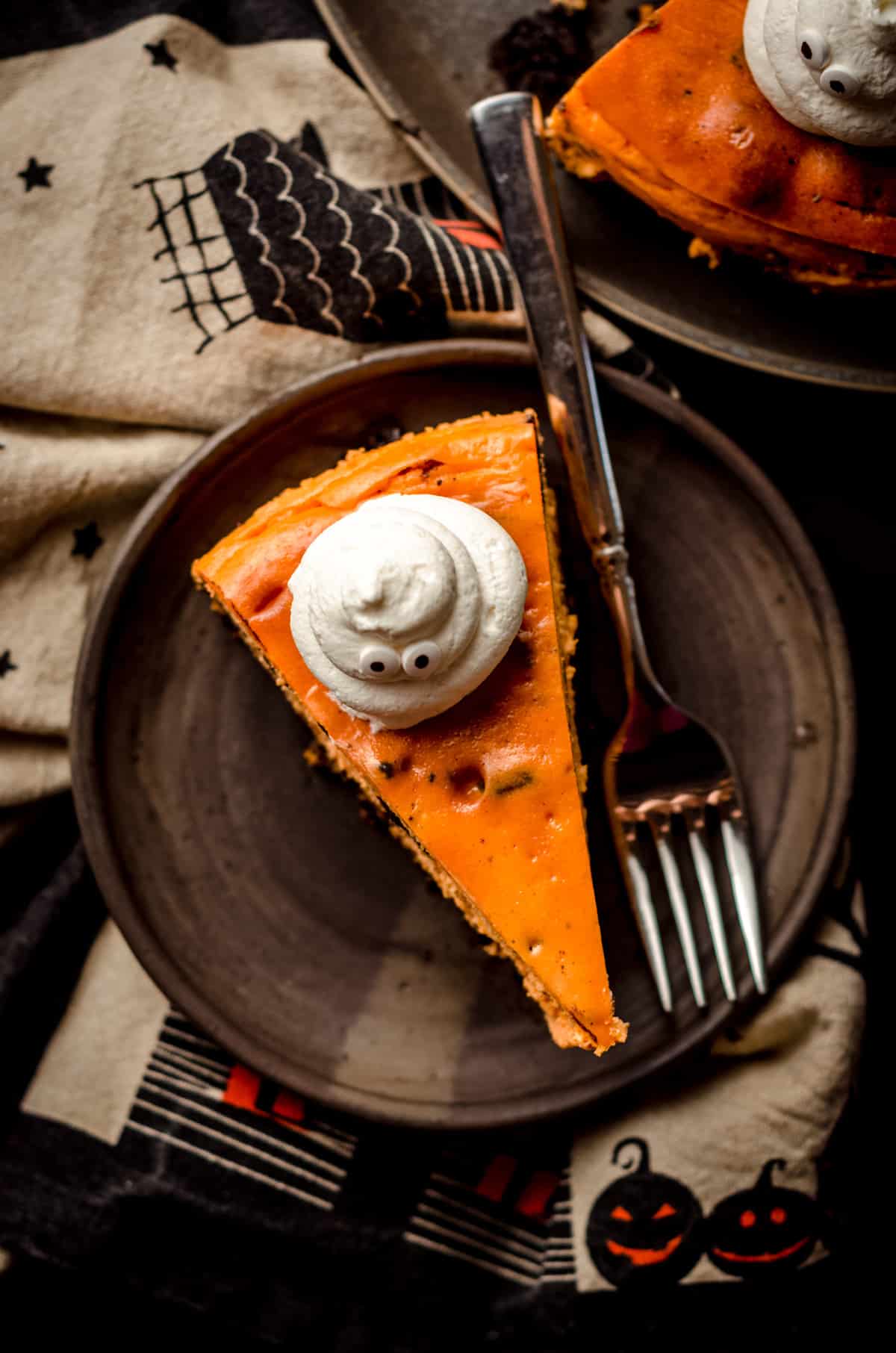 SLOWLY COOLING CHEESECAKE PREVENTS CRACKS
If we just let the cheesecake cool quickly, it is likely to crack and/or sink down into itself. While a cracked or sunken cheesecake tastes perfectly fine, it's not as visually appealing. And if we can prevent cracks and sinking by just being patient, let's do it.
HOW TO REMOVE THE CHEESECAKE FROM THE SPRINGFORM PAN
Run a small spatula or butter knife around the edge of the rim of the springform pan to release the cheesecake from the pan. The outer ring should easily pop off and leave you with a beautiful cheesecake on the bottom platform of the springform pan.
You can leave the cheesecake on the platform or remove it.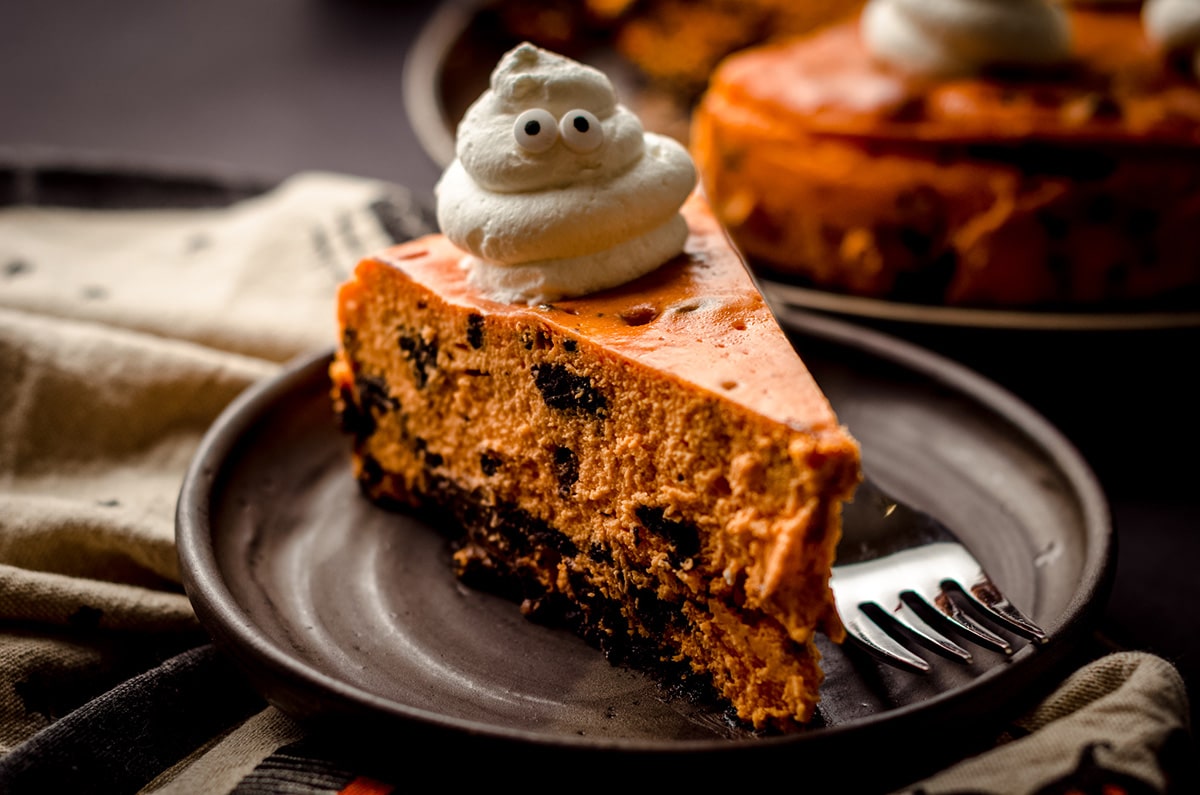 To remove the cheesecake from the platform: run that same spatula or knife under the cheesecake to separate it from the platform, then use two large spatulas to carefully lift it up and onto a serving plate.
TOP WITH WHIPPED CREAM GHOSTS
This is, of course, a completely optional step, but when I thought about Halloween cheesecake ideas, all of them ended with some adorable whipped cream ghosts. I mean… I had to, right?
My recipe for homemade whipped cream is super simple, and I use it so much I can do it with my eyes closed. If you need a recipe for that, go ahead and visit that recipe post. I walk you through step by step with pictures and everything, and it's so much easier than you think.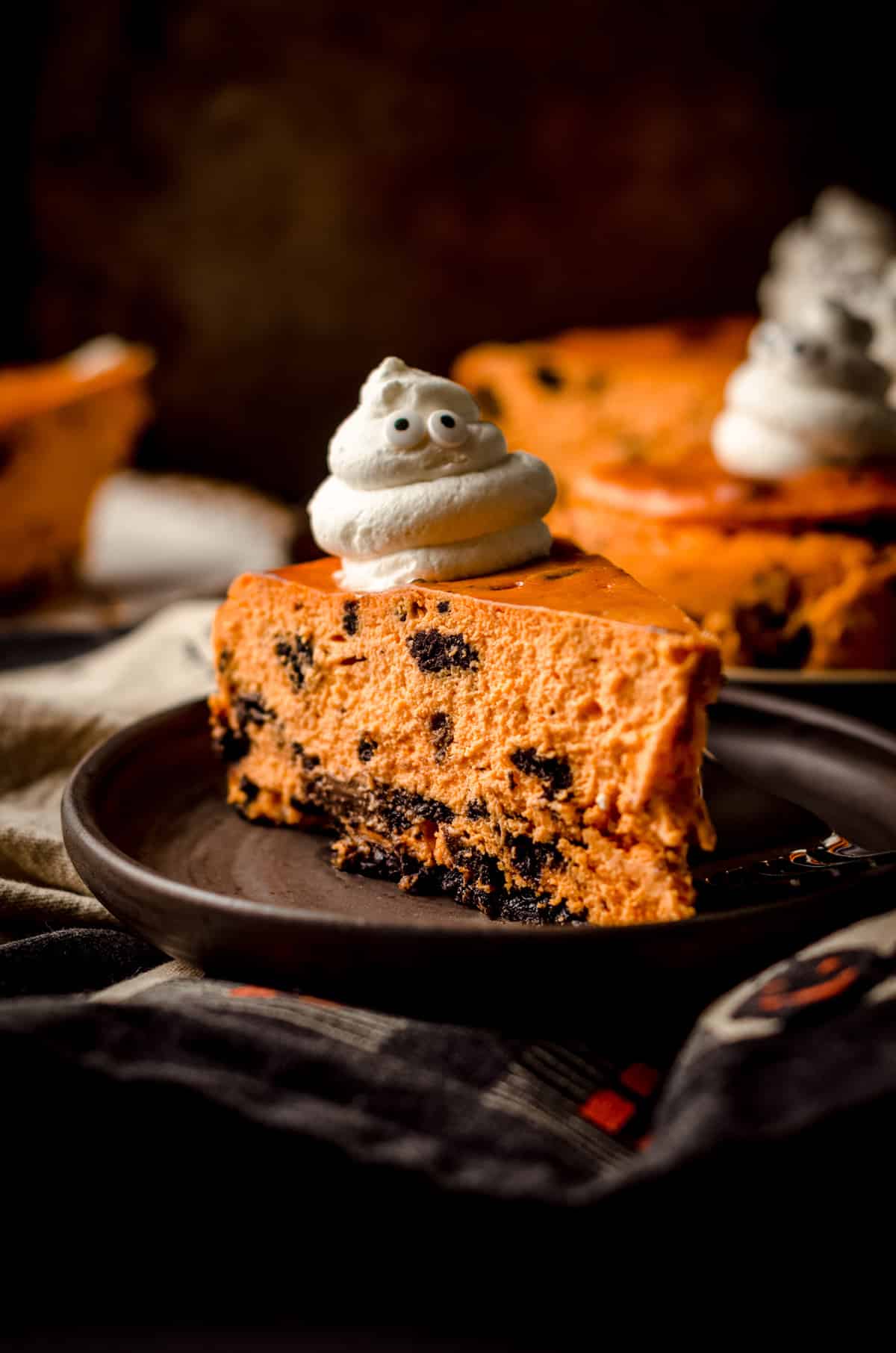 Feel free to top this Halloween cheesecake with more Oreos (it is technically a cookies and cream cheesecake, after all), a graveyard scene (like the ones found in my graveyard pudding cups), or a pile of dirt and gummy worms.
Or leave it plain!
The cheesecake certainly speaks for itself in taste, flavor, and texture, but if you're going to go for a collection of true Halloween desserts, I say go for gold and take that spooky factor all the way to the top.
And remember– leaving out the orange food coloring leaves you with an Oreo cheesecake, so be sure to keep this Halloween cheesecake recipe in your back pocket to grace your dessert spread in all seasons.
Which, yes, means that you can color it red/green for Christmas, blue for Hanukkah, pastel for Easter, red/white/blue for 4th of July, pink for Valentine's Day, green for St. Patrick's Day… You get the idea.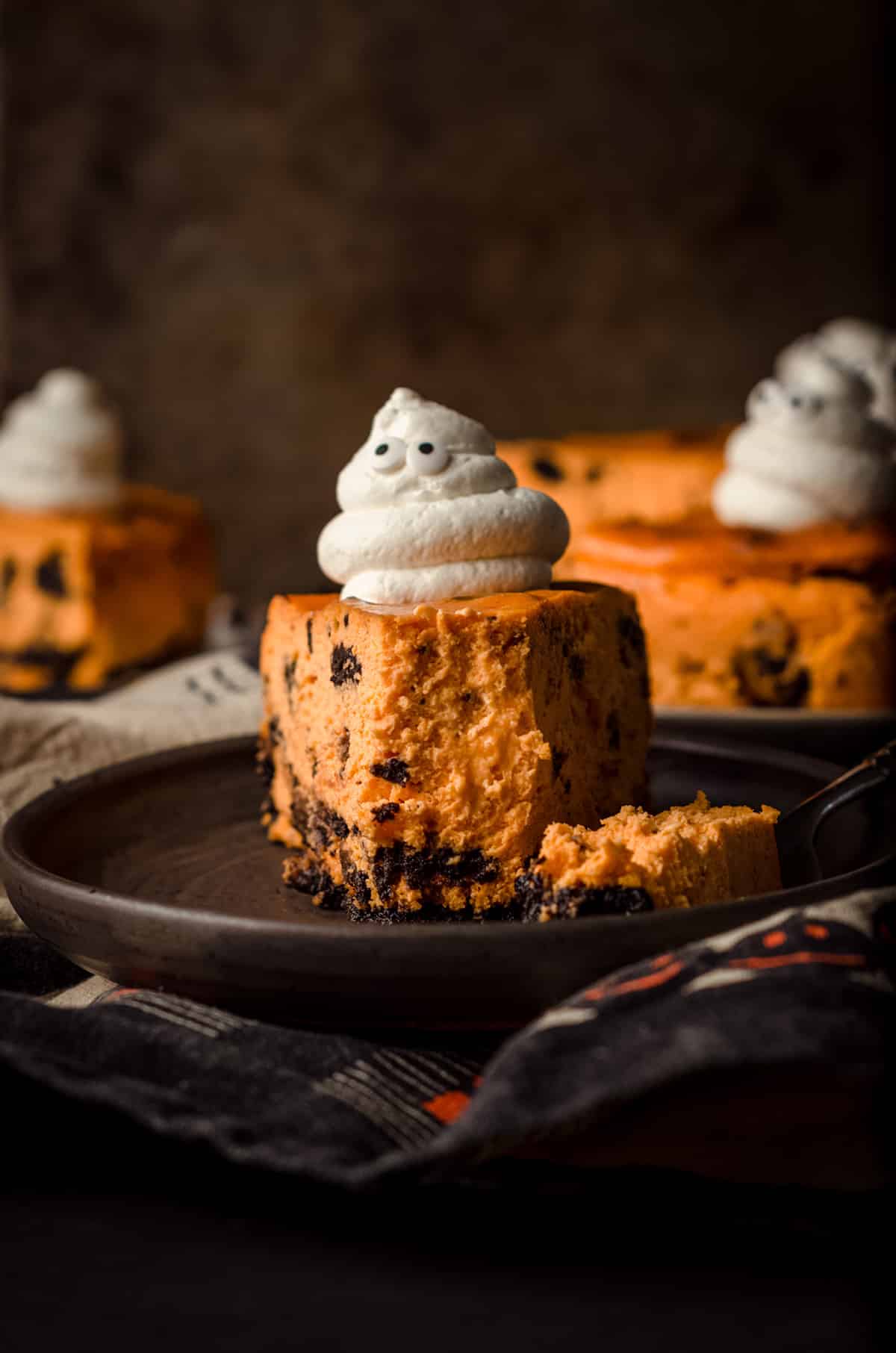 Let's be honest– everyone needs a solid cookies and cream dessert at a party, so why not make this your staple and dress it up for all the holidays? I think that a Halloween party is a great place to start, and I'm anxious to see all of your holiday colored cheesecakes all year long!
Check out all of these great #HalloweenTreatsWeek recipes for today
Halloween Cheesecake
A basic cookies and cream cheesecake tinted orange and filled with chunks of Halloween Oreos, sitting atop a Halloween Oreo crust. Top with adorable whipped cream ghosts for a spooky treat, or use classic Oreos and leave out the orange coloring for a luscious cheesecake variation all year round!
Ingredients
OREO CRUST
20

Oreos1

¼

cup

(57g) unsalted butter

melted
COOKIES & CREAM CHEESECAKE
32

ounces

(900g) full fat block cream cheese completely softened to room temperature

1

cup

(200g) granulated sugar

¼

cup

(60mL) heavy whipping cream

at room temperature

5

ounces

(153g) Greek yogurt or sour cream

about ⅔ cup; at room temperature

1

Tablespoon

vanilla extract
orange food coloring2

4

large eggs

at room temperature

2

large egg yolks

at room temperature

14

Oreos1

chopped
WHIPPED CREAM GHOSTS
Instructions
OREO CRUST
Preheat the oven to 325ºF (162ºC). Spray a 9" springform pan with nonstick spray. Set aside.

In a food processor, crush the Oreos until they become a fine crumb. Pour the crushed Oreos into a large bowl, add the melted butter, and stir to combine.

Press the Oreo crumb mixture into the bottom of the prepared springform pan, then bake the crust for 8-10 minutes, or until set. Remove from the oven and allow to cool while you prepare the filling.
COOKIES AND CREAM CHEESECAKE
In a large bowl with a handheld mixer or the bowl of a stand mixer fitted with the paddle attachment, beat the cream cheese on medium high speed until smooth, about 2 minutes. Add the granulated sugar then beat again until combined, about another 2 minutes.

Reduce the mixer speed to low3, then add the heavy cream, yogurt or sour cream, and vanilla extract and mix until completely combined. Add the eggs one at a time and continue mixing on low until eggs are just combined. Your batter should be smooth and creamy without lumps. Gently fold in the Oreos until just combined (do not overmix batter).

Pour the batter into the prepared pan. Create a water bath4 by placing the 9" springform pan in a slightly larger round pan (I like to use a 10" cake pan) and then place that pan into an even larger round pan (I like to use a 12" cake pan) or roasting pan.

Fill the outer pan with hot water halfway up the sides of the middle pan, then carefully transfer the whole thing to the oven.

Bake the cheesecake for 1 hour 35 minutes to 1 hour 50 minutes. The middle of the cheesecake (a center approximately 2" wide) should jiggle just a little bit. I use my digital instant-read thermometer to check the internal temperature has reached 145ºF (63ºC). Turn the oven off5 and allow the cheesecake to cool in the oven for 1 hour. After 1 hour, remove the springform pan from all of the other pans and allow to cool on a cooling rack for another 2 hours. When the cheesecake is completely cool, cover or wrap tightly and allow to chill in the refrigerator for at least 6 hours, ideally overnight.
WHIPPED CREAM GHOSTS
Remove the cheesecake from the fridge and use a spatula or butter knife to gently loosen the crust from the side of the pan, then release the outer ring of the springform pan.

Top the cheesecake with fresh whipped cream ghosts (I use my homemade whipped cream recipe) and add candy eyes. Store leftovers in the refrigerator up to 5 days. Cheesecake freezes well, up to 3 months. Thaw in the refrigerator overnight.
Notes
Oreos: I used Halloween Oreos, but you can use regular or DoubleStuf.
Orange food coloring: I prefer to use gel coloring (my favorite is AmeriColor). Tint to your preferred shade of orange, or feel free to leave it out.
Mixer speed: it's important not to go above low (or low-medium) speed after you've beaten the cream cheese. Incorporating too much air will create bubbles and potential cracks in your finished cheesecake.
Water bath pans: here is

a bundle

that includes all the pans I use. Using this method eliminates the need to wrap anything in foil.

Cool the cheesecake: I like to prop the oven door open with a wooden spoon or spatula.
Adapted from funfetti cheesecake and no bake Oreo pie
Nutrition Disclosure
All nutritional values are approximate and provided to the reader as a courtesy. Changing ingredients and/or quantities will alter the estimated nutritional calculations.
Serving:
1
slice
|
Calories:
579
kcal
|
Carbohydrates:
79
g
|
Protein:
20
g
|
Fat:
21
g
|
Saturated Fat:
10
g
|
Polyunsaturated Fat:
2
g
|
Monounsaturated Fat:
7
g
|
Trans Fat:
0.2
g
|
Cholesterol:
143
mg
|
Sodium:
973
mg
|
Potassium:
403
mg
|
Fiber:
1
g
|
Sugar:
55
g
|
Vitamin A:
513
IU
|
Vitamin C:
0.2
mg
|
Calcium:
361
mg
|
Iron:
6
mg
Disclaimer: These posts and recipes are part of the week-long event (#HalloweenTreatsWeek) but all opinions are 100% mine. We would like to thank our amazing brand sponsor, Dixie Crystals, who provided a prize pack for our giveaways and also sent some samples and products to the #HalloweenTreatsWeek bloggers to use in their recipes.
More spooky treats!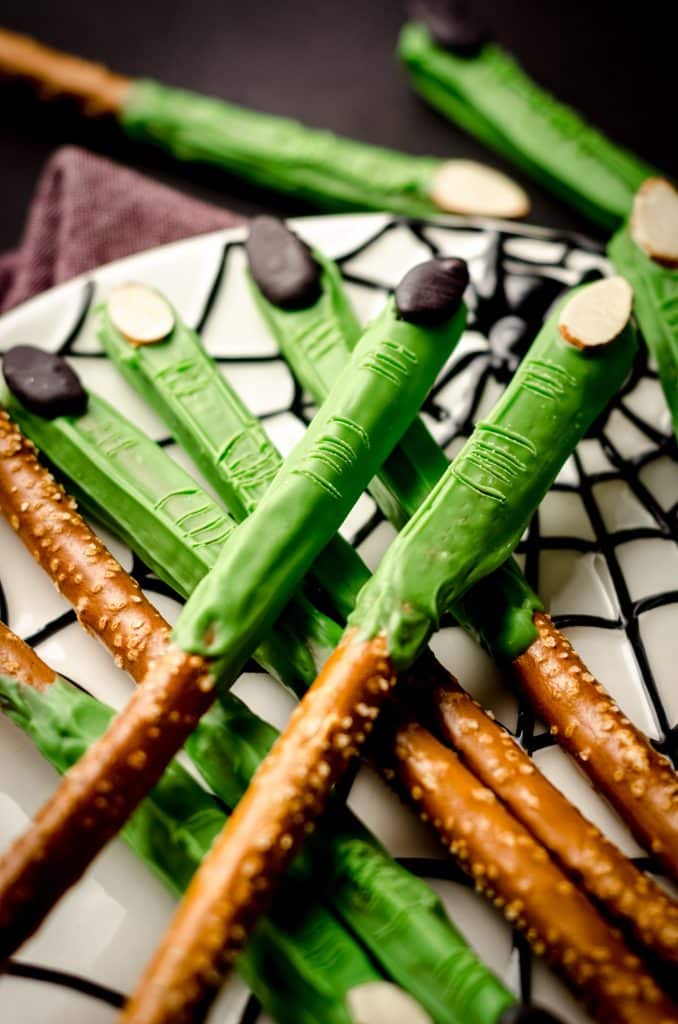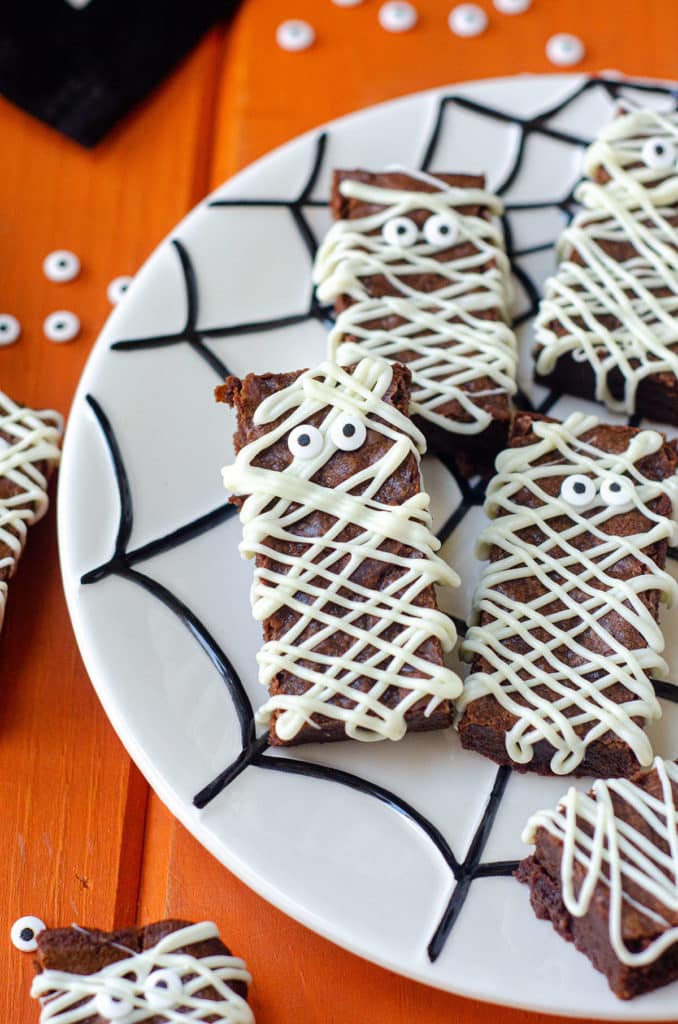 More cookies and cream treats!