As an Amazon Associate I earn from qualifying purchases.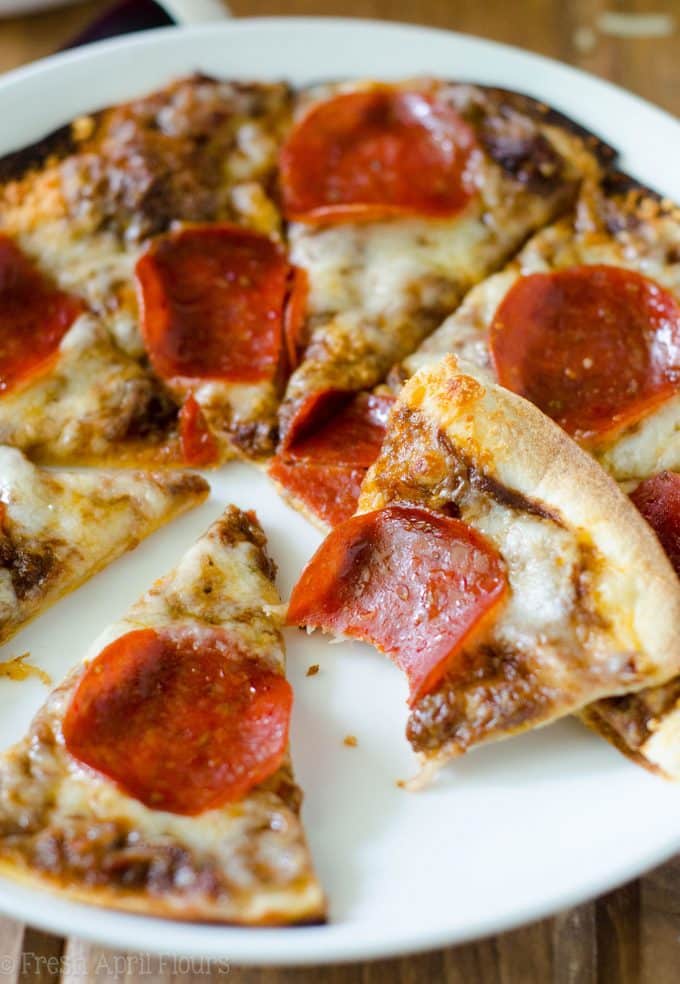 How many times have you wanted pizza, only to be faced with the sad reality that meant you either 1) needed to order one 2) would have a crap ton leftover or 3) would need it delivered and what place is going to deliver you just one slice?
If you're a normal human being, the answer to that question is way too many times. And I have to say– this recipe came together in desperation for some 'za. A time when a mama just wanted some pizza and dad came to the rescue with ingredients in the fridge.
Tortillas. Pasta sauce. Cheese. And, thanks to our amazing friends at Vital Proteins, a fresh stash of extra protein. Do you remember when I posted about the fabulous protein pancakes Matt perfected for me while we had a newborn? The wonderful goodie box that VP sent us had a couple canisters of their fabulous new veggie blend, a product that has the equivalent of 3 servings of veggies and 1 serving of fruit in one scoop. Umm, what? Amazing. Granted, it isn't sweet like its vanilla whey counterpart, but it contains allthegoodstuff + protein which makes it an amazing product and can get you some extra nutrients when you are in need of filling some voids but life is just, well, LIFE.
Of course, you can make these pizzas without Vital Proteins Veggie Blend, but really, it's way more fun with it.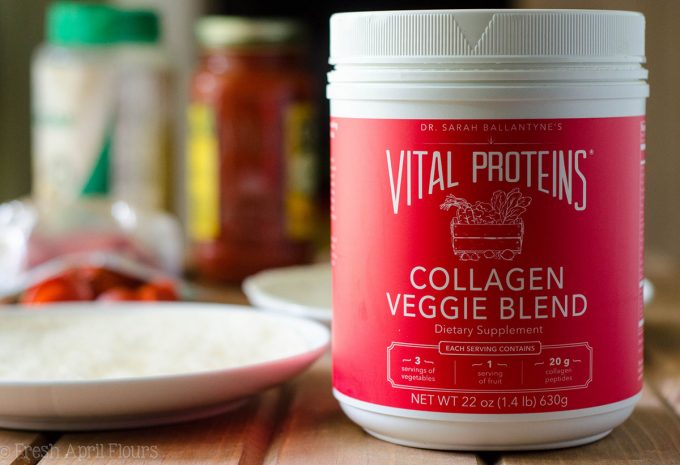 Which is WHYYYYY, I'm giving you a chance to win some yourself! Scroll to the bottom of the post for how to enter the giveaway.
So, as the recipe states, this pizza will take you 5 minutes. 5!! That's IT. That's way faster than ordering and waiting for it to be delivered, or going to the grocery store and buying a frozen one, or rolling out your own pizza dough and making one from scratch any day. Right? Yeah. 5 minutes to 'za. Who isn't about that life??
The best tortillas we find for these tortilla pizzas are the 8 or 10 inch "gordita style." We've used burrito style, whole wheat, and corn tortillas, and these ones just work the best. That's not to say you can't use whatever tortilla you have on hand or prefer. We've just done extensive pizza research (it's such a hard life), and we found this style and size to be the best.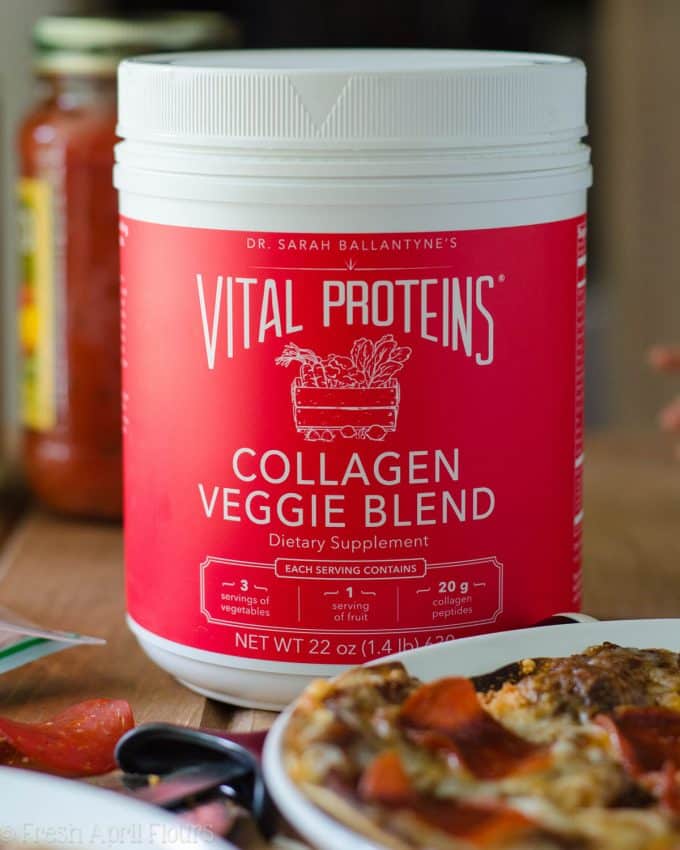 Add the veggie blend right to the sauce– it will be a strange-ish color, but really, you'll never even notice once you remember there's extra veggies and protein floating around in your pizza. Helloooooo, unsuspectingly nutritious food is the best kind of food. That's a fact of life.
A decent sprinkle of Parmesan cheese, a hefty sprinkle of shredded mozzarella, and then… Bring on the toppings! Now, of course, you have to remember you're working with a tortilla. This is not the time for the most ridiculous combination of toppings you can think of. This is the time for some pepperoni, sausage crumbles (SO GOOD), shredded broccoli, or spinach. Leave the ham and pineapple for another day. This is light, crisp, quick, and easy pizza. Keep it simple!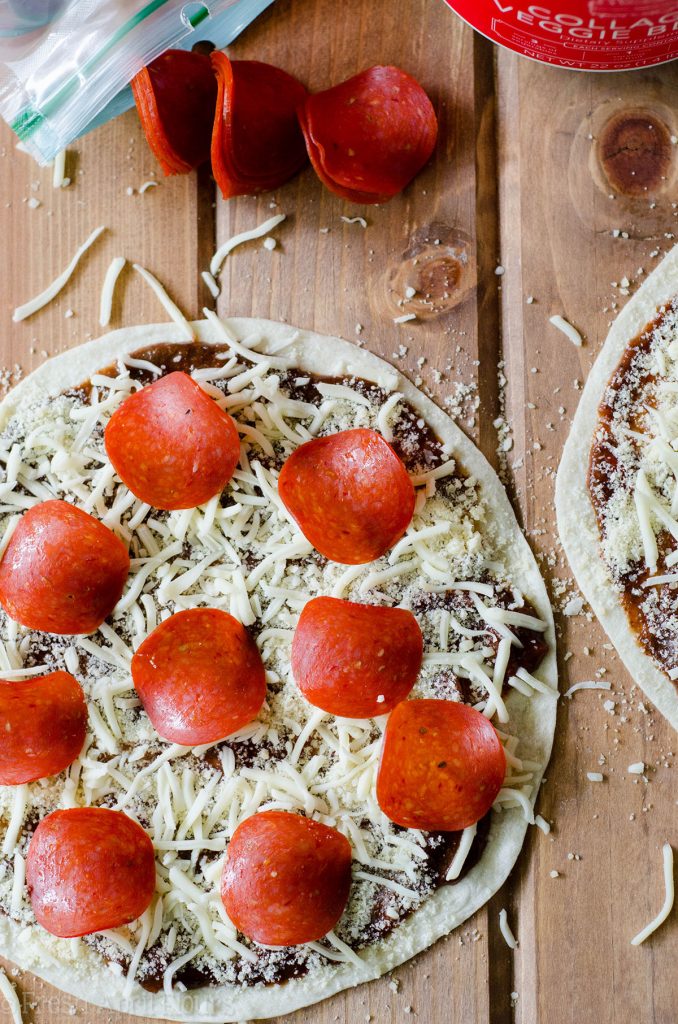 A mere 5 minutes in the oven or even just in the toaster oven, and you are ready to go with your tasty 'za before you could even finish dictating your order to the pizza delivery place. Truly. It's that easy.
I can't tell you how many of these tortilla pizzas we have made over the last several months. I mean, I was basically living on them for dinner pretty much daily when Matt started teaching evening classes and J was going to bed around 9pm. It was quick and easy and I could do it while still tending to a needy baby and eat it while I was nursing.
But who am I kidding? He goes to bed at 7pm now and I'm still making myself a tortilla pizza on the reg a couple nights a week. It's just perfect! It satisfies that pizza craving without breaking the bank, diet, or schedule. AND, it's the only time you can say you ate a whole pizza and didn't feel like crap afterward. Right?
Totally my kind of pizza, friends.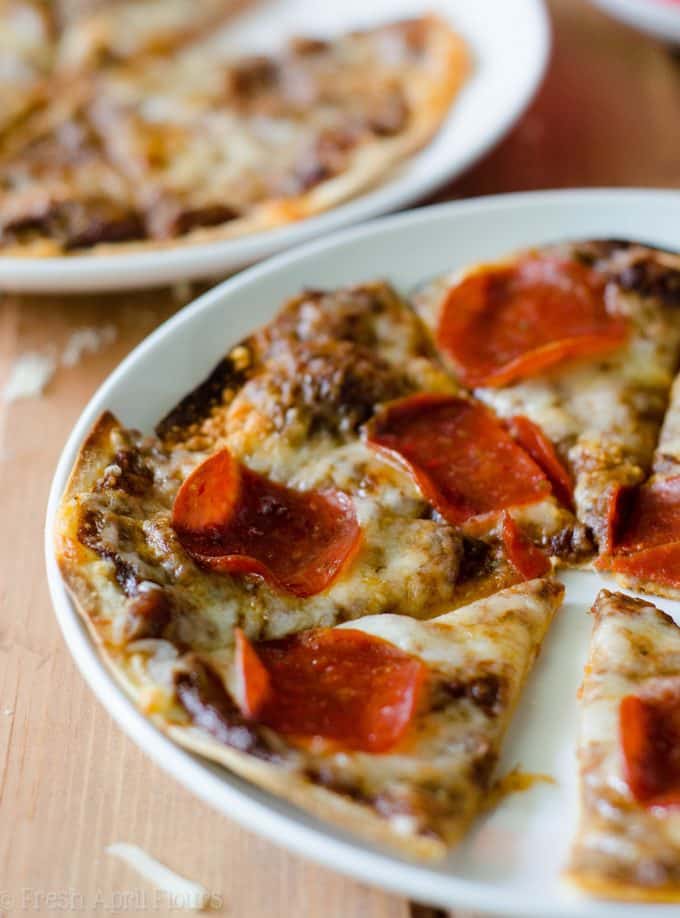 So now, about that giveaway.
Who can enter?
This giveaway is open to residents of the U.S. and Canada.
What you will win
One reader will be picked at random (via random.org) to win a goodie pack from Vital Proteins!
How to enter
Just comment on this post and tell me… What is your favorite pizza topping?
Giveaway ends Friday, July 28th at 11:59pm EST.
Psssst… I know I've been saying it a lot lately, but IT'S IMPORTANT. This recipe was totally toddler approved.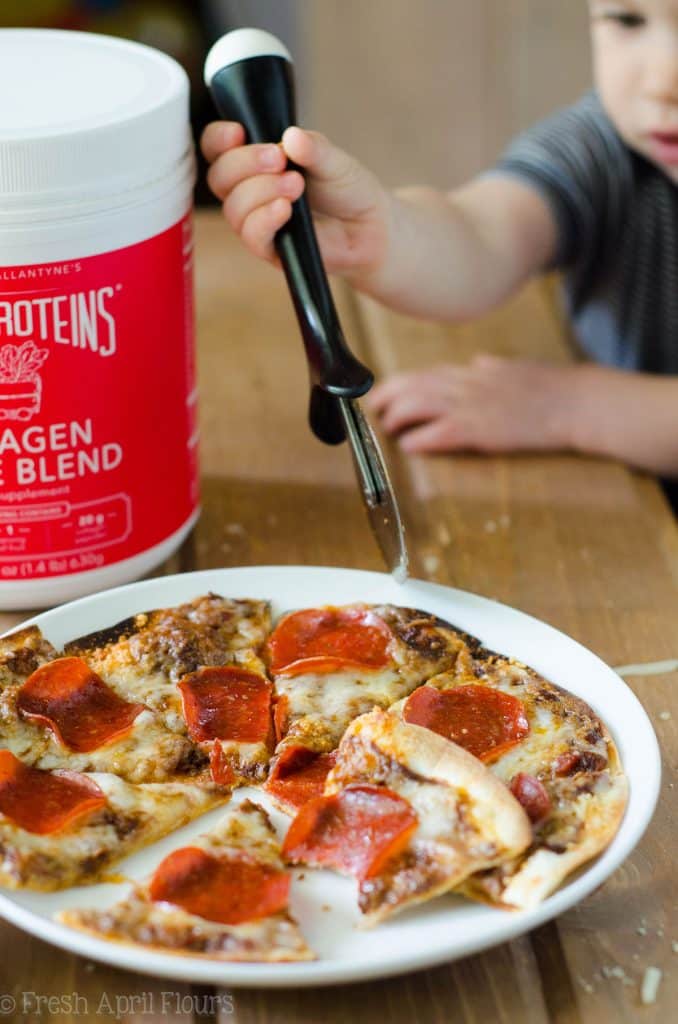 😀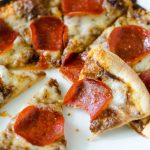 Print Recipe
5 Minute Personal Tortilla Pizza
An easy way to whip up a personal size pizza without rolling any dough! Perfect for a "pizza bar" for entertaining or customization for family meals.
Servings:
2
personal size pizzas
Ingredients
1/2

cup

pasta sauce

1/2

scoop Vital Proteins Veggie Blend

2-8

" or 10" flour tortillas*

3

Tablespoons

Parmesan cheese

divided

1/2

cup

shredded mozzarella

divided

20

turkey pepperoni slices OR assorted other toppings

divided
Instructions
Arrange one rack in the oven to the center position. Preheat the oven to 425ºF. Place tortillas on a flat surface.

Place pasta sauce and Veggie Blend powder into a small bowl. Stir to combine. Spoon approximately 1/4 cup of the sauce onto each tortilla and spread around evenly, leaving a small margin around the edges.

Sprinkle approximately 1 and 1/2 Tablespoons of Parmesan cheese, followed by 1/4 cup of shredded mozzarella on each pizza. Top with pepperoni and/or desired toppings.

Carefully place pizzas in the oven directly on the rack and bake for 5 minutes, or until desired color/crispness. You may also bake each pizza individually in a toaster oven. Remove from oven and allow to cool a few minutes before cutting and serving.
Notes
*We prefer to use "gordita" style because they are thicker and hold up to toppings better.