Turkey and Cheese Oven Sliders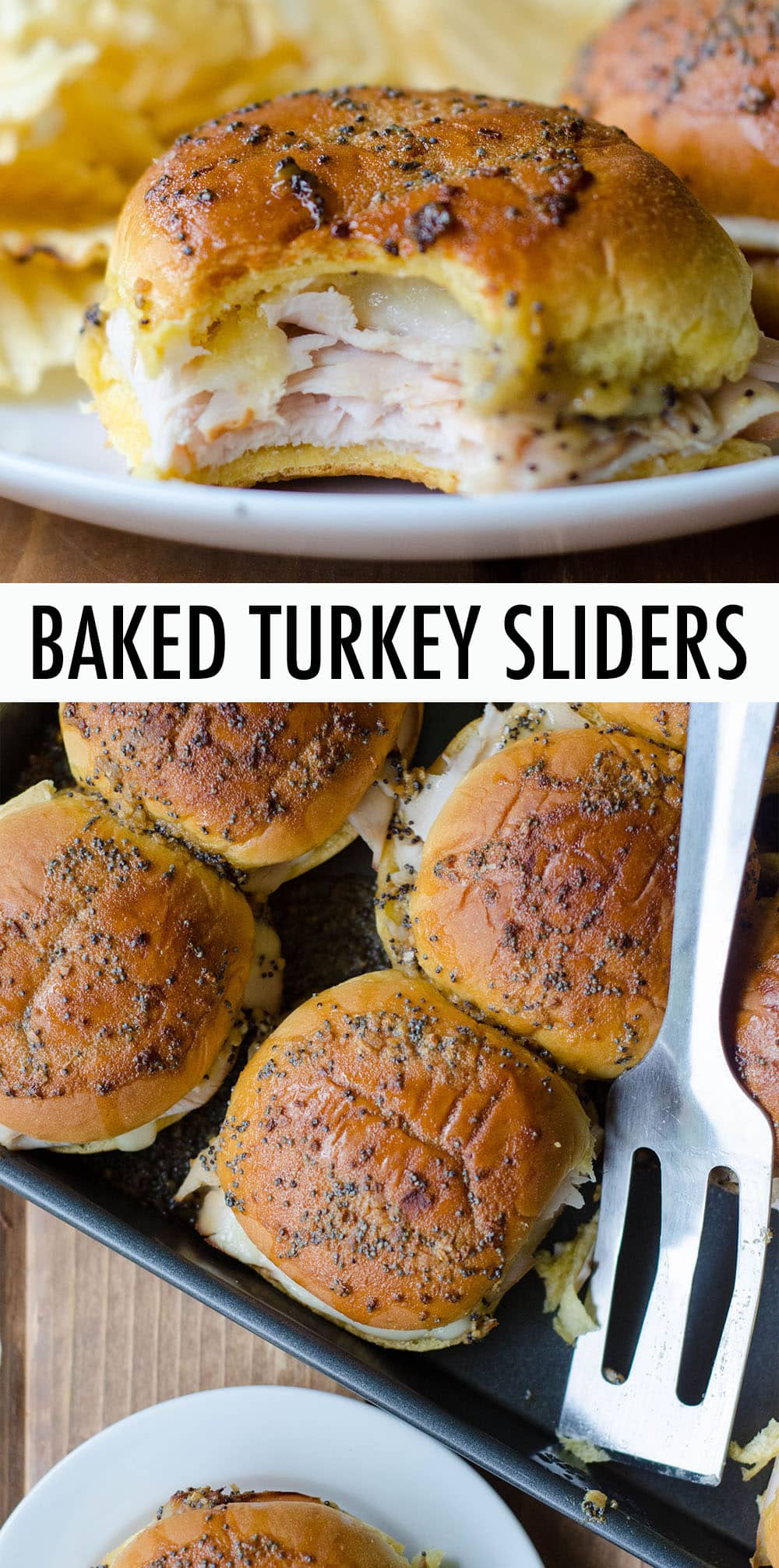 As an Amazon Associate, I earn from qualifying purchases. Read the full disclosure here.
Easy baked turkey and cheese sliders covered in a simple honey mustard glaze.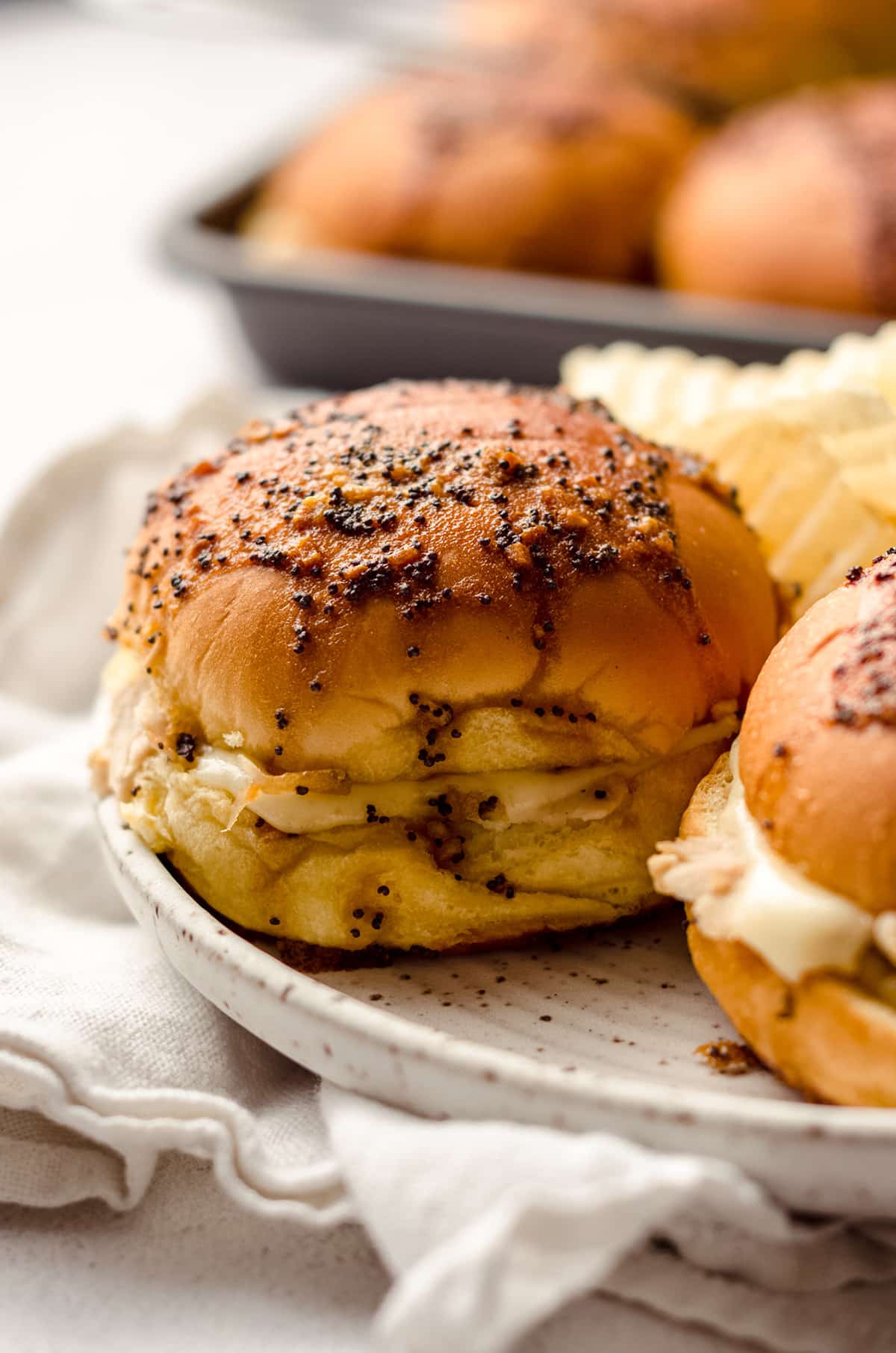 If there is one thing I have come to appreciate more than ever since having kids, it's quick-prep meals. I mean, not that I've ever been a huge fan of laboring over a hot stove or oven to get a meal on the table, but ever since our first born learned to walk and talk, this solo-parenting-every-evening life brought us a whole new ball game I was not prepared for.
As soon as that dude started walking, gone were the days of plopping him in his bouncer or corralling him in the kitchen with some toys on the floor while I put things together.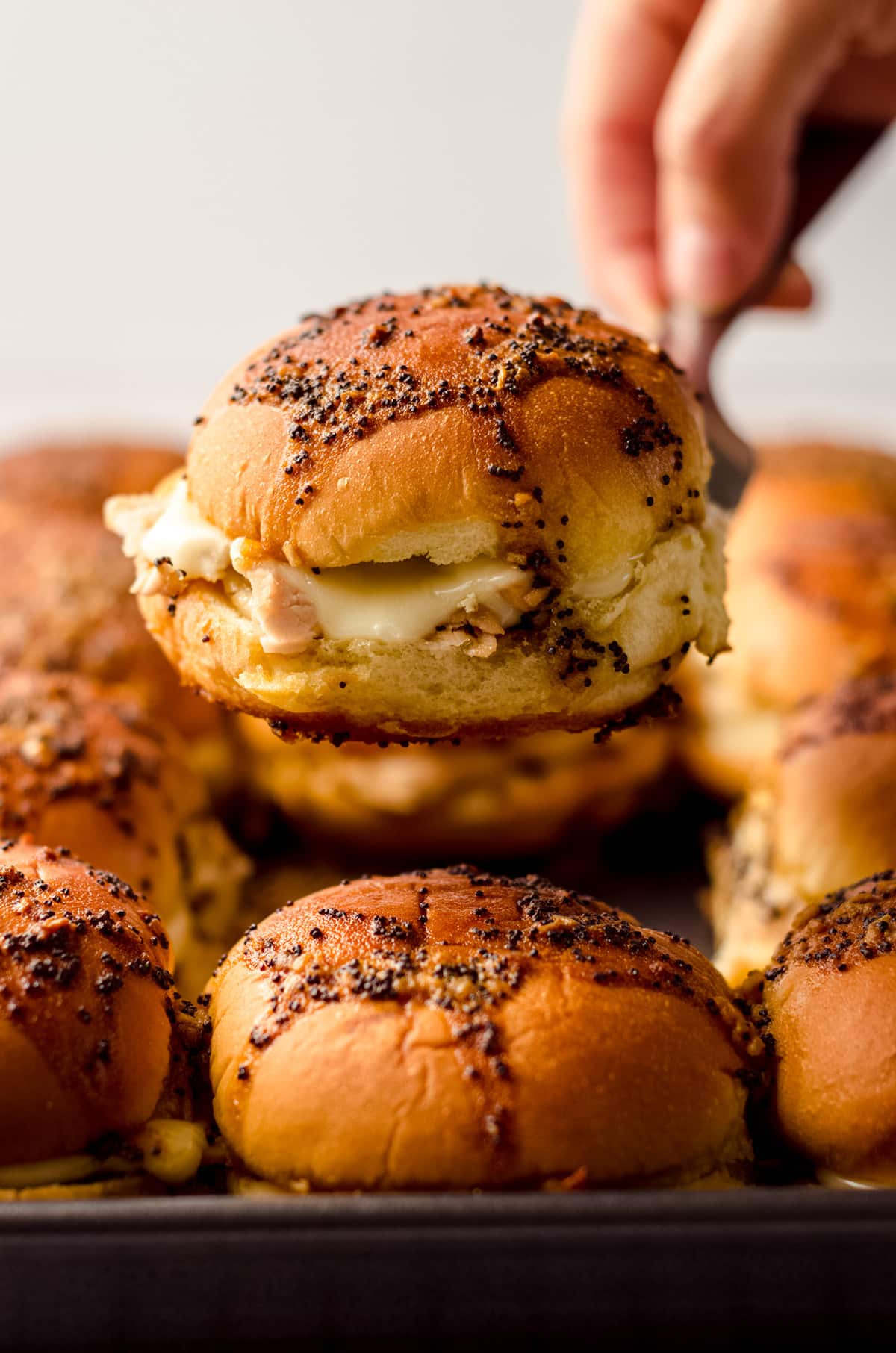 I learned quickly that the less time I had to spend with my hands and attention up on the counter, the more time I was able to spend with my kiddo pointing at everything (everythingggg) in our house while dinner made itself.
Well, sort of. These baked turkey sliders are not a slow cooker meal, but they're darn close to set-it-and-forget-it!
These Turkey Sliders are so easy (and awesome!)
You've likely seen this simple turkey sliders recipe show up at some sort of group meal/potluck/picnic in the past, because hellooooo, they're awesome.
But once I started adding quick meals to our nightly routine, I decided I wanted to change things up a bit and make the recipe a bit healthier for myself and our (then) toddler because in my opinion, the O.G. recipe tends to be a little sticky and drippy for me.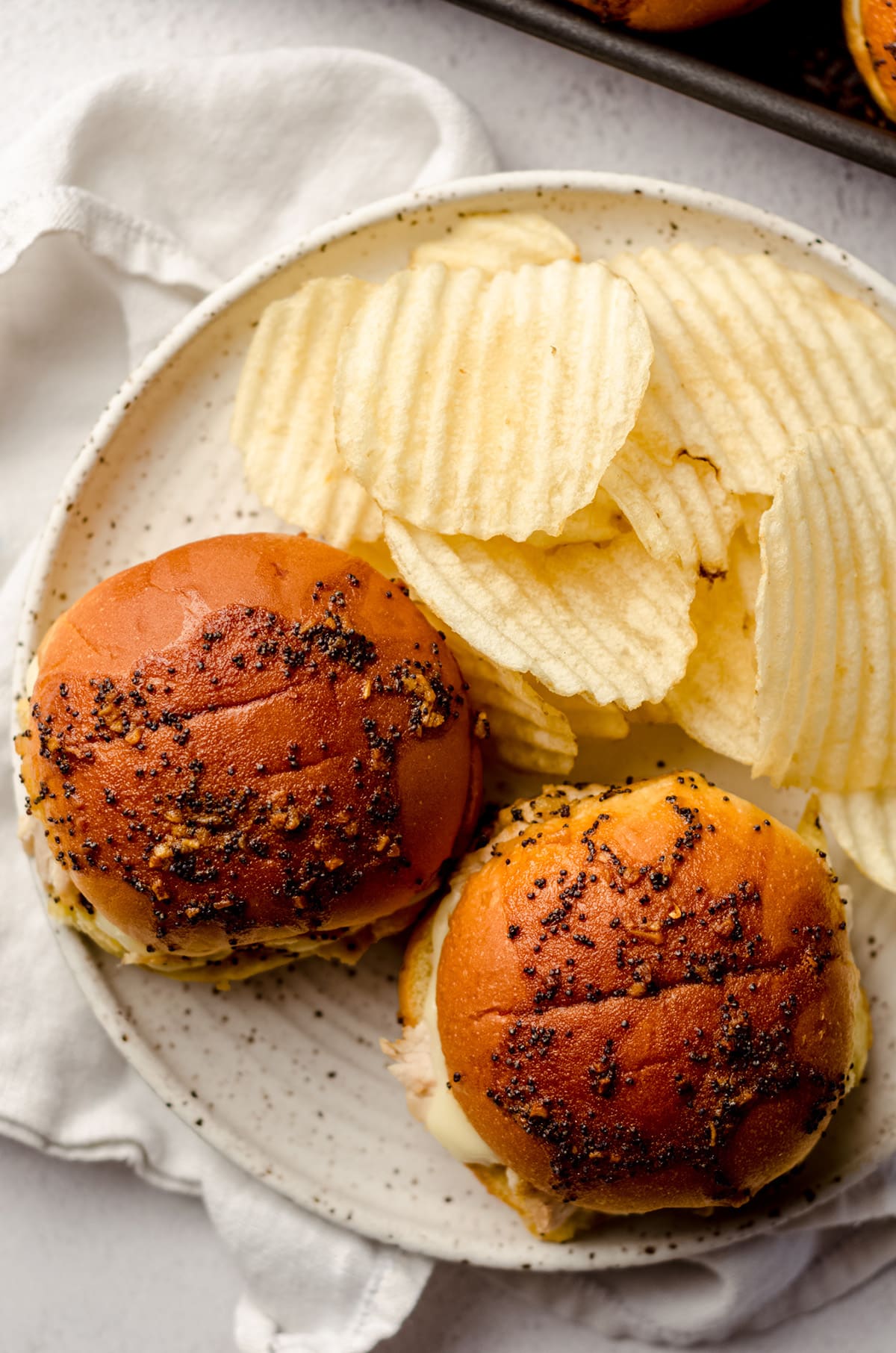 Not that I don't welcome that kind of situation (looking at you, salted caramel brownies), but when it comes to a meal, I'd prefer to make things a bit on the less sticky, because there's not much worse than sticky kid hands.
What you'll need for Turkey and Cheese Sliders
•12 of your favorite slider rolls (I like to use potato rolls or make my own easy yeast rolls)
•sliced turkey (this is a great place for leftover turkey from Thanksgiving)
•sliced cheese (I like Havarti or Cooper sharp cheddar– use whatever cheese you like with turkey)
•a little mayo
•a honey mustard glaze (!!!)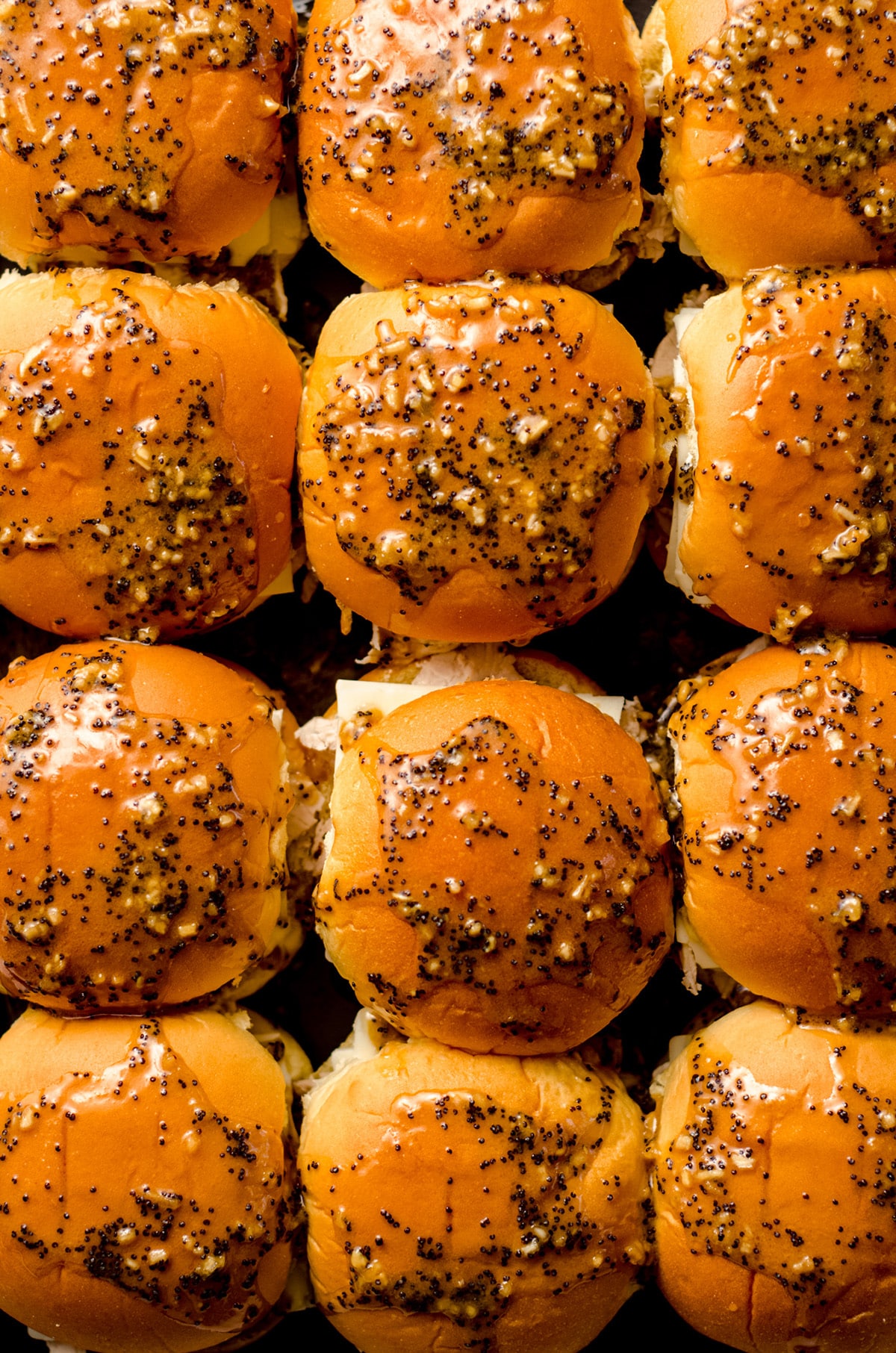 Uhh, is that a recipe for amazingness or what? Believe me, it is.
How to make Turkey and Cheese Sliders
MAKE THE GLAZE
This honey mustard glaze is really simple. It's made of butter, Dijon mustard, honey, Worcestershire sauce, poppy seeds, and dried minced onions. The sauce is sweet and tangy and the perfect amount of "sticky" to give these easy turkey and cheese sliders some texture and a little something extra.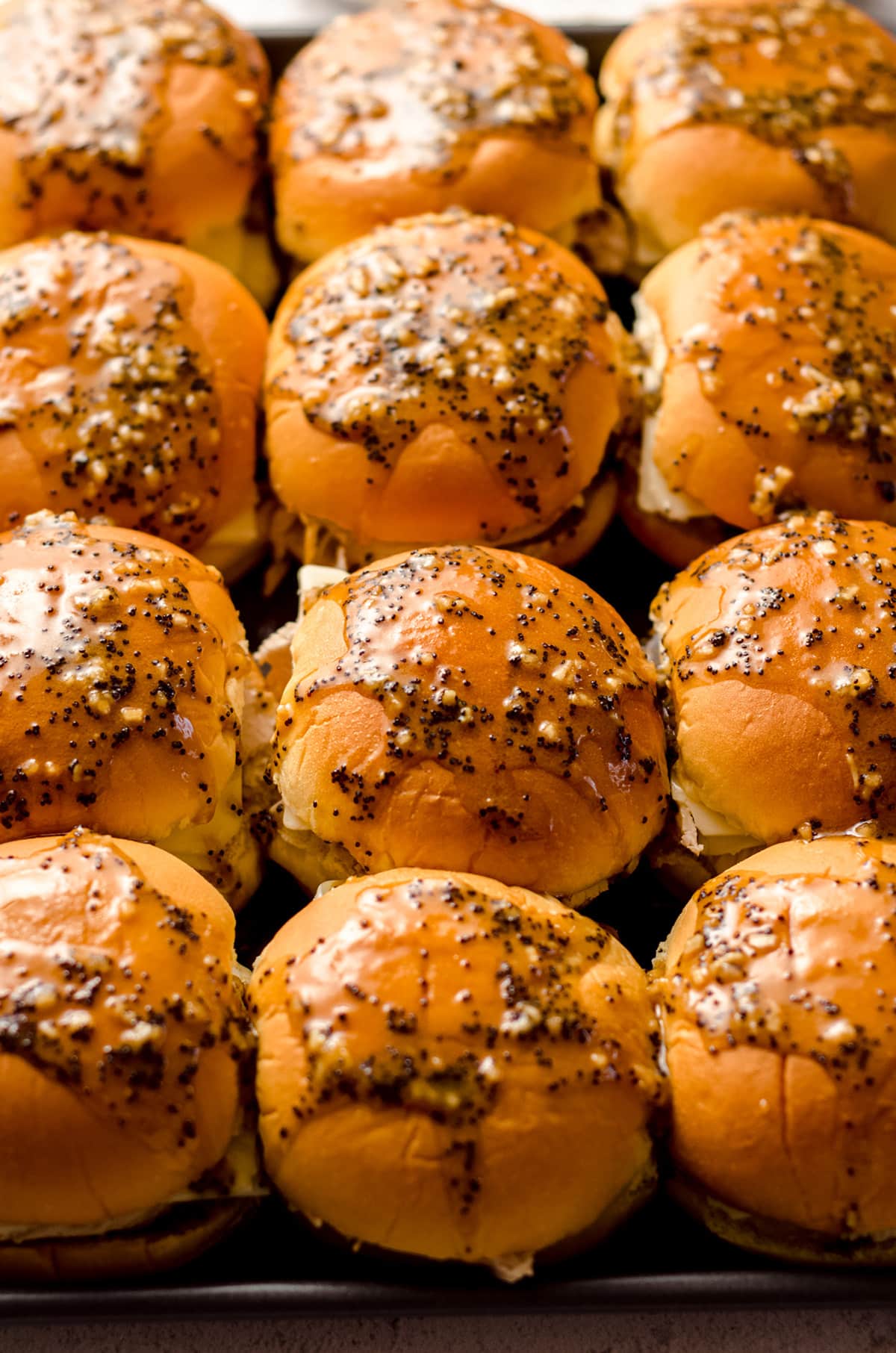 PREPARE THE ROLLS
As I mentioned, you have a few options for the slider rolls. I like to use potato rolls or my easy yeast rolls, and I have, on occasion, used the mini slider rolls, which uses the same amount of ingredients, it's just spread out over twice as many rolls.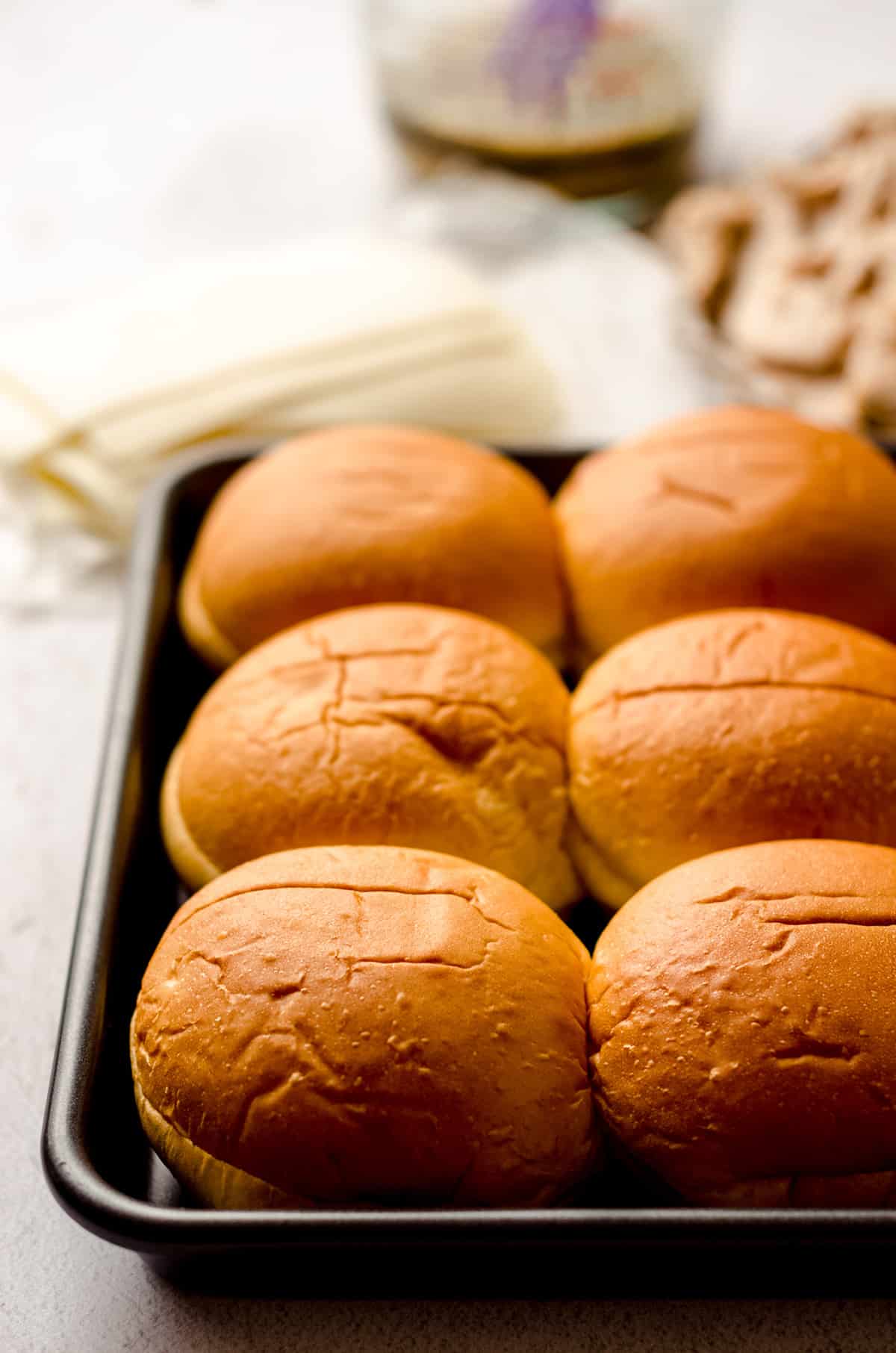 You can also make these turkey and cheese sliders with Hawaiian rolls, and that just takes it over the top in the "delicious" category. Don't miss out on trying them that way!
ASSEMBLE THE SLIDERS
The simplicity of these easy turkey sliders is that once your glaze is together, you just layer your slider bottoms, mayo, turkey, cheese, and slider tops in a casserole dish or baking sheet and cover everything with the glaze. Bake and boom, dinner is ready in less than 30 minutes!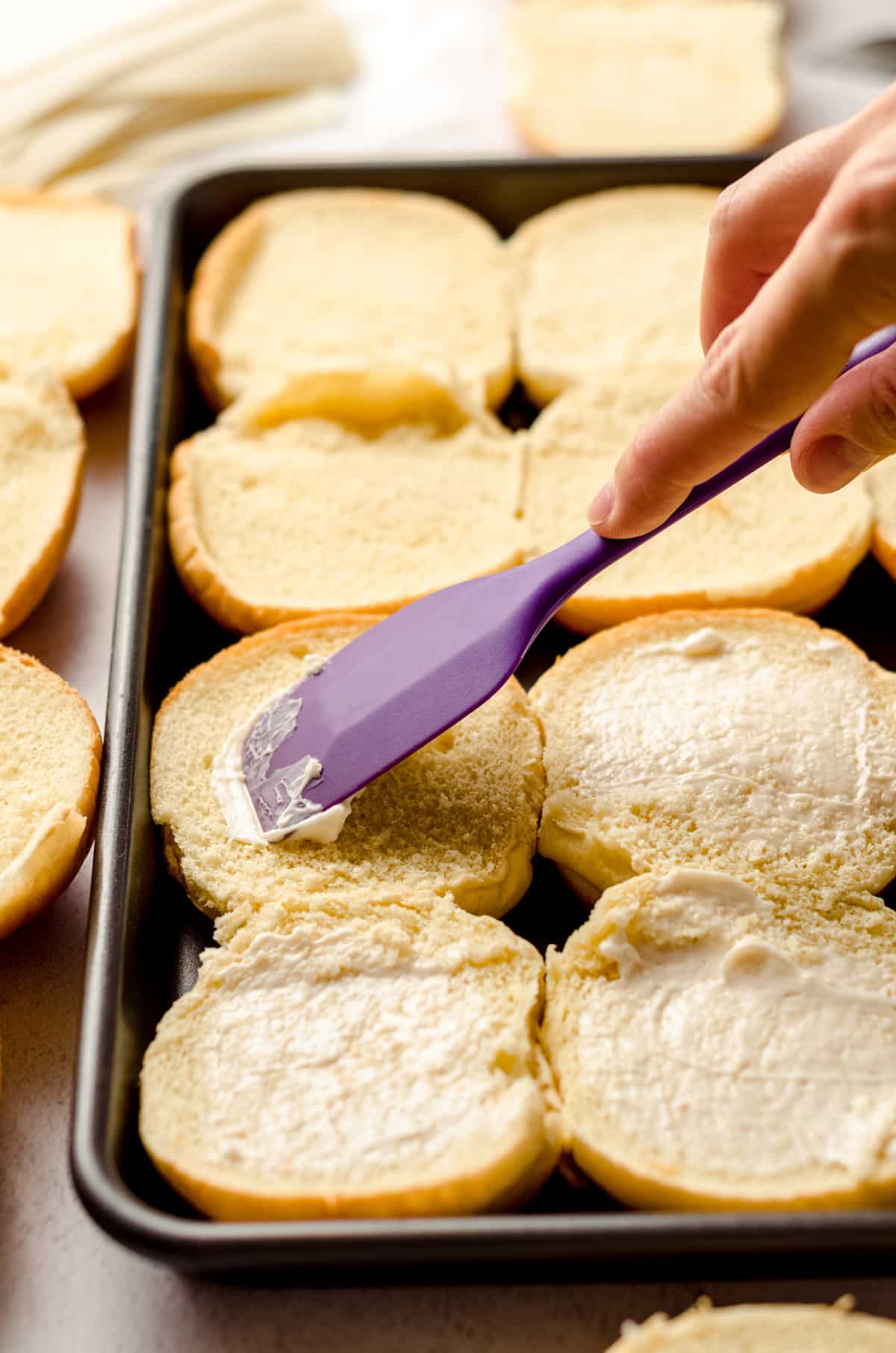 What I love most about these turkey sliders is that we never have to keep making up new sandwiches for meals for a few days. Toss some veggies on the side and you're all set for lunch or dinner that is totally kid-approved.
Or party approved, you know, since that's where they seem to be the most popular.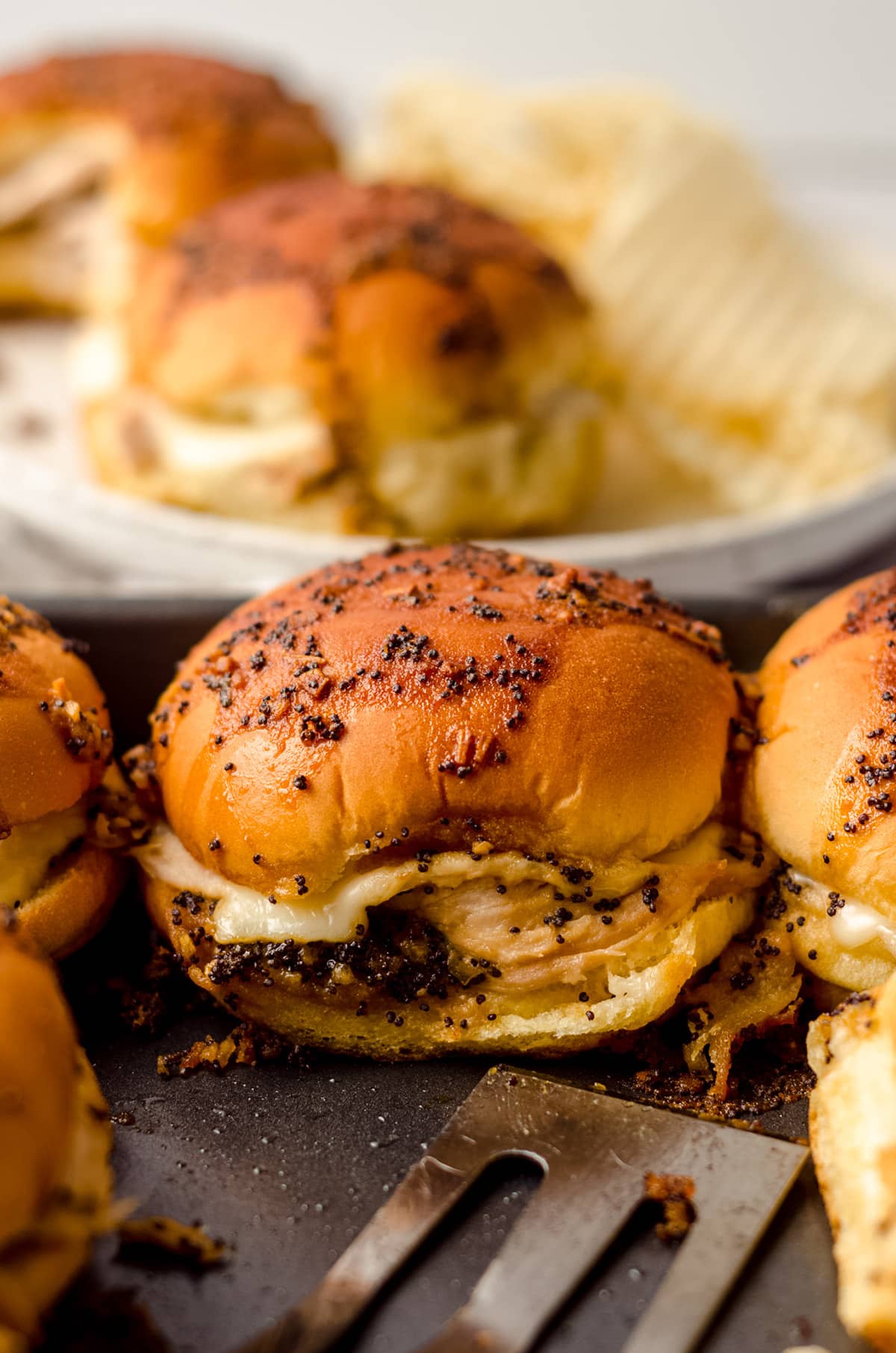 Variations on this Turkey Sliders Recipe
I am a total sucker for honey mustard and turkey, so if you're not into that combo, change it up! Get creative! Turn them into ham and Swiss or turkey and Swiss sliders, roast beef and cheddar sliders, or chicken and Provolone sandwiches.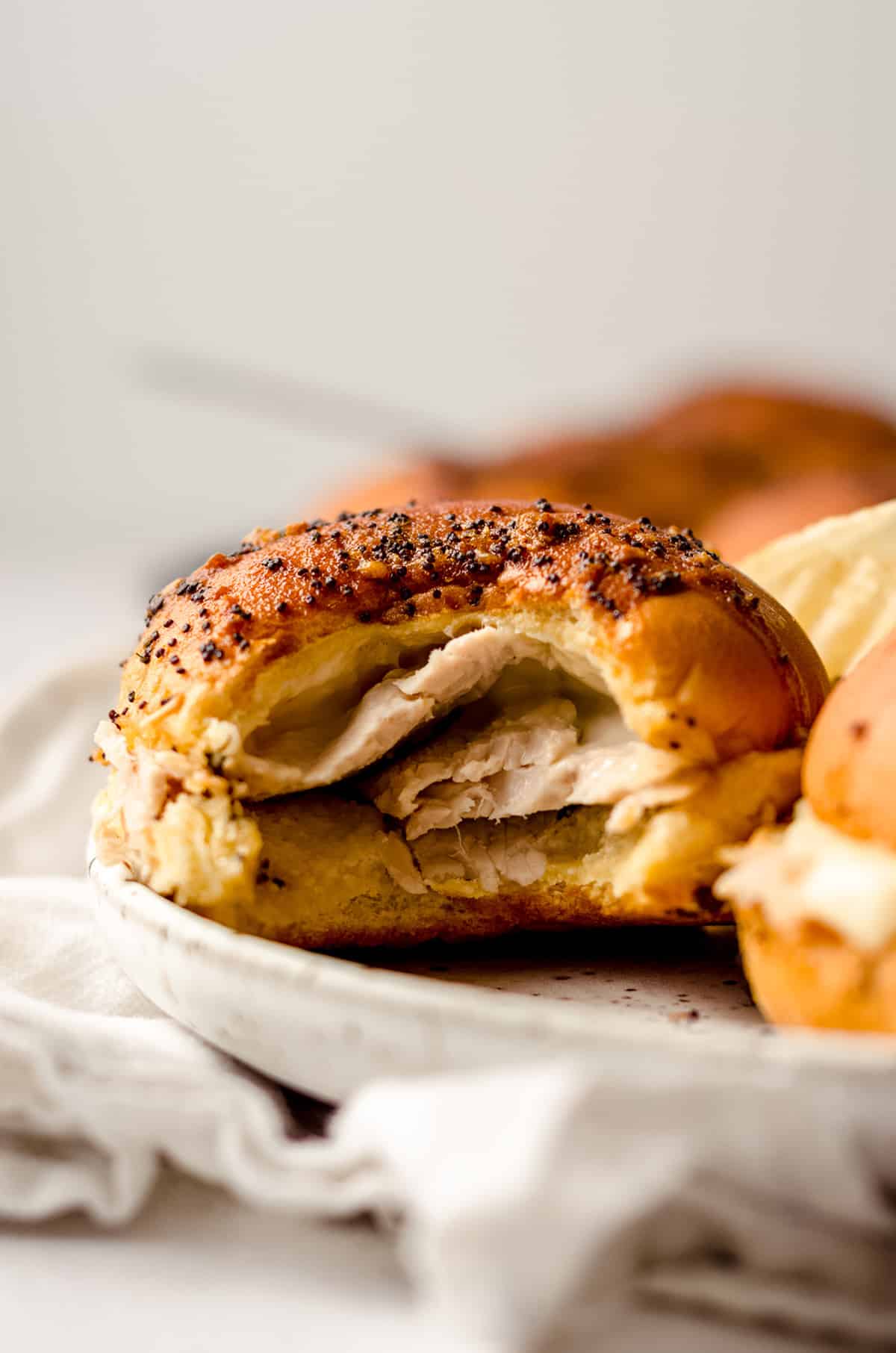 If you're feeling really Phillyish (hello there, Philly cheesesteak lovers), consider these Philly cheesesteak sliders from my friend Kathleen!
The point of this recipe for turkey sliders is that it's quick, painless, and very labor non-intensive. And it's great for using whatever leftover meat (even non-turkey!) you have from a previous meal. Do we love it or what?
Not only that, but I think we all may have a bit of extra turkey lying around after Thanksgiving, so this is a great way to repurpose that.
More bonuses: reheating is not even 100% necessary! You can serve cold turkey and cheese sliders in a lunch box and they taste just as good.
No matter how you choose to serve this easy meal (hot or cold), I suggest tucking this recipe away for safe keeping year round.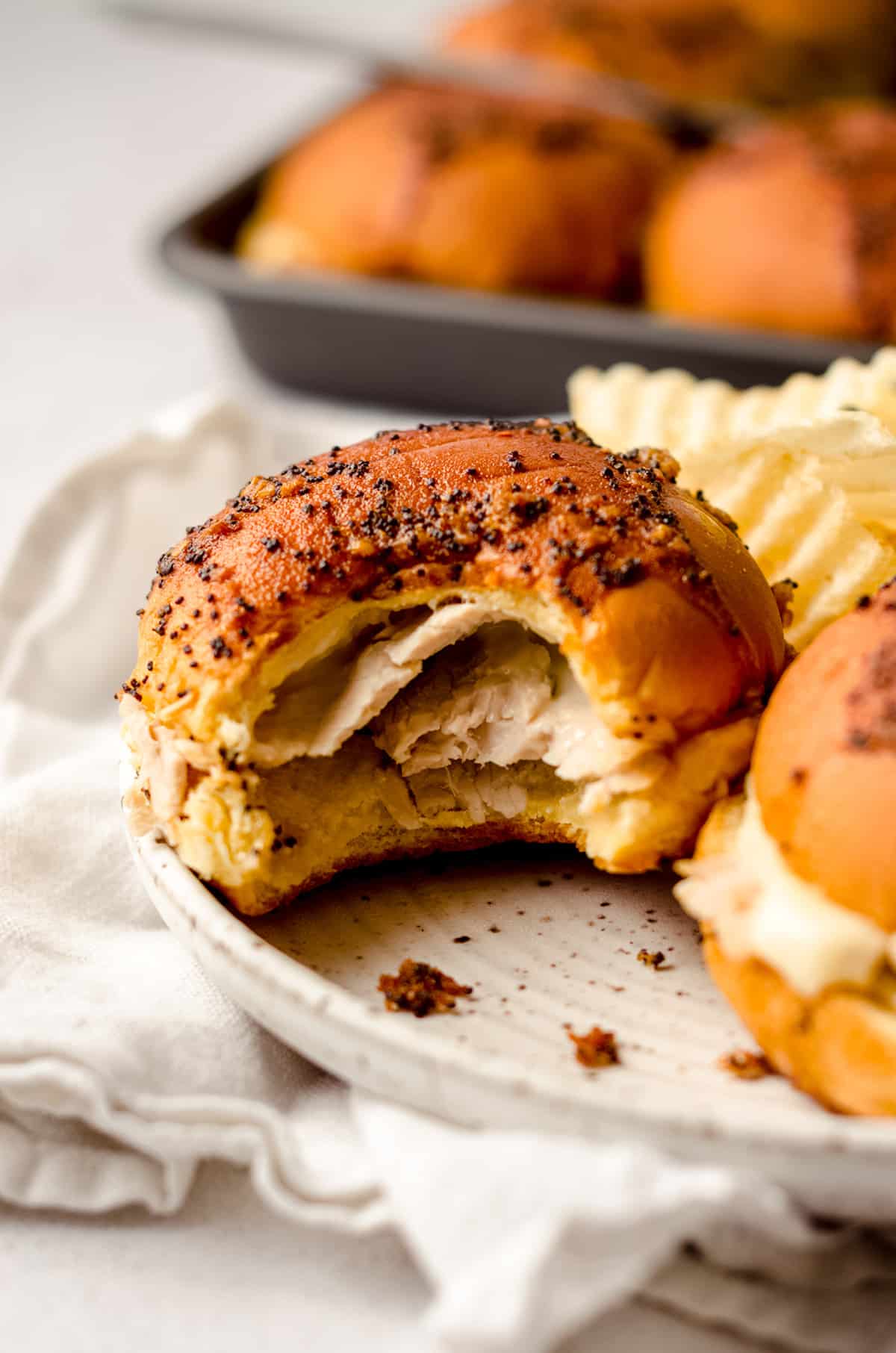 How to store Baked Sliders
Store leftover sliders covered tightly in the refrigerator up to 4 days.
HOW LONG ARE TURKEY SLIDERS GOOD FOR IN THE FRIDGE?
Turkey sliders will keep well in the refrigerator for up to 4 days, but pay attention to the expiration date on your turkey if you're using cold cuts. If you made your turkey from scratch or leftover, the timing on freshness for those will also be a factor in how long your sliders will last.
Parties, a meal for someone in need, easy lunches, or a way to repurpose leftovers, these sliders are a favorite here, and I'm thinking they'll be favorite with you soon, too.
Consider using my easy yeast rolls for your sliders!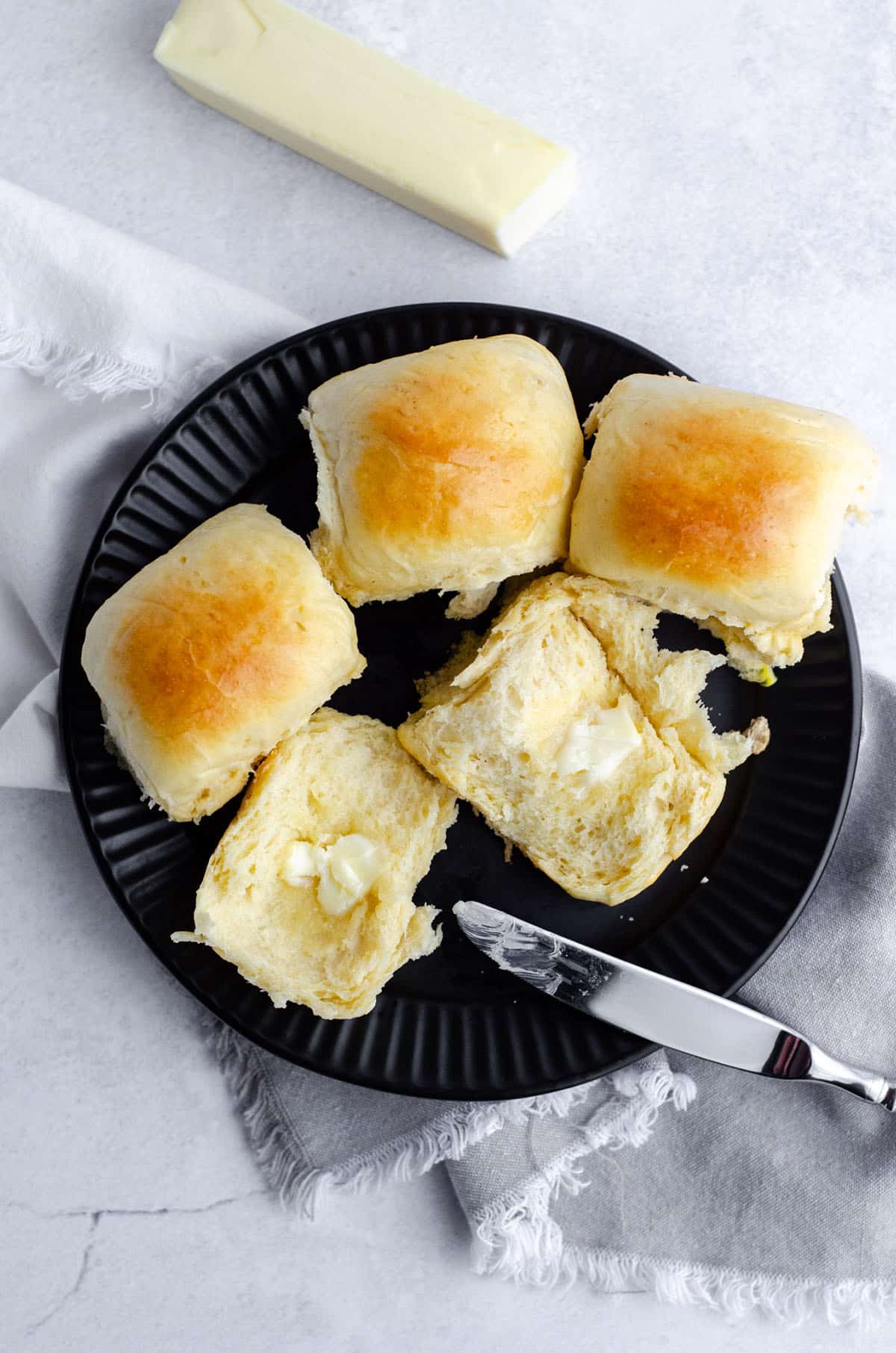 MOre Favorites from Fresh April Flours
Baked Turkey Cheese Sliders
These easy baked turkey sliders with cheese are covered in a simple honey mustard glaze.
Ingredients
¼

cup

(57g) unsalted butter

melted

1

Tablespoon

(14g) Dijon mustard

1

teaspoon

honey

½

Tablespoon

Worcestershire sauce

2

teaspoons

poppy seeds

1

teaspoon

dried minced onion

12

slider rolls1

2

Tablespoons

(29g) mayonnaise

¾ to 1

pound

(340-454g) sliced turkey

any kind (fresh, leftover, deli meat, etc.)

12

slices

thinly sliced cheese2
Instructions
Preheat the oven to 350°F (177ºC).

In a small bowl, combine melted butter with Dijon mustard, honey, Worcestershire Sauce, poppy seeds, and dried minced onion. Whisk to combine. Set aside.

¼ cup (57g) unsalted butter,

1 Tablespoon (14g) Dijon mustard,

1 teaspoon honey,

½ Tablespoon Worcestershire sauce,

2 teaspoons poppy seeds,

1 teaspoon dried minced onion

Pull apart the rolls, or slice them if they aren't already sliced. If you are slicing them yourself, slice the tops off the whole sheet of rolls at the same time and carefully set them aside until ready to use. Lay the bottom halves of the rolls in a 9" x 13" casserole dish or jelly roll pan (I always use a 9" x 11.5" jelly roll pan).

Spread a thin layer of mayonnaise on the bottom rolls. Layer on the turkey and cheese slices, then carefully place the bun lids on top of the cheese slices. Pour the glaze evenly over the top of all of the sliders.

¾ to 1 pound (340-454g) sliced turkey,

2 Tablespoons (29g) mayonnaise,

12 slices thinly sliced cheese2

Bake sliders for 18 to 20 minutes until the cheese is nicely melted and the sliders are toasted on top. Allow to cool 10 minutes before serving. Store leftovers in the refrigerator up to 4 days. Reheat in microwave as needed.
Notes
Slider rolls: consider making my easy yeast rolls from scratch for these.
Havarti cheese: you can use any cheese here that you like, but Havarti is my favorite to pair with turkey.
Adapted from Martin's
Nutrition Disclosure
All nutritional values are approximate and provided to the reader as a courtesy. Changing ingredients and/or quantities will alter the estimated nutritional calculations.
Serving:
1
slider
|
Calories:
240
kcal
|
Carbohydrates:
24
g
|
Protein:
13
g
|
Fat:
10
g
|
Saturated Fat:
4
g
|
Polyunsaturated Fat:
2
g
|
Monounsaturated Fat:
3
g
|
Trans Fat:
0.01
g
|
Cholesterol:
28
mg
|
Sodium:
643
mg
|
Potassium:
202
mg
|
Fiber:
1
g
|
Sugar:
4
g
|
Vitamin A:
171
IU
|
Vitamin C:
1
mg
|
Calcium:
220
mg
|
Iron:
2
mg