White (Moist) Cake Recipe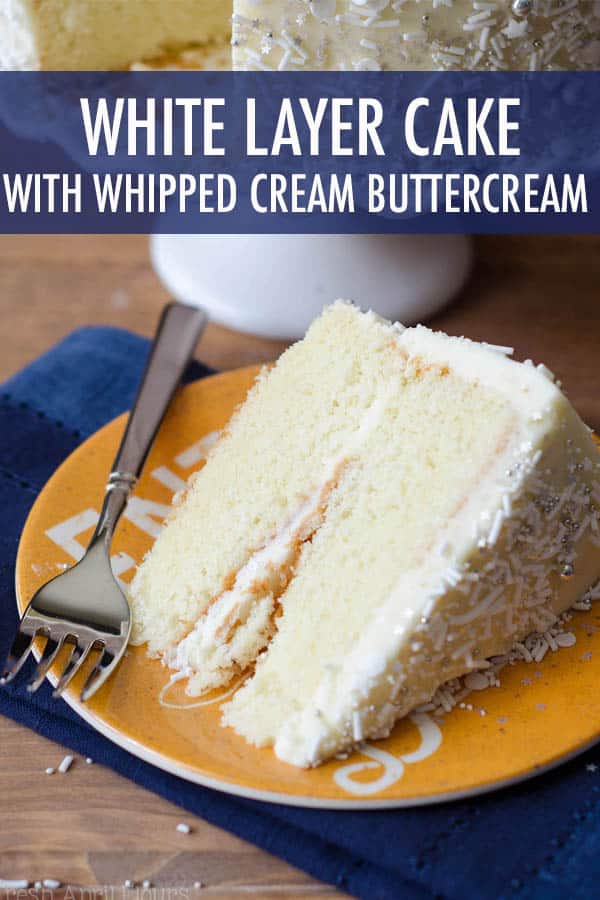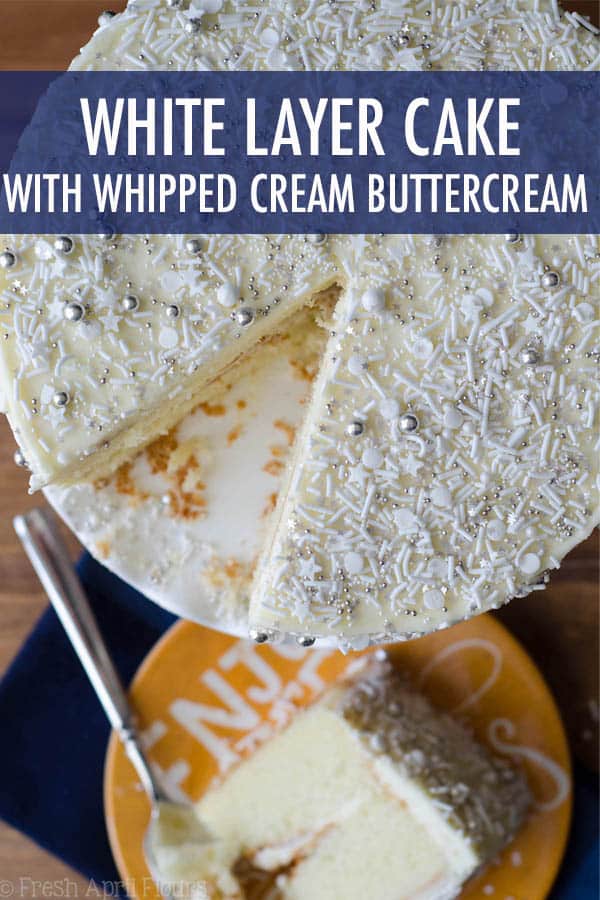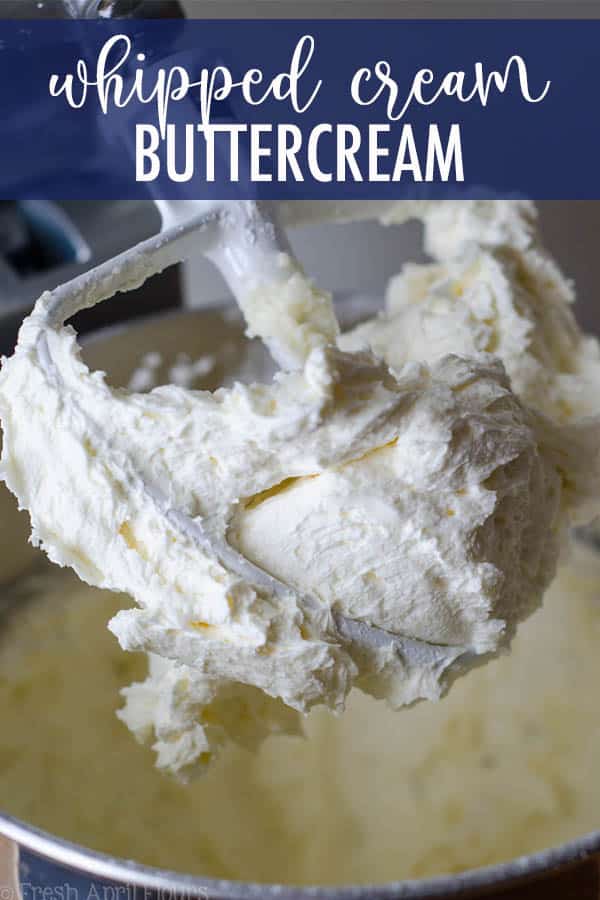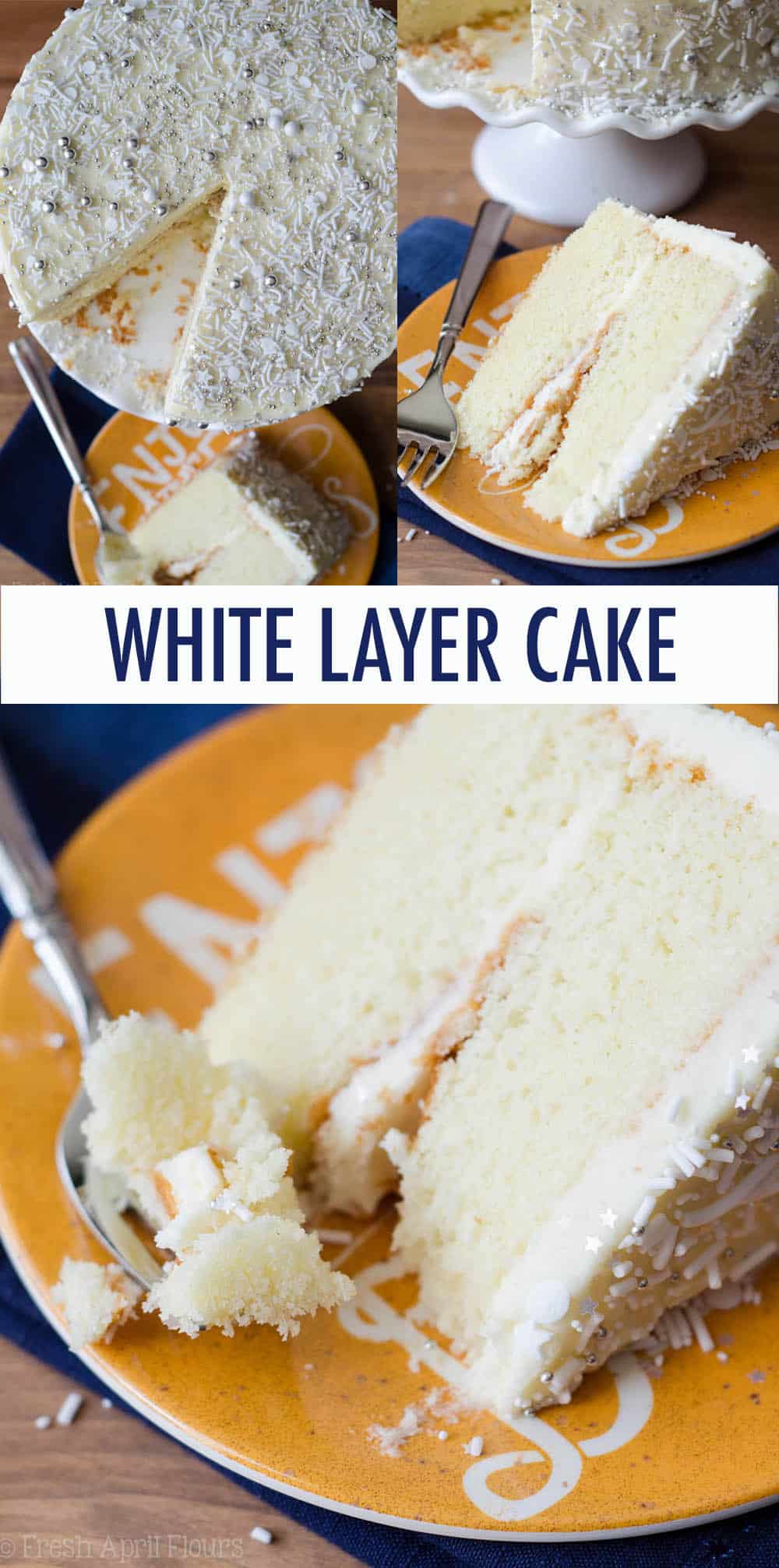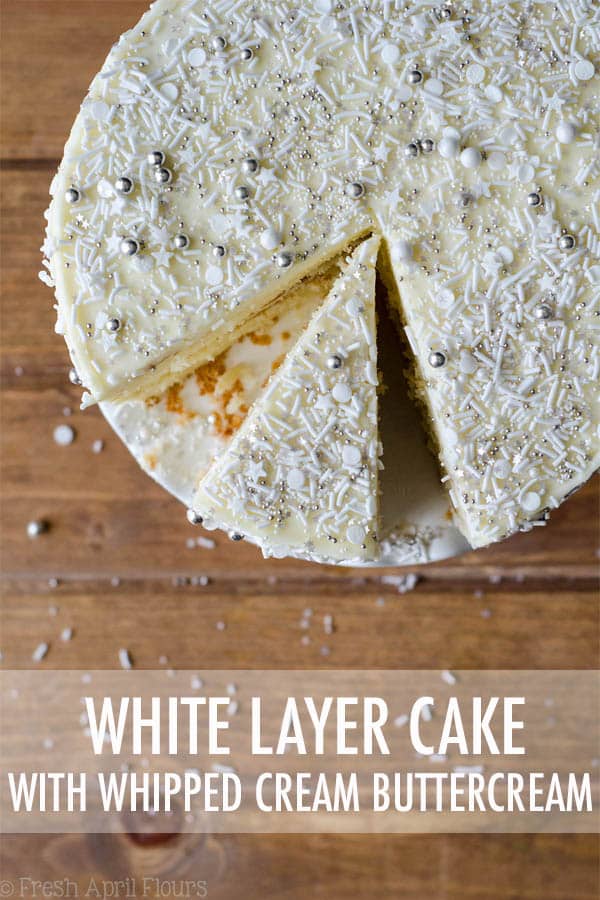 As an Amazon Associate, I earn from qualifying purchases. Read the full disclosure here.
A perfectly moist and simple white cake paired with a light and fluffy whipped cream buttercream frosting.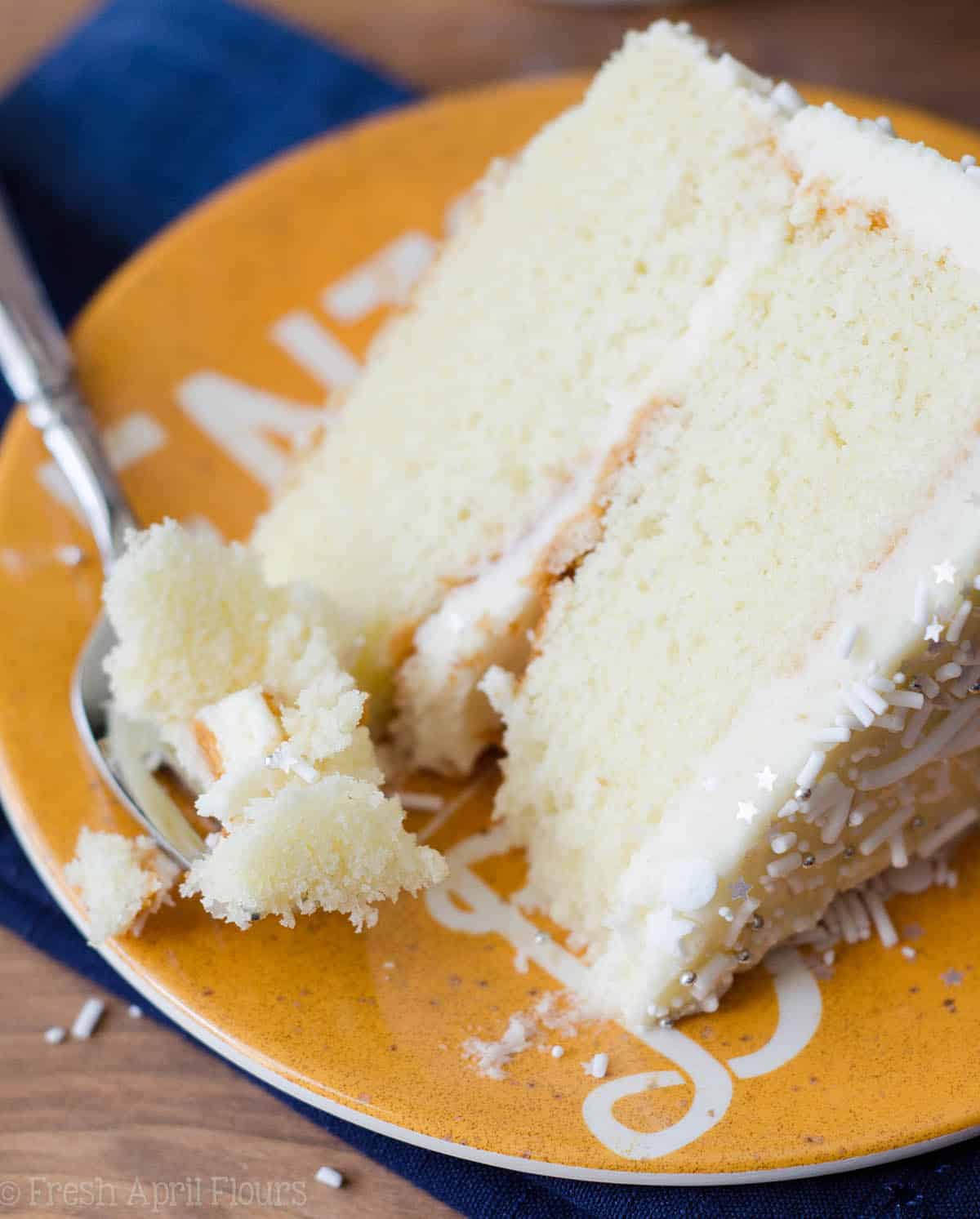 Another month, another cake. Hop on in, folks– it's about to get all sweet and heavenly up in here!
I'm back for March's edition of Cake of The Month with a little elaboration on January's yellow layer cake.
I mentioned in that post how yellow, white, and vanilla cake are often confused with each other and how they're all different. I've also brought you vanilla cake in the past, so now we're going to complete the trifecta with what I like to deem "wedding cake."
How this White Moist Cake Recipe tastes
I used this recipe to make many many cakes for customers back in my cake baking/decorating days, and it was often referred to as "that wedding cake flavor" when I would ask customers to be specific when asking for a "white" cake (spoiler alert: often times, they really wanted yellow).
Do you know the cake I'm talking about? Dense but not heavy, the perfect amount of moisture, a tight crumb that flows seamlessly into the filling and/or frosting surrounding it?
Hopefully you've tried the cake I'm describing, and you're nodding your head in wedding cake delight. Are we on the same cake page now?
Good. So let's make this "white wedding cake" recipe from scratch.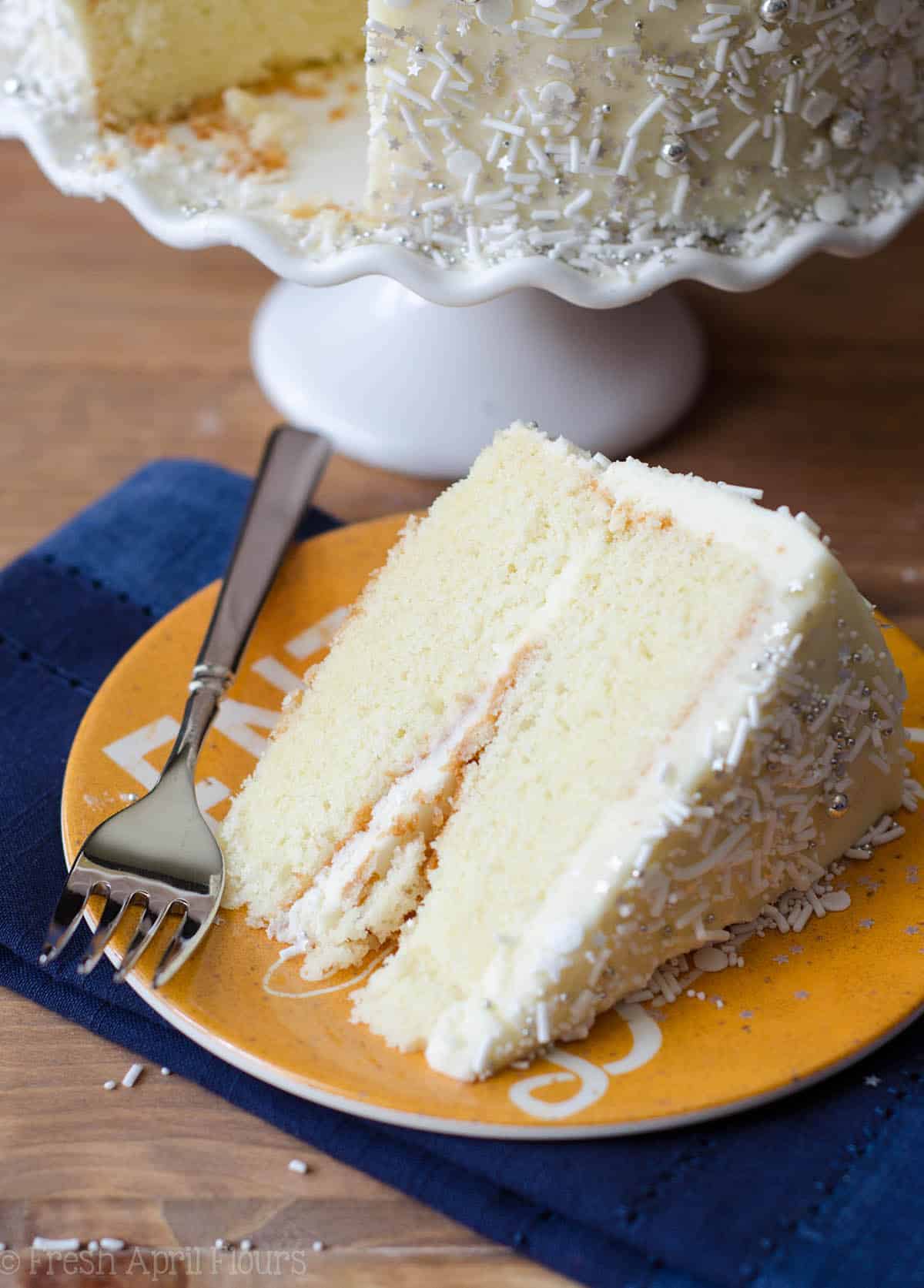 What is White Cake with Buttercream Frosting?
So white cake. It's, well, white. It's not quite angel food cake white, since it does use plenty of butter, but you won't be adding any egg yolks to this cake batter, so the batter stays fairly white, especially in comparison to its cousin cake, the yellow cake.
Egg whites are the bulk of the glue that holds this whole cake business together, and you'll need 6 of them for this two layer cake. I know, that's a lot of wasted egg yolks, but save them! Or toss them in an egg casserole.
You'll also do something a bit different for this white cake than you normally would for a cake batter.
White (Moist) Cake Recipe ingredients
For this white cake recipe, you will need:
all-purpose flour
cornstarch
granulated sugar
baking powder
salt
unsalted butter
heavy cream
large egg whites
vanilla extract
For the whipped cream frosting recipe, you will need:
unsalted butter
powdered sugar
vanilla extract
almond extract
salt
heavy whipping cream
Moist White Cake Recipe variations
While I personally like flavoring my white cake with just vanilla extract, you can actually add any flavoring to this cake to change the flavor. I often add almond extract to the cake batter itself and have also used citrus extract for a fun citrus punch.
How to make Whipped Cream Frosting Cake
Instead of creaming together butter and sugar, you're actually going to mix together your flour, sugar, cornstarch, baking powder, and salt and then add room temperature butter right there into the mix.
This is called "reverse creaming."
You'll wind up with a sand-like mixture. Here's a visual for you: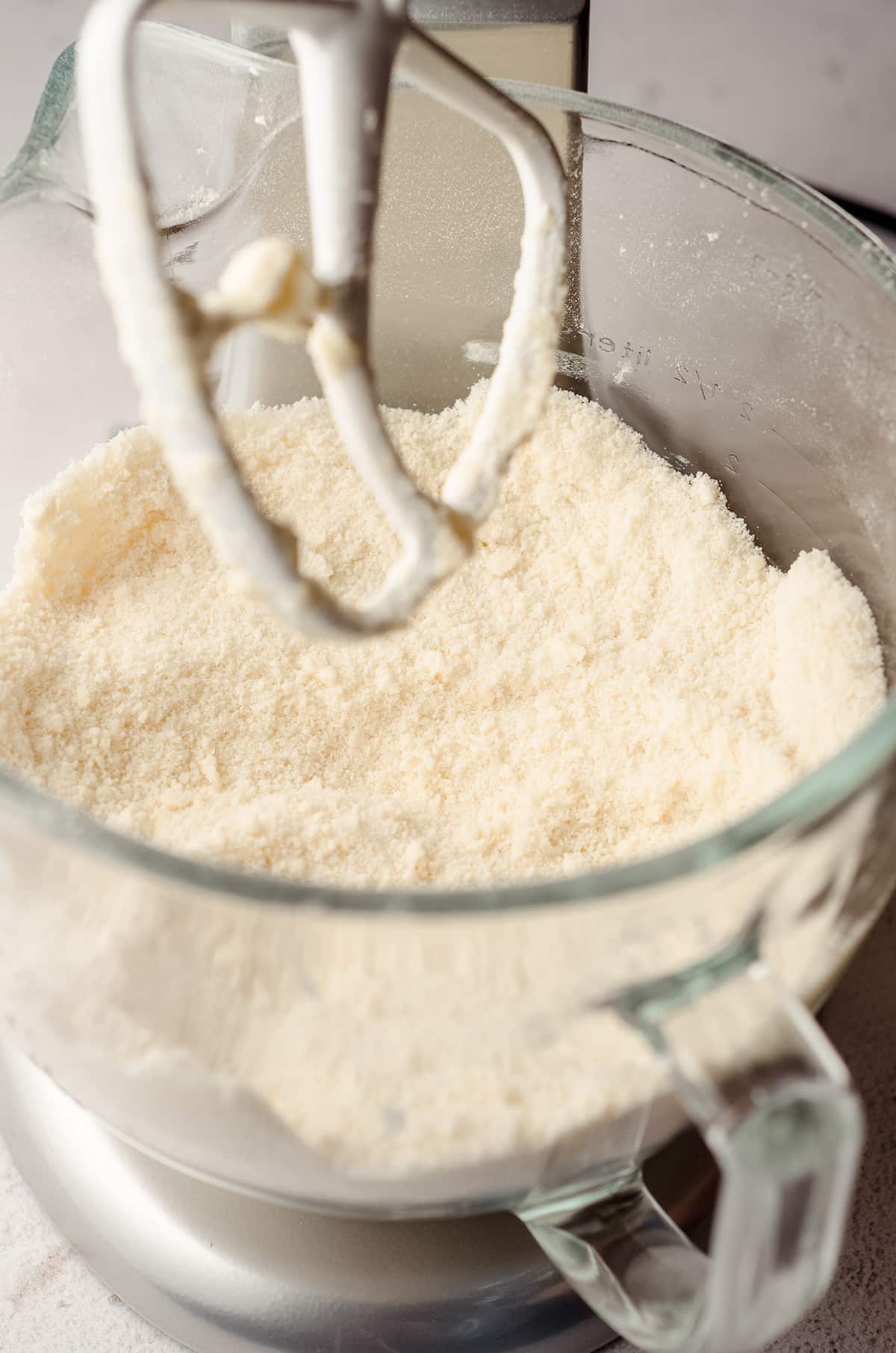 To that sandy mixture, you'll slowlyyyyy add your solution of heavy cream, egg whites, and a hefty dose of vanilla.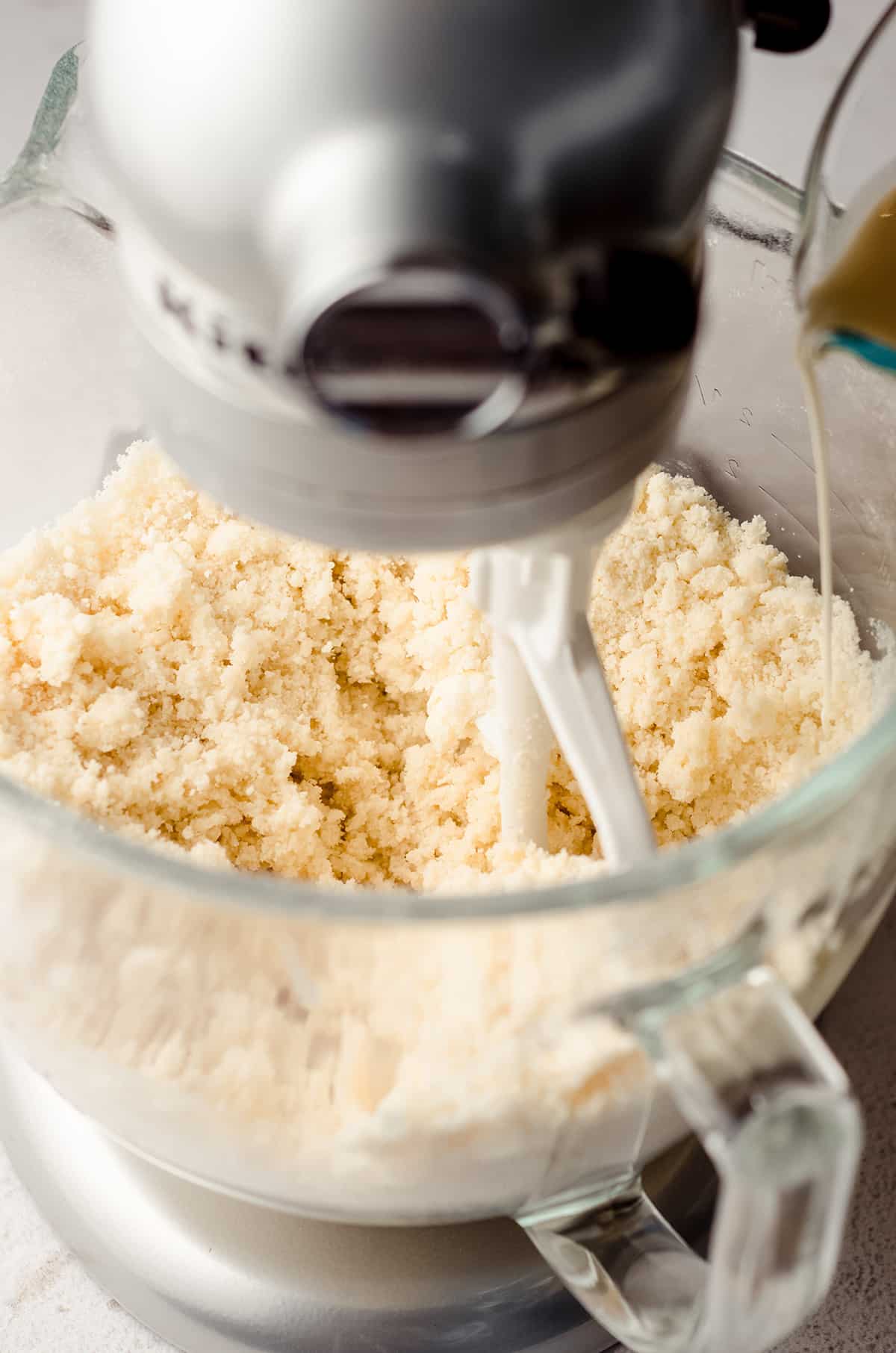 Much like we did with our orange creamsicle cake, you'll add half of this wet mixture to the dry, allow it to fully incorporate, then add the remaining half of the liquid.
The importance of slowly adding in the liquid to this Moist White Cake Recipe
Your batter can only absorb so much liquid at one time. In order not to overload it with too much at once, adding it in two parts ensures there's enough room for everyone to be happy and work together properly.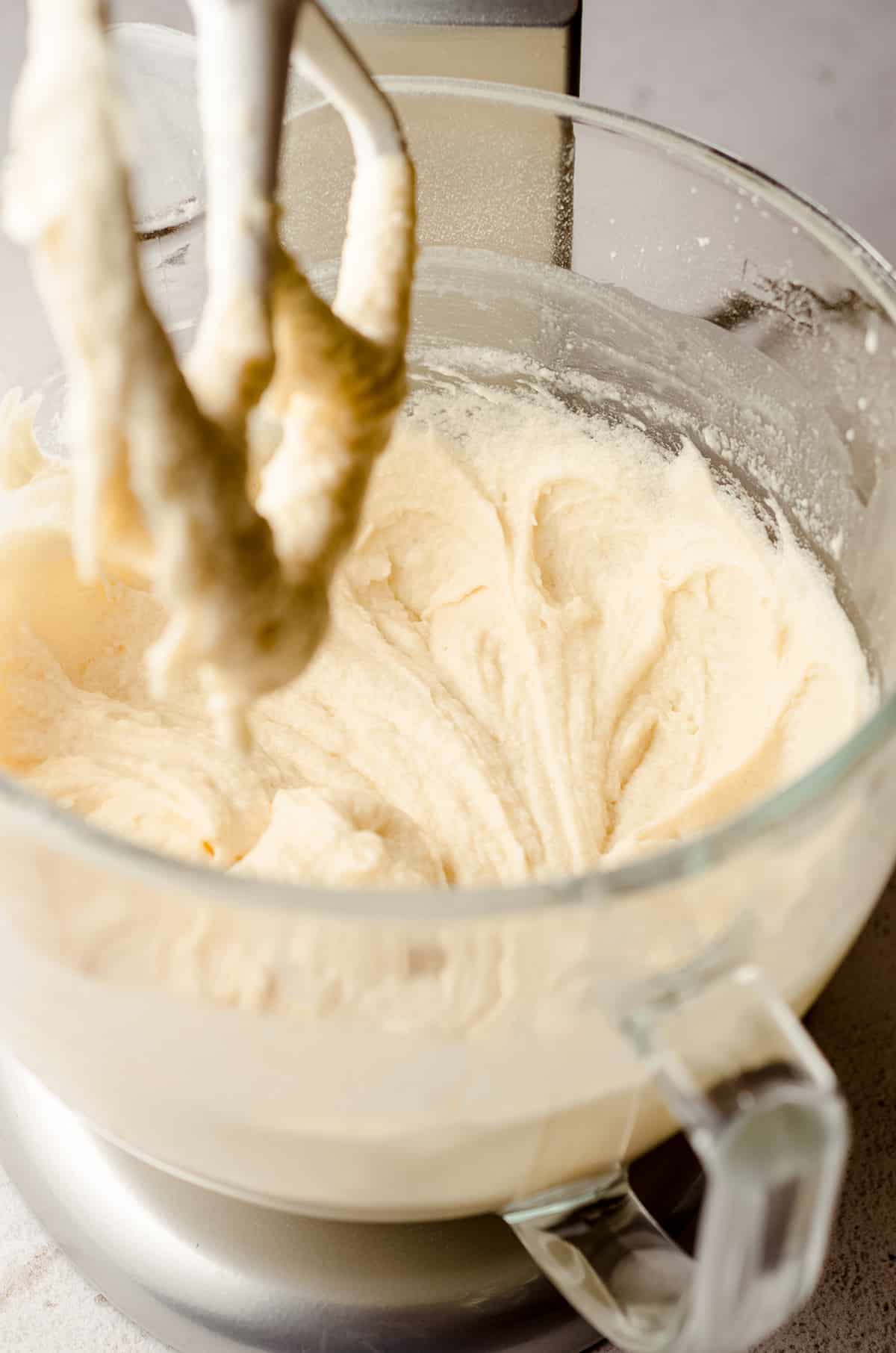 It may seem like an unnecessary step, but trust me, it is crucial in producing the perfect texture for this cake.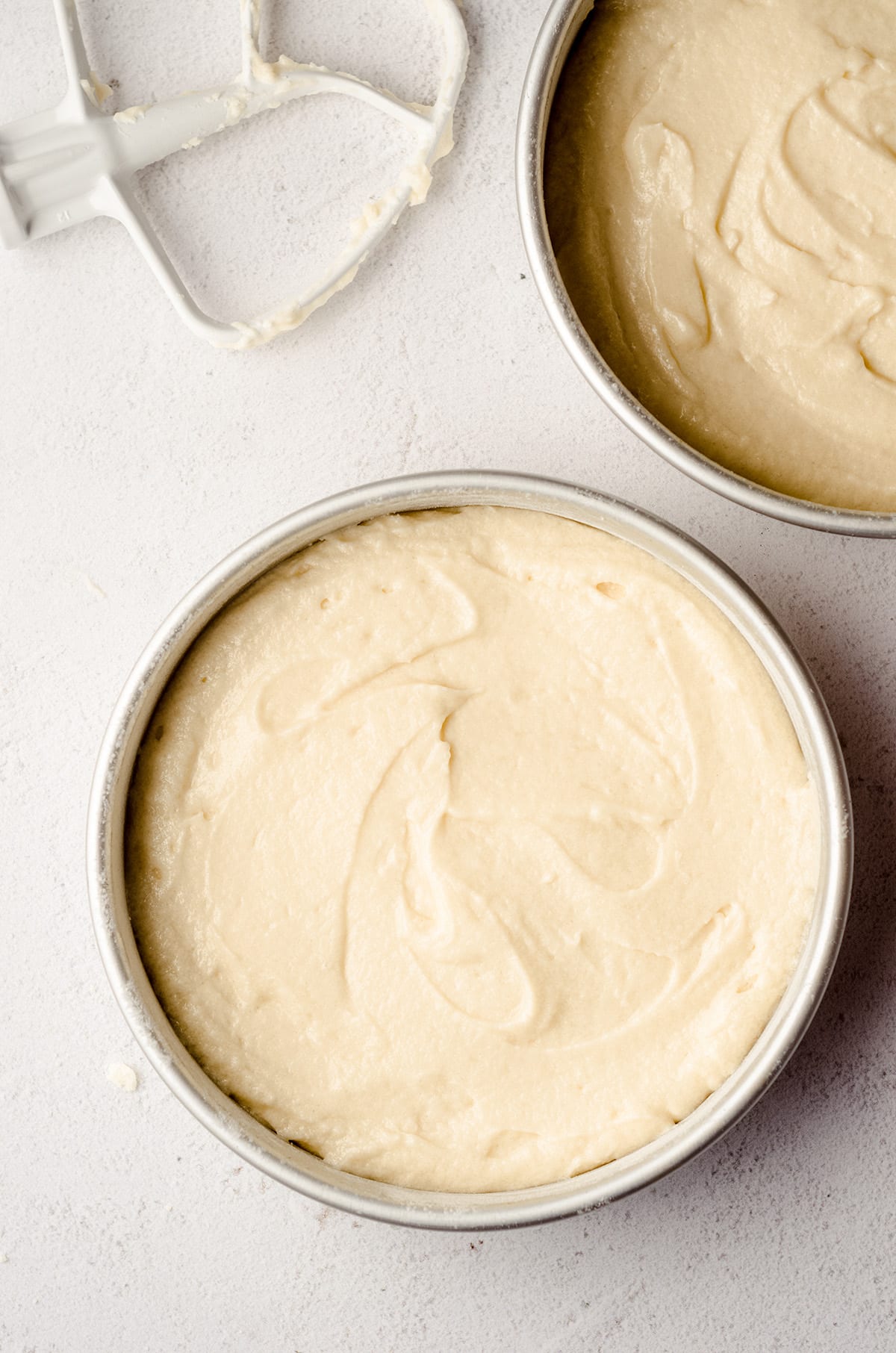 The cake will bake up nice and brown on the outside, but the inside will be a perfectly white color with a soft vanilla flavor perfect for pairing with just about any kind of frosting.
Side note: I actually used this white cake to make a berry cake, and it was a fabulous decision on my part. I hope you'll try that cake, too!
Grab my classic white buttercream, go for some chocolate buttercream, or even try out some orange cream cheese frosting. OOOOOOOOH, or fill it with homemade lemon curd and lather it up with lemon buttercream!
YES. DO THAT.
Or. ORRRR, my friend… Cover this perfectly white cake with some out-of-this-world whipped cream buttercream. Ohhhh, yes. Yes, this is the stuff you're going to want to douse every last crumb of cake with, because it. Is. Magical.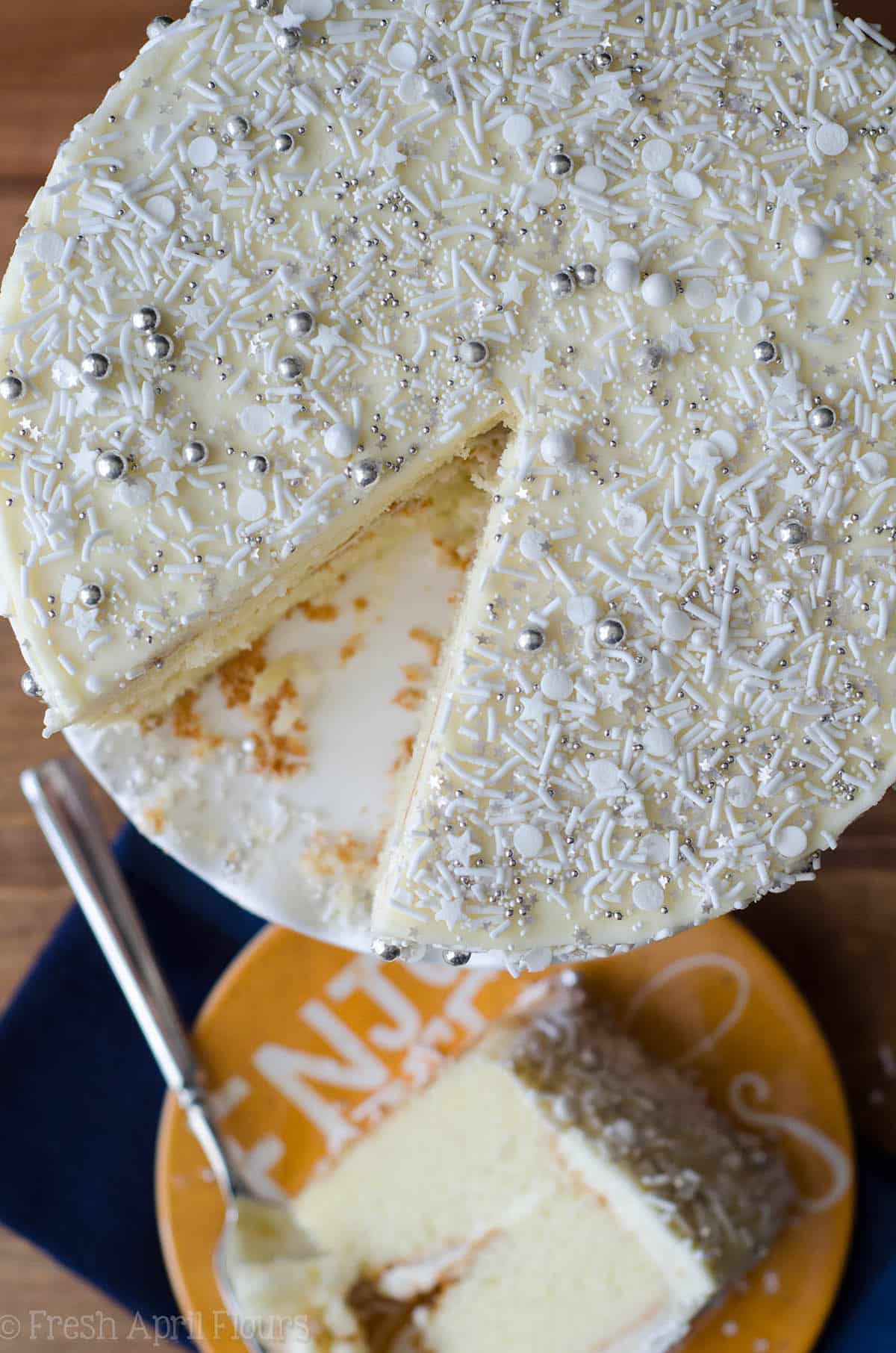 Top this Cake with Whipped Cream Frosting: the Best Frosting for White Cake
You'll find that the recipe for this whipped cream buttercream is pretty similar to my classic buttercream frosting recipe.
That frosting is simply buttercream frosting with heavy cream as the liquid for thinning.
However, instead of just plain adding liquid to the butter/powdered sugar/vanilla extract business, you're going to whip this buttercream with heavy whipping cream.
You'll watch for the frosting to just start getting fluffy. Then, it's perfectly whipped and ready to use.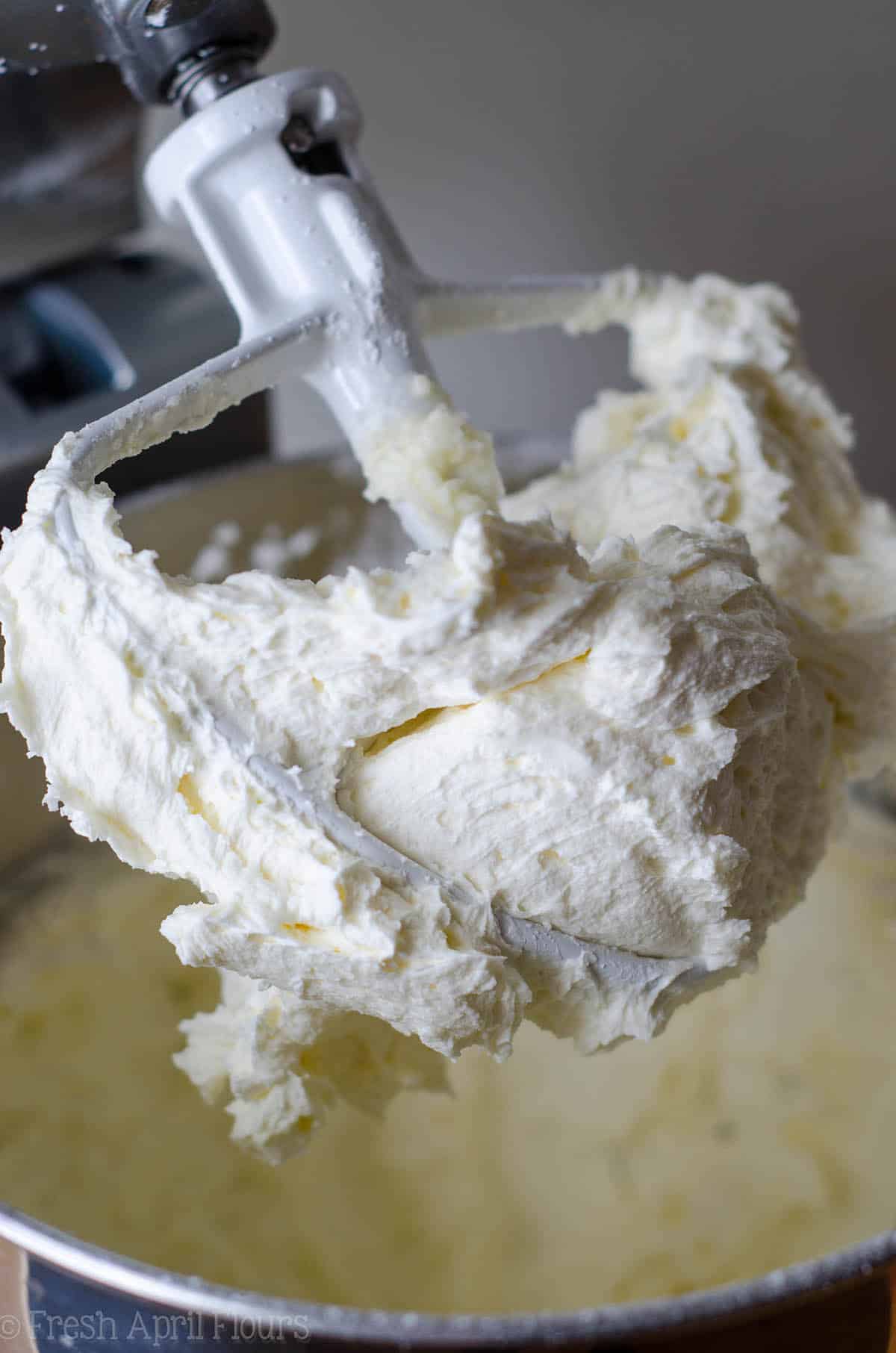 How to flavor Whipped Cream Buttercream Frosting
Side note about the buttercream, you'll add just a touch of almond extract to give the buttercream a bit of flavor flair. If you're not into almond extract or you don't have any on hand, that's totally fine.
Just know that the tiniest bit of it can add a whole new dimension to your buttercream game. Just think about it.
If you prefer your frosting a little thinner to make spreadability a bit easier, thin it out with some more heavy cream, but decrease the mixer speed to low at this point.
You definitely don't want to over-whip your cream, otherwise you're well on your way to butter all over again. Not what you want.
How to decorate White Cake with Buttercream Frosting
As always, allow your cake layers to cool completely before assembling, and remember that no cake is complete without sprinkles.
Lots and lots. And lots.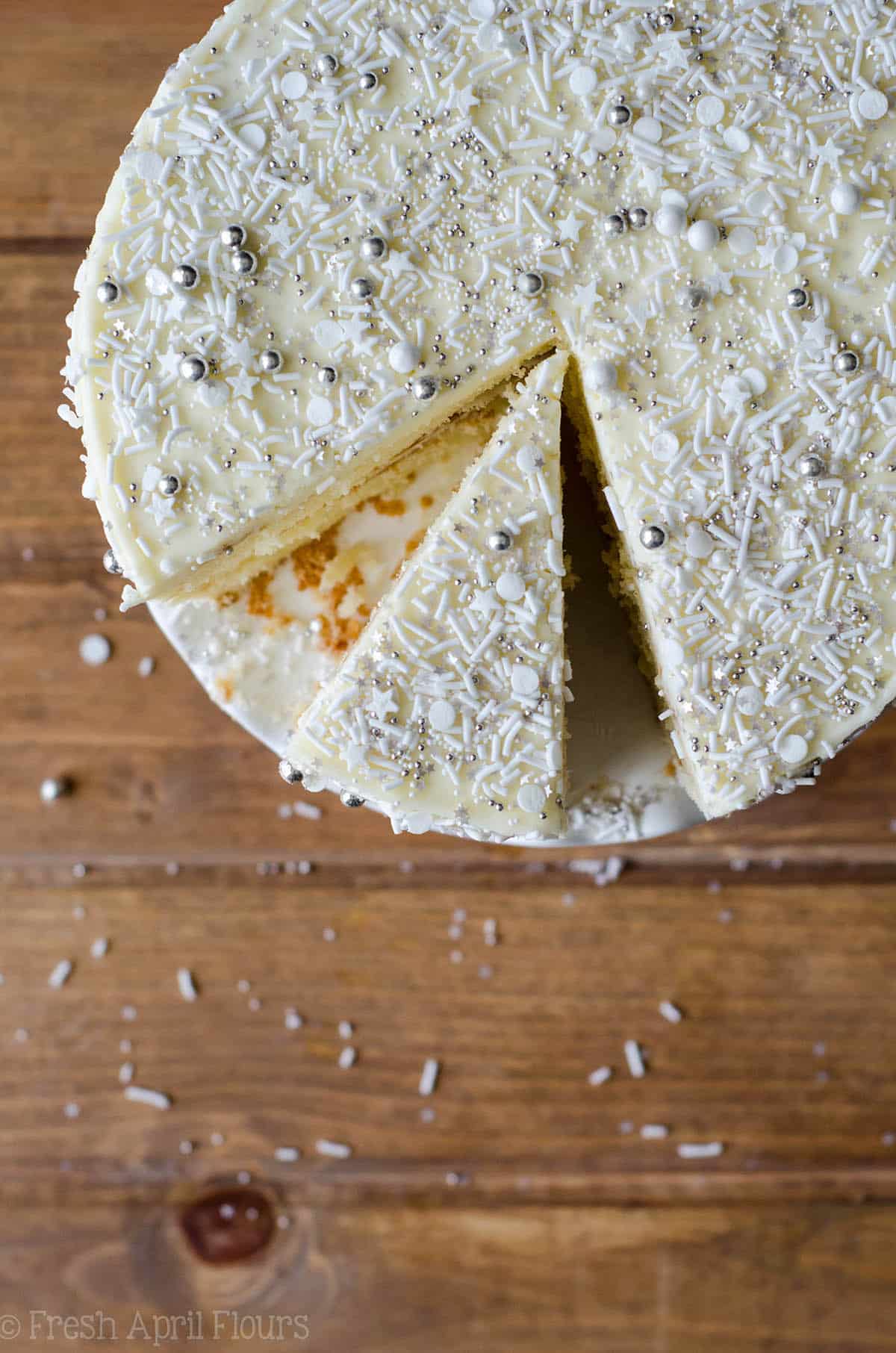 Serving Whipped Cream Frosting Cake
If you're looking for a very easy, basic white cake, this is totally it. It is easily paired with many flavors and makes a great plain canvas for serving with your favorite ice cream or even fresh fruit.
There is no wrong way to eat white cake, wedding or no wedding, so definitely tuck this recipe away for safe-keeping.
How to store Cake with Whipped Cream Frosting
Tips for freezing White Cake with Buttercream Frosting
When freezing a cake, it's important to tightly wrap all exposed points to prevent air from drying out any of the frosting or cake crumbs. I like to wrap everything in plastic wrap and then again in foil.
Moist White Cake Recipe FAQs
What is the difference between white and vanilla cake?
White cake is typically made without egg yolks, and vanilla cake typically includes the yolks. Aside from that, vanilla cake will often use more vanilla extract and sometimes vanilla beans. See my vanilla bean cake recipe for a traditional vanilla cake flavor.
What is the difference between buttercream and whipped frosting?
Depending on the ingredients included in the frosting, buttercream and whipped frosting can be almost nothing alike. Buttercream is typically made with butter, powdered sugar, and milk or cream. This whipped buttercream frosting is made with heavy cream and an extra step of whipping the mixture. If you are looking for a whipped frosting made strictly from whipped cream, use the recipe and instructions included with my berry cake.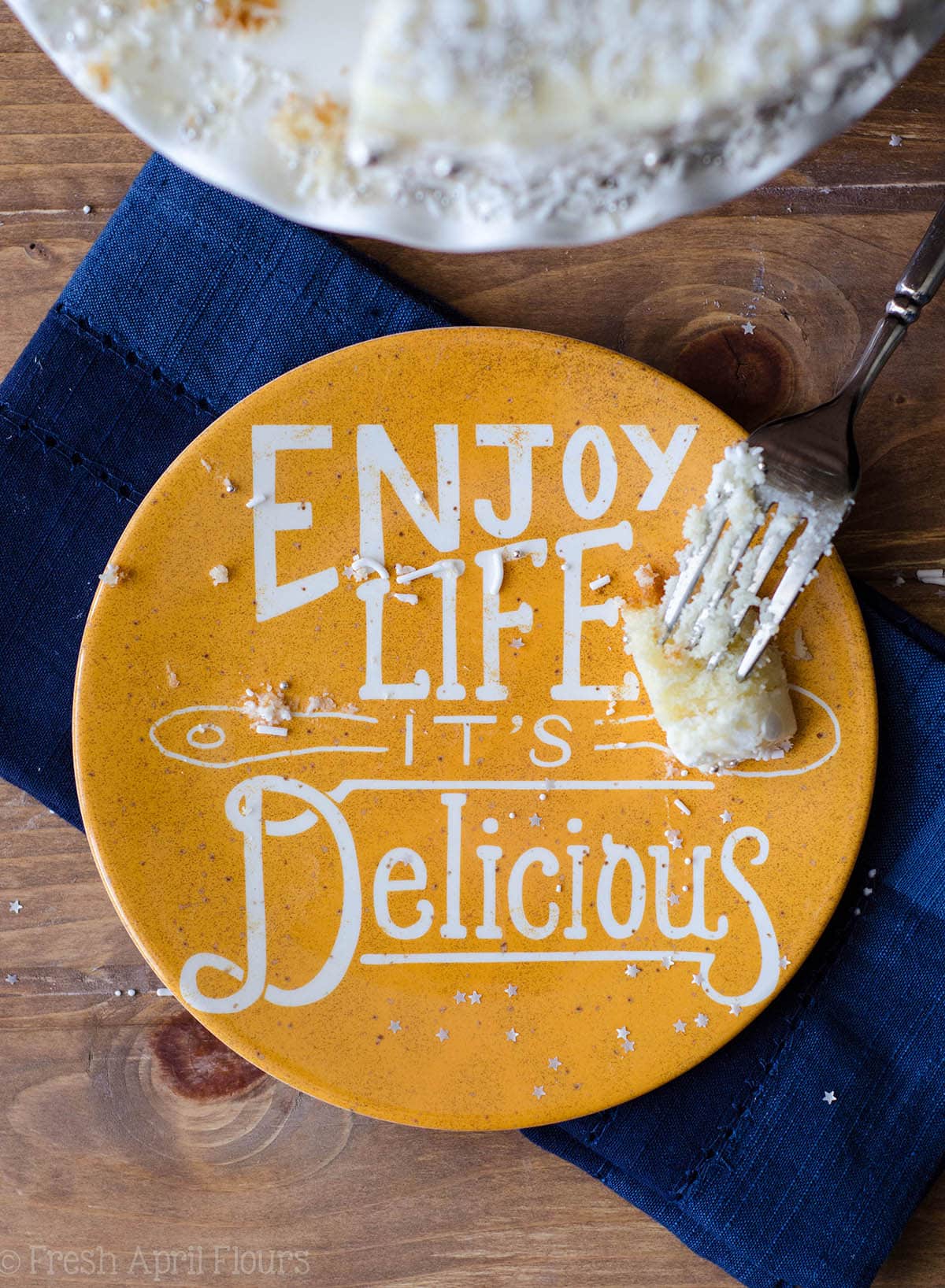 And don't forget, now you're fully equipped with the cake trifecta (white, yellow, and vanilla), so while you're at it, might as well make a weekend out of cake baking and eating!
White Cake with Whipped Cream Frosting
A perfectly moist and simple white cake paired with a light and fluffy whipped cream buttercream frosting.
Ingredients
CAKE
2

cups

(240g) all-purpose flour be sure to measure properly

2

Tablespoons

(15g) cornstarch

1 and ¾

cups

(350g) granulated sugar

4

teaspoons

baking powder

1

teaspoon

salt

12

Tablespoons

(171g) unsalted butter softened to room temperature1

1

cup

(240mL) heavy cream room temperature1,2

6

large egg whites room temperature1

2 and ½

teaspoons

vanilla extract
WHIPPED CREAM BUTTERCREAM
1

cup

(227g) unsalted butter

softened to room temperature

4

cups

(480g) powdered sugar

2

teaspoons

vanilla extract

¼

teaspoon

almond extract

pinch

of salt

¼ to ⅓

cup

(60-80mL) heavy whipping cream
Instructions
CAKE
Place oven rack on the middle setting and preheat the oven to 350ºF (177ºC). Grease and flour (or use homemade cake release) two 8" or 9" round cake pans.

In a large bowl with a handheld mixer or the bowl of a stand mixer fitted with the paddle attachment, combine the flour, cornstarch, sugar, baking powder, and salt. Blend ingredients together on low until completely combined, about 1 minute. Add the room temperature butter and beat mixture on low speed until it resembles sand (see photo in post text). Scrape down the sides and bottom of the bowl with a spatula and mix again on low for a few seconds until thoroughly combined.

Combine the heavy cream, egg whites, and vanilla extract in a large container with a spout (like a 2-cup glass measuring cup) and mix gently with a fork until blended. With the mixer speed on medium-low, add half of the milk mixture (about 1 cup) to the crumb mixture and mix until blended. Add the remaining milk mixture to the batter and beat again on medium-low until everything is incorporated. Turn the mixer off, scrape down the sides and bottom of the bowl with a spatula, and increase mixer speed to medium. Beat the batter for about 30 seconds until batter is smooth.

Divide batter evenly between the two prepared cake pans. Bake cakes for about 26-28 minutes or until a toothpick inserted in the center comes out clean and the tops are lightly browned. Remove from oven and allow cakes to cool in the pans completely on a wire rack before removing and assembling.
BUTTERCREAM
In a large bowl with a handheld mixer, or a stand mixer fitted with the paddle attachment, beat the butter on medium speed until creamy, about 2 minutes.

With the mixer on low, add in the powdered sugar, vanilla and almond extracts, and salt. Add the cream and continue to mix until everything starts to come together.

Increase mixer speed to high and beat for 3-4 minutes until frosting is fluffy, pausing once or twice to scrape down the sides and bottom of the bowl. Be careful not to over-beat the frosting, as whipping cream may start to clump. Decrease mixer speed to low if you need to add more cream to thin to desired texture.
ASSEMBLE THE CAKE
Place one layer, bottom side up, on a plate or cake stand. Using a spatula or knife, spread an even layer of frosting over the entire surface. Place the second layer on top, bottom side down, and press down on the top lightly. Spread the rest of the frosting on the cake, beginning with the top and working your way down the sides. Decorate as desired.

Cake stays fresh covered at room temperature for up to 4 days. Cake may be covered and refrigerated for up to 7 days.
Notes
It is imperative to use room temperature ingredients in this recipe. Allow ingredients to sit out at room temperature at least 45 minutes before beginning.
I strongly encourage using cream in this recipe. It keeps the crumb moist and dense and adds a creaminess to the overall texture of the cake.
Recipe adapted from Cook's Illustrated
Nutrition Disclosure
All nutritional values are approximate and provided to the reader as a courtesy. Changing ingredients and/or quantities will alter the estimated nutritional calculations.