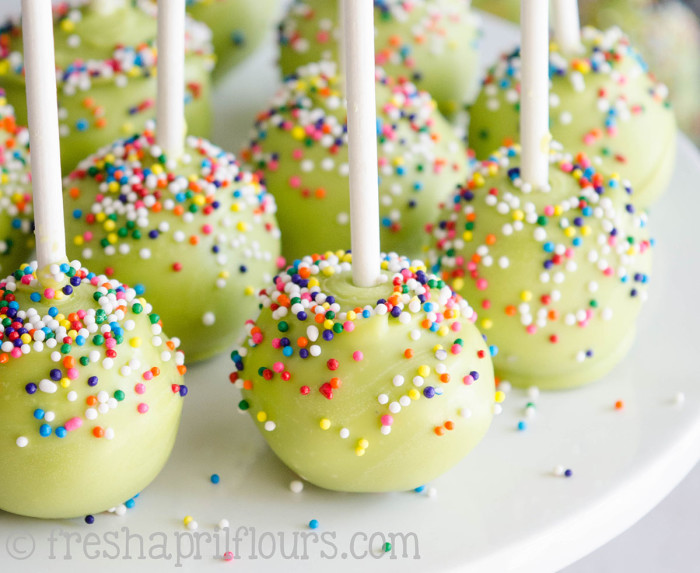 Here's the thing… Back in my Lucky Duck Cakes days, I was the queen of cake pops. Not to toot my own horn, but… Toot toot! They were my favorite way to use up cake scraps, and they were perfect for so many different occasions. Different flavors, color combinations, vehicles for sprinkles, crushed cookies, nuts… They are just so fun. So today, I'm sharing with you my favorite method for putting together cake pops. I am also including a section for "Cake Pop Troubleshooting," because I'll be honest… Cake pops take some practice. BUT, the good news is, once you get the hang of it, cake pops are a breeze (and yes, I do still screw up sometimes and I can promise you the messed up ones still taste just as good 😉 )!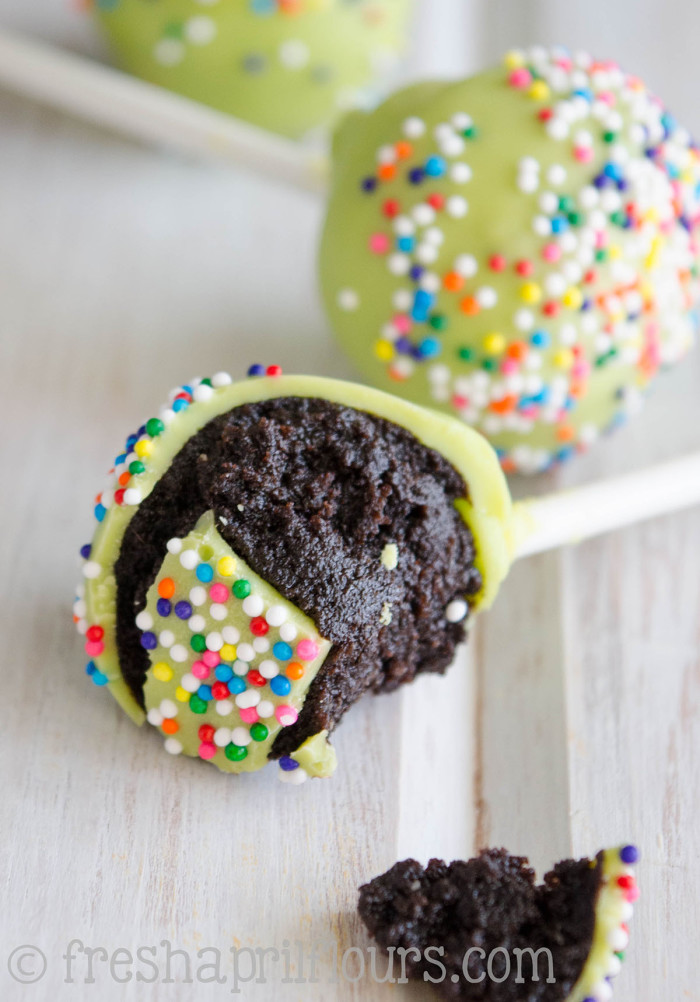 Before we get started, I want to say that my way is not the only way. Some people like to use a cake pop maker and bake fresh cake into balls, giving you, essentially, a ball of cake on a stick. While that's all fine and dandy, I find my fan favorite (and personal favorite) cake pop is one that is almost a truffle texture on the inside. I achieve this texture by mixing fully baked cake that has been crumbled into pieces with frosting. The texture is gooey, dense, and like the texture of a fudgy brownie. I actually had a customer complain to me once that my cake pops were "underdone" in the middle, if that gives you any indication of how I like my pops! As I said, this is my preference, but you're welcome to start with cake pop maker made cake balls (what?).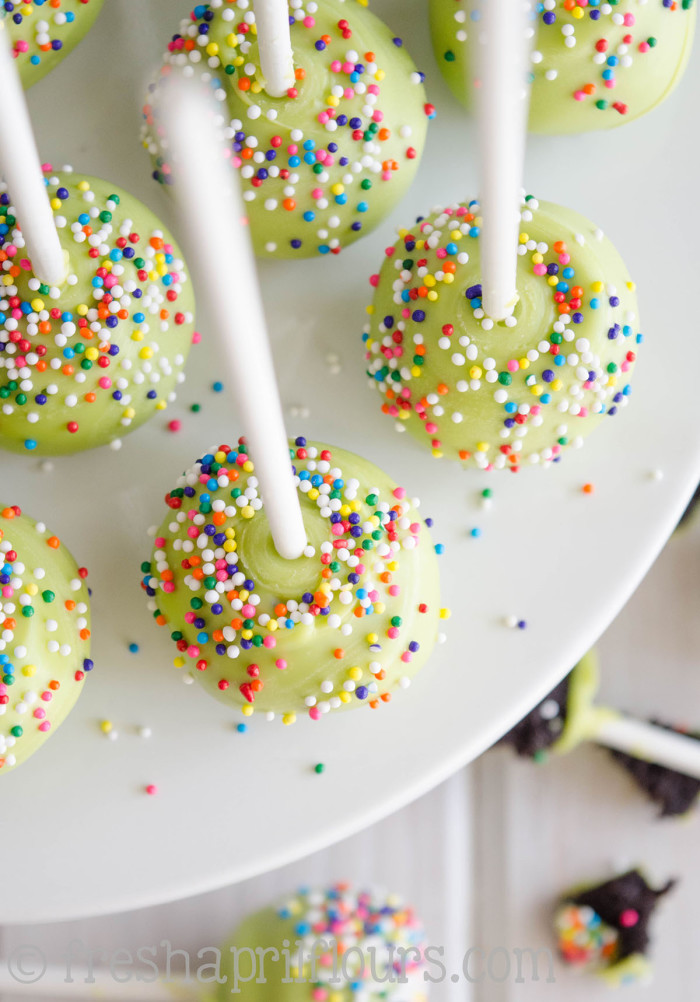 Another personal preference of mine is to work with stale(ish) cake. Why? Stale cake is drier than freshly baked cake, and while this may be the last thing you want your slice of cake to be, this is the very thing you want your cake pop cake to be– lots of room for soaking up frosting and increased ability to stick together! I have totally used freshly baked cake as well, and I'll make note in the step-by-step instructions on how to gauge your moistness level.
You'll also need cake pop sticks (packaged as "lollipop sticks"). You can find these in any craft store or store with a baking section (WalMart, Target). I prefer the long sticks (8″), but you may use shorter ones.
One last thing… I prefer using candy melts for my coating (preferred brand Wilton), because they are made for purposes like this. You may also use quality baking chocolate, but you'll need to add some shortening to the chocolate to keep everything super smooth. I highly highly suggest using candy melts.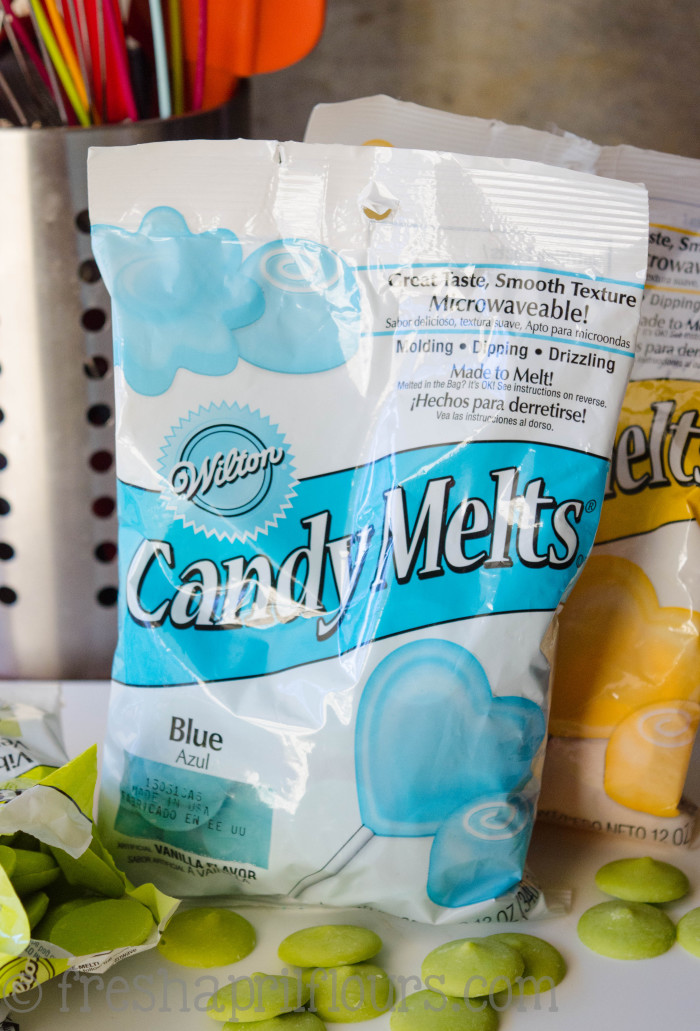 Ok, let's get poppin'!
First, line two baking sheets with foil or parchment and set aside. Crumble your cake (any flavor) into tiny pieces. I usually use my hands, but I've also used my stand mixer. Either way, you want this crumb to be very fine. This was 3 cups of cake.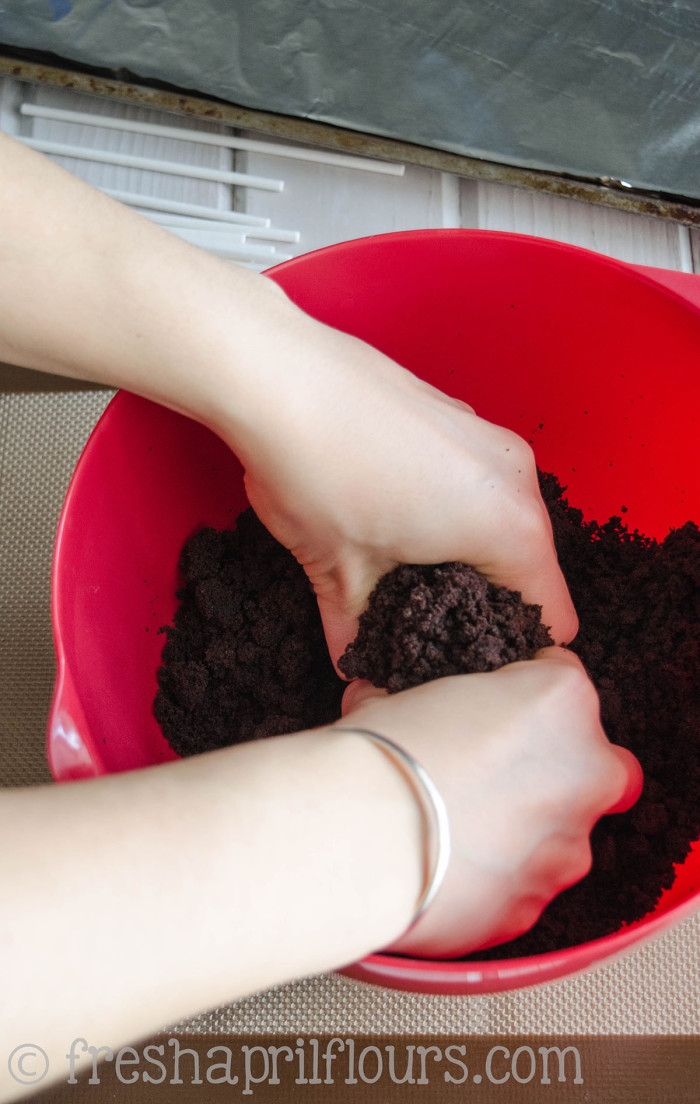 Next, you're going to add your frosting. This can be homemade or store-bought, and any flavor you like. I love adding flavored frosting to my cake pops (and sometimes fresh zest if I'm going fruity)! This is also where you would add spices if you wanted to (add 1 teaspoon of spice, taste, and add more as necessary). I added 1/3 cup of frosting because my cake was very dry. If you have a moist cake, add 3 Tablespoons of frosting and go from there.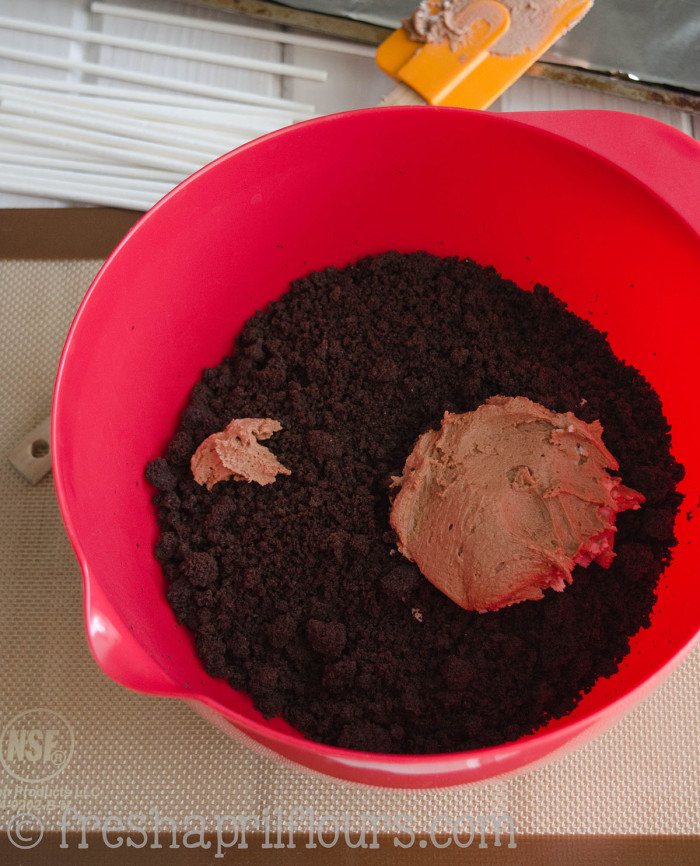 This is where you definitely want to get your hands dirty. Work the frosting into the cake by squeezing and pushing until everything is uniform in texture. You're looking for a texture that you can roll into a sturdy ball (meaning the ball should have a bit of give when you push on it but not squish completely).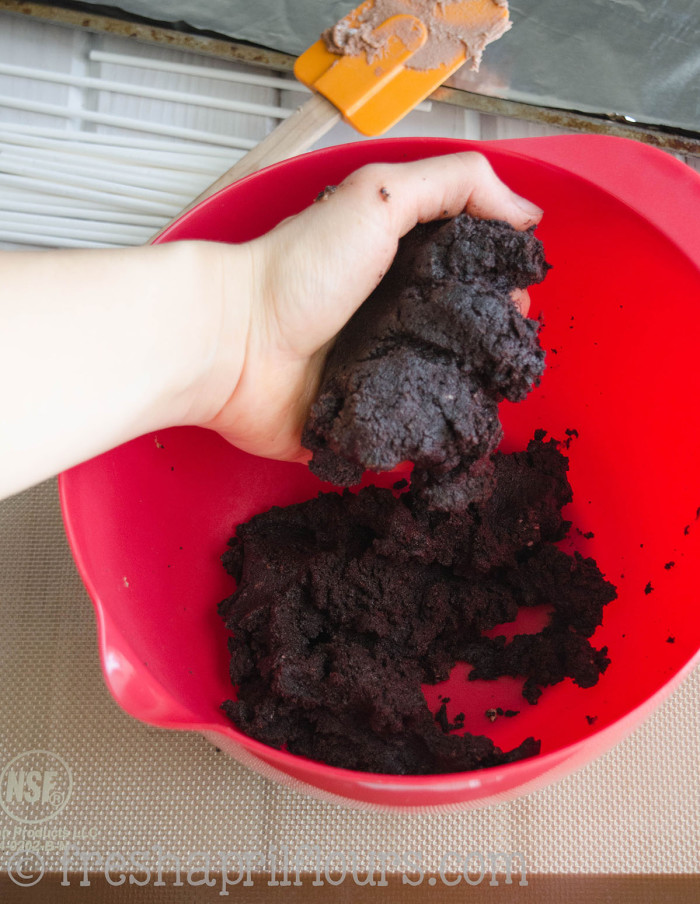 Roll all of the cake into balls approximately 1 Tablespoon in size. Use a Tablespoon measure if you are unsure how big this is. Try to keep the cake balls on the small side. If they are too big, they will be too heavy, and you will definitely lose them in the dipping step. Place your cake balls onto one of your prepared baking sheets. I got about 20 cake balls from my 3 cups of cake.
Place your candy melts (any color) in a glass or ceramic bowl (I say this because I've used plastic, and the heat distribution makes keeping the candy melts melted quite difficult). I typically use 1/2 to 3/4 of a 12oz bag per 3 cups of cake. Heat on MEDIUM (50%) power for 30 seconds, stirring after each session in the microwave. It may seem silly to stir the melts the first couple times since they won't seem to have melted at all, but trust me, the ones on the outside are hotter. Stir them. It usually takes me about 5-6 sessions of 30 seconds at MEDIUM power to achieve the texture I want. As the candy melts start getting meltier (??), stir them vigorously to continue the melting process outside of the microwave. You do not want to scorch your candy melts. It is possible to overheat them, and they will turn to a crumbly, dry mess. Stirring will help distribute the heat.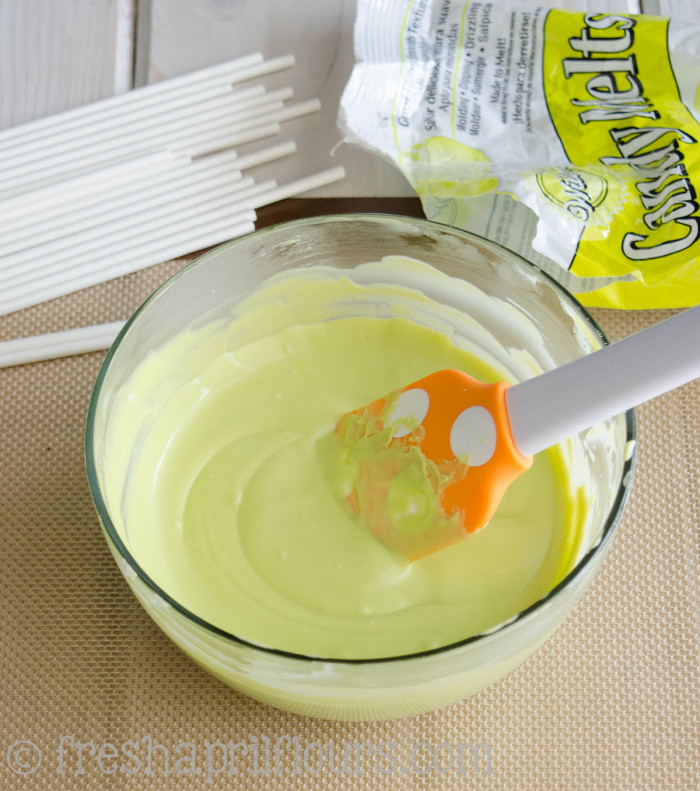 Grab your cake pop sticks. Working with one stick at a time, dip one end of the stick into your melted candy (about 1/2 an inch). Push this stick into a cake ball about halfway. You don't want to push it the whole way through, because it will poke out of the top of the ball. The melted candy will form a little mound. This is just fine and what you want to happen. Repeat until all cake balls have sticks, and place in the freezer for 15 minutes.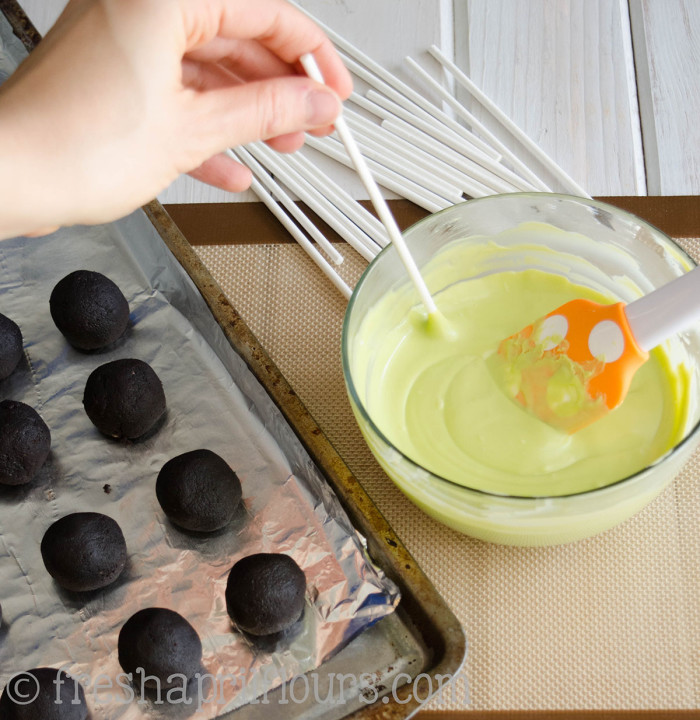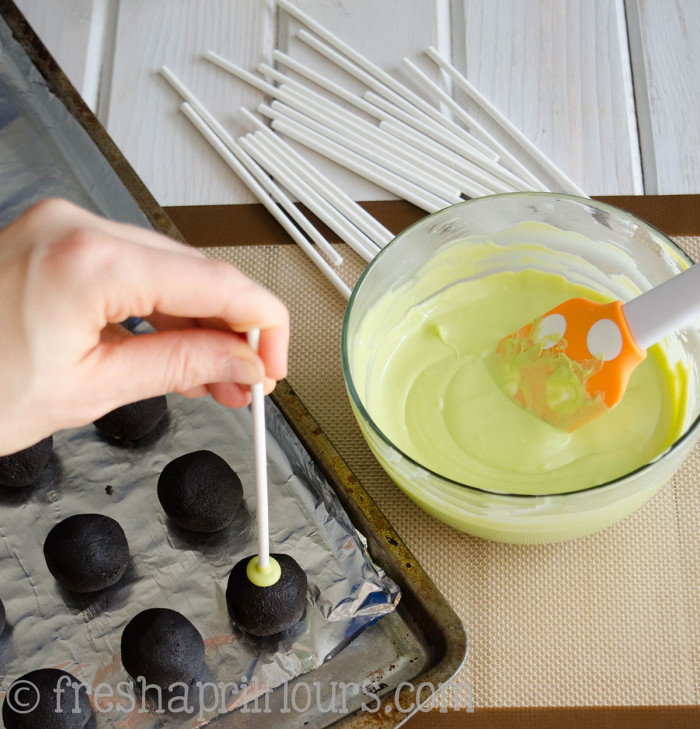 Once your cake balls have set up, it's time to get to dipping! You may have to reheat your candy melts a little bit (start with 20 seconds on MEDIUM power), but do not work with hot melts! The temperature differences will be too drastic and you'll end up with cracks in your coating (more on that in the Troubleshooting section below). As long as you are able to stir your melts and they seem to still be in a fairly viscous state, reheating is not necessary.
Side note… Please excuse my blurry photos below. Turns out that even using a tripod, it is quite difficult to get action shots when you are constantly moving your photographic subject. I think you'll be able to figure out what I'm showing you 🙂
Working with one ball at a time, submerge the cake ball into the melts, making sure to cover the candy mound you created (more on what happens if you don't do this in Troubleshooting section below). I have a habit of tilting my bowl, but this is just the way I prefer to do it and find it makes things easier. Work quickly, as leaving the cake ball in the melts too long is a good way to lose it from the stick!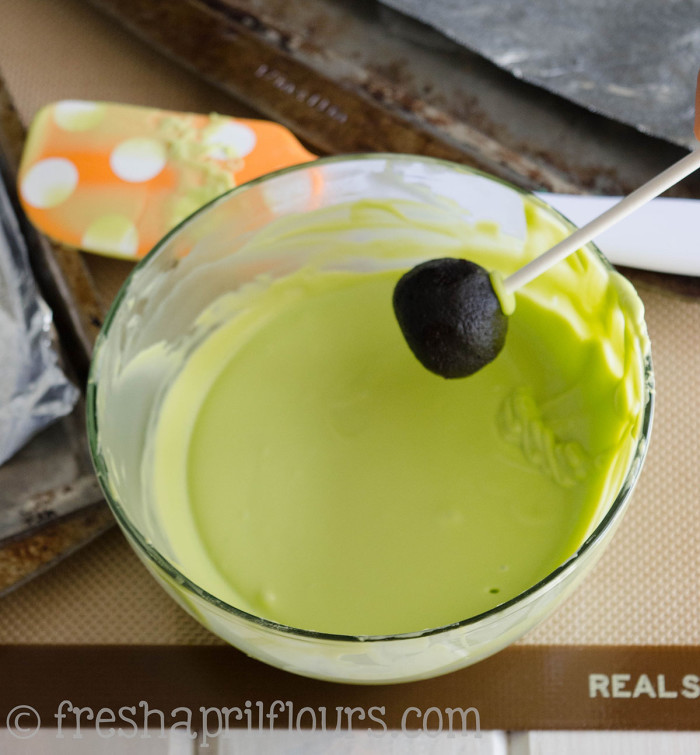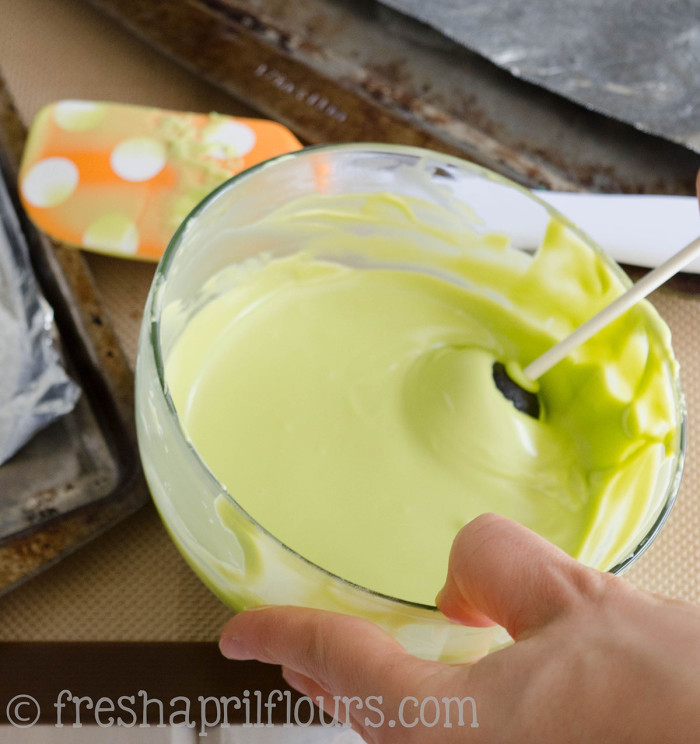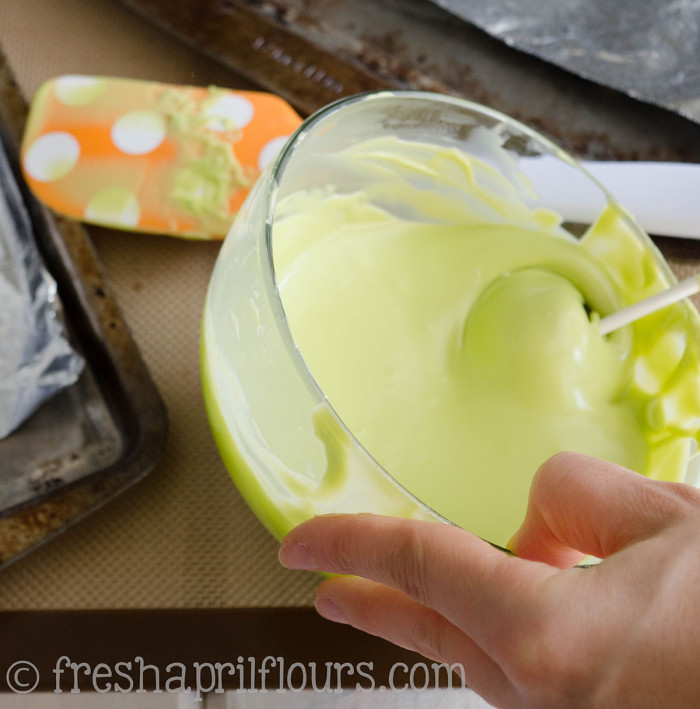 Lift the cake ball out of the melts and slowly twirl the stick to allow the excess to drip off. I also tap my stick LIGHTLY on the side of the bowl to help some of the coating drip off.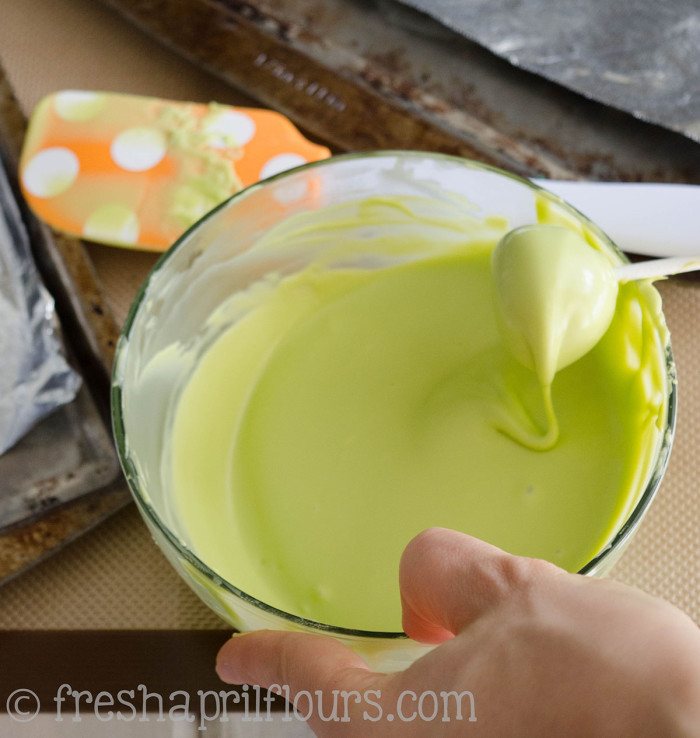 Pull the cake pop to the edge of the bowl and, while still twirling slowly, allow the bowl to scrape the excess from where the stick meets the pop.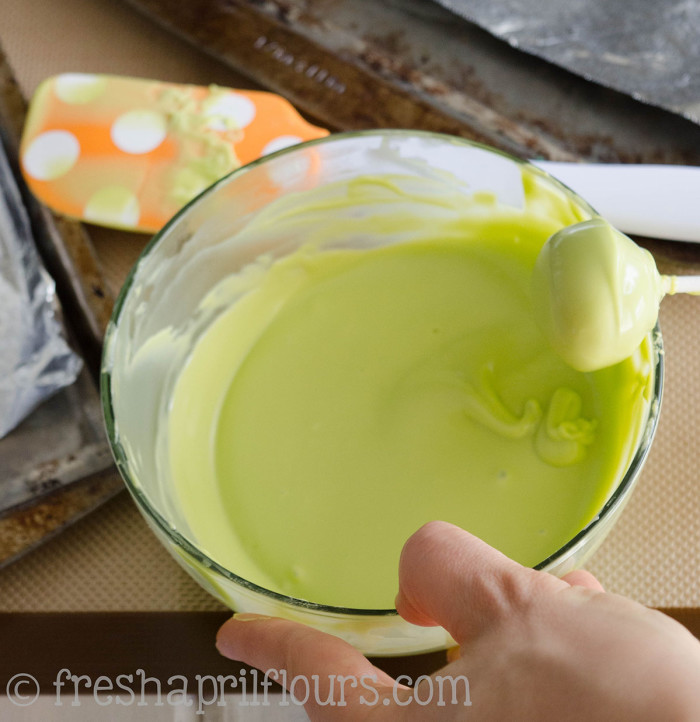 While the coating is still wet, decorate with sprinkles.
You may place your finished cake pops on your second baking sheet (which will make their tops a bit flat) OR you may do what I did here and allow them to dry right side up in a tall glass. I have also used a large styrofoam block which is a super easy way to allow several cake pops to dry at once.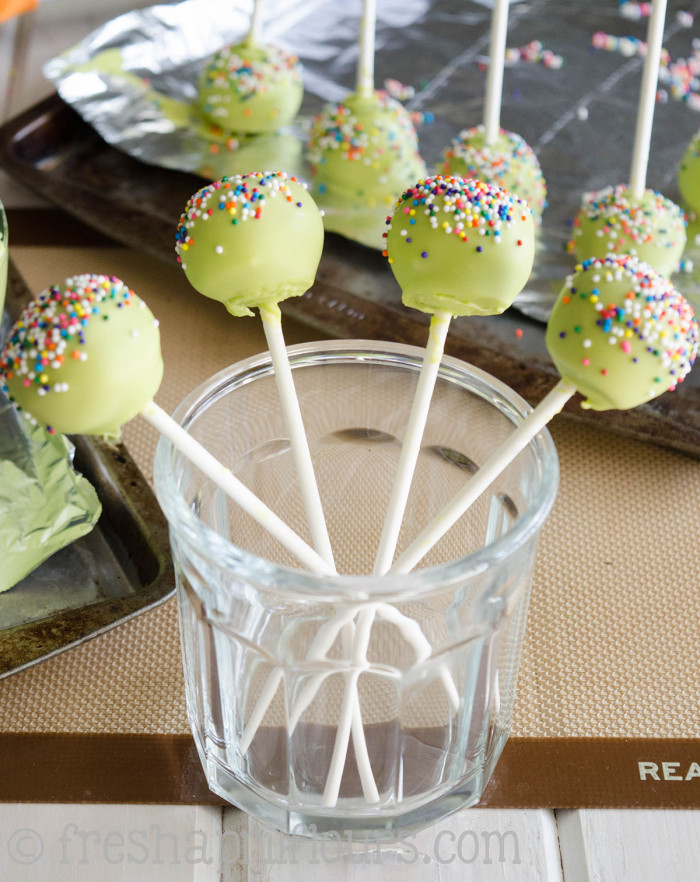 Once the pops are completely cool, they're ready to enjoy! Package them up in plastic goodie bags or serve them as is on a plate or platter.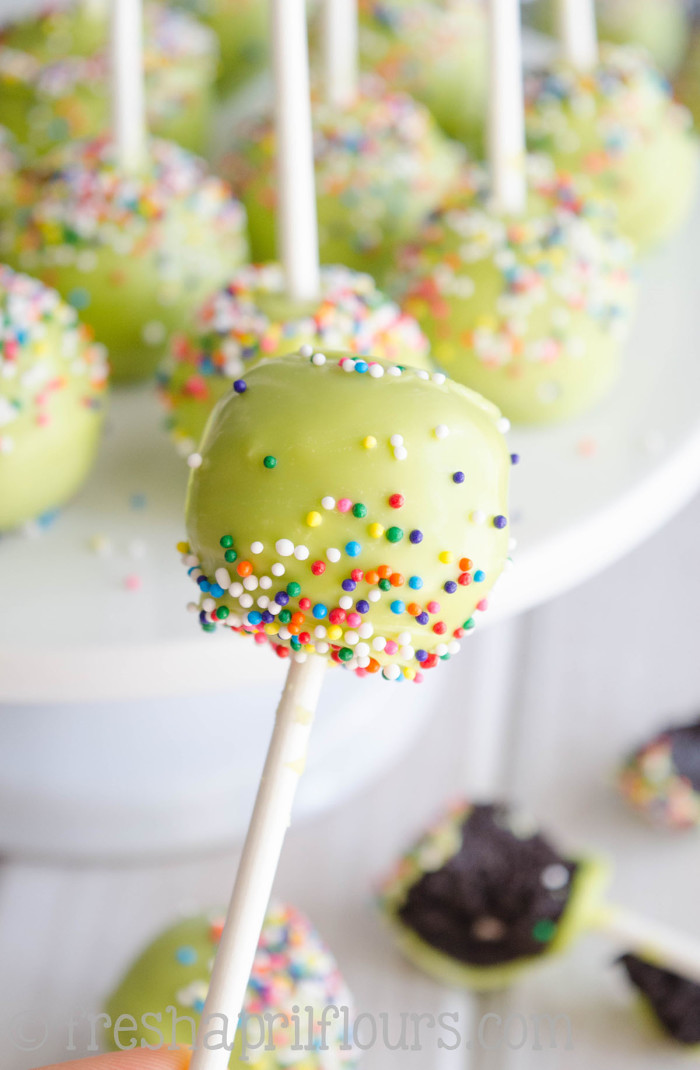 Ok, now it's time for some TROUBLESHOOTING.
I stated above that if your candy melts are too hot and your cake balls are too cold, there will be earthquake city all over the surface of your cake pop. How to avoid this: don't leave your cake balls in the freezer for more than 15 minutes. This particular ball was in the freezer for a half an hour. Plus, my candy coating was very hot. I did this on purpose so I could take a photo. If your balls are in the freezer for longer than 15 minutes, allow them to sit at room temperature for a few more minutes before dipping. Likewise, allow your coating to cool for a few minutes if you've just reheated it.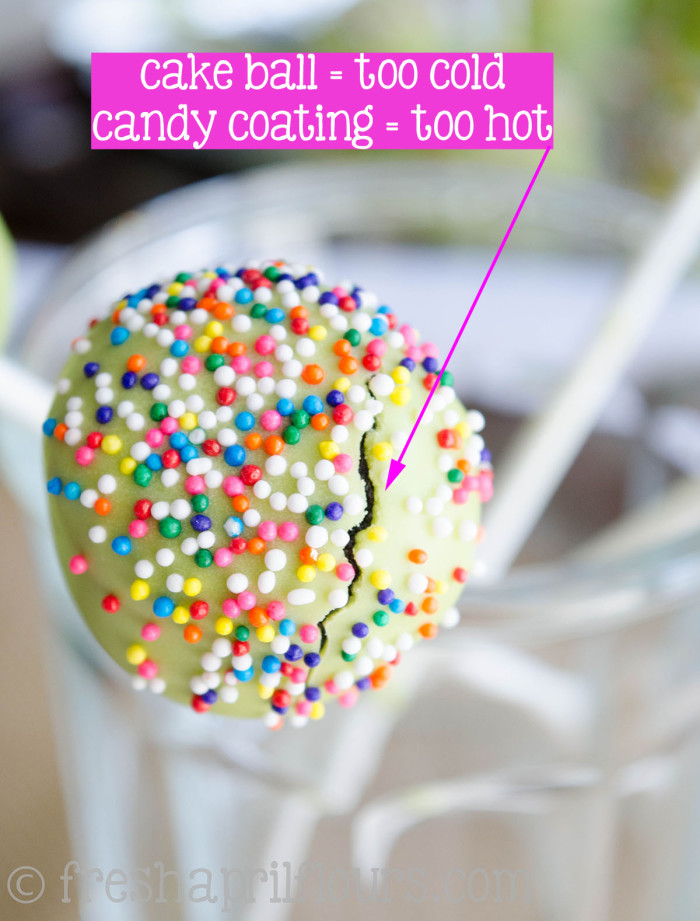 If you don't cover the mound you made when you inserted the stick into the cake ball, your cake pop will do this really cute thing I like to call a "cake poop." If there are holes, cracks, or weak spots in your coating, that cake will find a way out. How to avoid this: cover all surfaces of the cake. How to fix this: scrape off the cake and "patch" the spot with a toothpick and more candy coating.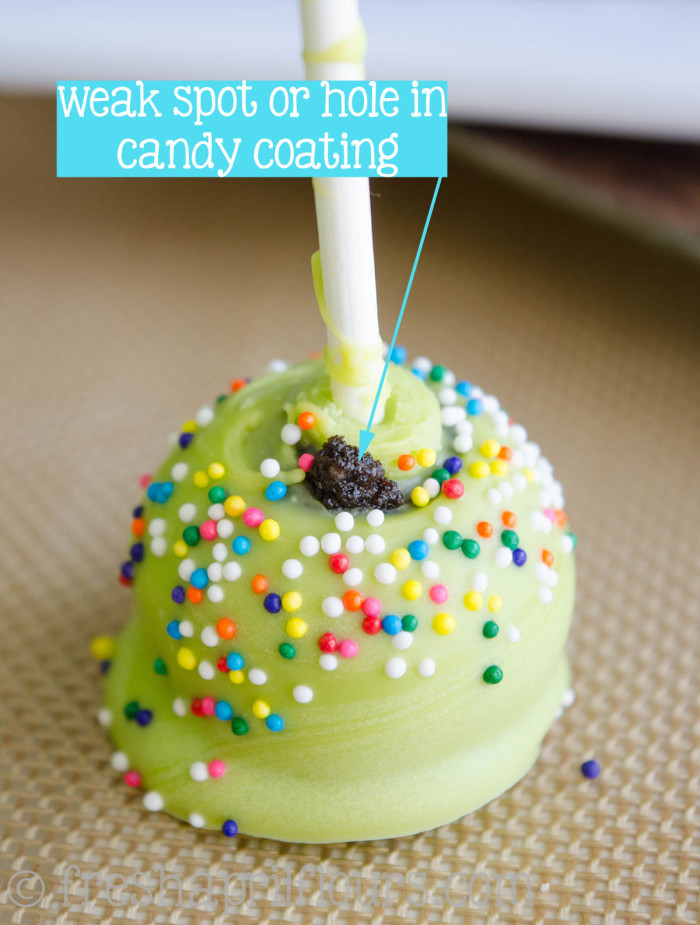 Other problems that may arise:
Your cake ball falls off the stick in your candy coating–> either your cake ball is too large OR you are spending too much time in your warm melts. Get in and get out!
Oil is leaching out of the cake pop onto the stick–> this is completely fine, and really only aesthetically displeasing. If it bothers you, use a cake that is less oily, and be sure not to use too much frosting. There is a lot of butter involved in frosting (especially homemade).
Your candy coating is hardening too quickly–> you've probably overheated your coating. You're well on your way to scorching it, so be incredibly careful if you need to reheat it.

I hope you feel well-versed in cake pops now and will try making them yourself! Please do not be intimidated. Through all the years of my cake baking and decorating, I constantly had to remind myself "it's just cake." The world will go on if your cake pop falls into the coating, or if your stick pokes through the top of the pop, or your sprinkles don't stick in the prettiest way ever. Practice makes perfect, and I still have mess ups here and there. And I used to get PAID to do this!
So put on some tunes, relax, maybe grab a little liquid courage, and get to cake popping. You'll be a pro in no time! 😉