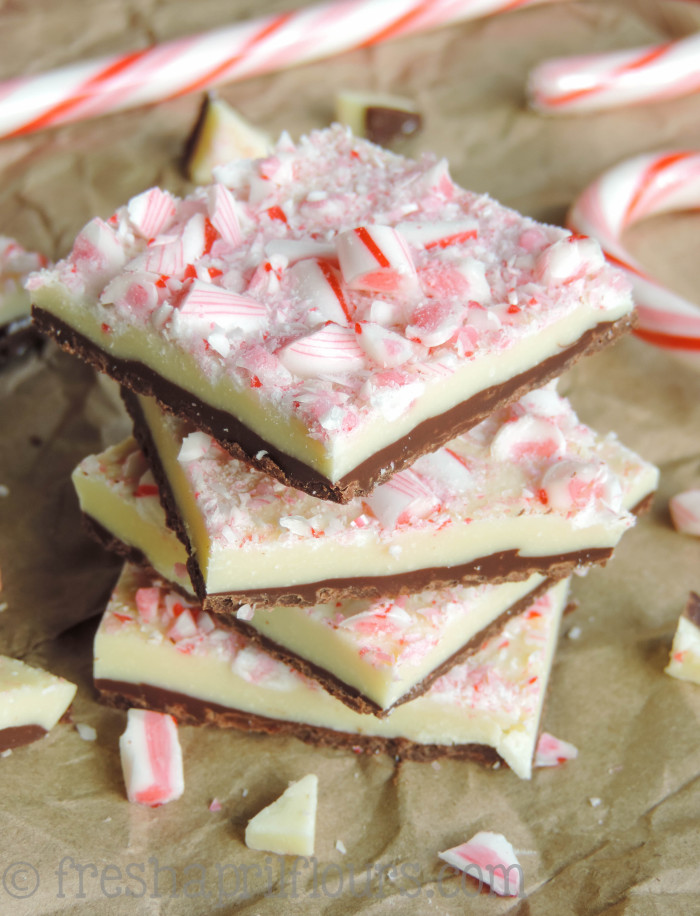 Nothing screams Christmas time more than peppermint bark, don't you agree? That iconic black and white contrast piece of candy speckled with bright red and white candy cane bits– it's like a holiday must have! Williams-Sonoma and Ghirardelli have the monopoly over the peppermint bark market, and do you know how much W-S charges per POUND of the stuff? $28.95. WHAT? WHY?? It cost me $10-12ish to make a pound. Plus… Love. There's always love in my baked goods. That's why they taste so good!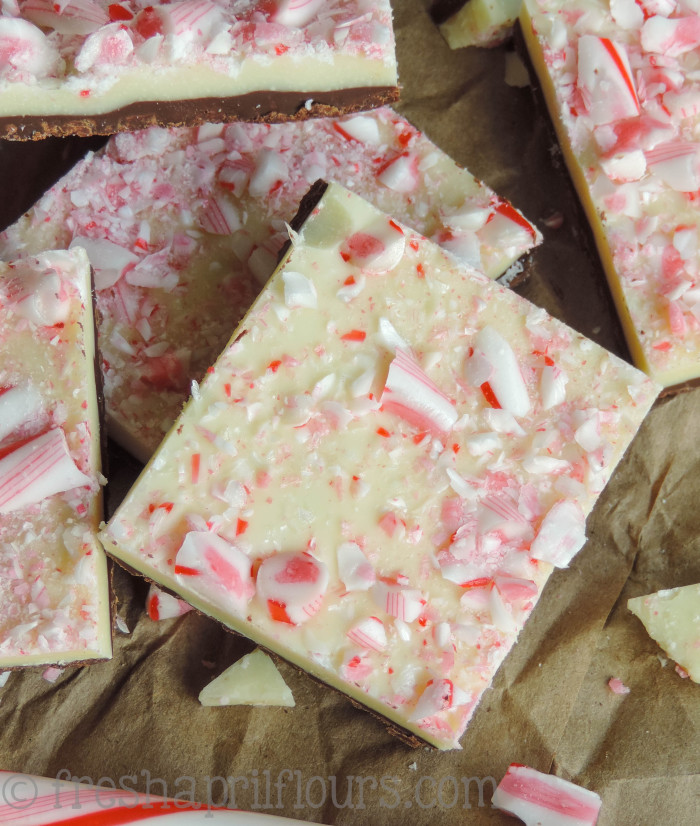 So let's talk about how simple it is to throw this together. First things first, you're going to need some high quality (I cannot stress this enough) chocolate for this peppermint bark. Absolutely no chips. Chocolate chips are made with stabilizers that prevent them from melting into the silky smooth texture you'll need for this bark. Stabilized chocolate is great for inside cookies, where you want the chips to keep their shape! Not so much when we're looking for pourable, spreadable, smoooooth chocolate. Ghirardelli, Baker's, Lindt, or even Hershey's are great for this recipe.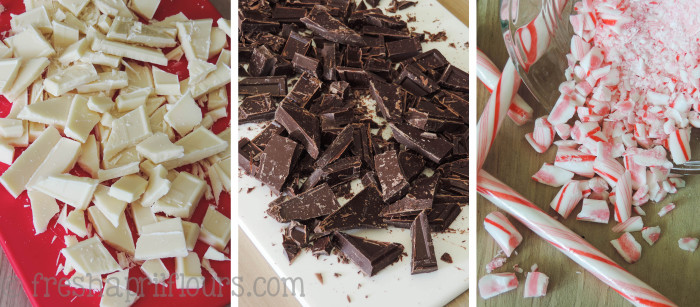 You'll also need some peppermint extract (which you'll have if you've made my peppermint mocha creamer from last week), and candy canes or peppermint candies (such as starlight mints), all crushed up. Just 4 ingredients. I'm telling you, it's dangerously easy to make this holiday staple, and if you listen (read?) closely, I'll give you some tips in the recipe to help make this go as smoothy as possible.
Once the bark is nicely put together, completely chilled, and ready to devour, you have the choice of breaking it apart by hand or cutting it up into squares with a very sharp knife. I wanted to cut mine into squares, so I let the entire pan sit on the counter for about 10 minutes to soften up a bit. If you try to cut into very cold chocolate, you'll end up with jagged edges and possibly flying bits of chocolate strewn about your kitchen. No good. Find something to do for 10 minutes while you wait to cut it (burn some calories in preparation of said devouring?).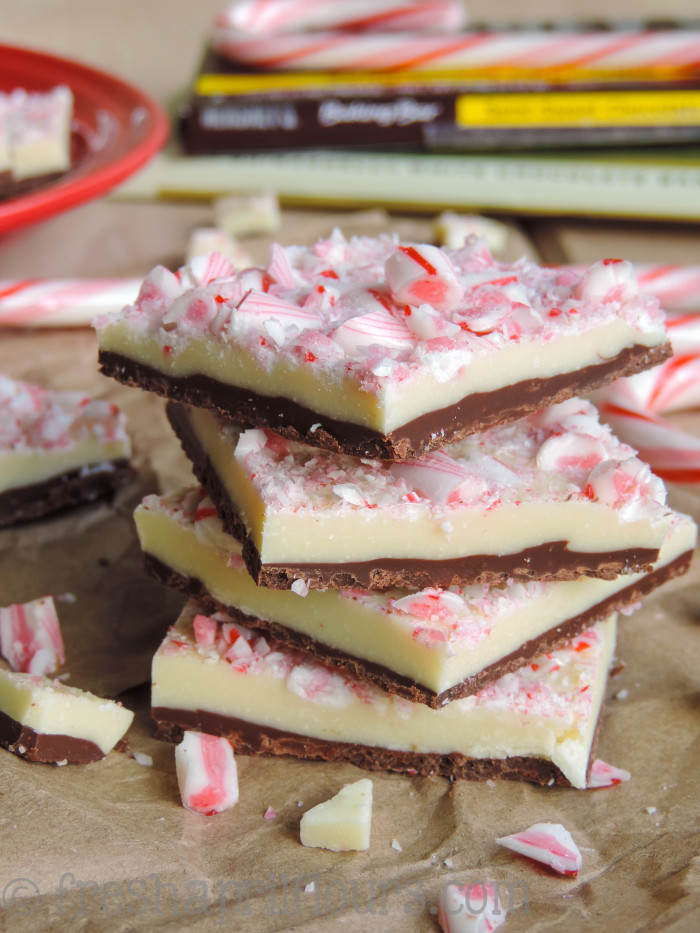 Sweet, smoothy, chocolatey, and oh-so-pepperminty. Christmas time is here, y'all. Let's peppermint bark it up.
Add some pretzels to your peppermint bark for the next batch!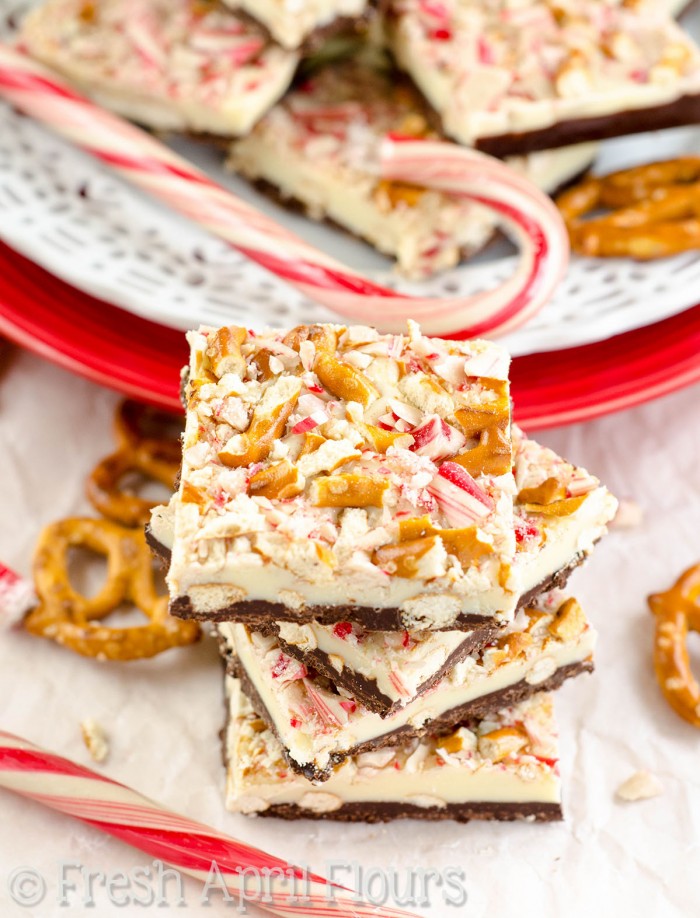 See more mint chocolate recipes.