I have been loving the whole "pie in bar form" this summer. It really just does make sharing much easier! Not to say I won't be venturing into the pie-in-a-pie-dish soon (especially so I can cross a couple things off of my list), but for parties with lots of people enjoying dessert: pie bars are the way to go!
I originally whipped up this recipe for the party that I took my fluffernutter bars and key lime pie bars to, but I wasn't completely sold on them. Don't get me wrong, they were delicious, but they were a bit too sweet for my liking, and I thought they needed some sort of topping– not quite a streusel but not a crust either. That's why I have taste-testers, people (and I'm always looking for new tastebuds)!
This bar starts with a shortbread crust. One of my absolutely favorite food bloggers put out a cookbook in March and this crust is featured on her lemon bars. As I was perusing her cookbook one day, I made sure to mark the page, because the crust sounded so good. Once I tried it, I was in buttery love, and I actually didn't feel I wanted to alter it at all (which doesn't happen to me a lot). The only thing I changed about it was adding the lemon zest. You can find her cookbook here.
You're actually going to reserve some of the shortbread crust for the topping. Once the crust is all mixed up, you'll remove 3/4 of a cup, pop it in the fridge or freezer (because it has melted butter in it and will be quite soft), and once you're ready to use it, it should be nice and easy to crumble over the top. If necessary, you can separate into crumbs with a knife or fork. I sprinkled a little extra sugar on top, just for some sparkle and a little added sweetness.
For this recipe, I used Meyer lemons. If you follow me on Instagram, you know I was in search of Meyer lemons a few months ago. Meyer lemons are a cross between a regular lemon and either a regular orange or a mandarin orange. Although still tart, the tartness is a bit muted and replaced with a sweeter and fresher taste of orange. They're really quite delicious and add a nice citrus tone to the sweet blueberries that stud these pie bars. You may certainly use regular lemons. They'll be just as tasty! I found Meyer lemons at Wegman's.
Here is a side-by-side comparison of regular lemons and Meyer lemons. (PS– I won't judge you if you lick your computer screen right now!)
While this recipe uses some cream cheese for the filling, it's not quite cream cheesy enough to be called a cheesecake. You'll use a container of lemon Greek yogurt and some flour to make more of a pie filling, but rather than being a gooey filling with blueberries spilling out all over the place, the cream cheese holds everything in place so this pie becomes portable and dish/silverware free! I used half fresh and half frozen blueberries for this batch. Either will work for the entire amount in the recipe, I just prefer the way the frozen ones look– they give a burst of purple to the filling surrounding them. I actually added about a dozen frozen blueberries to the top along with the crumbled crust just to add some extra color.
 For the topping on these bars, I used Sugar In The Raw, but you can certainly use regular granulated sugar. The raw kind just adds more of a crunchy sugar, since the crystals are so big.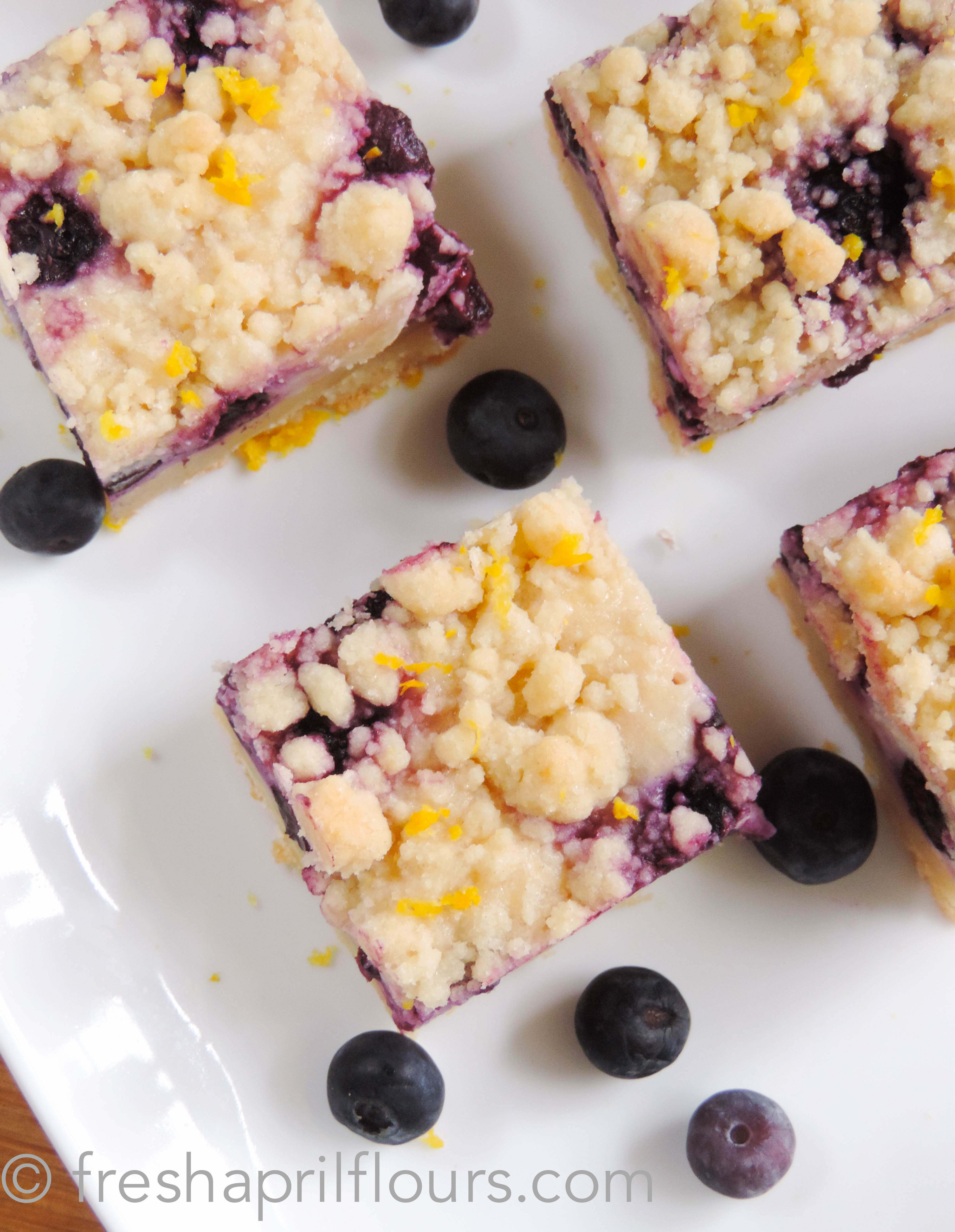 You'll want these to cool in the fridge for a little while before you cut them. A little lemon zest added right before serving, and these sweet and citrusy bars are ready to enjoy! That buttery crust is really something special, and since the bar is kind of "sandwiched" between two layers of it, it's a complete win-win for you and your tastebuds. These bars just get better over time, as the zest you sprinkled on top infuses into the crumby topping, and the blueberry juice has more time to sit in that creamy filling. Although these only lasted 2 days around these parts, they're good for at least 5 (I challenge you to make them last that long).
Seriously… Are those beautiful blueberries calling your name yet??
Right this way to more picnic friendly recipes…