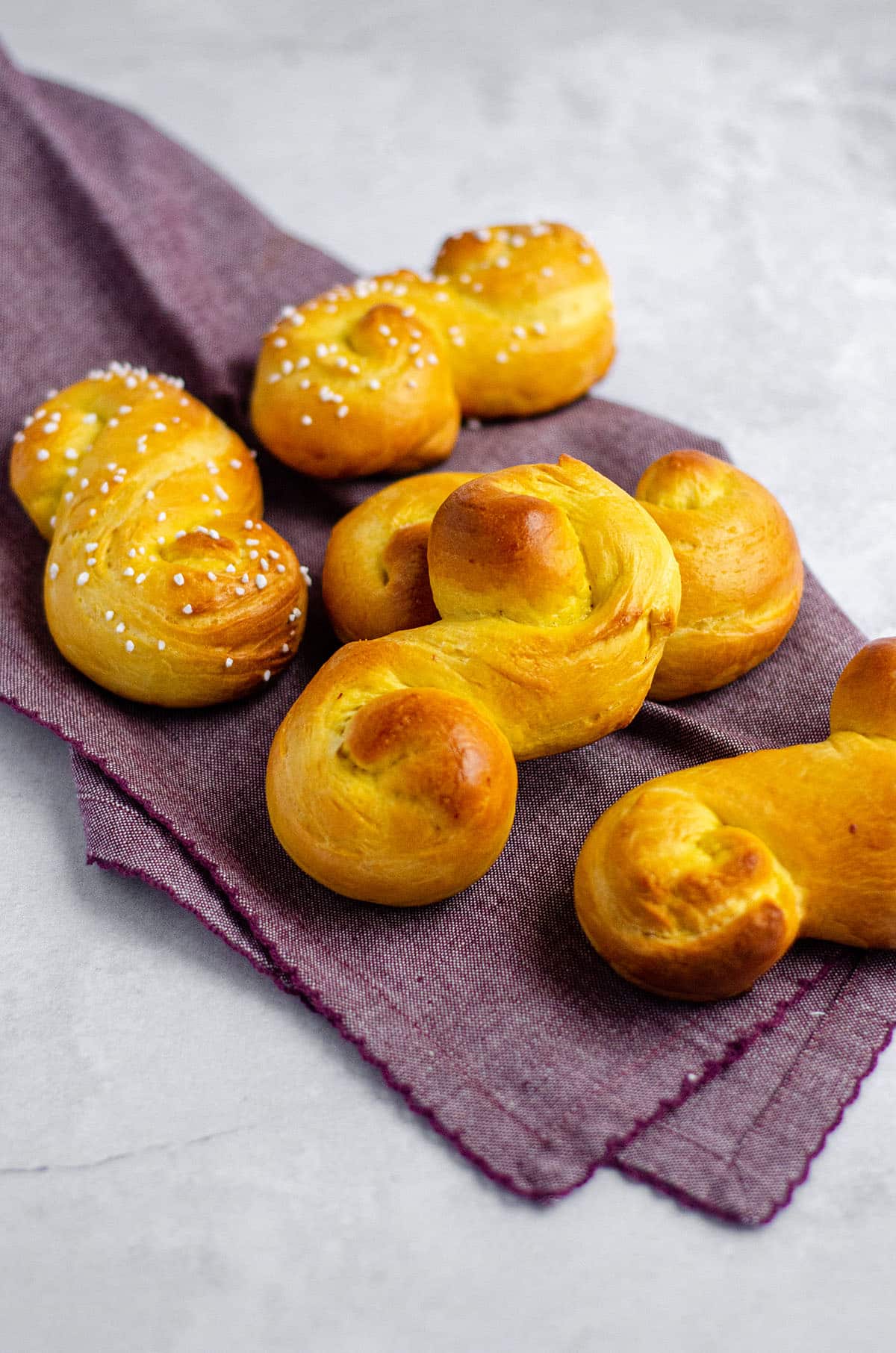 As an Amazon Associate, I earn from qualifying purchases. Read the full disclosure here.
Traditional soft and fluffy Swedish holiday buns infused with saffron.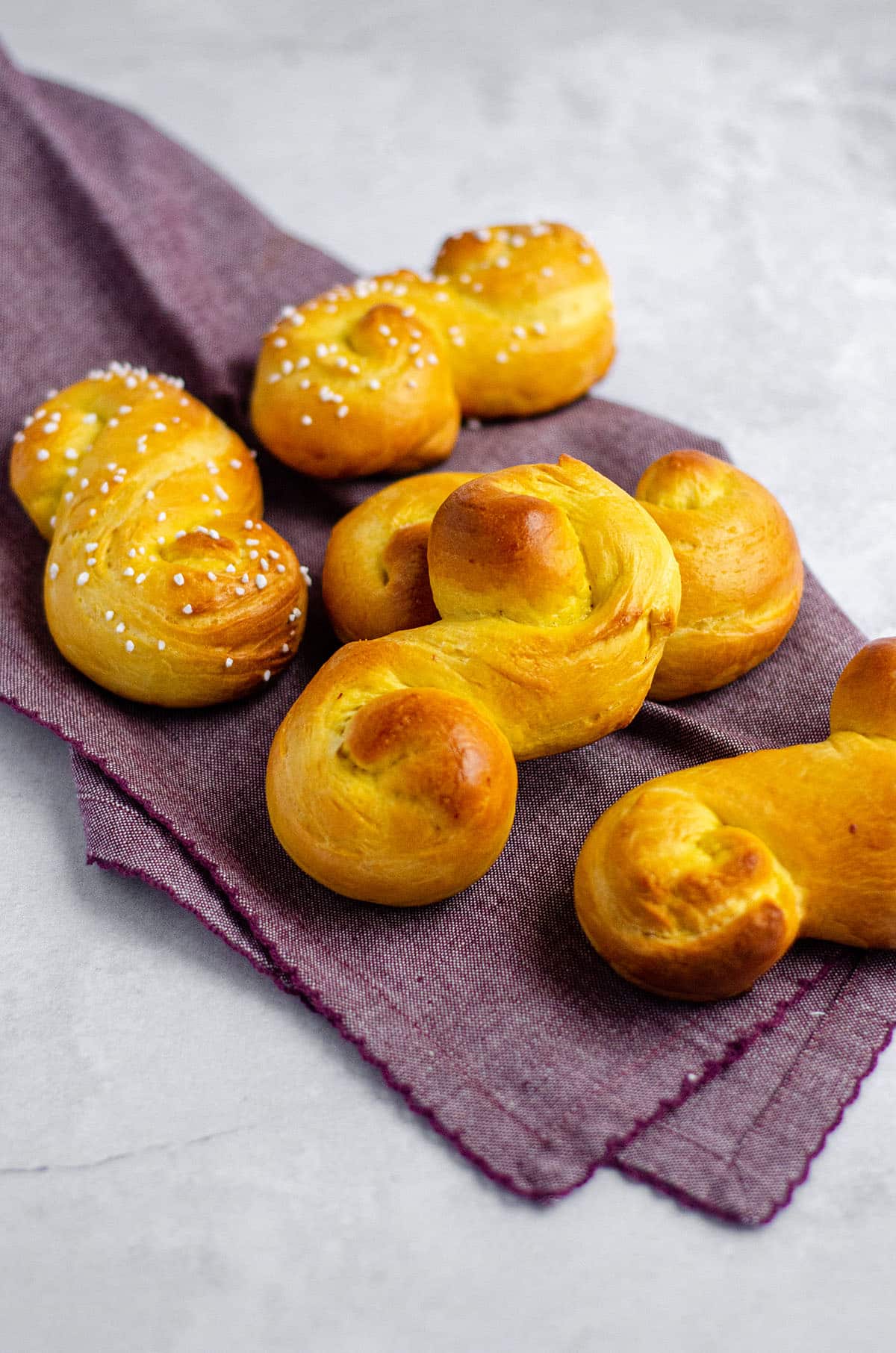 And just like that, it's the end of December, which means that we have one last installment of FAF's Bread of The Month. Can you even believe it?
And my friends at Bob's Red Mill are helping me bring this amazing bread recipe to you today, so a big huge shoutout to them for that.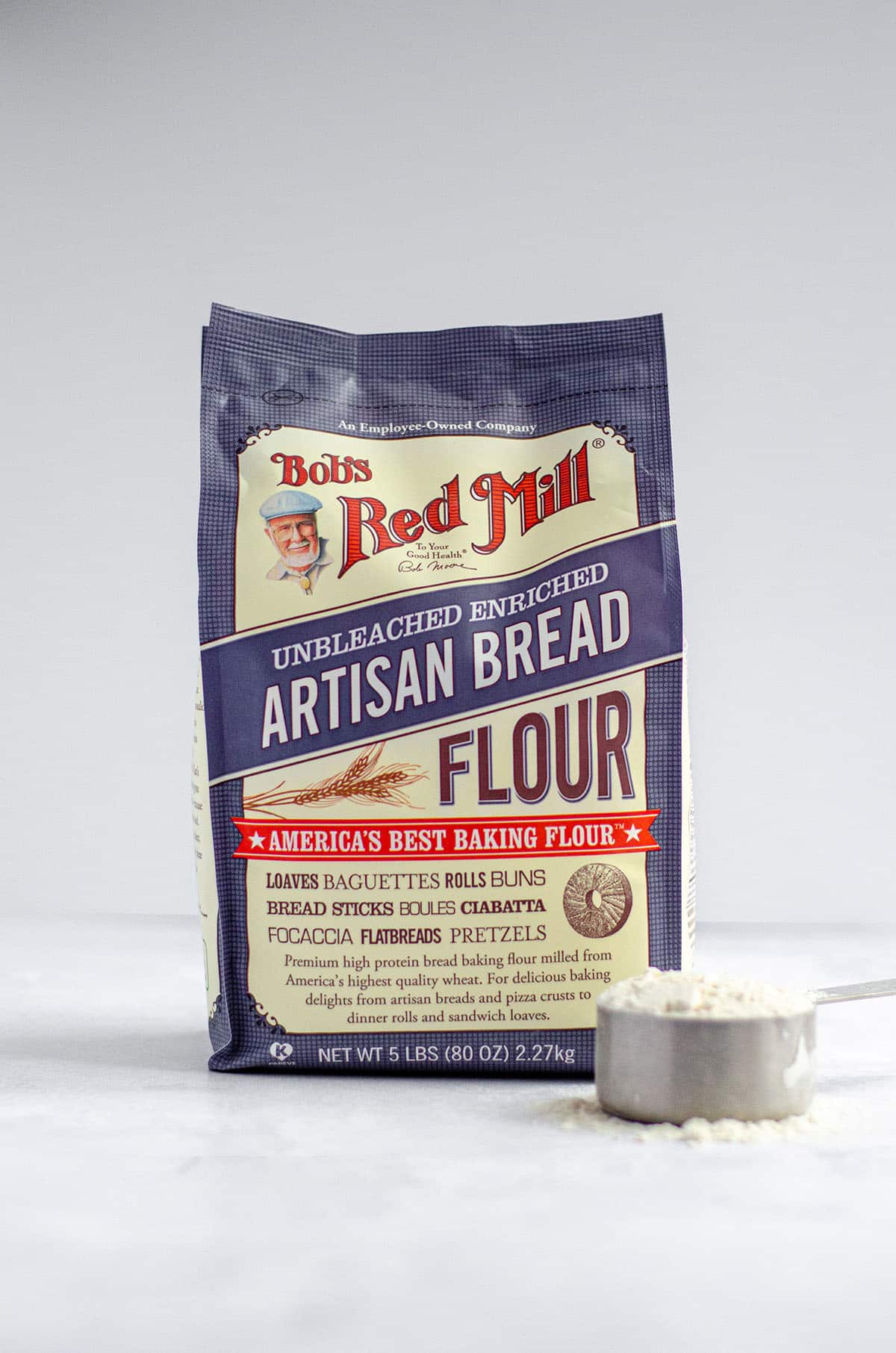 Before we talk about these gorgeously golden yellow buns, let's recap 2019 and all the bread we made together. If you recall, we alternated quick breads and yeast breads, so today's St. Lucia saffron buns will be our 6th and final yeast bread to round out the collection.
In January, we tried to scare away the winter blues with herbed tomato quick bread. That seems like a lifetime ago, actually. Did you make that one? I made that again in the summer time and it was just as good as I had remembered.
In February, we geared up for Mardi Gras with a king cake. An easy, twisted cinnamon-filled bread, liken to my cinnamon babka, but shaped a little differently. Is it on your list for 2020's Mardi Gras celebration?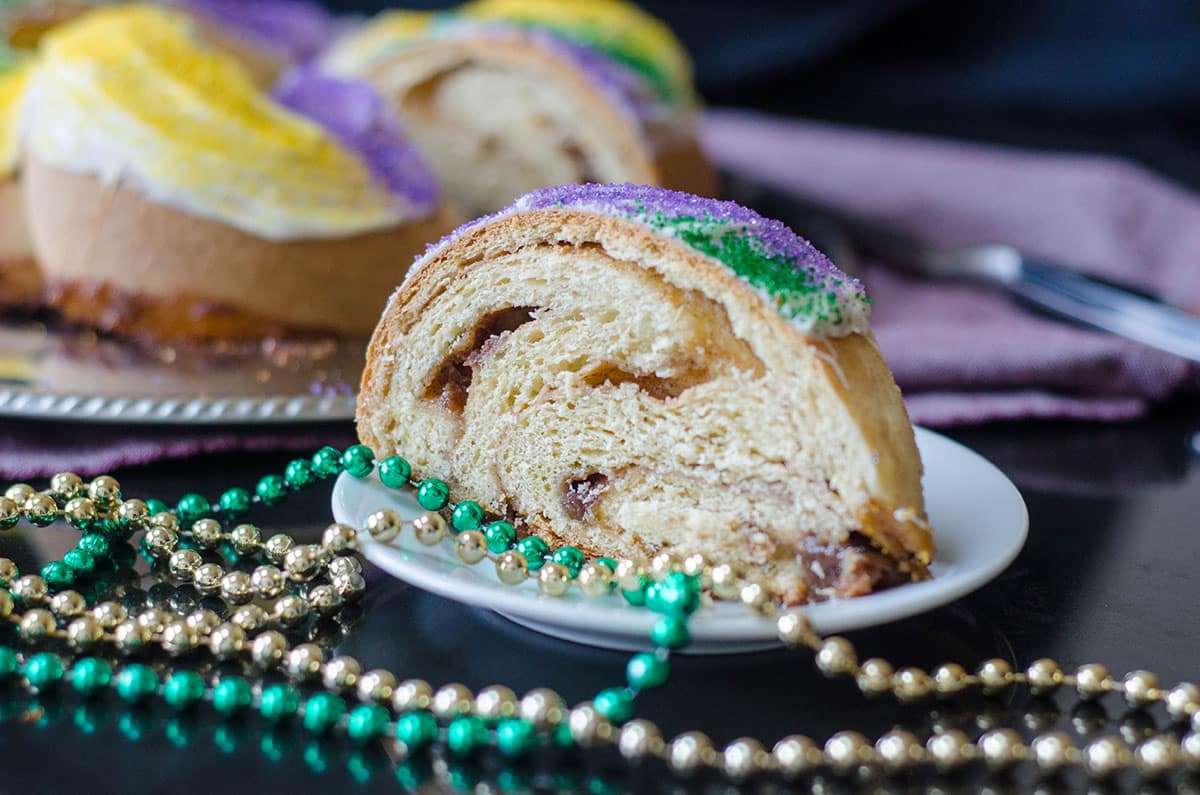 In March, we kept it classy with classic banana bread. Nothing fancy there, and a staple in our house when we need to use up bananas!
In April, I kept with tradition in celebrating Fresh April Flours' birthday with a funfetti recipe and whipped up some funfetti cinnamon rolls. Those were an amaaaaazing idea, and I often find myself wishing I had some waiting for me fresh out of the oven in the mornings (funfetti cinnamon roll fairy, are you out there?).
In May, we welcomed warmer weather with strawberry lemonade quick bread. A match made in warm weather heaven.
June brought us our first recipe with Bob's Red Mill, where I discovered just how amazing their artisan bread flour, the one we're using today, is. AH-MA-ZING. We made white sandwich bread, and that one is on my list for making again soon while I still have some of this flour left!
In July, we brought more summer to our quick breads and made some s'mores quick bread. That was gone almost as quickly as it came together!
In August, we used some more of Bob's bread flour for pesto pull-apart bread, which featured my homemade pesto. I loved that pull-apart bread so much I made another one in the fall (apple butter pull-apart bread!) and I'll be making pull-apart breads for the rest of time, pleaseandthankyou.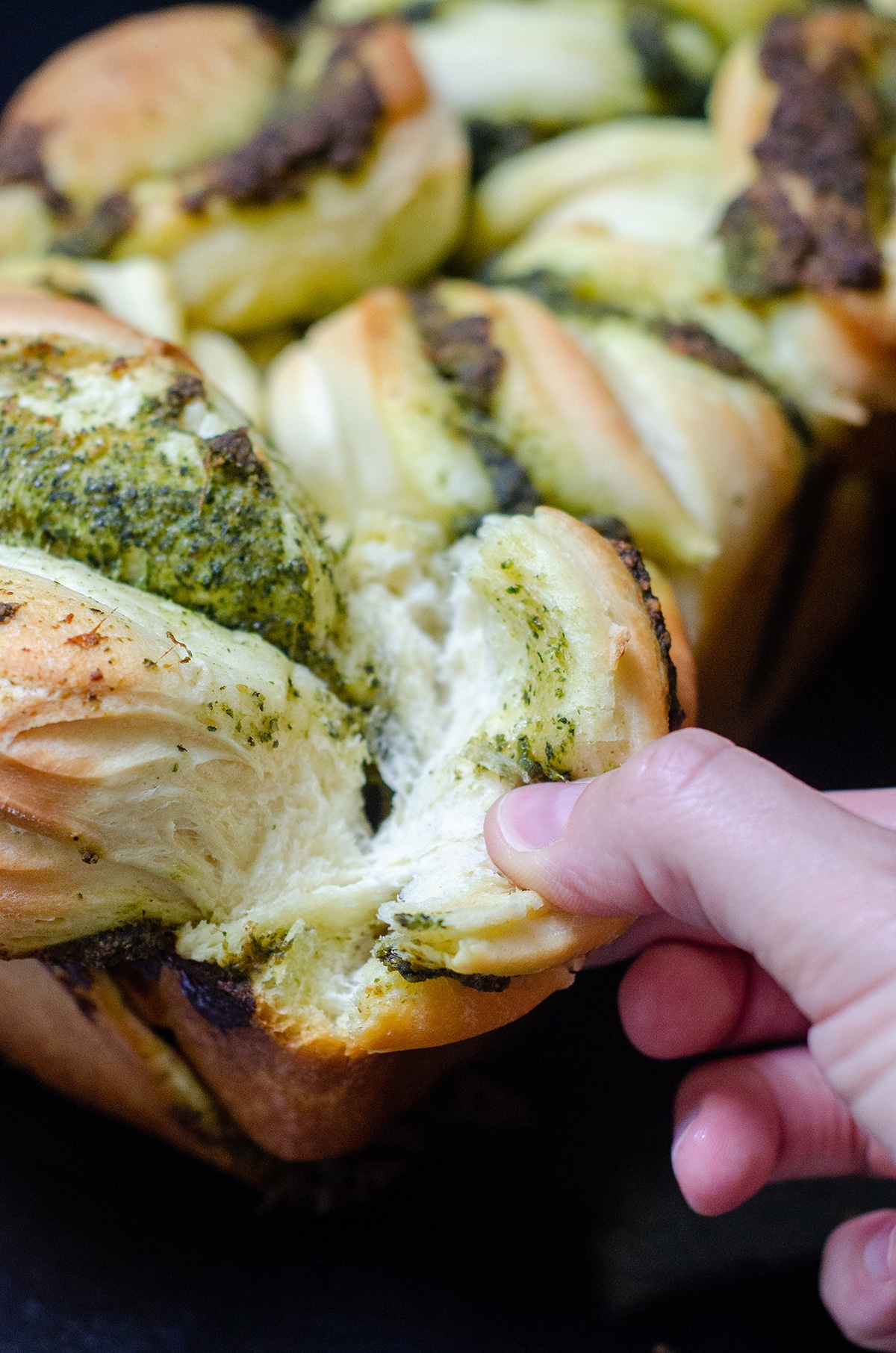 In September, I hosted a pumpkin week on the blog, and decided we needed some savory herbed pumpkin biscuits up in this joint. A lot of you chose to make them for your Thanksgiving spread, which I think was a great idea!
I already mentioned that I shared an apple butter pull-apart bread, but that was October's recipe. It featured my homemade apple butter, a post I updated to include instructions for not only the slow cooker but also the Instant Pot!
November's bread was a salted caramel banana bread, a twist on my classic banana bread and one that featured my homemade bourbon caramel sauce. Which I have already made two more times since publishing that how-to.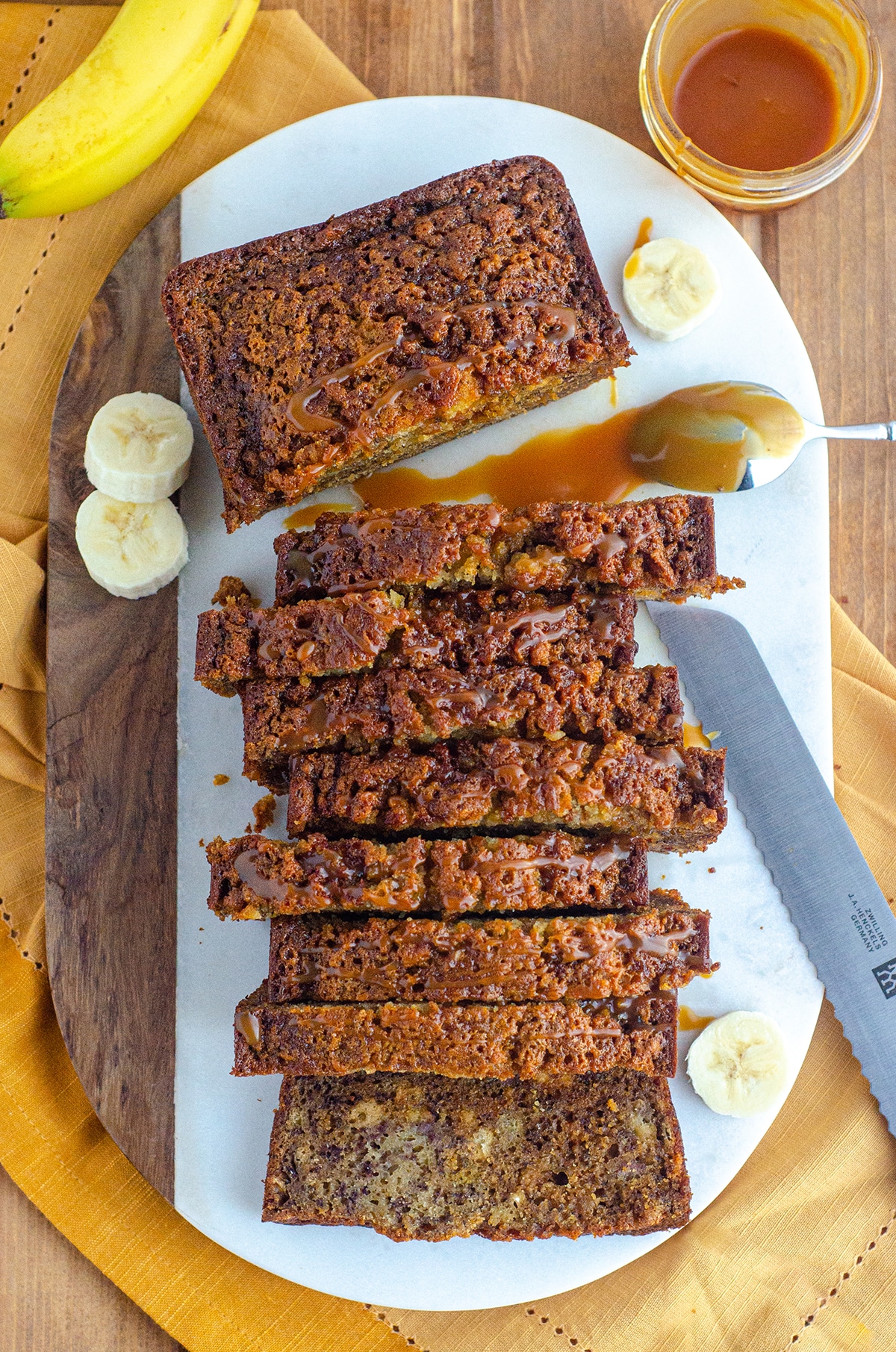 So here we are at December. And this bread (these buns!) are near and dear to my heart.
WHAT IS ST. LUCIA DAY?
Are you familiar with St. Lucia Day? It's a Christian holiday honoring St. Lucy who, according to legend, brought food and aid to individuals who were hiding in the Roman catacombs. She wore a wreath on her head that held lit candles to light her way so that she could carry as much food as she could with her arms.
Legend says she carried saffron buns (also known as lussekatter) and cookies.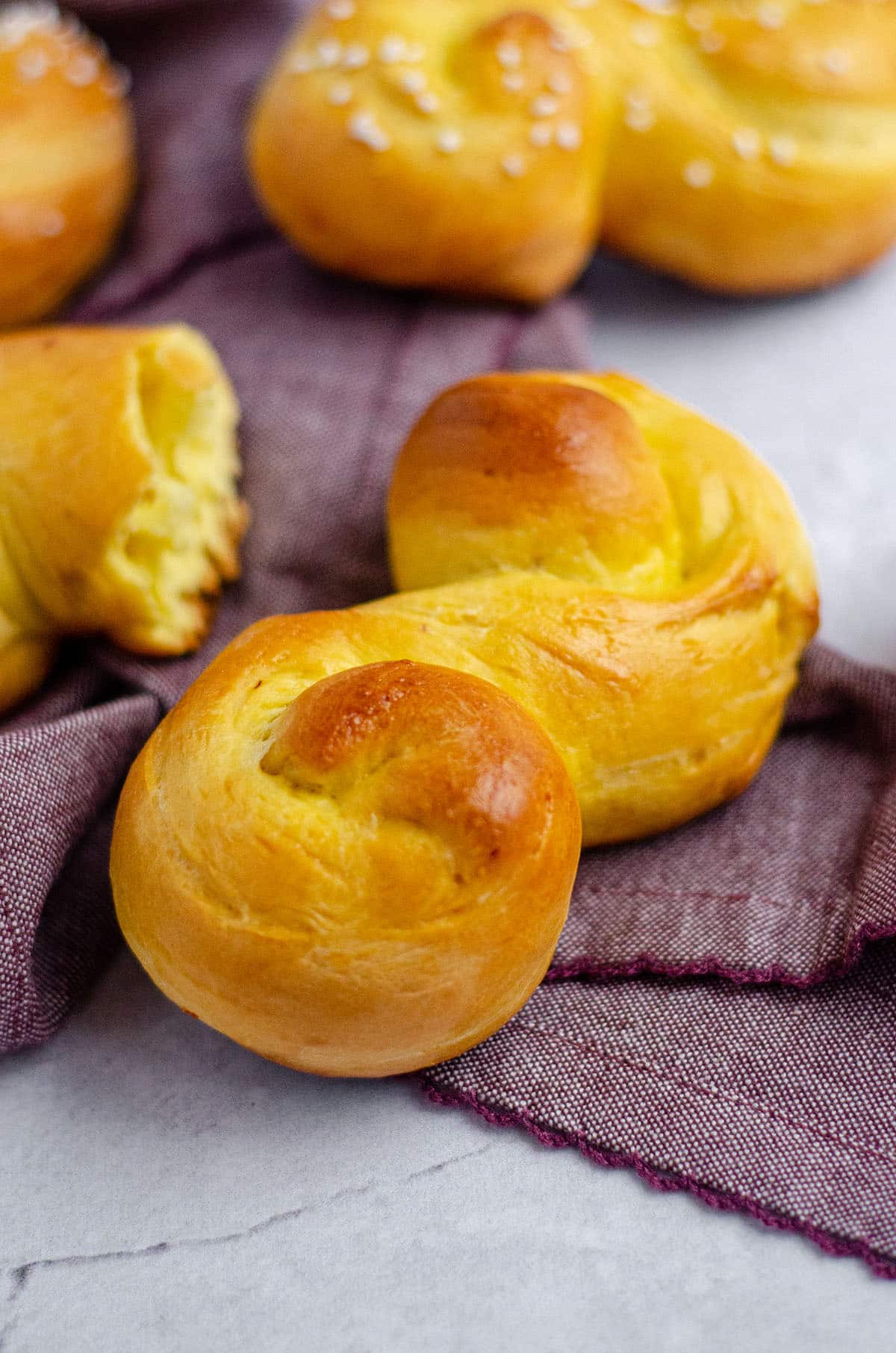 I learned about this tradition when I was very young (thanks to my mom who loves historical traditions like this) and then got an American Girl Doll, Kirsten.
Kirsten was from Sweden, where this practice is pretty popular, and there even exists a photo of me dressed as St. Lucy wearing a crown of candles and holding St. Lucia buns.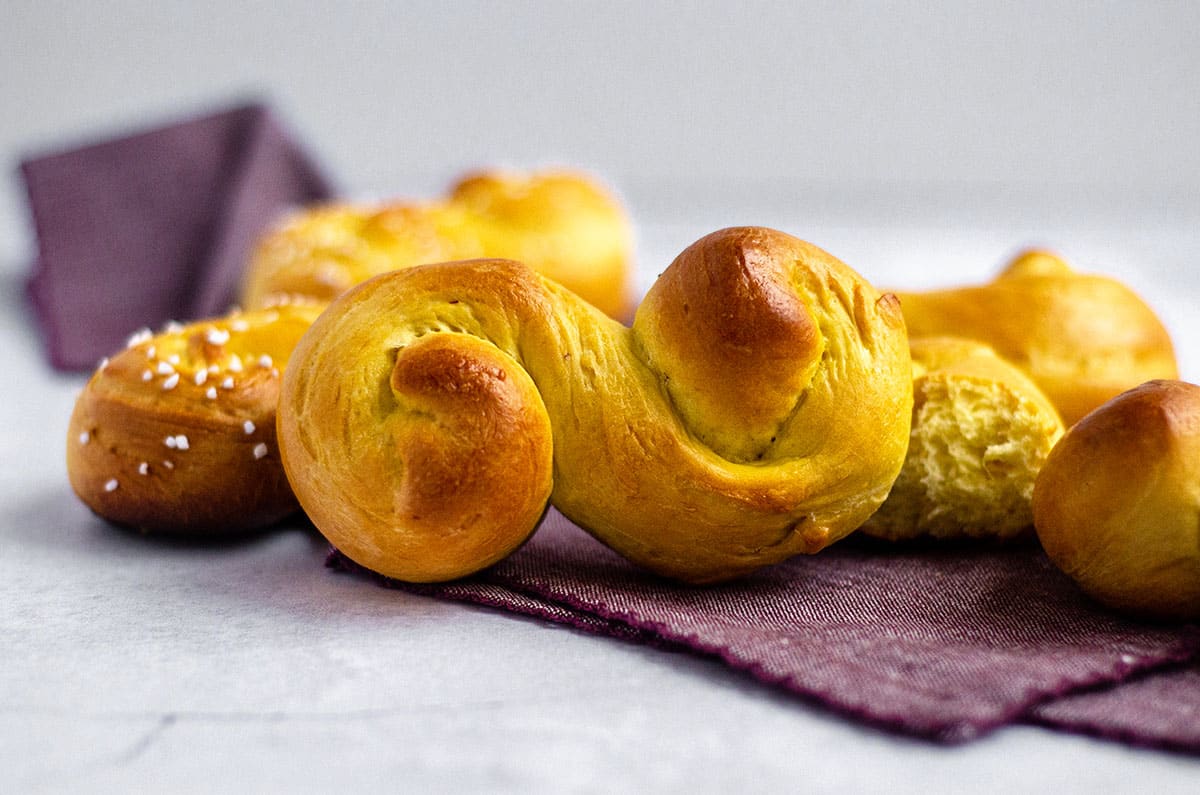 That will never surface.
#sorrynotsorry
St. Lucia buns are traditionally made with saffron, a spice with which I was not familiar at all, and which, I will admit, made me question it at first.
I'll be honest, it doesn't smell good. I was concerned about all this saffron business when I infused the milk for the dough with it. And I was a little surprised to find this very red spice produced the most gorgeous yellow color.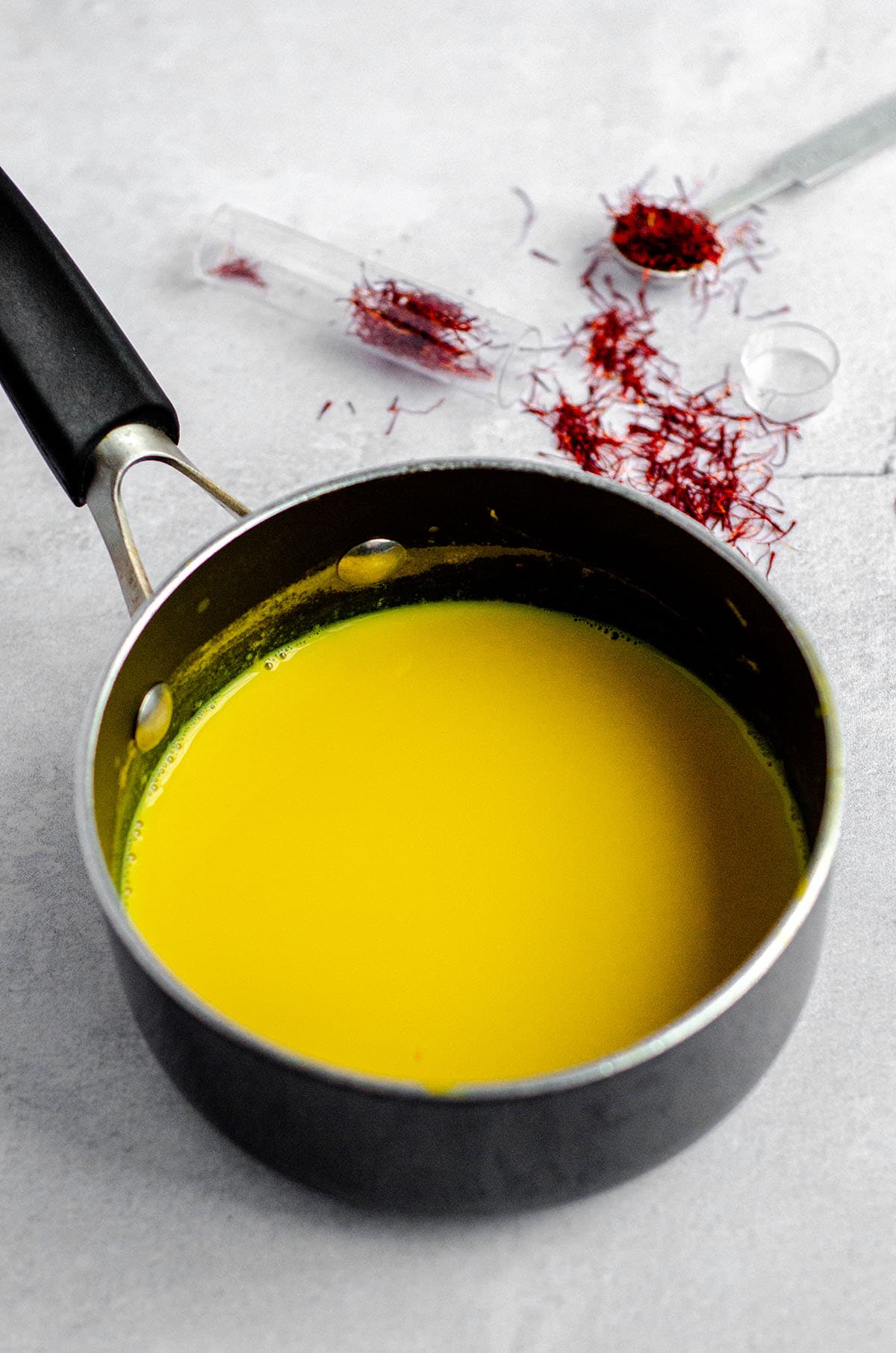 I mean. DO YOU SEE THIS? It's just downright beautiful.
The dough is nothing fancy, aside from infusing the milk with the saffron, but once the dough rises, there's quite a bit of hands on time to form the buns.
In order to keep things uniform, you'll want to split the bun dough into 12 equal parts. I like to use a kitchen scale and bench scraper to do this, which makes for easy cutting and weighing for uniformity.
Mine each weighed 109g (about 3.8oz).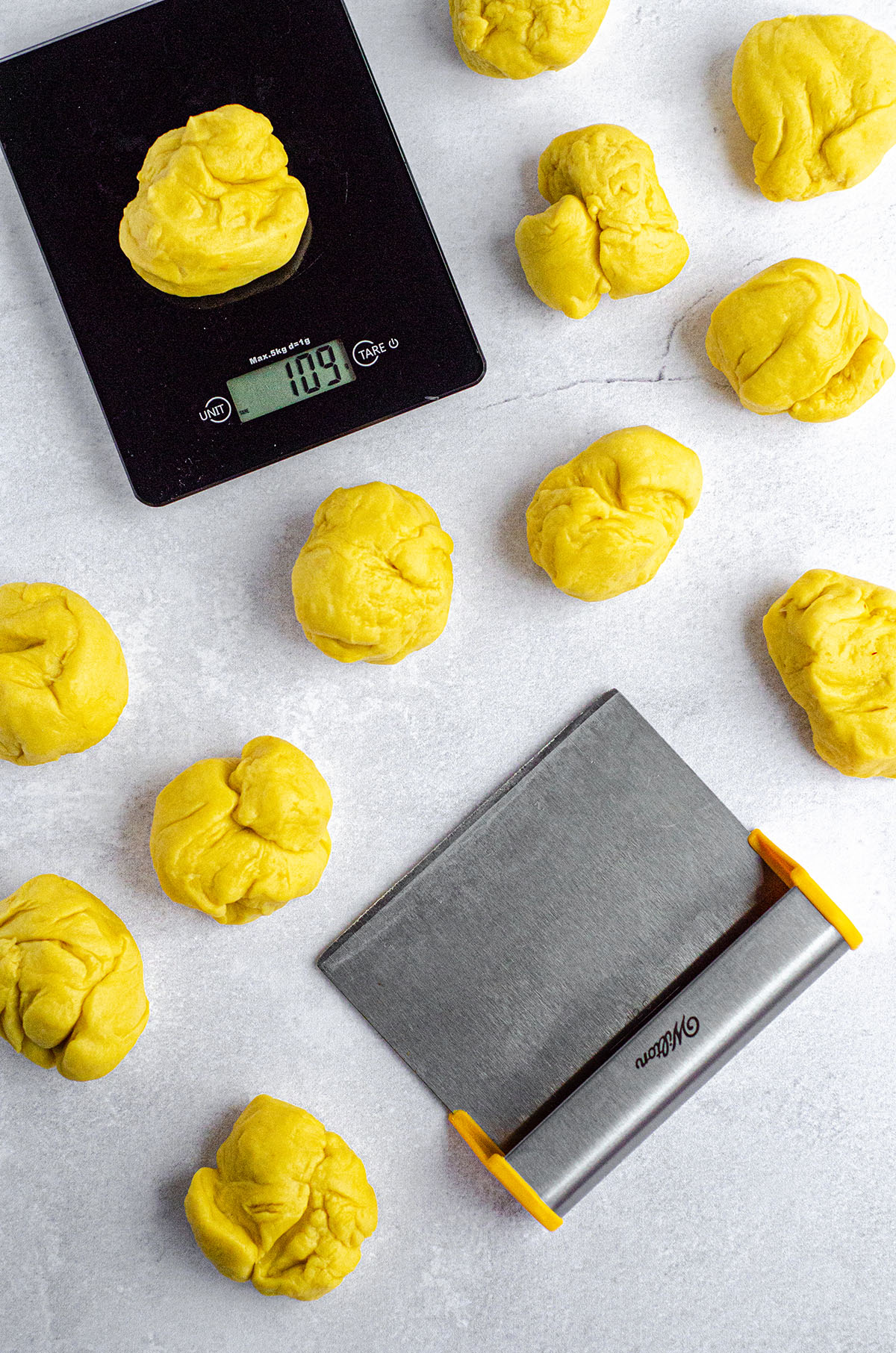 Each ball of dough gets rolled out into a 15″ log which will rest for 10 minutes before shaping.
The shaping looks complicated, but it's very simple.
MAKING AN "S" SHAPE BUN IS SIMPLE
Take each end of the log between your thumb and pointer finger and turn counter-clockwise simultaneously. They'll meet in the middle with two spirals and form an "S" shape.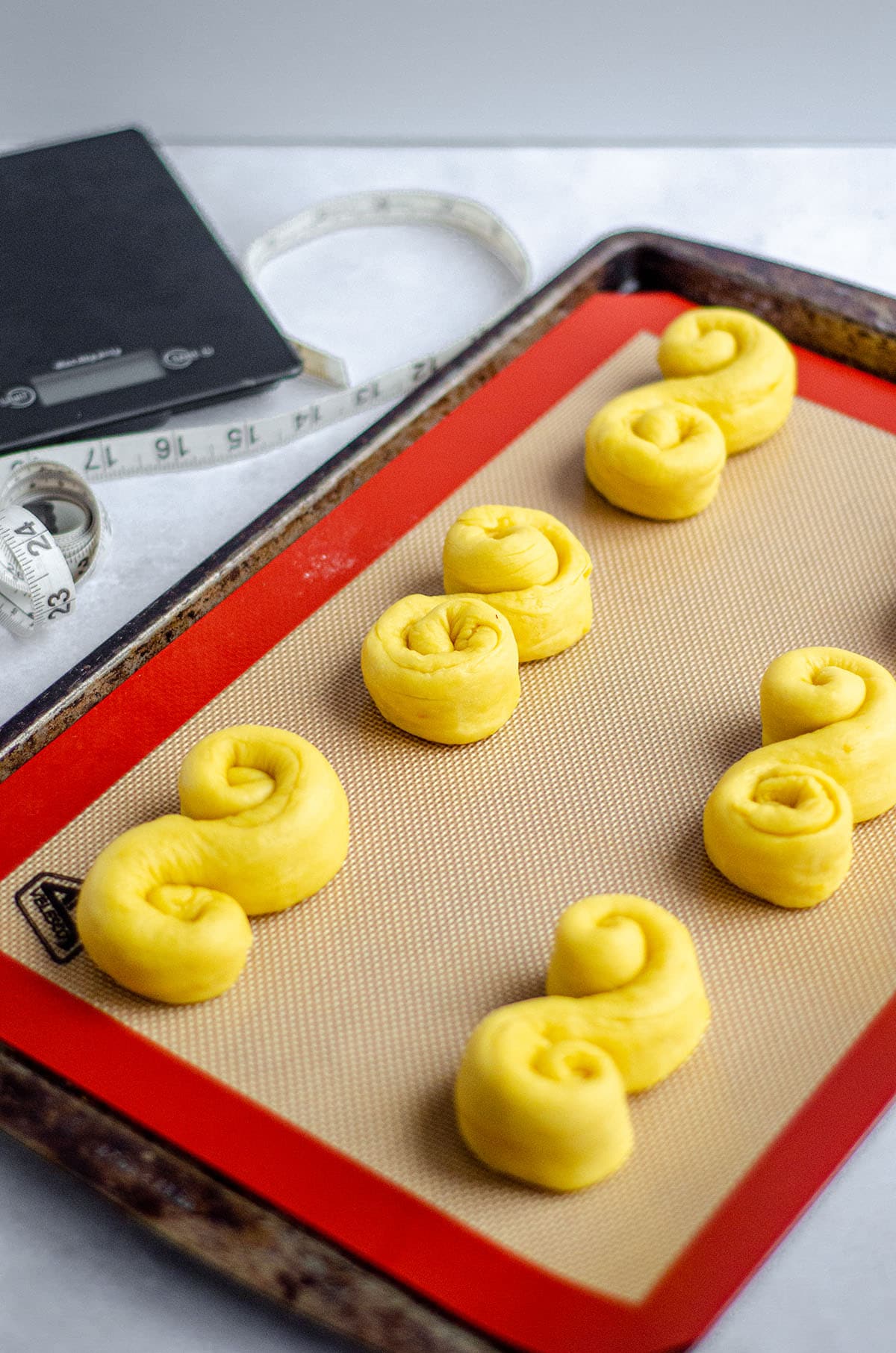 Simple!
Once the buns are shaped, they'll rest and rise another 30 minutes, at which point you'll brush them with a simple egg wash and then, if you'd like, sprinkle them with Swedish pearl sugar.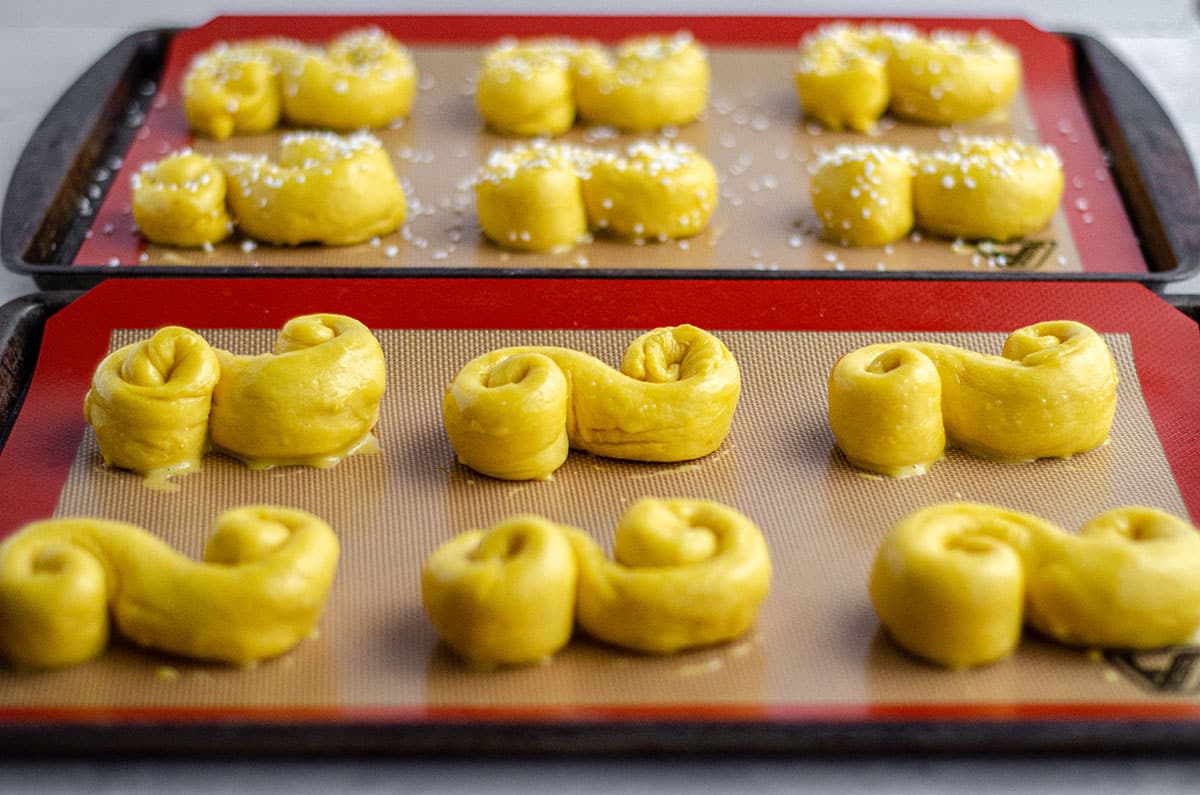 Just 20-22 minutes in the oven, and your buns will be a beautiful golden brown and delightfully fluffy on the inside.
And I have to say, I apologize to saffron.
WHAT DOES SAFFRON TASTE LIKE?
It is definitely a pungent spice, but it is definitely wonderful. It's warm and sweet at the same time and brings a whole new dimension to the flavor of traditional yeast bread that is earthy on a floral level.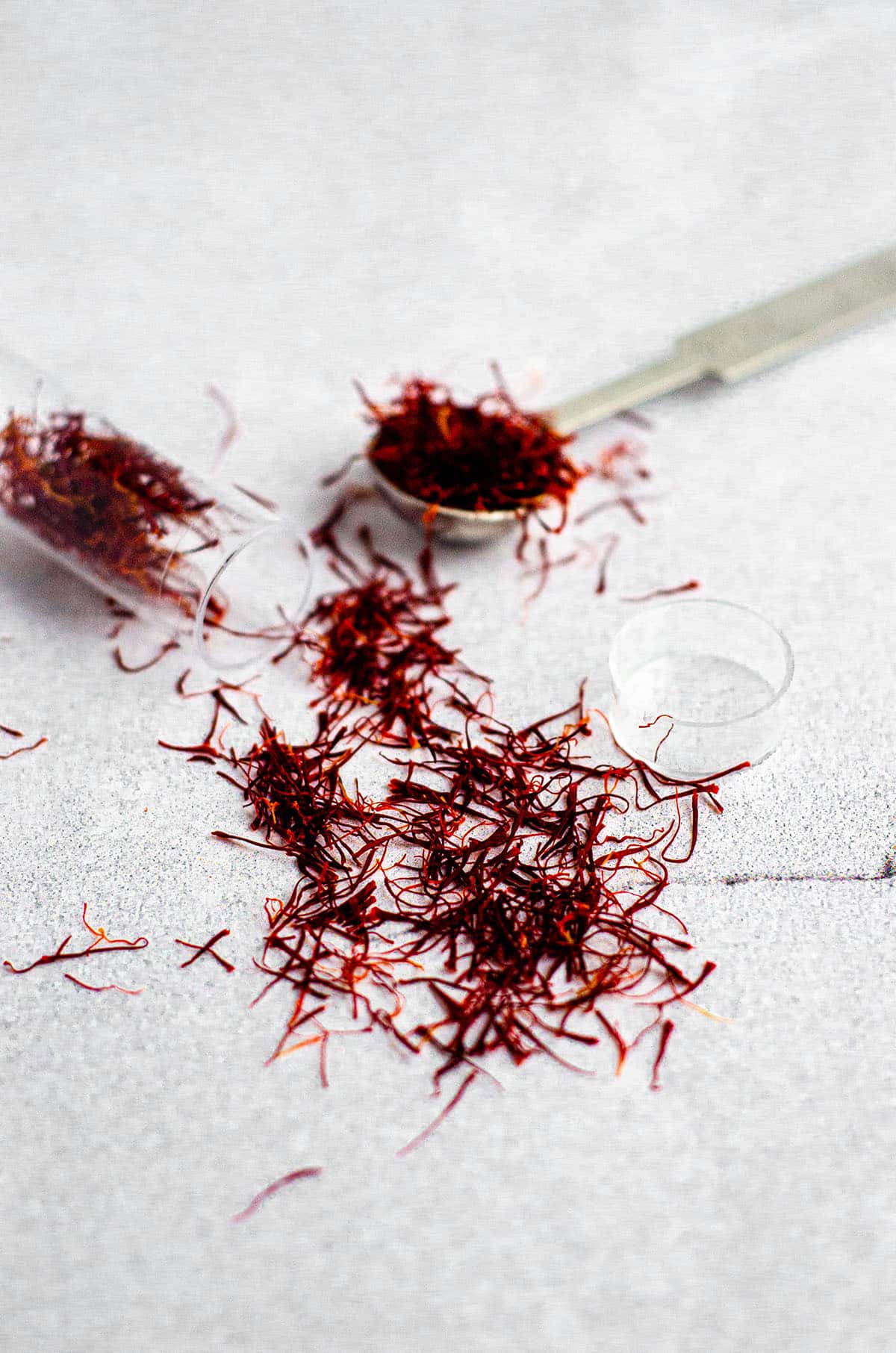 I was pleasantly surprised that the smell didn't quite translate to the taste. And I urge you to use whatever level of saffron you think you'd like if you're unsure about it.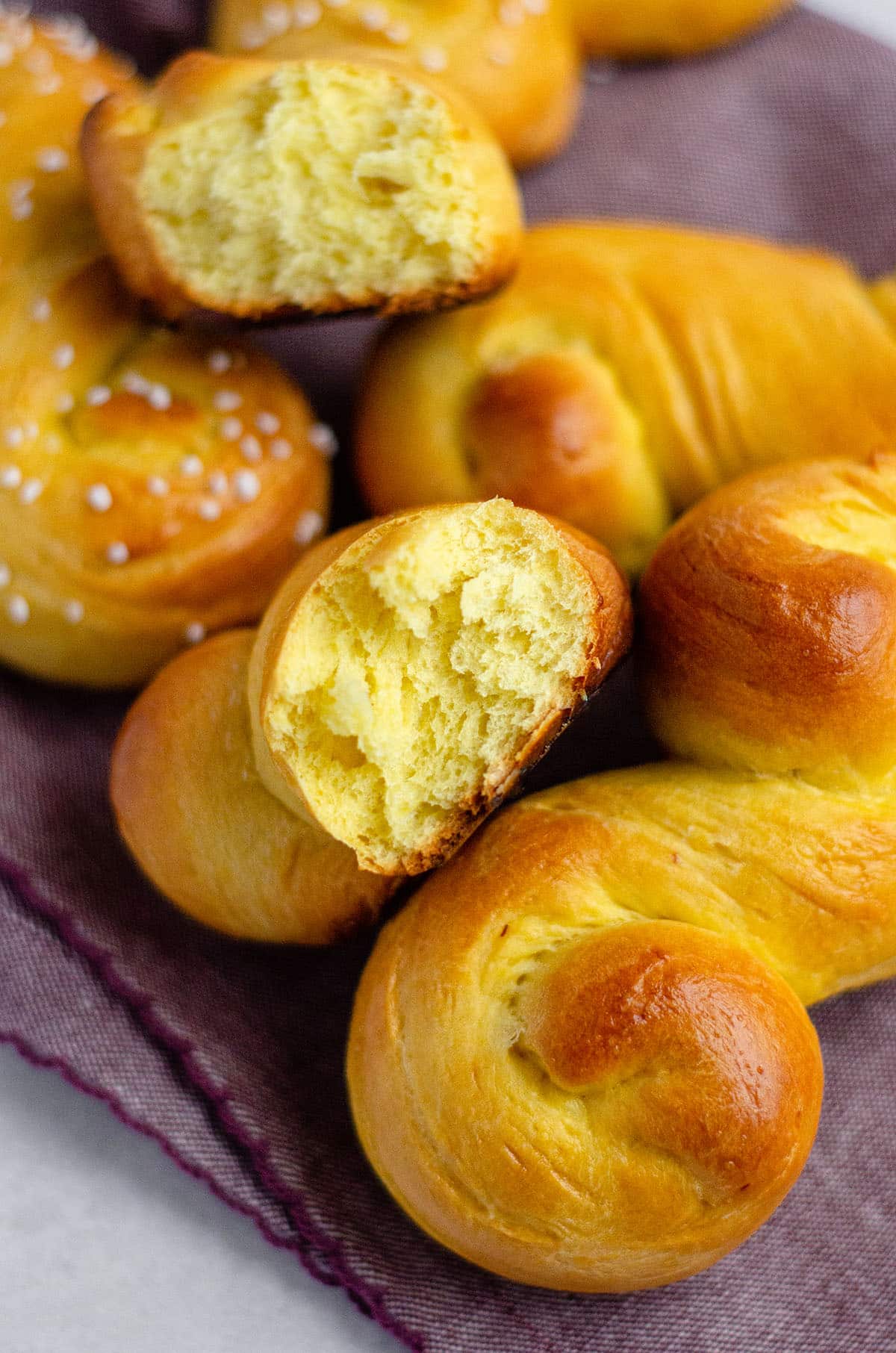 I used 1/2 teaspoon in my buns, but you're welcome to use 1/4 teaspoon or none at all. The buns will still be pillow soft and fluffy thanks to Bob's bread flour.
So there we have it– one last bread for the masses and quite the looker to end on.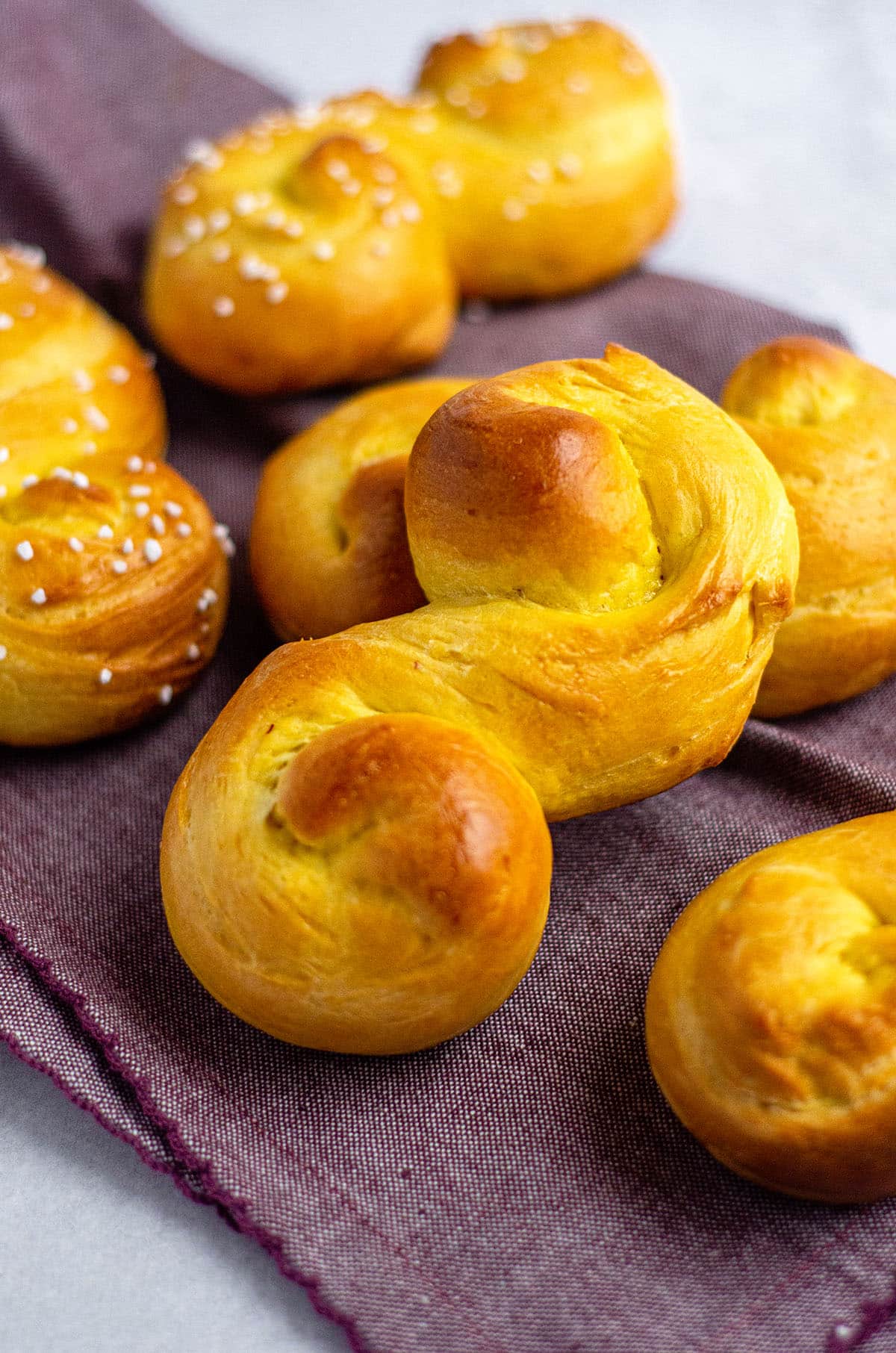 Did you make any of 2019's breads? Did you have a favorite? Did you add one to your permanent rotation?
And if you came here wondering what 2020 is all about…
We're doing it up real nice and chocolatey.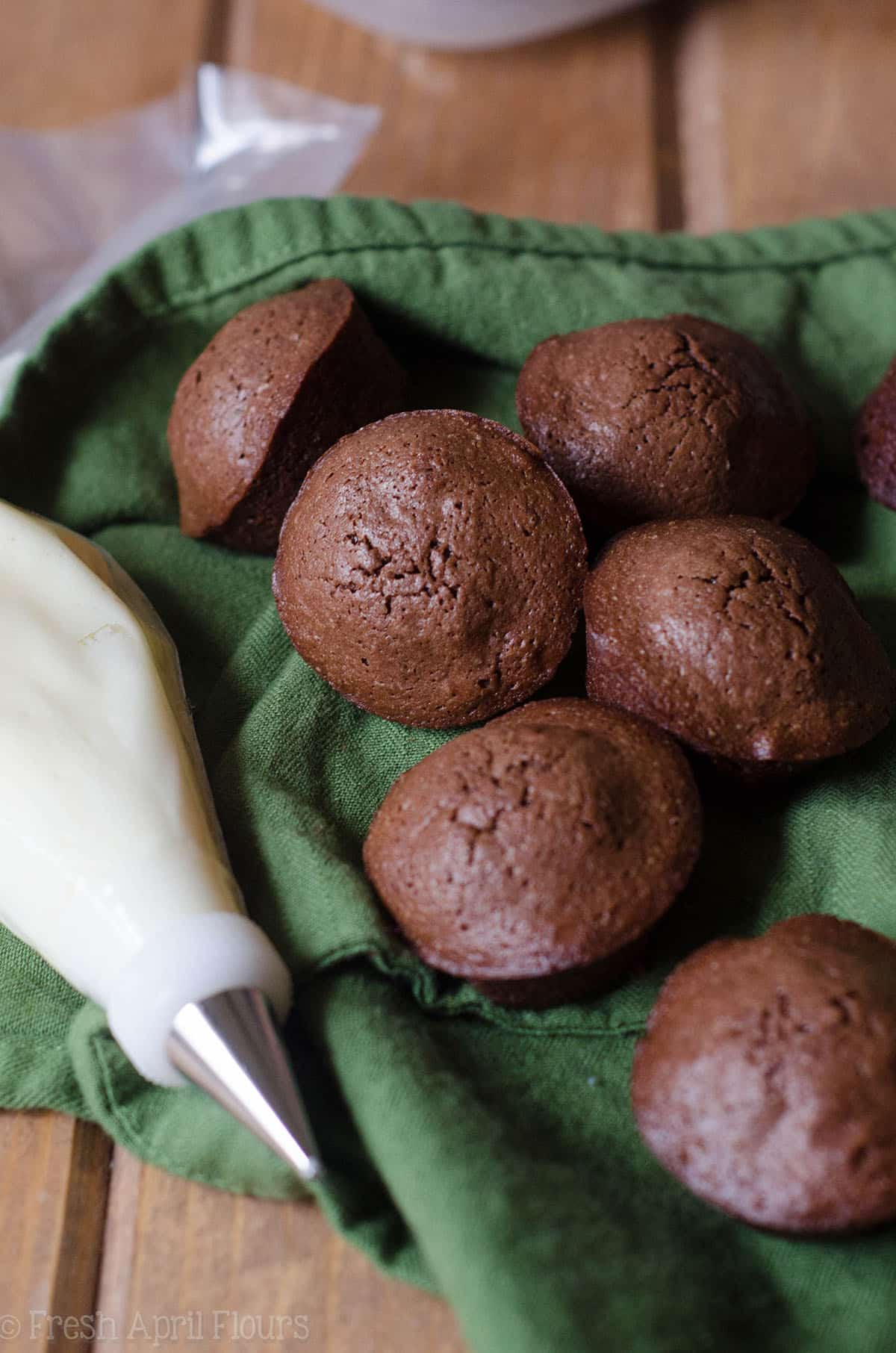 (Pictured are undecorated game day football brownie bites)
I hope you'll return for 2020's Brownie of The Month series!
St. Lucia Saffron Buns
Traditional soft and fluffy Swedish holiday buns infused with saffron.
Ingredients
1

cup

(240mL) milk

any

¼ to ½

teaspoon

saffron threads1

2 and ¼

teaspoons

(7g) active dry yeast

or 1 packet

½

cup

(113g) unsalted butter

melted

½

cup

(100g) granulated sugar

3

large eggs

1

teaspoon

salt

4 and ½ to 5

cups

(648-720g) Bob's Red Mill Artisan Bread Flour be sure to measure properly
EGG WASH: 1 large egg + 2 Tablespoons (30mL) water
Swedish pearl sugar

optional
Instructions
In a small saucepan over medium heat, heat the milk and saffron until milk is steaming, stirring occasionally and being careful not to let the milk boil over. When milk starts to bubble, remove from heat, strain out the saffron threads, and allow to cool for 10 minutes.

When milk is cool but still warm to the touch, pour it into a large bowl or the bowl of a stand mixer fitted with the dough hook. Add the yeast, mix with a fork, and allow the yeast to activate for 5-10 minutes.

When the yeast has activated, whisk in the melted butter, sugar, eggs, and salt. Whisk until everything is completely combined.

Turn the mixer on low (or mix with a wooden spoon) and start adding the flour. Continue to mix until a soft dough forms and pulls away from the sides of the bowl. If dough is too sticky, add more flour 2 Tablespoons at a time until dough resembles PlayDoh and snaps when you pull it apart.

Pour the dough out onto a lightly floured surface and knead by hand a few times. Spray your bowl with non-stick spray and place the dough ball into the bottom of the bowl. Flip the dough ball over to coat the top, and then cover the bowl with a lid or towel and place in a warm environment. I like to heat my oven to 200ºF (93ºC), turn it off, then leave the door cracked with the bowl inside. Allow dough to rise until double in size, about 1 hour.

After dough has doubled, punch down the dough and turn out onto a lightly floured surface. Divide dough into 12 equal pieces (I like to use a kitchen scale here), then roll each piece of dough into a 15" log. Allow logs to rest about 10 minutes before shaping into buns.

Line two large baking sheets with parchment paper or silicone baking mats. Set aside.

Shape each log into an "S" shape: grab each end of the log and turn counter-clockwise toward the center. Place each shaped bun onto prepared baking sheet, 6 to each sheet. Allow to rise another 30 minutes.

When you are ready to bake the buns, place the oven rack in the center position and preheat to 375ºF (191ºC).

Brush each bun with the egg wash and sprinkle with pearl sugar, if using. Bake the buns for 20-22 minutes or until buns are lightly browned on the tops. Remove from oven and allow to cool for 10 minutes before serving. Store leftovers covered at room temperature up to 5 days. Buns freeze well, up to 2 months. Thaw at room temperature and warm to serve.
Notes
Saffron: this is a potent spice. If you aren't sure you like it, start with

¼

teaspoon. If you know you like it, bump it up to

½

teaspoon. If you know you don't like it, you many omit it completely.
Adapted from NY Times Cooking and King Arthur Flour
Nutrition Disclosure
All nutritional values are approximate and provided to the reader as a courtesy. Changing ingredients and/or quantities will alter the estimated nutritional calculations.
Serving:
1
bun
|
Calories:
304
kcal
|
Carbohydrates:
44
g
|
Protein:
9
g
|
Fat:
10
g
|
Saturated Fat:
6
g
|
Polyunsaturated Fat:
1
g
|
Monounsaturated Fat:
3
g
|
Trans Fat:
0.3
g
|
Cholesterol:
64
mg
|
Sodium:
220
mg
|
Potassium:
117
mg
|
Fiber:
2
g
|
Sugar:
9
g
|
Vitamin A:
330
IU
|
Vitamin C:
0.01
mg
|
Calcium:
41
mg
|
Iron:
1
mg