Red, White, & Blue Swirl Bundt Cake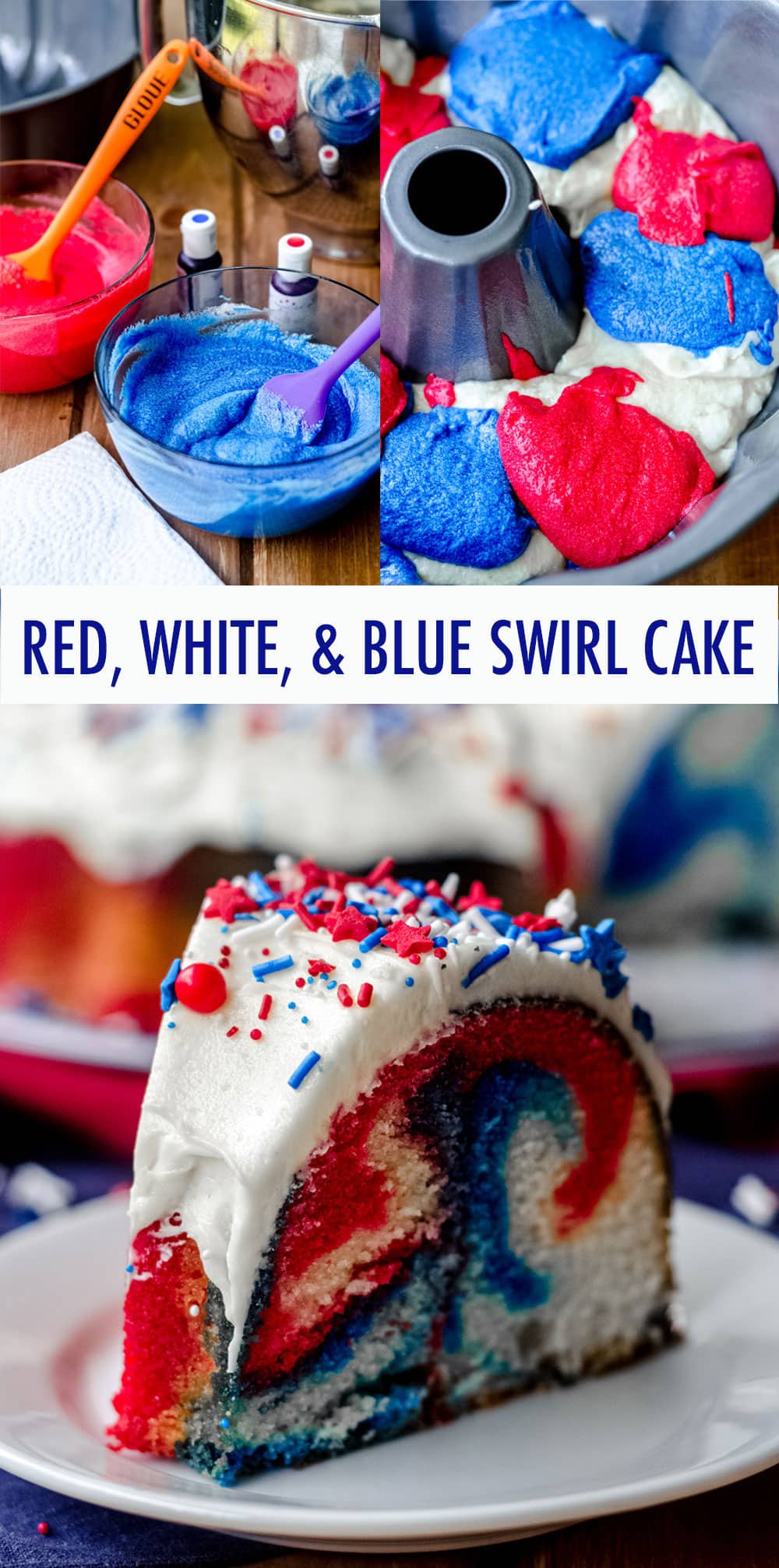 As an Amazon Associate, I earn from qualifying purchases. Read the full disclosure here.
Classic white cake, swirled with colored batter for a patriotic flair. Change up the colors to match your occasion!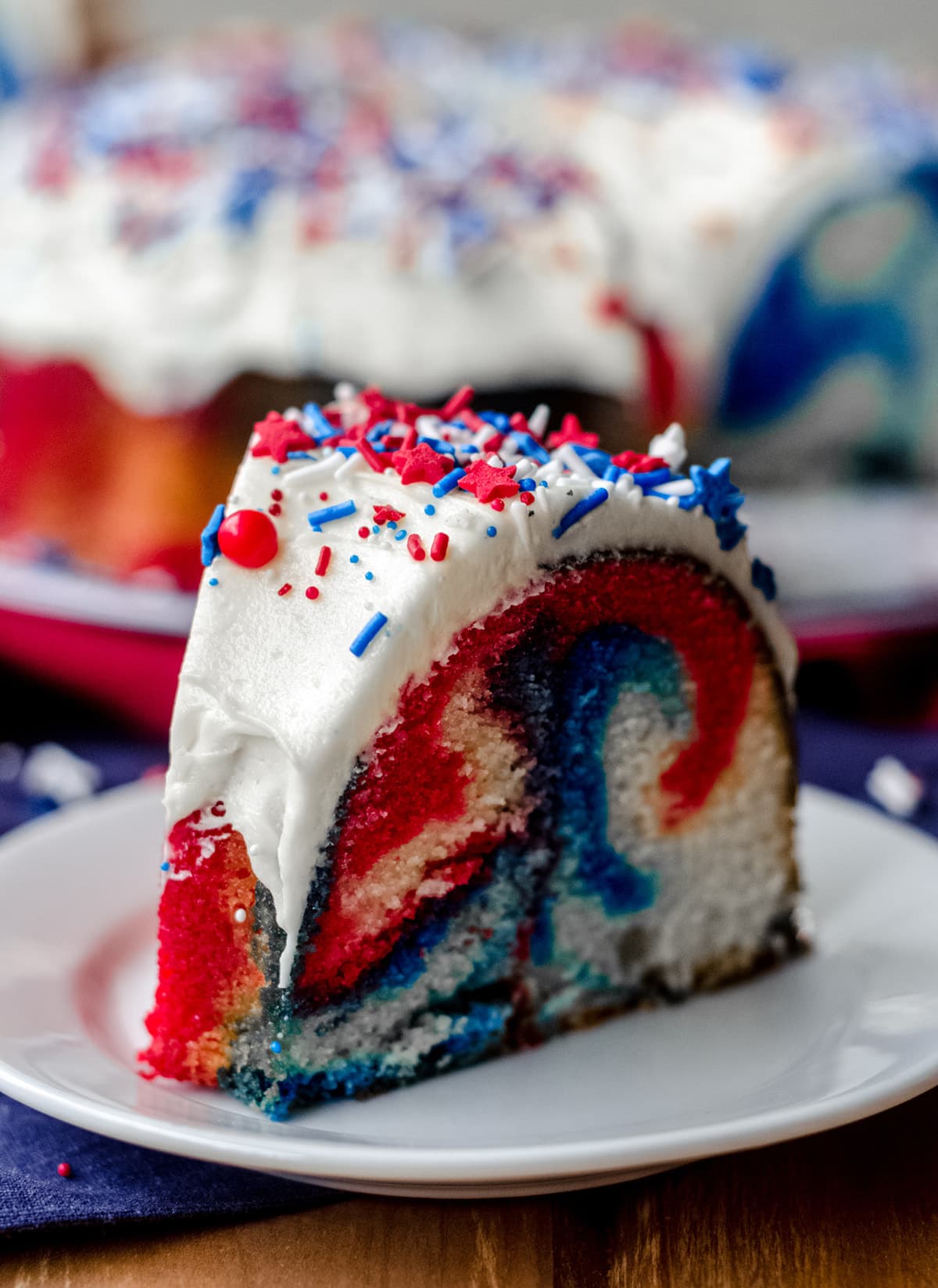 Can you even believe it's time for red, white, and blue treats already? The 4th of July is right around the corner, so naturally, we're turning regular treats into patriotic ones, because then they taste better, right??
I remember this time in 2016 and 2018 vividly. Both summers, we had a few-weeks-old screamy baby, and most particularly with that first baby, I was so glad to have an hour to myself in the early hours of the morning where I turned regular Rice Krispies Treats into a fruity berry version to share in time for the holiday season.
These days, throwing this patriotic treat together involves much less screaming, but I forever have sous chefs asking to help with all the things, which results in bigger messes than necessary and cleaning up stray sprinkles as quickly as possible.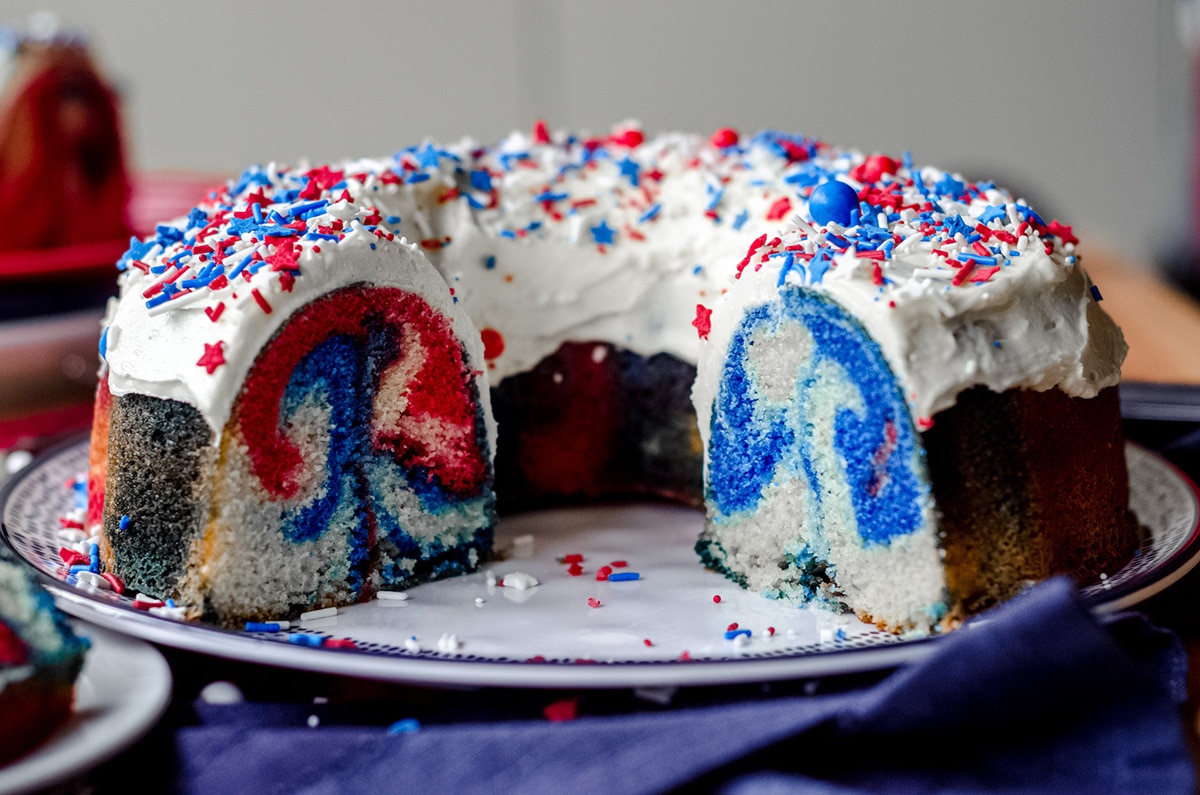 If you've been around these parts for awhile, you'll know that in 2017, I did a Cake of The Month feature every month, and this one was installment #6! That meant halfway to Christmas and this fine celebration, but hey, let's not get ahead of ourselves. We still have hotdogs to eat, fireworks to light, and grilling to do!
The nice part about this red, white, and blue swirled bundt cake is we've been here before. It's actually my white layer cake recipe, but in a bundt pan. And obviously with some red and blue business going on.
I won't talk too much about how this recipe came to be since you can read all about it in this white layer cake post, but instead, we will focus on exactly how you get your batter colored the right color and swirled in your finished cake so perfectly.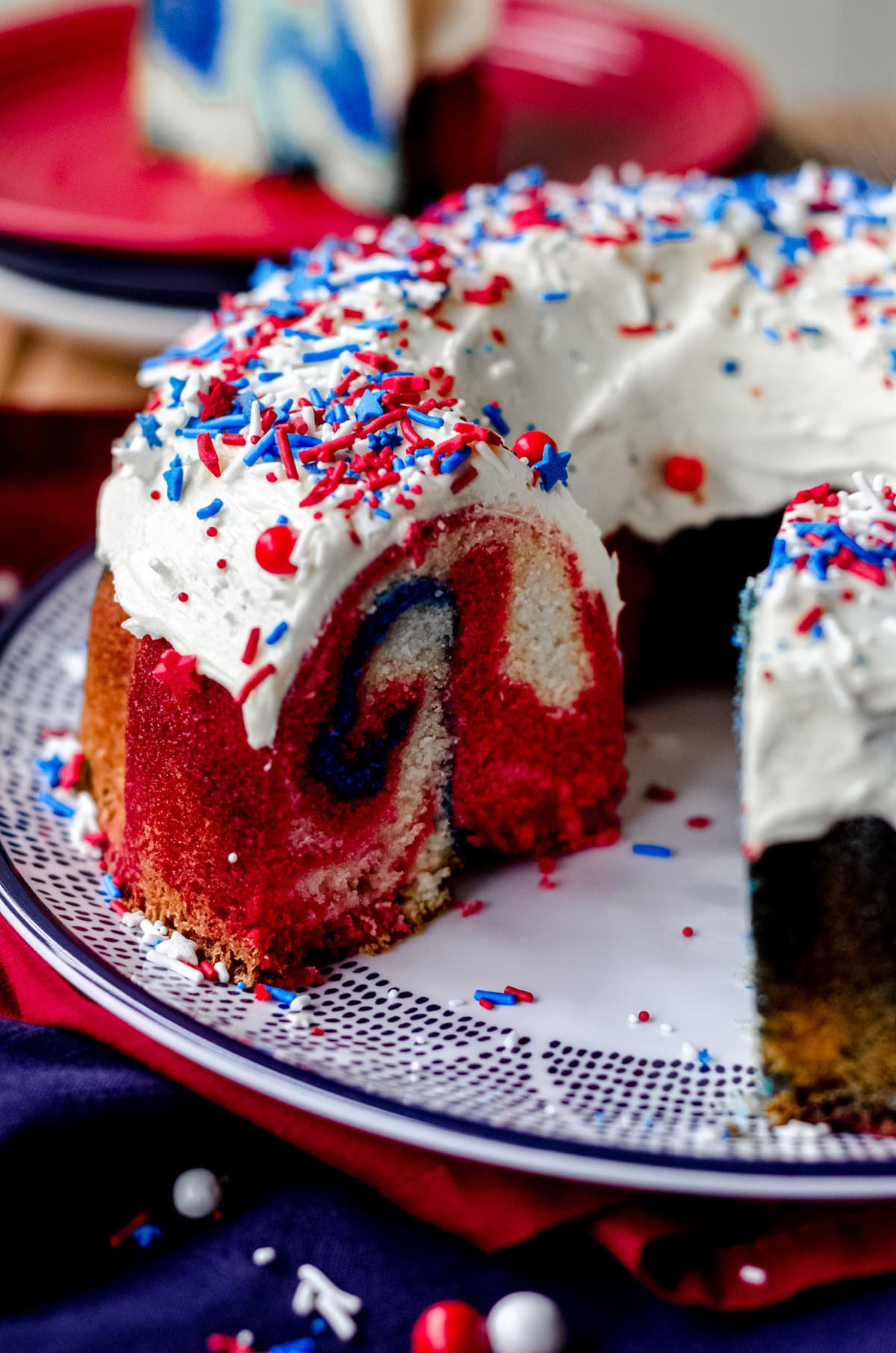 HOW TO GET COLORFUL SWIRLS IN CAKE BATTER
To get beautifully colored swirls in your cake, you're going to start the cake batter like you normally would. You'll stop right at the point of putting the batter into the pans to bake, but you'll remove some batter to dye red and blue.
Pour out about half of the batter to dye, putting half of that into one bowl and the other half in another bowl, so you'll have about ¼ of the batter in each bowl, ready to become colorful.
Make sense? Half stays white, half gets colored.
If you want to make this cake different colors for another occasion (say, Halloween, with green, purple, and orange), same idea: half stays white, half gets colored. The other half will just split into 3 bowls.
You following?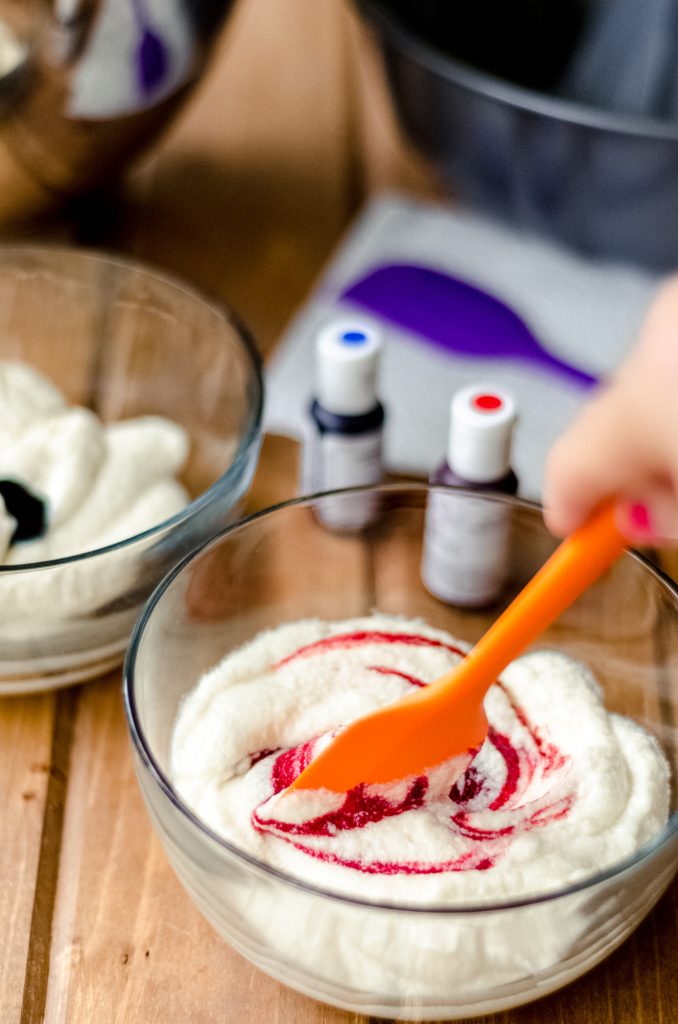 You can certainly use liquid food coloring, but I have always preferred gel colors. My favorite are Americolor. I prefer gel because the colors are more concentrated and vibrant, and the batter doesn't get watered down by lots of liquid drops.
Once you have your red and blue batters, get to the creativity!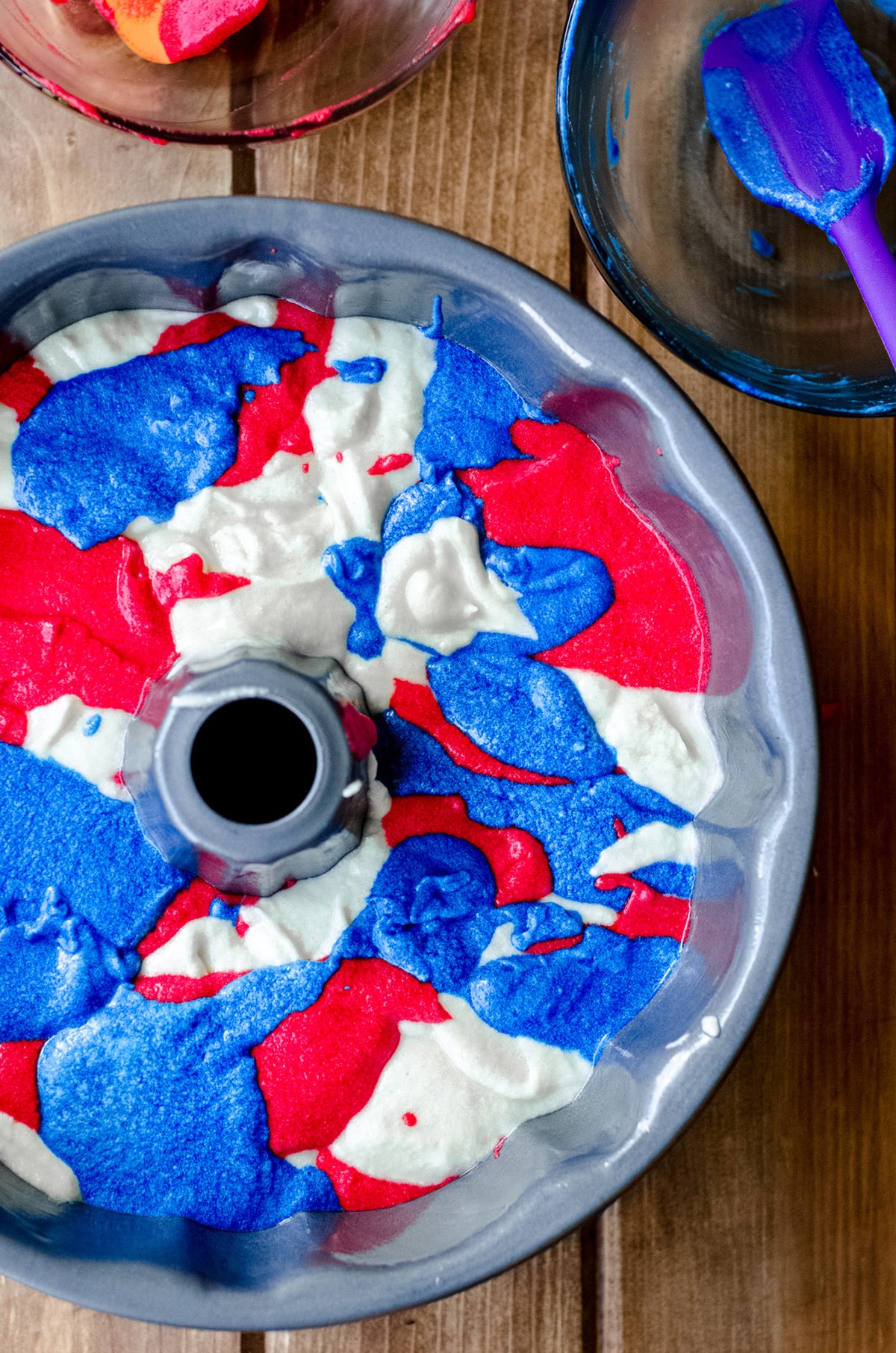 I always start my swirled cakes by putting a few dollops of colored batter in the bottom of the bundt pan. Just a few. Next up, a light layer of white. The key here is to be gentle and try not to disturb the colored dollops. In recipes where the idea is to swirl (like peanut butter ripple ice cream), mixing of colors/batters is encouraged.
Here? No.
With two colors of batter, you run the risk of getting purple swirls, which would be pretty, but not what we want here. Because of the nature of how batter bakes, the dollops almost swirl themselves.
Neat, huh?
I suggest making about 3 layers of color and white batter, not worrying much about dollops peeking through or not getting covered completely.
I do, however, try to avoid putting a big dollop of red batter on top of another red dollop. Big dollops, small dollops– whatever! Get creative.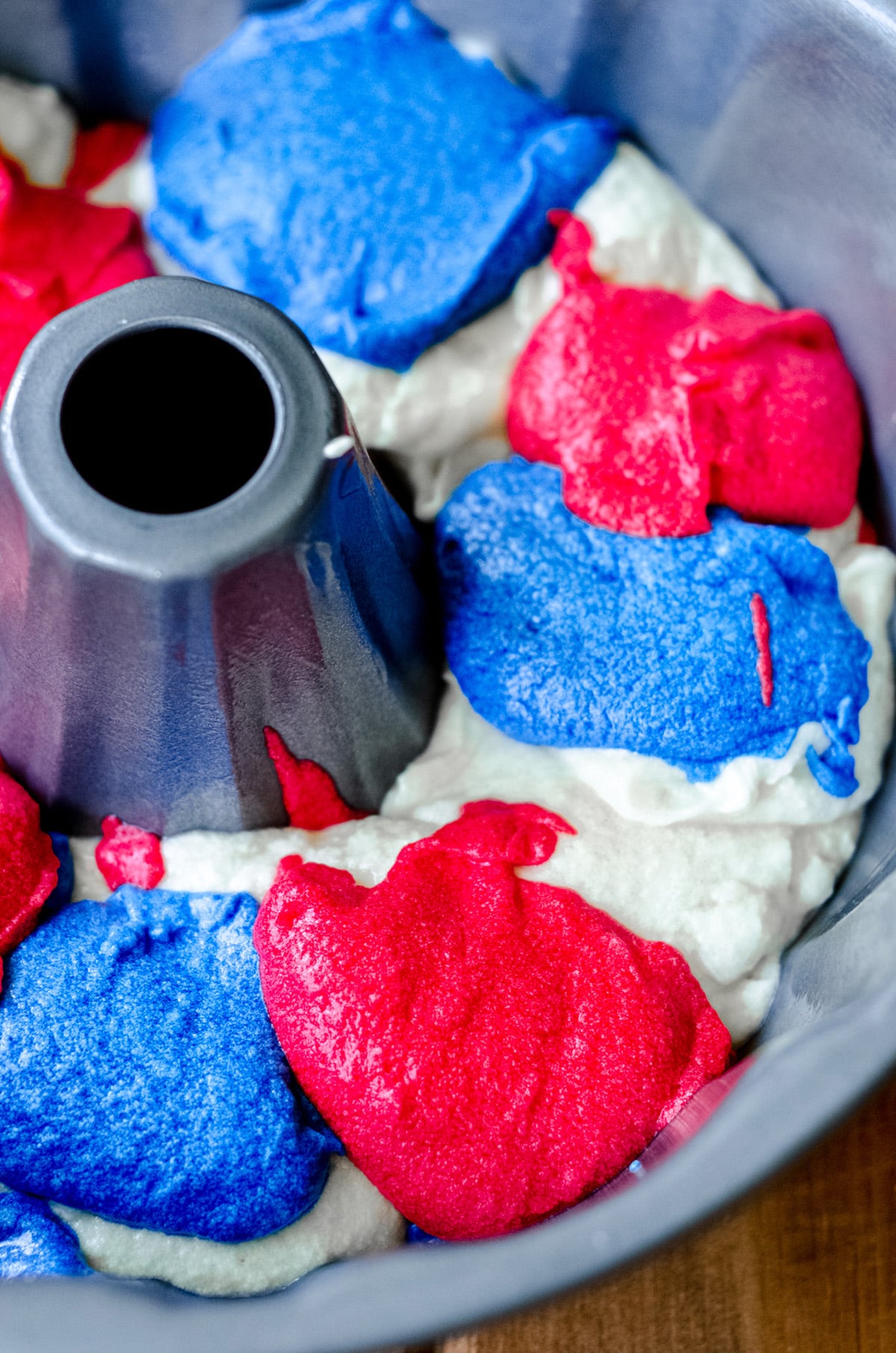 After your bundt cake is fully baked, you'll want to flip it out of the pan as soon as you can. Let it cool for about 10 minutes, put a plate or your serving platter on top of the pan, then flip while using oven mitts.
You'll let the cake cool completely upside down (right side up?!) on the platter. This will prevent the top of the bundt sticking to the pan and destroying the pretty grooves. Of course, if you're covering it with frosting like I did, that doesn't really matter much, but it's good practice for bundt cake baking.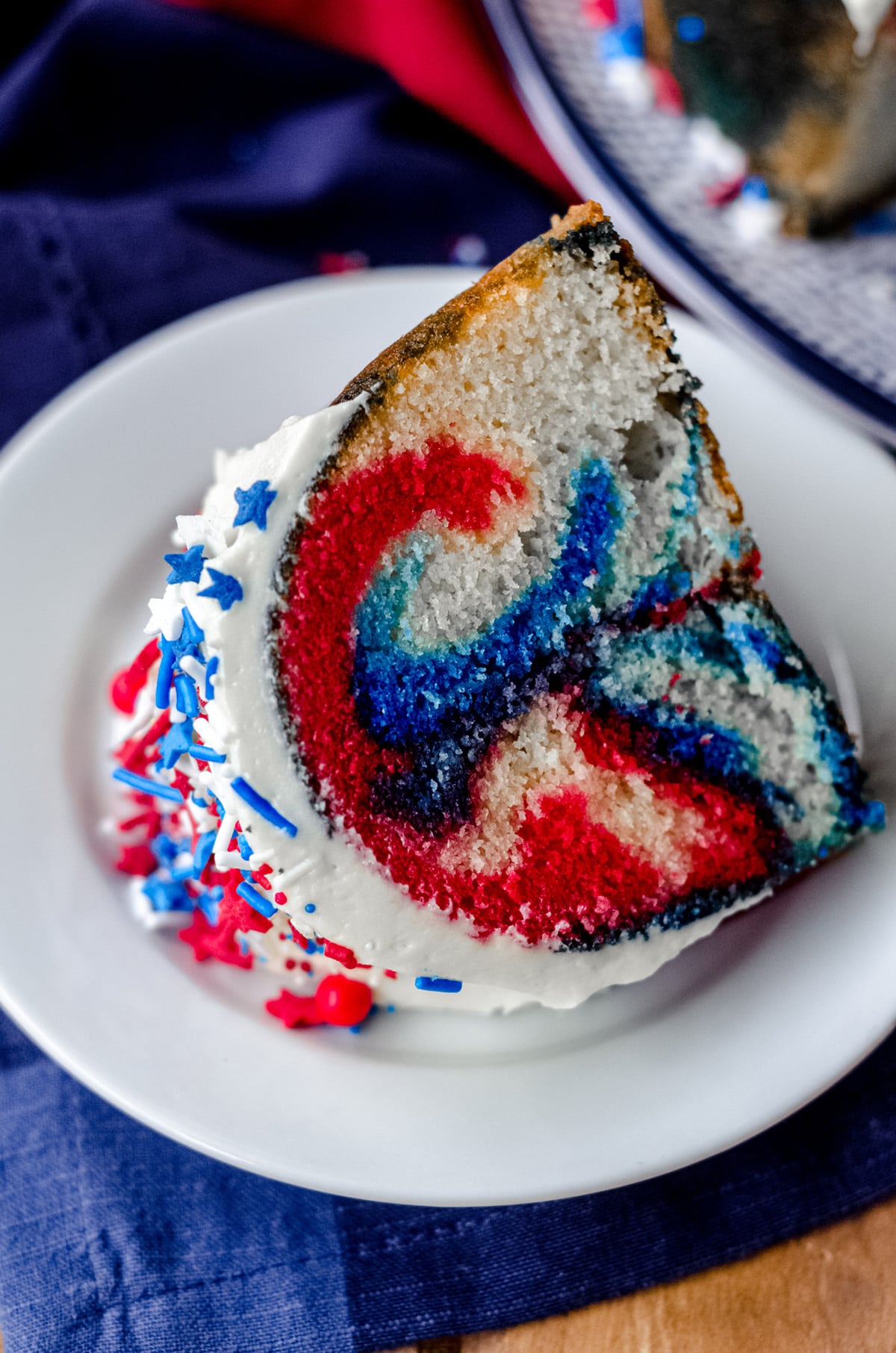 I went with a half recipe of my classic buttercream, which was the perfect amount, but you're welcome to use whatever frosting you'd like and make it a full recipe if you'd like, keeping in mind that you'll be able to cover the cake much more thoroughly than I did.
Leave your red, white, and blue bundt cake plain, dust it with powdered sugar, get fancy and use a lemon buttercream, a whipped cream buttercream, plain ole whipped cream, or an orange cream cheese buttercream. The only thing that is basically required is a hefty dose of patriotic sprinkles!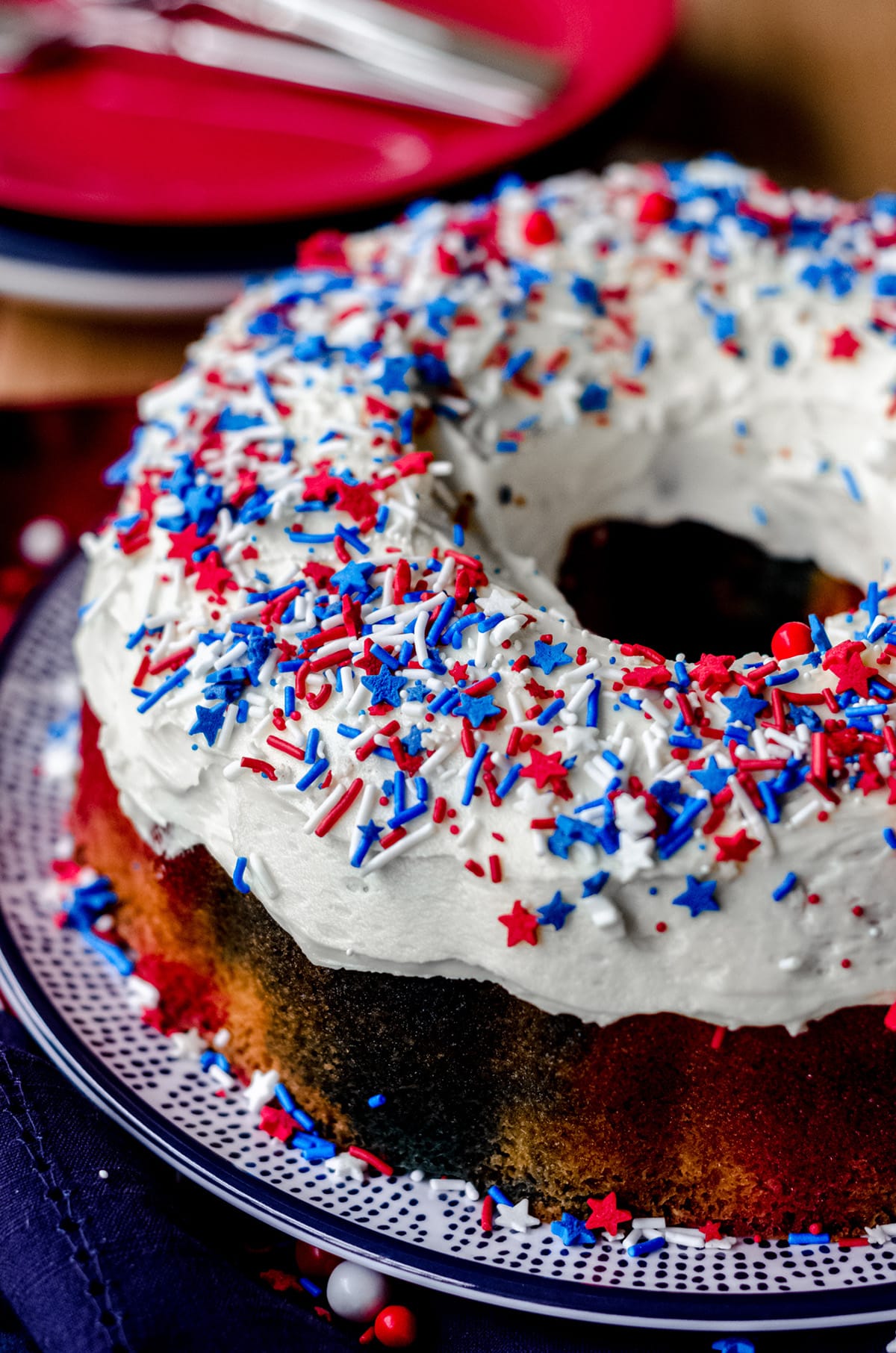 I'll tell you what, folks… My taste testers are always blown away by this, which is funny, considering it's just my white cake with swirly colors. I first took it to my company summer picnic and I took nothing home but stray sprinkles on a plate, and the reviews that have come in from readers in the past have been nothing but positive, too.
Something about the texture of this bundt cake does, admittedly, always bring me back for more. I added an extra teaspoon of baking powder to the original recipe (thanks for the tip, Bundt Cake Queen!) to account for the taller nature of the bundt pan, but perhaps that little bit of lift was enough to take this amazing cake to an even higher level of amazing?? Who knows?
Either way, this easy yet impressive cake is a must this 4th of July. MUST!!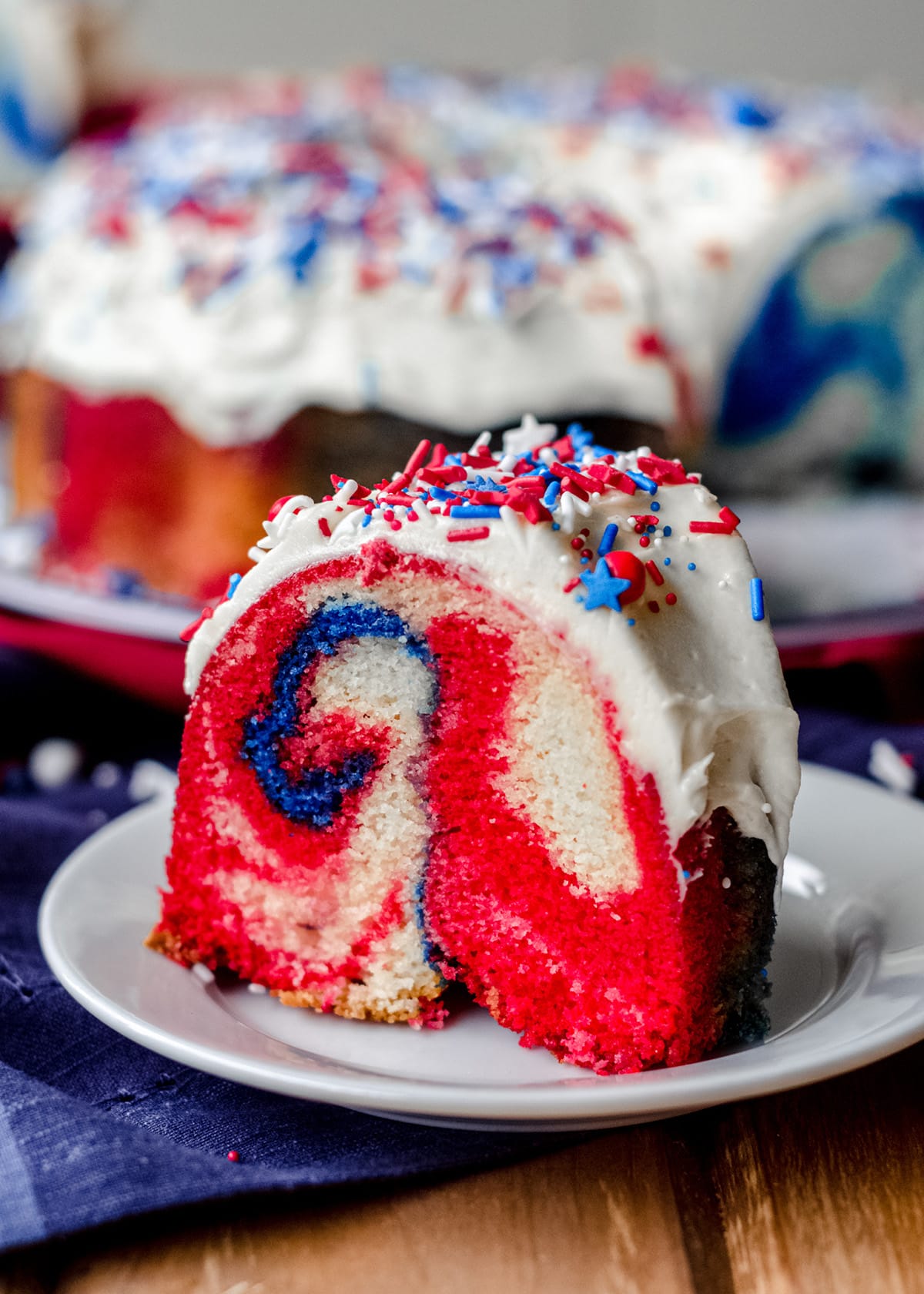 Here's to America, despite the weird year it's been for all of us, I think we can all agree on one thing– ALWAYS YES TO CAKE.
Red, White, & Blue Swirl Bundt Cake
Classic white cake, swirled with colored batter for a patriotic flair. Change up the colors to match your occasion!
Ingredients
CAKE
2

cups

(240g) all-purpose flour be sure to measure properly

2

Tablespoons

(15g) cornstarch

1 and ¾

cups

(350g) granulated sugar

5

teaspoons

baking powder

1

teaspoon

salt

12

Tablespoons

(170g) unsalted butter softened to room temperature1

1

cup

(240mL) heavy cream room temperature1,3

6

large egg whites room temperature1

2 and ½

teaspoons

vanilla extract
red food coloring2
blue food coloring2
VANILLA BUTTERCREAM
½

cup

(113g) unsalted butter

softened to room temperature

2

cups

(240g) powdered sugar

½

teaspoon

vanilla extract

2

Tablespoons

(30mL) milk or cream
salt

to taste
Instructions
CAKE
Place oven rack on the middle setting and preheat the oven to 350ºF (177ºC). Generously grease and flour (or use homemade cake release) a 10" bundt pan.

In a large bowl with a handheld mixer or the bowl of a stand mixer fitted with the paddle attachment, combine the flour, cornstarch, sugar, baking powder, and salt. Blend ingredients together on low until completely combined, about 1 minute. Add the room temperature butter and beat mixture on low speed until it resembles sand. Scrape down the sides and bottom of the bowl with a spatula and mix again on low for a few seconds until thoroughly combined.

Combine the heavy cream, egg whites, and vanilla extract in a large container with a spout (like a 2-cup glass measuring cup) and mix gently with a fork until blended. With the mixer speed on medium-low, add half of the milk mixture (about 1 cup) to the crumb mixture and mix until blended. Add the remaining milk mixture to the batter and beat again on medium-low until everything is incorporated. Turn the mixer off, scrape down the sides and bottom of the bowl with a spatula, and increase mixer speed to medium. Beat the batter for about 30 seconds until batter is smooth.

Pour about ¼ of the batter into one small bowl, and another ¼ of the batter into another small bowl (these are the portions you will color). You should be left without about half of the batter in your mixing bowl. Set that aside.

Add a bit of red food coloring to one of the small bowls, stir, and add more coloring until it is to your liking. Repeat with the second bowl and the blue coloring. Using a spoon or spatula, add a few dollops of each color batter to the bottom of the bundt pan. Pour about ⅓of the white batter over the dollops. Repeat again until you run out of batter. Tap the bundt pan gently on the counter to allow layers to settle, then bake for 38-40 minutes, or until a toothpick inserted in the center comes out clean.

Remove from oven and allow to cool for 10 minutes on a wire cooling rack. Using oven mitts, carefully flip the bundt cake onto your serving dish/platter. To do this: flip the serving dish/platter over and place on top of the cooling bundt pan. Flip everything over and allow cake to cool completely in the pan, sitting on the serving dish. When cake is completely cool, lift pan off of the cake.
VANILLA BUTTERCREAM
In a large bowl with a handheld mixer, or a stand mixer fitted with the paddle attachment, beat the butter on medium speed until creamy, about 2 minutes.

With the mixer on low, add in the powdered sugar, vanilla, and milk or cream. Increase mixer speed to medium and beat until completely smooth, about 3 minutes. If frosting is too stiff, add more milk. If it is too thin, add more powdered sugar. Add salt to taste.

Decorate cake as desired. Cake stays fresh covered at room temperature for up to 4 days. Cake may be covered and refrigerated for up to 7 days. Cake freezes well, up to 2 months. Wrap in plastic wrap, then in foil, then place in a large freezer bag or freezer-safe container. Thaw in the fridge overnight.
Notes
Room temperature ingredients: it is imperative to use room temperature ingredients in this recipe. Allow ingredients to sit out at room temperature at least 45 minutes before beginning.
Food coloring: I prefer gel food coloring. My favorite is AmeriColor.
Cream: I strongly encourage using cream in this recipe. It keeps the crumb moist and dense and adds a creaminess to the overall texture of the cake.
Recipe adapted from White Layer Cake
Nutrition Disclosure
All nutritional values are approximate and provided to the reader as a courtesy. Changing ingredients and/or quantities will alter the estimated nutritional calculations.
Try my red, white, and blue swirl cupcakes next!