As an Amazon Associate, I earn from qualifying purchases. Read the full disclosure here.
Creamy, flavorful dip bursting with sweet cooked onions. Perfect with both veggies and chips!
It's the last installment in our dip party, and I saved a doozy of one for the end. And by doozy, I in no way mean that it's difficult or complicated or involves a bunch of ingredients. I mean you will have a really hard time stopping with this one because it not only goes well with veggies, it also goes well with chips.
So… Dip everything in it. Ok??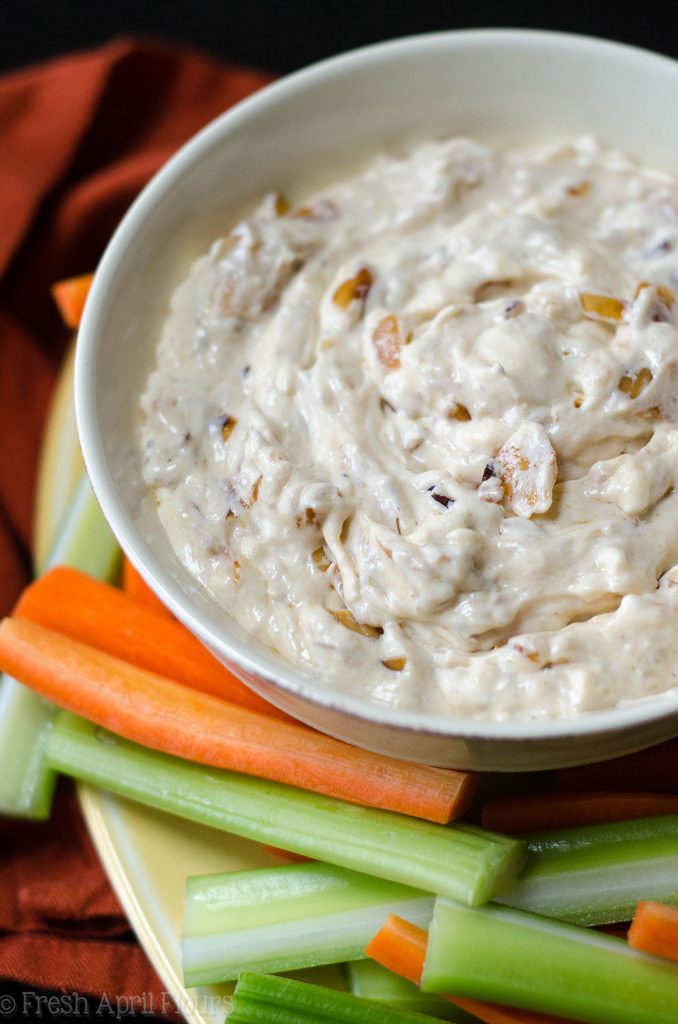 Before we get to this easy peasy and not so beautiful (sorry) dip, let's do a recap of the first 11 dips in our 12 Dips of Christmas.
In the sweet category we had:
brownie batter dip
classic fruit dip
cannoli dip
gingerbread dip
eggnog dip
chocolate chip cookie dough dip
The savory category included:
spinach dip
homemade guacamole
buffalo chicken dip
Philly cheesesteak dip
skillet pizza dip
And we're rounding out the savory category today, with a dip that can cater to a celebration all year long. A base of cream cheese, mayo, and some Greek yogurt or sour cream lays the foundation for a TON of caramelized onions.
We'll use a little salt and pepper to season the onions, but a dash of cayenne pepper will kick things up juuuuust a tiny bit to give the dip some pizzaz.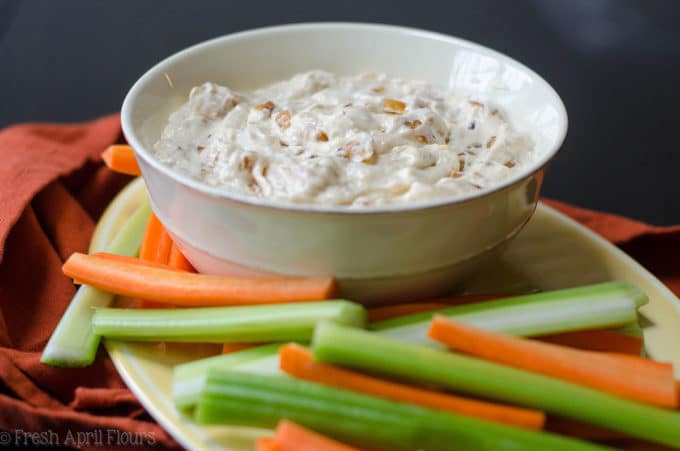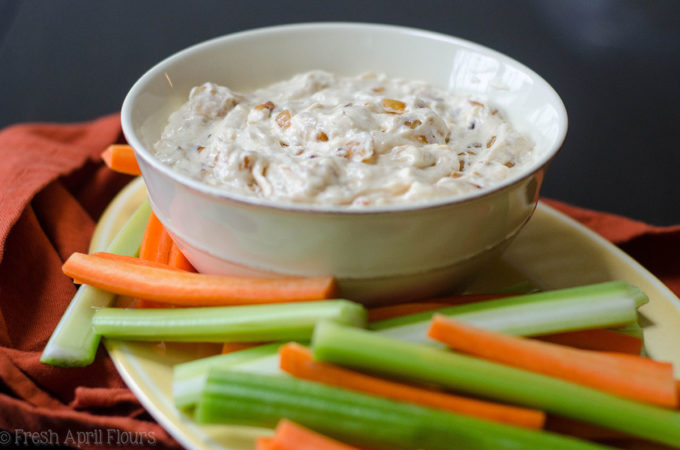 Have you ever caramelized onions before? It's as simple as cooking them low and slow in some fat (butter) until they are incredibly tender and the sweetest caramel color.
They take on a flavor that is pretty much unrecognizable as an onion in its raw state, and it lends the perfect complement to veggies and chips/crackers alike.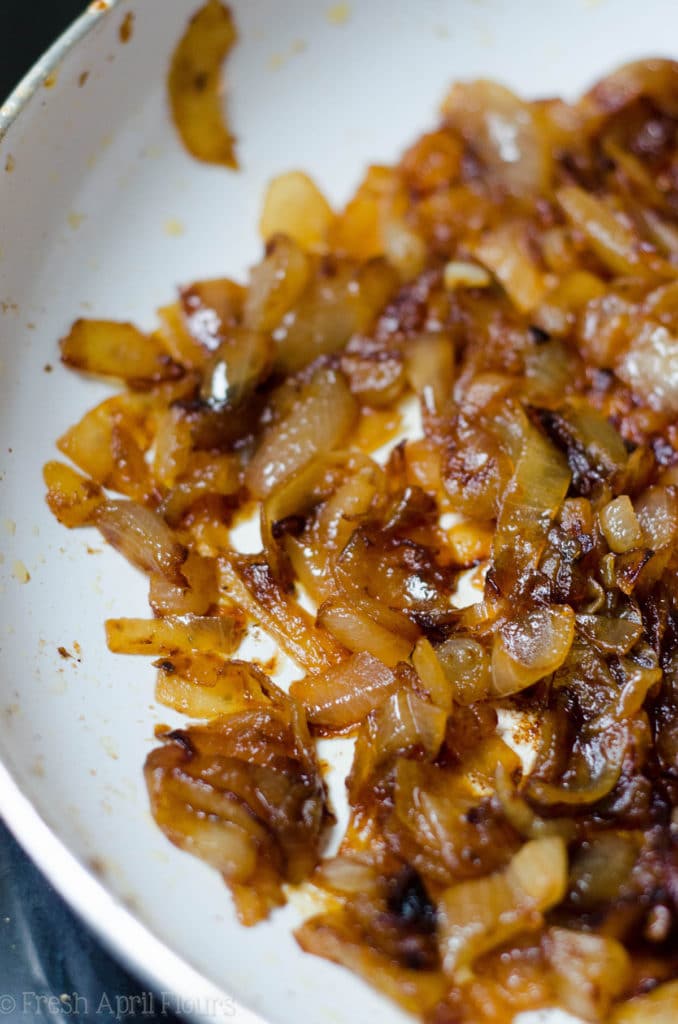 And, if you're anything like my husband Matt, you find other interesting things to do with it, like spread a little of it on a spinach and cheese sandwich. Yep, finishing that one up right now as I type.
While it's best served at room temperature, you'll want to initially let it chill down a little bit in the fridge before serving. The onions will still be pretty warm so they can melt the dip slightly and make it all too runny.
Likewise, if you're going to chill this caramelized onion dip ahead of time for eating later, you'll want it to sit out at room temperature before serving, about 30 minutes. If you're impatient, microwave on medium power for 30 seconds to soften things up.
So what did you think of the dip party? Did you try any? Did you adopt any into your dip arsenal? Did you share any with friends? Are you planning some for your holiday celebrations?
I want to hear all about your dip adventures!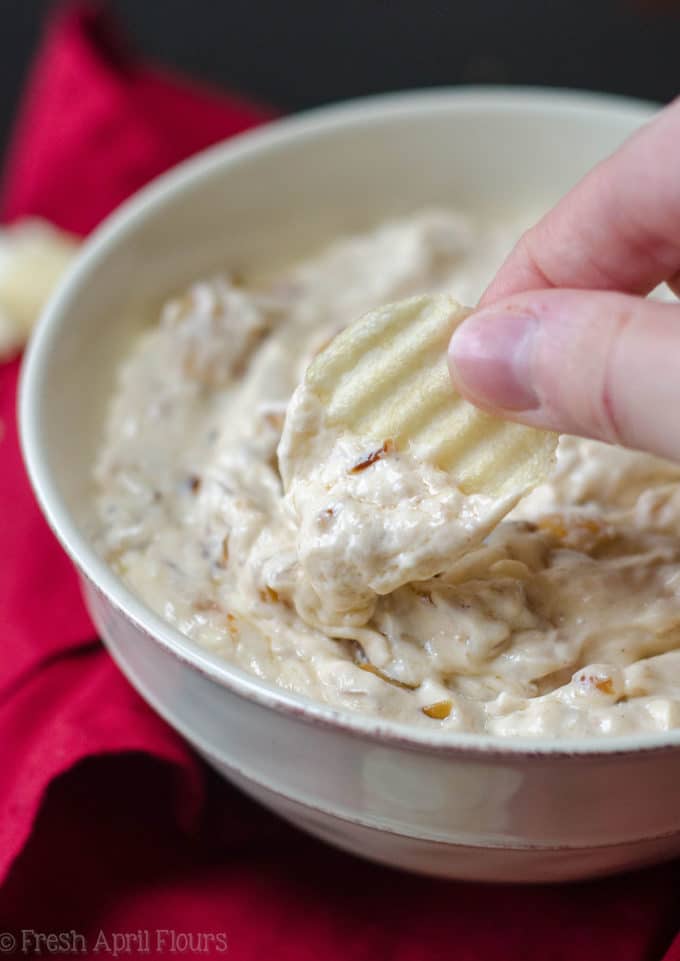 Thanks for dipping along with me!
Caramelized Onion Dip
Creamy, flavorful dip bursting with sweet cooked onions. Perfect with both veggies and chips!
Ingredients
2

large yellow onions

4

Tablespoons

unsalted butter

1

teaspoon

salt

1/4

teaspoon

black pepper

1/4

teaspoon

cayenne pepper

8

ounces

cream cheese

softened to room temperature

1/2

cup

mayonnaise

1/2

cup

plain Greek yogurt or sour cream
Instructions
Cut the onions in half and then slice them into thin half-rounds, approximately 1/8-inch thick. Set aside.

Heat the butter in a large skillet over medium heat. As the butter melts, add the onions, salt, pepper, and cayenne and cook for 10 minutes, stirring frequently. Reduce the heat to medium-low and, while stirring occasionally, continue to cook the onions for an additional 20 minutes. The onions should be nicely browned and caramelized. Set aside to cool.

In a large bowl with a handheld mixer or the bowl of a stand mixer fitted with the paddle attachment, beat the cream cheese, mayonnaise, and Greek yogurt/sour cream until smooth. Add the onions and beat again until everything is combined. Allow to chill in the refrigerator at least 30 minutes before serving. Store leftovers in the refrigerator covered tightly up to 5 days.
Nutrition Disclosure
All nutritional values are approximate and provided to the reader as a courtesy. Changing ingredients and/or quantities will alter the estimated nutritional calculations.