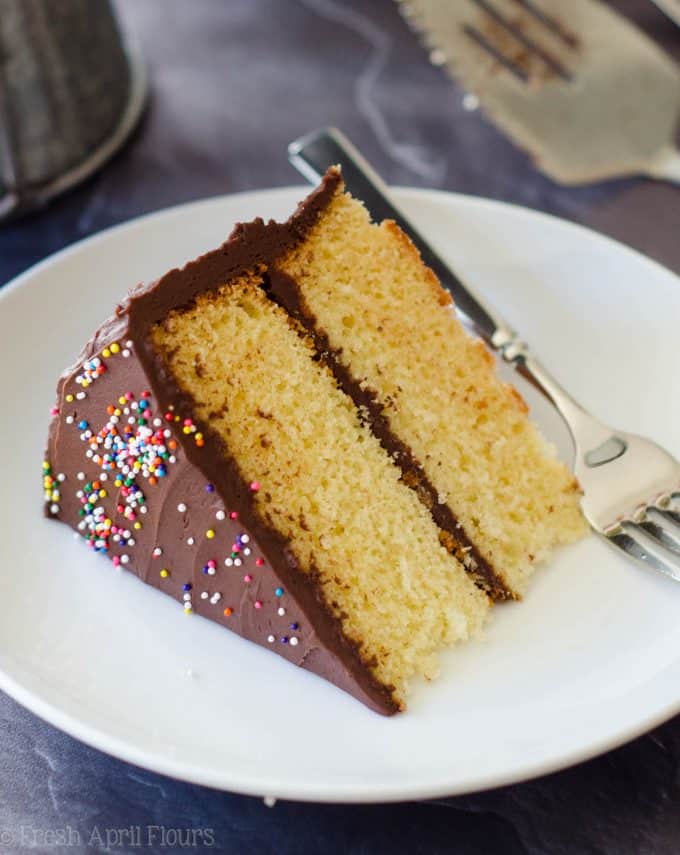 I spoke briefly about my resolve to start getting some cake recipes up on the blog, and here's your first installment. I'm going to try my very very hardest to bring you one cake per month (#fafcakeofthemonth) for the rest of 2017. This means 12 different cakes, and (I'm hoping) 12 different frostings. The idea is that you'll have an endless selection of cake and frosting recipes to mix and match, over and over, until you just can't cake any longer. How does that sound?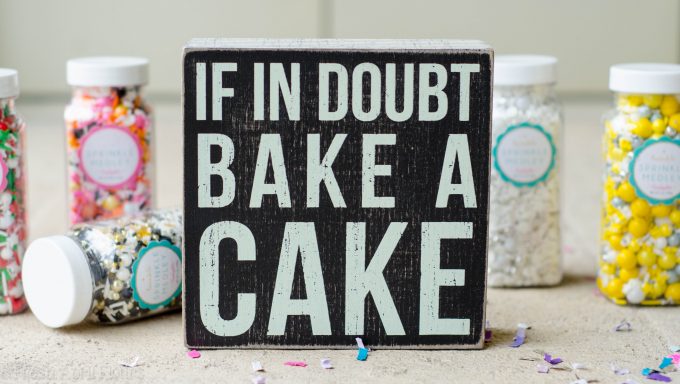 I have a whole slew of ideas for what I'd like to bring to the cake table, and I want to include a few classics as well as some oddball/creative ones. So I'm kicking things off with a few classics, starting with one of my absolute favorites– this perfect yellow cake with equally perfect chocolate buttercream.
I've mentioned that my 3 favorite desserts are chewy oatmeal raisin cookies, MY carrot cake (I'm still on the fence about actually sharing this one…), and yellow cake with chocolate buttercream. I felt it was high time to get the ball rolling on that last one, so here it is in all its glory, getting the cake ball rolling like a boss.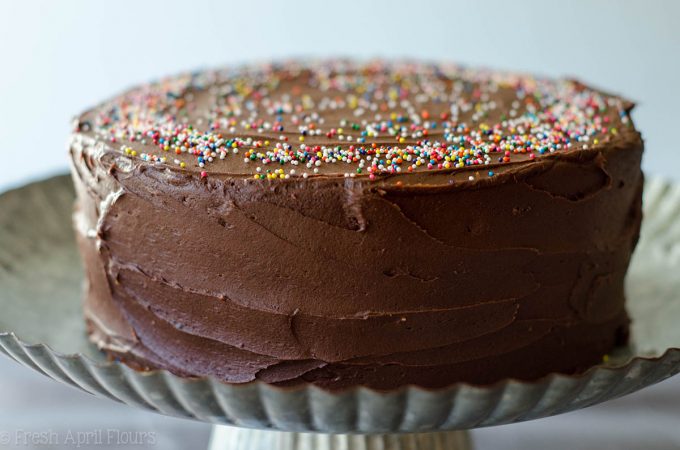 So first, let's chat about exactly what yellow cake is and how it's different from its confusing cousins white cake and vanilla cake. When it comes to yellow/white/vanilla cake, there are really just a few basics. You've got flour, sugar, butter, flavoring, some liquid, and eggs. As far as yellow cake is concerned, this is the butteriest and densest of the 3 cakes, thanks to the 3 large (full) eggs in the batter. The yellow yolks bring the yellow color to the cake while also giving it moisture, body, and "oomph." On the other hand, white cake is just that– it's white (although not quite angel food cake white). Can you guess why? No yolks. And yes, a white cake is in your Cake of The Month future. White cake tends to be a bit fluffier and lighter in taste and texture, while also still giving you that buttery crumb. Vanilla cake? That's a specially around here. Lots and lots of real vanilla beans up in those cupcakes.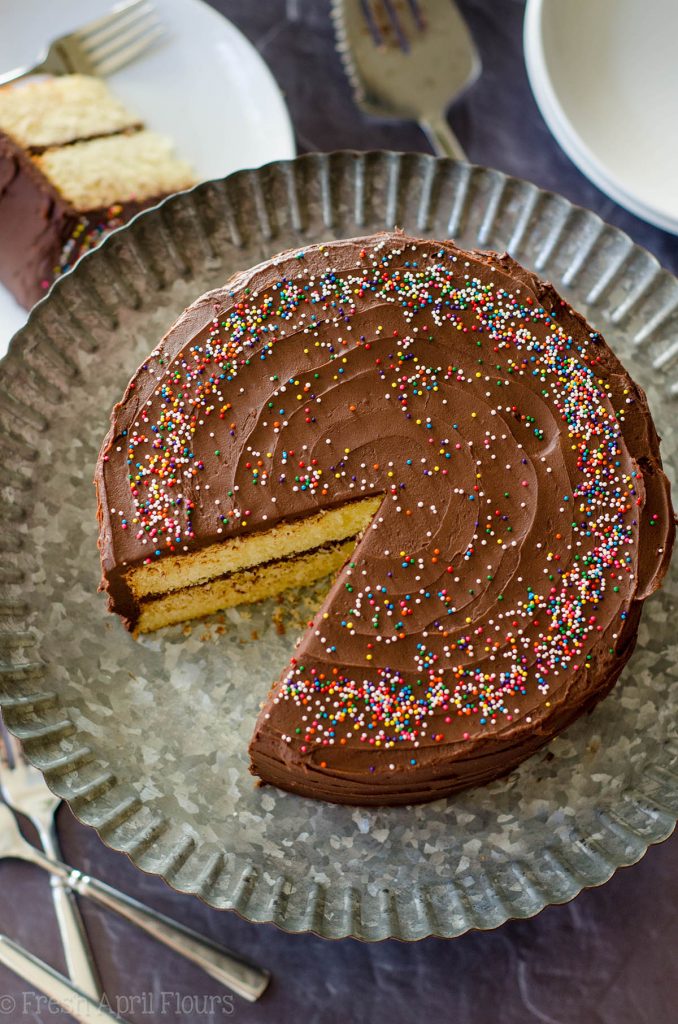 The batter for this cake is easy. You will have to use room temperature ingredients, but as far as technique and special equipment go, you are totally capable of making this layer cake. I've been making this yellow cake for years, and I highly highly suggest sticking to buttermilk. I've used regular milk and it's just not quite the same. Notes in the bottom of the recipe if you need to make your own buttermilk.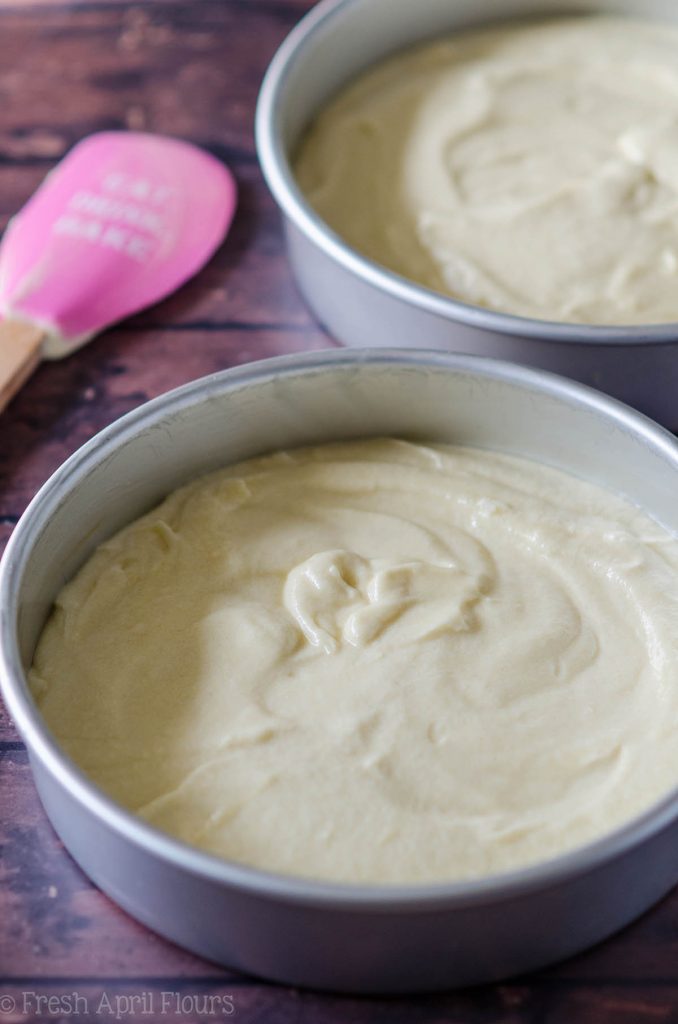 While the cake alone is quite tasty, this chocolate buttercream is what dreams are made of (second only to this stuff) and I urge you to refrain from taste testing too much, otherwise you will wind up with zero chocolate buttercream left and one very naked cake. I use Dutch processed cocoa powder in this frosting because it's less bitter than unsweetened cocoa. Plus, it's softer, so I think it clumps less.
When you're ready to assemble, just level that cake, spread on the good stuff, and get to work.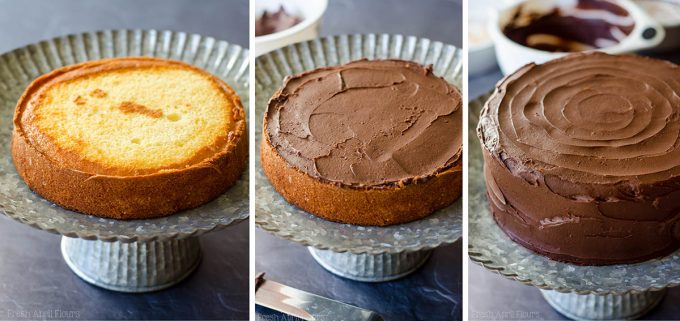 A sprinkle of sprinkles (?) around the top for good measure, and you're ready to serve up this perfect little number to anyone who wants to celebrate with you.
You'll find this cake to be dense but moist, flavorful, buttery, and the perfect classic cake recipe to tuck in your back pocket for safe keeping. I find that yellow cake with chocolate buttercream appeals to the masses pretty well, and it's a fairly safe flavor to whip up if you're taking something to a party or hosting a get together yourself.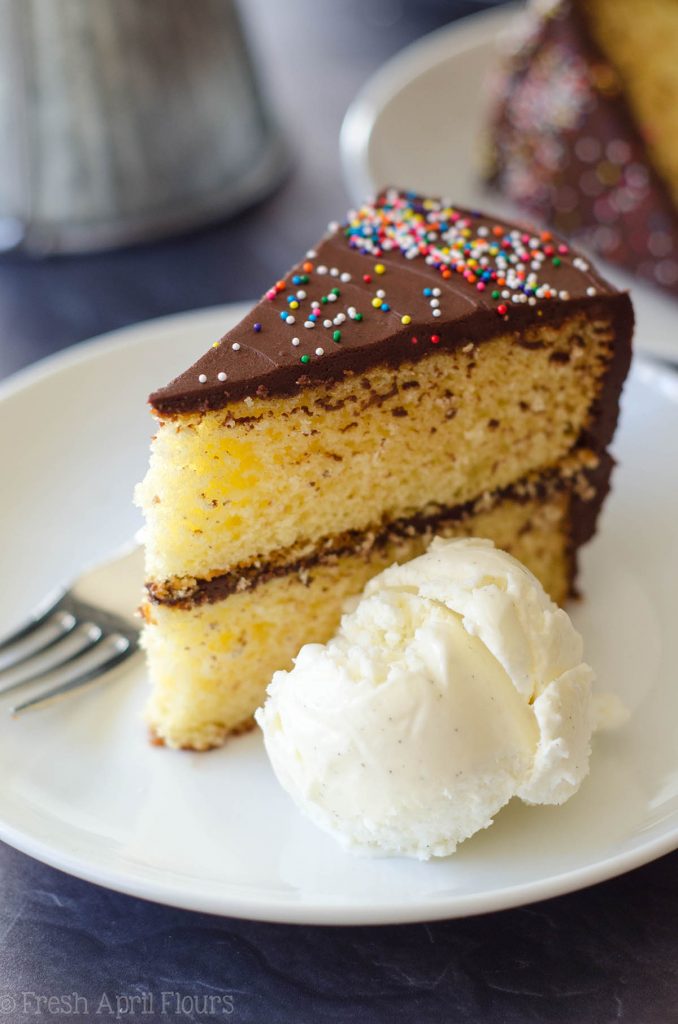 Remember, it's not white and it's not vanilla. It's in its own class of flavor. But if you smother it in that beautiful chocolate buttercream, you're one step closer to achieving major cake goals and you'll always be welcome in my house for professional cake taste testing!