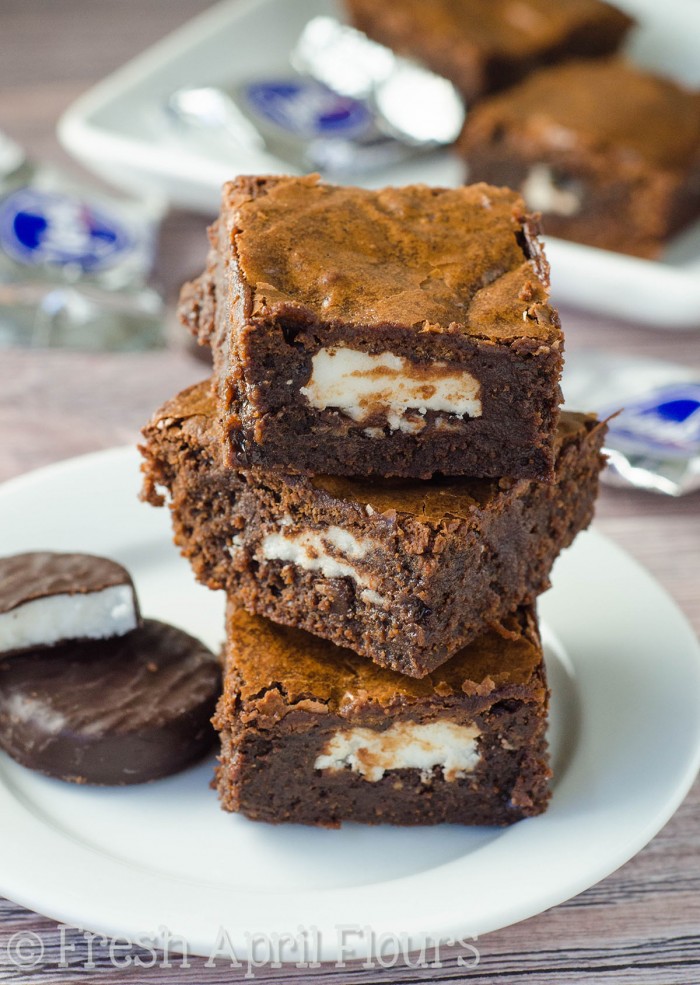 For me, a Peppermint Pattie can turn any bad day around. Thankfully, my darling husband knows this about me. There is also a small collection shashed away in the butter compartment of our fridge at all times. If you eat one, you must replace it for the next person in need. April Family Rules.
While I really do love PepPats (<– do you give your fav foods pet names?) super chilly, I do not discriminate against whatever form they're in as long as they're entering my digestive system. Cold, frozen, regular, melty, inside brownies… Uhhhh, yeah. Just get.in.mahbelly.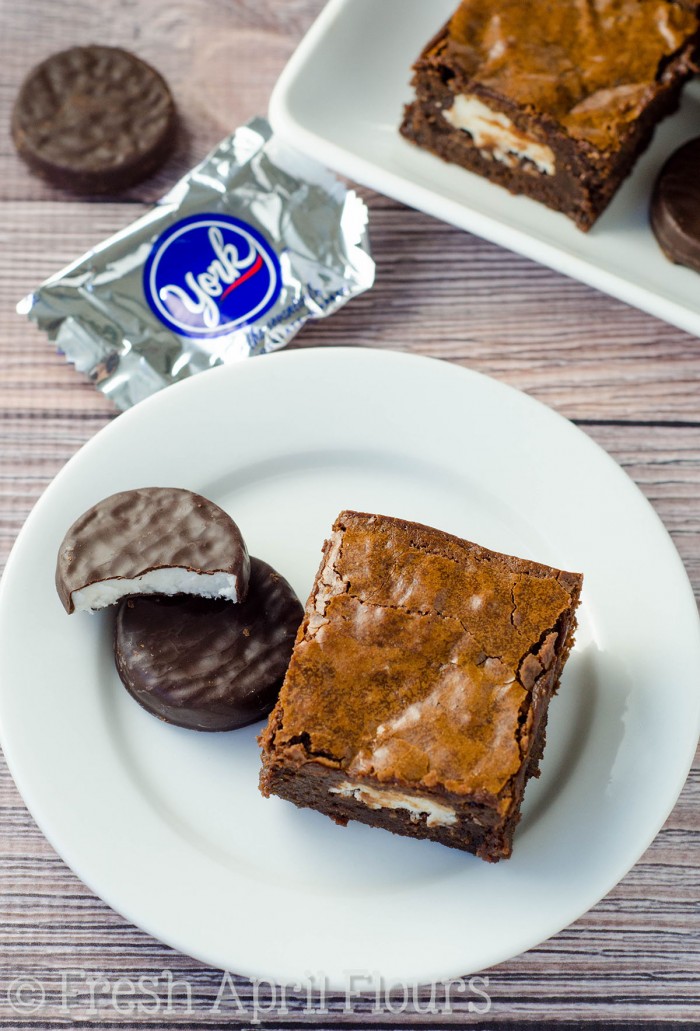 So, let's talk about that last vehicle for getting PepPats in my mouth. These brownies are maybeeeee the best brownies I've ever had. Move over Duncan Hines, step aside Betty Crocker– my super fudgy scratch brownies are back in town and this time, I've stuffed them with mint chocolate perfection. What better way to continue with #lynnsfavs??
I have preached it before and I will preach it again until boxed brownie mixes fall by the wayside and maybe only find themselves in the hands of preppers… Scratch brownies are where it's at. They're easy. They're uncomplicated. And they're so(oooooo) much better than anything you'll ever find in a box. Trust me. I'm thinking about engraving "scratch brownies are the only way" into my headstone.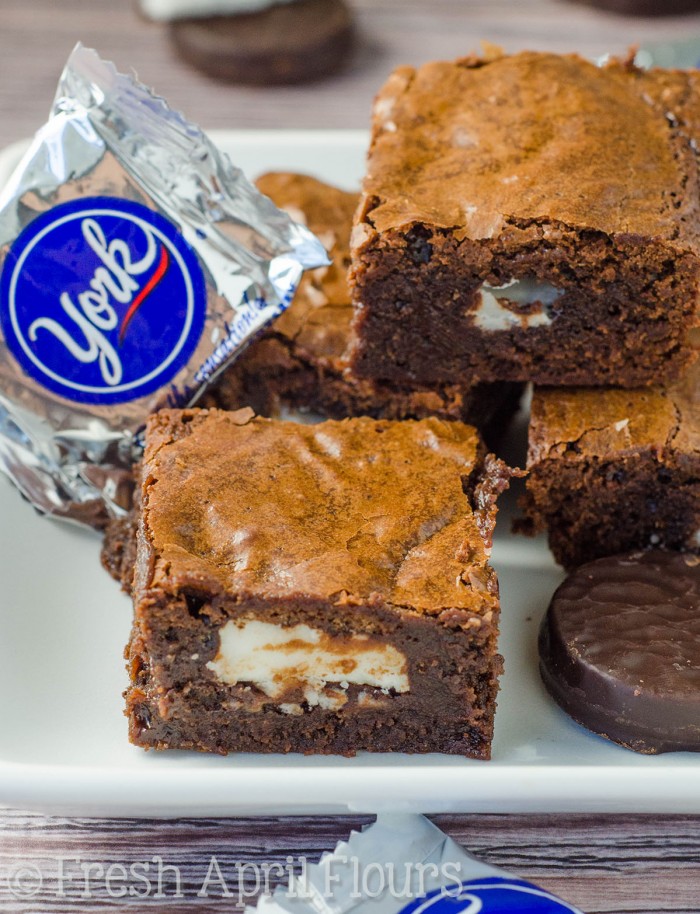 This is the very same scratch brownie recipe I used here and here. And you'll definitely see it again, I can assure you that.
Now, to get these ultra fudgy brownies in your kitchen… Chocolate and butter are melted together to create the fudgiest base possible for your brownies. To that, we add brown sugar for super chew and 3 whole eggs for all that density. Just a tiny bit of flour gives my scratch brownies a little lift, but not too much because ain't no room for cakey brownies in my kitchen!
Now, the best part of all… The gooey, melty peppermint center comes from simply laying whole, unwrapped PepPats on top of half of the brownie batter. Sounds complicated? It's not. Just pour half of the batter into your prepared 8×8 pan, place 16 unwrapped PepPats over this layer, and then cover those bad boys up with the rest of the brownie batter. PepPat brownie batter sandwiches. Umm YUM. Oh wait… You have to bake them first.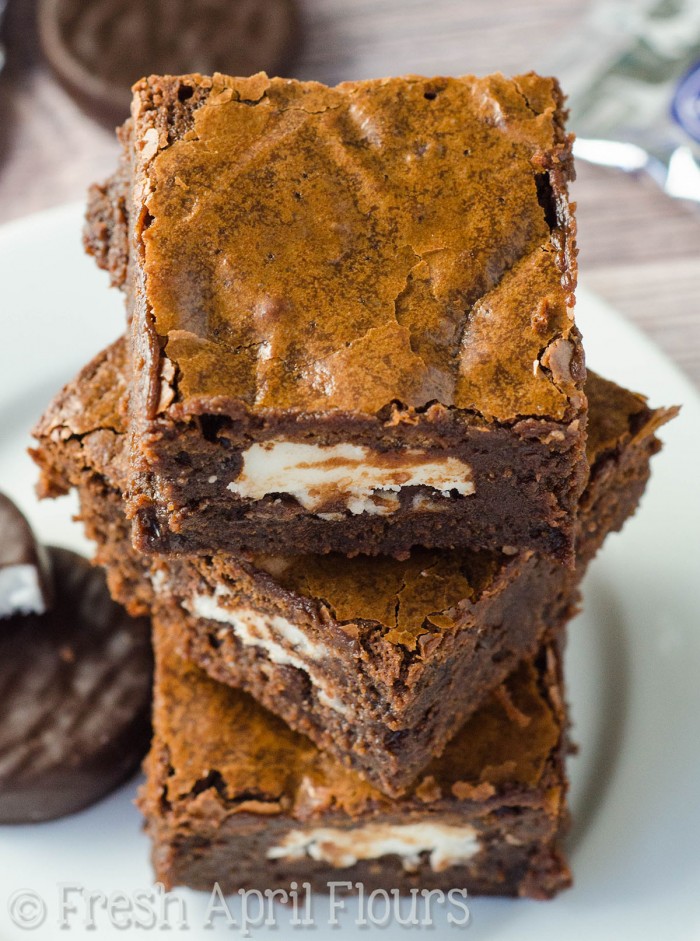 Only about 35 minutes in the oven and then the torturous waiting for them to cool. AHHHH, the worst. I let mine cool completely, as in overnight, before I photographed them. A little bird told me that if you pop one of these room temperature brownies in the microwave for a bit, that peppermint center becomes nice and gooey and pretty much magic in your mouth. You'd probably get the same effect if you cut into your brownies before they are completely cool. Be my guest! But invite me over? I think I need to taste test this recipe again in all forms of peppermint meltiness.
If you love PepPats as much as I do, you're going to love stuffing your brownies with them. Not only is it a way to get more PepPats in your life, but what mint chocolate lover doesn't need more chocolate surrounding his or her mint chocolate candy? And if that chocolate is in dense, fudgy brownie form?! Fahgetaboutit.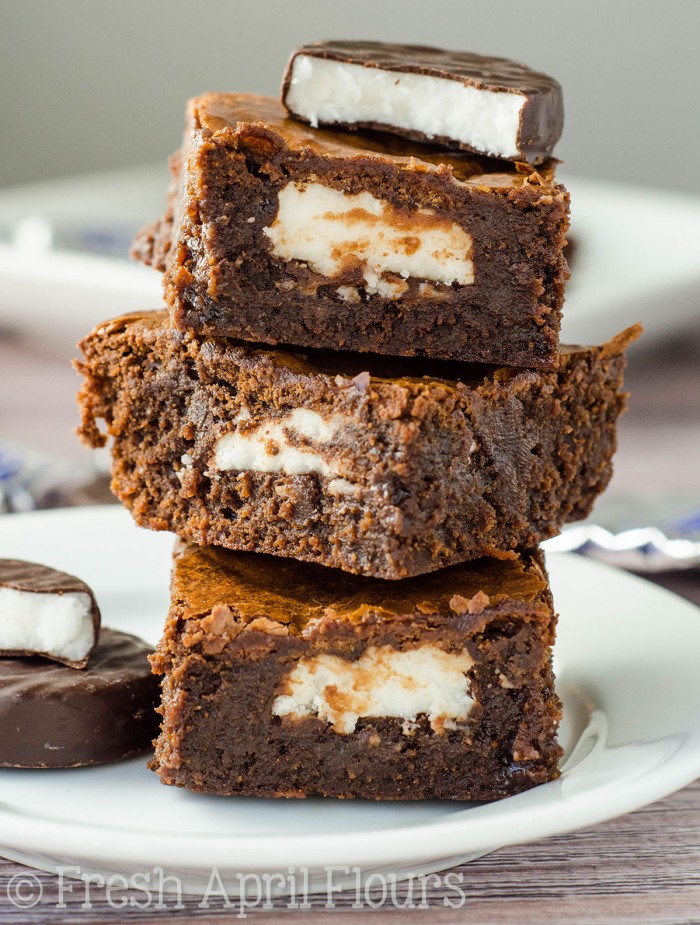 These brownies are a must.
If you love these brownies, you'll adore my Andes Mint Cookies!