Toasted Coconut Curry Peanuts

As an Amazon Associate, I earn from qualifying purchases. Read the full disclosure here.
A sweet heat snack that will have you reaching for more.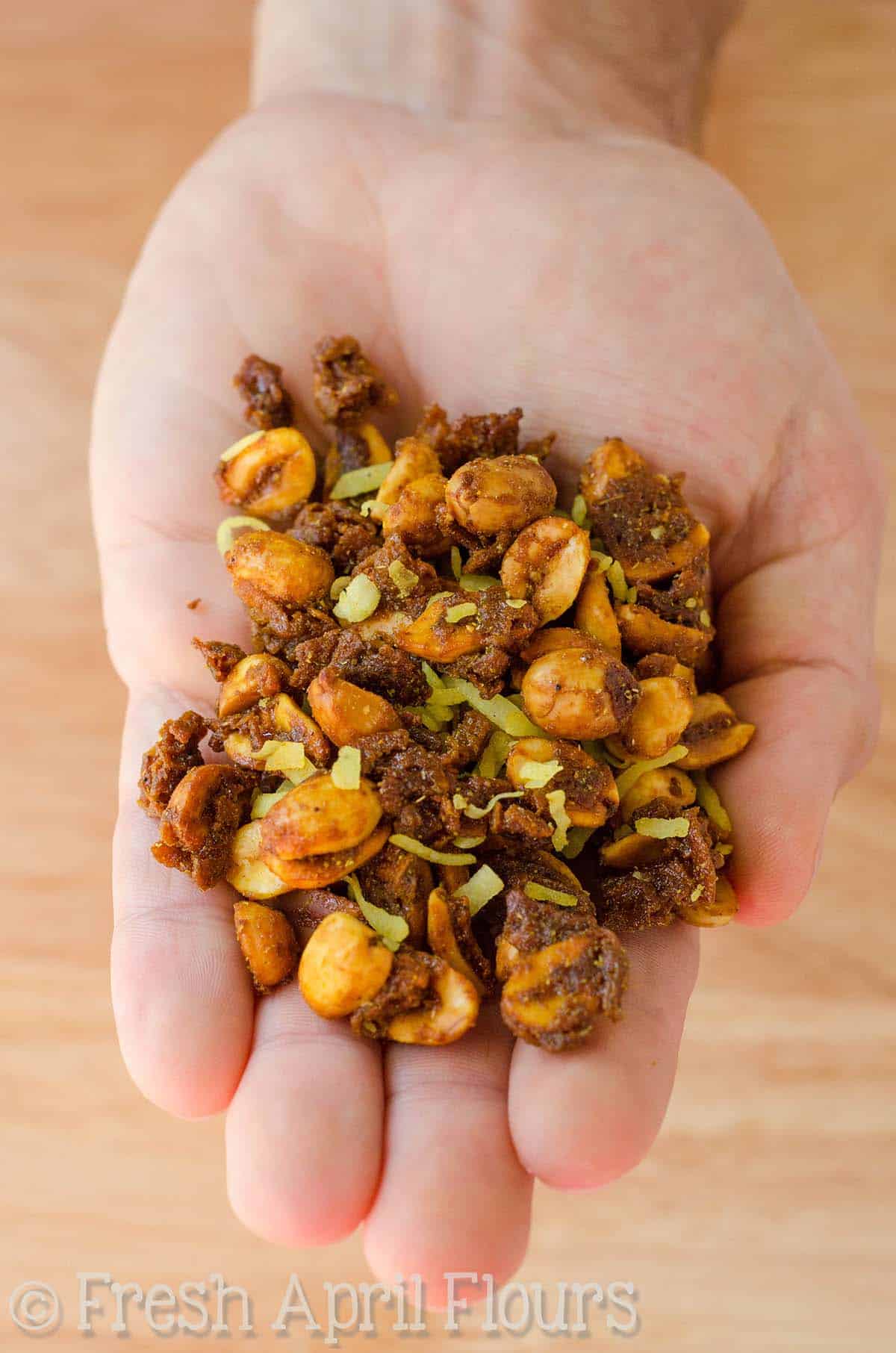 Do you ever make a snack or a treat that you find yourself taste testing until it's gone? I'm not talking taking some and walking away with it or putting it in a bowl and sitting down to eat it…
I'm talking standing over the container or tray you made it in and just gobbling it up because you simply need to keep trying it and tasting all the flavors and experiencing all the textures before you call it a success.
That, my friends, is exactly what happened to us with these peanuts.
(Pssst… True story, I actually dropped that ↓↓↓ measuring spoon full of curry powder. #happyaccident!)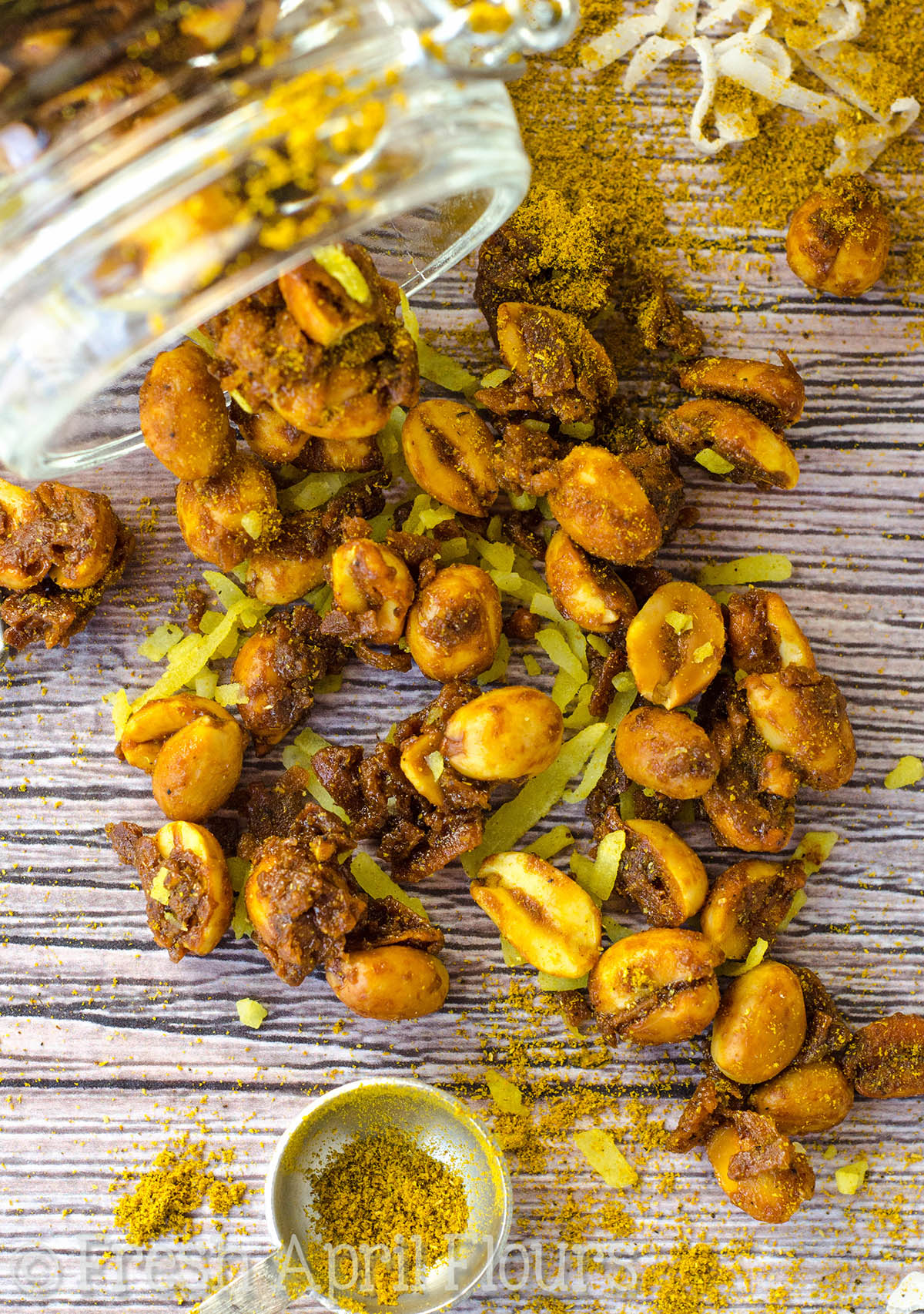 They lasted about 16 hours in our house, and for reference… We spent 2 of those hours working out/cooling down/showering, 2 of those hours running errands and grocery shopping, and 8 of those hours sleeping.
And, of course, a handful of that time was spent doing other things or eating other things (although now that I think about it… Maybe not?), so let's just say these peanuts lasted way less than half a day in the April household.
I made 2 batches (because the first one needed some tweaking) and the second one never even left the baking sheet.
Guys, that's a problem. But at least it wasn't triple chocolate peanut butter bites? Although too much of a good thing is still too much, right? "Not when it's peanuts covered in coconut and curry" is what I have to say about that.
This snack is so simple to make, and it only requires 7 ingredients. One of them is salt, which barely counts as an ingredient, and the other is black pepper, which also doesn't even count…
So we're down to 5 ingredients. And you probably have most if not all of them in your pantry right now. The peanuts are basically done for you already!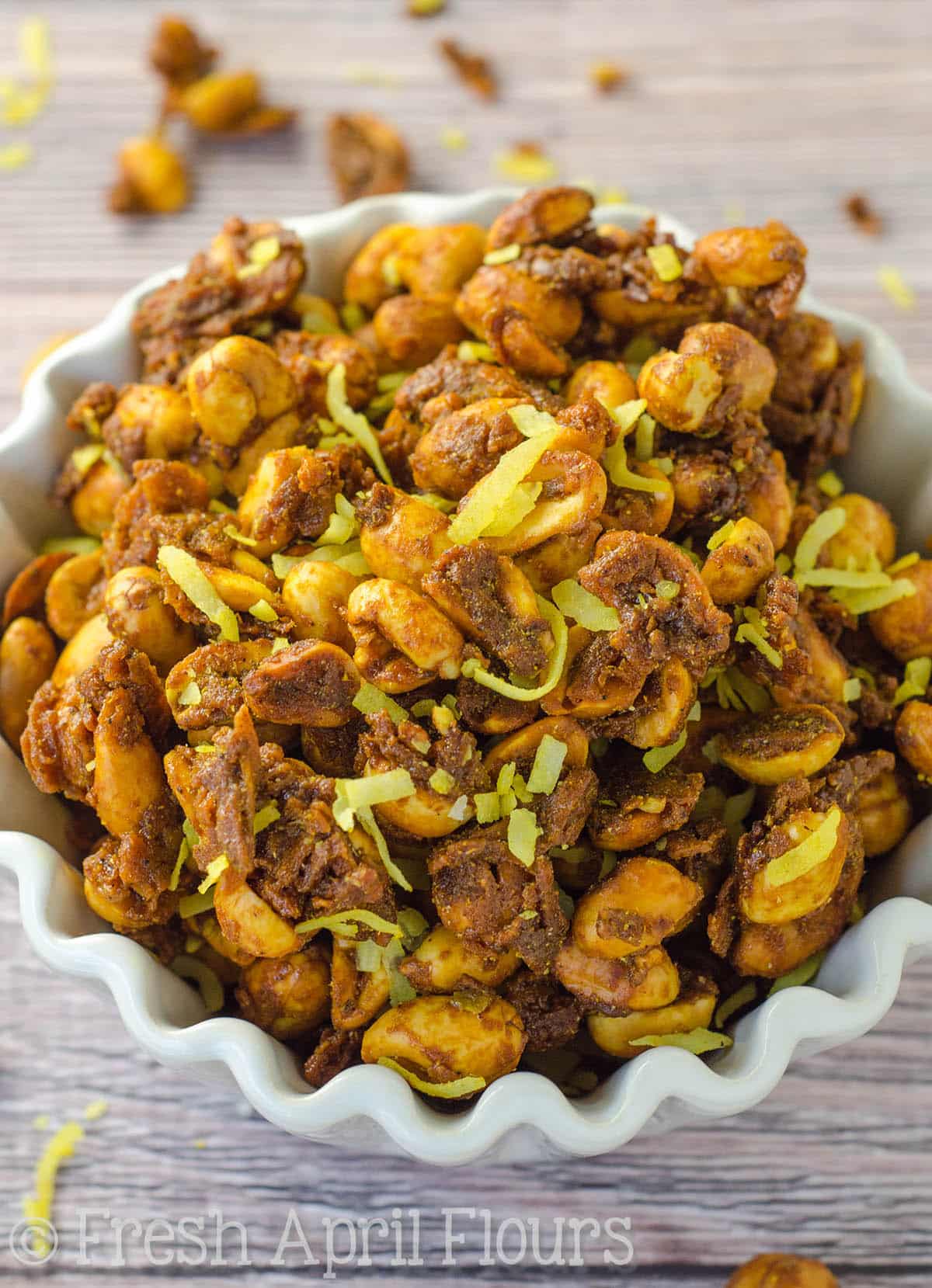 First, you'll start with dry roasted, unsalted peanuts. If all you have are dry roasted, salted, that's fine… Maybe you'll just want to adjust your salt addition or don't add any at all. Taste test before the peanuts go in the oven and add salt as needed.
To your peanuts, you'll add this easy peasy "sauce" that is a mixture of melted coconut oil, honey, salt, pepper, curry powder, and sweetened shredded coconut. That's it! Mix it all up, pour it onto your peanuts, stir to coat everything, and into the oven they go.
This is where I realized curry is a pretty unappetizing ingredient once it's mixed with liquid. Just go with it… Sorry about your eyes.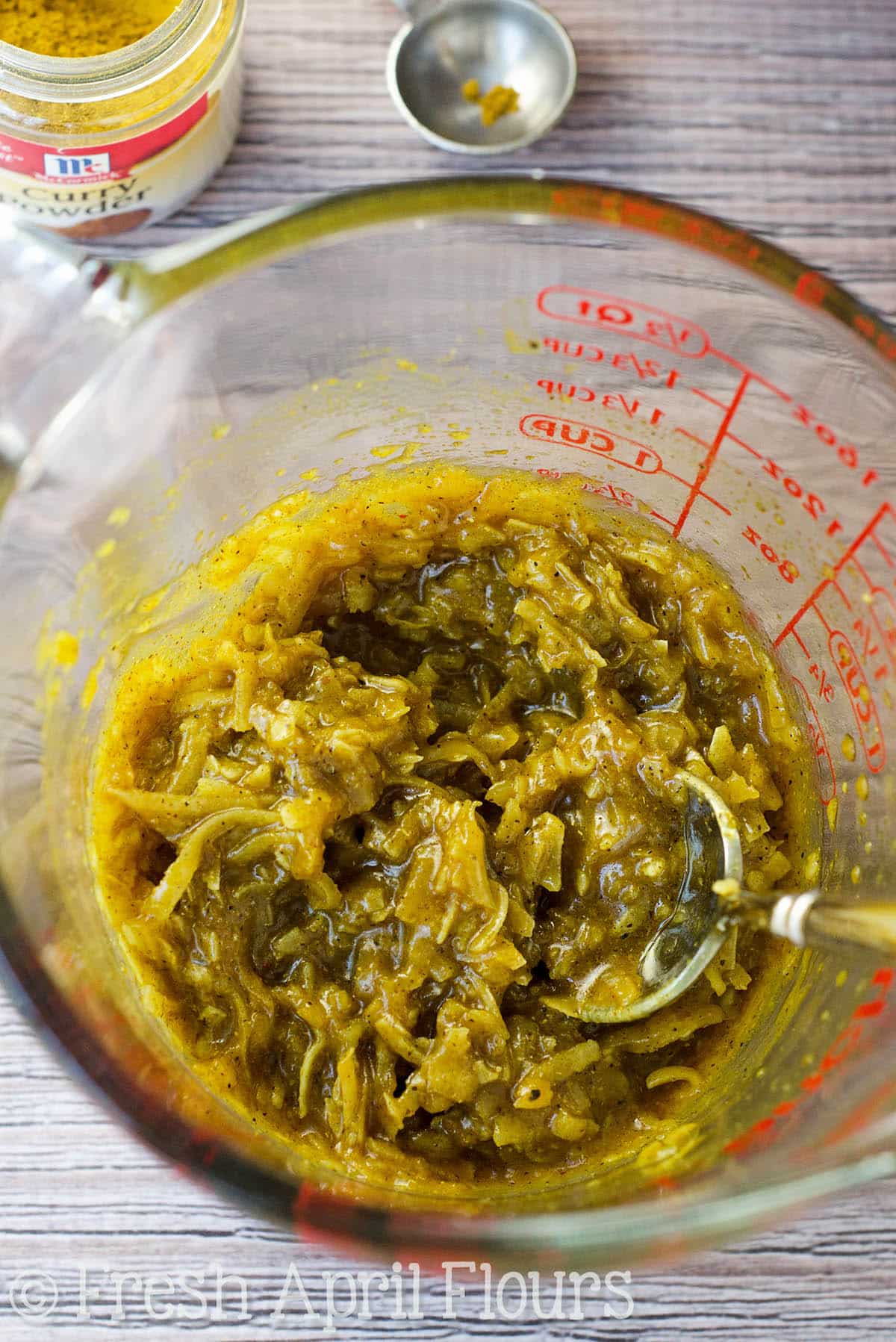 You'll bake your peanuts for 10 minutes, stir them up, bake another 10 minutes, stir again, bake only 8 minutes, stir one more time, and then add a little extra sprinkle of curry powder and more coconut before giving them another 2 minutes in the oven.
More sorry eye business is headed your way as I took some photos for you of what each 10 minute increment looked like. Seriously, apologies for the gross pics. It's hard to style oven food photos or move my oven into the natural light.
1st 10 minutes: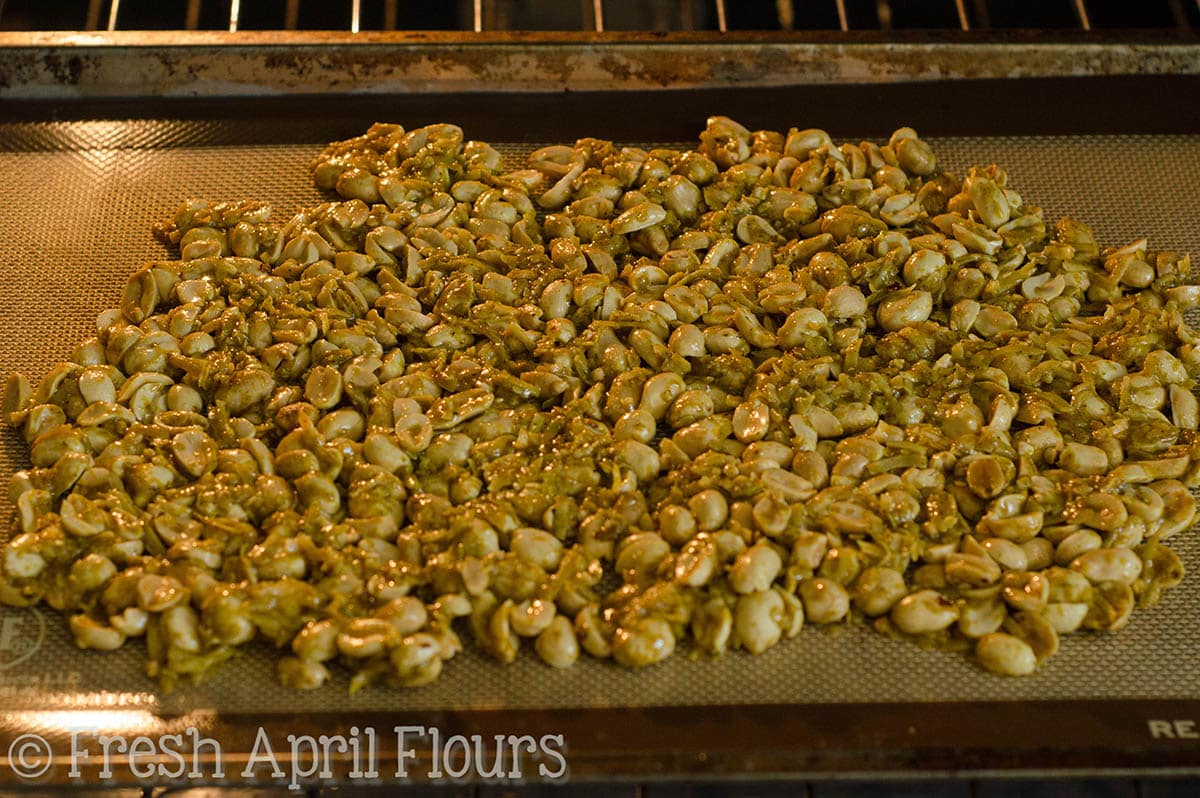 2nd 10 minutes:
8 minutes right before adding extra curry powder and sweetened shredded coconut: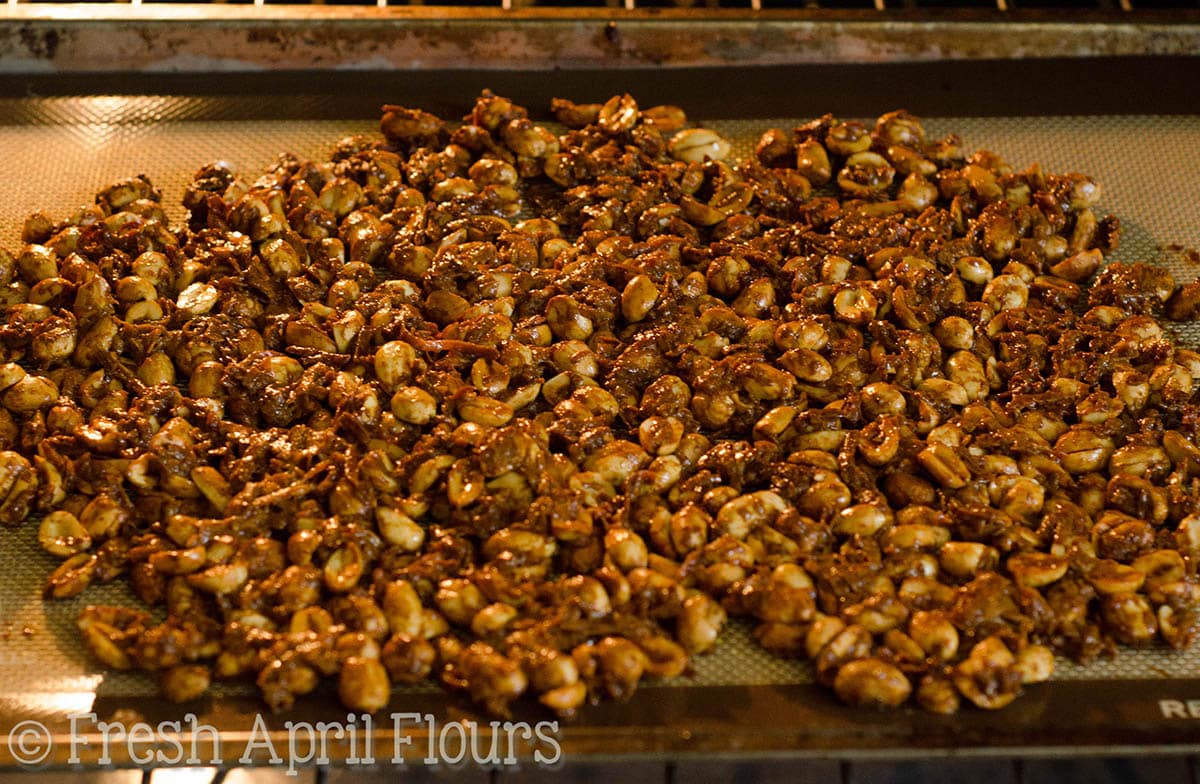 As the peanuts cool, they harden into a brittle-like state. You'll break the chunks apart before eating all of it storing it in a container where you'll have a tasty snack that you'll find really hard to stop munching on.
Just be careful– that curry is mighty yellow and your fingers will be too if you munch through your whole batch as fast as we did. Even after a shower and lots of hand washing, my fingertips are still a teeny bit yellow.
I'm going to say it's because I'm the one who made them and had to continue touching them to photograph them… But it's funny, Matt's look the same… Hmm…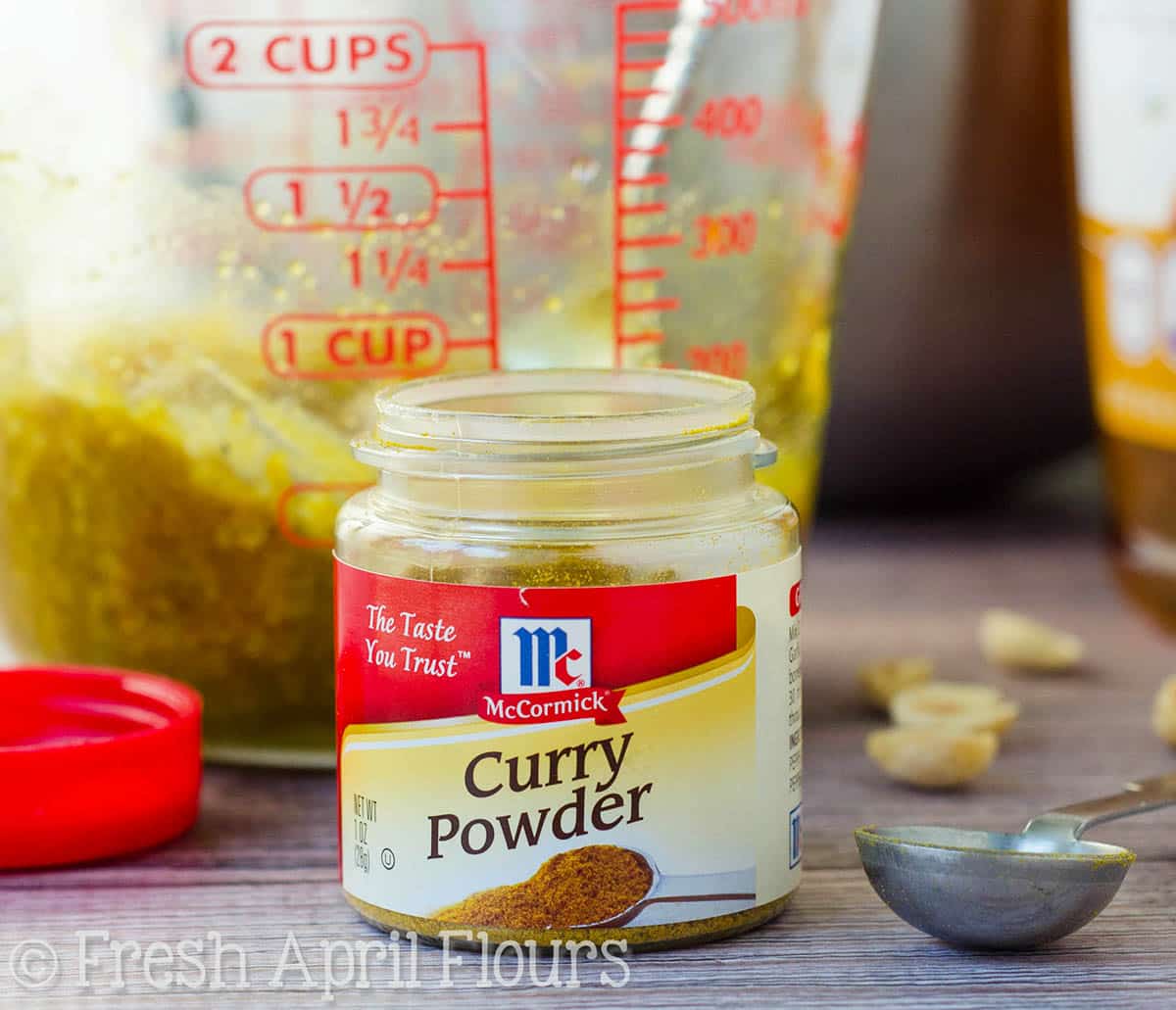 I am not kidding when I tell you this snack was hard to walk away from. The sweetness of the coconut is such a nice balance to the spicy heat of the curry powder, and of course, who can deny a snack that's crunchy?
Crunchy snacks are the best kind of snacks, and this one has crunch all over it.
Thanks to coconut oil + honey, every piece of this peanut party has a delightfully crispy coating on the outside, giving such depth to each bite.
Although I was totally on a sweet and salty kick last week, today it's all about the sweet heat. As a perfect snack for enjoying or sharing, I think you should double the batch to insure you do have enough to share. Your friends will thank you. And maybe even like you more.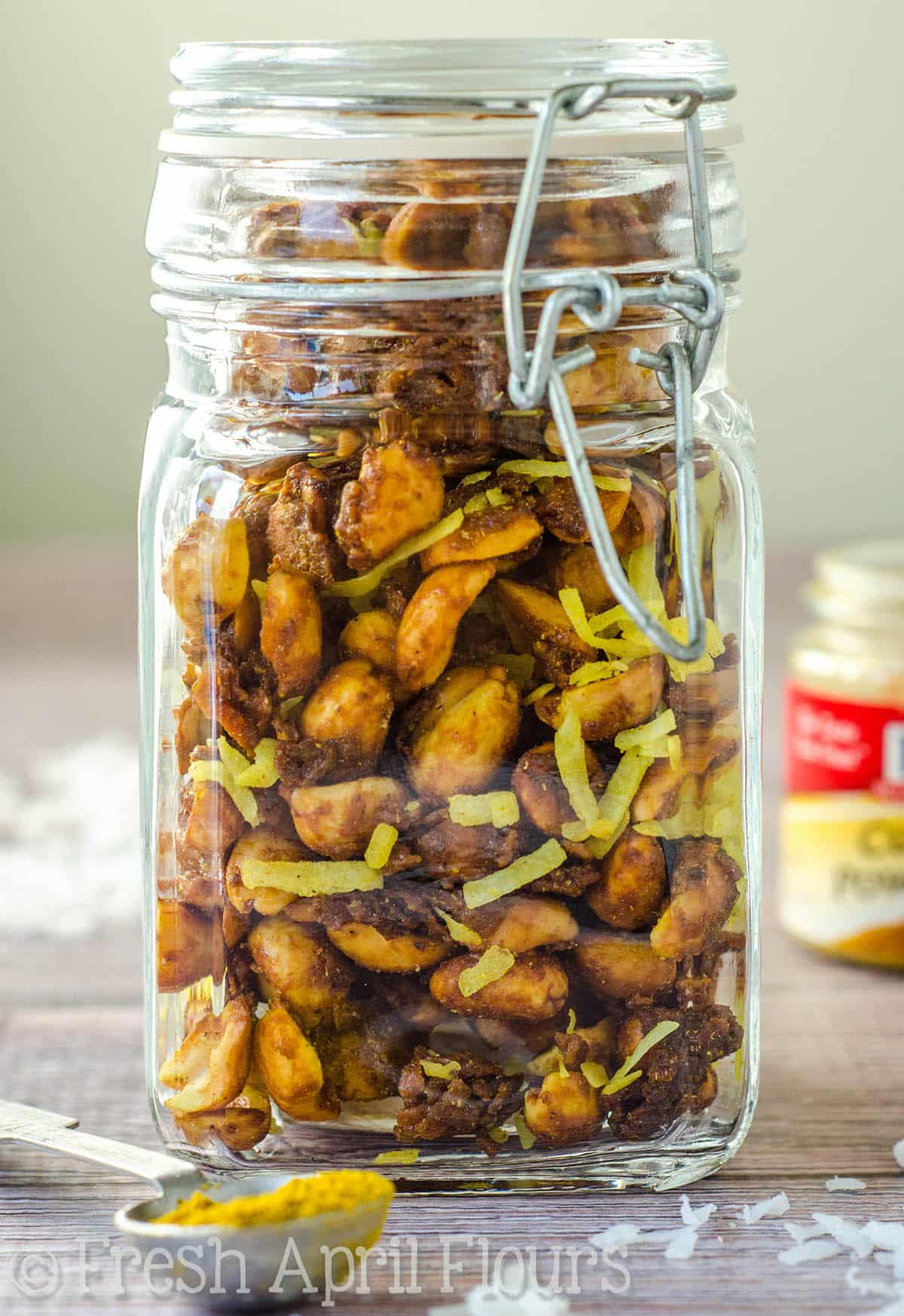 Seriously. It's that good.
More recipes featuring coconut: carrot cake coconut macaroons, piña colada coconut macaroons, Almond Joy granola, and piña colada granola.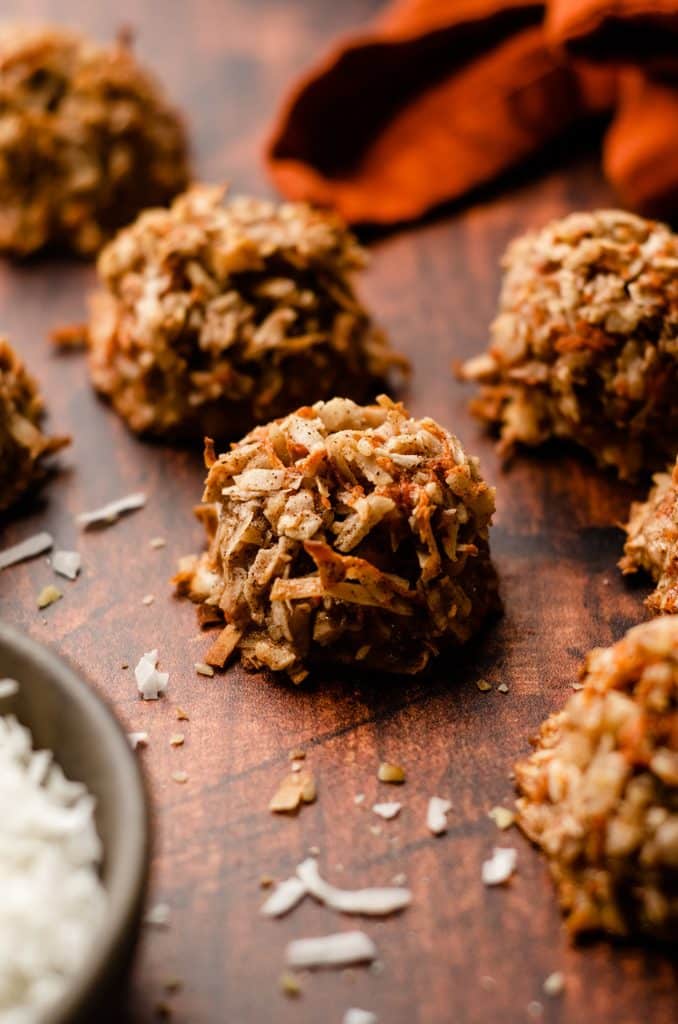 Toasted Coconut Curry Peanuts
A sweet heat snack that will have you reaching for more.
Ingredients
8

ounces

dry roasted

unsalted peanuts*

1 and 1/2

Tablespoons

coconut oil

2 and 1/2

Tablespoons

honey

1

Tablespoon

+ 2 teaspoons curry powder

divided

1/2

teaspoon

salt

1/8

teaspoon

black pepper

1/2

cup

+ 3 Tablespoons sweetened shredded coconut

divided
Instructions
Preheat the oven to 350ºF. Line a large baking sheet with foil or a silicone baking mat. Set aside.

Pour the peanuts into a large bowl. Set aside.

In a small bowl (or a 2 cup glass measuring cup), melt the coconut oil and honey– about 10 seconds on HIGH power. Stir in 1 Tablespoon of the curry powder, salt, and black pepper. Stir in 1/2 cup of the sweetened shredded coconut.

Pour the curry mixture over the peanuts, stirring with a spatula to coat. The mixture will be very wet. This is ok.

Pour coated peanuts onto prepared baking sheet. Bake for 10 minutes, stir with a spatula, bake another 10 minutes, stir again with a spatula, bake 8 minutes, then stir in remaining curry powder and sweetened shredded coconut. Bake for an additional 2 minutes to slightly toast the new coconut.

Remove from oven and allow to cool completely before breaking into pieces. Store in an airtight container at room temperature up to 2 weeks.
Notes
*You may use salted peanuts. Omit salt and add after tasting if still needed.
Nutrition Disclosure
All nutritional values are approximate and provided to the reader as a courtesy. Changing ingredients and/or quantities will alter the estimated nutritional calculations.