Homemade Spiced Cranberry Sauce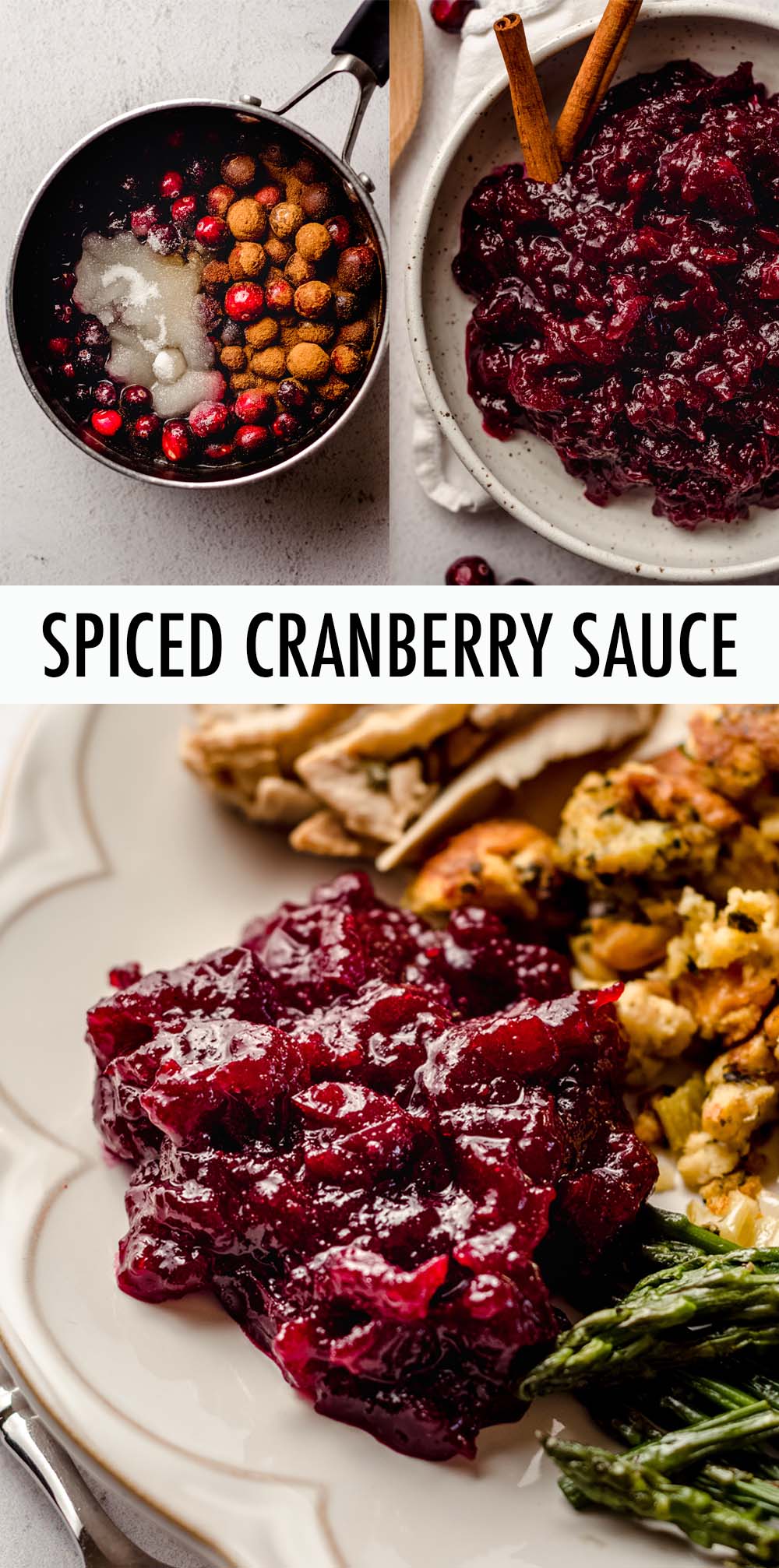 As an Amazon Associate, I earn from qualifying purchases. Read the full disclosure here.
Traditional cranberry sauce gets a spicy makeover to keep Thanksgiving interesting! Infused with cinnamon and cloves, this spiced cranberry sauce will add a little flair to your holiday spread.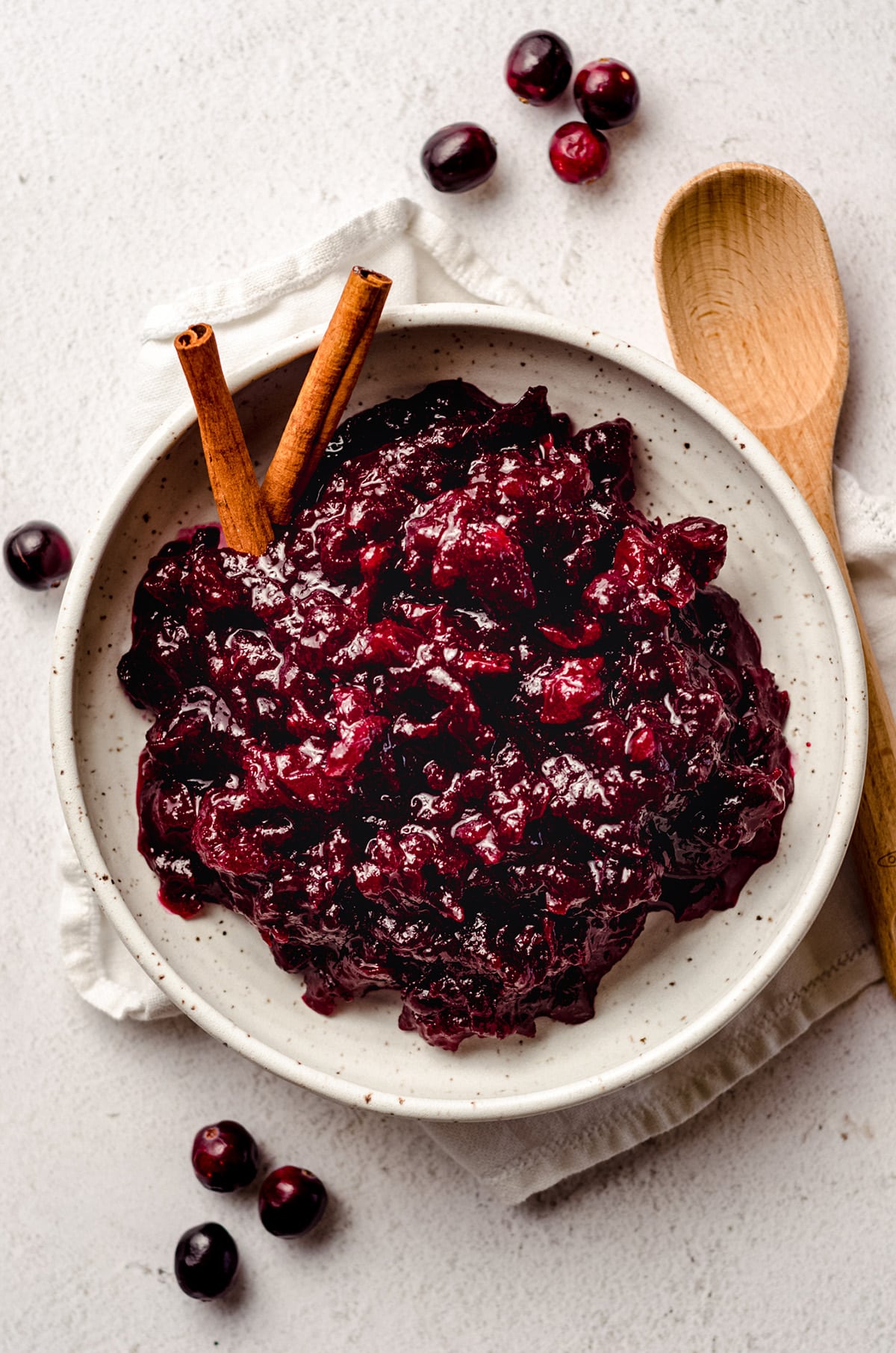 I am in complete disbelief that Thanksgiving day is so soon. Complete and utter shock. I swear, the older the kids get, the quicker time goes– weren't we just vacuuming Christmas tree needles off of the carpet every hour?
Christmas will be here before we know it (yay for 12 Days of Christmas Cookies!), but today, we're focusing on Thanksgiving, because it is by far the best holiday there is.
Yes, of course, there are some notsogreat feelings around Thanksgiving in recent times, but let's focus on all of the great food the day has to offer and being so full of merriment.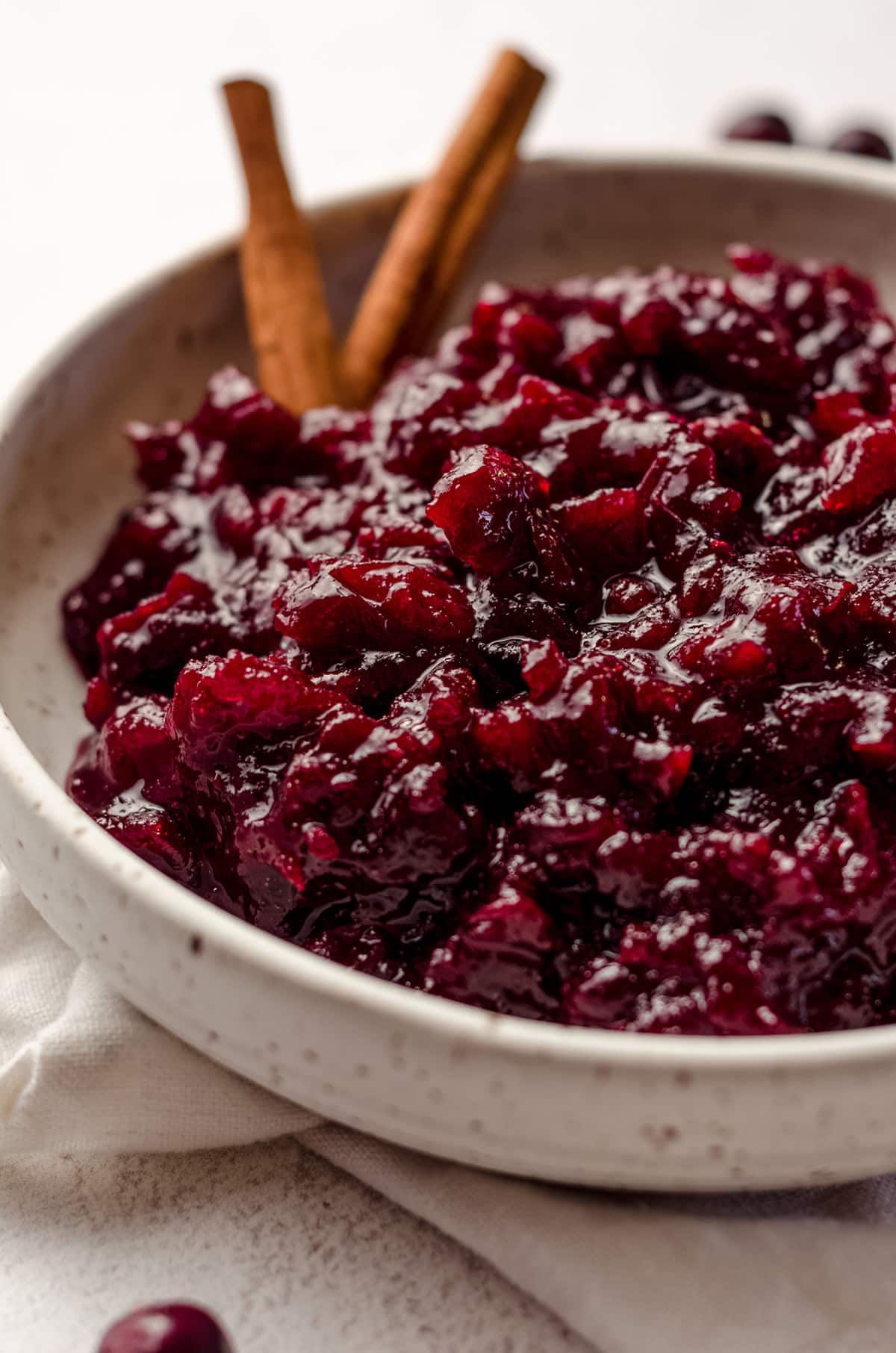 Giving thanks for things we have? Heck yeah! Sign me up for celebrating that! Especially if it comes with a side of pumpkin pie and whole berry cranberry sauce (and a can of it!!) and mashed potatoes.
Oh, and bread stuffing. Holla at your girl.
So before we get to the recipe, are you a cranberry sauce purist or no? Personally, I do not discriminate against any cranberry sauce.
In fact, despite the fact that I will always have homemade cranberry sauce and homemade spiced cranberry sauce on the Thanksgiving spread at our house, I will also always have the canned stuff, because I feel like it's sacrilegious not to (yeah, we like cranberry sauce).
Load my plate up with a little bit of turkey, a ton of garlic mashed potatoes, a hefty serving of traditional bread stuffing, a slice of cornbread as well as a dinner roll, some veggies, a nice big spoonful of homemade cranberry sauce, and definitely an even bigger spoonful of the canned stuff.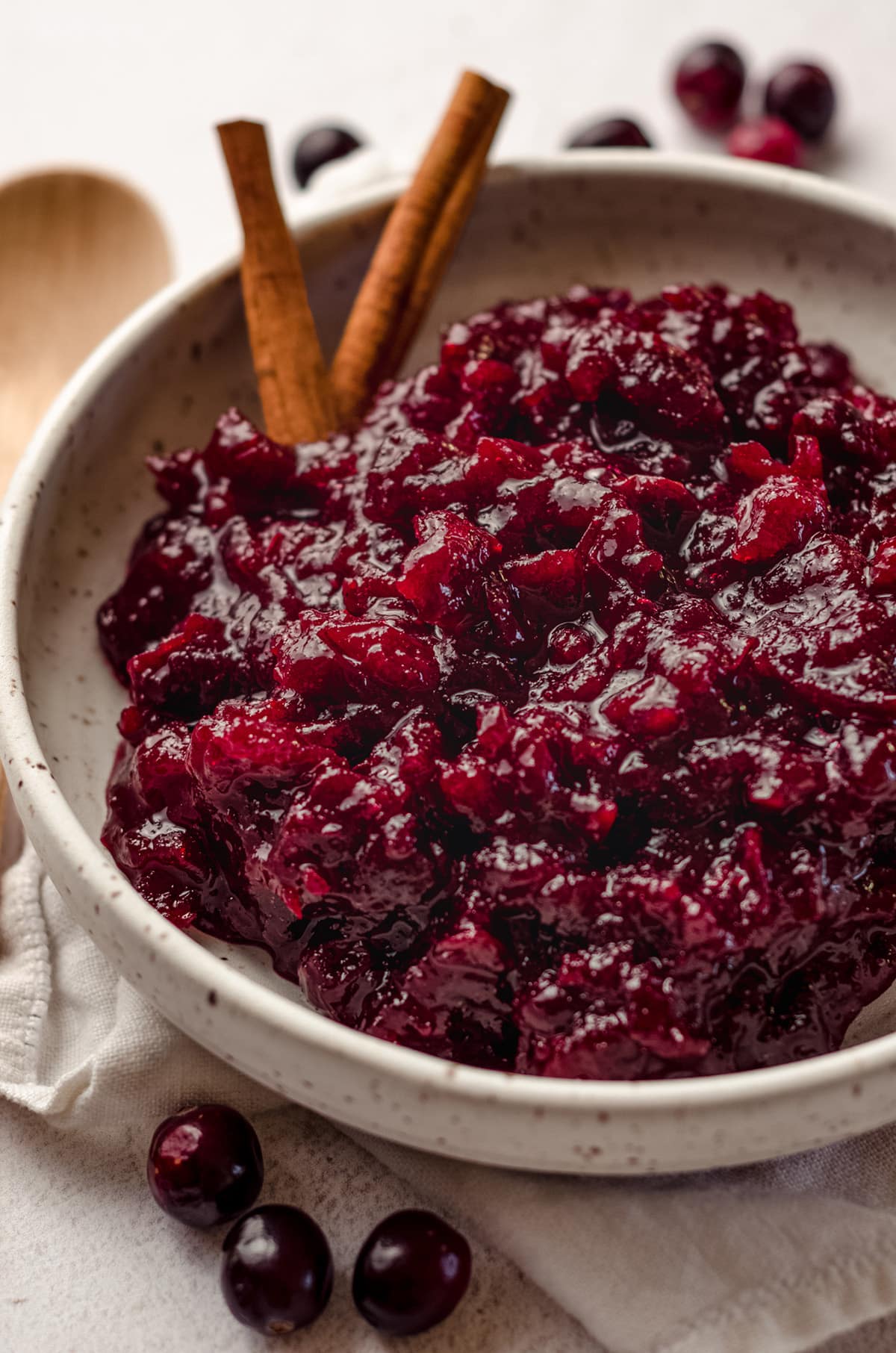 I just can't resist! I have to have some bites of that canned tart cranberry sauce on Thanksgiving, and then I'm good. My holiday is complete and we can start the Christmas music.
I started making this homemade cranberry sauce when I first made my winter sangria many years ago.
INGREDIENTS
The ingredient list for my spiced cranberry sauce is super simple. You'll need fresh cranberries, white sugar, water (hardly an ingredient), ground cinnamon, and cloves.
That's it. So simple. We won't overcomplicate this recipe with vanilla extract, or fresh orange juice, lemon juice, honey, or apple cider.
While those are all great additions to homemade cranberry sauce, we're keeping this recipe super easy with basic festive flavors to add to your holiday table.
DOUBLE THE BATCH AND MAKE SOME SANGRIA
Of course, I've seen orange cranberry sauce over and over, but I like to spice things up (literally) with the byproduct of that mulled cranberry simple syrup.
That byproduct is, essentially, cranberry sauce/chutney, so I've just been whipping that cranberry base up for years x 2, making a batch of that sangria, and then having extra of this spicy cranberry chutney that I always serve with and extra cinnamon stick or two.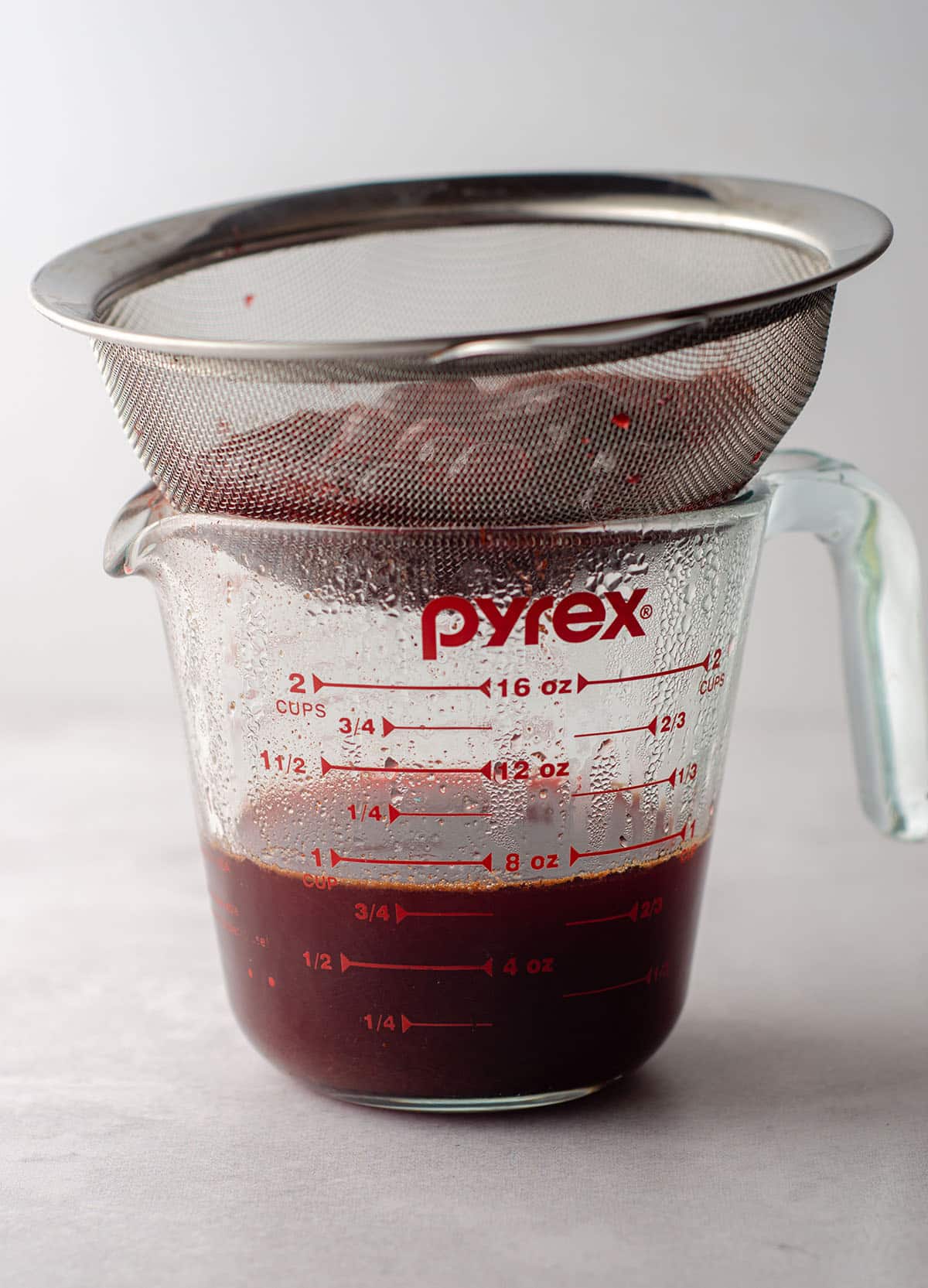 This fresh cranberry sauce recipe is really and truly very simple. It's actually adapted from the sweet cranberry sauce recipe on the bag from Ocean Spray. I just add my own spices, which are cinnamon and cloves.
USE WHATEVER SPICES YOU LIKE
You can also make this cranberry sauce with spices like ginger or nutmeg. Whatever you want to take your cranberry sauce to the next level, I welcome it. Seriously– all about that spicy cranberry sauce business at the Thanksgiving table!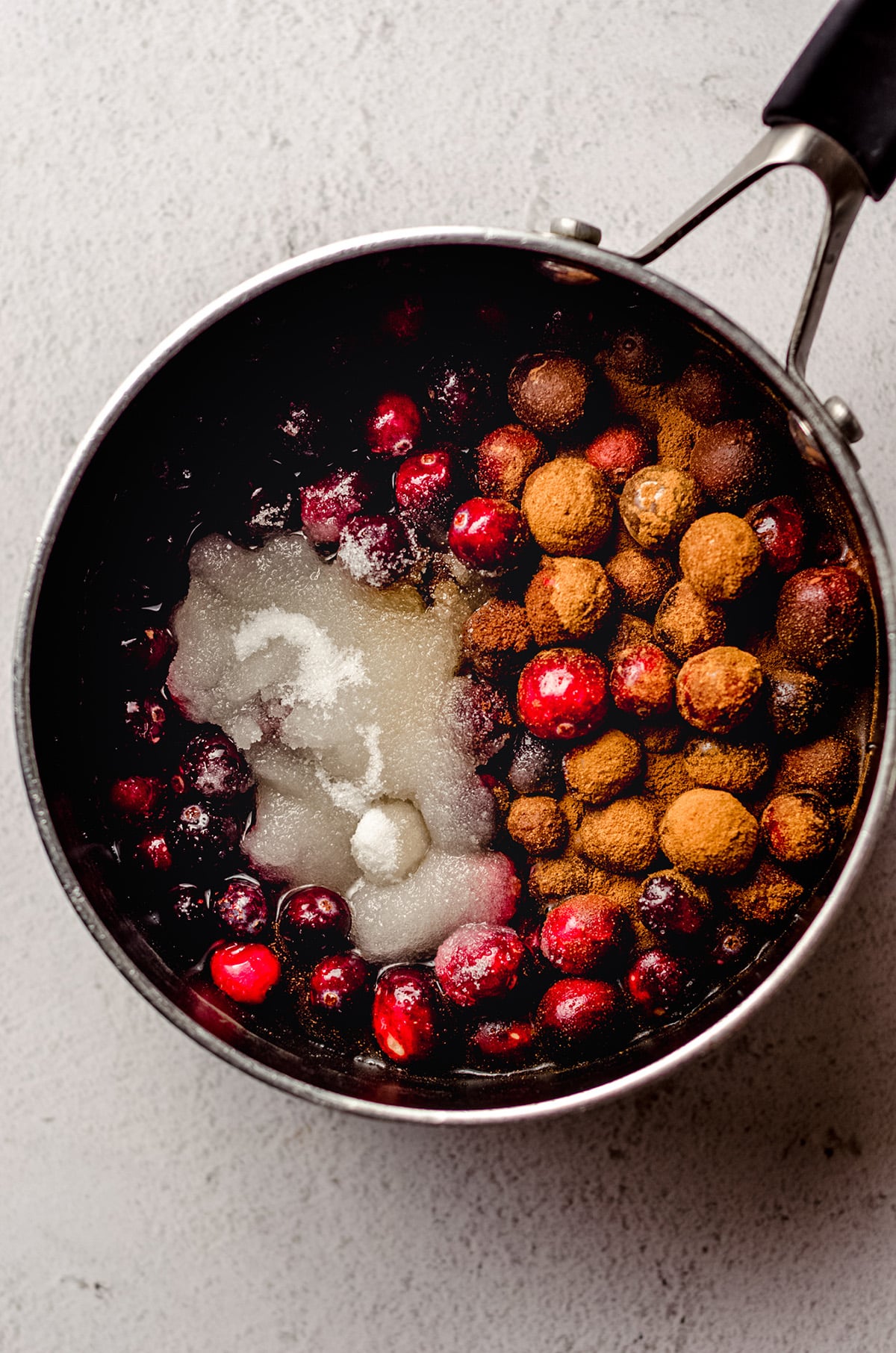 A quick boil and then 10-15 minute simmer will give you this fabulously flavored side dish that you're sure to want to adopt as a staple at your Thanksgiving meal.
What I really love most about this cranberry sauce without orange flavoring is that it can be made WAY ahead of time. In fact, I typically whip this up a few weeks ahead of time (or as soon as I can find raw cranberries in the grocery store!) so it's done.
FREEZE AHEAD OF TIME FOR ONE LESS THING TO DO ON THANKSGIVING
Yes, this cranberry sauce goes from start to finish fast, but that's ONE LESS THING we have to do the day before or even day of Thanksgiving. We'll just take it out of the freezer the night before Thanksgiving and it should be good and ready by the time we're sitting down in the later afternoon.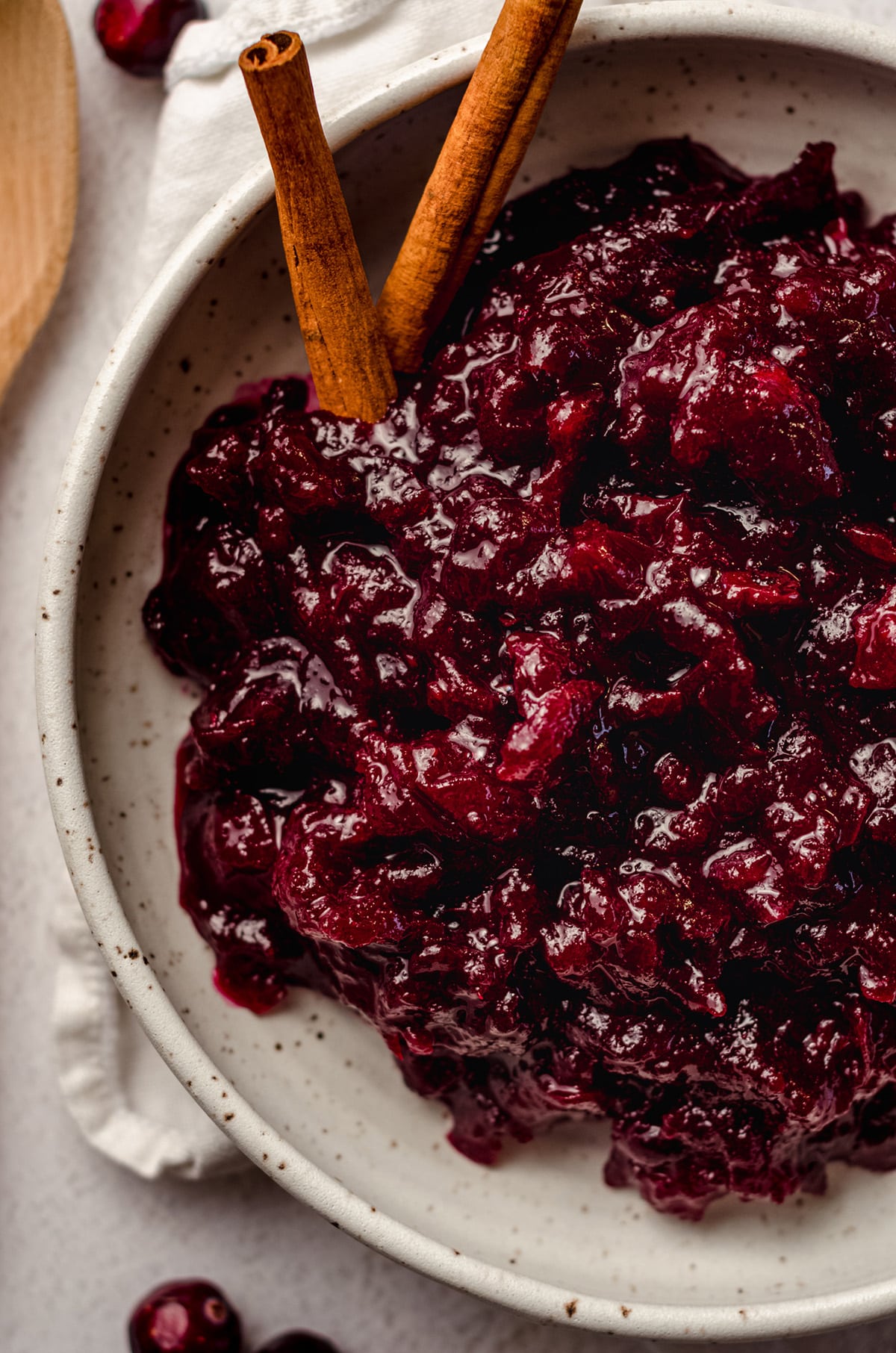 And if not? Nuke it in the microwave. Because that won't harm it one bit.
Plus, with all those warm fall spices, you can turn this into Christmas cranberry sauce, too! It doubles for both holidays, and that's totally cool in my book (as in, make a double batch for Thanksgiving and freeze half of it for Christmas). The more spiced cranberry chutney I can have in my life, the better.
There's also the option of letting it sit in the fridge for up to a week in advance. Like… You just can't ask for easier than that (it's the easiest, aside from the canned stuff).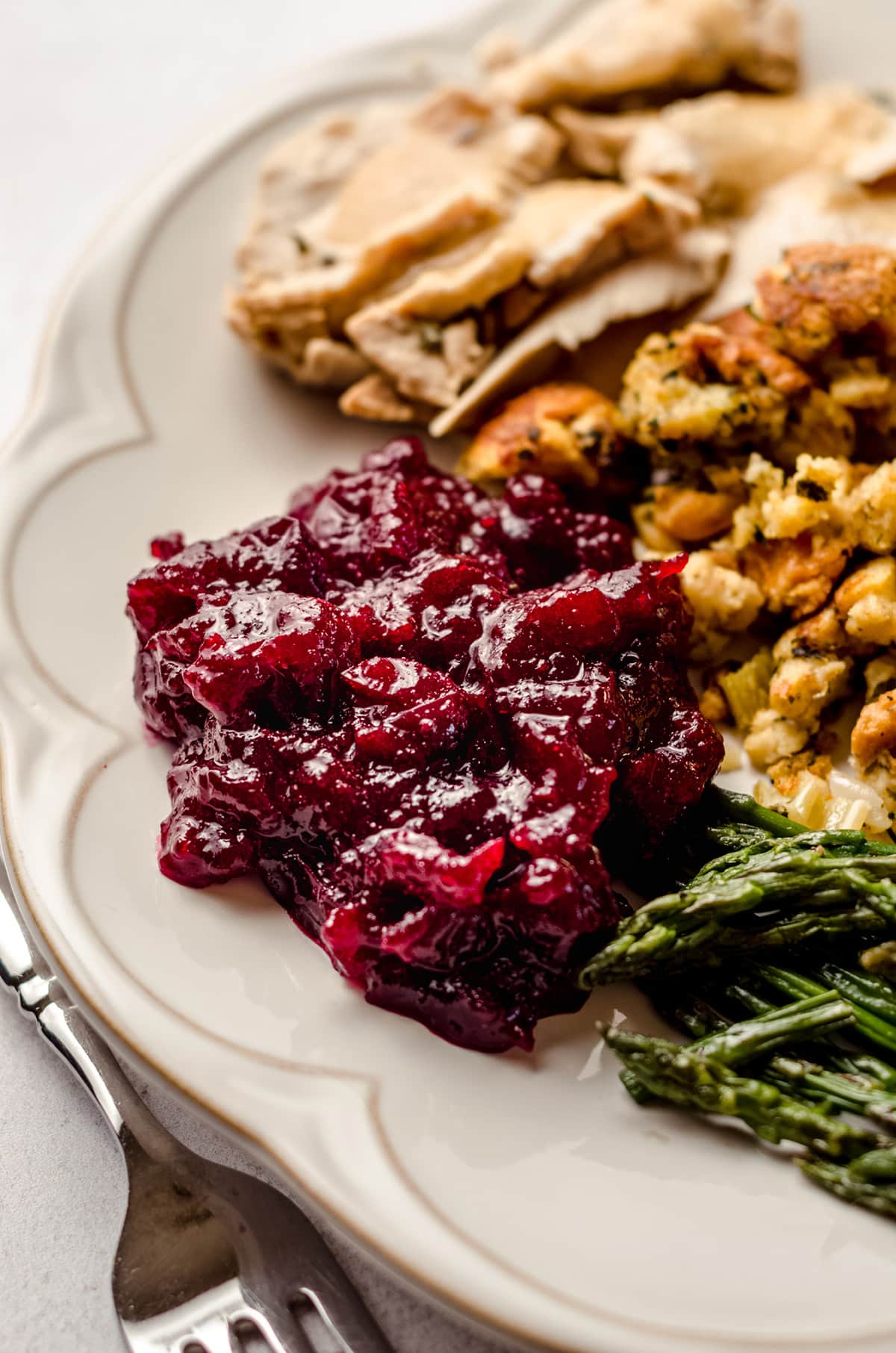 I truly hope you all have a fabulous Thanksgiving (especially Thanksgiving dinner or lunch or snack or whatever), and please, enjoy the time you get to spend with your loved ones this holiday season. I hope this easy cranberry sauce will help simplify the day for you and add some pizzaz to your traditional spread.
Find more fresh whole cranberry recipes here– cranberry gingerbread and winter sangria!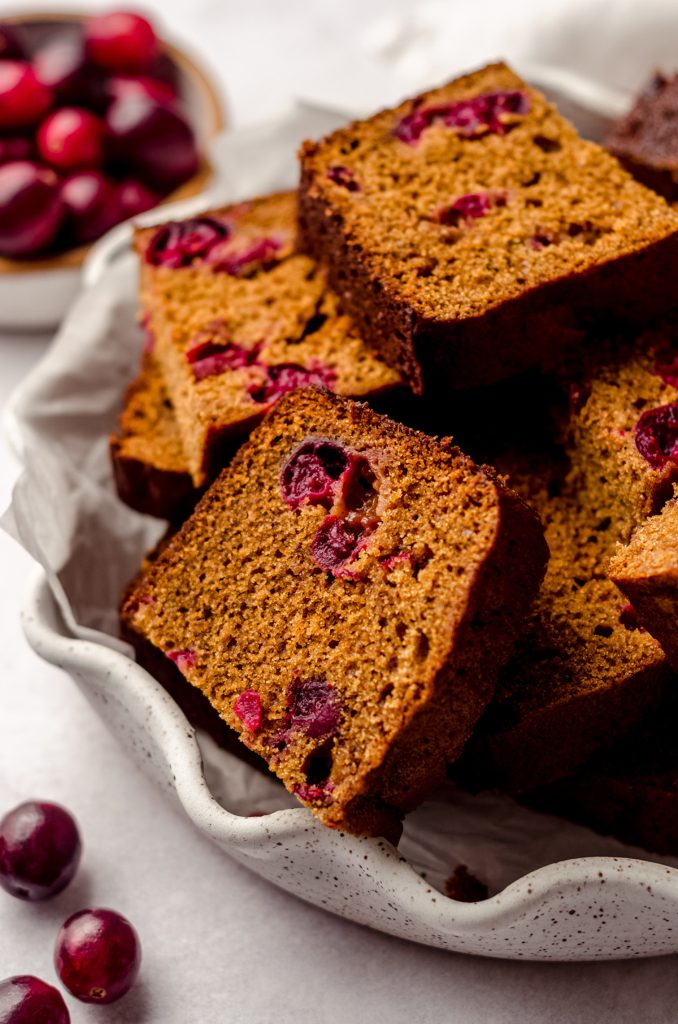 Round out the rest of your Thanksgiving sides!
Traditional bread stuffing, Instant Pot garlic mashed potatoes, easy yeast rolls, pumpkin pie, sweet potato pie, and whipped cream!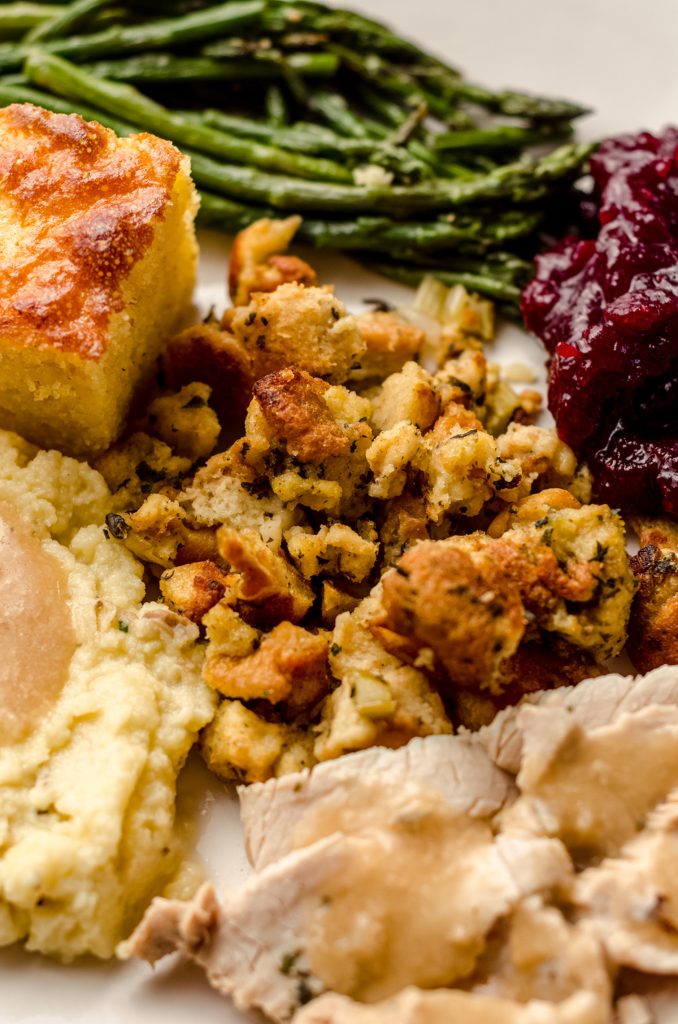 And don't forget to make some turkey and cheese sliders with your leftover turkey!
Spiced Cranberry Sauce
Traditional cranberry sauce gets a spicy makeover to keep Thanksgiving interesting! Infused with cinnamon and cloves, this spiced cranberry sauce will add a little flair to your holiday spread.
Ingredients
12

oz

(340g) package of fresh cranberries

1

cup

(200g) granulated sugar

1

cup

(240mL) water

2

teaspoons

ground cinnamon

1

teaspoon

ground cloves
Instructions
In a medium saucepan over medium heat, combine cranberries, sugar, water, cinnamon, and cloves.

Bring mixture to a boil and immediately turn down to a simmer.

Simmer for 10 to 15 minutes, stirring frequently and being careful not to let mixture boil over sides of saucepan. After simmering, cranberries will be macerated (if some are still whole, that's fine) and mixture will have thickened. Allow to cool, then refrigerate at least 4 hours before serving. Store leftovers in the refrigerator, up to 2 weeks.

Make ahead: this cranberry sauce can be made up to 1 week in advance. Store in the refrigerator, covered tightly, until ready to use. It also freezes well, up to 2 months. Thaw in refrigerator overnight.
Nutrition Disclosure
All nutritional values are approximate and provided to the reader as a courtesy. Changing ingredients and/or quantities will alter the estimated nutritional calculations.
Serving:
1
serving
|
Calories:
94
kcal
|
Carbohydrates:
24
g
|
Protein:
0.2
g
|
Fat:
0.1
g
|
Saturated Fat:
0.01
g
|
Polyunsaturated Fat:
0.03
g
|
Monounsaturated Fat:
0.01
g
|
Trans Fat:
0.001
g
|
Sodium:
3
mg
|
Potassium:
31
mg
|
Fiber:
2
g
|
Sugar:
21
g
|
Vitamin A:
22
IU
|
Vitamin C:
5
mg
|
Calcium:
9
mg
|
Iron:
0.1
mg