Apple Butter Pull-Apart Bread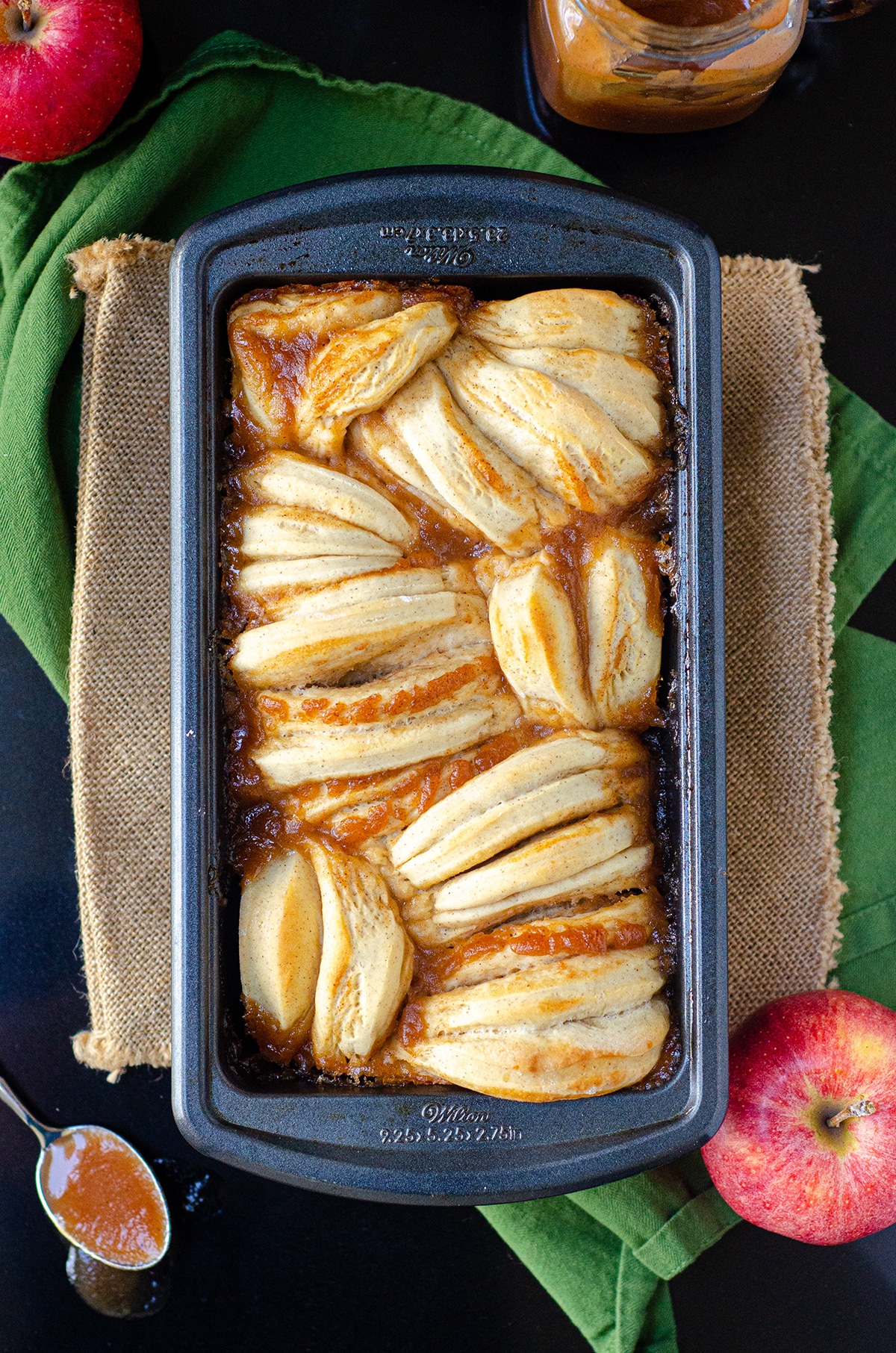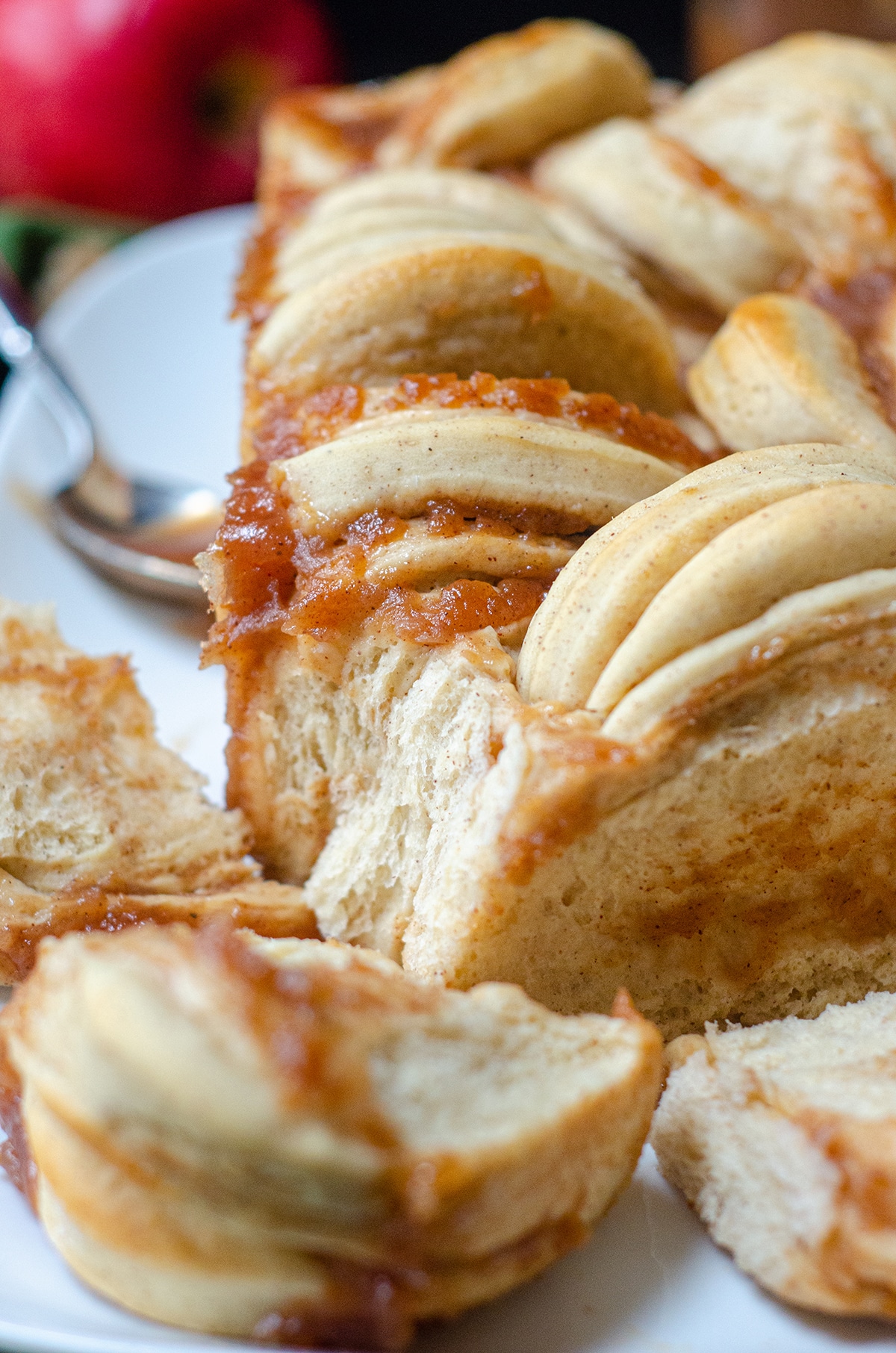 As an Amazon Associate, I earn from qualifying purchases. Read the full disclosure here.
Soft and fluffy pull-apart bread spiced with cinnamon and spread with homemade apple butter.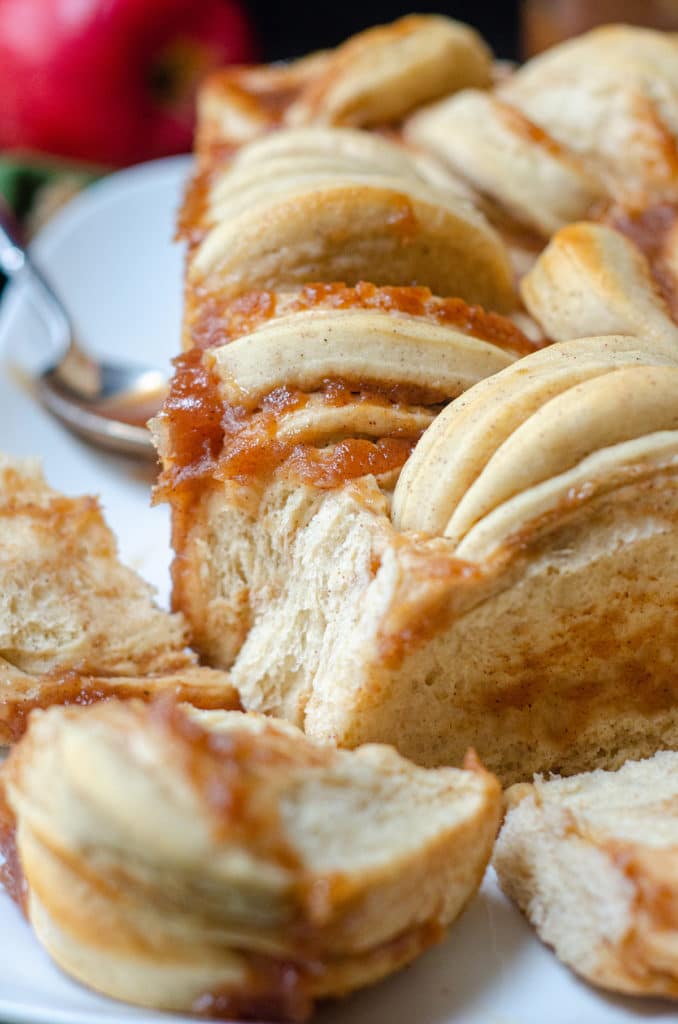 This year is winding down, at least on the calendar, which means we've got our 10th installment of FAF's Bread of The Month series.
Baking, however, is just about to ramp up, so I'm getting one last fall recipe into my lineup before we dive into Halloween, use up Halloween candy, make all the sides for Thanksgiving, and then explode with Christmas baking.
If you're a regular around here, you know that I recently updated my VERY popular homemade apple butter recipe. The original photos (from 2014) needed a major update, and I also added instructions in the recipe for the Instant Pot.
The original recipe was only for the slow cooker, which is still a wonderful method, but you know I love my IP with all of my heart.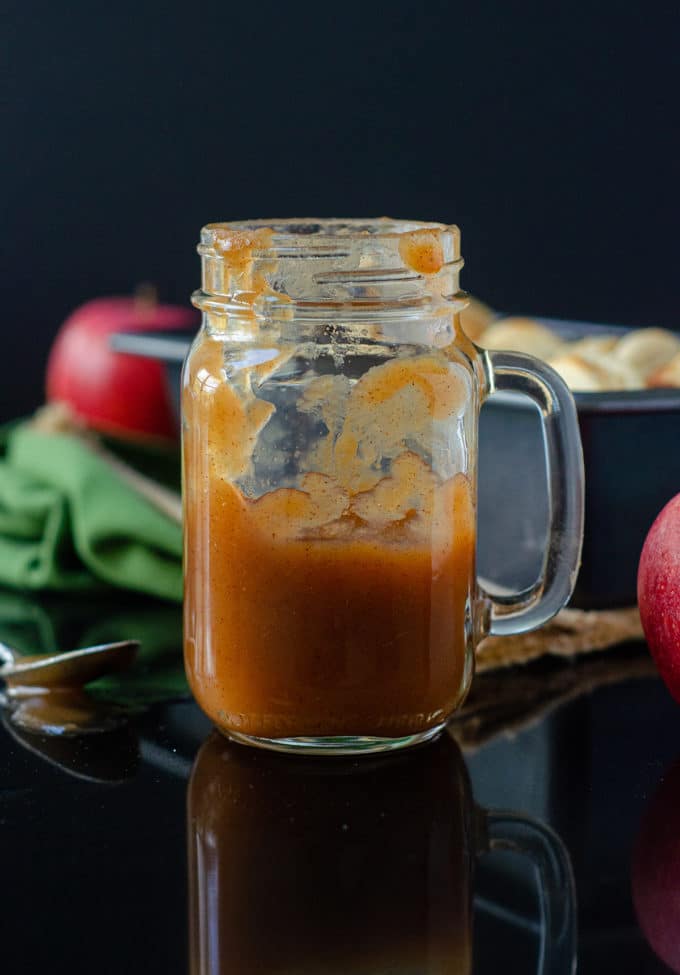 With all of that apple butter, I decided to do a couple things.
First, I gave some away. Because DUH.
Second, I updated my also-very-old-and-in-need-of-new-photos apple cinnamon streusel bread recipe.
And lastly, I busted out my yeast and threw together another pull-apart bread because OMG I'm in love with them, and I promised a fall version after this incredible summer one hit the blog.
And friends… This is a bread you don't want to miss. Trust me.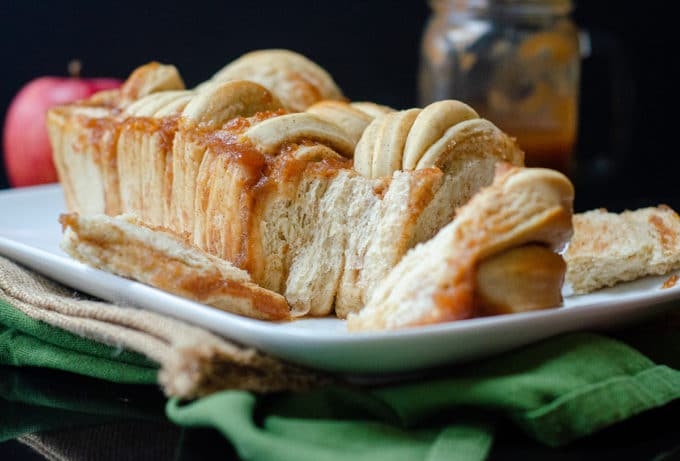 I have been using the same framework for dough from the beginning of my time with yeast breads. The method is usually the only thing that changes drastically, and I'll often add spices or flavoring to the dough depending on what's happening with the end result.
For example, my Italian anise bread is the same dough as my cinnamon babka, just with different spices.
I used my cinnamon babka dough for my Mardi Gras king cake, and just left off the streusel on top.
My funfetti cinnamon rolls are the same ingredients as all of my other yeast breads, but the butter went in at the end to insure mega butteryness (technical term). Plus all the sprinkles!
You get the idea.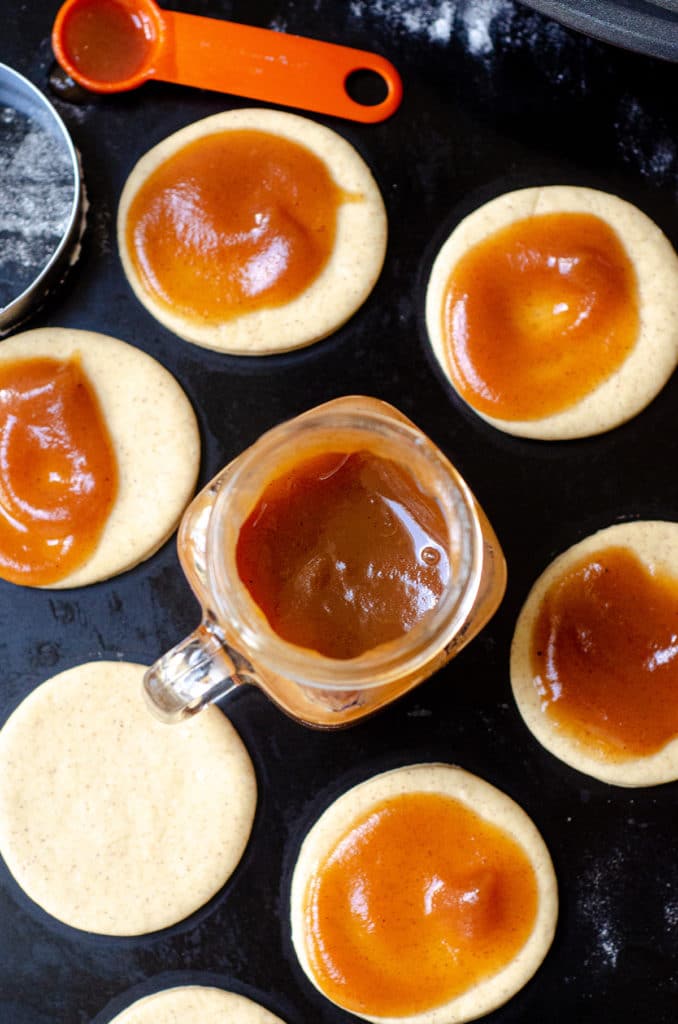 So when I say this apple butter pull-apart bread is the same as my pesto pull-apart bread, it is. Everything is identical, except I added 1 teaspoon of ground cinnamon directly to the dough. This made sure we had ultra flavor happening in every bite.
There's no missing that cinnamon!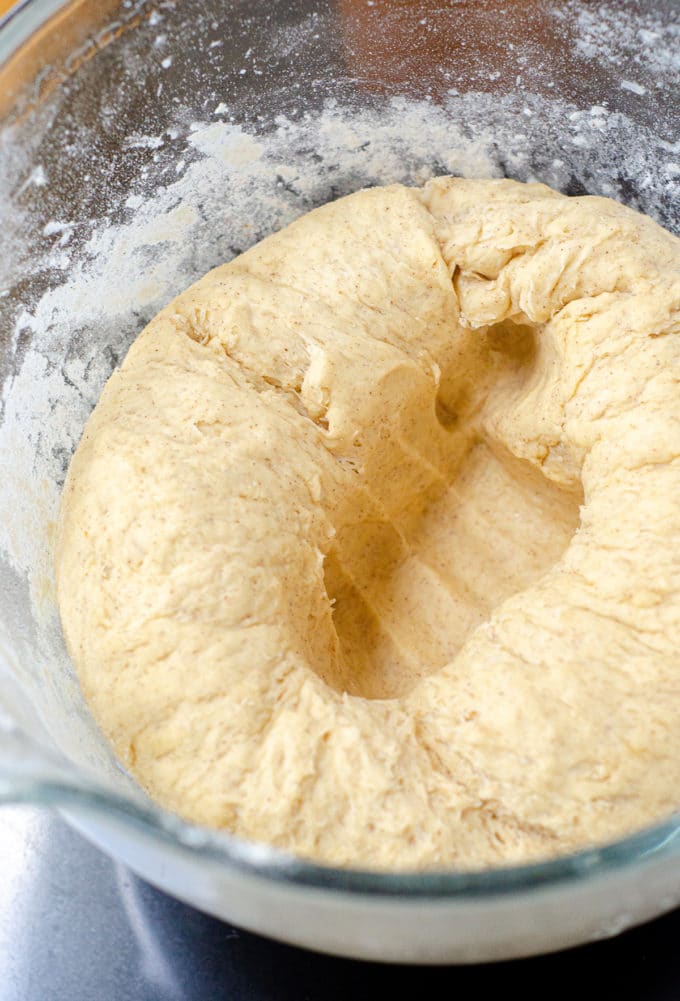 You'll see that this dough, as it sits in the pan ready for the oven, is very goopy. That's intentional. Apple butter is thin, but it's jam packed with flavor.
Since it is so thin, this loaf of bread is almost like monkey bread.
It's gooey and sticky in all the right ways and the apple butter that's had a chance to really bake and caramelize make every bite of this bread an adventure.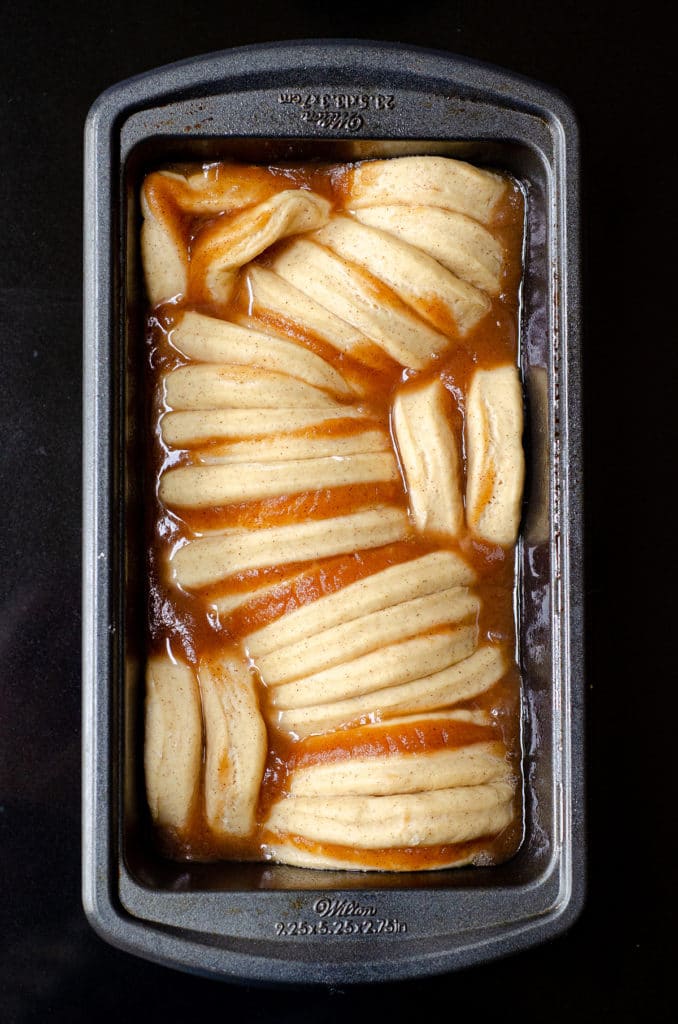 What I love most about pull-apart bread is that it is so not necessary to keep things beautiful. And no two loaves are ever going to look the same, because arranging discs of dough into the pan is going to look different from baker to baker.
Not only that, but some pieces that you pull off may be loaded with apple butter, and others may just have a hint of it.
Keep some extra apple butter on hand for spreading on those pieces… Or even the ones that are already loaded up.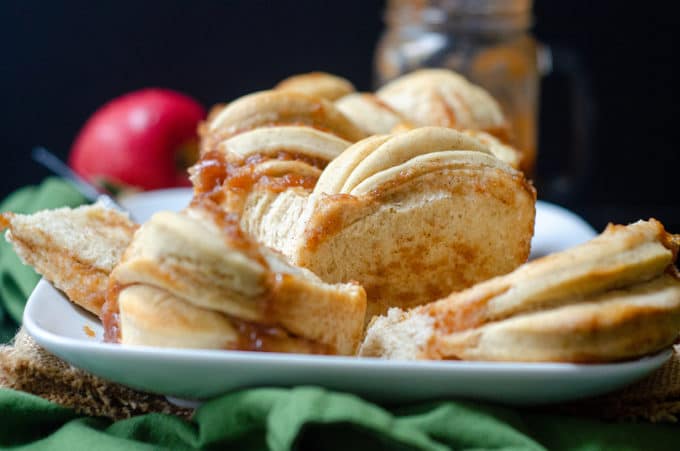 In complete honesty, I spread a little extra apple butter on every single piece I ate. Which was just about the entire loaf.
And the toddlers ATE IT UP. They loved it. Not much better than awesome recipes that are also kid-approved.
If you're not looking to use your own homemade apple butter for this pull-apart bread, that's totally fine. Store-bought is a-ok with me, but I urge you to make your own because then this bread becomes 100% homemade.
And you can gift the leftover apple butter! Or save it for Thanksgiving when you make this bread again.
And again.
And again.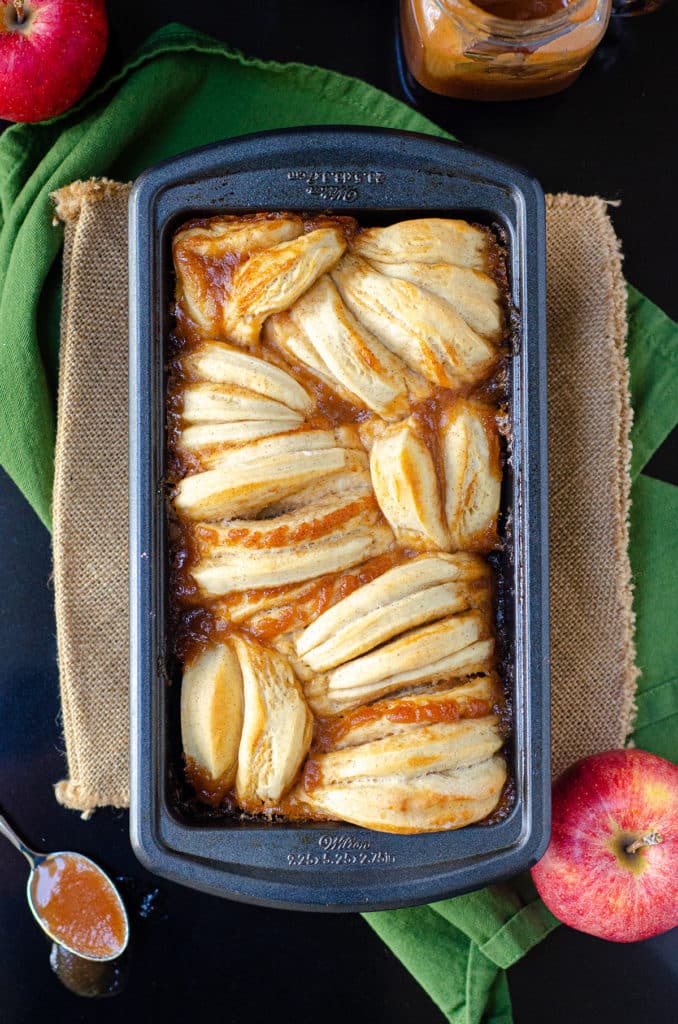 Watch out, FAF readers. Pull-apart bread may be my new love language (always still loving you most, though, biscotti!).
Apple Butter Pull-Apart Bread
Soft and fluffy pull-apart bread spiced with cinnamon and spread with homemade apple butter.
Ingredients
¼

cup

(60mL) warm water

2 and ¼

teaspoon

(7g) active dry yeast

or 1 packet

1

cup

(240mL) warm milk

I prefer whole

2

Tablespoons

(25g) granulated sugar

1 and ½

teaspoons

salt

1

teaspoon

ground cinnamon

¼

cup

(57g) unsalted butter

melted

2

large eggs

at room temperature

4 and ⅓

cups

(520g) all purpose flour

be sure to measure properly

½

cup (160g)

homemade apple butter

store-bought is fine
Instructions
Sprinkle the yeast over warm water. The best way to test the temperature of your water is to take it from the tap and run your wrist in the stream. If you can't feel the temperature of the water, it's perfect. Stir yeast in with a fork until it is dissolved and set aside.

In a large mixing bowl or the bowl of a stand mixer, blend the milk, sugar, salt, and cinnamon with a wooden spoon or a spatula. Stir in the butter, eggs, and yeast mixture.

Gradually stir in the flour. If you are using a stand mixer, use your dough hook. If mixing by hand, continue to use a wooden spoon or spatula. Add flour until your dough is soft enough to handle, usually when it can easily pull away from the sides of your bowl.

Turn out dough on a lightly floured surface and knead until smooth and elastic. You may need to add the last cup or so of flour by hand. Your dough should feel like PlayDoh to the touch and "snap" when you pull it apart.

Spray your bowl with non-stick spray and place the dough ball into the bottom of the bowl. Flip the dough ball over to coat the top, and then cover the bowl with a lid or towel and place in a warm environment. I like to heat my oven to 200ºF, turn it off, then leave the door cracked with the bowl inside. Allow dough to rise until double in size, about 90 minutes.

After dough has doubled, punch down the dough and turn out onto a lightly floured surface. Roll dough to about ½" thickness and, using a biscuit cutter, the rim of a glass, or a circular cookie cutter approximately 4" in diameter to cut circles of dough. Re-roll dough until you have about 12-14 circles. Save the remaining dough and refer to directions for what to do with it.

Spray a loaf pan with non-stick spray. Set aside.

Spread about 1 teaspoon of apple butter on half of each disc, fold in half, and place folded side down in the prepared loaf pan. Continue with each disc until all of the discs are in the pan, moving things around if necessary. Do not worry about aesthetics. Cover loaf with a clean kitchen towel and allow to rise at room temperature for about 30-45 minutes.

When you are ready to bake the bread, set the rack to the middle position in the oven and preheat it to 350ºF (177ºC). Bake the loaf for 22-24 minutes or until the top is golden brown. Allow to cool on a wire cooling rack at least 15 minutes before turning out and serving. Loaf can be served warm or room temperature. Leftovers stay fresh, covered tightly at room temperature, up to 5 days. Loaf freezes well, up to 3 months. Wrap tightly. Thaw in refrigerator overnight.
Notes
What to do with leftover dough: roll or shape the dough into about

½

" thick circle (it does not have to be perfect). Brush with butter or more apple butter, add flavoring if you'd like (such as sugar, cinnamon-sugar, just cinnamon, etc), and bake at 350ºF (177ºC) for about 15-20 minutes until golden brown. 
Nutrition Disclosure
All nutritional values are approximate and provided to the reader as a courtesy. Changing ingredients and/or quantities will alter the estimated nutritional calculations.
Serving:
1
serving
|
Calories:
238
kcal
|
Carbohydrates:
40
g
|
Protein:
7
g
|
Fat:
7
g
|
Saturated Fat:
3
g
|
Polyunsaturated Fat:
1
g
|
Monounsaturated Fat:
2
g
|
Trans Fat:
0.2
g
|
Cholesterol:
43
mg
|
Sodium:
314
mg
|
Potassium:
76
mg
|
Fiber:
5
g
|
Sugar:
9
g
|
Vitamin A:
198
IU
|
Vitamin C:
0.1
mg
|
Calcium:
64
mg
|
Iron:
2
mg