As an Amazon Associate I earn from qualifying purchases.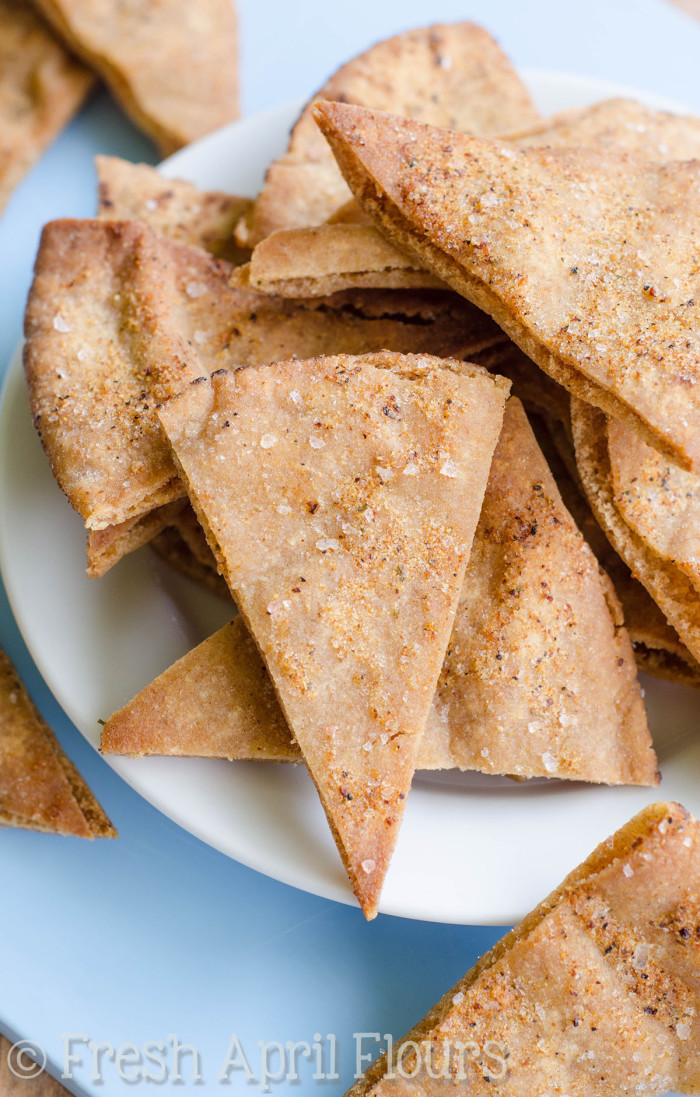 I was going to combine this homemade pita chip recipe with my creamy buffalo hummus recipe post, but they turned out so well that I decided they needed their own post.
They could not be easier, so I promise I won't talk type too much!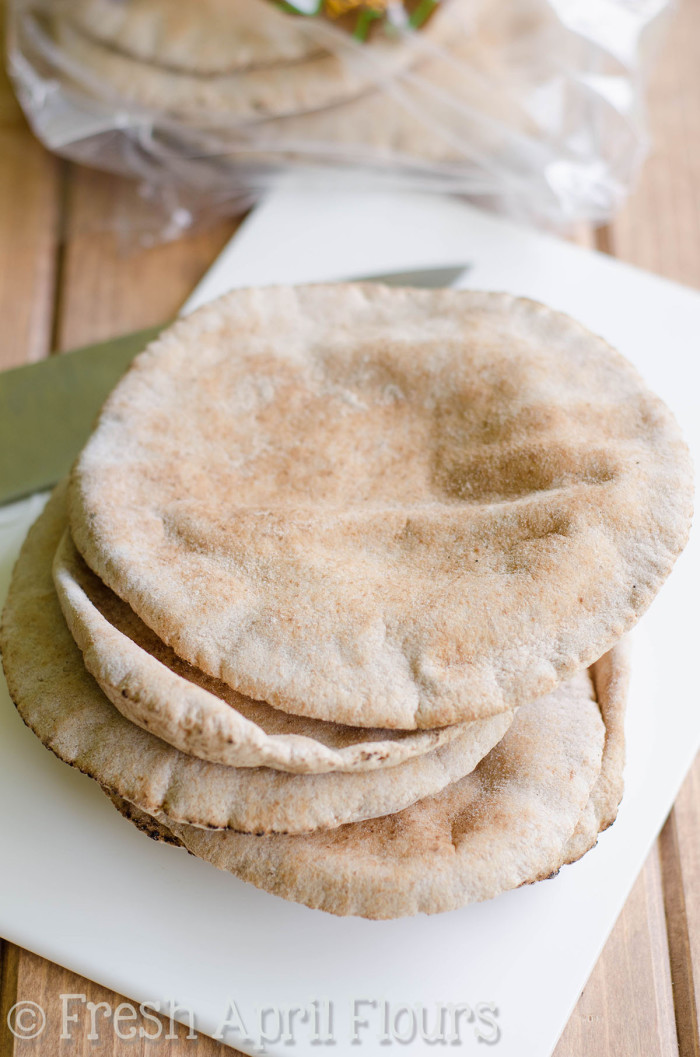 All you need to make crunchy, flavorful, oh-so-wonderful pita chips at home is:
√ pitas (I prefer whole wheat, white is fine)
√ olive oil
√ garlic powder
√ your preferred seasoning (I used Mrs. Dash table seasoning)
√ sea salt or other flaky salt
That's it! Easy.
You'll start by cutting each pita into 8 wedges.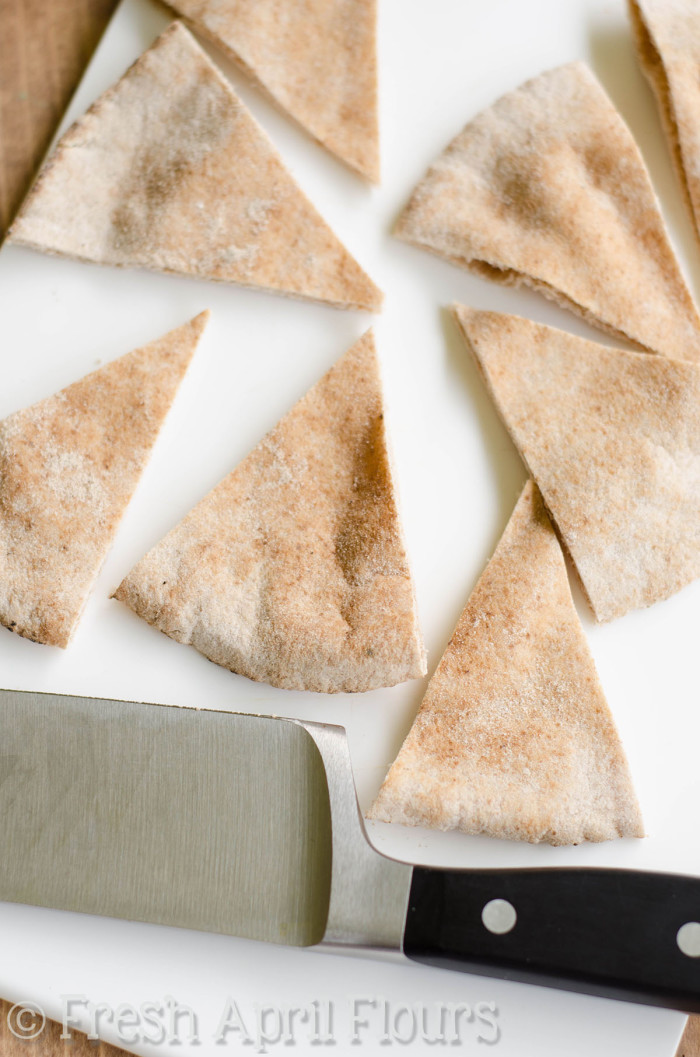 Then, arrange them on a prepared baking sheet.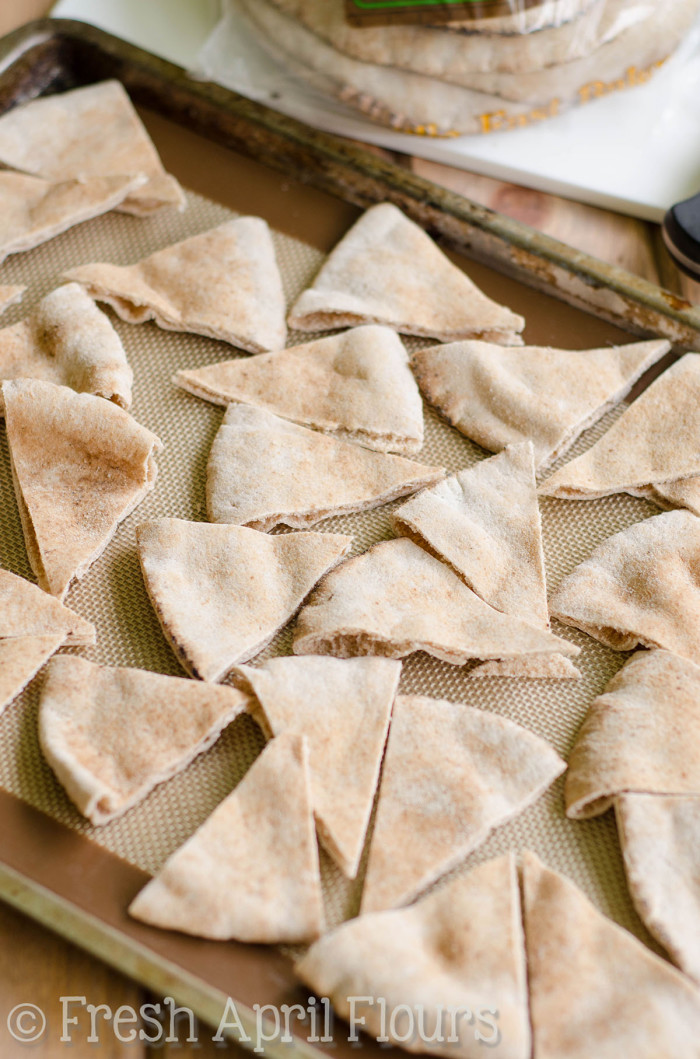 Whip up some seasoned olive oil for brushing, and then brush each wedge with the olive oil. Turn the wedges over and brush the other side.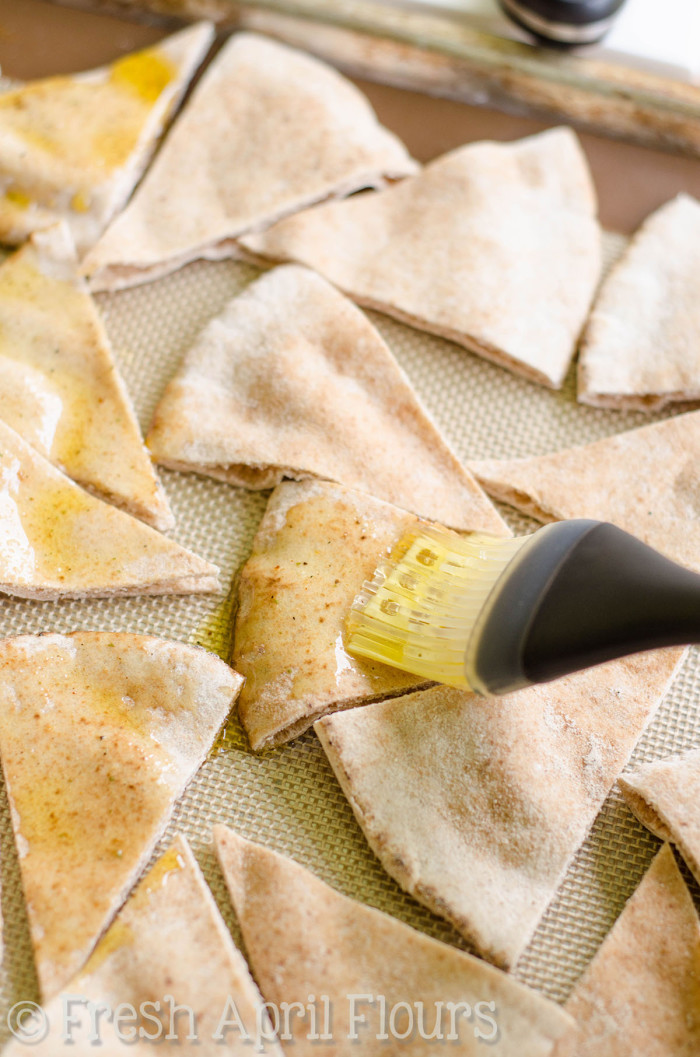 Finish them off with a sprinkle of flaky salt and bake for 10-11 minutes.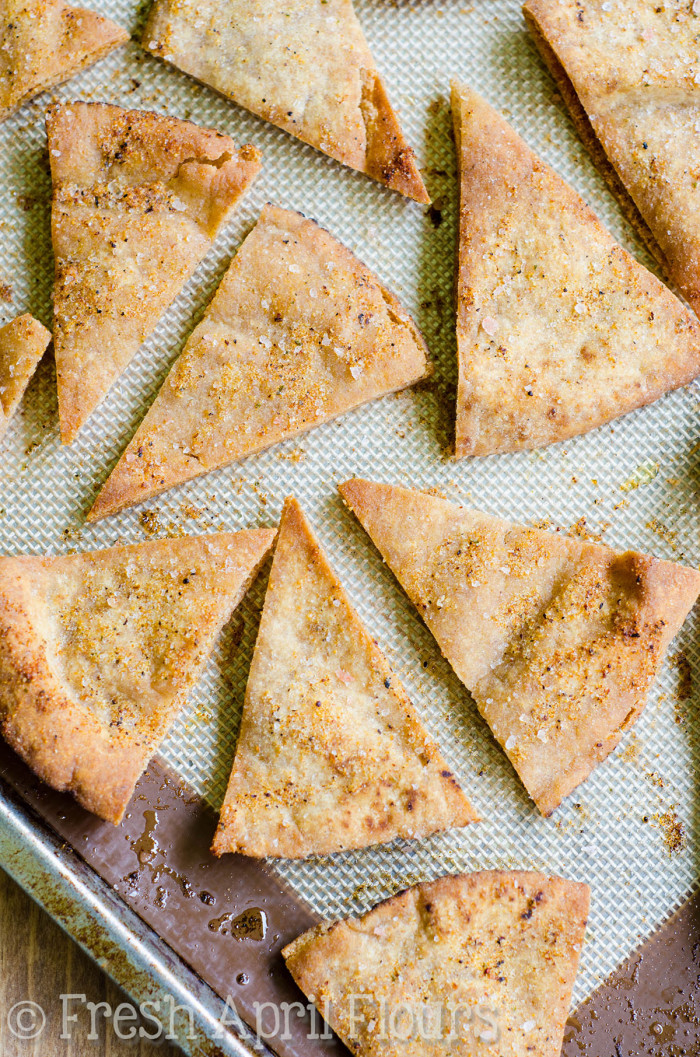 Let them cool, and you're done!
See? Easy. You are well on your way to delicious homemade pita chips that you can customize to your liking. Plus, I think they're even crunchier than store-bought. It's all about the crunch, isn't it?!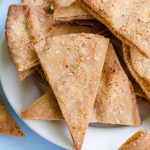 Print Recipe
Homemade Pita Chips
Learn how to make your own crunchy, flavorful pita chips at home.
Ingredients
4

whole wheat

white is fine pitas, each cut into 8 wedges*

4

Tablespoons

olive oil

3/4

teaspoon

garlic powder

3/4

teaspoon

preferred seasoning

I used Mrs. Dash table seasoning

sea salt or other flaky salt
Instructions
Preheat the oven to 400ºF. Arrange pita wedges on a baking sheet lined with parchment paper or a silicone baking mat.

In a small prep bowl, combine olive oil, garlic powder, and preferred seasoning. Mix together until thoroughly combined.

Using a pastry brush, brush each wedge with seasoned olive oil. Flip each wedge over and brush the other side. Sprinkle sea salt over all of the wedges.

Bake pita wedges for 10-11 minutes until browned. They will crisp up into "chip" texture as they cool. Store pita chips in an airtight container or large zip-top bag at room temperature up to 2 weeks. Enjoy with your favorite

hummus

or

other dips

.
Notes
*Each batch of 4 whole pitas (32 individual chips) fits perfectly on one large baking sheet. Use a new baking sheet per each batch.
Q: What do you like to dip your pita chips into?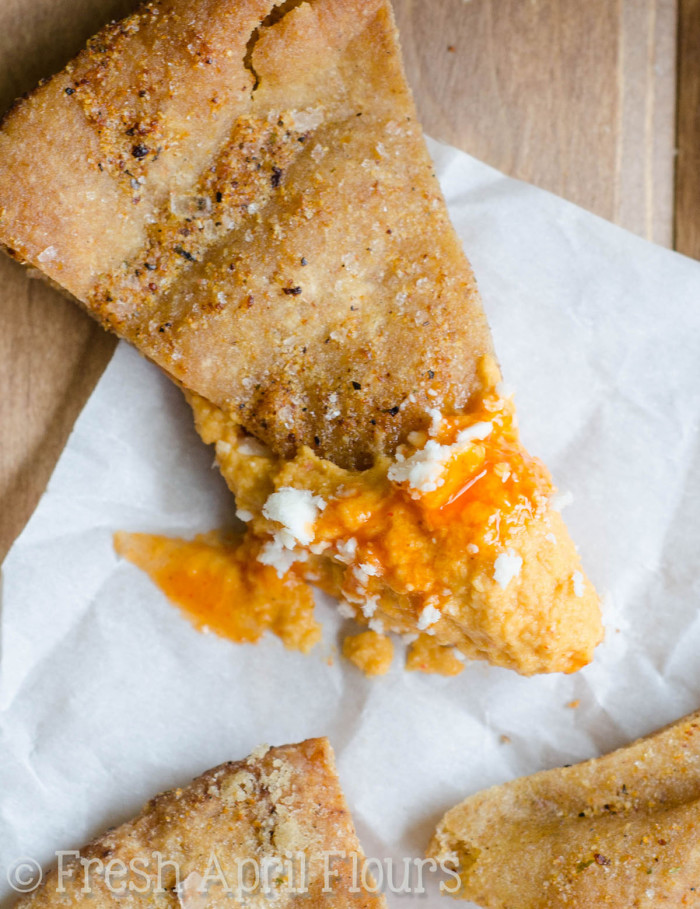 Check out more snackies!
Soft-Baked Carrot Cake Granola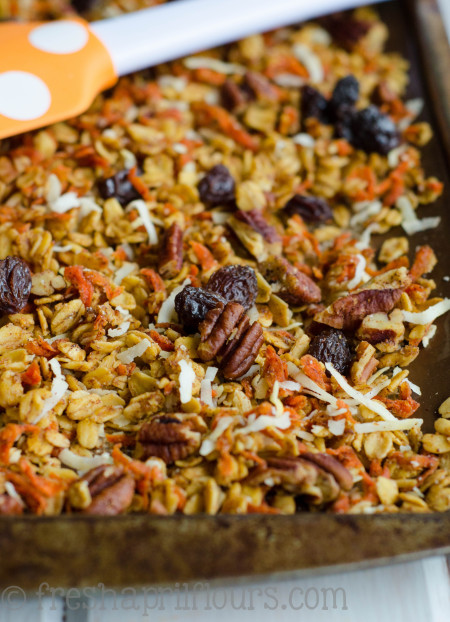 Chocolate Chip Cookie Dough Bites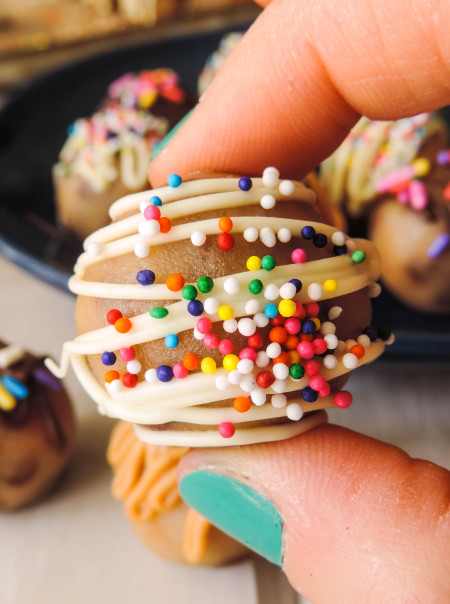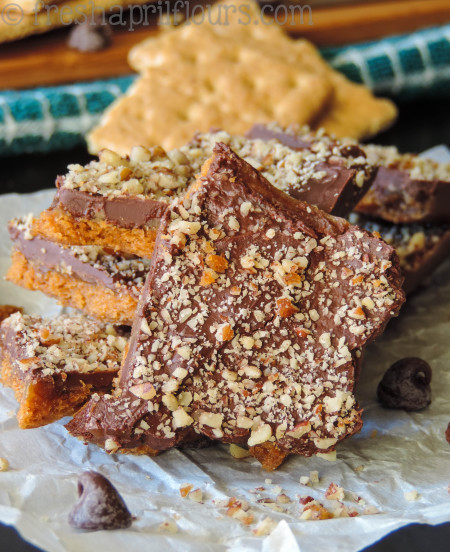 Triple Chocolate Peanut Butter Bites