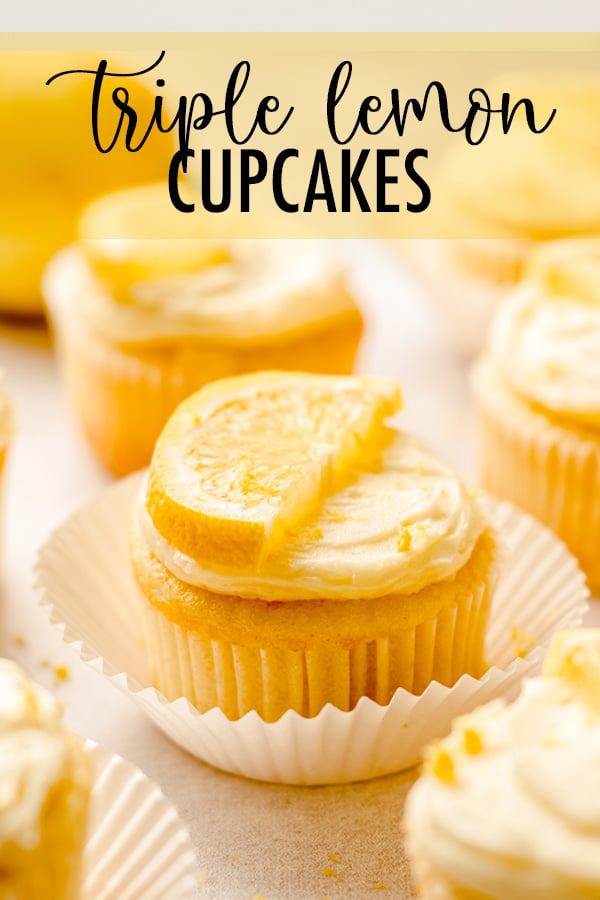 As an Amazon Associate, I earn from qualifying purchases. Read the full disclosure here.
Tender lemon cupcakes filled with tangy homemade lemon curd and topped with a sweet, creamy lemon buttercream. A lemon lover's dream!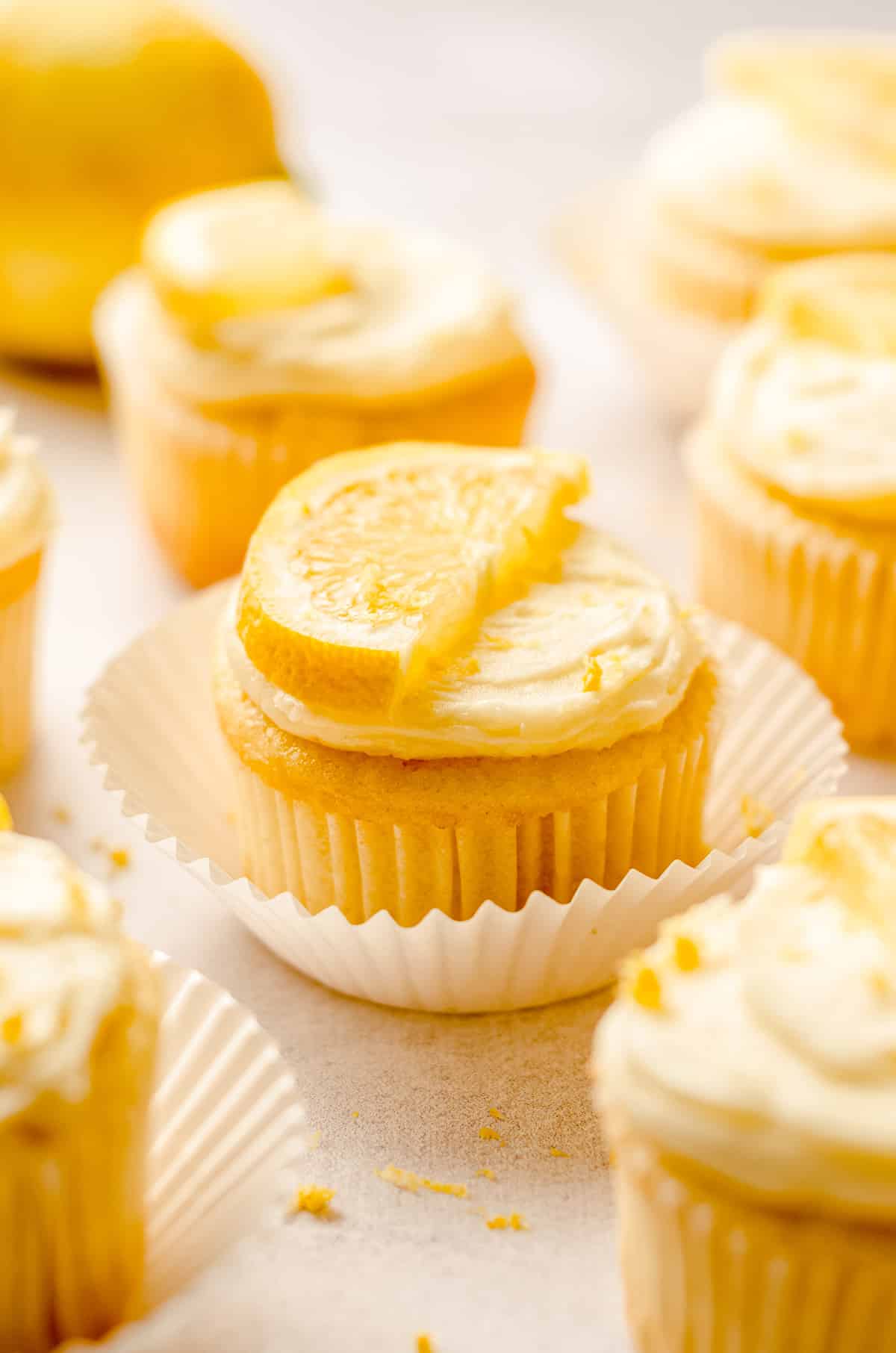 Welcome to #LemonWeek 2021 hosted by me! What better way to welcome summer than with over 50 recipes featuring bright and sunny lemons? Come join me and my fellow Lemon Week bloggers as we bring you recipes from appetizers to drinks to entrées and desserts!
When I have dessert, it's got to be all out. And when I start with something great (LEMON), then I believe the next best thing is to double that lemon… So while I'm at it, why not just go for the gold and make it triple good?
I am not messing around here, my fellow lemon lovers: I bring to you today triple lemon cupcakes, because dreams are made of lemon desserts while we float around on sunshine yellow clouds of lemon buttercream.
So what makes these cupcakes triple lemon cupcakes? We've got:
1) a tender lemon cupcake
2) a homemade lemon curd filling
3) a fluffy buttercream flavored with more lemon curd
Triple. Lemon. Heaven.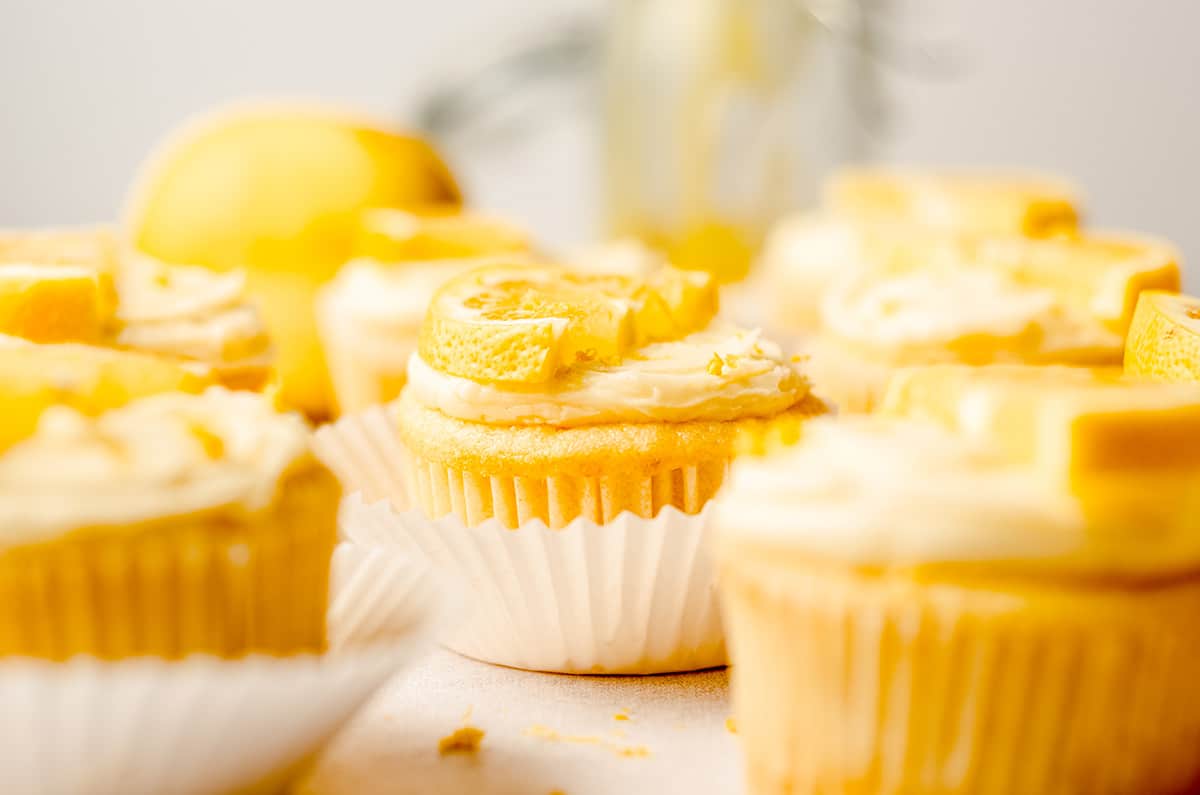 So I've already showed you how to make the simple lemon curd filling for these bad boys (and also how to use it in some lemon mousse), and since I love taking something that works and using it again, you can actually find the lemon cupcakes and lemon buttercream in other forms around the blog.
You'll recognize the lemon cupcake batter from my orange creamsicle cake (just sans orange marmalade and of course, with lemons instead of oranges) and the buttercream is my traditional vanilla buttercream, just with a splash of some lemon curd to jazz it up a bit.
It's great having base recipes that we can easily adapt to accommodate other flavors!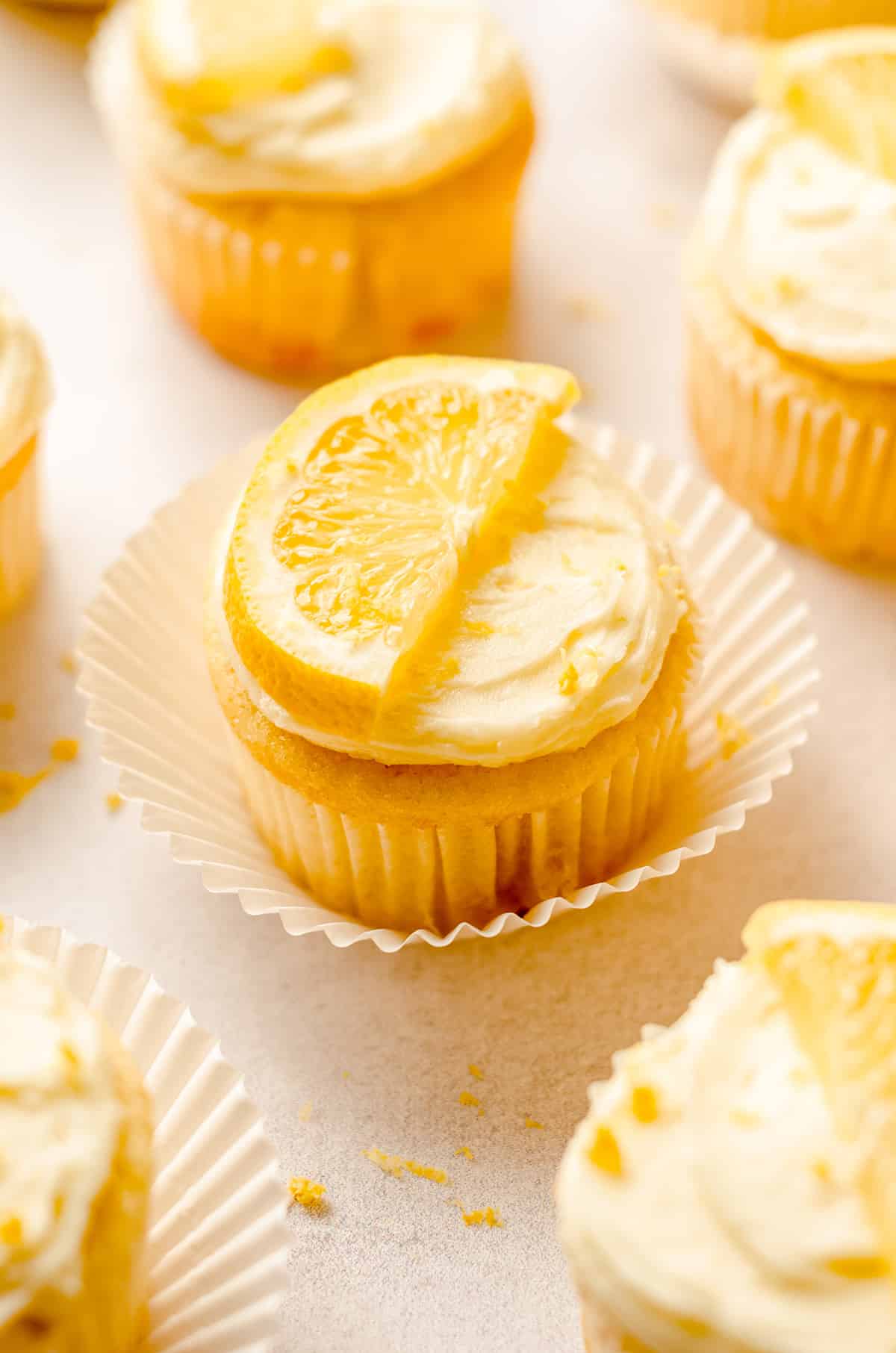 Let's start by chatting about the cupcake batter. It's very easy. You're just going to have to remember the importance of alternating the flour mixture with the lemon/milk mixture when adding it to the creamed butter and sugar.
ALTERNATE FLOUR MIXTURE WITH THE WET INGREDIENTS
I spoke about why we alternate flour and milk in my orange creamsicle cake recipe, but I'll say it again because it's good to know!
The base of this cupcake batter is quite buttery and wet. You can only add so much more liquid to this mixture before it just can't absorb any more.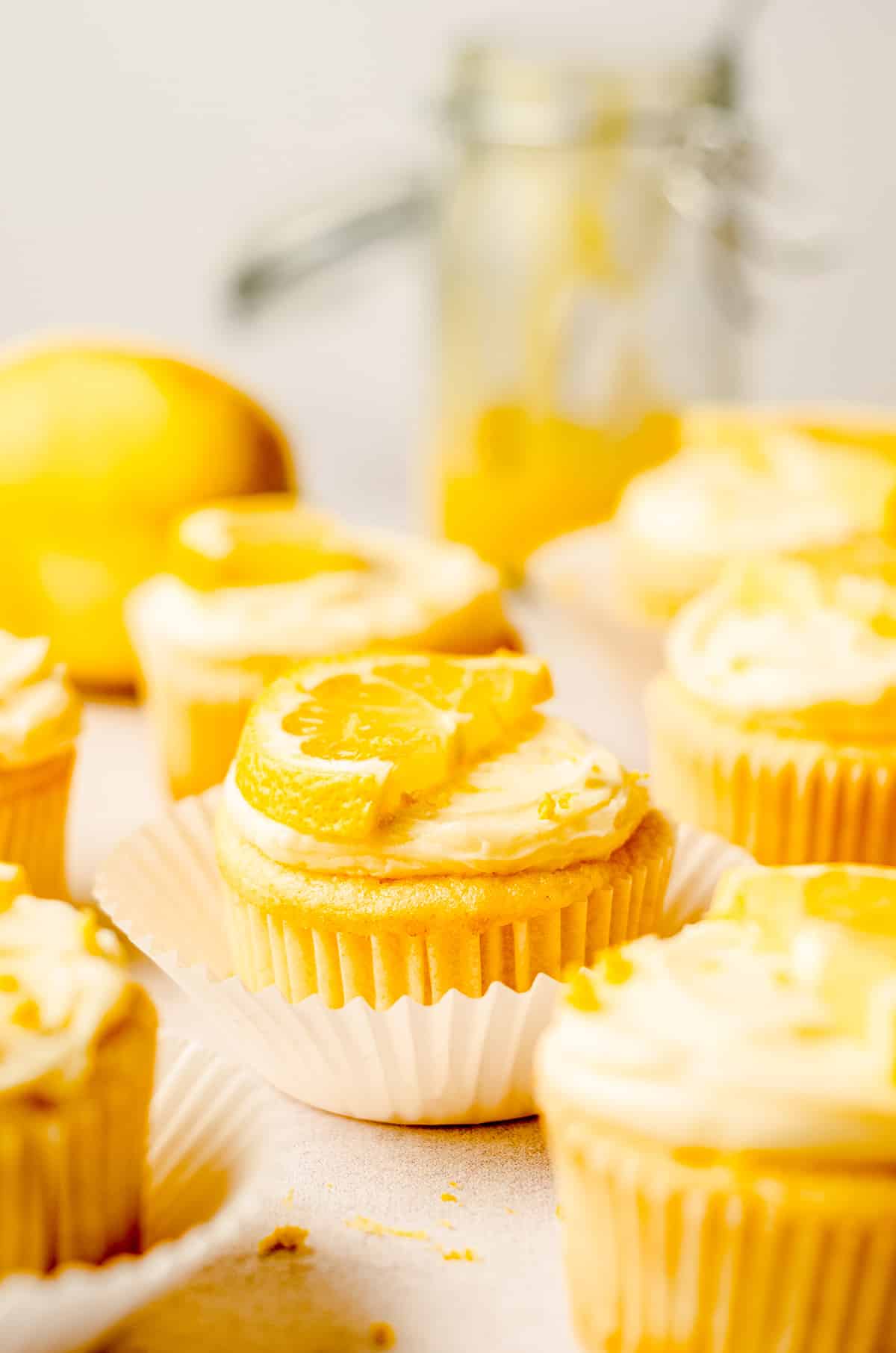 It's likely to separate if there's too much liquid introduced into such a wet base before there's anything there to help absorb it.
If we start with a little bit of flour, we have a bit more of a vehicle for adding more liquid. I always find the lightest crumb with my alternating additions method. This isn't always the method when it comes to making a cake or cupcake batter (hello, reverse creaming method in my white layer cake!), but the ratios in this batter benefit from it.
Aaaaand there's your dose of baking science for the week!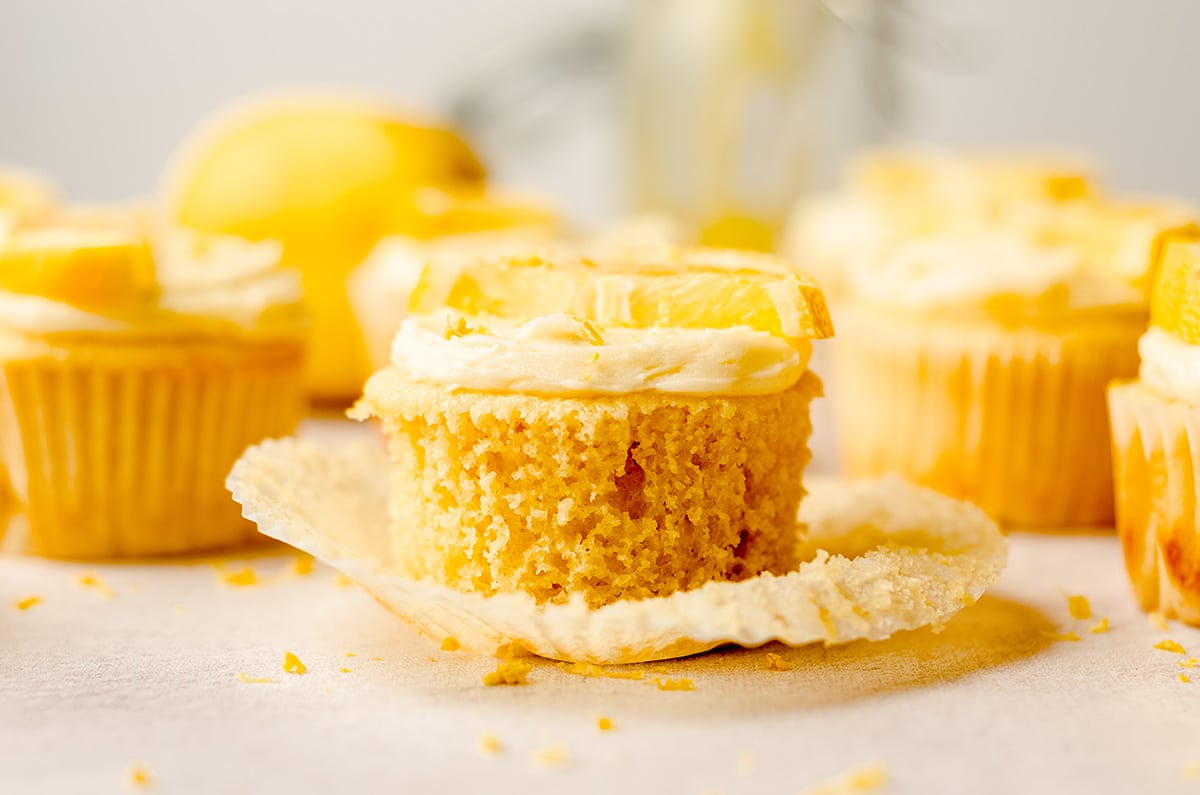 While the cupcakes bake, you can get to work on the buttercream, which is also pretty simple. Butter, powdered sugar, some vanilla extract, milk or cream, and of course, the star of the show: the lemon curd.
How many times do you think we can say "lemon" in this post?
HOW TO FILL THE CUPCAKES WITH LEMON CURD
Now you'll of course need to wait for your cupcakes to cool completely before you fill them with the lemon curd, but since they're so small, it won't take all that much time.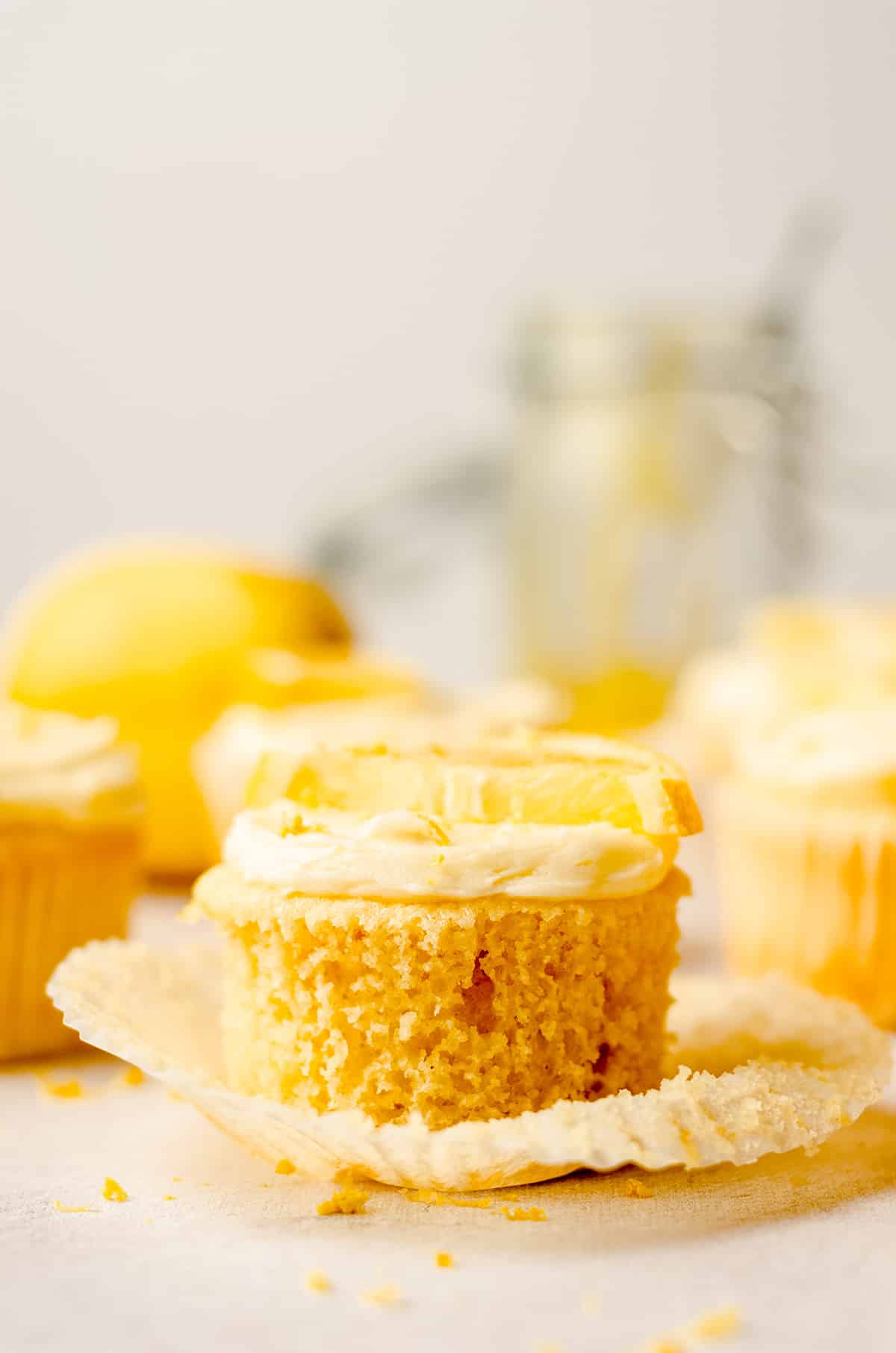 Once they're cool enough, you'll cut out a small hole with a knife. I've also used a melon baller, a tiny circle cookie cutter, or the base of a large piping tip. Whatever makes life easier for you.
Fill the hole with about a teaspoon of the lemon curd, and replace the portion of the cupcake you cut out. A little cupcake hat. So adorable.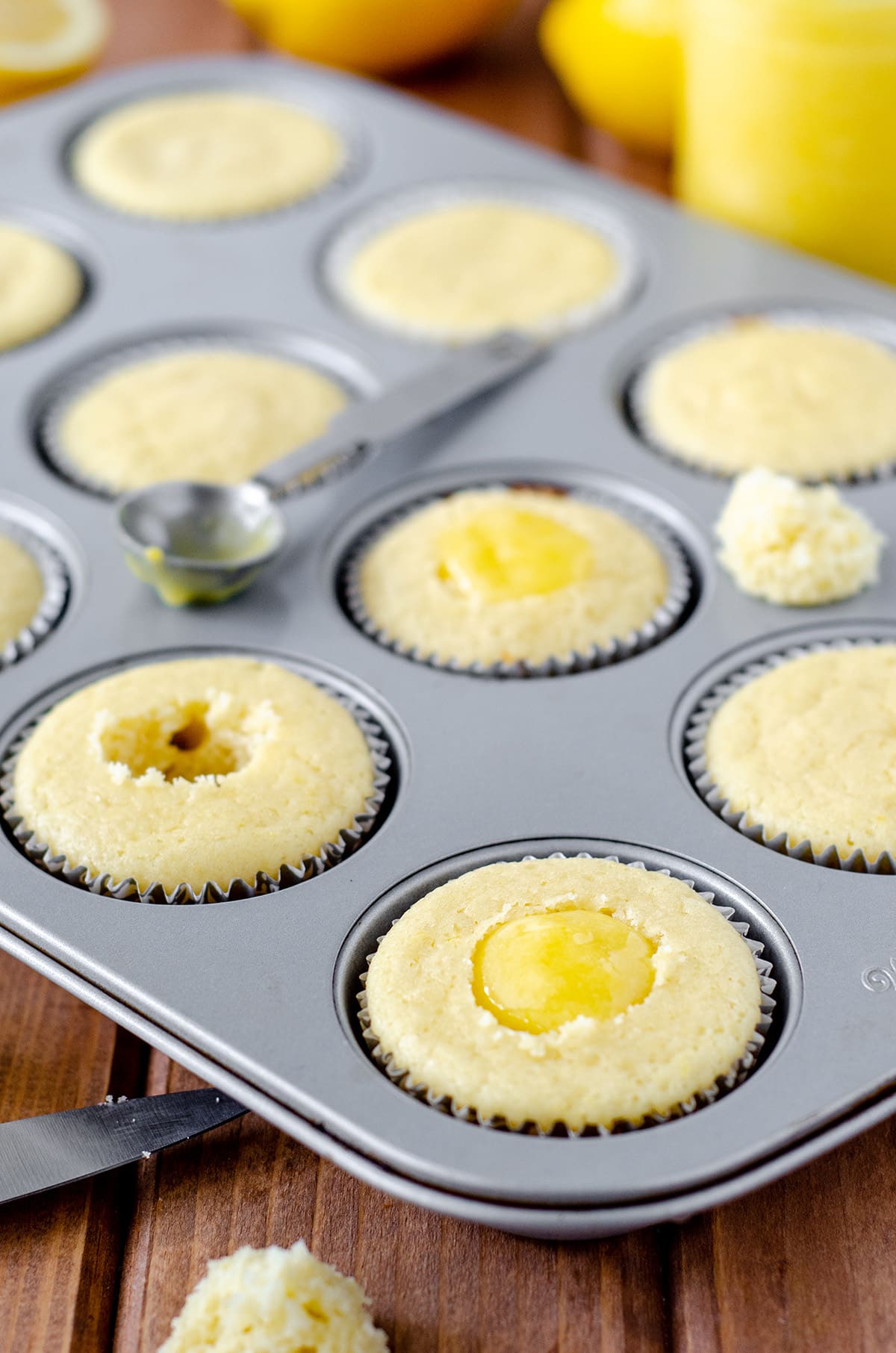 It's ok if some filling squishes out, just make sure it's not spilling out all over the top of the cupcake. That can get messy. Remedy this problem by either making your holes bigger or putting a little less filling in them.
Once you have your lemon curd filled cupcakes, they're ready for their sunshine clouds of lemon buttercream.
As long as that lemon buttercream gets on top of those cupcakes somehow, you're in good shape.
PREVENT CUPCAKES FROM SINKING OR NOT RISING PROPERLY
I originally published these lemon cupcakes with lemon curd filling after serving them at my baby shower back in 2016. They matched the yellow theme of his nursery, but also… I LOVE LEMON.
Since then, these cupcakes have been baked many times in my oven, and many times from readers. There is just one giant warning I must give you before you go for triple gold.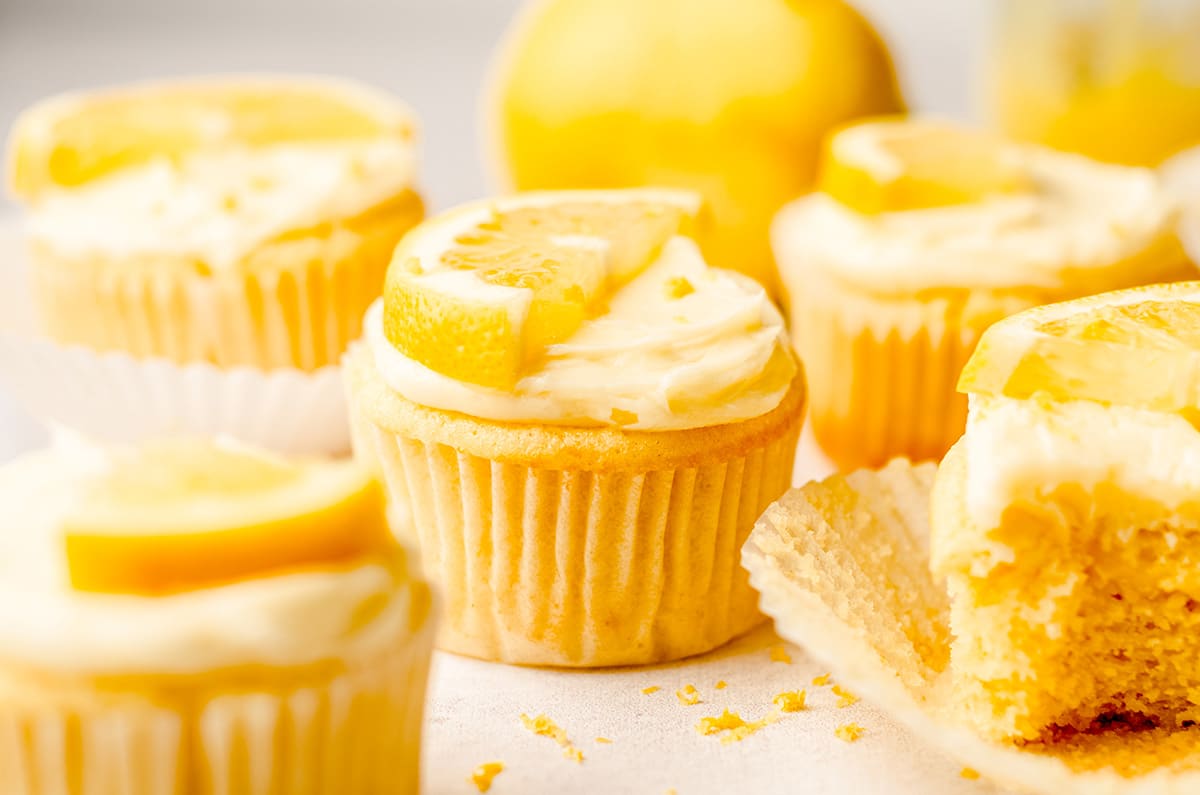 It is imperative that you do not overfill the cupcake liners with this cupcake batter. They will sink.
Of course, there can be other reasons cupcakes don't rise properly (bad ingredients, over-mixing), but this cupcake batter is sensitive. Aim for ½ to ⅔ of the way full. Perhaps test out 3 or 4 before baking the entire 12 count pan. But know that even if they do sink, they're still perfectly tasty!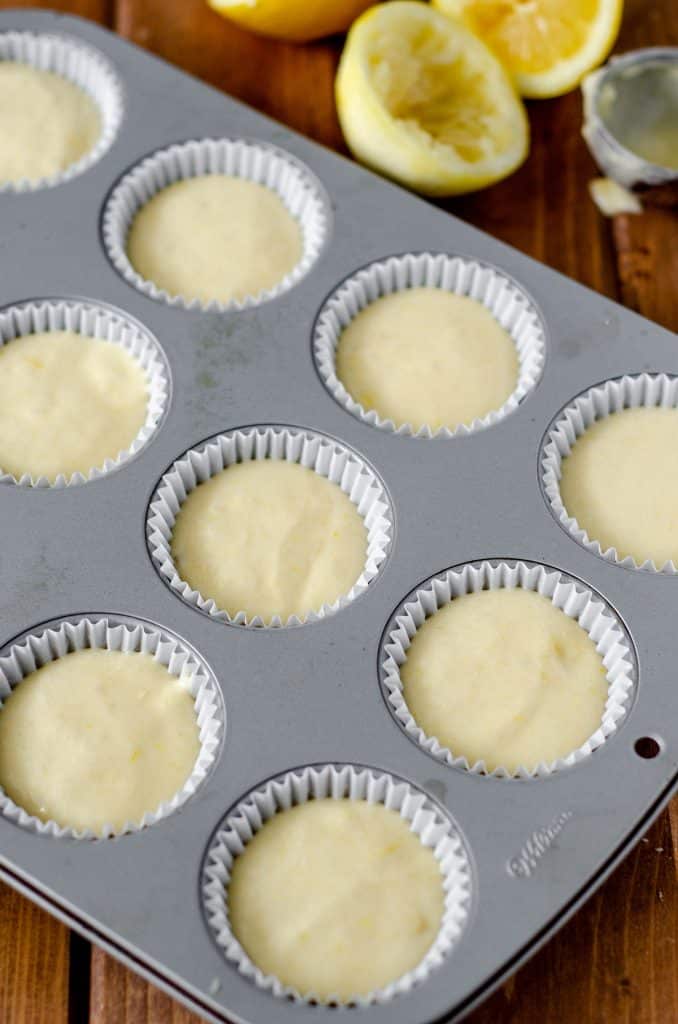 These amazingly lemony cupcakes always get lots of "oooh"s and "ahhhh"s and expletives (the good ones, of course), and one bite will make you wonder where they've been all your life.
Not only do we have the most tender cupcake that is bursting with lemon flavor and not at all overly sweet, there's a tart, buttery lemon curd accent to each bite, all of which is topped off with a sweet and creamy buttercream with the softest hint of lemon to accompany it.
To make them even more lemony? Throw a lemon slice on top and zest some lemon peel right on top.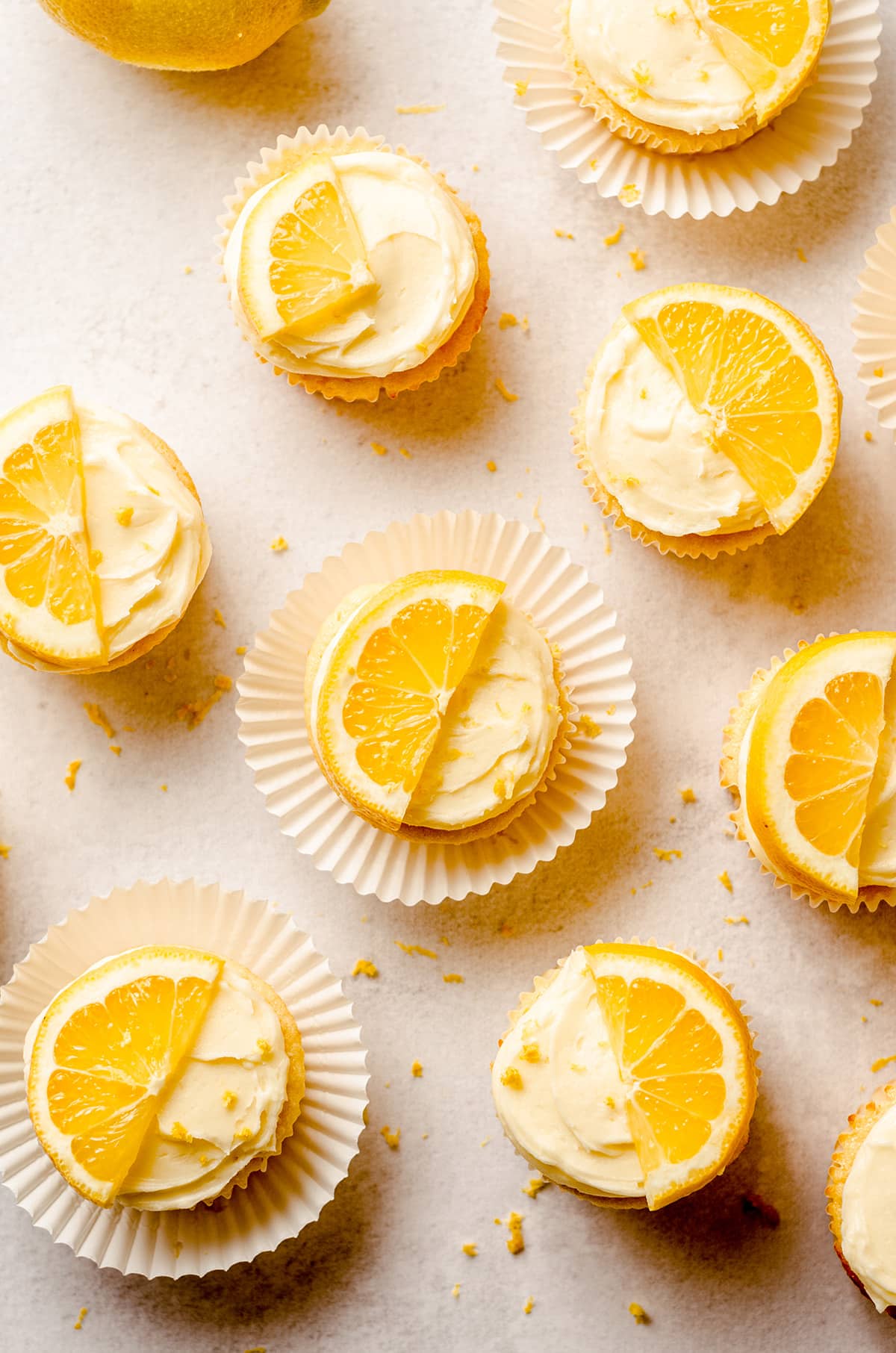 I wasn't kidding when I said these are a lemon lover's dream. All the heart eye emojis.
Perfect for summer, perfect for impressing your dessert guests, and perfect for any time you need a sunshine pick-me-up. And not to worry– if you don't feel like making the lemon curd, you can always buy some (although I can tell you right now, it's certainly not as tasty!) or just go without it.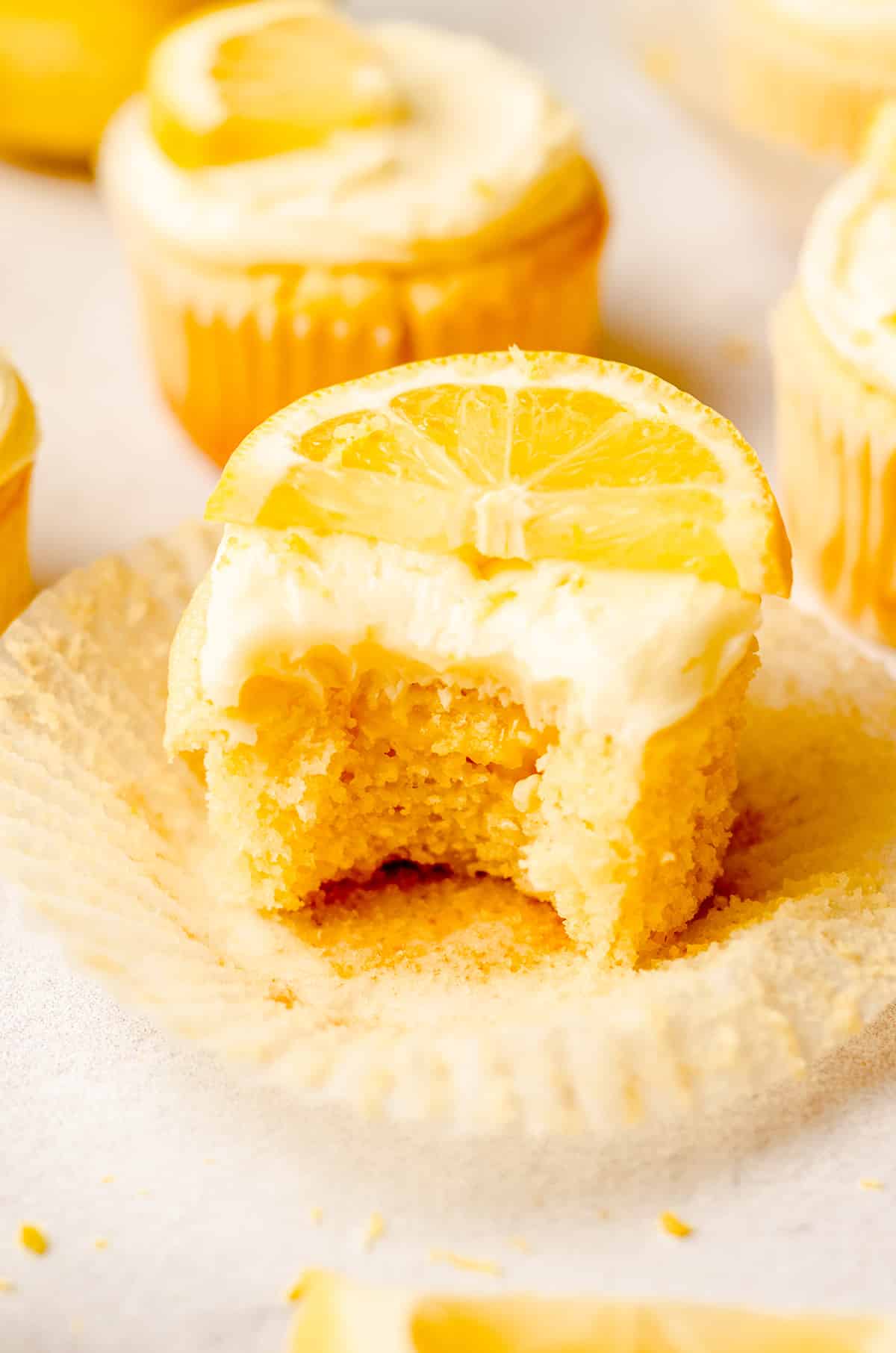 Still tasty, but then you wouldn't have perfect triple lemon cupcakes, and that sounds like such a sad sad cupcake world. Remember– go for gold and triple it! Lemon lovers unite!
Thursday #LemonWeek Recipes
Triple Lemon Cupcakes
Tender lemon cupcakes filled with tangy homemade lemon curd and topped with a sweet, creamy lemon buttercream. A lemon lover's dream!
Ingredients
LEMON CUPCAKES
1 and ½

cups

(180g) all-purpose flour be sure to measure properly

2 and ½

teaspoons

baking powder

½

teaspoon

salt

½

cup

(113g) unsalted butter

softened to room temperature

1

cup

(200g) granulated sugar

2

large eggs room temperature1

2

teaspoons

vanilla extract
zest of 2 lemons

½

cup

(120mL) fresh lemon juice2

½

cup

milk3

6

Tablespoons (120g)

homemade lemon curd

store bought is fine
LEMON BUTTERCREAM
¾

cup

(170g) unsalted butter

softened to room temperature

3

cups

(360g) powdered sugar

½

teaspoon

vanilla extract

3

Tablespoons (60g)

homemade lemon curd

store bought is fine

1 to 2

Tablespoons

(15-30mL) milk or cream
salt

to taste
Instructions
LEMON CUPCAKES
Preheat the oven to 350ºF (177ºC). Line a 12 count cupcake pan with cupcake liners. Set aside.

In a medium size bowl, toss together the flour, baking powder, and salt. Set aside.

In a large bowl with a handheld mixer or the bowl of a stand mixer fitted with the paddle attachment, beat the butter and sugar on medium-high speed until light and fluffy (about 3 minutes). Add each egg, one at a time, beating on medium-high speed until fully incorporated, scraping down the sides as necessary. Add the vanilla extract and lemon zest and beat again until combined.

Stir the lemon juice into the milk. Scrape down the sides of the mixer bowl and turn the mixer speed to low. Add the flour in 2 additions, alternating with the milk/lemon juice. Remove bowl from mixer and stir with a spatula until everything is completely combined. Do not overmix this batter.

Spoon batter evenly into prepared cupcake liners (I prefer to use an ice cream scoop with a trigger), being careful not to overfill the liners (I typically aim for filling ⅔ of the way full, using a scant scoop). Bake the cupcakes for 18-20 minutes or until a toothpick inserted in the center of a cupcake comes out clean. Remove from oven and allow to cool completely before filling.
LEMON BUTTERCREAM
In a medium size bowl with a handheld mixer, or a stand mixer fitted with the paddle attachment, beat the butter on medium speed until creamy, about 2 minutes.

With the mixer on low, add in the powdered sugar, vanilla, and lemon curd. Increase mixer speed to medium and beat until completely smooth, about 3 minutes. Add milk/cream to desired consistency, or you can opt to thin out the frosting with more lemon curd. Add salt to taste.
FILL & ASSEMBLE CUPCAKES
Using a sharp knife, cut a circle into the center top of each cupcake. I aim for about the diameter of a nickel and a depth of about ½". Spoon approximately 1 teaspoon of lemon curd into the hole and replace the piece of cupcake you removed. Push down gently. If some lemon curd spills out, that's ok.

Frost the cupcakes using a large zip top bag with the corner snipped off or a pastry bag fitted with a tip of your choosing. Store cupcakes in the refrigerator up to 5 days. If you need to travel with and serve them, it's ok if they are at room temperature for awhile. Just be sure to refrigerate them to store them.
Notes
Room temperature eggs: these incorporate into batter much more easily than cold eggs. Allow to sit at room temperature for 45 minutes. If you don't have time, place eggs in a bowl of warm water for 10 minutes or until ready to use.
Fresh lemon juice: do not use bottled lemon juice for these lemon cupcakes. You will need 2-3 lemons to yield

½ cup of juice.

Milk: I strongly recommend you use whole milk for these cupcakes to impart the best texture with optimal moisture.
Nutrition Disclosure
All nutritional values are approximate and provided to the reader as a courtesy. Changing ingredients and/or quantities will alter the estimated nutritional calculations.
A lemon favorite among readers: Lemon Truffles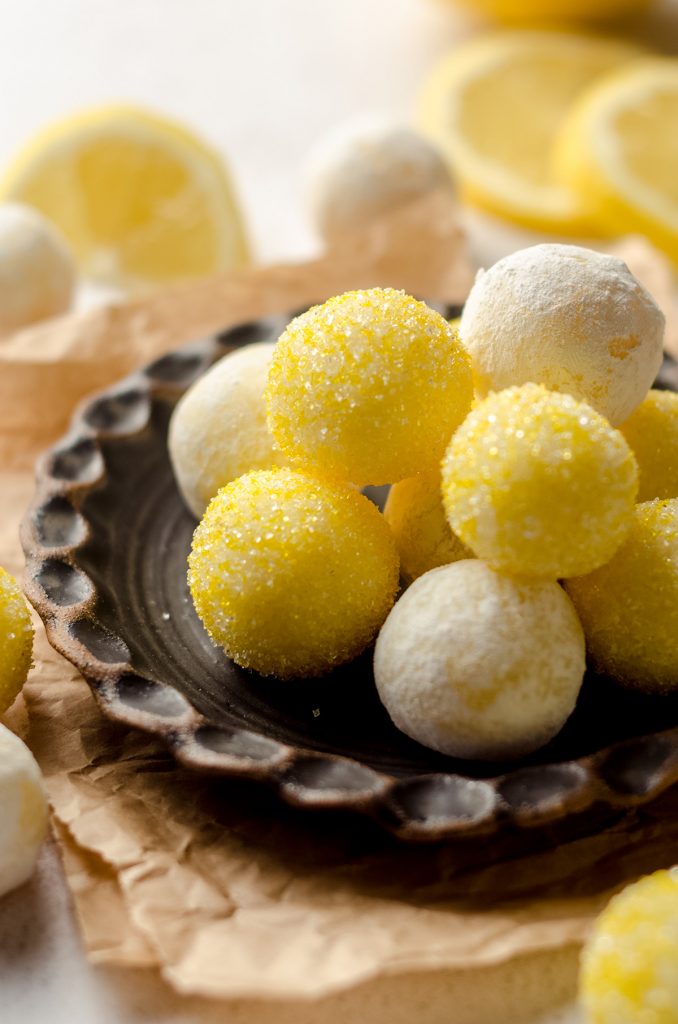 And a whole slew of cupcakes for you to try!
These Mini Cookies & Cream ones are another reader favorite.