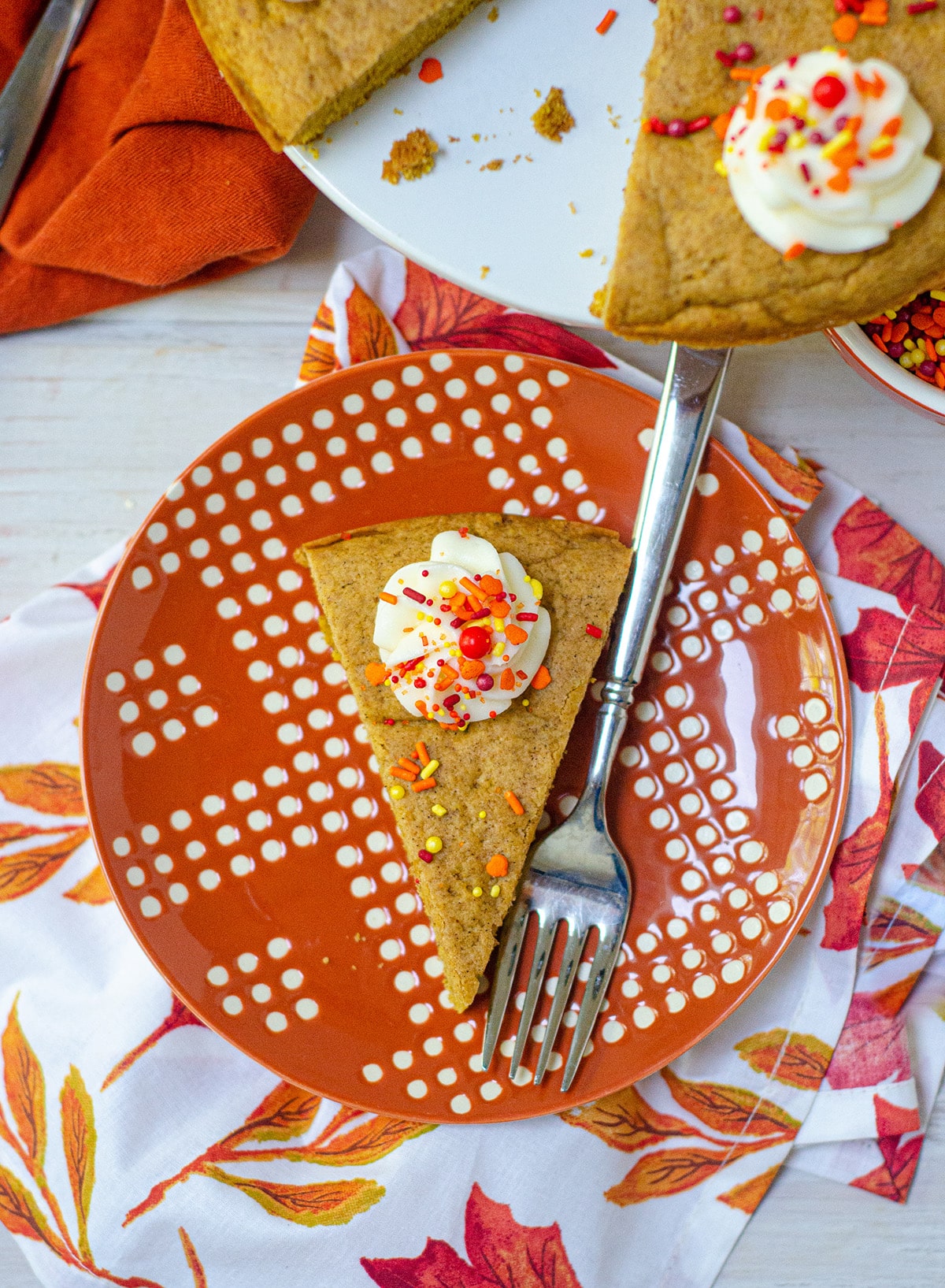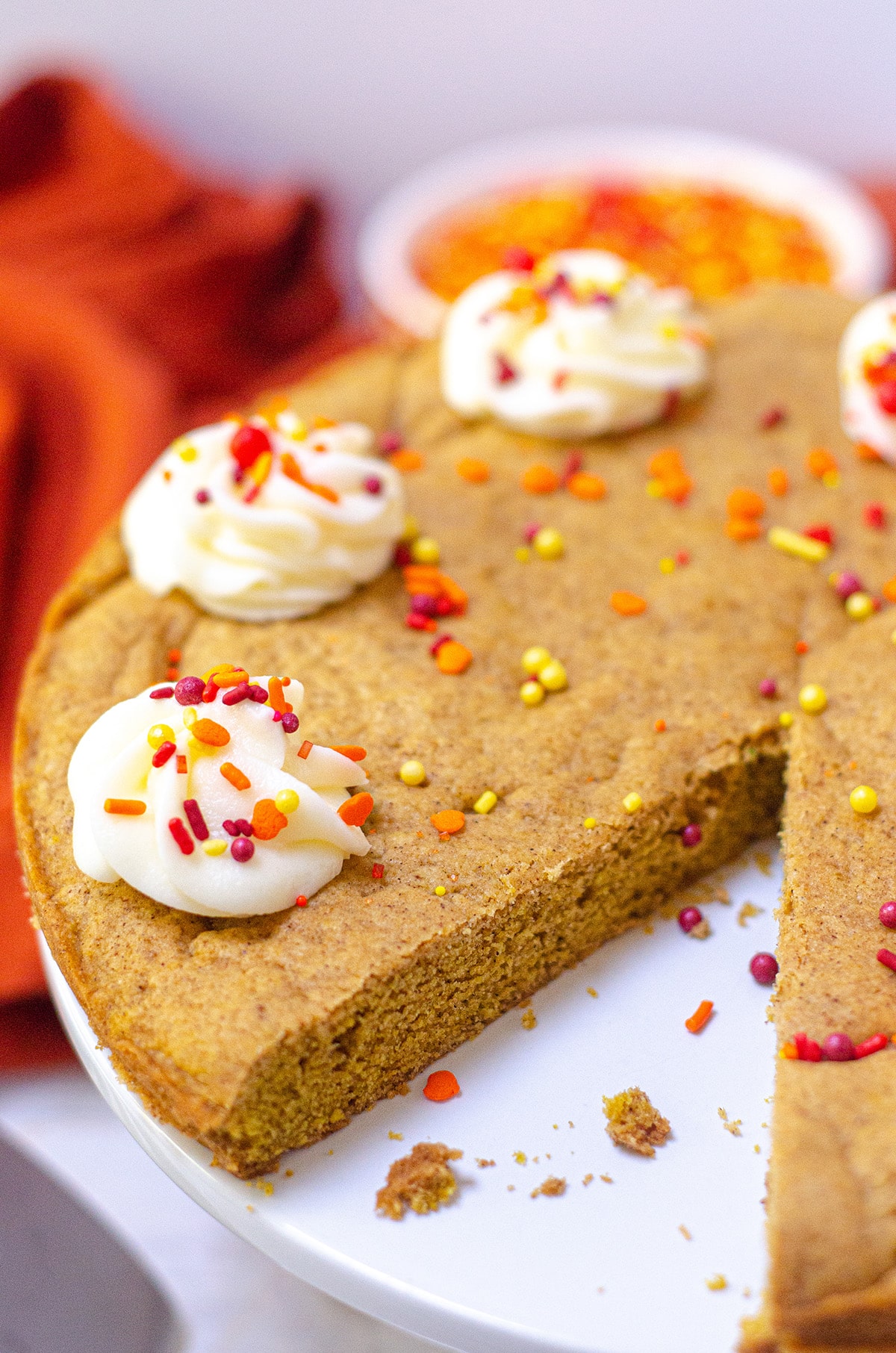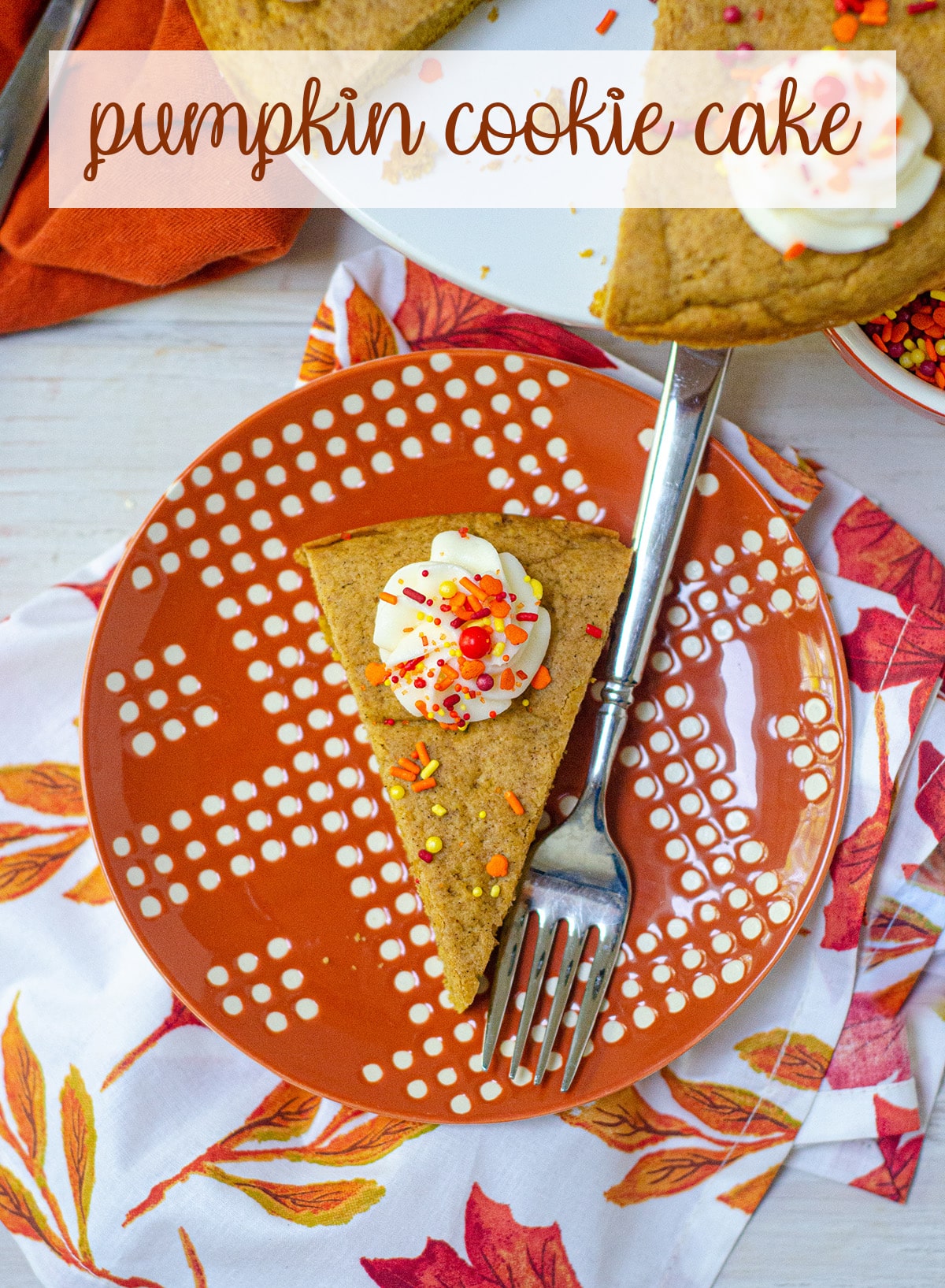 As an Amazon Associate, I earn from qualifying purchases. Read the full disclosure here.
A soft and flavorful spiced cookie cake. The perfect treat for a fall birthday!
This giveaway is currently closed. Thank you all who participated!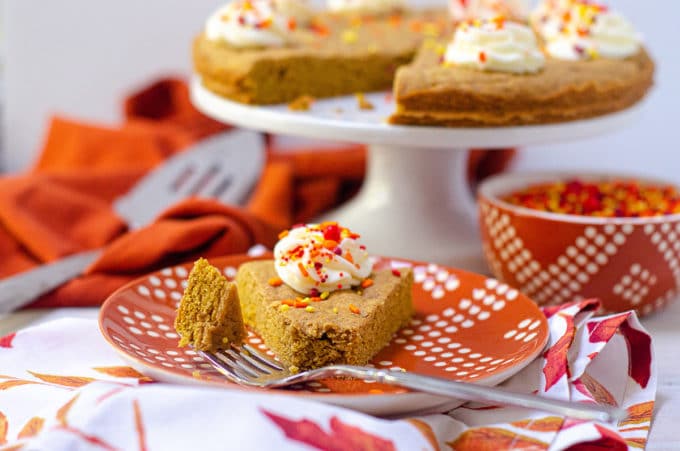 It's time for my annual cookie cake recipe, because today I turn 34!
I oh so nicely coincided my birthday week with #FAFpumpkinweek for this very reason, to be perfectly honest.
I started this accidental tradition when I shared my super popular chocolate chip cookie cake with chocolate fudge frosting recipe on my 30th birthday.
Subsequent birthdays brought us:
•funfetti sugar cookie cake
•peanut butter cookie cake
•and triple chocolate cookie cake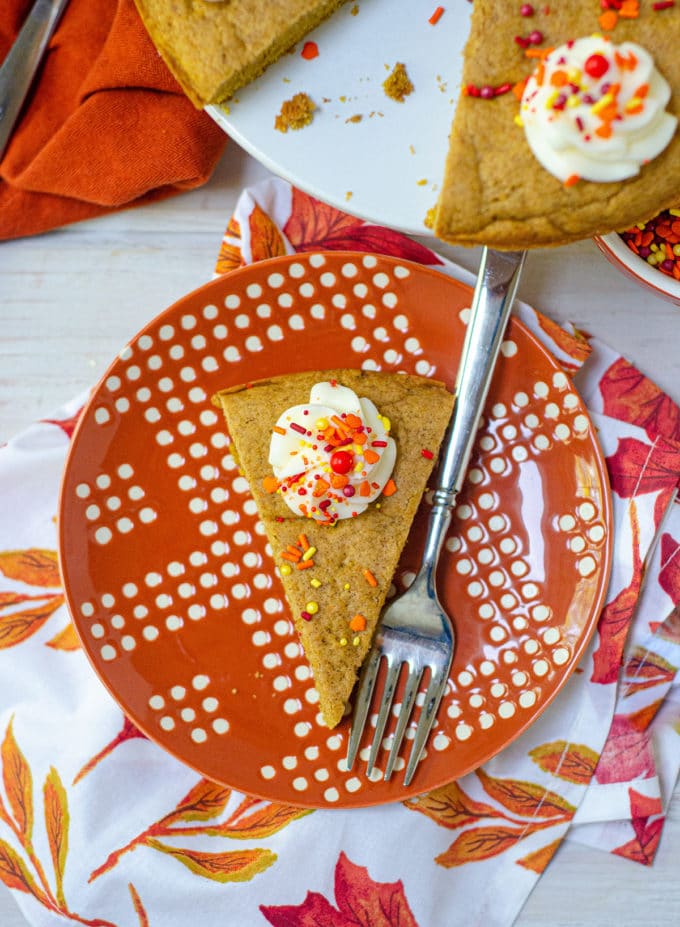 This pumpkin cookie cake is my 5th cookie cake celebration, so I made it extra special with a dose of Fresh April Sprinkles! Pictured here is our Oh My Gourd Sprinkle Blend. Do you just want to pinch those little pumpkin quin cheeks or what??
OH. AND. Guess what?
In honor of my 34th birthday, I'm giving away a 4oz bag of this blend! Find rules for the giveaway at the bottom of this post.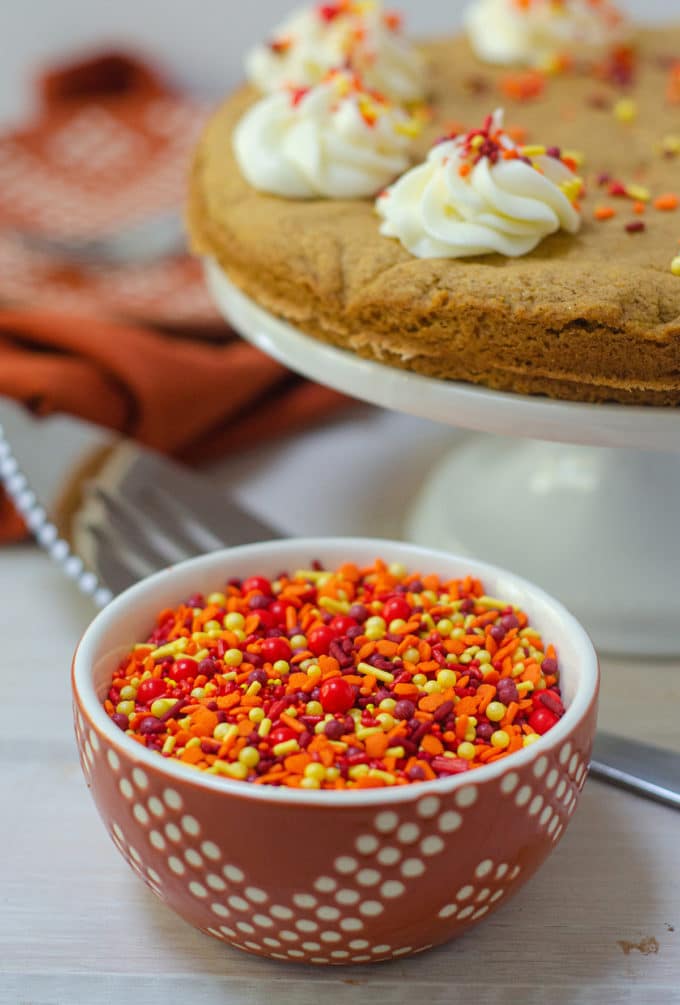 But first, we're going to chat about this pumpkin cookie cake, because it's the ABSOLUTE PERFECT treat for your fall. And it's got "fall birthday" written sprinkled all over it.
Much like most baked goods with pumpkin in them, this cookie cake is soft. It's very much unlike all of the other cookie cakes on my blog in that those cookie cakes are all crunchy on the edges and soft in the center, much like a perfect cookie.
This pumpkin cookie cake is the most like a cake texture that you'll probably ever find in cookie cake. And that's ok! Because that's what we love about pumpkin baked goods.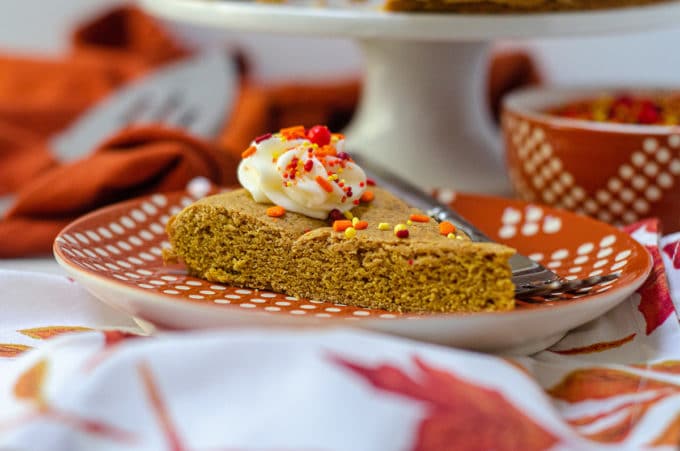 Nothing fancy up in this recipe, but we'll use both granulated and brown sugar for depth of flavor and sweetness. Cinnamon, cloves, nutmeg, and allspice round out the flavor and make sure that every bite of this pumpkin cookie cake pack a spicy punch.
The greatest thing, I think, about this cookie cake is that it doesn't need to be chilled. Many, in fact probably most, of my cookie recipes require chilling before baking. That's totally not necessary when it comes to this pumpkin cookie cake.
One bowl, mix it up with your hands, throw it in a springform pan (because springform are my FAVORITE for cookie cakes!) and you're ready to go!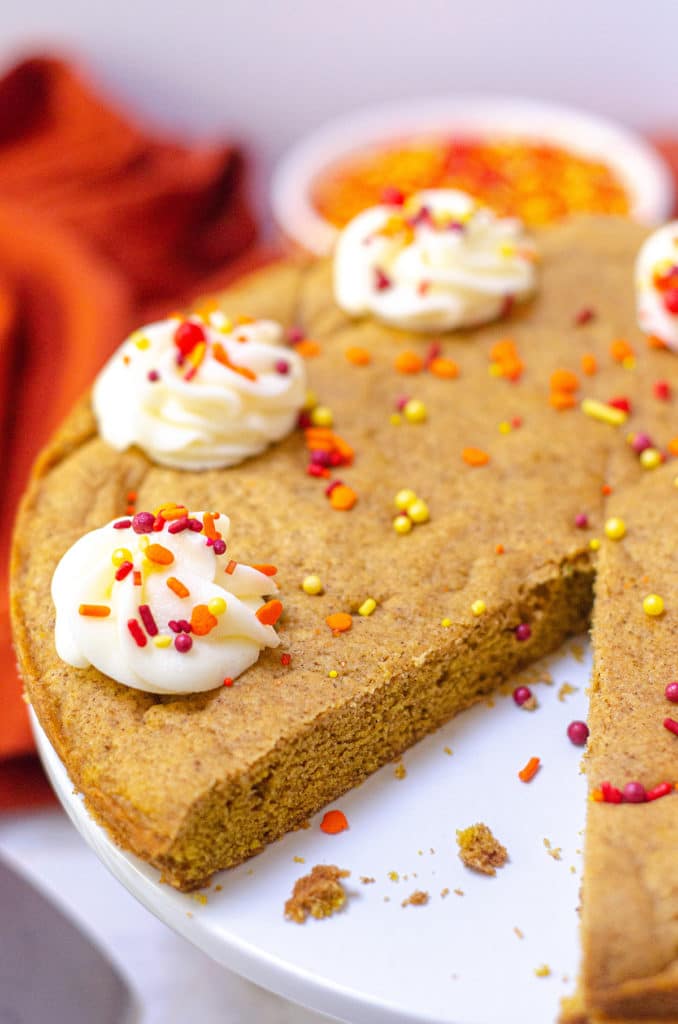 Now… The frosting.
I've brought options, my friends!
I topped this with my classic vanilla buttercream, because that's what I had on hand in my fridge.
Other suggestions I have for topping this pumpkin cookie cake are:
•classic cream cheese frosting
•whipped white chocolate ganache
•whipped cream buttercream
•OR (!!!) maple cinnamon cream cheese buttercream.
OMG. All of them. Please use all of them.
Truthfully, any of those frostings would make an excellent complement to this spicy pumpkin cookie cake. You really can't go wrong.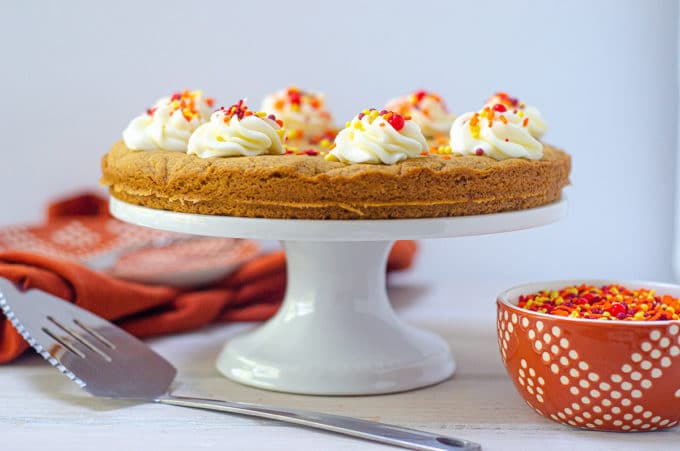 And then, obviously you need all of the fall sprinkles!
You ready to win some?
HOW TO ENTER THE GIVEAWAY
Simply comment on this blog and tell me your favorite PUMPKIN recipe. And if you don't love pumpkin, just tell me your favorite fall recipe.
Winner will receive one 4oz pouch of Fresh April Sprinkles Oh My Gourd Sprinkle Blend.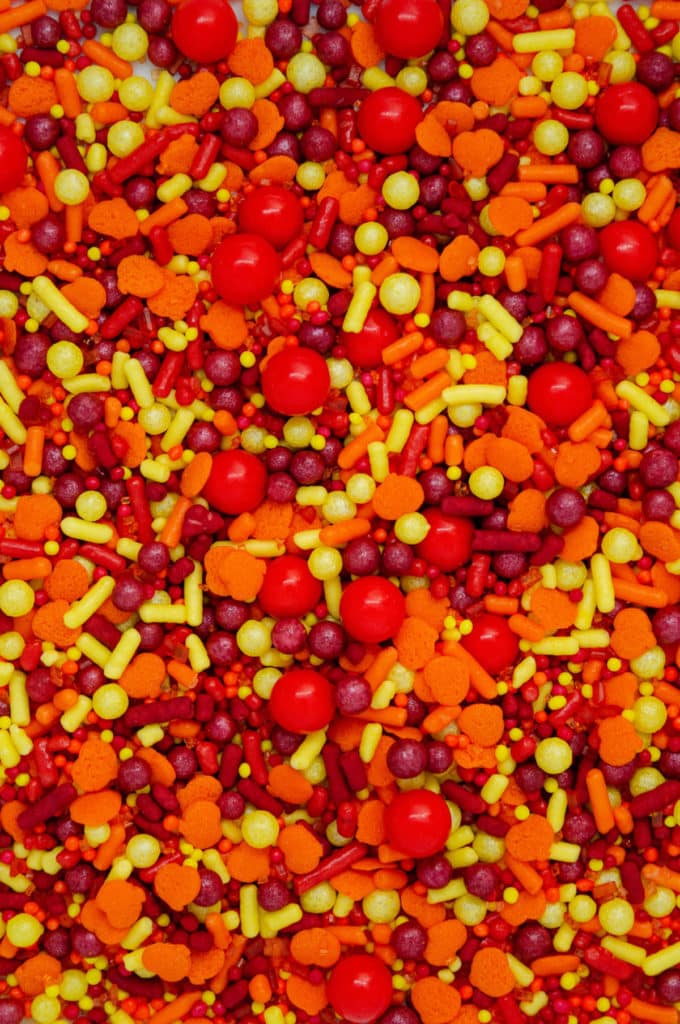 Giveaway ends 9/27 at 11:59pm!
Pumpkin Cookie Cake
A soft and flavorful spiced cookie cake. The perfect treat for a fall birthday!
Ingredients
COOKIE CAKE
1 and 1/2

cup

all purpose flour

be sure to measure properly

1 and 1/2

teaspoons

ground cinnamon

1/4

teaspoon

ground nutmeg

1/4

teaspoon

ground cloves

1/4

teaspoon

allspice

1/4

teaspoon

salt

1/4

teaspoon

baking powder

1/4

teaspoon

baking soda

1/2

cup

unsalted butter

melted

6

Tablespoons

pumpkin purée

1/2

cup

granulated sugar

1/4

cup

firmly packed brown sugar

1

teaspoon

vanilla extract
Instructions
Preheat the oven to 350ºF. Spray a 9" springform pan (or pie plate) with nonstick spray. Set aside.

In a large bowl, whisk together the flour, salt, cinnamon, nutmeg, cloves, allspice, salt, baking powder, and baking soda. Set aside.

In a medium size bowl, whisk together the melted butter and pumpkin. Add both of the sugars and the vanilla extract and whisk again until smooth.

Pour the wet ingredients into the dry ingredients and stir with a large spatula until everything is incorporated. Pour batter into prepared pan and bake for 22-24 minutes, or until a toothpick inserted in the center comes out clean. Remove from oven and allow to cool completely before decorating.

When you are ready to decorate the cookie cake, prepare the frosting of your choosing. Decorate while cookie cake is inside or outside of the outer ring of the springform pan. Store leftovers covered tightly in the refrigerator up to 5 days.
Nutrition Disclosure
All nutritional values are approximate and provided to the reader as a courtesy. Changing ingredients and/or quantities will alter the estimated nutritional calculations.