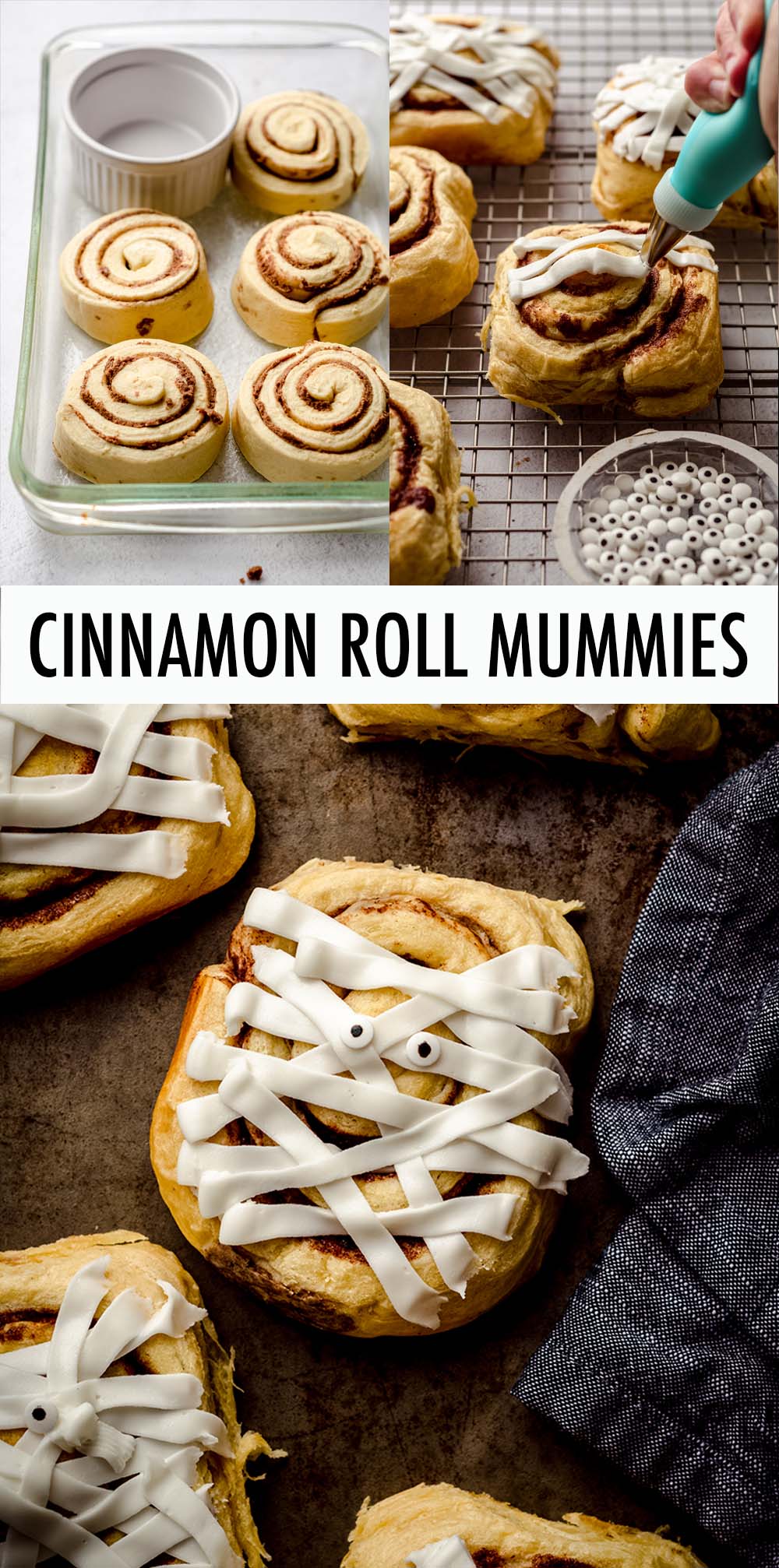 As an Amazon Associate, I earn from qualifying purchases. Read the full disclosure here.
Turn Halloween breakfast into a spooky surprise! Use pre-made cinnamon rolls and icing and candy eyeballs to turn traditional buns into mummies for a fun Halloween treat. Instructions included for making rolls and icing from scratch, if you prefer.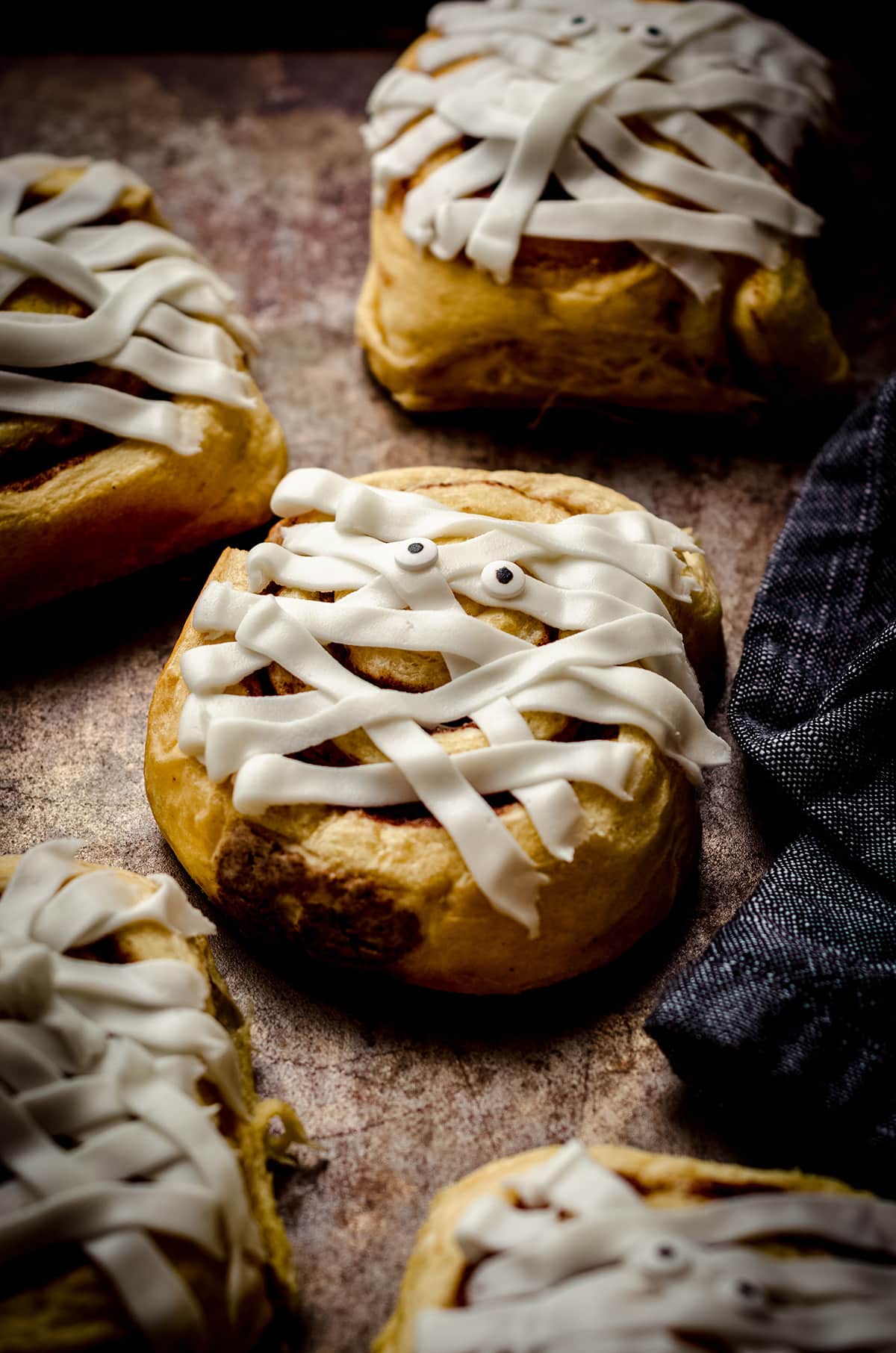 Welcome to 2022's #HalloweenTreatsWeek, a yearly Halloween blogging event hosted by Angie from Big Bear's Wife. This event is an online, week-long event that is filled with some amazingly wicked Halloween treats and recipes from some fantastic Halloween-loving bloggers!

For this year's 5th annual #HalloweenTreatsWeek event we have 20 hauntingly talented bloggers that are sharing their favorite Halloween recipes throughout the week. You can following the hashtag #HalloweenTreatsWeek on social media to collect all of these frightful recipes to use at your own Halloween parties and events!
Be sure to check out all of the fun Halloween recipes that we're sharing this week down by the recipe card!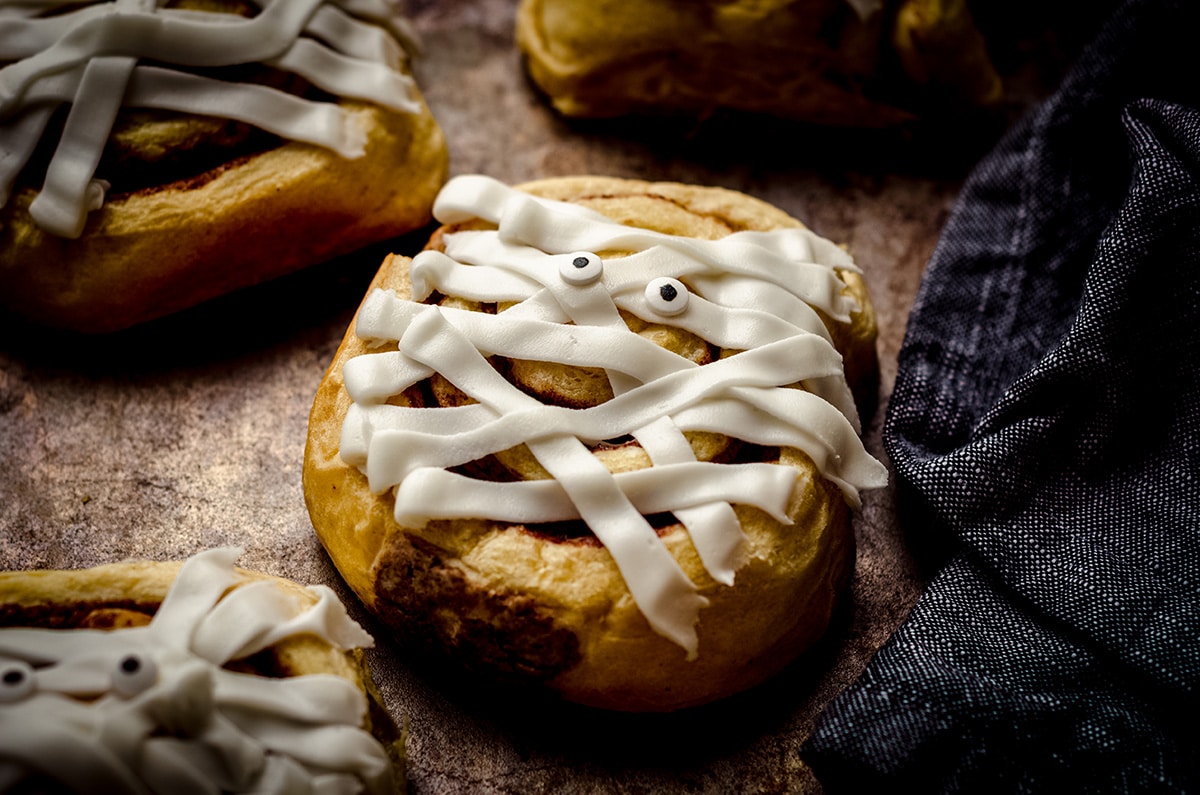 It's quite possible that mummies are my favorite "character" at Halloween. I am such a sucker for anything with eyeballs on them and I love that the haphazard design of mummy wraps allows for the creativity to just flow right out!
It's also great for kids since it doesn't have to be perfect, which mean I don't have to stand over them and micro-manage any specific look. I made that mistake with Christmas Oreos once. Never again!
While I always encourage scratch baking here at FAF, when it comes to charming treats that are also for "fun" and themed presentation, it's often you'll see me sharing many ways to get the job done, including a store-bought version.
Except Cool Whip. I will always tell you to make homemade whipped cream.
But like my Hocus Pocus spellbook brownies, I include my favorite recipe for my homemade brownie recipe, but it is totally ok to start with a box mix there.
And while I have a whole slew of roll/bun recipes here on my site, this is one of those times it's totally fine and acceptable to start with a tube of pre-made cinnamon rolls.
In fact, that's exactly what I did for these cinnamon roll mummies. And I have all the info for you to choose your own cinnamon roll base, so you can make the decision for yourself.
See recipe notes for all the different ways to approach these Halloween cinnamon rolls.
INGREDIENTS
For these simple cinnamon roll mummies, you'll need one can of pre-made cinnamon rolls, some powdered sugar to doctor up the pre-made icing, and some candy eyeballs.
That's it!
If you want to start with homemade cinnamon rolls, feel free to grab any of my favorite roll/bun recipes. Just keep in mind that this recipe here is catered to 5-6 cinnamon rolls, and some of my recipes (or maybe one of your favorite recipes) will make 12.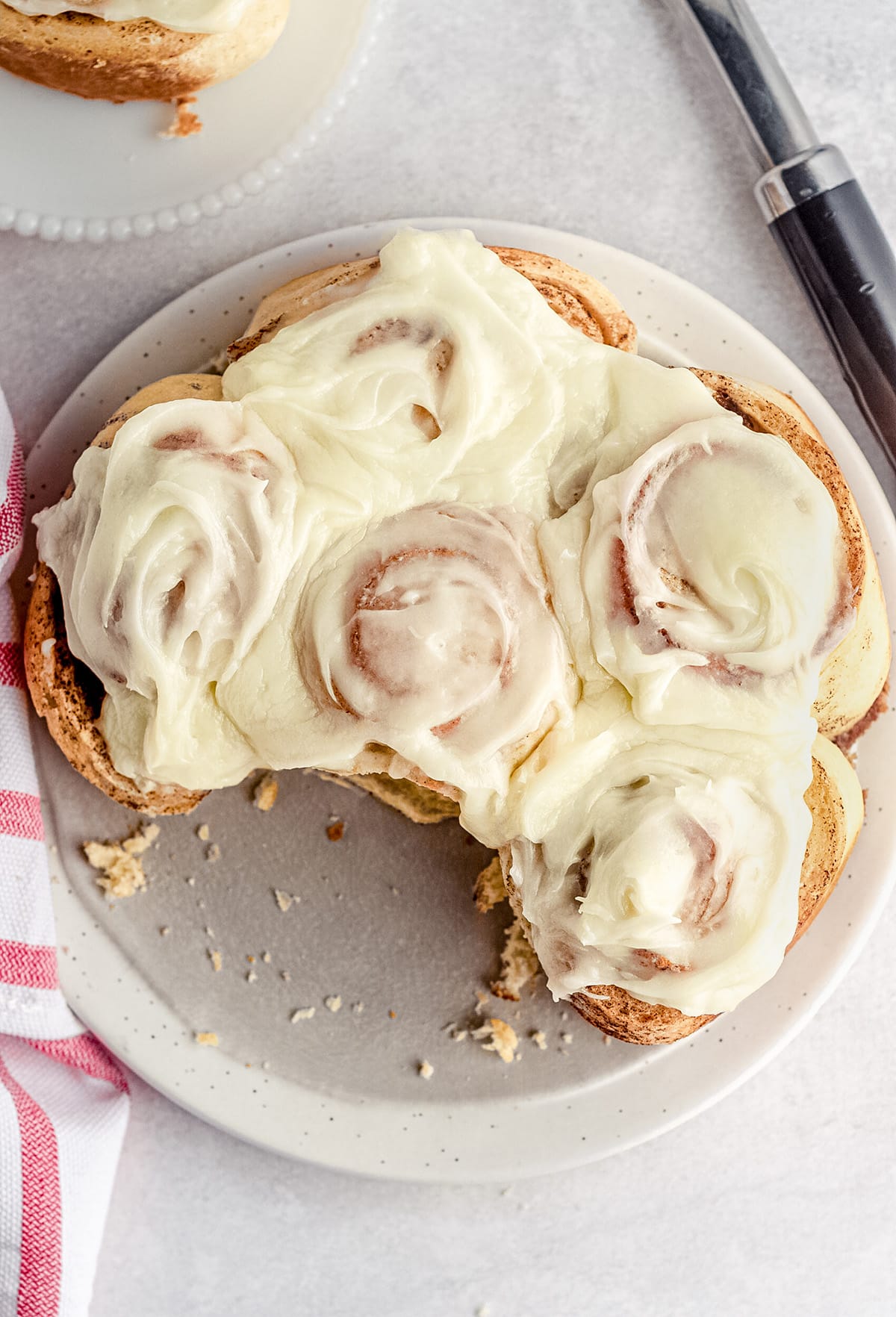 Do you have a sourdough starter? This is a great place to use my sourdough cinnamon roll recipe, but hey, pick your own poison. I also have traditional homemade cinnamon rolls (a small batch version as well as a mini cinnamon roll recipe!), coffee rolls and lemon poppy seed sweet rolls if you want to make these mummy cinnamon rolls something extra special!
BAKE THE ROLLS
Before turning your rolls into mummies, you have to bake them. Bake as instructed on the package or in the recipe of your choice.
If your rolls come with 5 rolls, you can do what I did and use a ramekin in the baking dish to make sure they're all uniform in shape.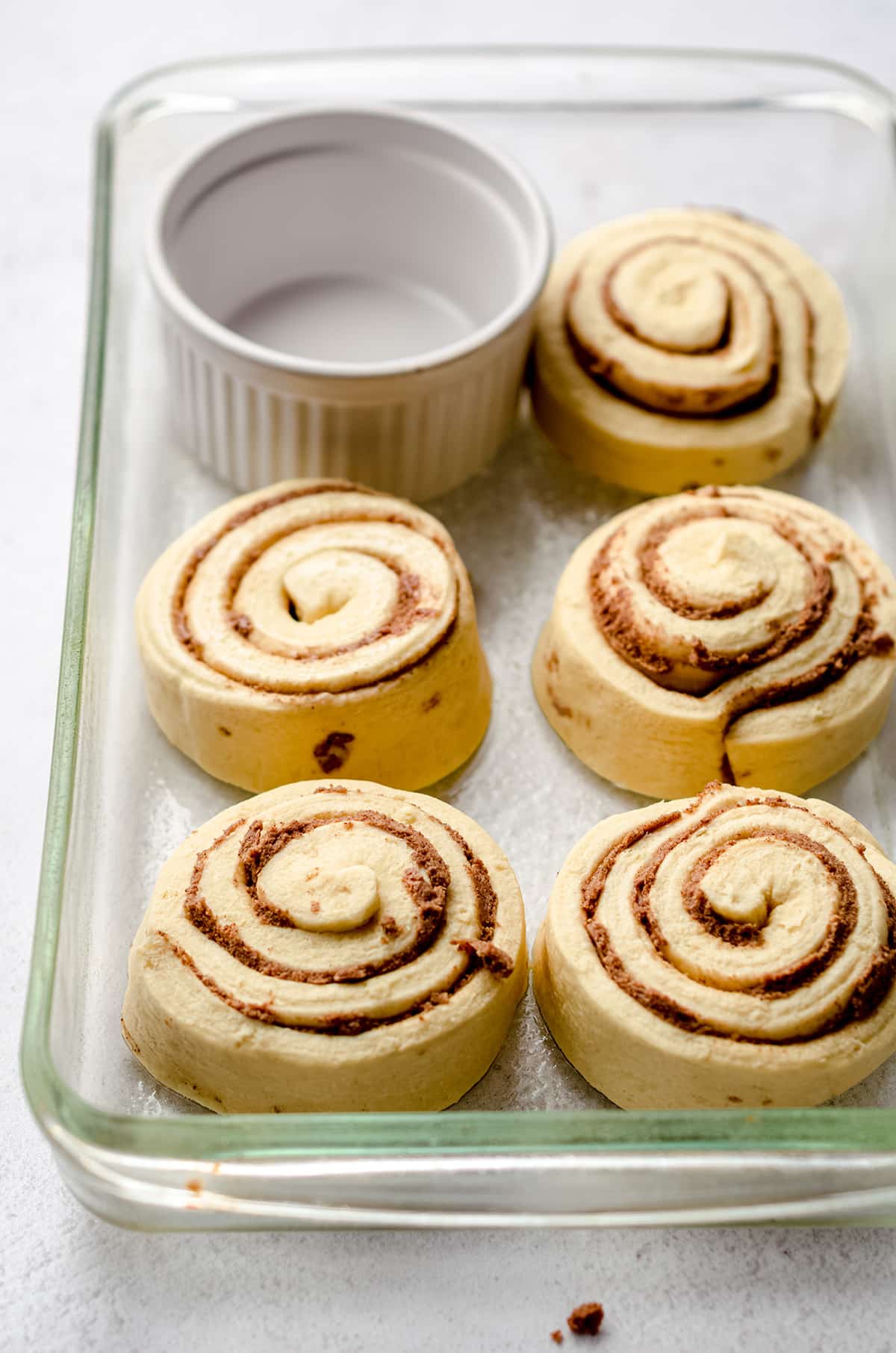 You can also do this in a round 8″ cake pan or pie plate, using the ramekin (or other round oven-safe item) to create the space. If you don't care if your mummies are uniform or slightly square, bake them however you please!
DOCTOR UP THE ICING
Once your rolls are baked, you're going to need to make the icing a little more "pipeable" and stiff than it typically comes.
Pour the icing into a bowl, then add ¼ cup of powdered sugar to thicken it up. You want to make sure it can still be piped, but that it will hold its shape when you add it to the top of each mummy.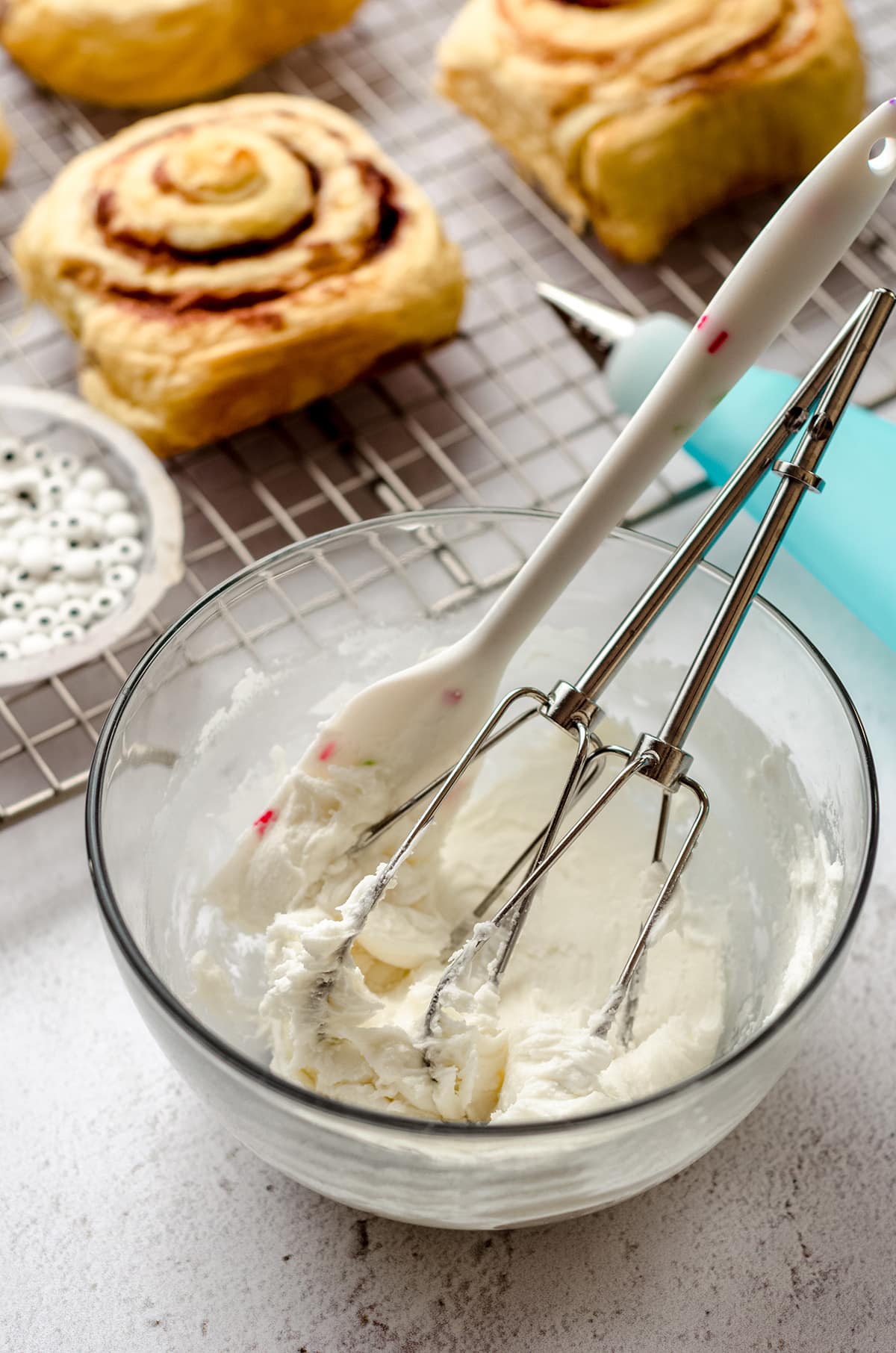 Once your icing is ready, fill a piping bag fitted with a basketweave piping tip. This is my preferred tip because it has a flat side, but you can absolutely get this done with any piping tip you prefer, or no tip at all.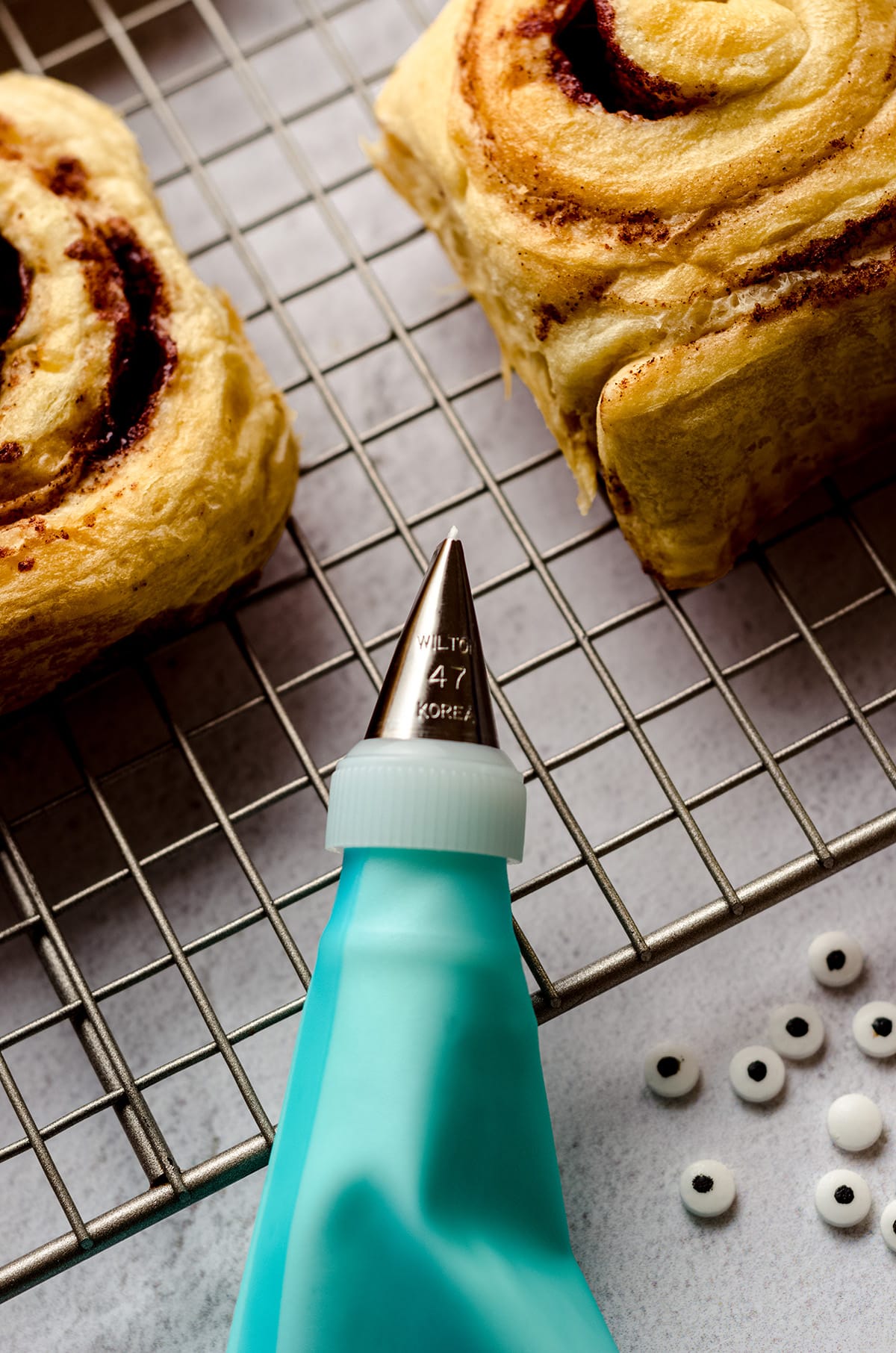 You essentially are just drawing lines of icing onto the cinnamon rolls, so they can be whatever you mummy-designing heart desires!
PIPE MUMMY WRAPS
Here's where you can just get really creative and go for any design you want– pipe haphazard lines all over the top of each cinnamon roll to make the mummy wraps, then place 2 candy eyes on some of the icing so they set when the icing dries.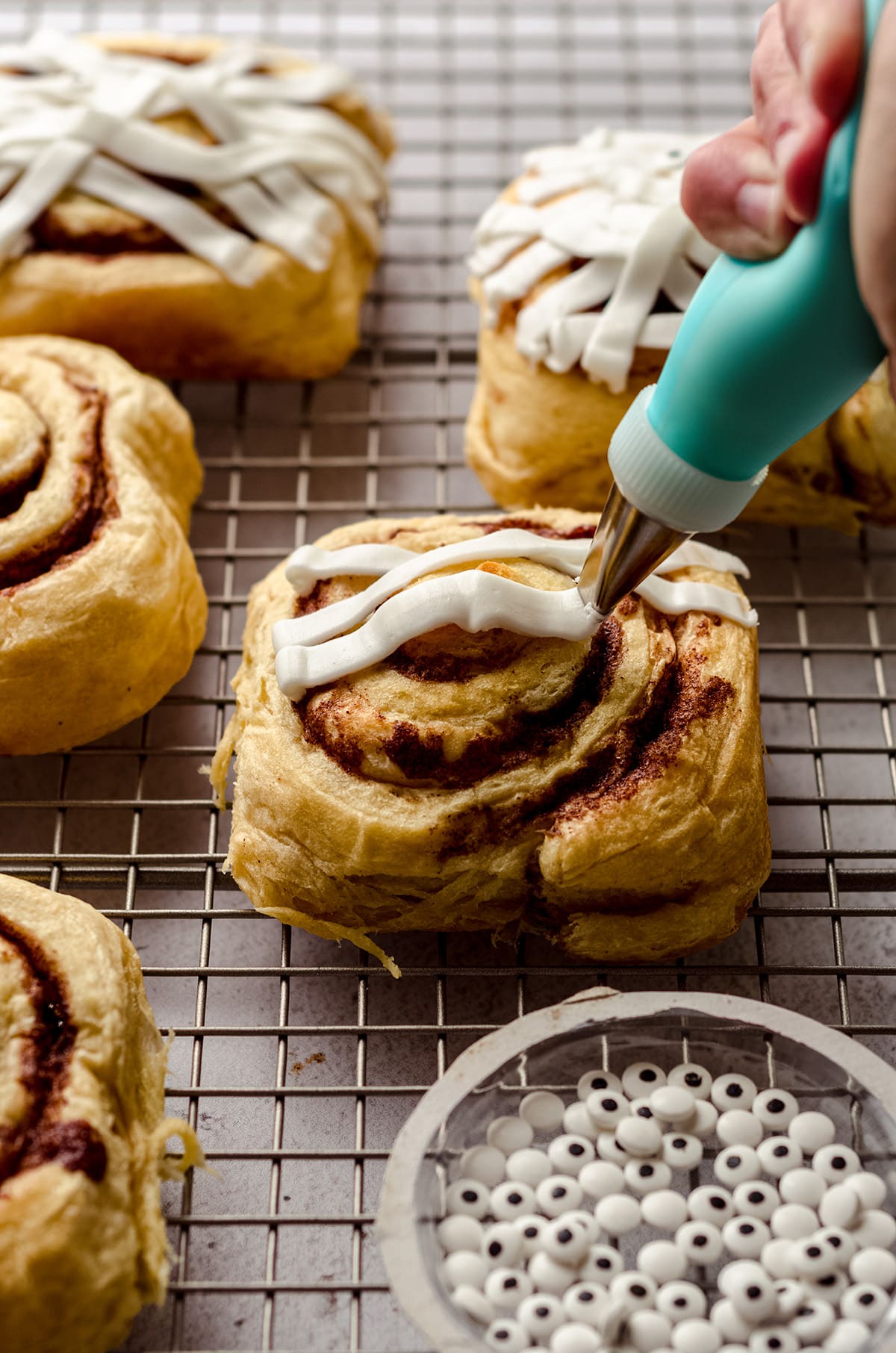 That's it. So simple!
I don't know about you, but I love me a batch of fluffy cinnamon rolls, and if they're all dolled up for Halloween, I like 'em even more. If you're anything like me, I think you're going to need these Halloween sweet rolls for your Halloween breakfast or as a sweet option in your Halloween party food.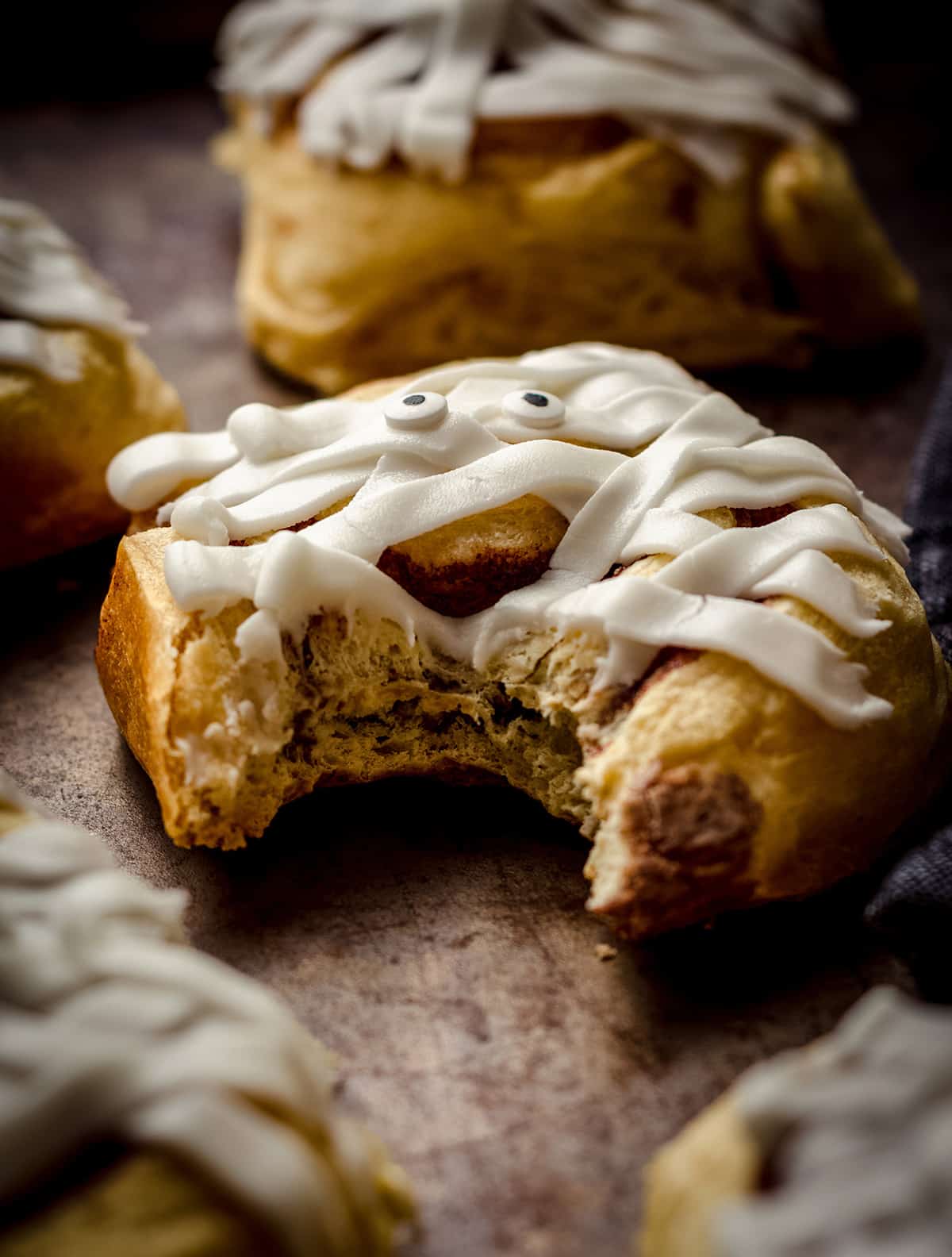 If you're looking for more fun Halloween treats, be sure to check out some of the recipes I have here: graveyard pudding cups, Rice Krispies brains, mummy brownies, and Hocus Pocus brownies.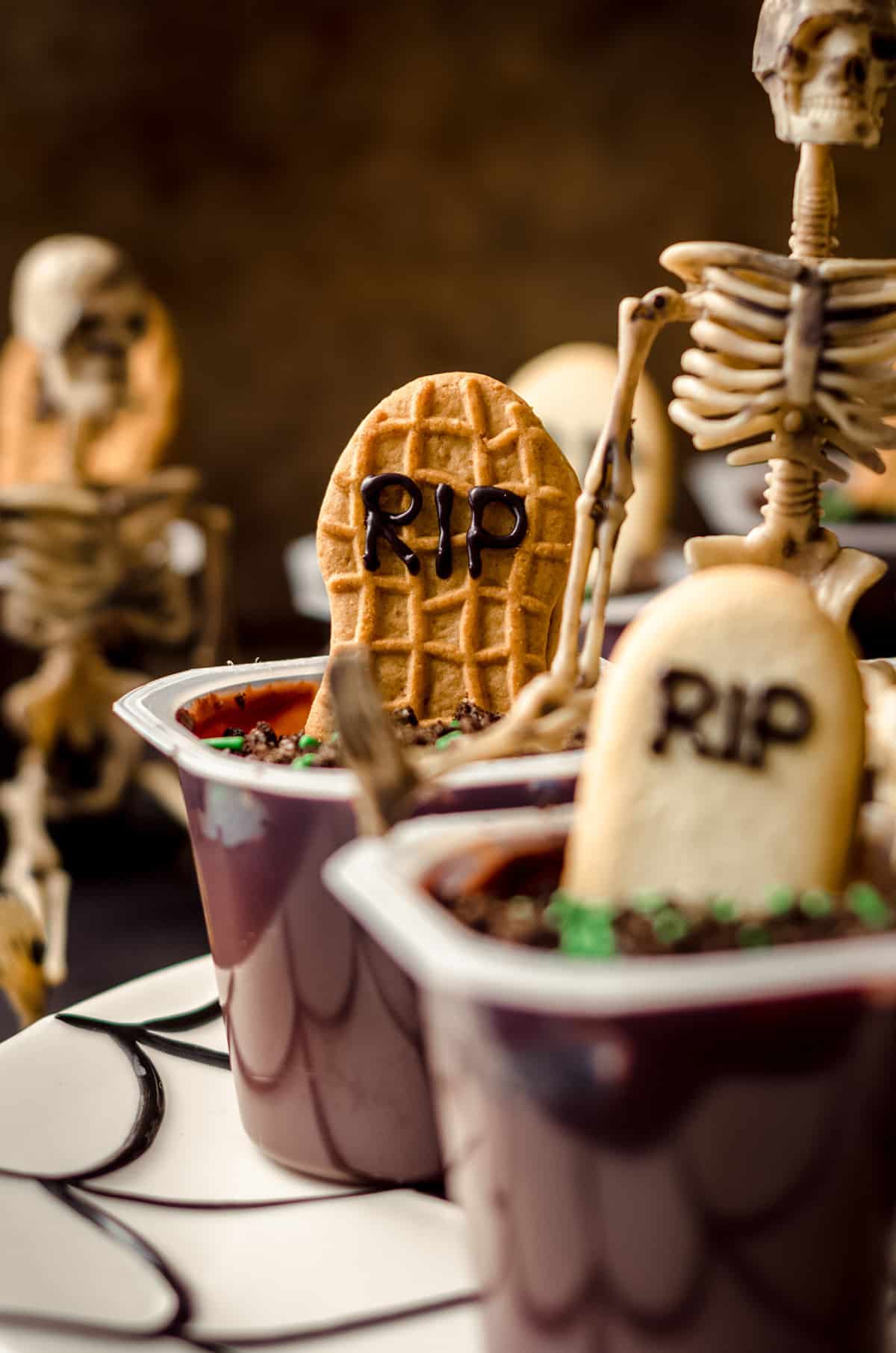 Check out all of today's great #HalloweenTreatsWeek recipes!
Mummy Cinnamon Rolls Recipe
Turn Halloween breakfast into a spooky surprise! Use pre-made cinnamon rolls and icing and candy eyeballs to turn traditional buns into mummies for a fun Halloween treat. Instructions included for making rolls and icing from scratch, if you prefer.
Ingredients
1

tube

pre-made cinnamon rolls1

1

container

pre-made cinnamon roll icing2

¼

cup

(30g) powdered sugar
Instructions
Bake the cinnamon rolls as directed on the tube or in the recipe. If you only have 5 rolls, you can use a ramekin or other round oven-safe item to keep a uniform shape for all of the rolls. Allow the rolls to cool completely before decorating.

When the rolls are cool, fit a piping bag with a basketweave tip (or use any tip you prefer– it can just be the tip of the bag, if you want!) and fill the bag with the cinnamon roll icing.

Pipe haphazard lines across each roll, being sure the jagged side is facing down, until most of the surface is covered but you can still see the cinnamon roll underneath. Add two candy eyeballs to each mummy, making sure you're placing it onto sticky icing to secure it in place. Enjoy immediately or allow icing to set before serving. Store rolls in an airtight container at room temperature up to 3 days. Rolls freeze well, up to 3 months. Thaw at room temperature.
Notes
Cinnamon rolls: you can use pre-made cinnamon rolls or you can make them from scratch with any of my bun/roll recipes. Just be aware this recipe assumes frosting for 5-6 rolls, so adjust your cinnamon roll recipe accordingly.
Icing: if you are going the pre-made cinnamon roll route, you will be doctoring up the icing that comes in the can. If you would like to make a cinnamon roll icing from scratch, blend together ¼ cup (57g) of softened unsalted butter, 1 cup (120g) of powdered sugar, ½ Tablespoon of milk or cream, ¼ teaspoon of vanilla extract, and a pinch of salt to make a basic icing.
Nutrition Disclosure
All nutritional values are approximate and provided to the reader as a courtesy. Changing ingredients and/or quantities will alter the estimated nutritional calculations.
Serving:
1
roll
|
Calories:
676
kcal
|
Carbohydrates:
107
g
|
Protein:
3
g
|
Fat:
27
g
|
Saturated Fat:
8
g
|
Polyunsaturated Fat:
7
g
|
Monounsaturated Fat:
4
g
|
Trans Fat:
1
g
|
Cholesterol:
0.3
mg
|
Sodium:
699
mg
|
Potassium:
32
mg
|
Fiber:
0.1
g
|
Sugar:
81
g
|
Vitamin A:
4
IU
|
Vitamin C:
0.01
mg
|
Calcium:
5
mg
|
Iron:
1
mg