Lemon Pepper Slice & Bake Cookies

As an Amazon Associate, I earn from qualifying purchases. Read the full disclosure here.
Sweet and tart lemon cookies, spiced with a hint of black pepper, and textured with crunchy cornmeal.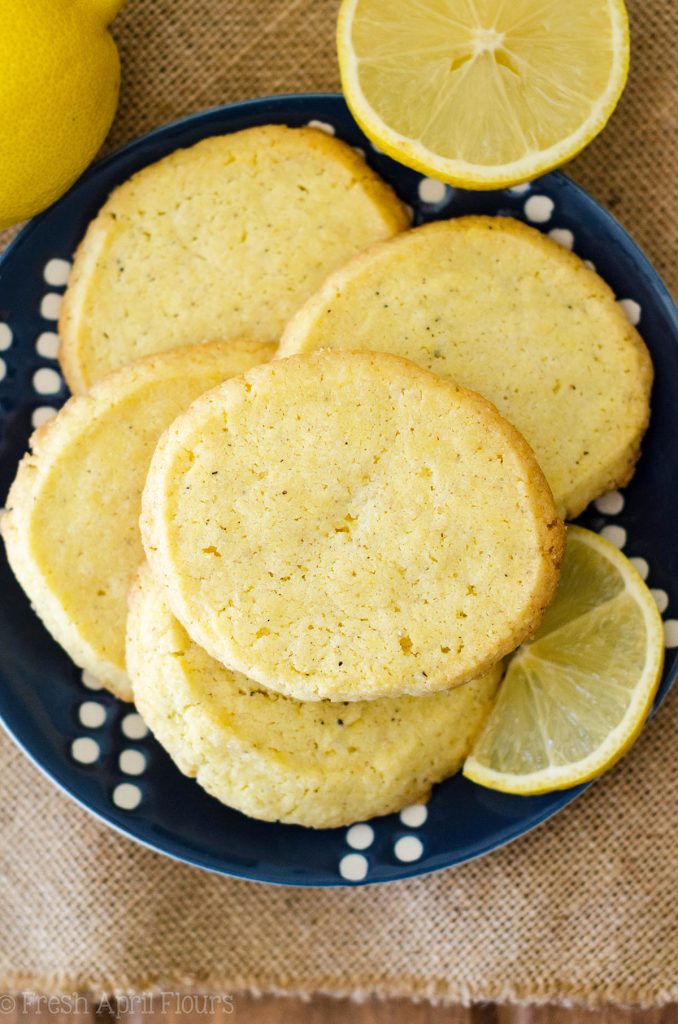 I have said it before and I will say it again, probably a hundred more times– this food blogging gig of mine is, by far, the best hobby-turned-side-job I ever could have picked.
I have met dozens of people, some in real life, some just on the internets, worked with brands I could have only ever dreamed of working with, and have interacted with so many readers via email, IG, and Facebook that my heart is so full of sugar-coated love.
It really is so rewarding to sit down at my computer every evening, tired from my full-time job and chasing after my toddler, to find comments about how wonderful this cookie recipe was or how much someone's officemates loved these red velvet cupcakes, OR how my breakfast casserole fed a group of hungry teenagers in a pinch and saved the day.
I mean… Come on. My kitchen adventures can be pretty awesome sometimes, and I thank you all for sharing that with me daily.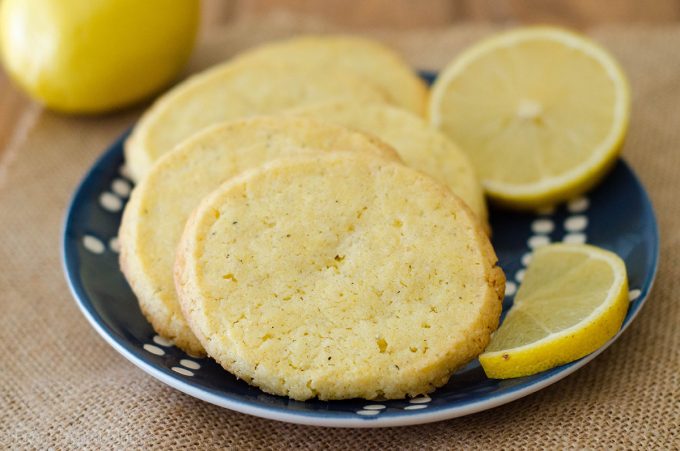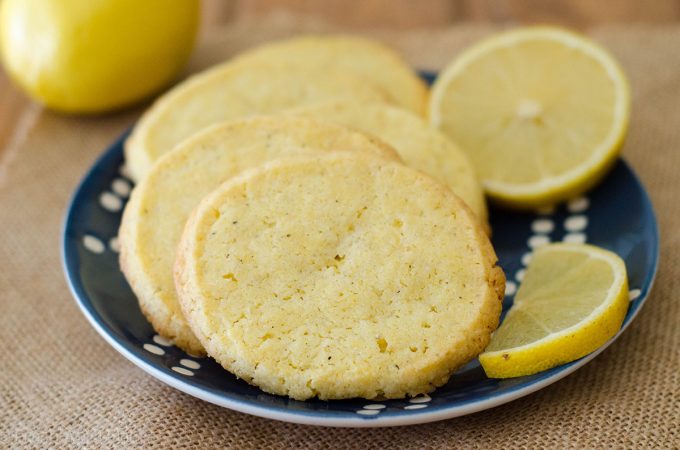 This recipe comes to you from 2 of my favorite worlds of blogging:
1) working with amazing brands and
2) interacting with readers via email.
Regarding the first one, you've seen these guys before. My friends at Rodelle are here with their fabulous lemon extract AND a sweet holiday giveaway just for you (one lucky reader)!
We've worked together before on tasty summer muffins, celebratory cookies, and sweet heat cookies, so we're keeping the trend going with one strangely delightful cookie that has black pepper in it that isn't a gingerbread cookie.
How about that for another installment in our 12 Days of Christmas Cookies?
Now about that second part of why I love this recipe today… This recipe comes from LeaAnn, a reader who mentioned on one of my posts last year that her favorite cookie was a lemon pepper cookie from her childhood.
I said… A WHAT?! Email me ASAP because I NEED THIS COOKIE RECIPE.
She emailed me the recipe over a year ago, and it was sitting in my inbox just waiting for the right time to find its way to my oven. And then when Rodelle came to me about their 2017 cookie party and were looking for someone to use lemon extract, I jumped on the chance to combine the two.
And all was right with the world.
So this cookie recipe is something a little different for me. It's a slice and bake cookie, so we're not going to be rolling any dough into balls, and we are going to be using a very large knife. I promise, this is going delicious places.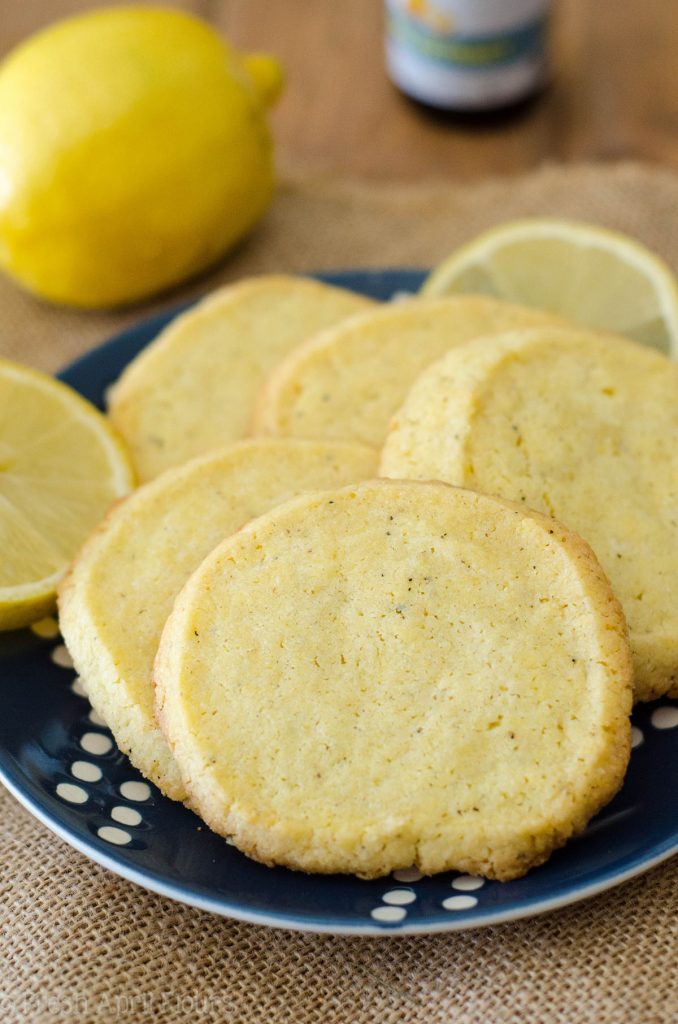 The original recipe that LeaAnn sent me is pretty much intact. I just made a few tweaks such as adding in some lemon extract, putting an actual measurement on the salt, and baking the cookies on parchment paper instead of my usual silicone baking mat.
Because when I did that… All melty hell broke loose. That's why I always test one or two cookies at a time before baking a whole tray! Muuuuuch safer that way. There's a BIG HUGE note about that one in the recipe.
Since these are slice and bake cookies, you'll be bringing your dough together, which will be slightly crumbly and messy, and forming it into two logs about 6-7″ long. These logs will need to chill at least 4 hours, but if we're being completely honest, overnight makes me feel much better. Go with that if you have the time!
You'll slice the logs into approximately 1/4″ to 1/2″ thick slices, giving you about 12 slices from each log. No rolling! Easy peasy, lemon (extract) squeezy.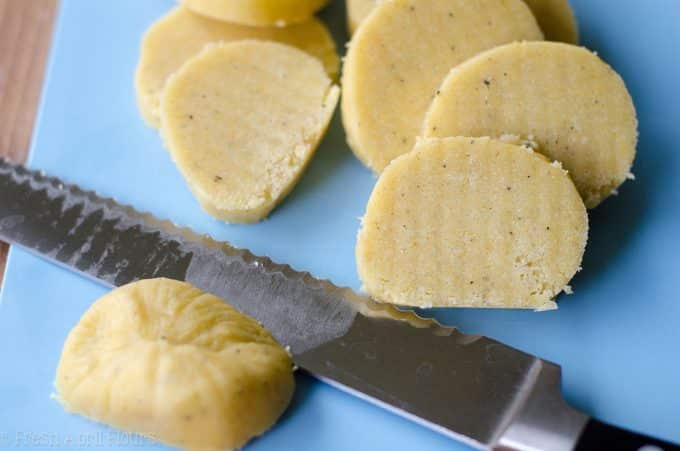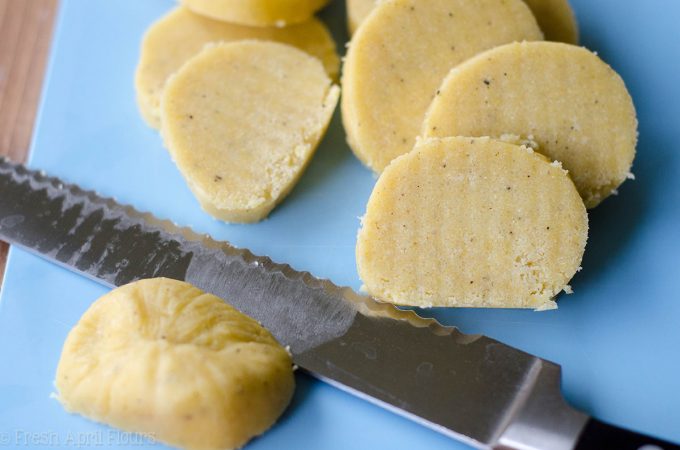 Now that we have the method out on the table, let's talk about the ingredients. You'll see strange ones like cornmeal and black pepper, and you'll probably wonder "what the heck are those two ingredients doing in my cookies?"
They're making magic, dear cookie baker. Magic.
I was incredibly skeptical of these cookies, but I went with it, because LeaAnn promised me these cookies were to die for. And she was absolutely right. They are heavenly.
We served these at both of the Thanksgiving meals we had, and everyone went nutso over them. People couldn't stop coming back for that intriguing crunch, the sweet and tart lemon, and the black pepper that sits ever so softly in the back of your mouth reminding you that it's there and that it makes a really cool complement to the rest of the cookie.
Seriously, so cool. And, most importantly… The toddler met these cookies with a big ole "mmmmm" and lots of signs for "more please."
The lemon extract? It totally seals the lemony deal, combined with lots of lemon zest. I was hesitant to add any lemon juice because I didn't want to mess with the moisture of the dough and screw up the slicing aspect of them.
The lemon extract was perfect for adding lots of lemon flavor without adding much liquid, keeping LeaAnn's recipe intact while adding some FAF flair.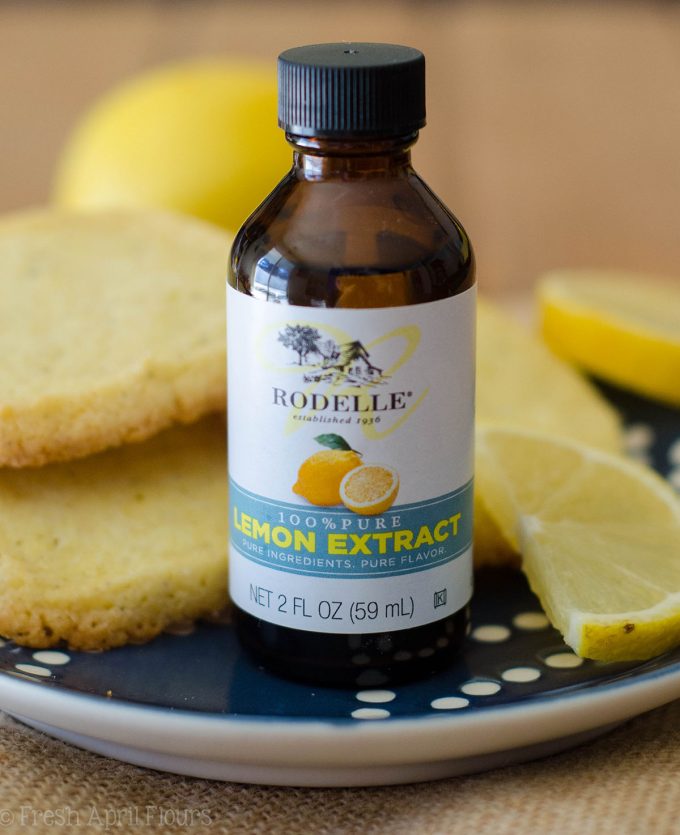 Seeing now why I love this part of my job?
Now, the very best part of this cookie recipe… Giving away a goodie box to one lucky reader!
What you will win
A bottle of lemon extract (so you can make these cookies!) and a few other goodies directly from my friends at Rodelle!
How to enter
Simply leave a comment on the blog post telling me your favorite thing about the holidays (foods, traditions, events, etc)!
Details
This giveaway is open to the US and Canada and ends at 11:59pm EST on December 12th
Psssst!
Don't forget to check out the rest of the cookies some of my fellow Rodelle bloggers made this year! Click the Rodelle icon below to see the whole collection!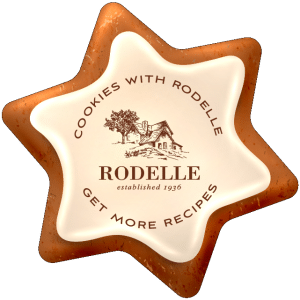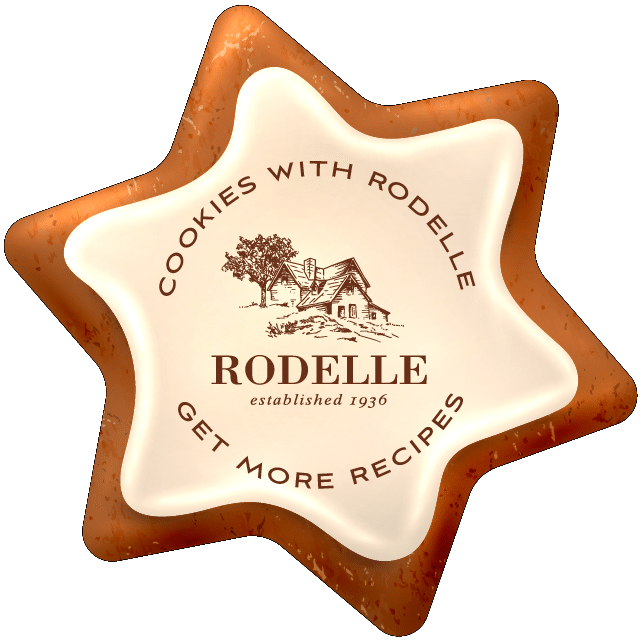 Lemon Pepper Slice & Bake Cookies
Sweet and tart lemon cookies, spiced with a hint of black pepper, and textured with crunchy cornmeal.
Servings:
2
dozen cookies
Ingredients
1 and 1/4

cup

all purpose flour

be sure to measure properly

1

cup

ground cornmeal

3/4

teaspoon

coarse ground black pepper

1/4

teaspoon

salt

1

cup

(2 sticks) unsalted butter

softened to room temperature

1

cup

granulated sugar

zest of one lemon

1

teaspoon

Rodelle lemon extract

2

large egg yolks
Instructions
In a medium size bowl, whisk together the flour, cornmeal, black pepper and salt. Set aside.

In a large bowl with a handheld mixer or the bowl of a stand mixer fitted with the paddle attachment, beat the butter, sugar, lemon zest, and lemon extarct on medium-high speed until light and fluffy (about 2-3 minutes). Add the egg yolks and beat again to combine.

Reduce mixer speed to low and add the flour mixture and beat until just blended. Dough will be very crumbly.

Lay out two sheets of plastic wrap.

With floured hands, press dough together and divide in half. Form dough into two 6″ long logs and wrap very tightly in each sheet of plastic wrap. Chill in the refrigerator at least 4 hours, preferably overnight.

When you are ready to bake the cookies, preheat the oven to 400ºF. Line two large baking sheets with parchment paper. Do not use silicone baking sheets. Set aside.

Cut cookie logs into 1/4″ to 1/2″ rounds and bake 11-12 minutes or until edges are just turning golden brown. Allow to cool on baking sheet about 5 minutes before transferring to a wire cooling rack to cool completely. Leftovers stay fresh covered tightly at room temperature up to 1 week. Logs may be frozen, wrapped tightly, up to 3 months. Thaw in refrigerator overnight and proceed with baking as directed.
Nutrition Disclosure
All nutritional values are approximate and provided to the reader as a courtesy. Changing ingredients and/or quantities will alter the estimated nutritional calculations.