As an Amazon Associate I earn from qualifying purchases.
A cheesy quiche loaded with veggies, baked in a low-carb, gluten free, and deliciously seasoned cauliflower crust.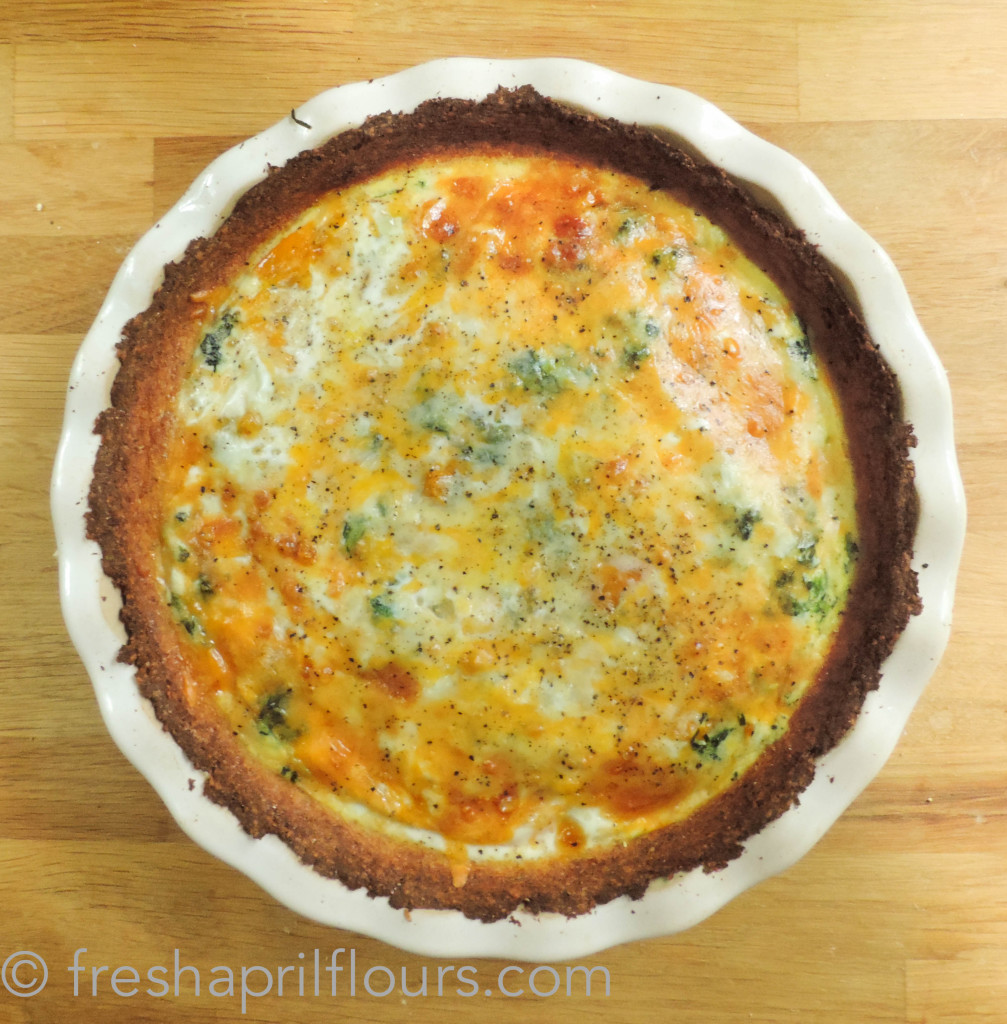 I have been D.Y.I.N.G. to try out this cauliflower pizza crust I've seen all over the place. Being a baker, my brain is constantly thinking in recipes– my Safari bookmarks, notes in my iPhone, and scribbles in the margins of my calendar are filled to the brim with recipe titles and ideas (real life Pinterest, over here).
My brain is also constantly thinking in indoor cycling songs, but that's a completely different problem I have.
I subscribe to about 10 different food blogs, and I get an email whenever one of them updates (which you can do with mine in the top right of the sidebar!), so I always have new ideas waiting for me when I wake up and throughout the day. Although cauliflower pizza crust wasn't one that came in through that particular platform, it's still been on my mind for probably about a month.
When I got an email that Sally posted a crustless vegetable quiche, a lightbulb went off, angels started singing, and I'm pretty sure scribbling in the margins on a work instruction ensued immediately. It was the perfect marriage of healthy meets delicious! Not only that, but I adore savory breakfast.
Give me sausage, egg, and cheese on a biscuit or an everything bagel, you can keep your pastries and French toast.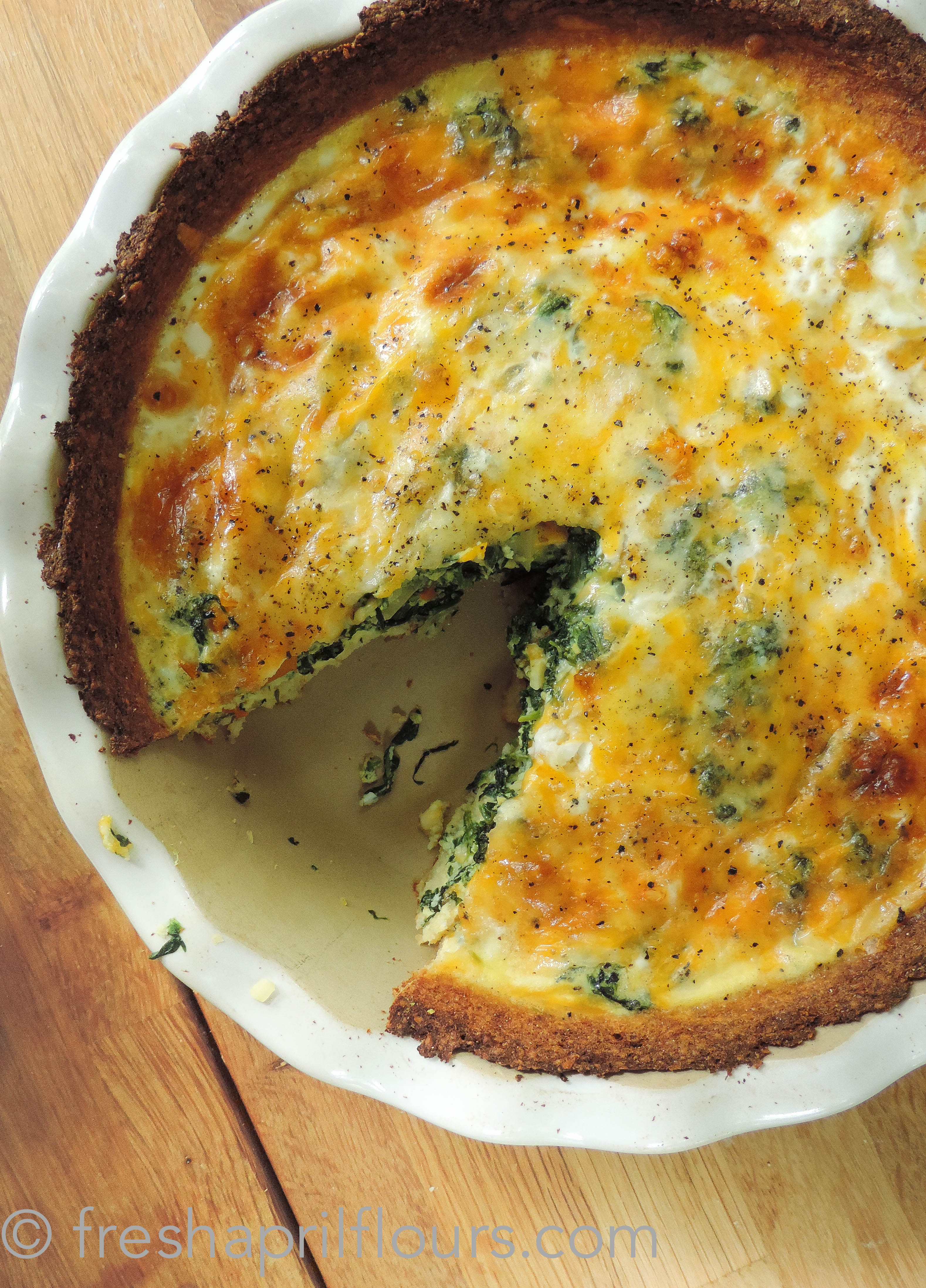 If you aren't interested in the cauliflower crust, you may certainly bake this in a store bough pie crust, my favorite homemade pie crust, or go with Sally's method and leave it crustless. You better believe I will be trying the latter two methods at some point, because this quiche recipe is deeeeelicious.
Just skip the part about the crust and head over to the guts and glory, but if I were you, I would give this a try. It really surprised me, not only that it was fairly easy to make, but that it gave a really good flavor and texture to the quiche overall.
WHAT YOU NEED FOR A GREAT CAULIFLOWER CRUST
All you need for the crust is
•a large head of cauliflower
•some grated Parmesan
•an egg
•and some spices
Good news– you need all of that (minus the cauliflower) for the quiche, so you might as well go all out and try something new.
You're going to cut up your cauliflower, removing all of the stems and working with just the florets, and pulse all of it in your food processor (this
is ours) until it resembles cornmeal (I did mine in two batches so I didn't overload my food processor).
After processing, you should have about 2 cups of "cauli-flour" (I crack myself up).
Throw this mixture into a microwave safe container, and cook it in the microwave for 5 minutes (no need to add water).
After it's done cooking, try to get over the fact that it smells like you-know-what, and let it cool for at least 10 minutes.
Trust me, you don't want to leave this part out, because the next step involves squeezing out all of the excess water, and you don't want hot lava pouring down your hands and arms (not that I know this from experience, I am super patient and totally waited the entire 10 minutes before I started squeezing…).
While you're waiting, blend your cheese, egg, and spices, and maybe start chopping up the vegetables for the quiche filling.
SQUEEZE OUT ALL THE MOISTURE
Once your cauli-flour is cool, ball it up in a strong kitchen towel and squeeze like you've never squeezed before. There will be a ton of water in that bad boy… Seriously, a ton. And when you think you're finally done squeezing, squeeze some more, because you're not. You want absolutely zero liquid left in your cauli-flour.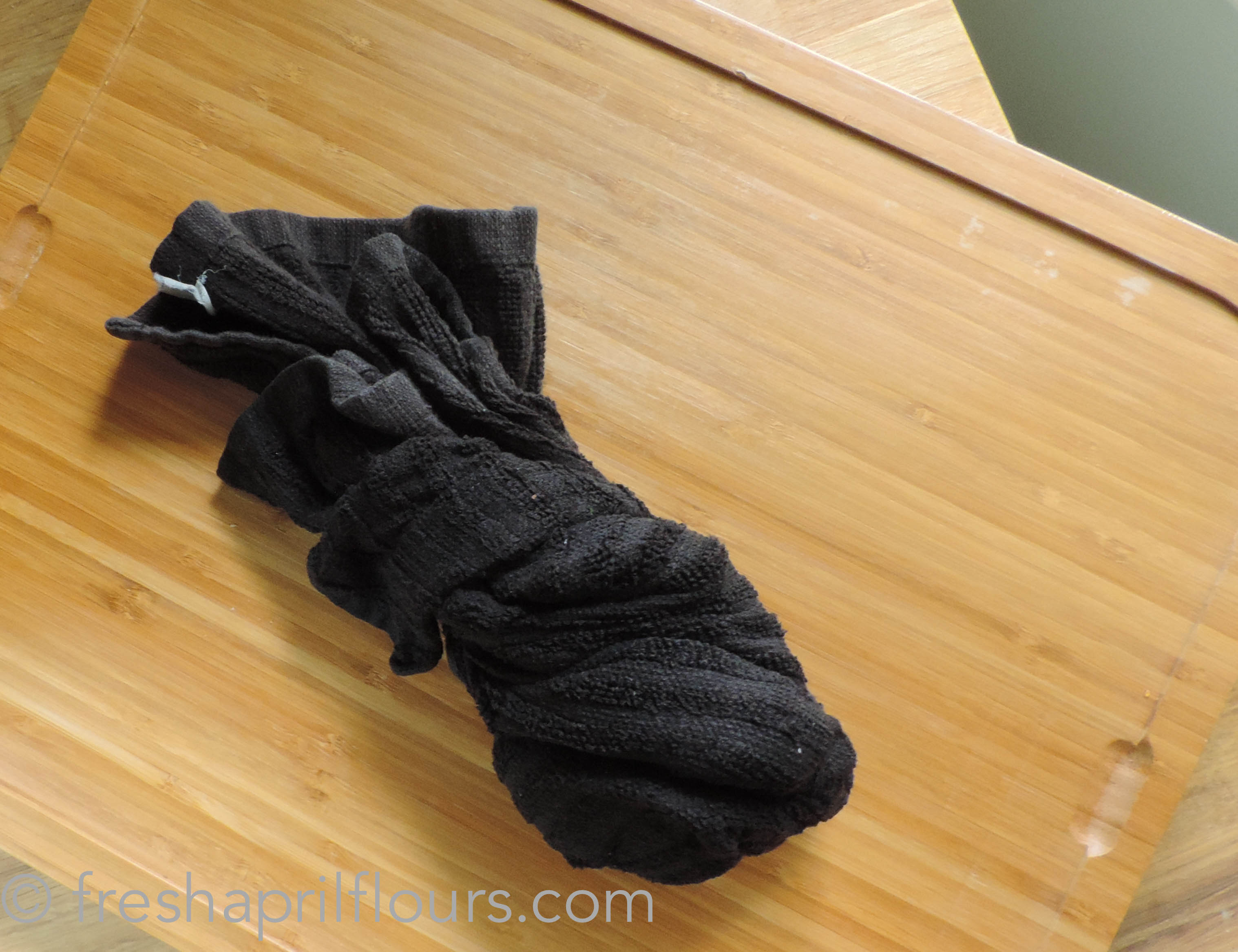 Once it's all dried up, throw it in with your egg mixture and get your hands in there to mix it all together. From there, you can sort of flatten it and put it right into your pie dish, spreading it out evenly like you would a pie crust.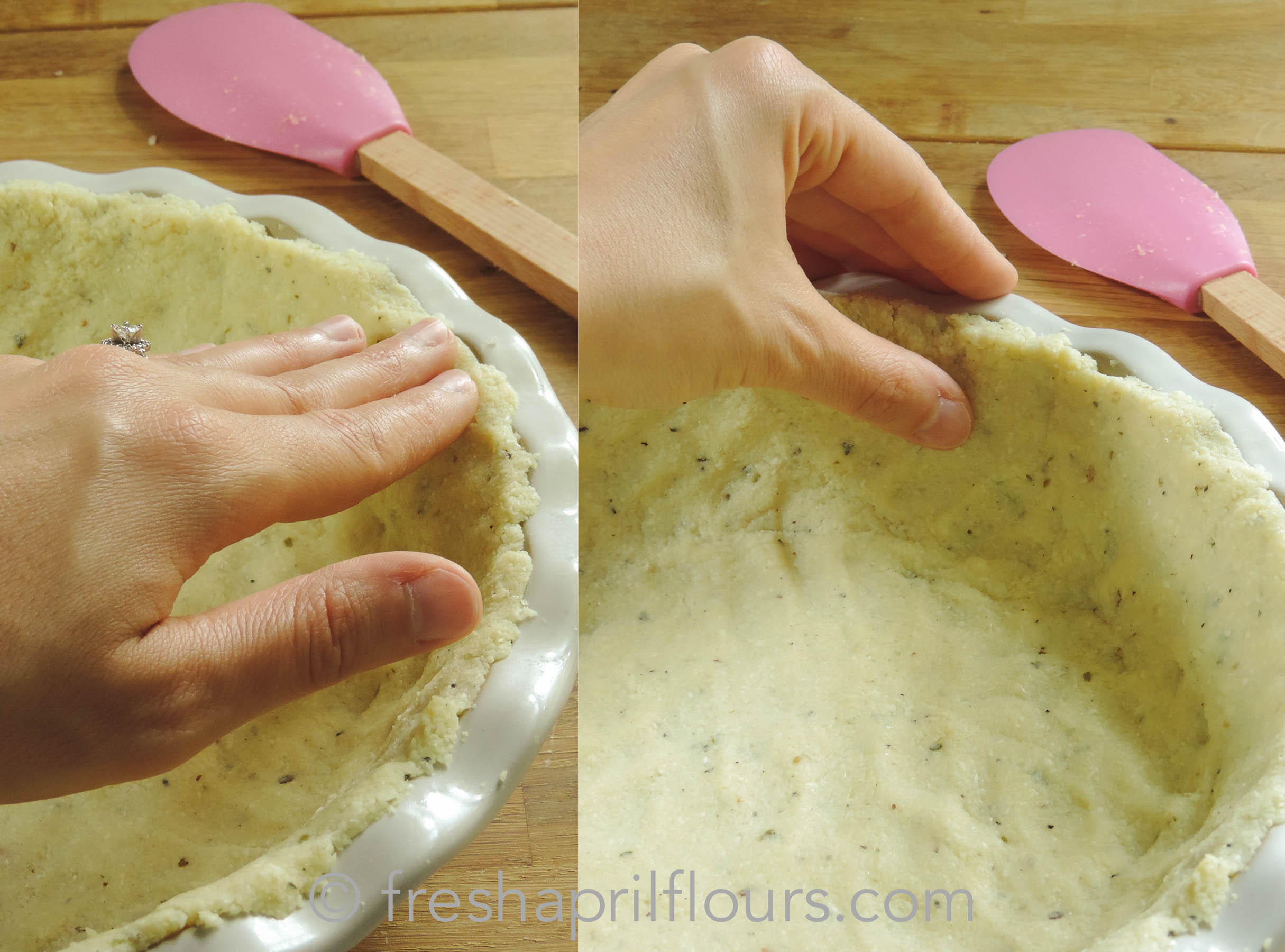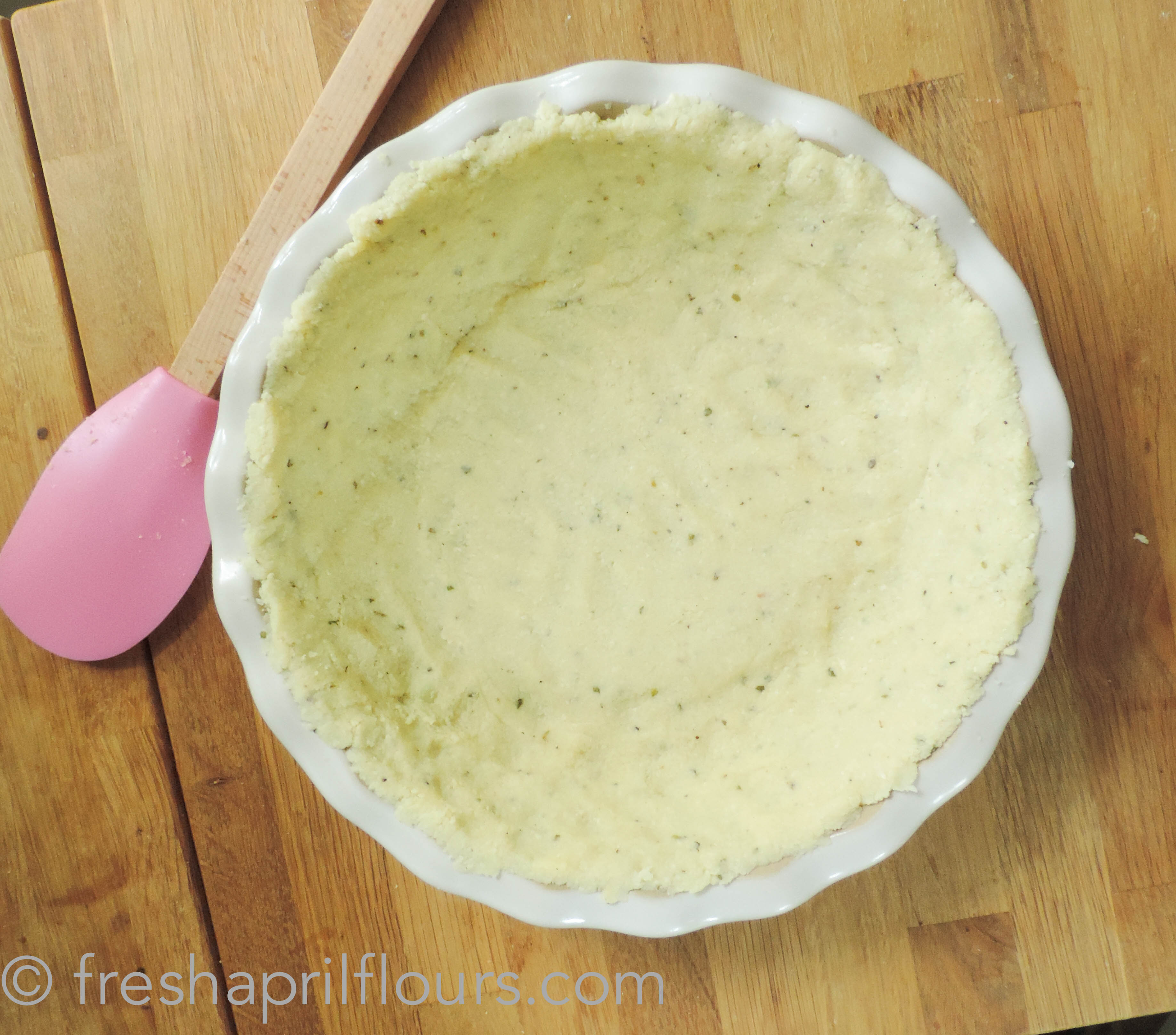 Once it's all in, bake it for about 15-20 minutes, or until the edges brown and the overall color is browning as well.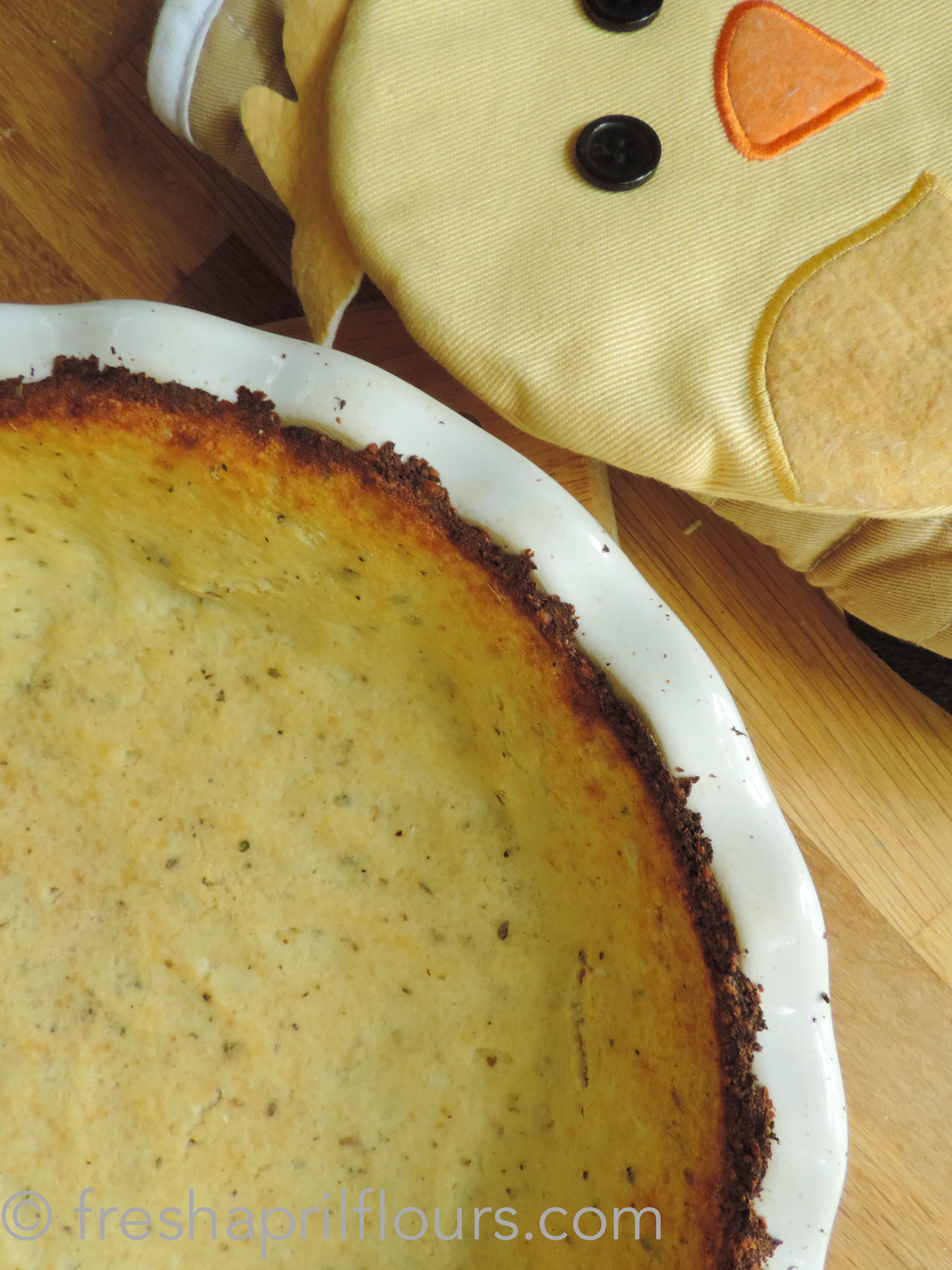 While my crust baked, I started to sautée my vegetables (seasoned with a pinch of salt and pepper).
ALL THE VEGGIES!
For this recipe, I used frozen chopped spinach. I went this route because
1) it's easier than sweating down a bunch of spinach
2) it's already chopped and
3) it comes in a 10oz block which was the perfect amount I needed for my quiche.
No measuring!
Just make sure that once your spinach is defrosted, you squeeze out the water just like you did with your cauli-flour (again, make sure it's cool enough for you to do so if you thawed it in the microwave).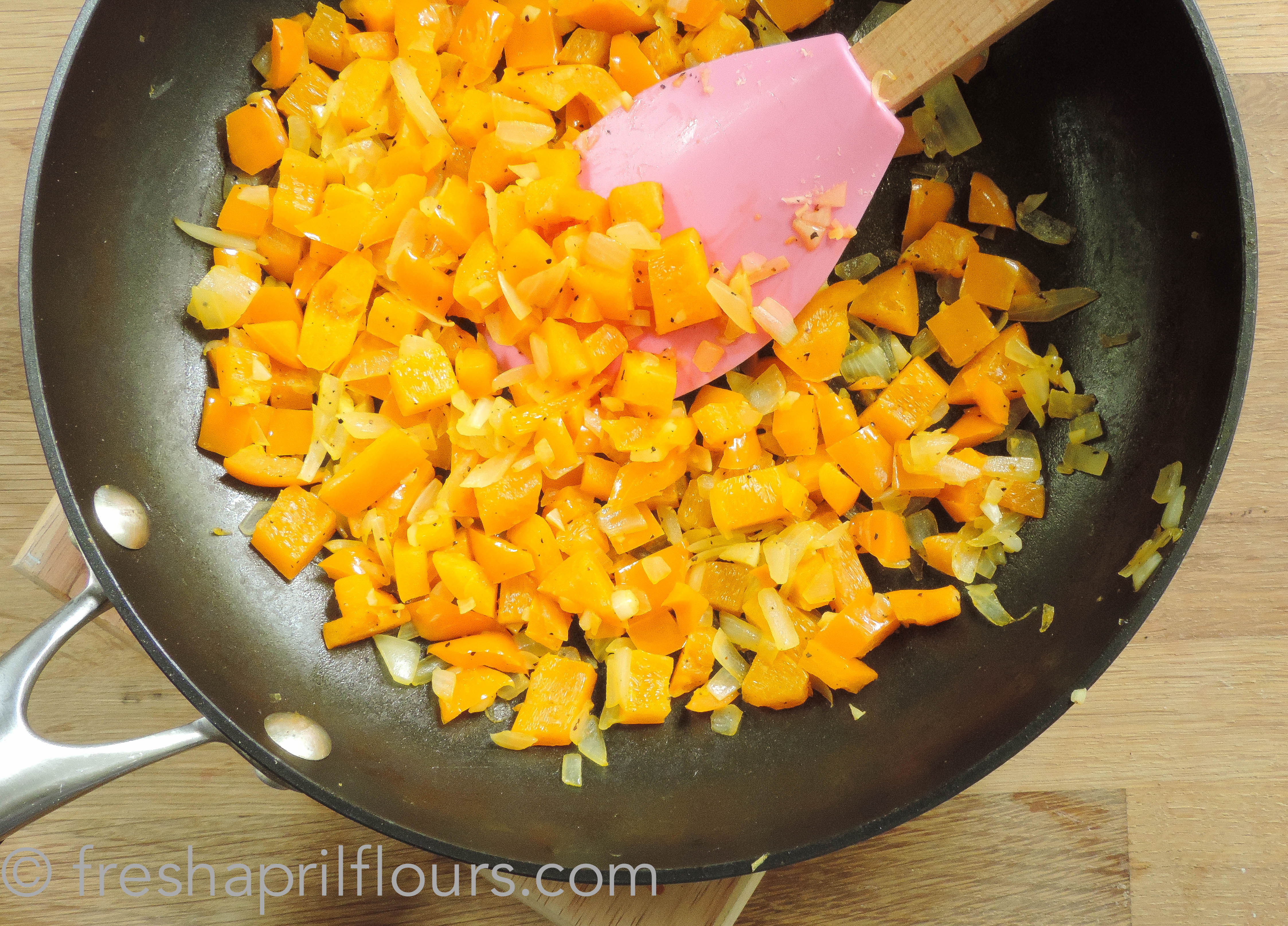 After all of my vegetables were cooked, I made a spinach and vegetable mixture (that was just beautiful, might I add), layered it in the bottom of my baked crust, and sprinkled my cheese right on top of that layer.
For my cheese, I shredded my own off the block and used a creamy blend of reduced fat sharp cheddar and Monterey Jack.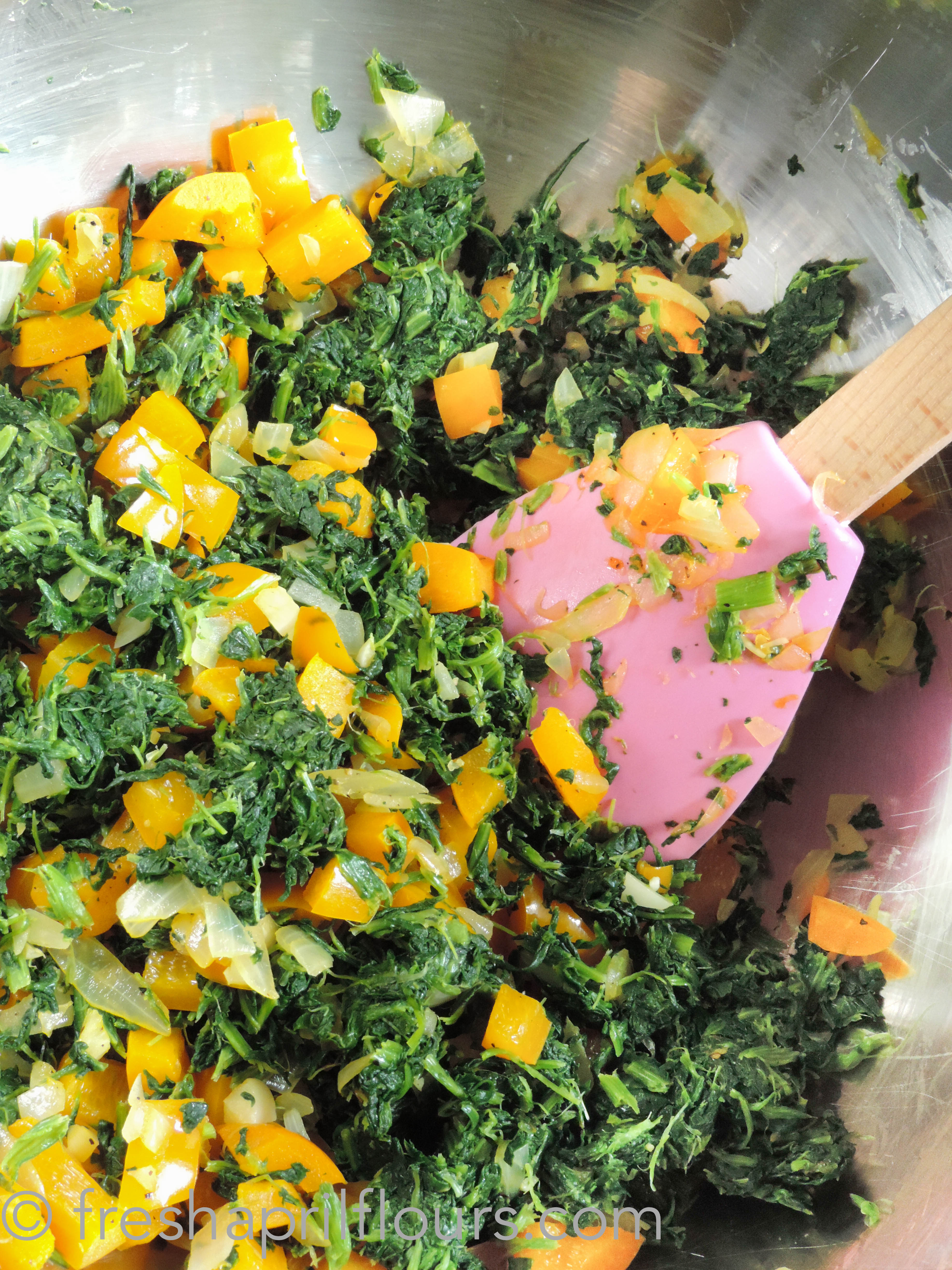 The eggs, milk, salt, and pepper get whisked together in a bowl and then evenly poured on top of the cheese mixture.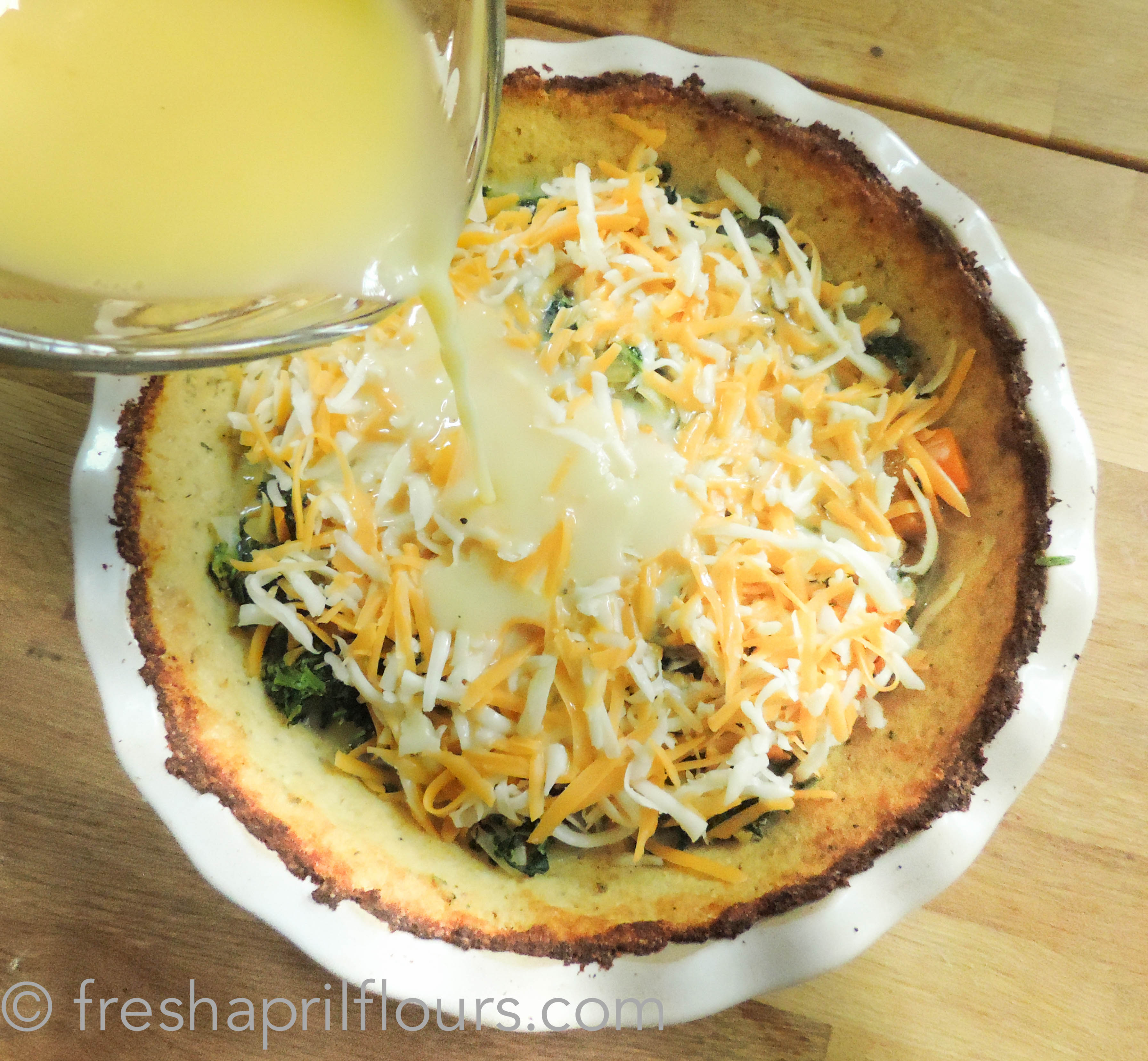 Once that's all distributed, a sprinkle of grated Parm tops off the dish, and it's ready for the oven! Some freshly ground black pepper added to the top adds some flecks of texture when it's finished.
Although we dug right in once it was finished baking, we found the best taste to be after it had settled a bit in the fridge. The flavors marinated together better and, surprisingly, the crust got crustier.
PERFECT FOR ANY MEAL
This quiche is the perfect breakfast, although if we're being honest, I had it for lunch AND dinner the day I made it, and we polished off the remainder of it for dinner with my brother-in-law the next day… Oopsies.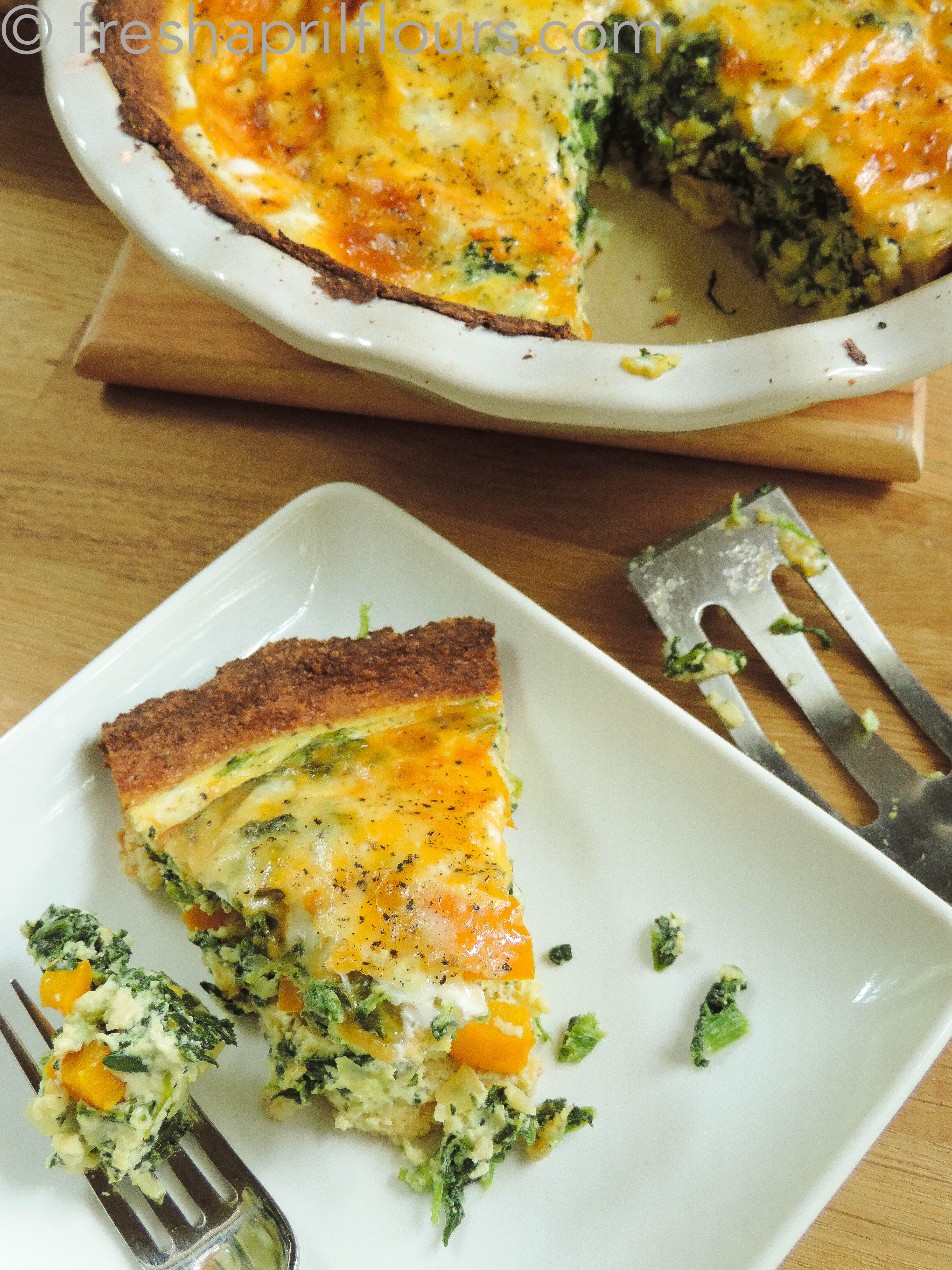 The quiche itself is perfectly cheesy, speckled with sweet vegetables, and blends nicely with the boldly seasoned cauliflower crust (which my brother-in-law said he could tell was different, but wasn't exactly sure in what way, and still delicious).
Change up your vegetables, play around with your cheeses, but certainly do not be intimidated by this "crust." It might surprise you and your next breakfast guests!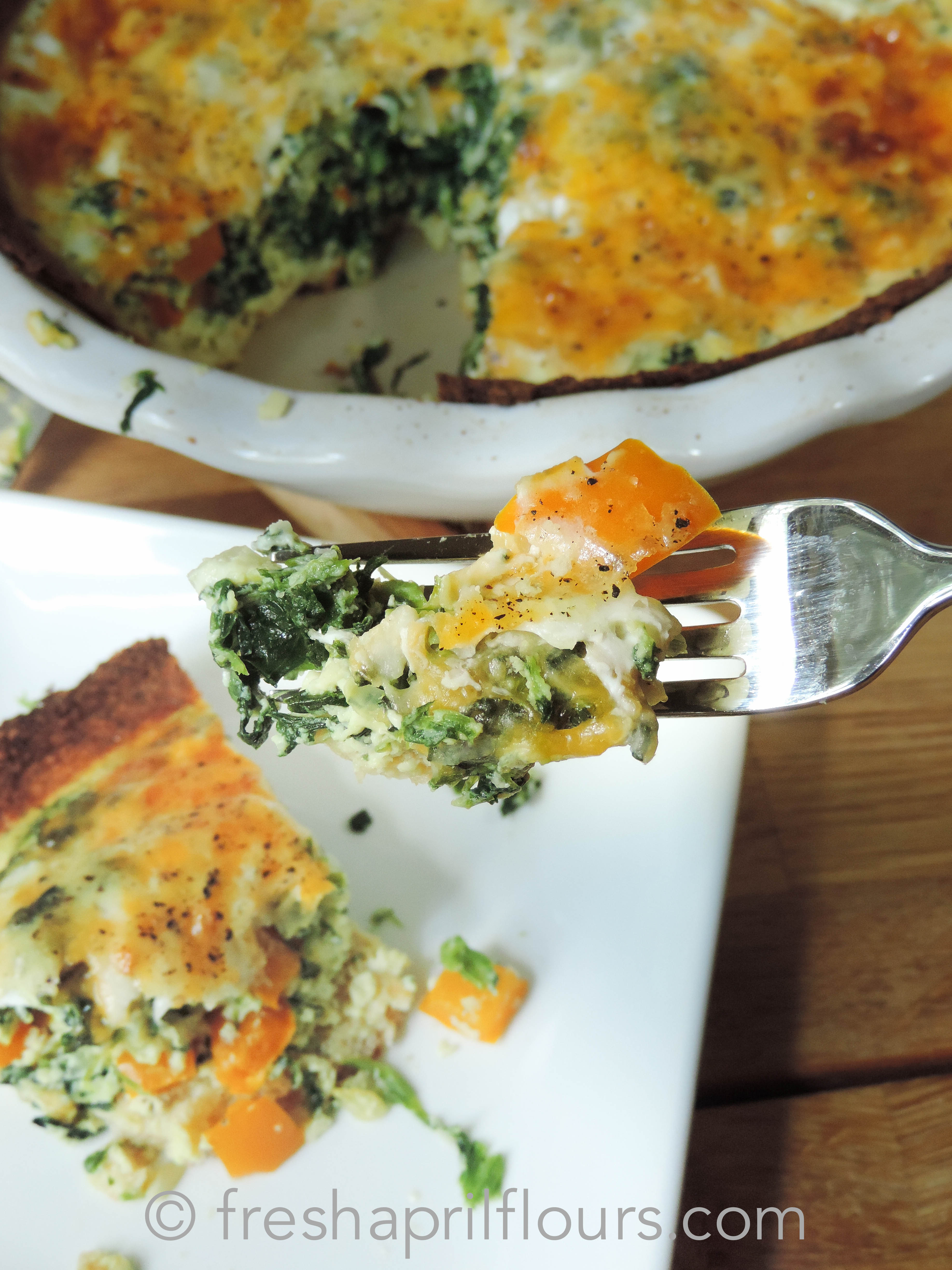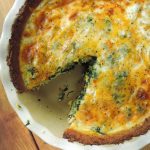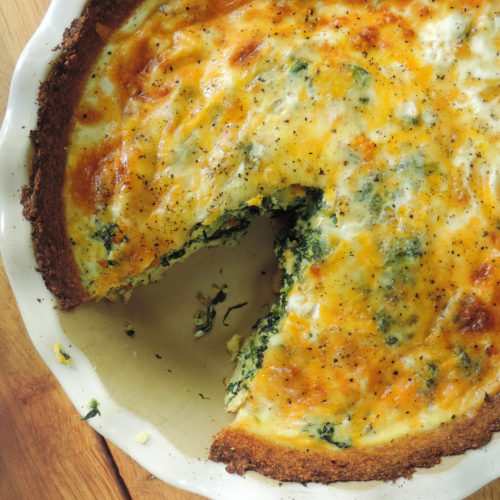 Print Recipe
Cheesy Vegetable Quiche with Cauliflower Crust
A cheesy quiche loaded with veggies, baked in a low-carb, gluten free, and deliciously seasoned cauliflower crust.
Ingredients
CAULIFLOWER CRUST
1

medium head of cauliflower

stems removed

1/2

cup

grated Parmesan cheese

1

large egg

1/2

teaspoon

dried oregano

1/4

teaspoon

garlic powder

1/4

teaspoon

salt

1/4

teaspoon

freshly ground black pepper
FILLING
1/2 of a

medium sized yellow onion

chopped (about 1/3 cup)

1

large bell pepper

chopped (I used orange)

1-10

ounce

package of frozen chopped spinach

thawed and drained

2

cloves

garlic

chopped

4

large eggs

2

large egg whites

1

cup

milk

I used skim

1/2

teaspoon

salt

1/4

teaspoon

freshly ground black pepper

4

ounces

shredded cheese

grated Parmesan cheese as needed

approximately 2 Tablespoons
Instructions
CAULIFLOWER CRUST
Spray an 8″ or 9″ pie dish with non-stick spray and set aside.

Cut cauliflower into pieces, removing as much stem as possible and keeping the florets. Rinse the florets in a strainer or colander.

Pulse florets in a food processor until they resemble corn meal. Place in microwave safe bowl and cook for 5 minutes. When fully cooked, set aside and allow to cool for 10 minutes.

After cauliflower is completely cooled, use a strong kitchen towel to wring out all of the moisture. Transfer dry cauliflower back to bowl.

Preheat the oven to 450ºF. In a small bowl, blend together Parmesan cheese, egg, and spices. Add to cooled cauliflower and mix together with your hands.

Transfer dough to pie dish, smoothing it out with your hands, making sure to spread it evenly to cover the bottom and the sides of the dish.

Bake crust for 15-20 minutes until edges are brown and overall crust starts browning. Allow to cool on wire rack while you prepare the filling.
FILLING
Preheat oven to 350ºF. Blot or squeeze out as much moisture as you can from your thawed spinach. If you heated your spinach to thaw it, make sure it is cool enough to handle. Put dry spinach in a large bowl and set aside.

Spray a large skillet with non-stick spray and heat over medium-high heat. Add chopped onion, garlic, and pepper (and a pinch of salt and black pepper) and cook for 5-6 minutes, stirring frequently, or until tender. Spoon cooked vegetables into the bowl with the spinach. Stir to combine and allow to cool.

In a medium size bowl, preferably with a spout, whisk the eggs, egg whites, milk, salt, and pepper until thoroughly combined. Set aside.

Spoon spinach and vegetable mixture into cauliflower crust, top with shredded cheese, and pour the egg mixture evenly on top of cheese layer. Sprinkle with grated Parmesan cheese and freshly ground black pepper.

Bake quiche for 40 minutes or until filling is set. Cool for 10 minutes on a wire rack before serving. Cover tightly and store in the refrigerator up to 4 days, or in the freezer up to 2 months. Thaw in refrigerator overnight and bake at 350°F until warmed through, about 25 minutes.
Love quiche? Try my Crustless Caprese Quiche next!
Need some sweet go to with your savory? Try Cinnamon Chip Scones with your quiche!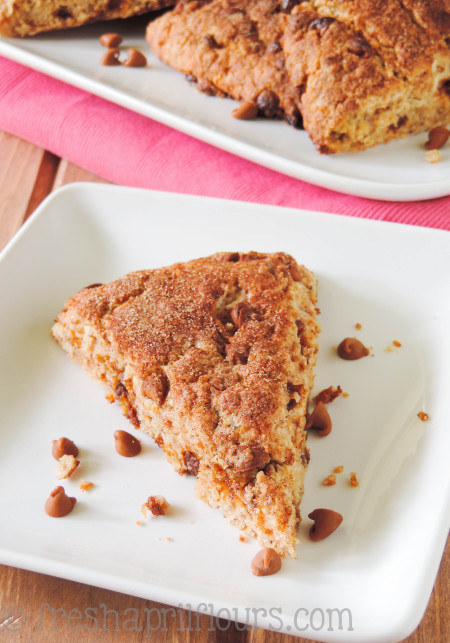 Or maybe you want a sweet yet still healthy addition to your breakfast…
Banana Peanut Butter Breakfast Smoothie