As an Amazon Associate I earn from qualifying purchases.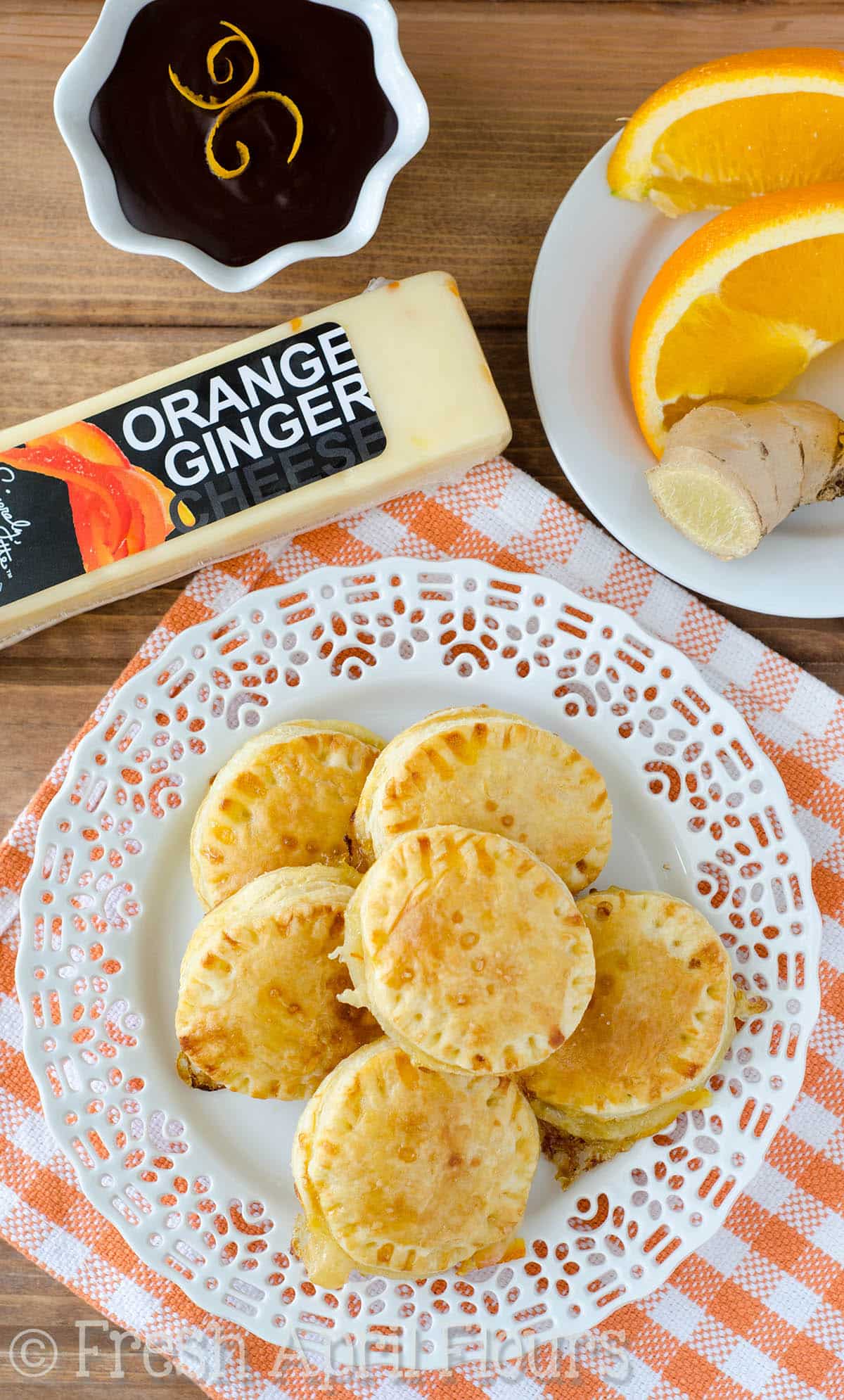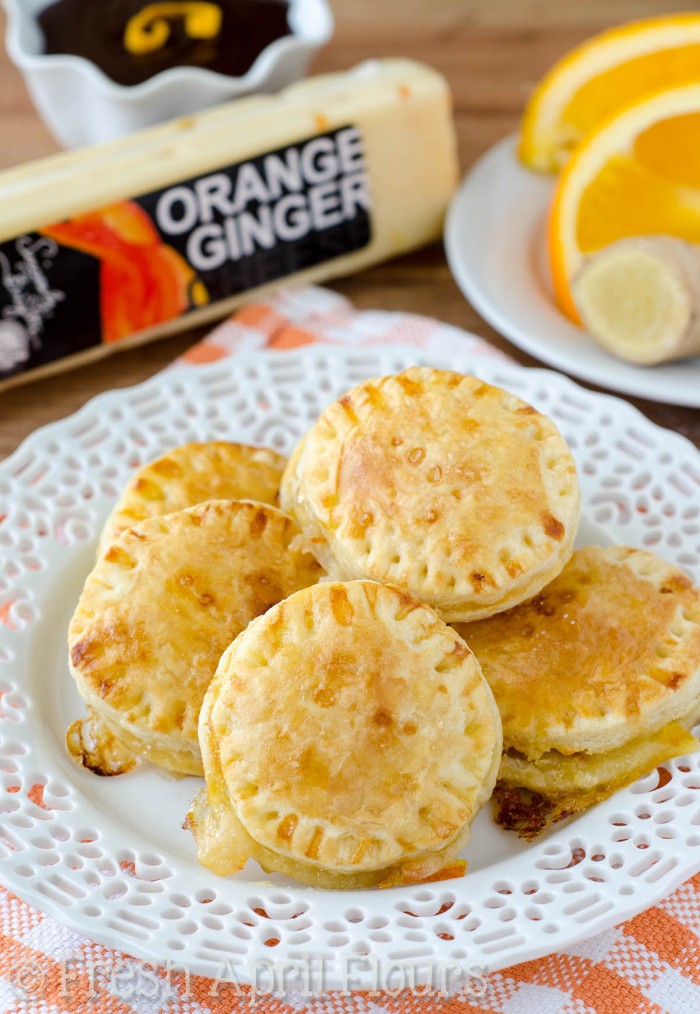 Do not be afraid, my friends. Cheese + orange marmalade + ginger really do go so well together… And if that's not enough to wrap your head around, I whipped up an orange and ginger infused hot fudge dipping sauce to go with them. OH YES. It's getting all kinds of interesting up in here today!
Ok, I'm getting ahead of myself. Let's start from point A!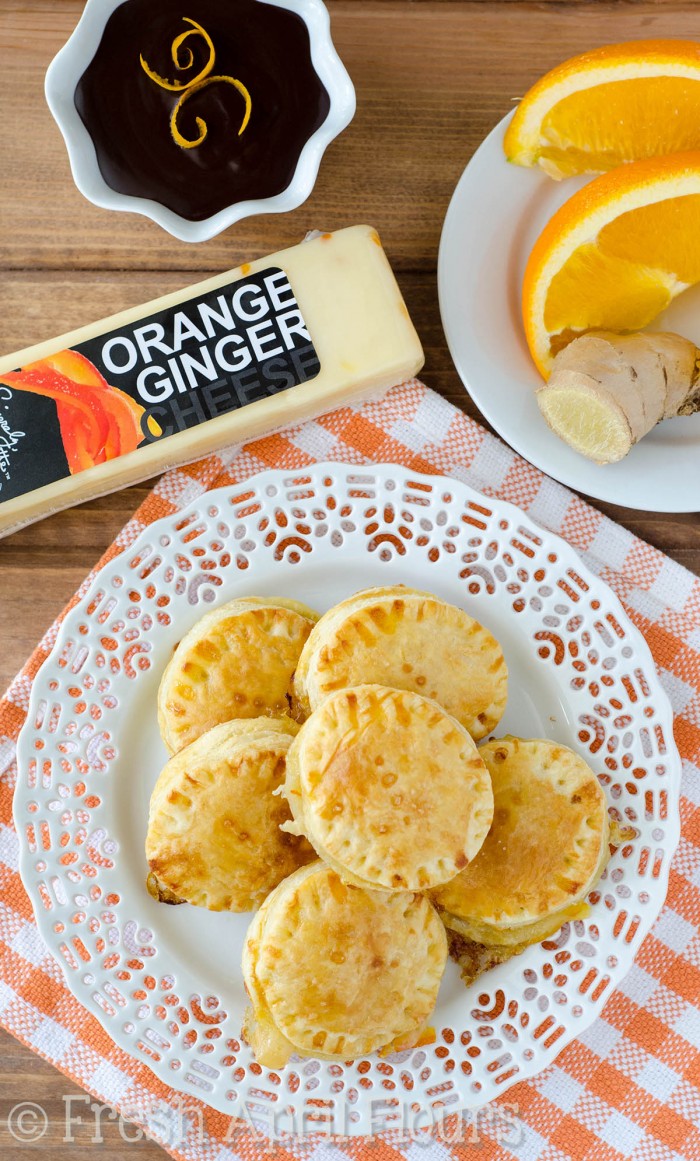 Remember when I made that cheesy enchilada quinoa casserole? Mmm… I do. I made that 3 times and we ate every.single.bite so fast, I'm surprised it even got photographed (it also got great reviews from my readers who made it– thanks for that)! That all started with a delicious delivery from my friends at Sincerely, Brigitte whose cheese is out-of-this-world good. Seriously. If you haven't tried it, you must. I have never tasted cheese so flavorful, so creative in its combinations, or so incredibly creamy!
A few weeks ago, I tried their new flavor, orange ginger, and my mind went crazy with ideas for sweet recipes. I have always been a big fan of cheese + fruit and also orange + chocolate, so I thought… Why not put them together?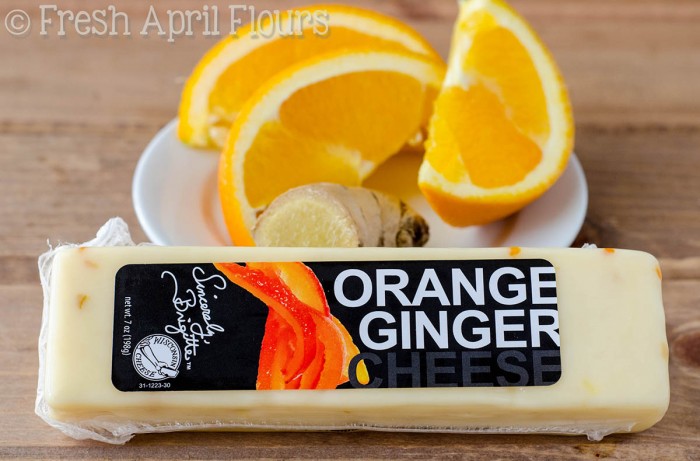 And friends, the result was heaven in cheesy/fruity/chocolatey bite-size form.
Now these might look hard or complicated, but I promise you, they're not. That's not my style. I'm not into bringing you complicated or confusing things. So let's take this slowly.
First, you'll start by rolling out your pre-made puff pastry. You may certainly use homemade if you'd like, but I like to use pre-made because it's just so much easier. You'll roll it out just a touch with a rolling pin to blend in the creases just a bit. Then, you'll cut the pastry sheet into 16 circles with a 2 and 1/2 inch cookie cutter. Metal works best here. Plastic just does not get the job done as nicely.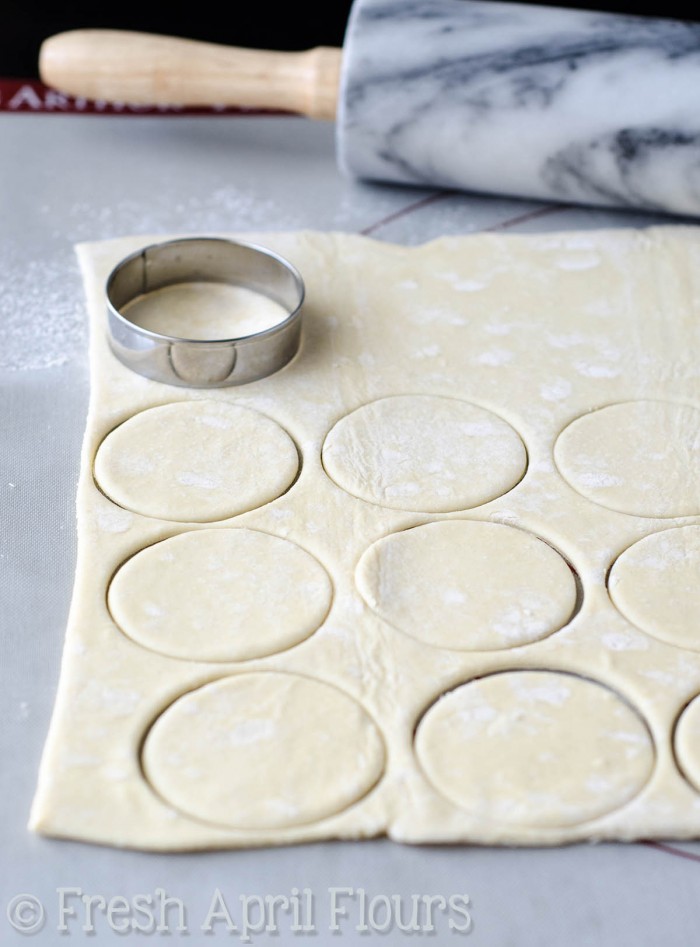 And voilà! You're done making the bottoms of your pastry bites. You'll place 8 of these on a baking sheet (so… 2 baking sheets for 16 pastries) and brush them each with an egg wash.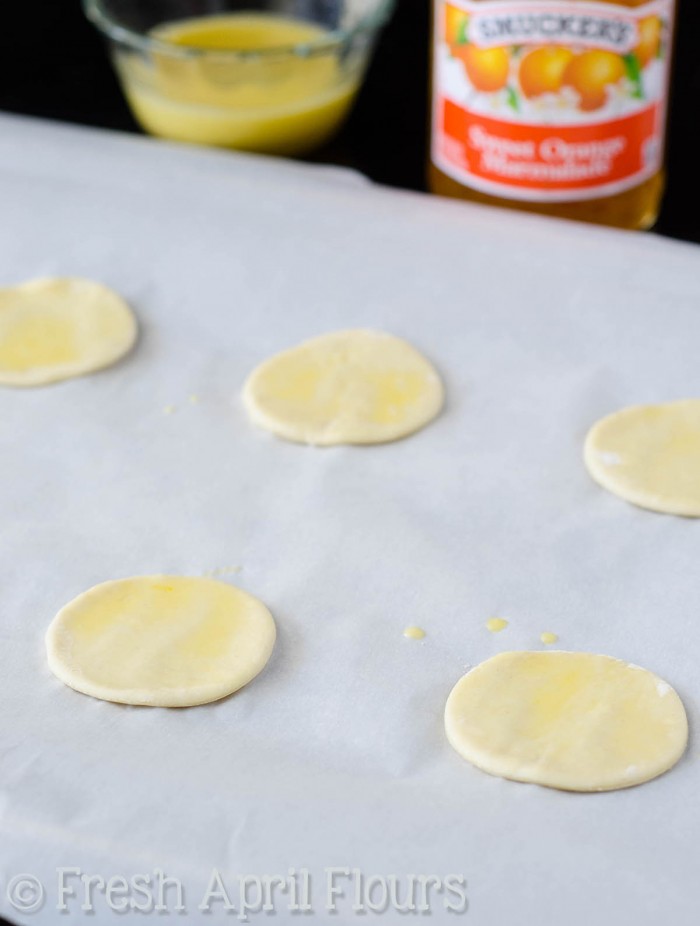 Next up comes the deeeeelicious orange marmalade. A 1/2 teaspoon dollop of orange marmalade in the center of each pastry bottom.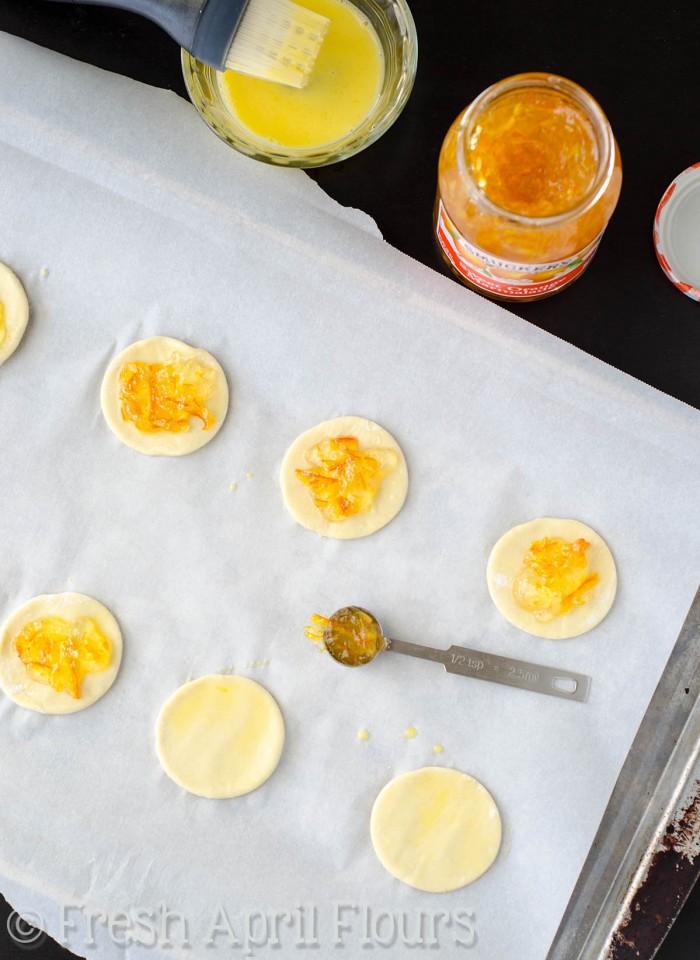 Then… The star of the show: the cheese. One quarter ounce slice of cheese. I sliced my cheese into even rectangles that were not super thick. Lay these rectangles right on top of each dollop of marmalade. A little grate of fresh ginger, then you're ready to top them!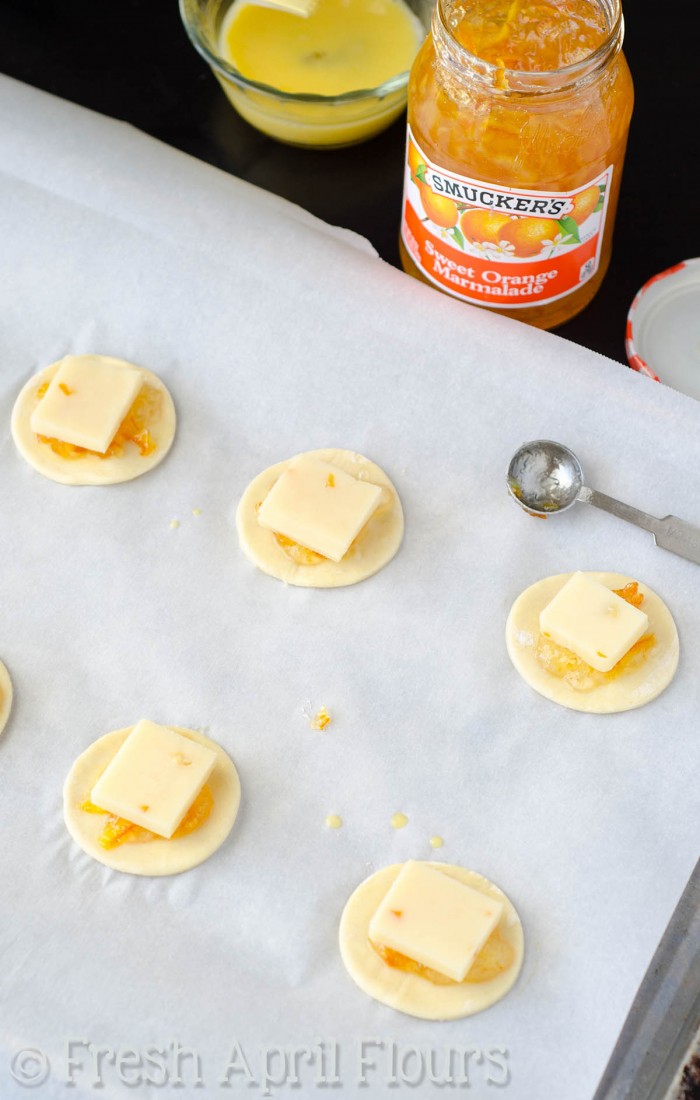 Cut out another 16 circles from the second sheet of puff pastry. Brush each with more egg wash, place that side down on top of the prepared/filled pastry bottoms, crimp the sides with a fork, prick the top to let out some steam during baking, brush one last time with the egg wash, then give each pastry a generous sprinkle of granulated or coarse sugar… For sparkle, of course!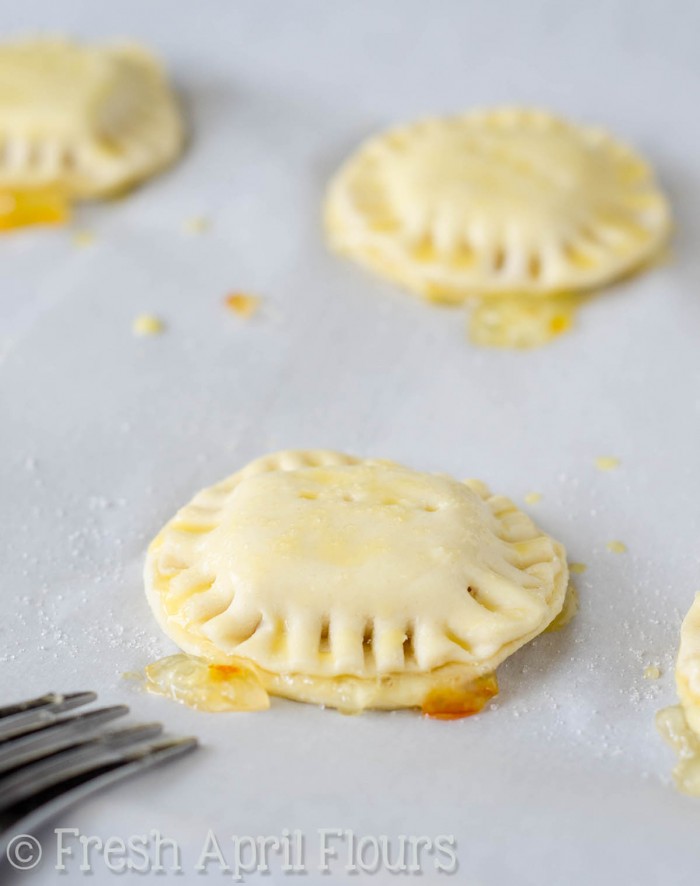 Oh yeah, and… Embrace the spillage ???? you'll thank me later.
Chill the baking sheets for a quick 15 minutes, then… We bake! Just 14-15 minutes, rotating the baking sheet one time during the baking (about halfway through). Once they're all baked, you'll work on the hot fudge sauce.
This hot fudge sauce is so simple. Just melt some evaporated milk, chocolate chips, butter, and powdered sugar in a large saucepan. Once it's all melted, you'll boil it for 4 minutes with some large slices of orange zest…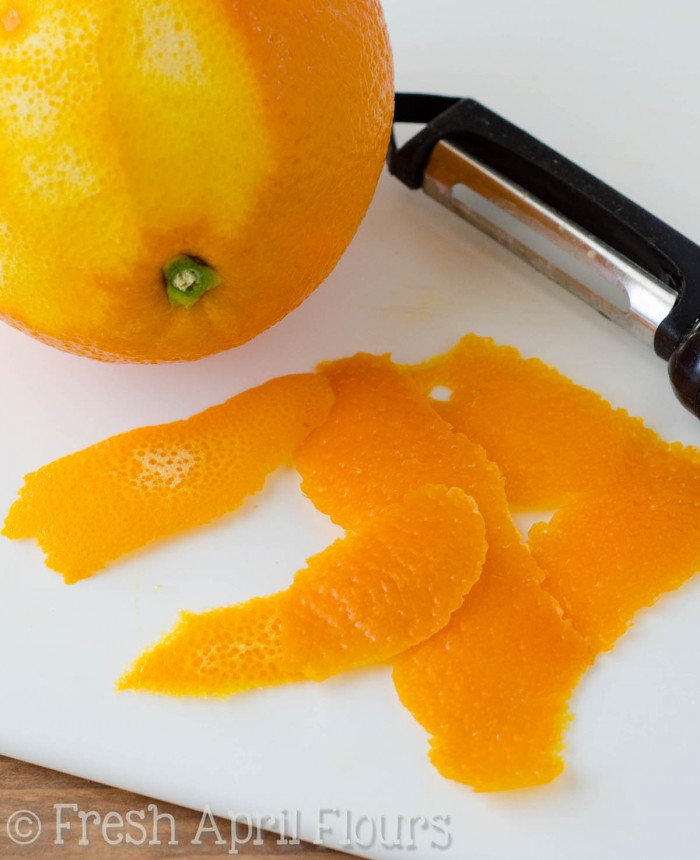 …(zest your orange with a potato/vegetable peeler!)…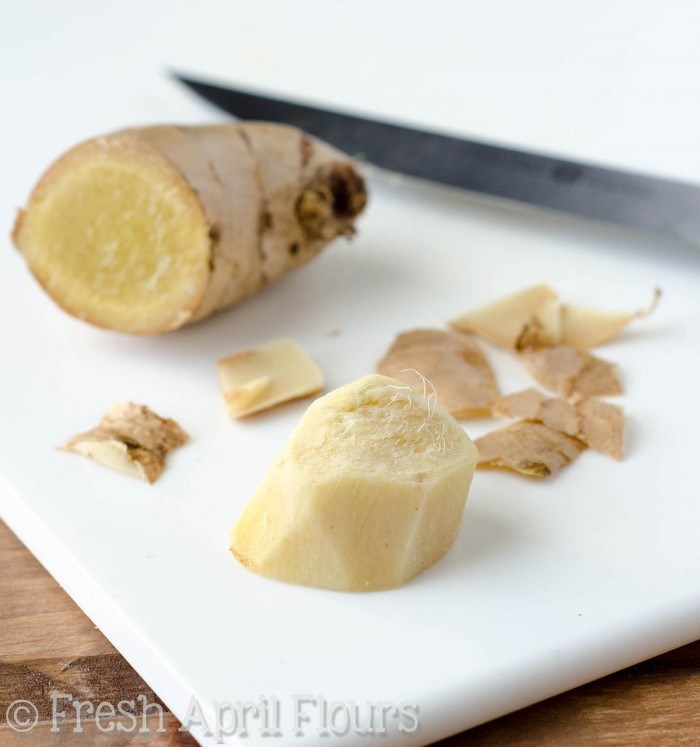 …and a generous chunk of peeled, fresh ginger. YUMMMMMMO!
This infusion process will allow that hot fudge sauce to be the perfect complement to all of that other business going on in the pastry bites.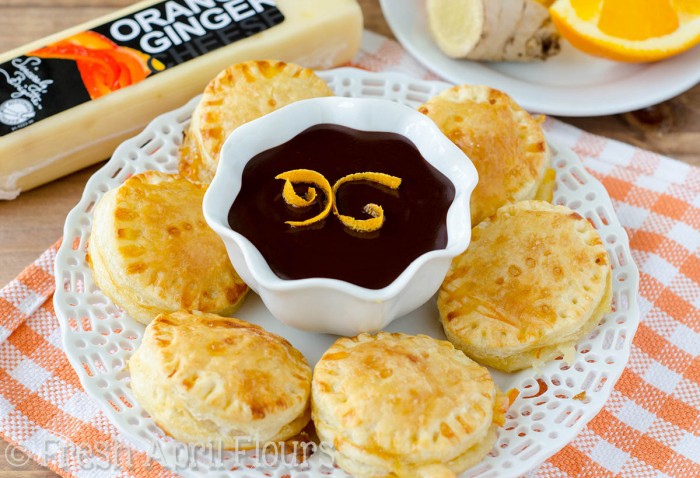 When you're ready to get to dippin' those bites, fish out the zest and the ginger (or… Don't… Whatevs!) and enjoy the most intriguingly tasty dessert you never even knew existed!
Seriously, friends… I was not so sure about this combination until I dove in head first. To start, you've got a flaky, puffy, doughy pastry surrounding a creamy, fruity, sweet, and zesty center. Add some orange and ginger infused hot fudge sauce and now we're talkin' party-in-your-mouth. The subtle orange and ginger in the chocolate make it so those flavors don't get smothered with all of that tasty chocolate that your tastebuds recognize first.
The tastes, the textures… Everything. There is so much complementation (what?) going on in this dessert, and my taste testers and I agreed that this is something that you really just neeeeeed to try. It sort of reminded me of a Brie and cranberry/other kind of fruit combination that sometimes gets baked inside a flaky pastry shell. This is very similar to that. Same idea, new flavors, and something I am proud to say I worked hard to create!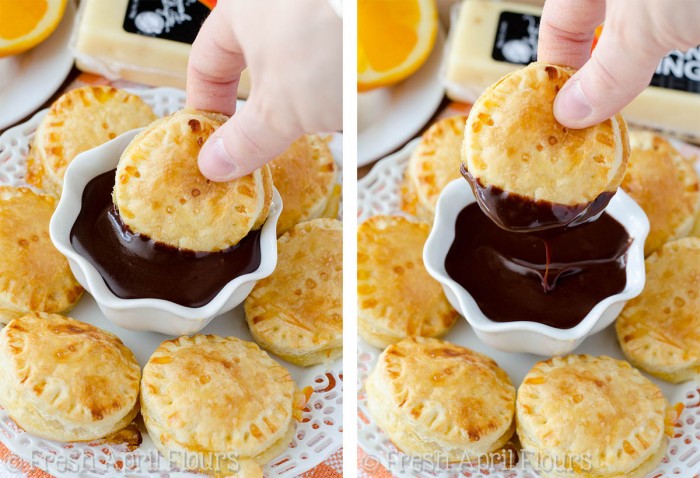 Plus, how can you go wrong when there is cheese or hot fudge involved in a food situation? The answer is you cannot. I hope you'll trust me and eat your cheese and fruit and chocolate together for dessert really soon!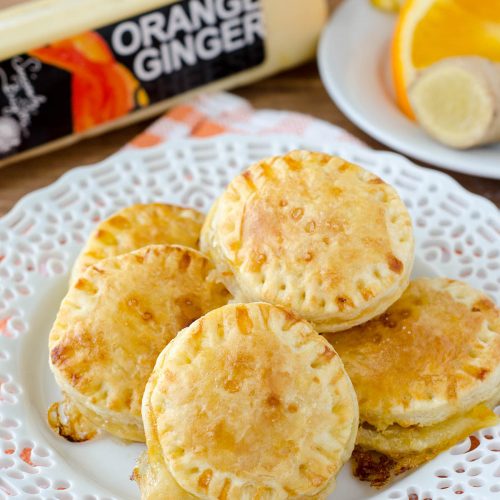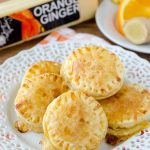 Print Recipe
Cheesy Orange Marmalade and Ginger Puff Pastry Bites
An orange marmalade filling is combined with creamy orange and ginger cheese inside a flaky puff pastry shell. Seal the deal with an orange and ginger infused hot fudge sauce to dip or drizzle your pastries with!
Ingredients
ORANGE MARMALADE AND GINGER PUFF PASTRIES
1

box

2 sheets frozen puff pastry, thawed overnight in refrigerator

3

Tablespoons

orange marmalade

1

large egg beaten with 1 Tablespoon water

2

ounces

Sincerely

Brigitte™ Orange Ginger cheese, cut into 16 rectangles (approximately 0.5 ounce each)

freshly grated ginger root

granulated sugar
ORANGE GINGER HOT FUDGE SAUCE
1/2

cup

+ 2 Tablespoons evaporated milk

8

ounces

dark or semi-sweet chocolate chips

4

Tablespoons

unsalted butter

cut into 8 slices

1

cup

powdered sugar

zest of 1/2 of a large navel orange

zested into strips

a thumb's size of fresh ginger root

approximately 0.25 ounce, peeled
Instructions
ORANGE MARMALADE AND GINGER PUFF PASTRIES
Line 2 large baking sheets with parchment or silicone baking mats. Set aside.

On a lightly floured surface, roll out one pastry sheet. Using a rolling pin, smooth out the lines as much as possible, stretching the sheet into approximately a 10" square. Using a 2 and 1/2" cookie cutter (metal works best), cut the sheet into 16 circles. Place 8 circles on each prepared baking sheet. Repeat process with second pastry sheet but reserve these 16 circles for the tops of the pastries.

Brush each of the bottom pastries with the egg wash. Using a 1/2 teaspoon measuring spoon, place a dollop of orange marmalade in the center of each pastry. Place a slice of cheese on top of each dollop of marmalade. Grate fresh ginger on top of the cheese (1-2 passes over the grater should be sufficient).

Brush the remaining 16 pastry dough circles with the egg wash. Place each circle egg wash side down onto the tops of each prepared bottom with filling. Crimp the sides of each pastry closed with a fork, prick the top to let out the steam, brush one last time with egg wash, and sprinkle with granulated sugar. Place baking sheets in the refrigerator for at least 15 minutes or up to 1 day to chill. If chilling longer than a few hours, cover baking sheets with plastic wrap.

Preheat oven to 375ºF. Place baking sheets side-by-side in the oven. If they can't fit, bake one at a time, allowing the other baking sheet to continue chilling in the refrigerator. Bake for 14-15 minutes, or until the tops are desired golden brown color. Rotate the baking sheets once during bake time. Remove pies from the oven and allow to cool on the baking sheet until safe to handle and serve.
ORANGE GINGER HOT FUDGE SAUCE
While the pastries are cooling, prepare the hot fudge sauce.

In a large saucepan, combine the evaporated milk, chocolate chips, butter, and powdered sugar. Heat over medium heat, stirring frequently, until completely melted. Add the orange zest and ginger root and increase heat to medium-high. Bring mixture to a boil, being very careful as the mixture will bubble and may splash. Boil mixture while stirring constantly for 4 minutes. Remove from heat and allow to cool for about 10 minutes. Remove orange peel and ginger root. For best flavor, allow orange peel and ginger root to remain in sauce as long as desired. Use sauce immediately. Leftover hot fudge sauce can be kept in the refrigerator covered tightly up to 5 days. Reheat in the microwave as needed. Leftover pastries can be stored in the refrigerator, wrapped tightly in plastic wrap, up to 5 days. Reheat in microwave or in a 300°F oven for 5-10 minutes. Make ahead: you can prepare and bake the pastries in advance, storing baked pastries in the freezer up to 2 months. Thaw overnight in the refrigerator, then reheat in the microwave or a 300°F oven for 10 minutes. Prepare hot fudge sauce when you are ready to serve pastries.
My friends at Sincerely, Brigitte provided me with the cheese to bring you this recipe. All opinions are 100% my own.
More Sincerely, Brigitte recipes…
Cheesy Enchilada Quinoa Casserole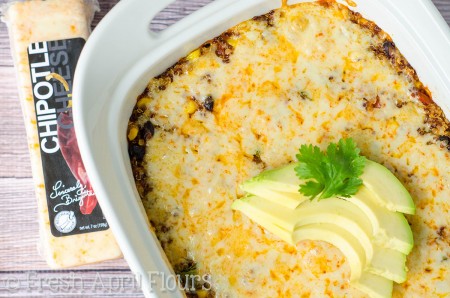 And if you love the idea of puff pastry dough and fruit filling, make my apple hand pies next!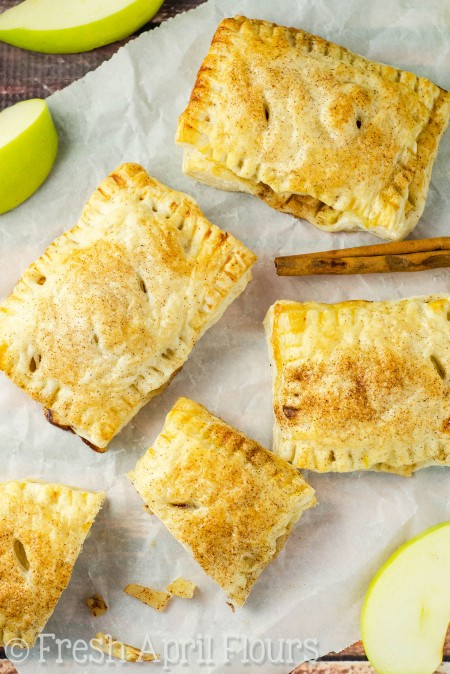 Or perhaps you just love orange (we should be besties).