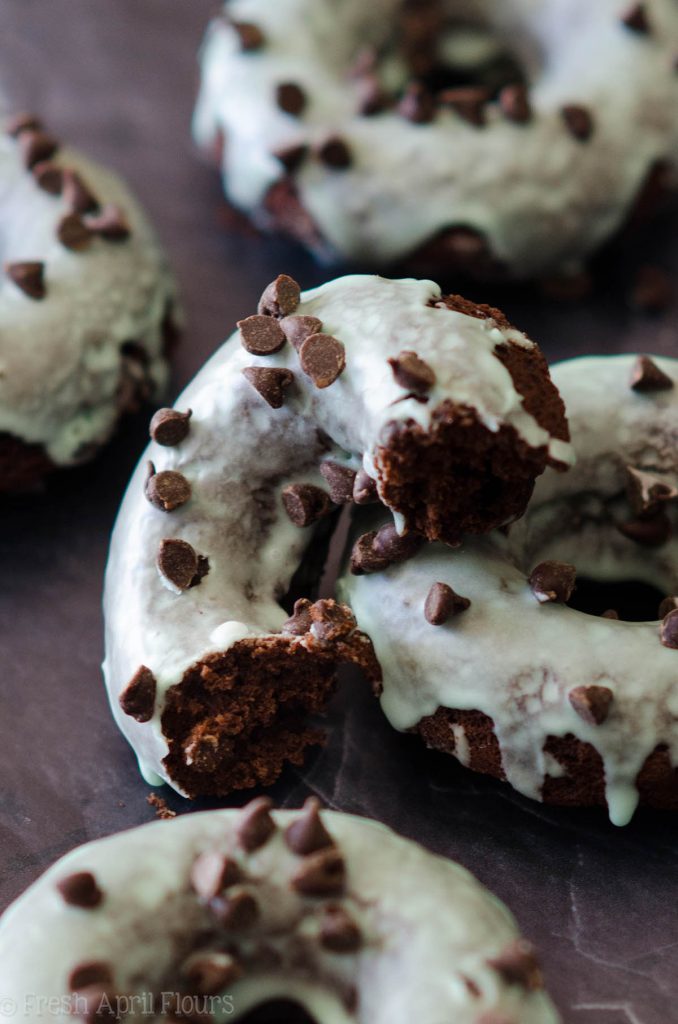 Just like February deserves a nod to red velvet, so does March deserve some sort of green treat, preferably in the form of mint chocolate. Last year, I killed two birds with one stone on Pi Day with this no bake mint chocolate chip pie, but this year I'm separating the two occasions and gracing some baked donuts with some mint chocolate love. I have something else up my sleeve for Pi Day, so stay tuned for Tuesday's recipe!
My blog is no stranger to the baked donuts. We've totally been here before. But what sets this mint chocolate chip donut apart from the other ones is that this one is sort of two recipes in one, and you can totally mix this donut with whatever glaze you're into (there's a cream cheese glaze on the red velvet ones and a basic vanilla glaze on the funfetti ones). I wouldn't suggest mixing a chai spiced sugar coating with funfetti base. But this chocolate chocolate chip donut? Definitely try out some different combos there!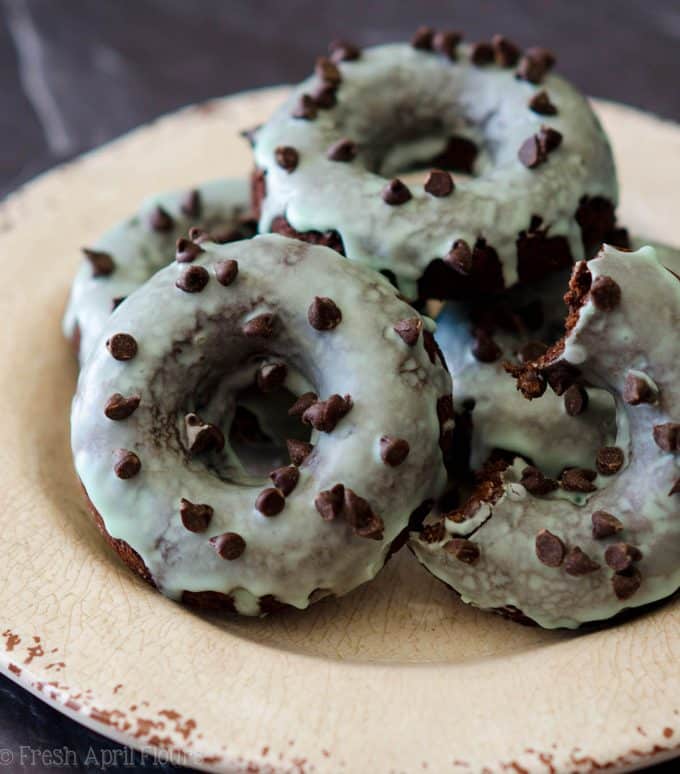 If you've never made baked donuts at home before, let me be the first to tell you that it's easy and it's really a lot like mixing up cake/cupcake batter. You've got your standard flour, cocoa powder (in this case, Dutch processed, my new fav), baking powder, and salt. Then, some brown sugar for moisture and sweetness, some melted butter, any kind of milk you prefer or have on hand, just one egg, and some vanilla extract. We'll add in some mini chocolate chips, because the big ones seemed too daunting for donuts to me. Plus, cute factor.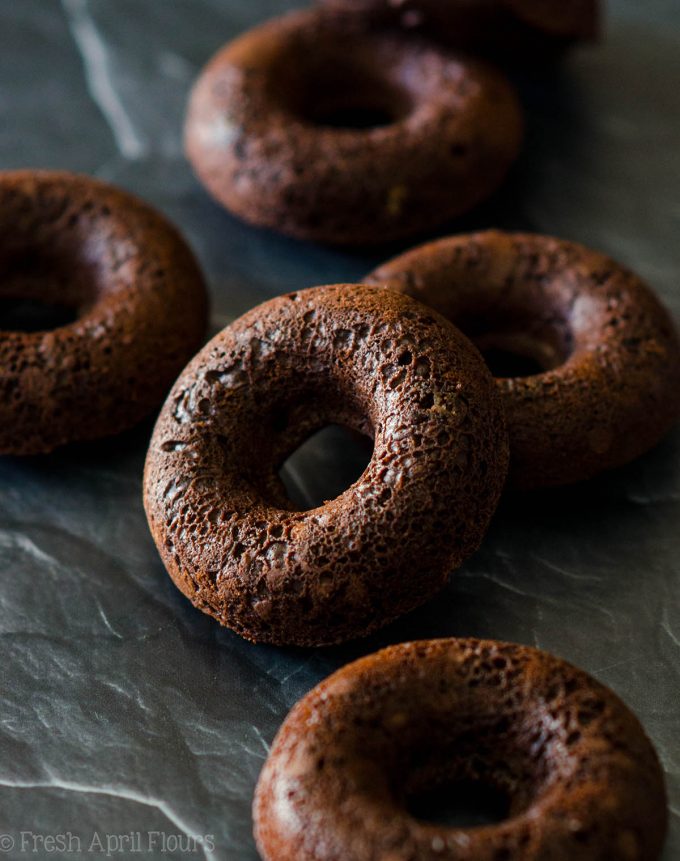 I kept the peppermint extract out of the donut itself for fear of an overpowering mint taste. I knew I wanted to work with a peppermint glaze, so I didn't want this treat to end up tasting like toothpaste. Also, like I said, this way, the donut is simply chocolate chocolate chip and you can leave it at that if you're not totally into the mint (but really, who isn't?!).
The mint glaze is also very simple and is made up of just powdered sugar, milk, peppermint extract, and a couple drops of green food coloring. You're welcome to leave out the green coloring if you wish, but I love the way it looks against the dark brown of the chocolate donuts. ALSO, anyone else think white mint chocolate chip ice cream doesn't taste as good as the green kind? Definitely green it up if you can.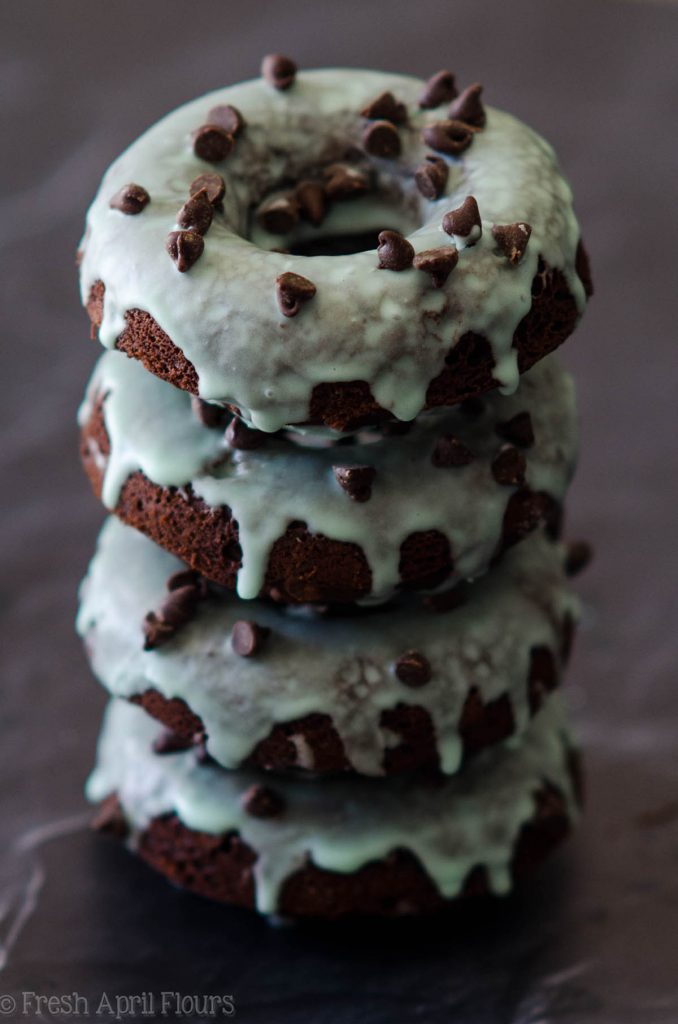 You'll dunk the donuts in your mint glaze twice, but feel free to dunk them more if you're all about that glaze. Just don't only do one dunk– the glaze will be pretty thin and the mint won't really come through enough. I found the donuts that were dunked twice were the perfect combination of mint and chocolate. A little sprinkle of mint chips on top makes the cherry on top, and you're on your way to a breakfast/dessert/snack fit for any St. Patrick's Day celebration. Or, any day, really. It's just more fun to eat green things that day, isn't it?
I was a little hesitant about how these might turn out, but I was pleasantly surprised that the combination worked great and it totally fit the bill for coffee dunking. And, as you know, that's part of my criteria for snacking around here.
Whip these up for your St. Paddy's Day celebrations or for any morning you're feeling you need a little pep in your step before tackling your day. You can totally feel better about the non-fried aspect of these baked donuts, so go ahead and have 2.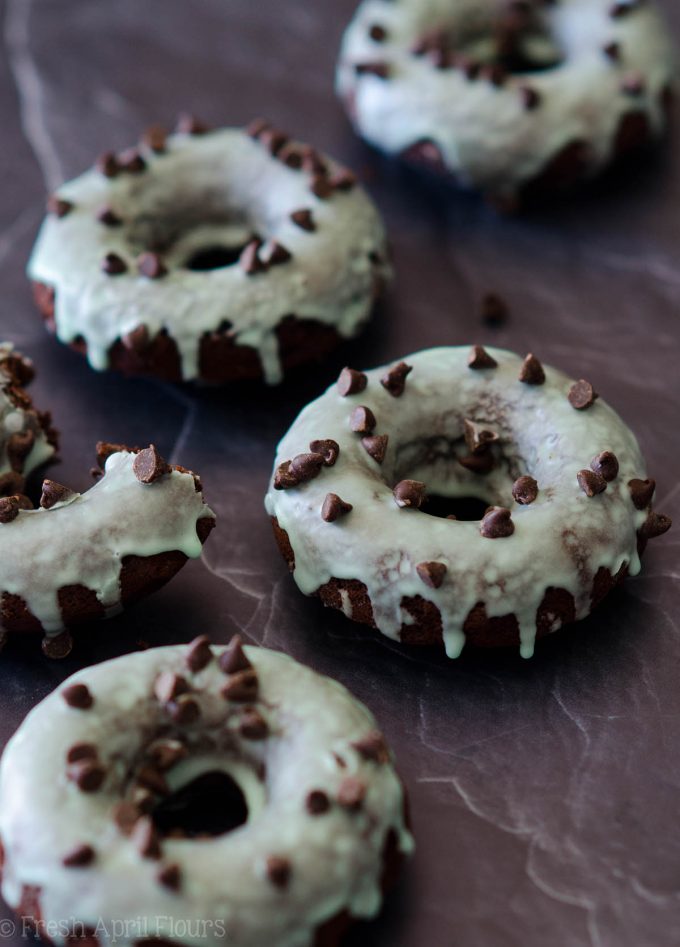 Perhaps wash it down with your skinny Shamrock Shake for balance?