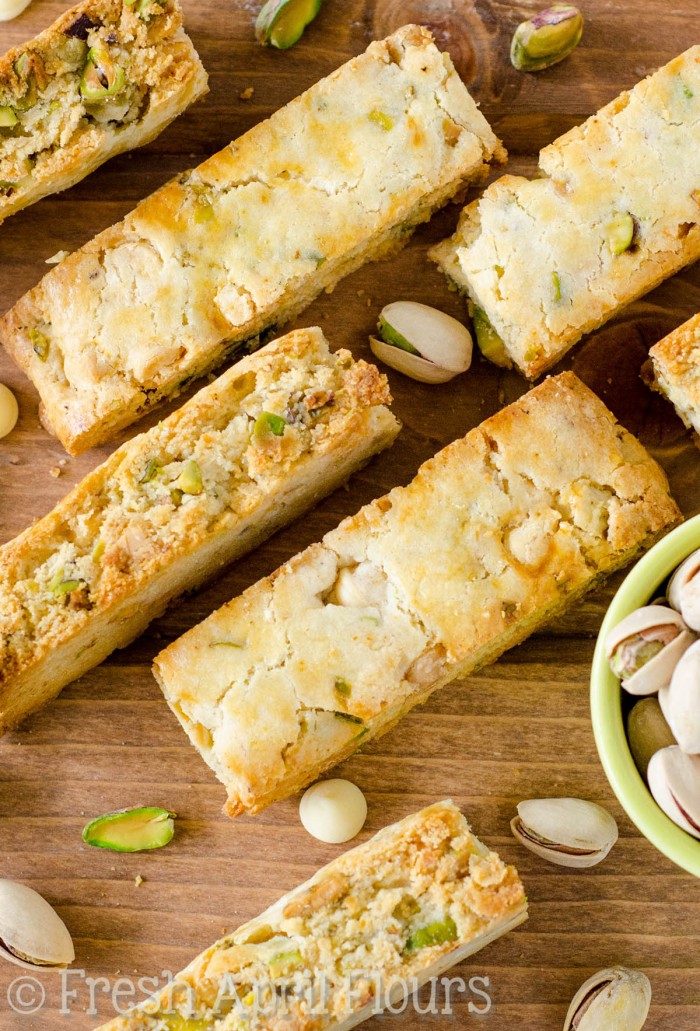 I think I'm about due for another biscotti recipe, don't you? I've said it before and I'll say it again… I could make biscotti all the time and bring you one a week if time/my health/general kindness to the food blogging world didn't matter. There's a good chance you hate biscotti, and that's ok, but I'm still going to keep making it and sharing recipes with you every once in awhile. I think biscotti are my love language. Them and cheese. Ohhh, and 1000 Island dressing. And all of these things. Yes, one of each, please.
Umm, I digress.
So this is my contribution to the grouping of "St. Patrick's Day recipes" this year. Last year, I did much better with my Irish soda bread and skinny Shamrock Shake. This year, I'm ironically making a traditional Italian cookie into a celebration of an Irish holiday, but… I am both, and pistachios are green, so… Humor me.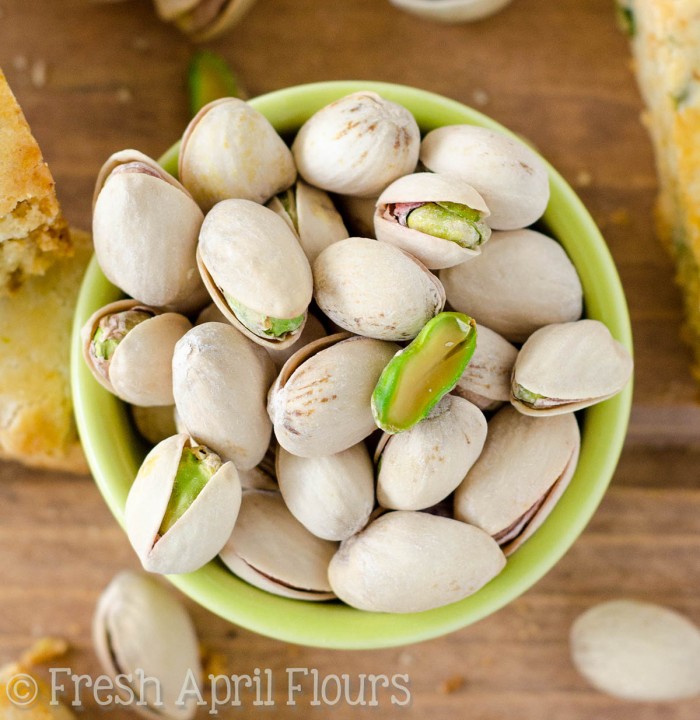 Now, because I have a few other biscotti recipes on the blog already, I didn't take many (ok, any) of the assembly/cutting process, and it was also pretty dark by the time I got to whipping these up, so… Check out my funfetti or lemon poppy seed biscotti for detailed photos on exactly what this process looks like. I assure you, though, it's really quite simple.
All of my biscotti recipes start the same way: some melted butter, some vegetable oil, an egg, flavored extract (vanilla, in this case), and granulated sugar. That's your wet team. The dry team consists of flour, baking powder, a bit of salt, and then add-ins. In this case, we're working with pistachios and white chocolate chips, but I think you probably knew that already.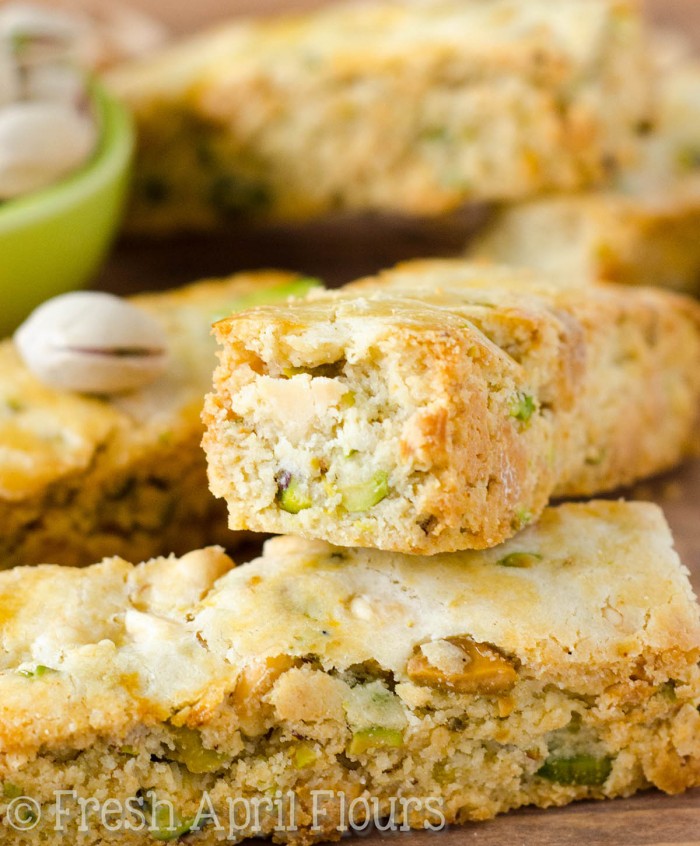 Now, about these 'stachios… I shelled mine myself. Why? Because it costs over twice as much to purchase them already shelled. I mean, after shelling them myself, I can see why (labors of love are my favorite), but you're welcome to go either way on this one. Just make sure you use roasted salted. Because the biscotti themselves are fairly sweet and we're adding a hefty dose of white chocolate chips, you'll be happy that saltiness is there to offset all of the sweetness. If you only have or can only find unsalted, that's totally fine. See my notes in the recipe for how to adapt the recipe.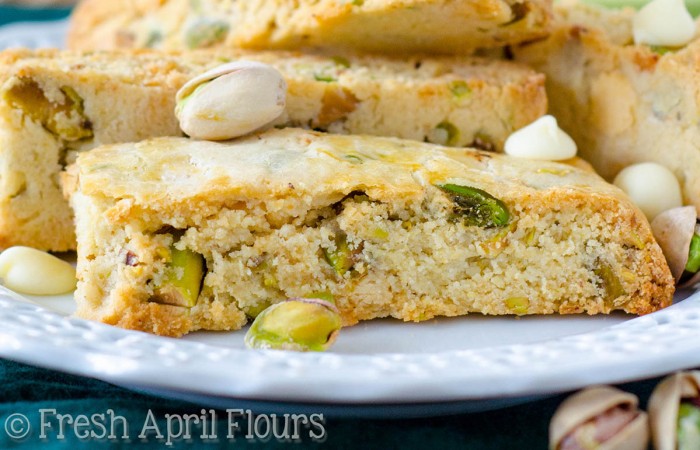 Once everything is combined, you'll pat the dough into a slab.
Slab. What a word.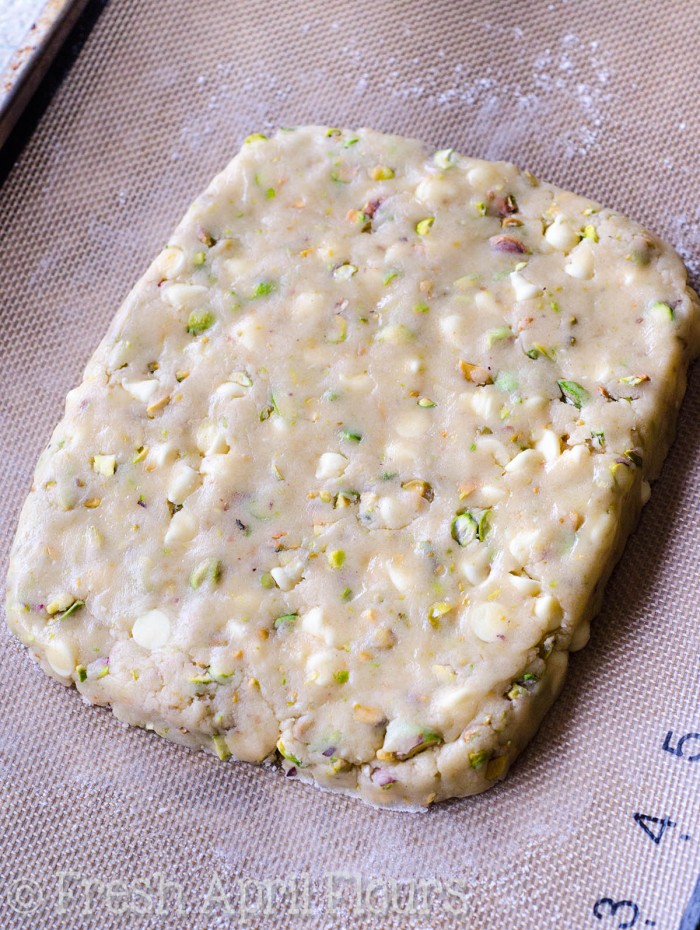 I aim for a slab measuring 6″ wide and 7 and 1/2″ long. This yields the perfect size (in my opinion) for my biscotti. It's helpful to use a ruled silicone baking mat or measuring tape to get the right size.
Give the biscotti dough a nice egg wash (for that beautiful shiny finish), then bake for about 20 minutes, just until it turns golden brown. Remove from the oven, and while keeping the oven on, allow the slab to cool for 10 minutes. Then, cut it into 6-1″ logs, then perpendicularly down the center of all of the logs.
Here's a visual from my chocolate peppermint biscotti: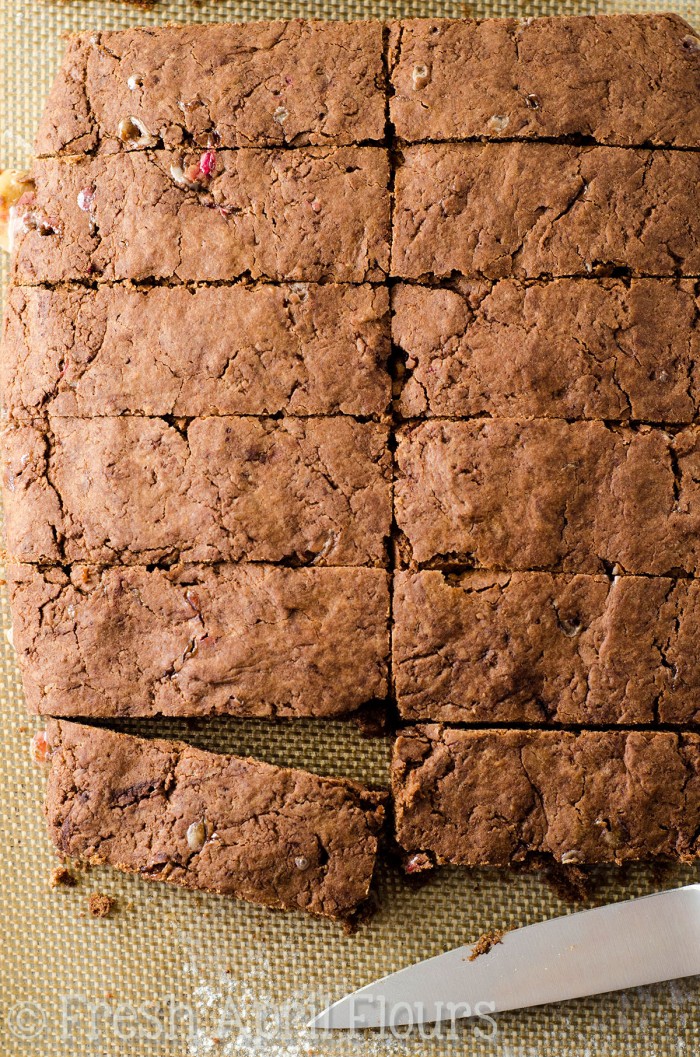 Then, you'll flip each individual biscotto onto its side, bake for 9 minutes, flip to the other side, and bake 9 minutes more. Allow to cool and then you're left with perfectly crunchy pistachio white chocolate chip biscotti that are perfect for dunking or just eating straight up. I loved this particular flavor dipped in milk, but coffee, tea, whatever it is you'd normally dunk into– give it a shot. I suggest trying it with all different beverages so you can keep taste testing! ????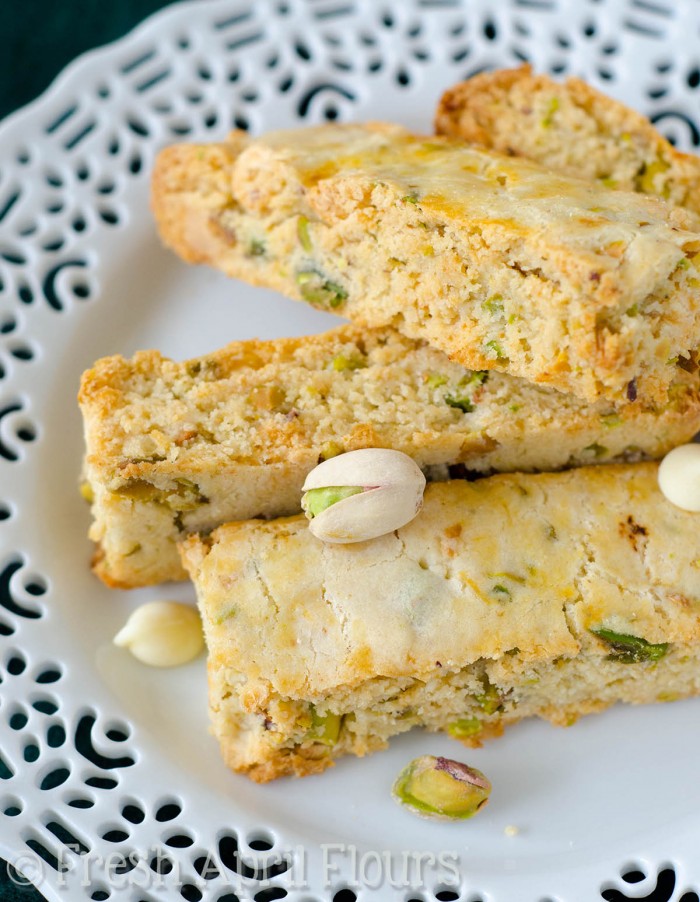 Matt has graciously tried everything I've ever baked, and he could not get enough nibbles of these biscotti. He said he couldn't decide if this flavor was his favorite or if his heart remains with the funfetti variety, which is saying a lot, because hellooooo, sprinkles (who can deny those colorful little guys?)!
I'll tell you what, as much as I am not a huge white chocolate fan, combining white chocolate chips with salty pistachios was such a good idea. And in my favorite kind of cookie? No doubt this was one of my favorite recipes as of late. Next to this soup.
If you haven't tried making biscotti yourself yet, now is the time. Because I'm just going to keep making scrumptious biscotti flavors for you to try. I love them because 1) they're easy 2) the recipe only makes 12 cookies and 3) THE DUNK FACTOR.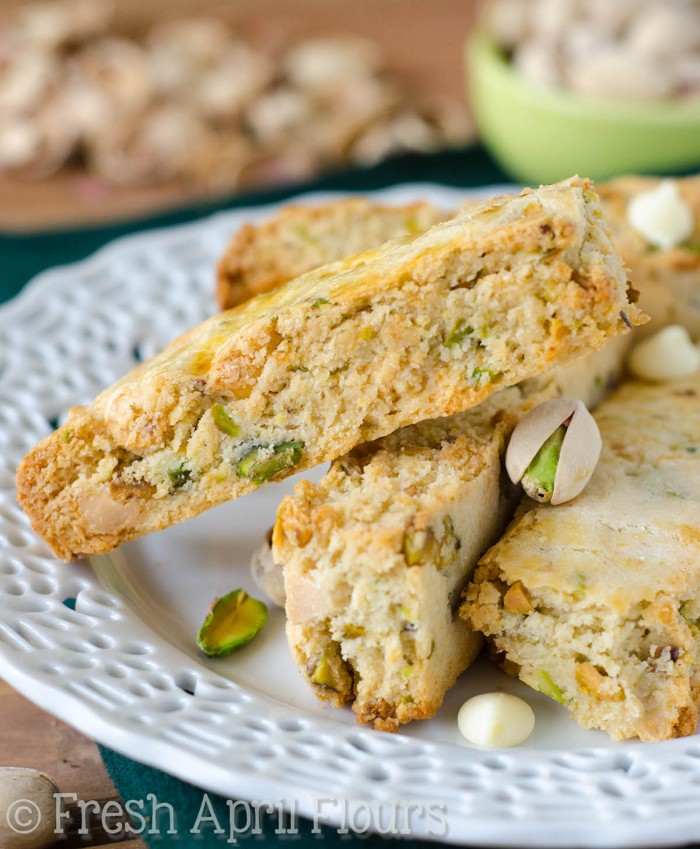 Join me in a pistachio white chocolate chip biscotti to celebrate St. Patrick's Day. Remember: pistachios are green so IT WORKS.
Check out all of my St. Patrick's Day recipes.
Right this way to all of the biscotti.
Love nuts? Try my Soft-Baked Carrot Cake Granola next!