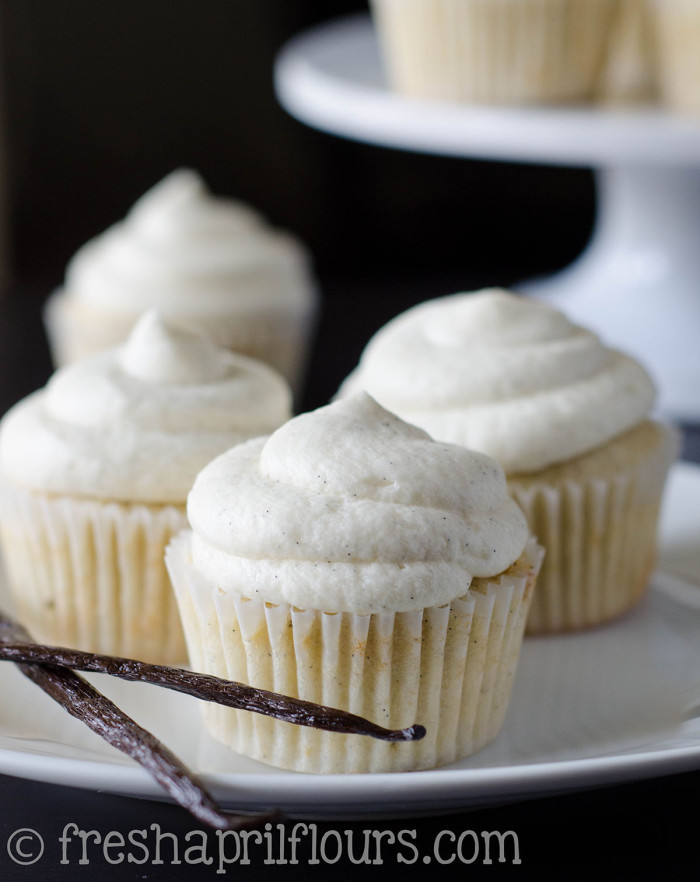 It does not get more classic than a vanilla bean cupcake. Pure, unadulterated vanilla flavor, with a creamy vanilla bean buttercream to match… It's just heavenly, and you're going to love every little crumb of these cupcakes!
This recipe comes to you from a day I completely immersed myself in this. On Good Friday, I had the day off of work, but I was up at 4:30am making all kinds of puppy chows, preparing to photograph all of them in the later afternoon sunshine. At 8am, my husband emerged from the bedroom and couldn't believe his eyes (or his nose) when I had the kitchen completely torn apart, cereal and powdered sugar everywhere, chocolate on every pan and spatula I own… It was a mess. He convinced me to take a break and go to the gym with him. I'm so glad I did, because it gave me some time to devise a plan of attack for my photoshoots and also figure out how I was going to clean up my puppy chow-ed kitchen and whip up some cupcakes for a birthday celebration later that night.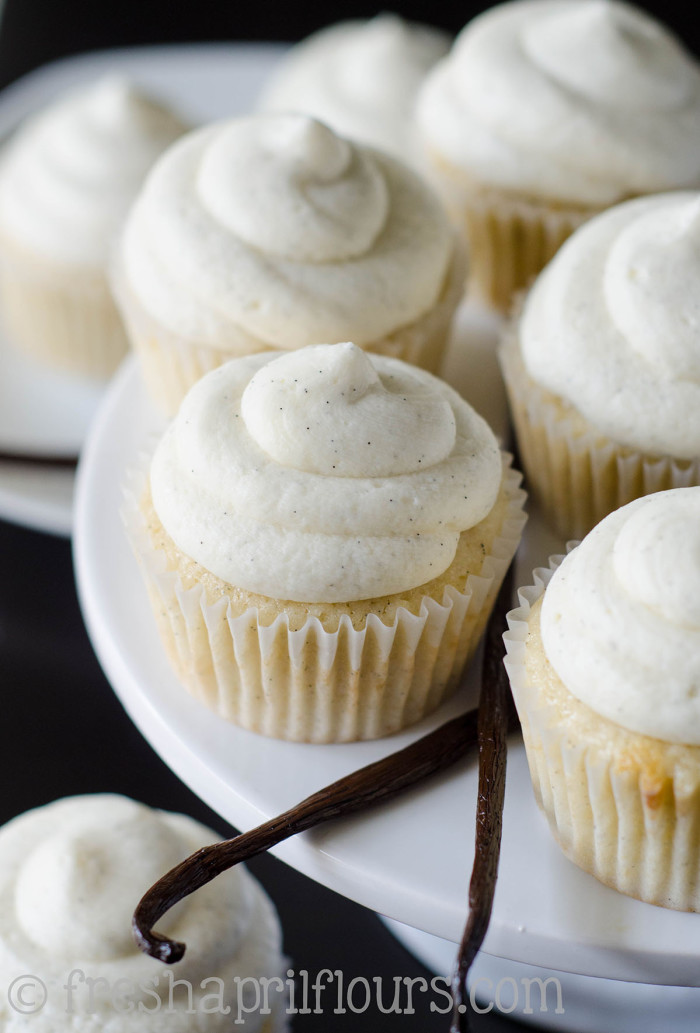 My BIL's girlfriend Hannah turned 21 on Good Friday, and she invited us out to dinner with her family (Matt declined because THIS), so I offered to make some cupcakes. When I asked her what flavor she would like, she requested vanilla bean. Her exact words: "I'm so vanilla for loving vanilla." No, Hannah, you are not. Not one bit!
There is something so amazing about straight up vanilla. You can only get so much vanilla flavor from extract (even homemade), and using fresh vanilla beans is so worth the effort to get those beans out of the pod. You'll need 2 beans for each batch of this recipe: 1 for the cupcakes and 1 for the frosting.
First, let's talk about where to get your beans. My favorite place to buy beans is beanilla.com, and I prefer the Madgascar beans. I also prefer grade A beans because they are prettier, but there is nothing wrong with grade B, and you will get exactly the same flavor using them. You can also buy vanilla beans at most grocery stores (in the baking aisle with the spices), but if you think you'll use a lot of them, the best bang for your buck is in bulk!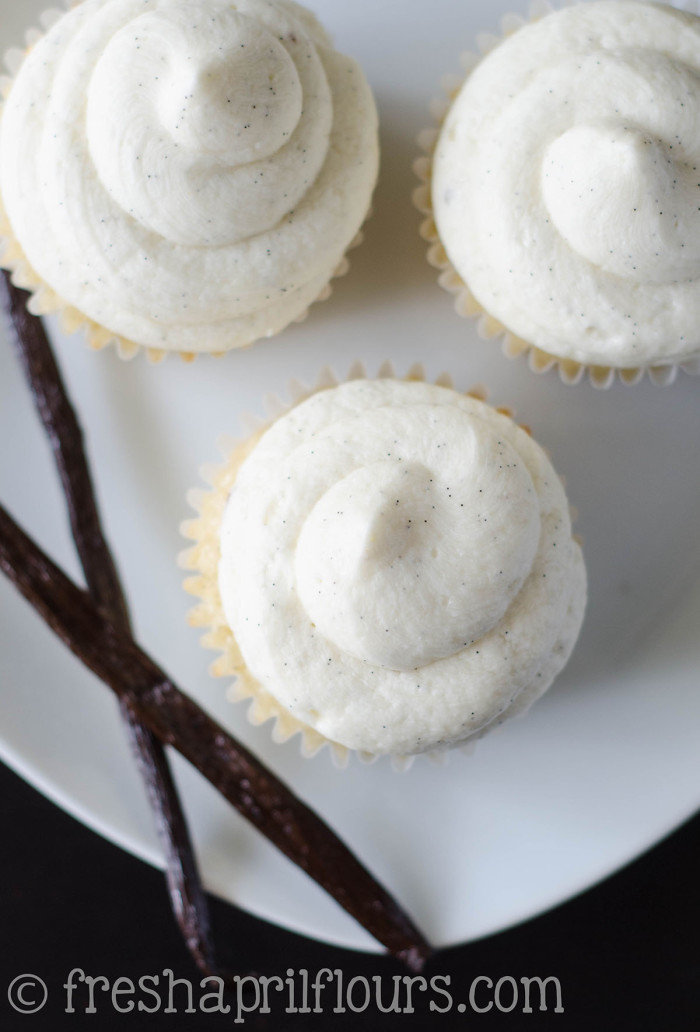 These cupcakes are essentially the same batter as my mini cookies and cream cupcakes, just with a few tweaks. In that recipe, I say you can use any milk (I used almond), but in these very vanilla cupcakes, I decided to go with cream. Please, please, please… Use cream. It brings such an amazing texture to these cupcakes, and totally adds to the creaminess of the overall crumb. You could also use half-and-half to achieve this creamy texture.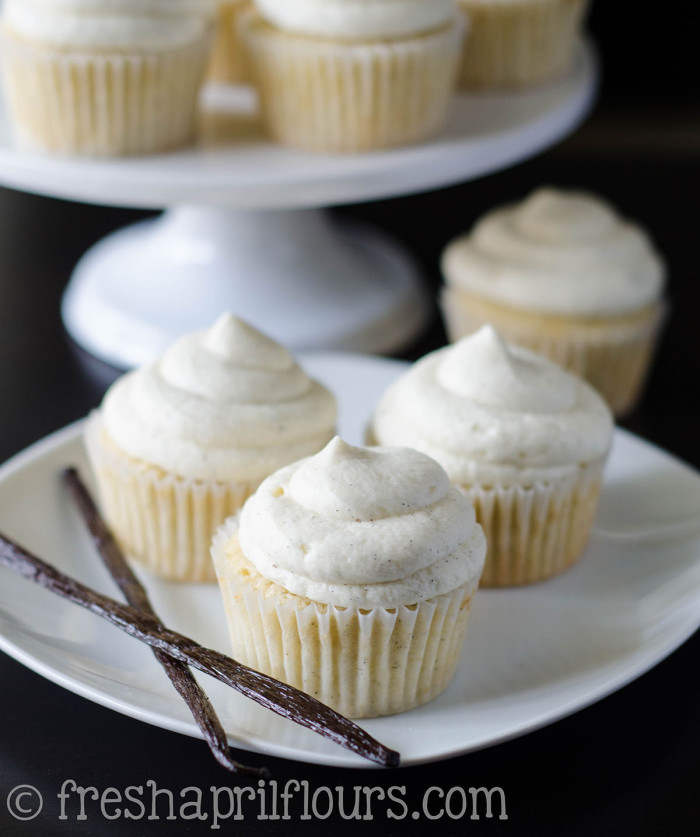 You're going to use this cream + one whole vanilla bean to make vanilla infused cream. Split your vanilla bean in half, scrape out the seeds with the knife, and throw everything (including the pod) into a small saucepan with your cream. You'll heat this just until it starts steaming, remove it from heat, and allow it to sit for 30 minutes. During this time, the cream will take on this incredible flavor and aroma, prepping to get vanilla flavor all up in your cupcake batter. You will add a little bit of vanilla extract as well, but this vanilla infused cream is the bread and butter of the flavor. During the 30 minutes, consider whipping up some of these.
After 30 minutes, fish out the pods with a fork or tongs, and your cream is ready to go.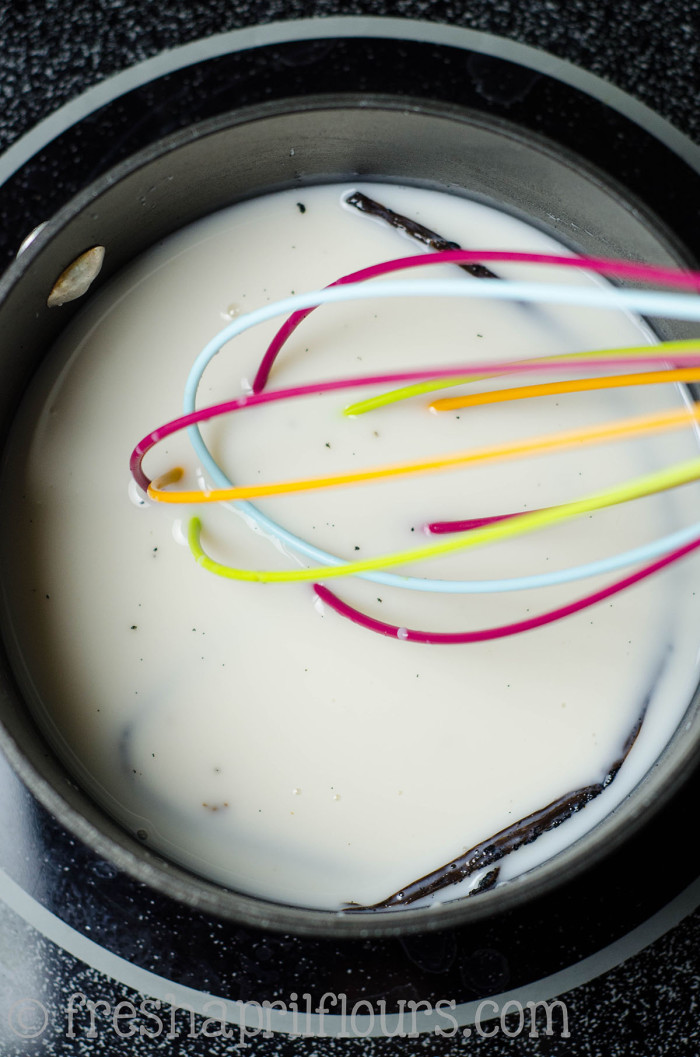 You'll need one more vanilla bean for your buttercream, which is the same vanilla buttercream I use here and here. Again, slice the pod in half, scrape the beans right into your buttercream, and discard the pod. Easy peasy. Use a piping bag without a tip, fitted with a 1M tip, or simply a large zip top bag with the end snipped off to make a very vanilla buttercream swirl right on top of your decadent cupcake.
You're going to love these moist and tender cupcakes that are absolutely jam-packed with vanilla flavor. The creamy vanilla bean buttercream cloud that sits on top is the perfect counterpart, and I'm sure you're going to agree… There's nothing "vanilla" about these vanilla bean cupcakes!
Apparently, I've been on a cupcake kick lately…