This post contains a lot of text and photos because I want you to succeed at baking and decorating cut-out sugar cookies. I include step-by-step instructions with photos below the recipe.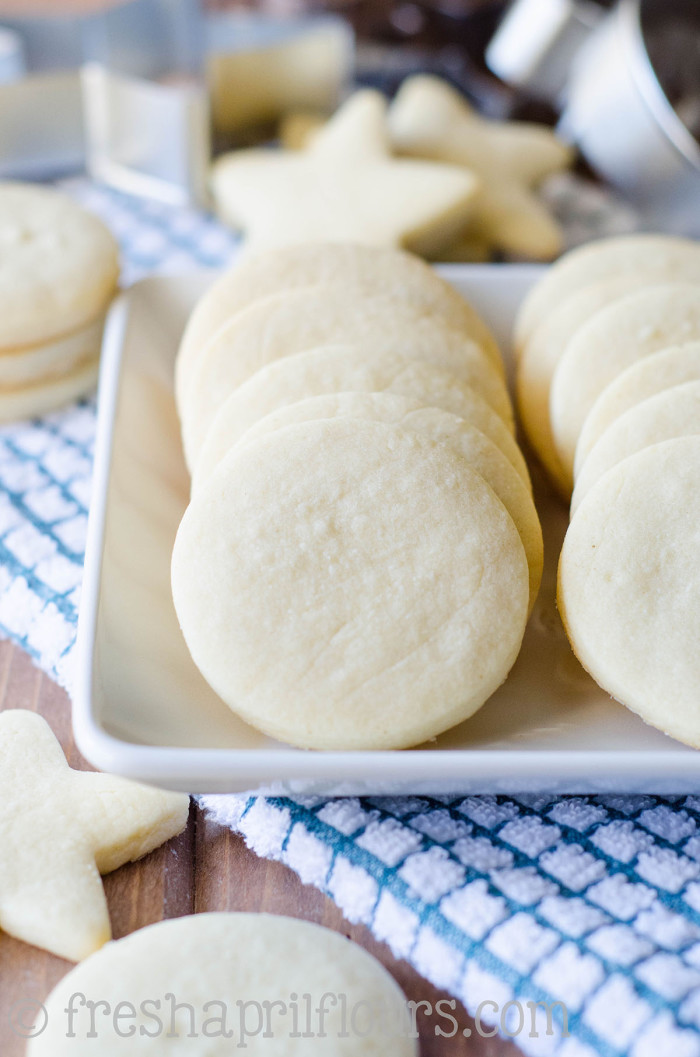 I don't normally give my recipe titles adjectives or superlatives. I sort of despise recipes that are titled "THE BEST" or "THE ULTIMATE," because duh, of course. I would never bring you "THE WORST" or "THE LEAST LACKLUSTER" recipe of any kind. It's just kind of assumed I'm bringing you the best of the best. That being said, the fact that I titled this recipe "easy" should help you realize how much I want to emphasize the easiness of this recipe.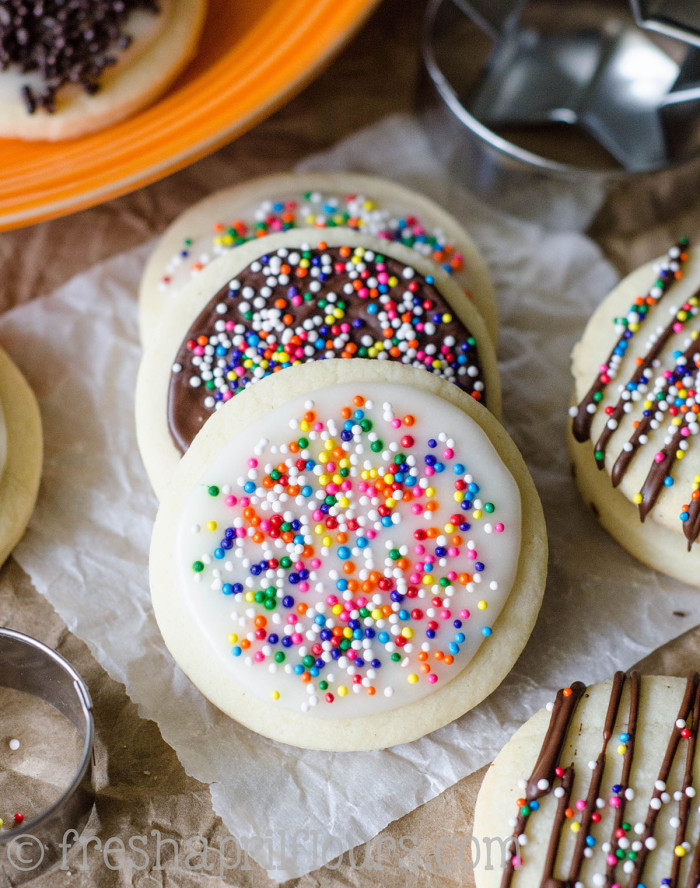 It took me a long time to develop a recipe for cut-out sugar cookies that I could stand behind 100%. I tried so many… Plenty that had great taste, but too many of which were a mess to roll out, spread too much in the oven, or were just too finicky to share with my readers who have come to expect simple, straightforward recipes from me.
So that's what I'm sharing with you today. And I'm super excited about it for several reasons:
1. It's simple. No fancy ingredients, nothing weird or special. Just honest-to-goodness ingredients.
2. It is completely customizable. I prefer my sugar cookies with a combination of almond and vanilla extracts, but you can certainly use whatever kind of extract you prefer. A citrus extract would definitely be a wonderful version.
3. These cookies hardly spread in the oven, producing clean, sharp edges. I'll go a little more into detail about how to preserve this characteristic in the recipe.
4. My favorite favorite favorite part: this dough DOES NOT NEED TO BE CHILLED. Exciting!! Are you as excited as I am?! It's ok if you're not… #foodbloggerproblems.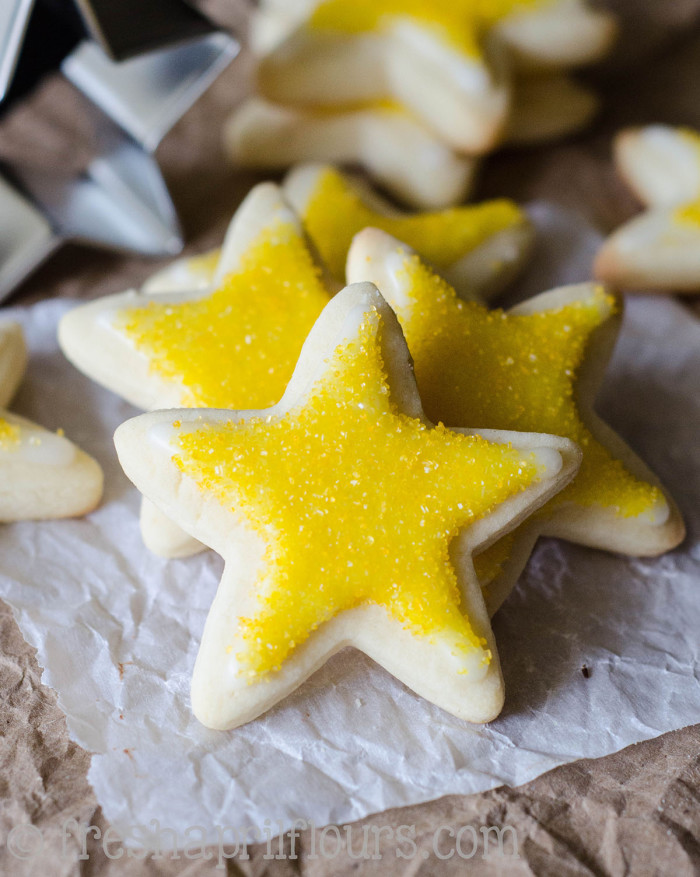 Instead of putting all of the text about making, rolling, cutting, and baking the dough here, I've included step-by-step instructions with photos below the recipe, along with my favorite way of flooding cookies with icing.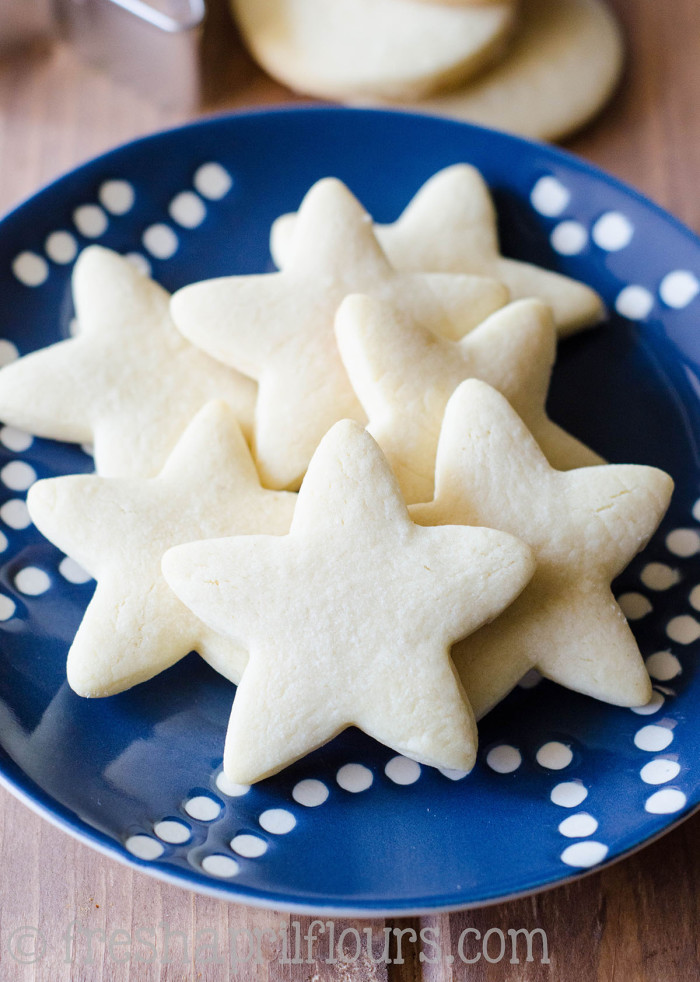 As far as decorating these cookies goes, they can be decorated however you like. These cookies are ideal for decorating with colored icing, and I've included my favorite easy cookie icing in the recipe. You're welcome to use my favorite royal icing instead. I actually really love authentic royal icing, but it deserves its own entire post, so I'll save that for a rainy day. This particular cookie icing that I've included in this recipe is the same one I used for my gingerbread men. It's so simple! You may color your icing, leave it white and decorate with sprinkles, or just simply dust your cookies with sprinkles before you bake them. The sprinkles will bake right into the tops of the cookies in the oven.
Or… Decorate and/or dip them in melted chocolate. Also a wonderful idea.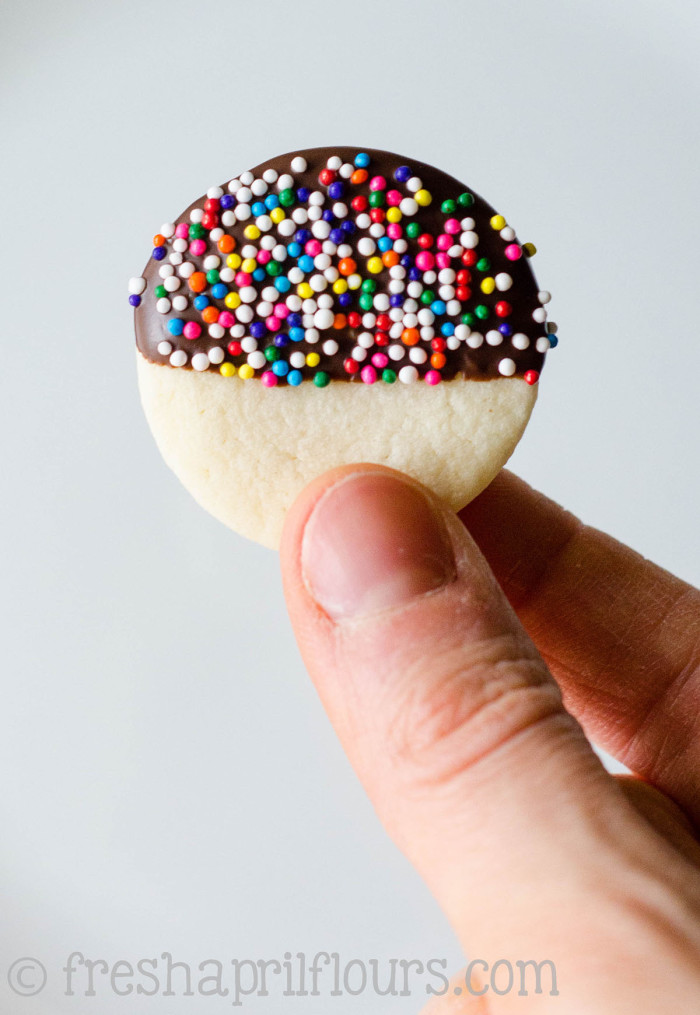 Whatever you do, do not be intimidated by this (seriously) EASY cut-out sugar cookie recipe. The result is crisp edged, soft centered, beautifully shaped cookies with a buttery, slightly chewy texture to them. They really are the best cut-out sugar cookie recipe I've ever found, but that comment is strictly off the record… 😉
Happy cookie-cuttering!

To bake cookies…
1. In a medium sized bowl, toss together 2 and 1/2 cups of flour, baking powder, and salt. Set aside.
2. In a large bowl with a hand mixer or the bowl of a stand mixer with the paddle attachment, cream together butter and powdered sugar until light and fluffy, about 3 minutes. In a measuring cup or small bowl with a spout, beat the egg and flavoring/extract of your choosing. Add egg mixture to creamed butter and sugar and beat on high until completely incorporated, scraping down sides as necessary.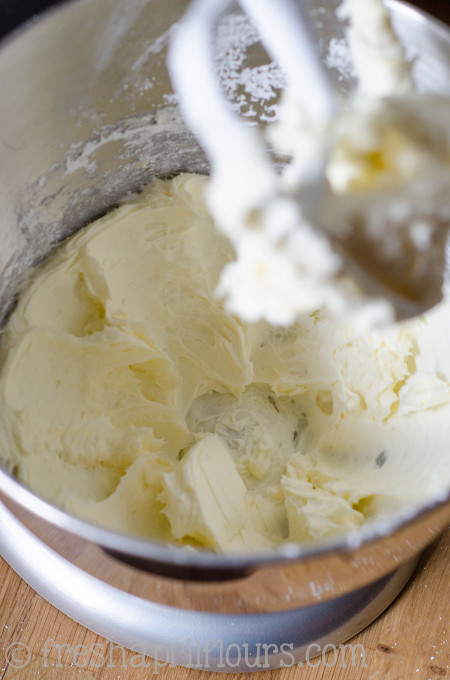 3. With mixer on low, add flour mixture to wet ingredients little by little, allowing dough to come together after each addition. After you have added all 2 and 1/2 cups of flour (plus baking soda and salt) to the bowl, most of the dough should stick to your beaters or paddle.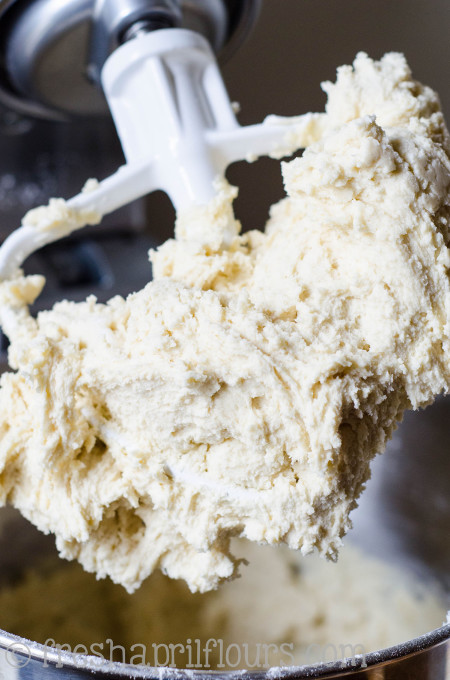 4. Test dough consistency by touching it with your fingers. It should be slightly tacky, but not sticky. It should remind you of Play-Doh. If it is too sticky, add 1/4 cup of flour at a time until you reach 3 total cups of flour (two additions). Occasionally, I will need a tad more flour, but do not exceed 3 cups + 2 Tablespoons flour. Too much flour yields denser cookies, and we want these to stay soft. When your dough is the right consistency, gather it into a ball and allow it to rest for 10 minutes. While it is resting, preheat your oven to 400ºF. Line two large baking sheets with parchment paper or silicone baking mats. Set aside.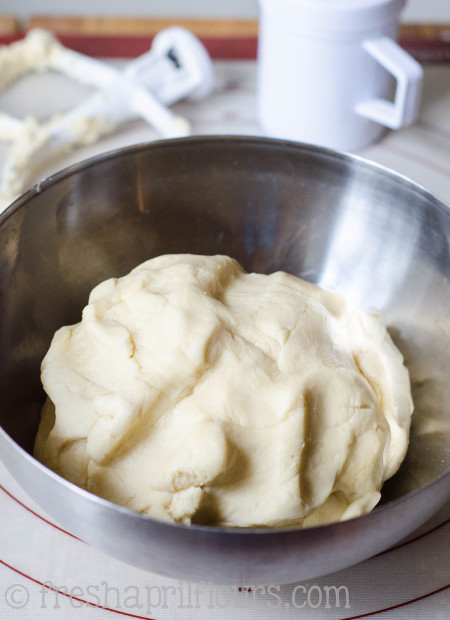 5. Prepare your rolling surface by dusting it lightly with flour. If you would like, use two wooden dowels, sized at 1/4″ thickness, on either side of your dough while rolling it out to keep cookies a uniform thickness.When your dough is ready to roll, break off a workable size of dough. I usually break it into 4 pieces. Roll dough with a floured rolling pin and cut into desired shapes with cookie cutters.
I like to dip my cookie cutter into flour every few cuts to keep my cookie edges clean.
Transfer cut dough onto baking sheets. It is best to keep cookies that are the same size and shape together on baking sheets so as to uniformly bake all of your cookies. Re-roll and cut dough as needed until all of the dough is used up. At this point, you may decorate cut cookies with sprinkles or just leave them plain and decorate them with icing later.
6. Bake cookies for 4-6 minutes. My medium circles (2″) took 6 minutes. Stars took 5 minutes. Mini circles (1″) took 4 minutes. Bake until cookies are slightly puffed and are no longer shiny. Edges may start to brown, and that's ok, just work quickly to remove them from the oven. I prefer to remove mine before they start to brown. Allow cookies to rest on baking sheet for 2 minutes before transferring to wire rack to cool completely. I prefer to decorate day-old cookies, as they are sturdier, but this is personal preference and only a suggestion.
To decorate cookies…
Start with completely cooled cookies (I prefer day-old).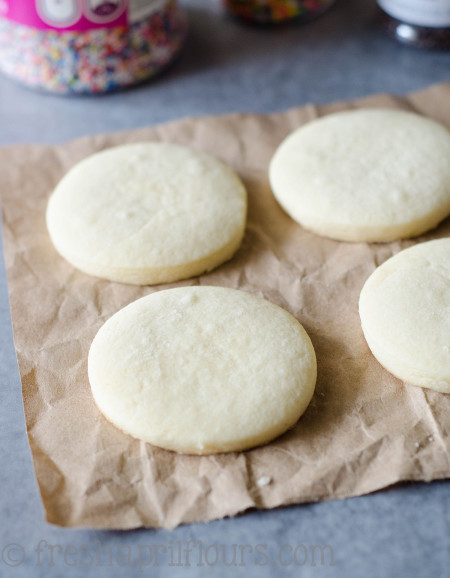 Fill a piping bag, condiment squeeze bottle, or zip top bag with an end snipped off with cookie icing. Squeeze evenly over surface of cookie. If you would like to make an outline in a different color, make your line first, allow to harden a bit, and move onto this step.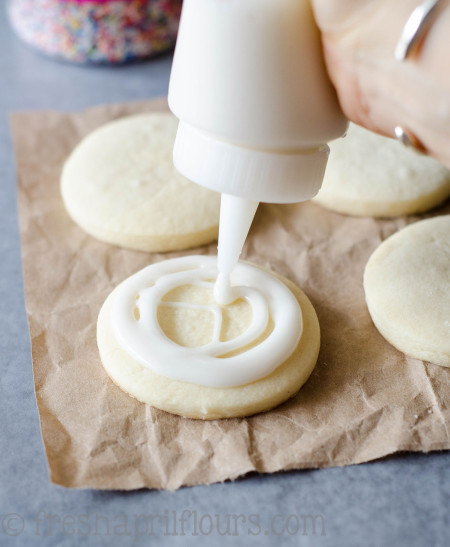 You have now "flooded" your cookie.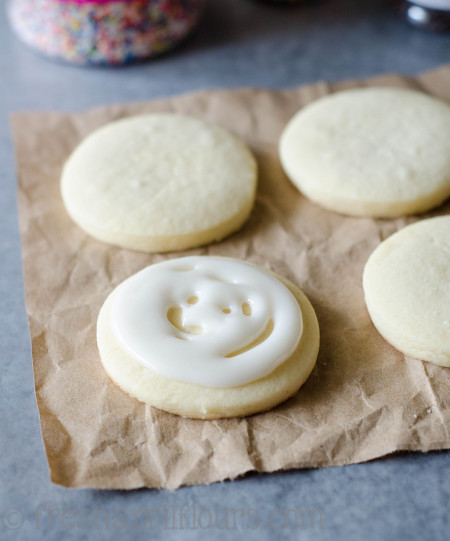 Using a toothpick or an offset spatula, spread liquid icing around to fill holes.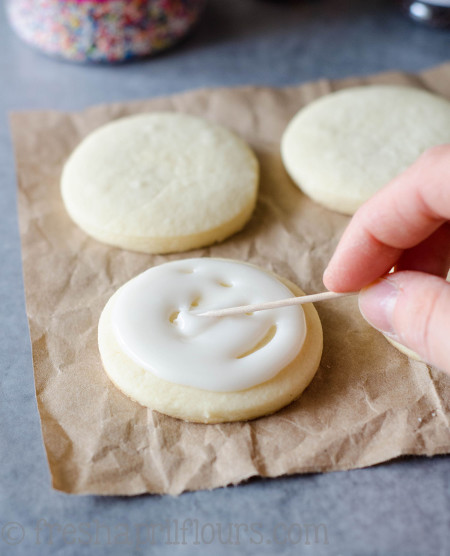 Once all of your holes are filled, carefully pick the cookie up and tap it on your work surface to make sure everything is distributed evenly.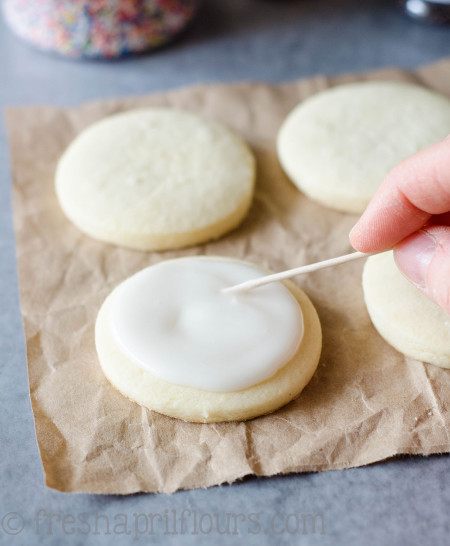 While icing is still wet, decorate with sprinkles, or simply leave plain.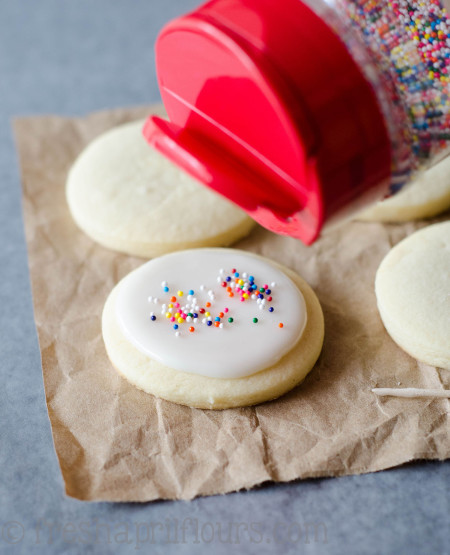 TA-DA!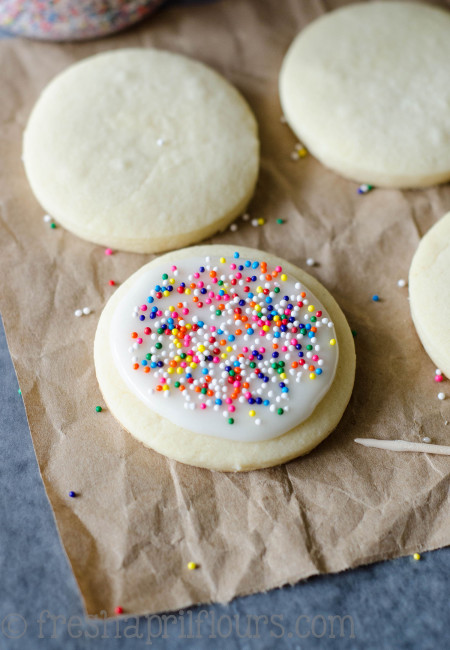 PHEW. I need a snack!