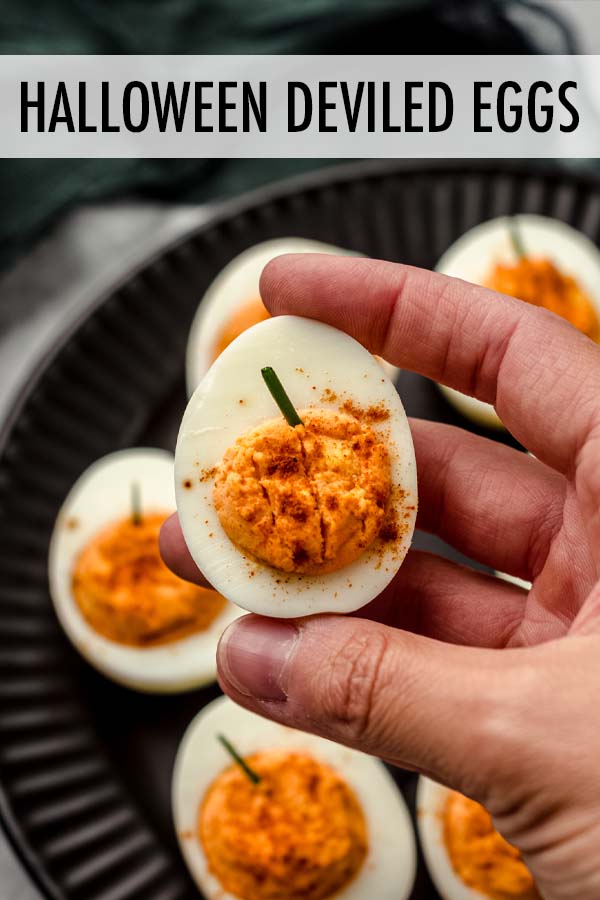 As an Amazon Associate, I earn from qualifying purchases. Read the full disclosure here.
Turn your traditional deviled eggs into Halloween deviled eggs by creating adorable pumpkins with the filling! Use my easy tutorial for making hard boiled eggs in the Instant Pot or stick to your tried-and-true method.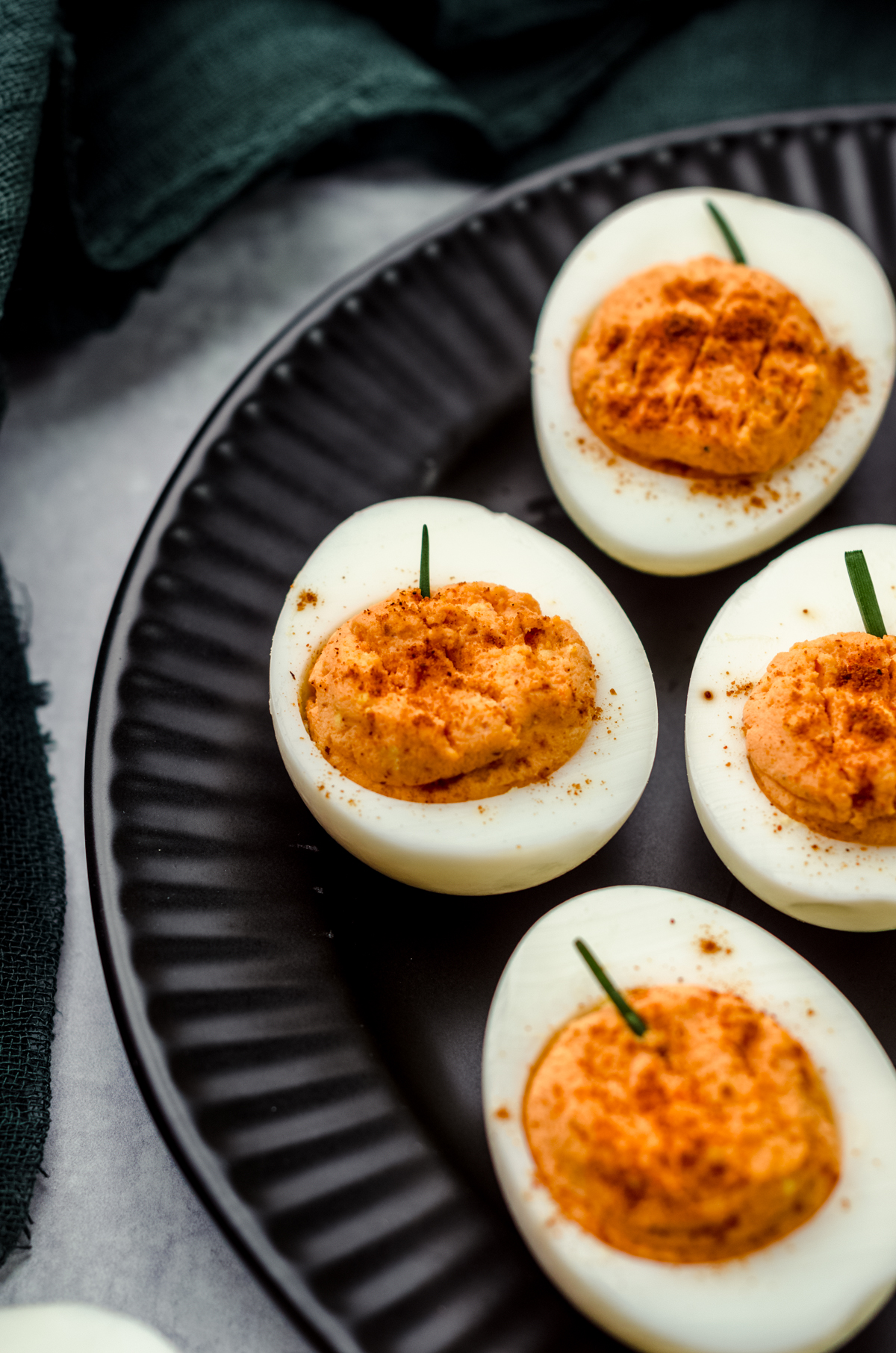 YOUR NEW FAVORITE HALLOWEEN PARTY DISH
If you're anything like me, the savory appetizers and snacks at a party are your favorite. And whenever deviled eggs are involved, I'm there. Dress them up like cute little pumpkins? Forget about it. I'm such a sucker for festive treats (Christmas Oreos taste better than non-Christmas ones, for real).
You're going to love how simple these Halloween deviled eggs are, and believe me when I say the next Halloween party you have or go to needs to have them. And if you're looking for more fun apps, main dishes, or desserts, check out my 50+ Halloween Food Ideas for Kids.
HARD-BOILED EGGS: MY FAVORITE WAY OR YOURS
The key to a solid deviled egg starts with the hard boiled eggs. I spent literal years making subpar hard boiled eggs until I tried making them in the Instant Pot when I got one in 2017. I have not looked back once!
If you have a personal go-to method to hard-boil eggs, please use it. I'm not here to convince you that my easy way is the best way if you have a method that works really well for you. But if you've always struggled with making hard boiled eggs with perfectly soft yolks that are easy to peel, break out your Instant Pot or other electric pressure cooker and check out my perfect hard boiled eggs recipe (they make great Easter eggs, too!).
---
INGREDIENTS FOR THE BEST DEVILED EGGS
So many times, I think that folks overdo and overcomplicate the deviled egg base. Much like a chocolate chip cookie, flaky pie crust, or apple pie, sometimes the simpler, the better.
And that's how I approach this Halloween pumpkin deviled egg recipe: nothing but simple ingredients.
Just like the method for preparing your batch of eggs, don't let the ingredients in the recipe below deter you from using your favorite deviled egg base if you have one that you know and love. But again, if you don't have one, this recipe is truly delicious and a great place to start if you want a deviled egg recipe you can rely on.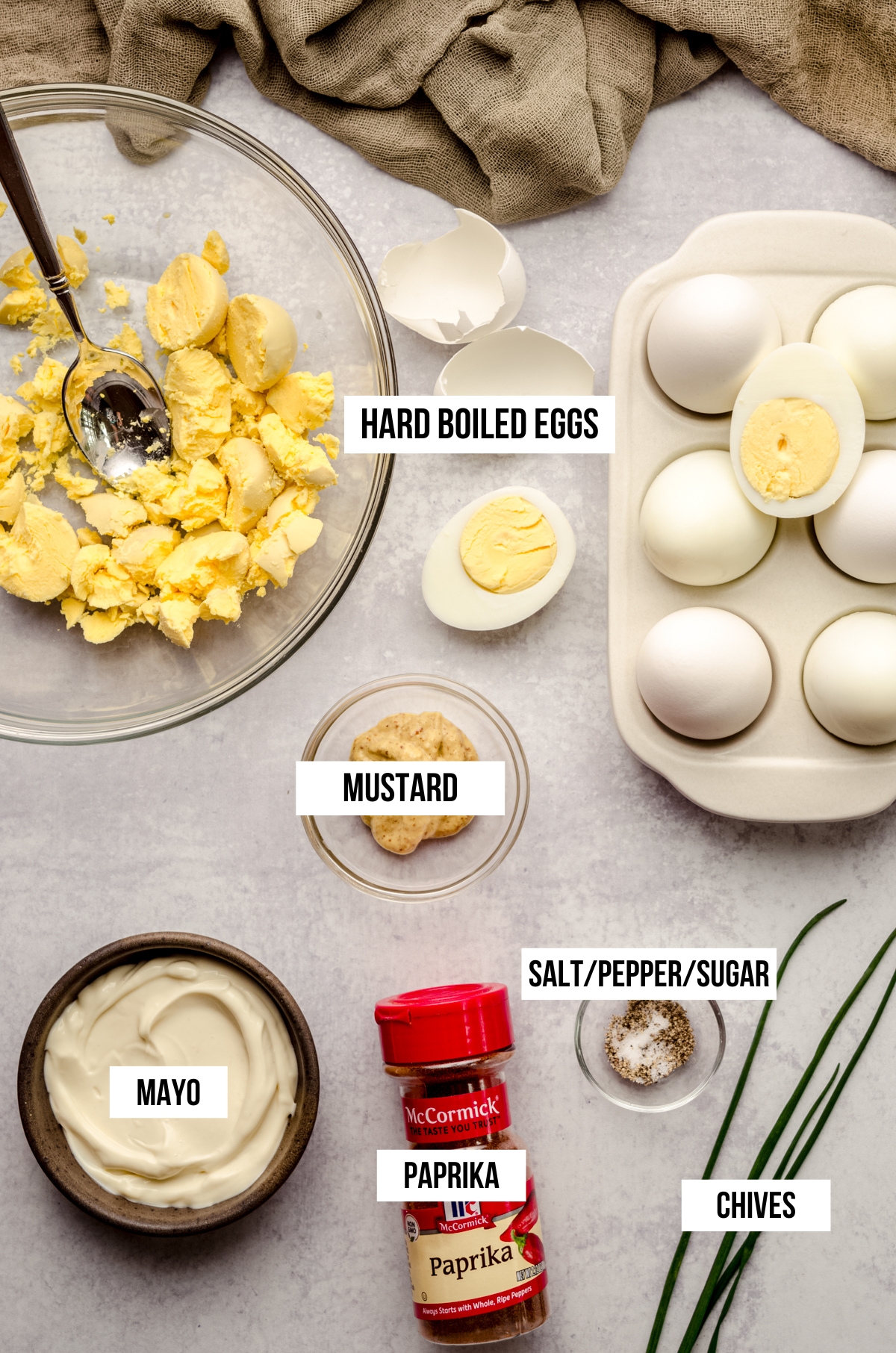 For these Halloween deviled eggs, you will need:
• hard boiled eggs
• mayonnaise
• mustard
• granulated sugar
• salt
• black pepper
• paprika
• chives
ADDITIONAL OPTIONAL INGREDIENTS
THINNING LIQUID: depending on the texture of your deviled egg filling, you may need to thin it out a bit to make it easy to handle. I personally like the taste that dill pickle juice brings to deviled eggs, and we always have a jar of pickles in our kitchen. In reality, you can use any liquid you like such as milk, water, or even hot sauce. Feel free to add whatever you think would work best with your flavor profile and what you have available to you (no need to go buy a jar of pickles for what might only be a teaspoon or so of liquid).
FOOD COLORING: you can see that my pumpkins are orange, and I made that happen with food coloring. If you'd rather not use food coloring, you can just lean into the additional paprika sprinkled on top of the finished deviled eggs or opt to add some to the actual egg yolk mixture. Personally, I just added a few drops of red food coloring (since it will mix with the yellow to create orange), but you can use orange food coloring if you have it.
HOW TO MAKE HALLOWEEN PUMPKIN DEVILED EGGS
Deviled eggs are quite simple as far as the method goes, and turning them into Halloween-style eggs takes just a teeny bit of extra effort.
HARD BOIL EGGS
Obviously, you're going to need to start with hard boiled eggs before anything else. As mentioned above and in the recipe card, you can use my Instant Pot method, your own method, or even start with pre-cooked eggs that you can find in the egg section of your grocery store.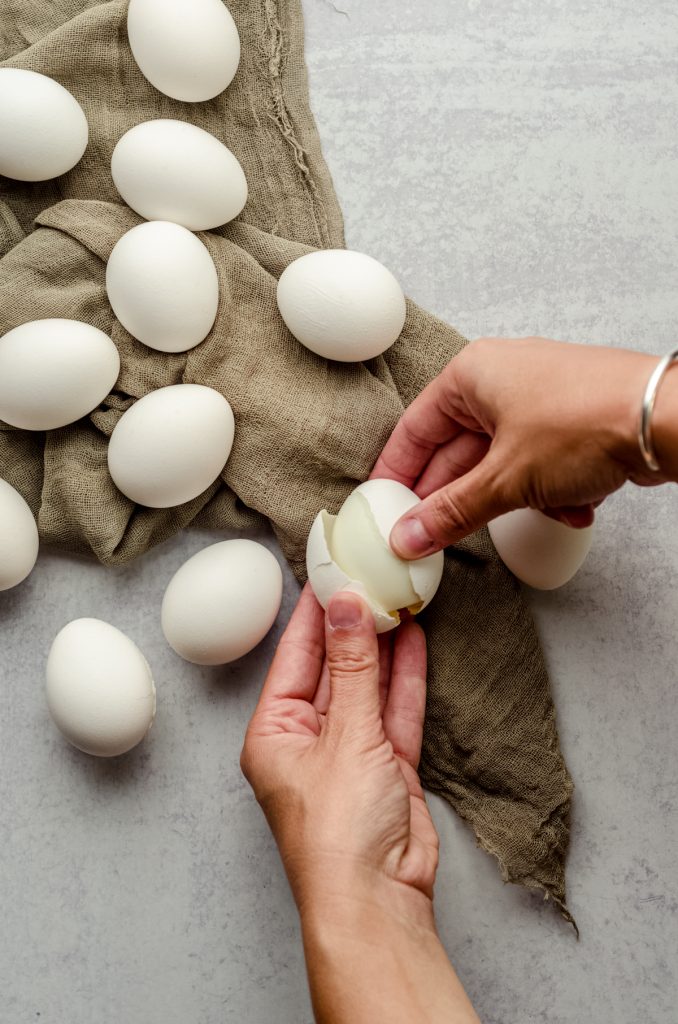 This recipe is for 24 halves, which means you'll need 12 hard cooked eggs.
MAKE THE EGG YOLK MIXTURE
Before you make the egg filling, you'll need to prepare your eggs. You can take your eggs right from the bowl of ice water and peel them if you want to, but if you want to save time, you an make your hard boiled eggs up to a week in advance.
Slice each peeled hard boiled egg in half long ways and then carefully scoop the yolk out from each of the white halves.
​Place egg yolks into a medium size bowl, then mash them with a fork. Add the rest of the ingredients and mash again.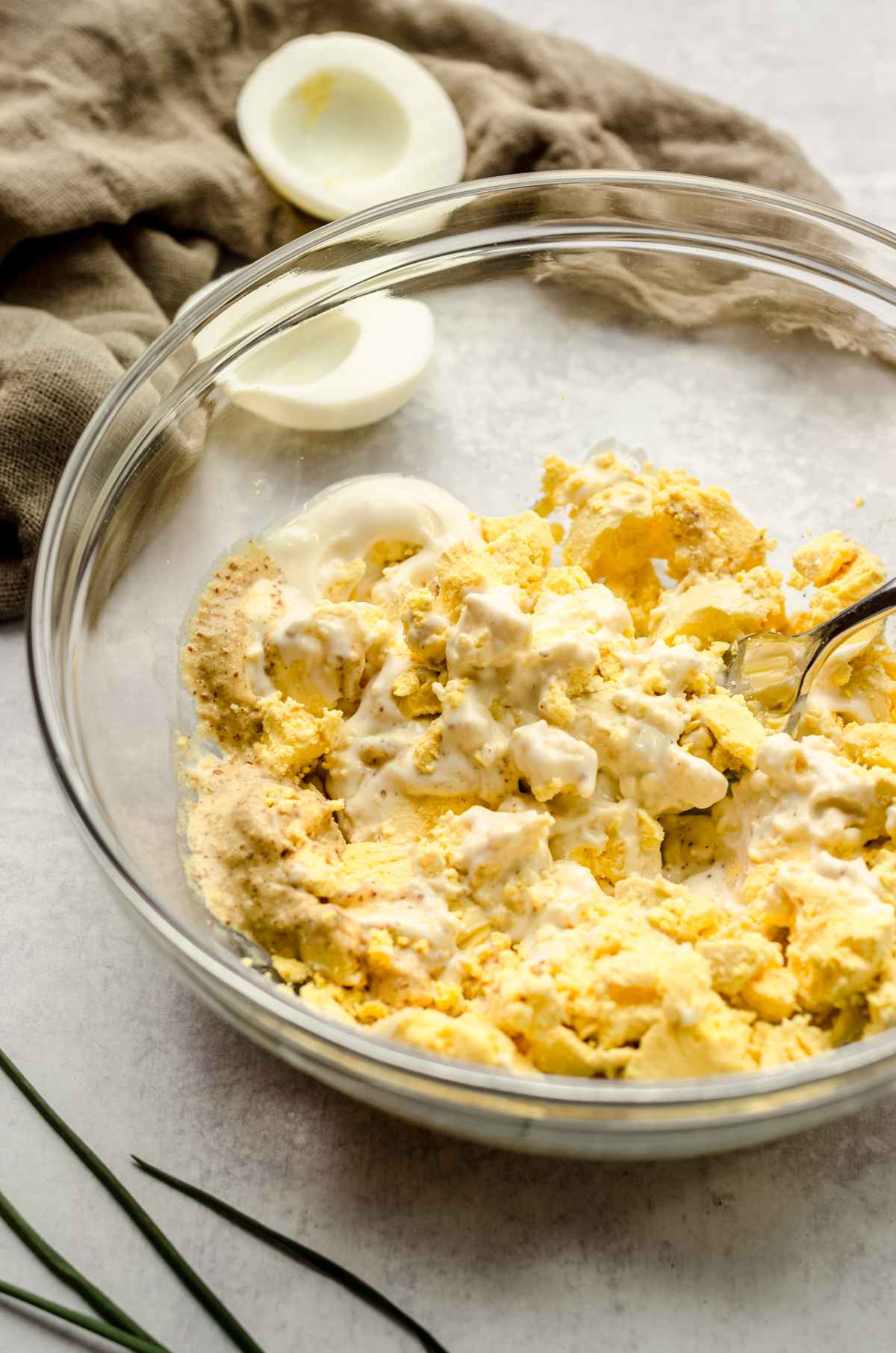 If you're looking for a smoother consistency, you can always mix up the filling with a hand mixer or stand mixer.
ADJUST THE CONSISTENCY OF THE FILLING
As I mentioned above in the "additional optional ingredients" section, you may need to thin out the egg yolk mixture in order to make it useable. You're looking for a consistency that you can put into a piping bag, as I personally feel that's the easiest way to get the mixture into the egg white halves.
Use pickle juice, water, milk, hot sauce (which could also help with the color!), or any other liquid you think might work best for your desired taste and consistency to get the filling consistency just right.
OPTIONAL: TINT THE FILLING
Want your pumpkins to be orange? Go ahead and add your red or orange food coloring (you only need a few drops to get the job done) or sprinkle some paprika in, stir it up, and add more color, if desired.
FILL THE COOKED EGG WHITES
As I mentioned, using a piping bag (fitted with a tip or not) is my preferred method for filling deviled eggs. You can also use a large zip top bag with the tip snipped off or even just a spoon.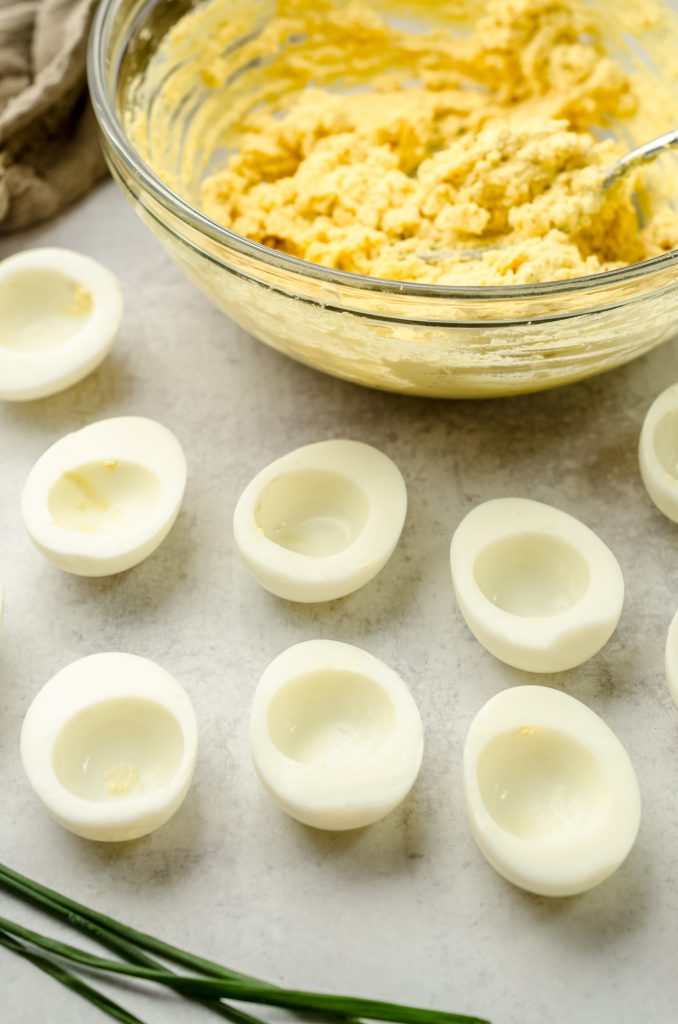 Just be sure you're getting the filling in there as evenly as possible, rounding the mounds so they resemble pumpkins. Use your fingers or a spatula to shape the filling if you're not happy with the way it looks when piped.
TURN THE FILLING INTO A PUMPKIN
Here's the fun part! Simply use a small piece of chive to make a pumpkin "stem" sticking out of the top of each pumpkin. Alternatively, you could use any other green leafy something you have on hand already or a thinly sliced green bell pepper.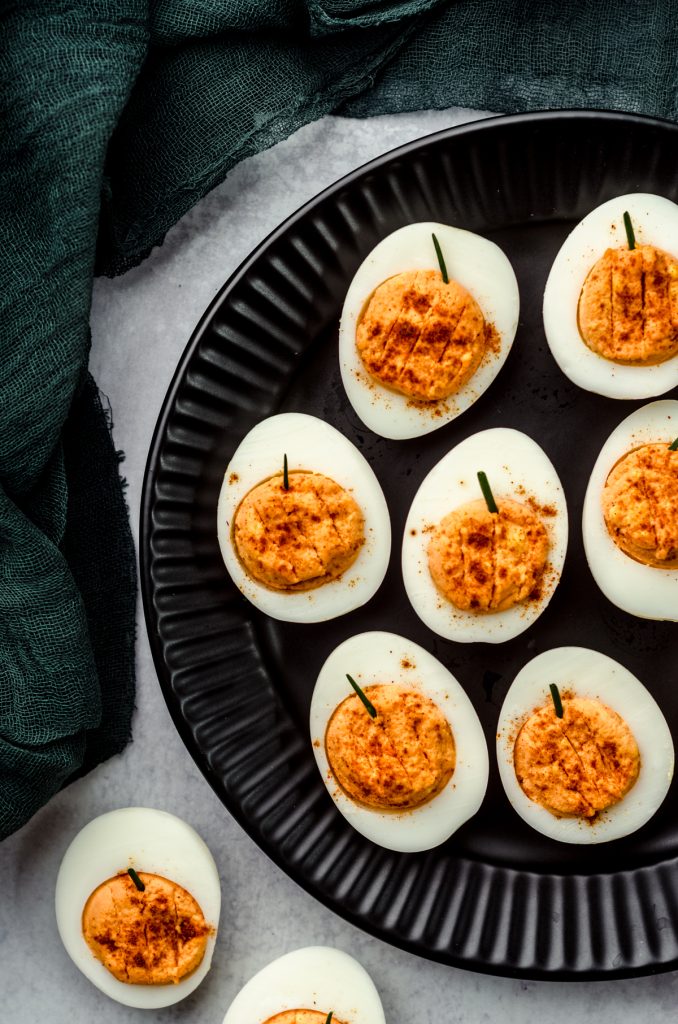 Add that signature sprinkle of paprika to add some interesting color and texture, and then, if you want to, you can use a pairing knife to make ridges in the pumpkin or other details (maybe you're more creative than I am).
HOW TO STORE LEFTOVER DEVILED EGGS
Deviled eggs have the potential to dry out easily, so be sure you're storing them covered tightly in the refrigerator. If stored properly, they should last about 5 days before starting to lose their luster, and they are perfectly fine to eat for about a week.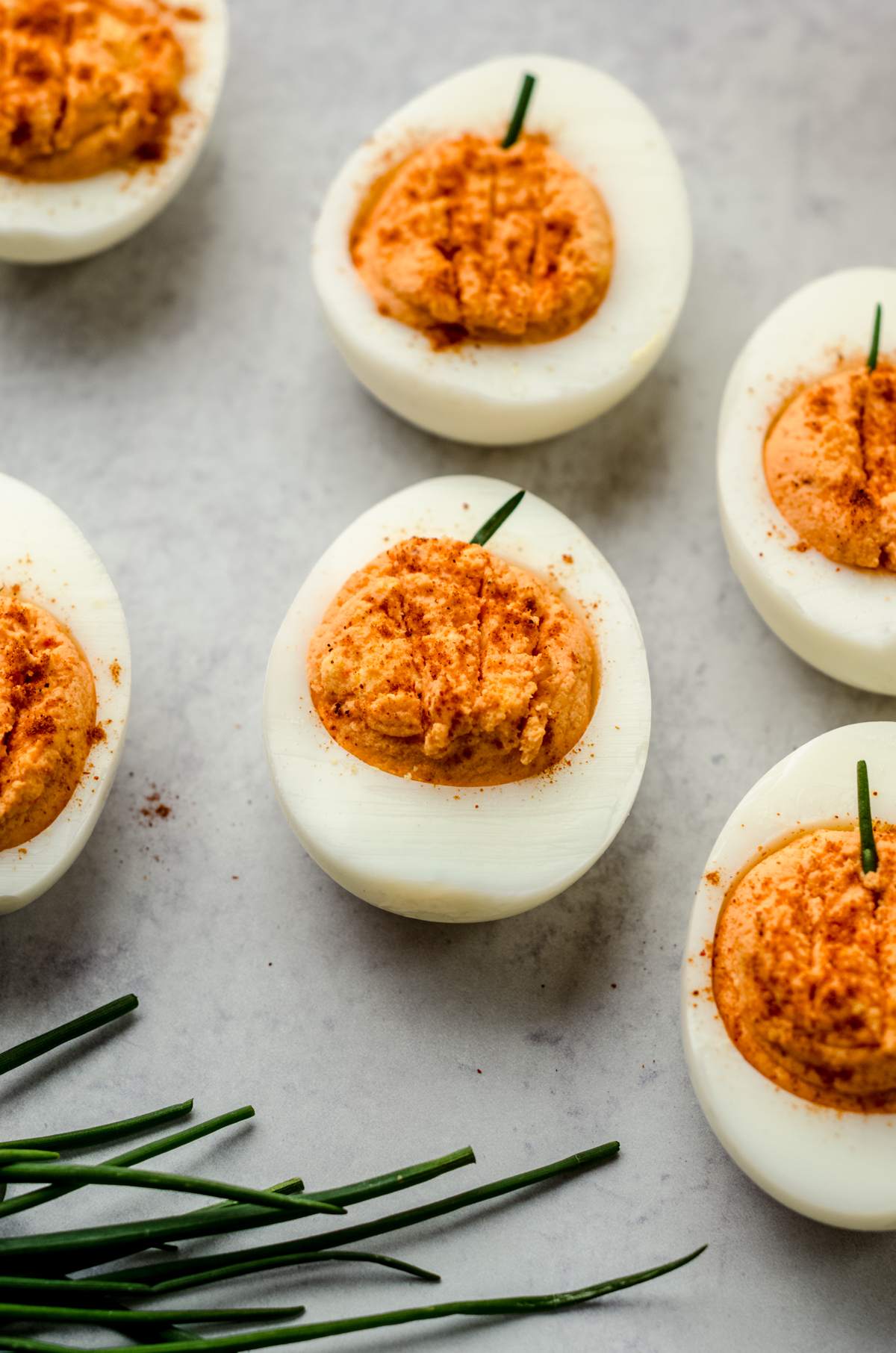 HALLOWEEN DEVILED EGGS FAQs
Halloween Deviled Eggs Recipe
Turn your traditional deviled eggs into Halloween deviled eggs by creating adorable pumpkins with the filling!
Ingredients
12

large hard boiled eggs1

halved and yolks removed

¼

cup

(52g) mayonnaise

3

teaspoons

(15g) mustard2

½

teaspoon

granulated sugar

⅛

teaspoon

salt

⅛

teaspoon

black pepper
paprika
fresh chives
Instructions
Place the cooked egg halves on a large baking sheet or plate and set aside.

In a medium size bowl, mash the cooked yolks of the hard boiled eggs with a fork (or with a mixer if you want a completely smooth egg yolk mixture).

To the mashed yolks, add the mayonnaise, mustard, sugar, salt, and pepper. Continue mixing until everything is combined. Depending on the moistness of your yolks and/or your preferred deviled egg filling texture, you may want or need to add some liquid3 to thin it out.

If desired, add a few drops of red or orange food coloring to the egg yolk filling to make it orange.

When you are satisfied with the texture and color of the filling, fill each egg half with a rounded mound of filling. I prefer to do this with a pastry bag or a zip top bag with the end snipped off.

When all of the eggs are filled, add a sprinkle of paprika, a tiny piece of chive, and make indentations (if desired) with a sharp knife so the filling resembles a pumpkin. Serve immediately. Store leftovers covered tightly in the refrigerator up to 3 days.
Notes
Hard boiled eggs: my tried, true, and used-on-a-weekly-basis-in-our-house method for making hard cooked eggs is in a pressure cooker. Use whatever your preferred method is for making hard boiled eggs, or try out a new method with my Instant Pot hard boiled eggs.
Mustard: I like to use dijon or spicy mustard in my deviled eggs, but you can use any mustard you prefer. I recommend not using honey mustard since you will already be adding sugar.
Liquid: I highly recommend using dill or sweet pickle juice to thin out your deviled egg filling, but you can use any liquid you would like, including water or milk. Just keep in mind that adding milk will mean these deviled eggs are no longer dairy-free.
Nutrition Disclosure
All nutritional values are approximate and provided to the reader as a courtesy. Changing ingredients and/or quantities will alter the estimated nutritional calculations.
Serving:
1
deviled egg
|
Calories:
48
kcal
|
Carbohydrates:
0.3
g
|
Protein:
3
g
|
Fat:
4
g
|
Saturated Fat:
1
g
|
Polyunsaturated Fat:
1
g
|
Monounsaturated Fat:
1
g
|
Trans Fat:
0.01
g
|
Cholesterol:
83
mg
|
Sodium:
65
mg
|
Potassium:
32
mg
|
Fiber:
0.03
g
|
Sugar:
0.2
g
|
Vitamin A:
121
IU
|
Vitamin C:
0.003
mg
|
Calcium:
13
mg
|
Iron:
0.4
mg