As an Amazon Associate I earn from qualifying purchases.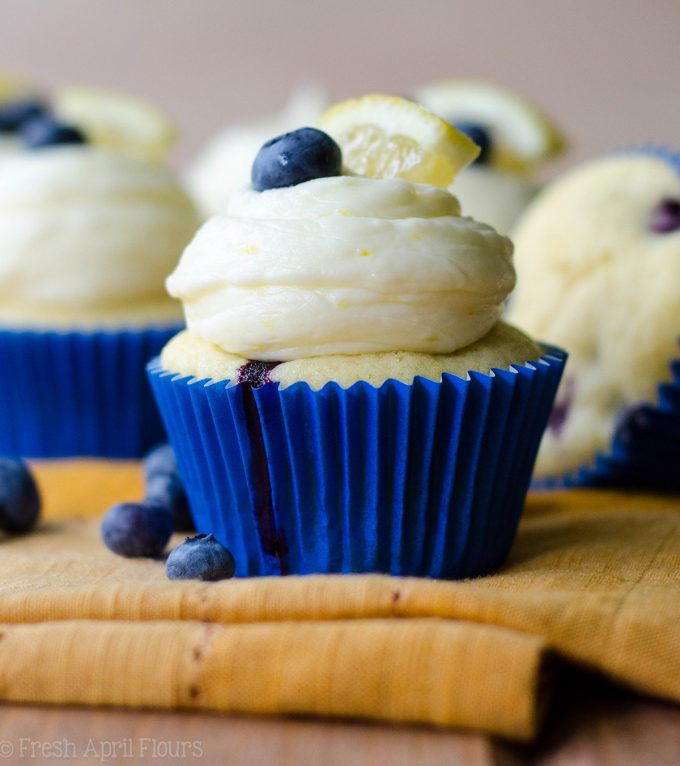 This recipe is a longggg time coming. And I mean LONG. I spoke about these cupcakes 2 years ago in my Failed Recipes of 2015, and I said then that I needed to bring them to the blog soon. "Soon," apparently, is a relative word in this case.
Although, I did semi-bring them to you last year, just without the blueberries, in the form of triple lemon cupcakes! But, that's grasping at straws, really, because blueberry lemon cupcakes are in a league of their own, my friends. And if I know anything about my readers, it's that you love blueberry + lemon together, so today, we're celebrating big time!
Let's start at the beginning, though, with what exactly is going on today. I'm giving away some really wonderful goodies from my friends at Sweets & Treats, because I am actually obsessed with their cupcake liners. OB. SESSED. I've been using them almost exclusively for years, and when I asked them if I could give some away to a lucky reader, they eagerly accepted and added a few fun things to the package! S&T are seriously the place to go for all of your party planning. Straws, sprinkles, goodie bags, adorable liners– you name it, they've got it, and it's probably got some absolutely adorable pattern on it (OMG flamingo straws!). You need these people in your life. Believe me!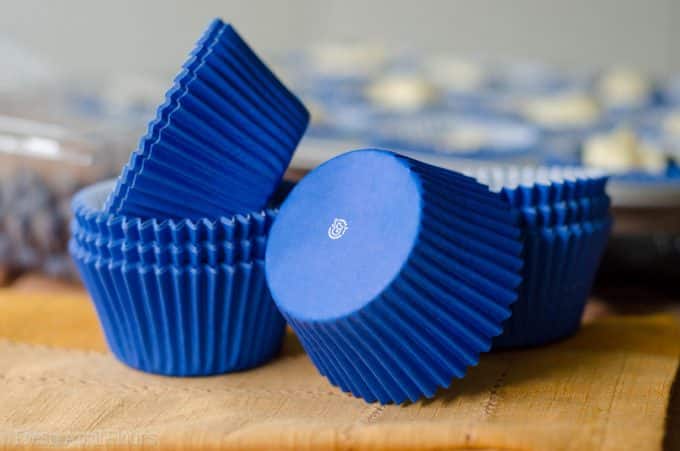 So what makes their liners so great? They're greaseproof, which means that when you bake your cupcakes/muffins in a bright royal blue liner, that cupcake/muffin is going to stay surrounded by bright royal blue whether you like it or not! No bleeding through the paper, messing up the pretty design… Nada! You can see in my triple lemon cupcakes that those cuties stayed intact, whereas with my pumpkin muffins, the patterned liners lost all credibility. Womp womp. Side note: that was a last minute recipe and I didn't have any fall themed S&T liners!! Rookie mistake.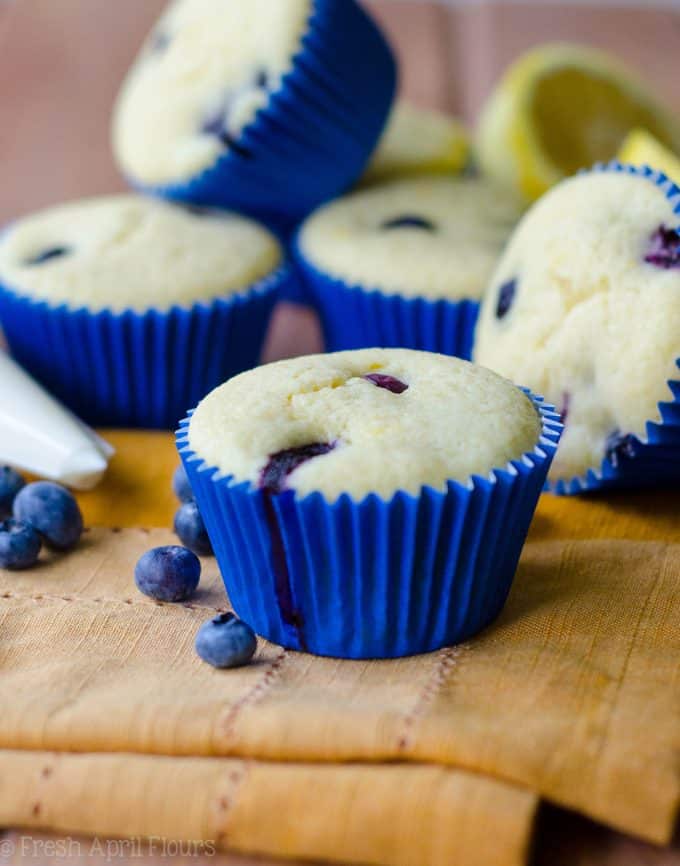 And today, I'll be letting one lucky reader into the amazing world of S&T cupcake liners (+ some other awesome goodies), so don't forget to check out the bottom of the post for how to enter!
Now, onto the boring part: the blueberry lemon cupcakes.
Oh, not so boring, you say? Right-o. Glad we're on the same baking nerd page here!
There is truly nothing fancy about these lemon cupcakes. They get all of their amazing flavor from the zest and juice of 2 lemons, and let me tell you, they are jam packed full of lemon flavor. The cupcakes are sweet, but they're also nowhere near too sweet, so all of that tangy lemon shines right through every bite.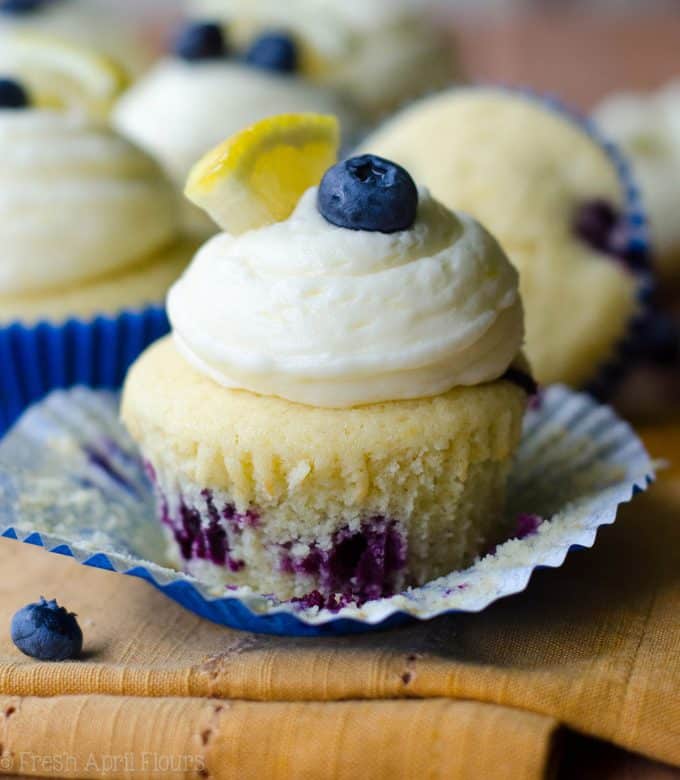 The sweetness and added flavor bursts definitely come through via fresh blueberries. You can certainly use frozen, just don't thaw before use! A little toss in some flour will insure they stay afloat in the cupcakes and don't all sink to the bottom.
Of course, a couple more bluebs on the tops of the filled cupcake liners never hurt anyone. In fact, they make for beautiful blueberry bursts all over the tops! Added top bluebs: highly encouraged.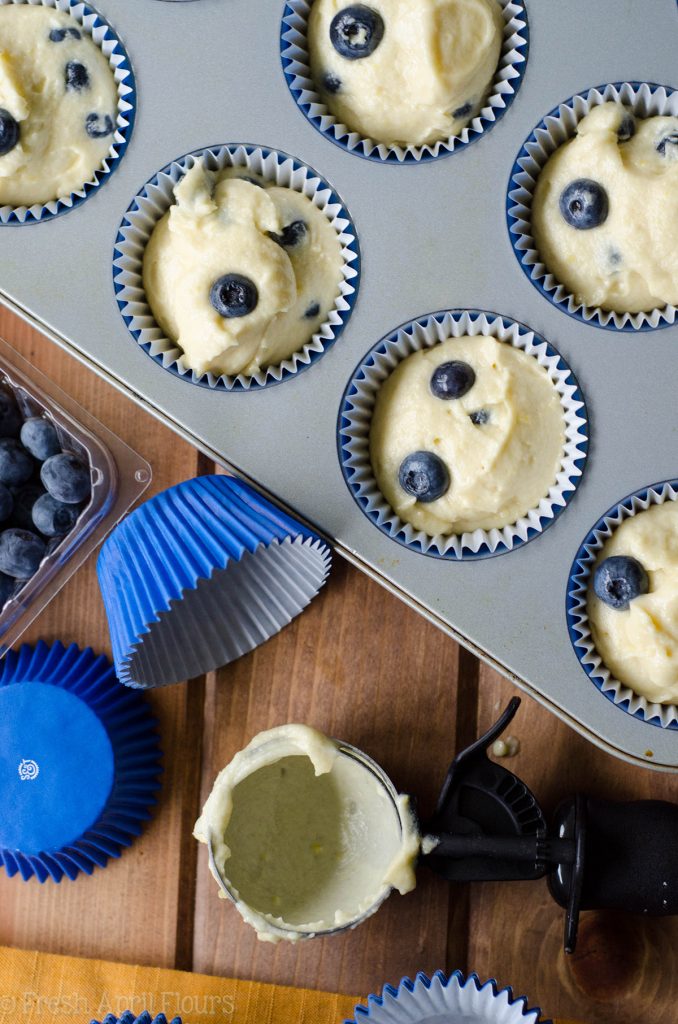 The star of the show, in my opinion, is the creamy lemon buttercream that goes on top of these delectable blueberry lemon cuppies. It is sweet, tangy, smooth, and great for all sorts of confections (aka try it on white cake or OHHHHH strawberry cake!!!!!). It's very simple, and will require the zest and almost all of the juice of one more lemon. Two lemons in the cupcakes, one lemon in the buttercream. Man, oh, man! We are in lemon business, aren't we?!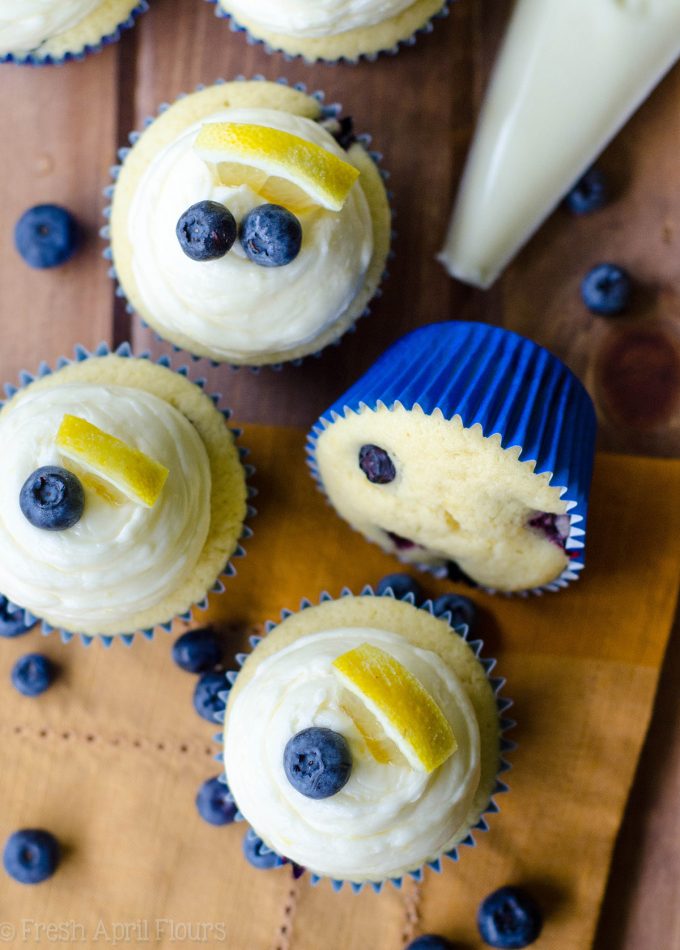 Once you get a bite of these cupcakes, you'll totally understand why the world can't seem to ever get enough of blueberries + lemons. Are they the new "it" couple? It's possible. And I wouldn't blame the world for deeming that so. Especially if cupcakes are involved, amirite?
So, friends, I promised you a giveaway, and here's the deal…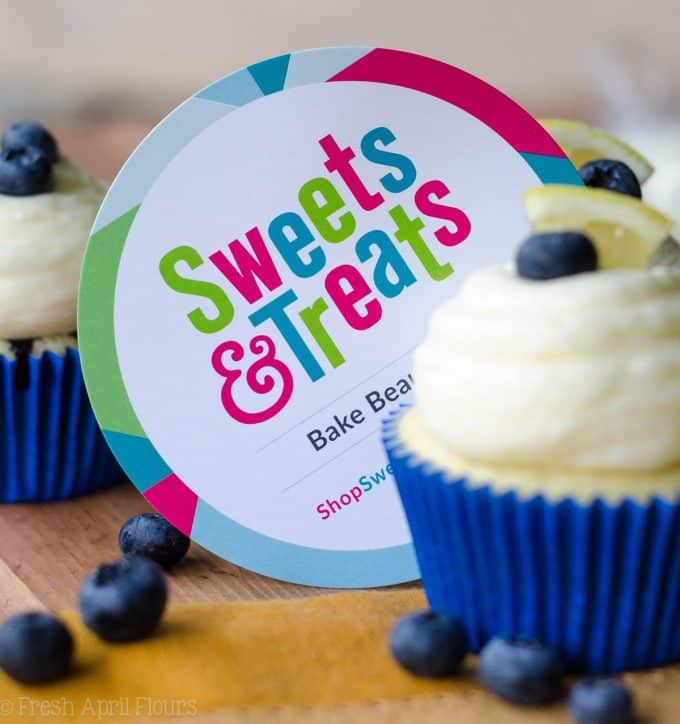 Who can enter?
This giveaway is open to residents of the U.S. and Canada.
One reader will be picked at random (via random.org) to win a goodie pack from Sweets & Treats!
How to enter
Just comment on this post and tell me… What is your favorite kind of cupcake?
Giveaway ends Wednesday, August 30th at 11:59pm EST.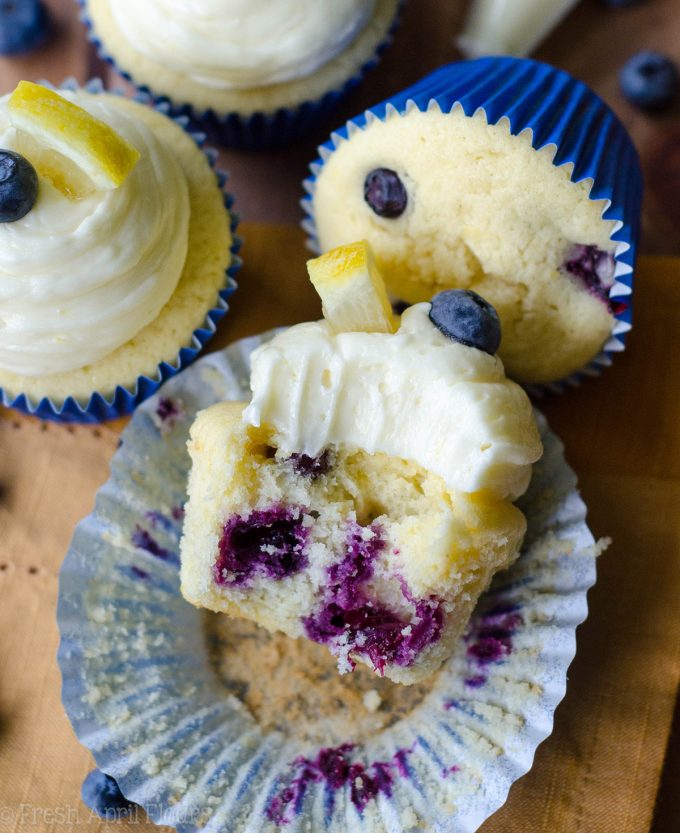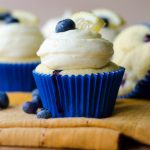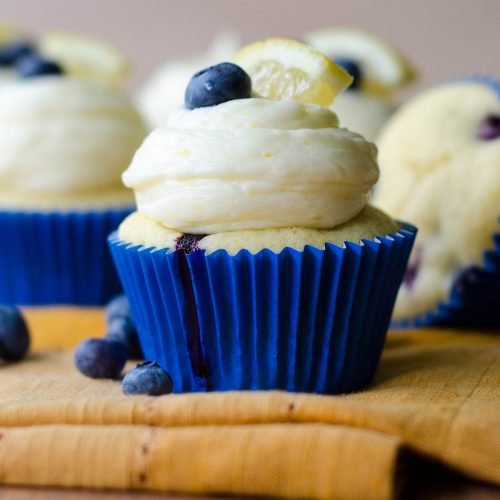 Print Recipe
Blueberry Lemon Cupcakes with Lemon Buttercream
Tangy lemon cupcakes bursting with sweet and juicy blueberries, topped with a creamy lemon buttercream.
Ingredients
CUPCAKES
1

and 1/2 cups + 1 Tablespoon all purpose flour

divided

2

and 1/2 teaspoons baking powder

1/2

teaspoon

salt

1/2

cup

1 stick unsalted butter, softened to room temperature

3/4

cup

granulated sugar

2

large eggs

room temperature*

2

teaspoons

vanilla extract

1/2

cup

milk

any

juice and zest of 2 lemons

3/4

cup

blueberries

fresh or frozen-- if frozen, do not thaw
LEMON BUTTERCREAM
1

cup

2 sticks unsalted butter, softened to room temperature

1

pound

4 and 1/2 cups powdered sugar

zest of one lemon

2

and 1/2 Tablespoons lemon juice

2

Tablespoons

milk or cream
Instructions
CUPCAKES
Preheat the oven to 350ºF. Line a 12 count cupcake pan with cupcake liners.

In a medium size bowl, toss together 1 and 1/2 cups of the flour, baking powder, and salt. Set aside.

In a large bowl with a handheld mixer or the bowl of a stand mixer fitted with the paddle attachment, beat the butter and sugar on medium-high speed until light and fluffy (about 3 minutes). Add each egg, one at a time, beating on medium-high speed until fully incorporated, scraping down the sides as necessary. Add the vanilla extract and lemon zest and beat again until combined.

Stir the lemon juice into the milk. Scrape down the sides of the mixer bowl and turn the mixer speed to low. Add the flour in 2 additions, alternating with the milk/lemon juice. Remove bowl from mixer and stir with a spatula until everything is completely combined. Toss the blueberries in the remaining 1 Tablespoon of flour, then gently fold into the batter with a spatula.

Spoon batter evenly into prepared cupcake liners (I prefer to use an ice cream scoop with a trigger) and top with a couple extra blueberries, if desired. Bake cupcakes 18-20 minutes or until a toothpick inserted in the center of a cupcake comes out clean. Remove from oven and allow to cool completely before decorating.
LEMON BUTTERCREAM
In a medium size bowl with a handheld mixer, or a stand mixer fitted with the paddle attachment, beat the butter on medium speed until creamy, about 2 minutes.

With the mixer on low, add in the powdered sugar, lemon zest, lemon juice, and milk or cream. Increase mixer speed to medium and beat until completely smooth, about 3 minutes. If frosting is too stiff, add more milk. If it is too thin, add more powdered sugar.
ASSEMBLE CUPCAKES
Store cupcakes covered tightly at room temperature up to 4 days or in the refrigerator up to 6 days.
Notes
*Room temperature eggs incorporate into batter much more easily than cold eggs. Allow to sit at room temperature for 45 minutes. If you don't have time, place eggs in a bowl of warm water for 10 minutes or until ready to use.