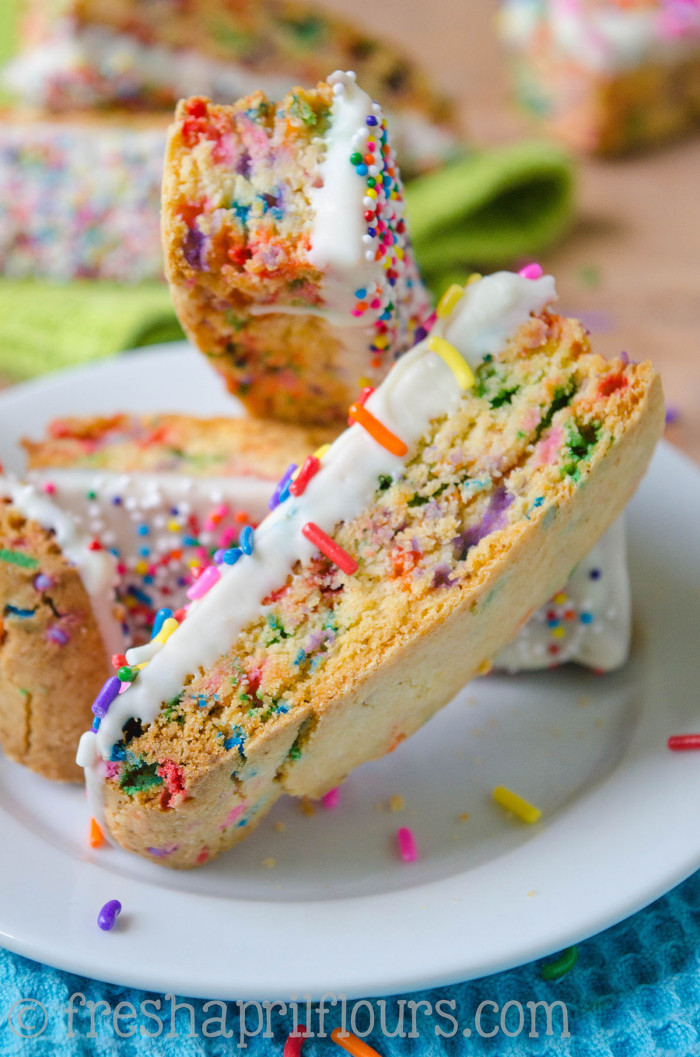 I've had biscotti on my list for a longggg time. It only seemed appropriate that the first biscotti I attempted had sprinkles in them, to celebrate my crossing an item off of the list, of course, and also something super crazy cool I got to do this past weekend.
There is this blogger, Sally, who has been one of my biggest influences in the food blogging world since before I even started this blog. Her recipes are amazing, her photos are stunning, and her sense of humor is incredibly relatable (oh, and she seriously loves sprinkles— a lot). I feel honored to be able to call Sally not only a mentor but also, in the last few months, a friend.
A lot of things have occurred since I first started reading Sally's blog that allowed us to connect, but somehow, by the whirlwind of a perfect storm that must come together to allow a regular gal like me to spend some quality time with one of her biggest influences, Sally and I met for lunch this past weekend. And it was great! We talked about baking and blogging and writing cookbooks and spin class and Snapchat and LIFE. It was a wonderful afternoon!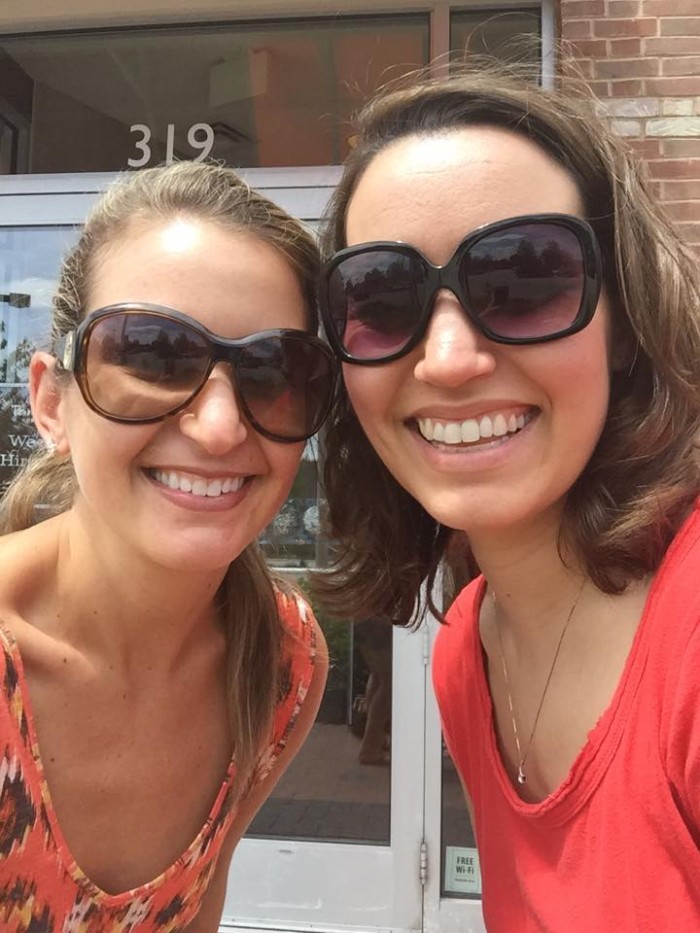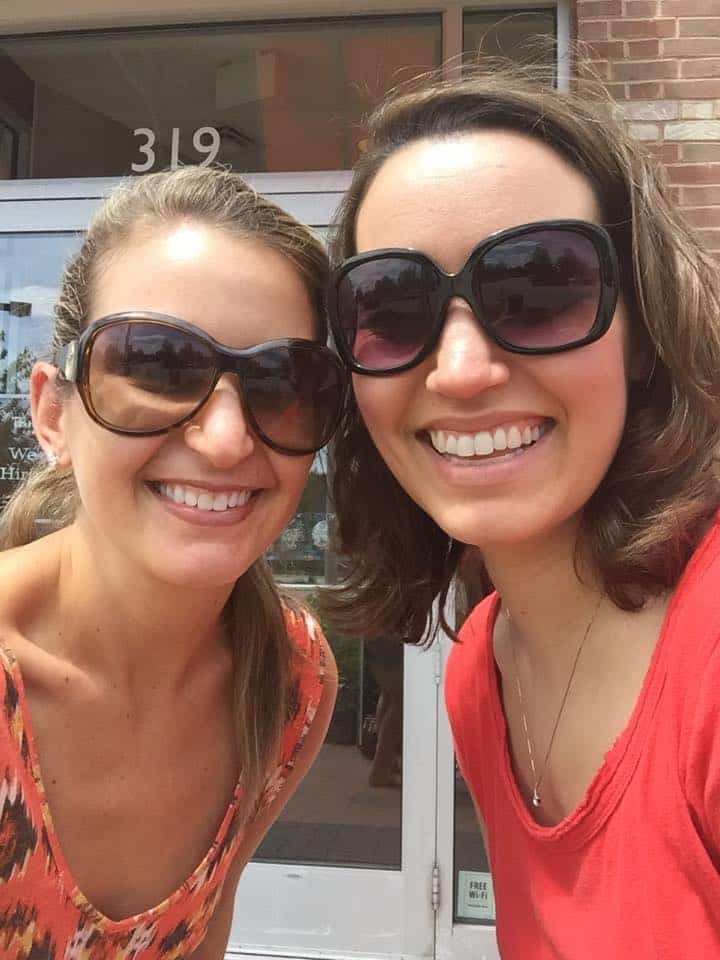 A few weeks ago, I sent Sally some puppy chow samples along with one of my books, but I knew I needed to bring her a treat to our lunch date that had SALLY written all over it.
Enter: funfetti biscotti.
Sally actually encouraged me to tackle biscotti back when she posted this chocolate-dipped almond biscotti recipe, so I thought it would be fun to bring her my own variety of biscotti. I am really glad I attempted my first biscotti recipe when I did, because it failed miserably, and I still had some time to wipe away my sprinkle stained tears, gather my thoughts, and try again.
You know what they say, second time's a charm (what?), and here we are. No failing, certainly not miserable, and sprinkles are absolutely everywhere. That's my kinda recipe.
Are you a fan of biscotti? I always have been, probably thanks to my Italian background, and I have always always been a dunker. Don't get me wrong, if somehow I have the opportunity to consume biscotti without a dunking beverage, I will in a heartbeat, but biscotti are made soooo much better when they're just a little bit soggy with coffee. Or milk. Or whatever your dunking beverage of choice may be. The dunk = life.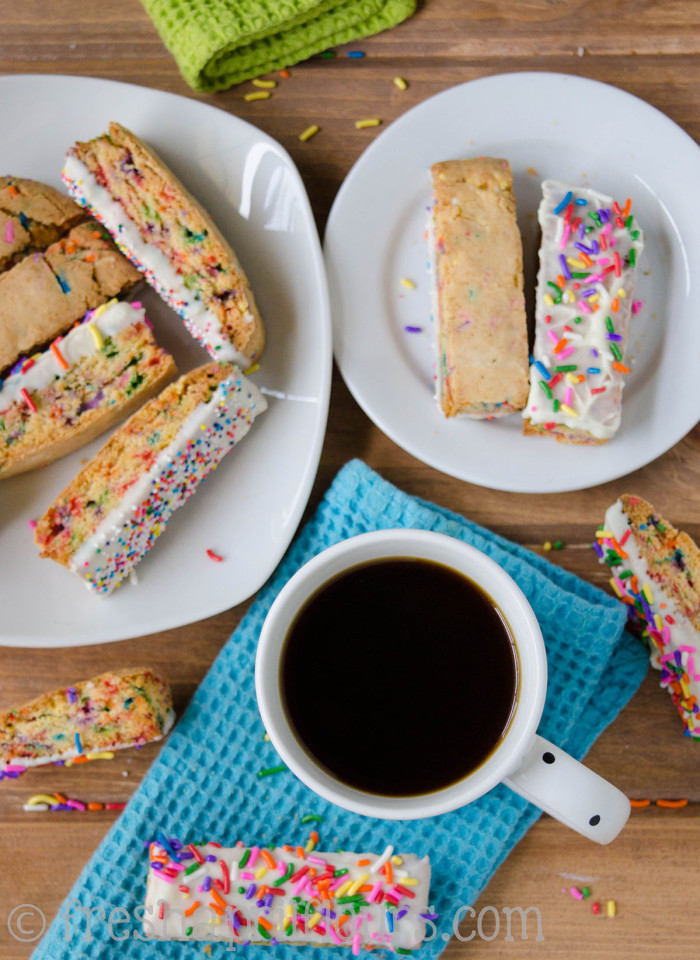 I will say this… Biscotti are not difficult, but they are a little time consuming. Although biscotti are considered a cookie, the mixed dough behaves more like a bread. Once all of your ingredients are combined, the dough is formed into a rectangle, baked for a bit, allowed to cool, cut into slices, and then baked again. This careful method is what gives biscotti its major crunch. And not to worry– I have step-by-step photos and instructions for you right under the recipe.
There are no weird ingredients in these biscotti, unless you consider almond extract to be a weird ingredient (but if you're a regular reader here, you are quite familiar). Almond extract (along with butter and vanilla extract) helps give these biscotti their "funfetti" flavor. If you're allergic or simply don't enjoy almond extract, it is completely fine to omit it. I promise, there are enough sprinkles in these biscotti to funfetti the place up.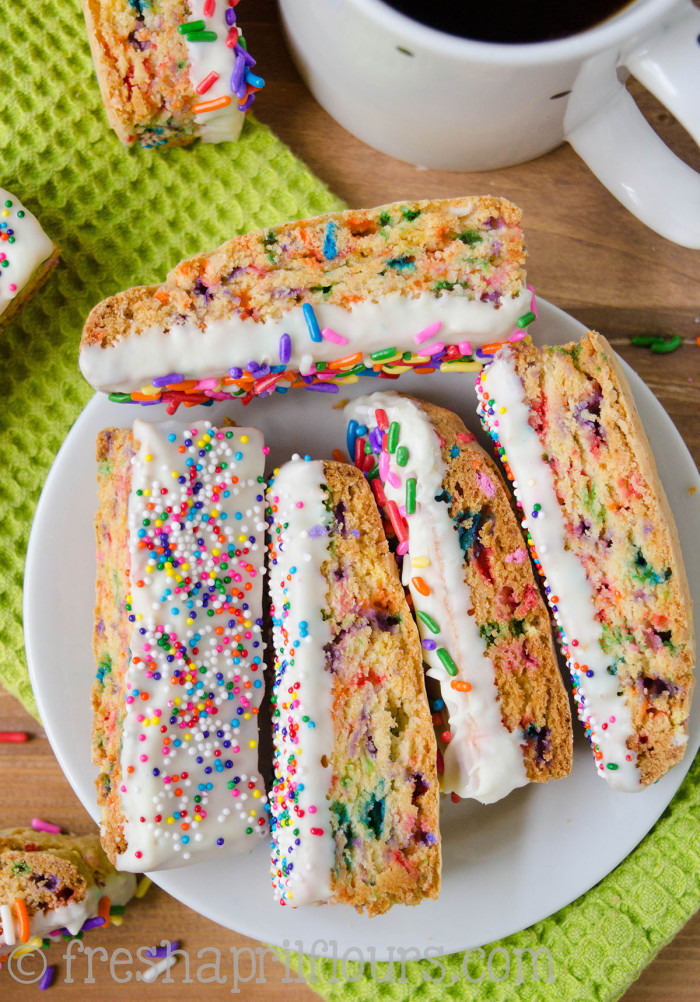 A little more about the ingredients… A bit of vegetable oil prevents the interior from getting dry, but also lends itself to aid in crunchifying (technical term) the exterior. Just one egg binds everything together and helps keep the interior crumbly without being like sand, so that when you dunk, each bite absolutely melts.in.your.mouth! A hefty dose of sprinkles adds a party to each individual biscotto, and while dipping your biscotti in white chocolate is totally optional, I highly suggest it, because…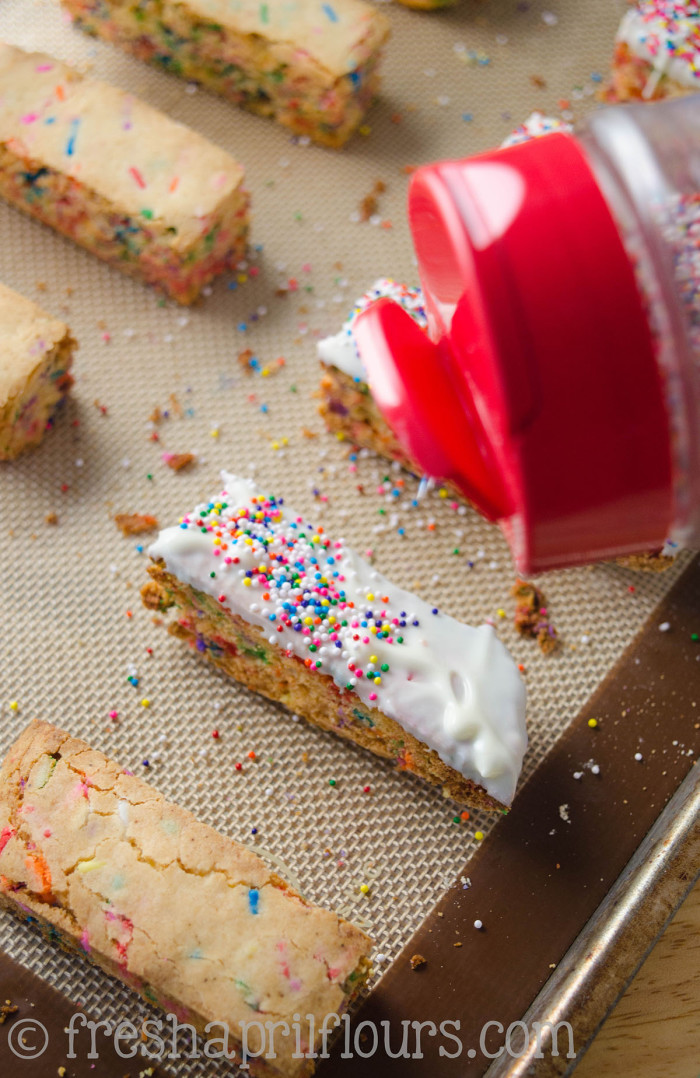 …you can add more sprinkles to each one! SCORE!
As I said, biscotti are not difficult, they just take a bit of time and patience. They're a great piece of art to add to your baking repertoire, and you better believe I will be making more varieties of biscotti as the holidays get closer (oh yes, so much closer than you think!).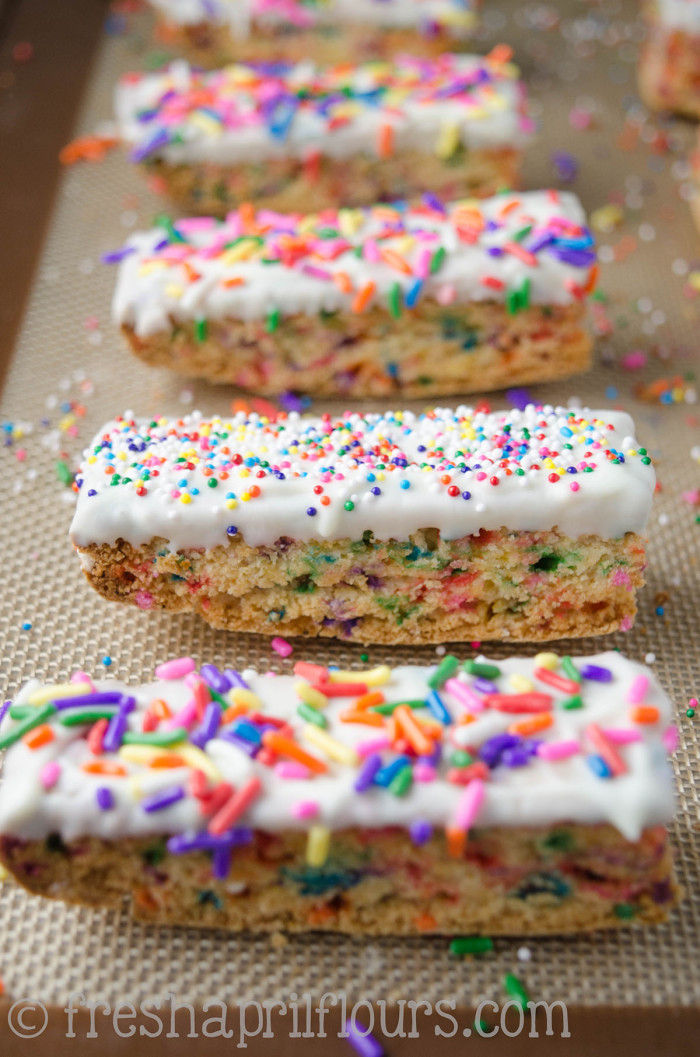 Grab your ingredients, get to work, and then bask in the joy of a party in your mouth as you dunk your biscotti right on into a steamy cup-o-Joe!
Preheat oven to 350ºF degrees. Line a large baking sheet with parchment paper or a silicone baking mat. Lightly flour the baking sheet. Set aside.
In a medium size bowl, whisk together butter, oil, egg, extracts, and sugar until combined. Set aside.
In a large bowl, toss together the flour, baking powder, salt, and sprinkles.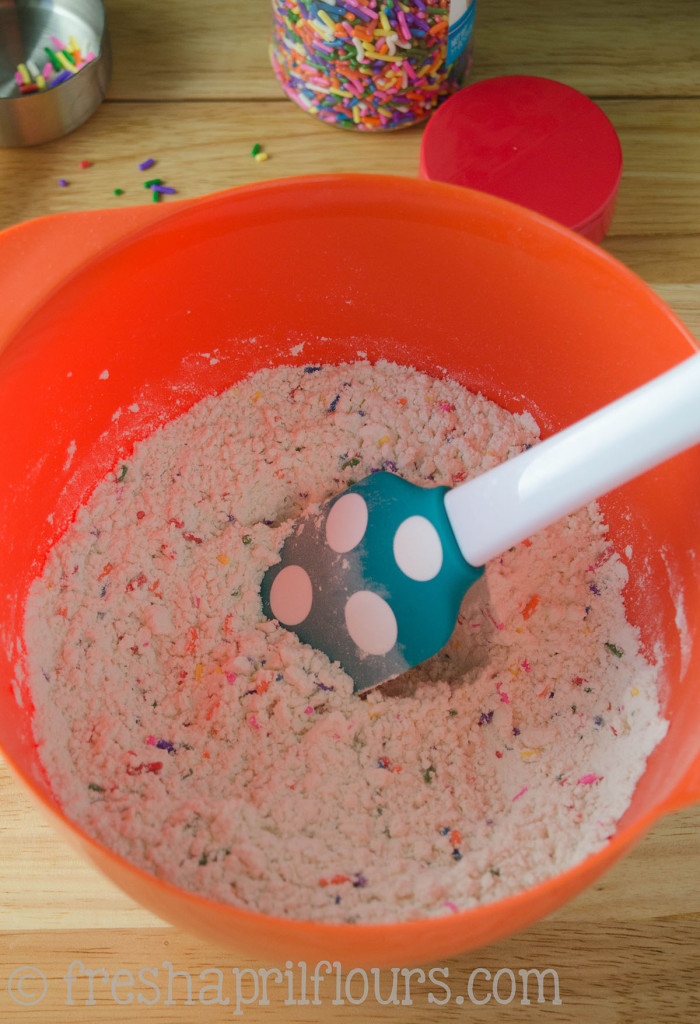 Add the wet ingredients to the dry ingredients and gently mix with a large wooden spoon or sturdy rubber spatula until everything is combined.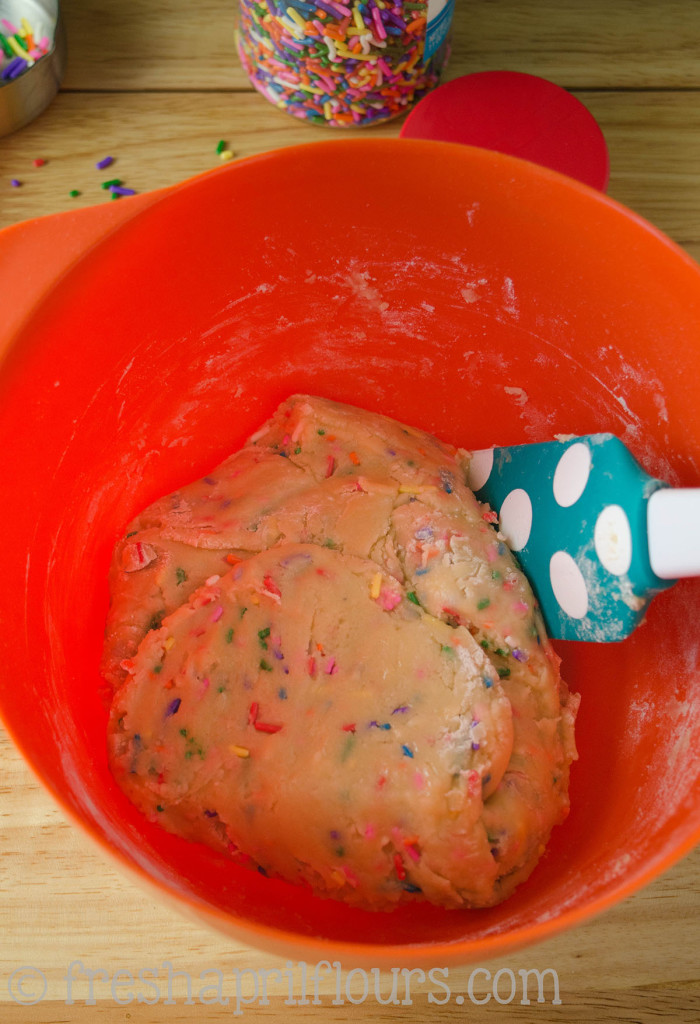 Turn dough out onto lightly floured baking sheet and, with floured hands, pat dough into a rectangle about 1/2″ thick. My rectangle was 6″ wide and 7 and 1/2″ long (using a ruler or a ruled silicone baking mat is helpful here).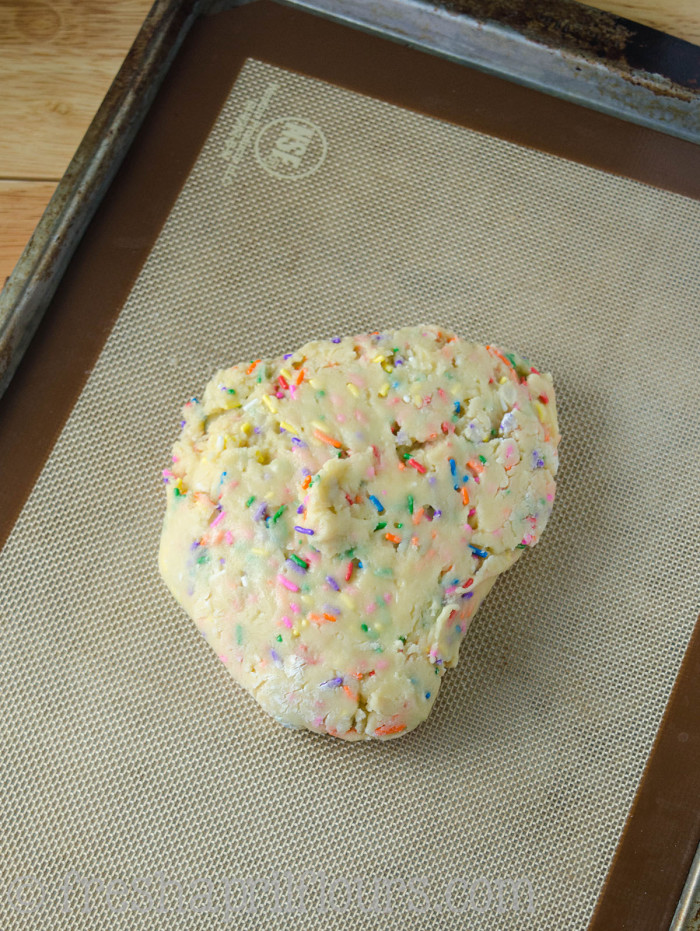 Bake dough slab for 20-22 minutes, or until the top and sides of the slab are lightly browned. Remove from the oven, but do not turn off the heat. Place baking sheet on a wire rack and allow to cool for 10 minutes.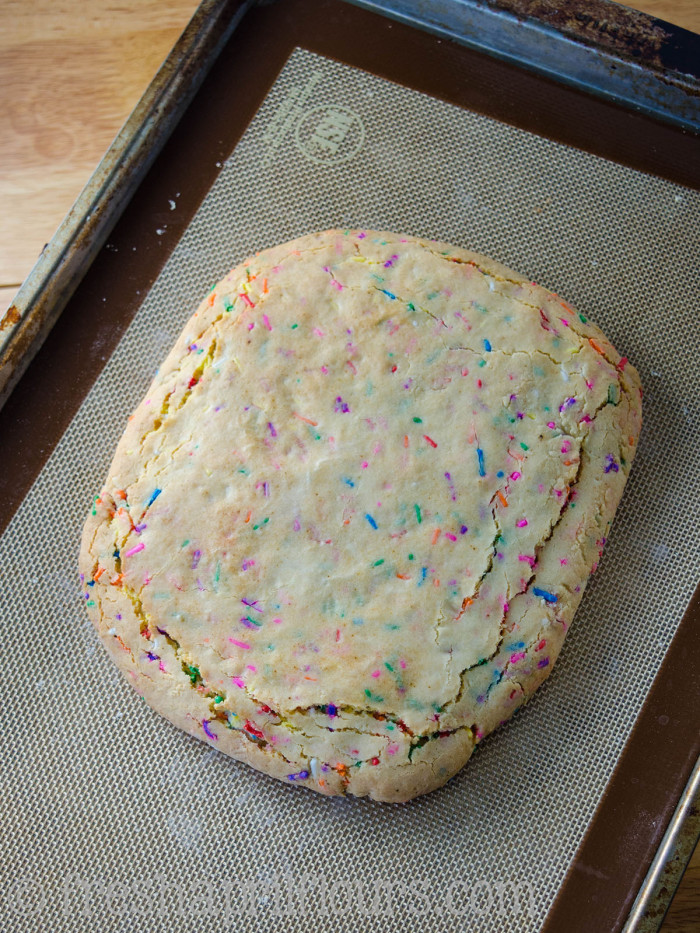 Once the dough is cool enough to touch, cut into 1″ thick slices using a sharp knife.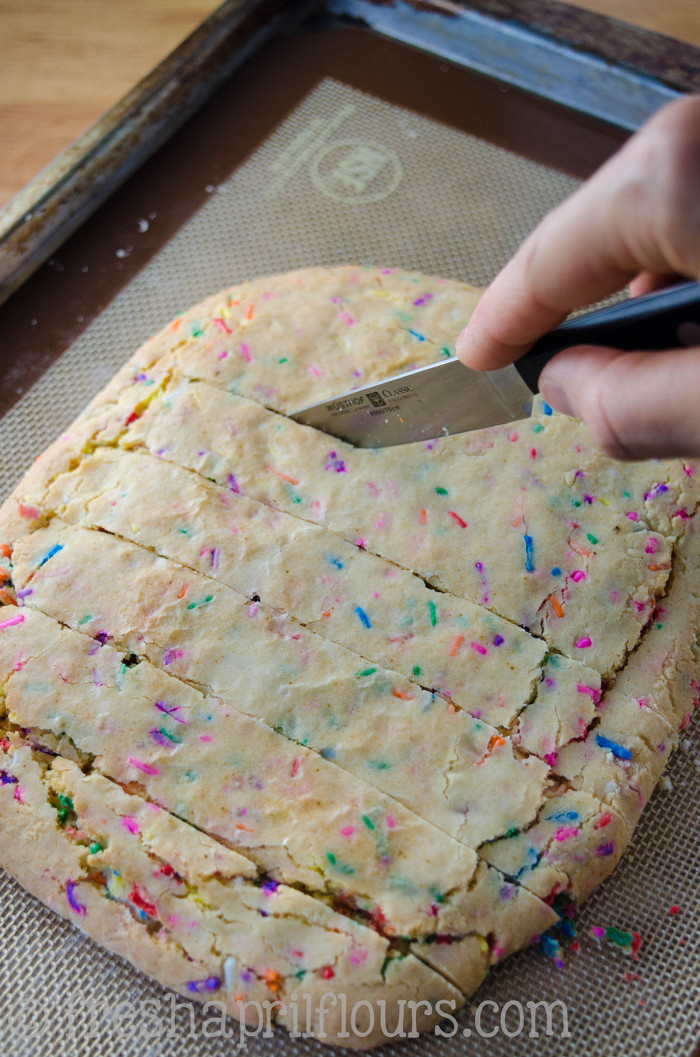 Cut these 1″ slices in half, making a perpendicular slice down the entire slab. Set slices cut sides up on the baking sheet. Return to the oven to bake for 9 minutes.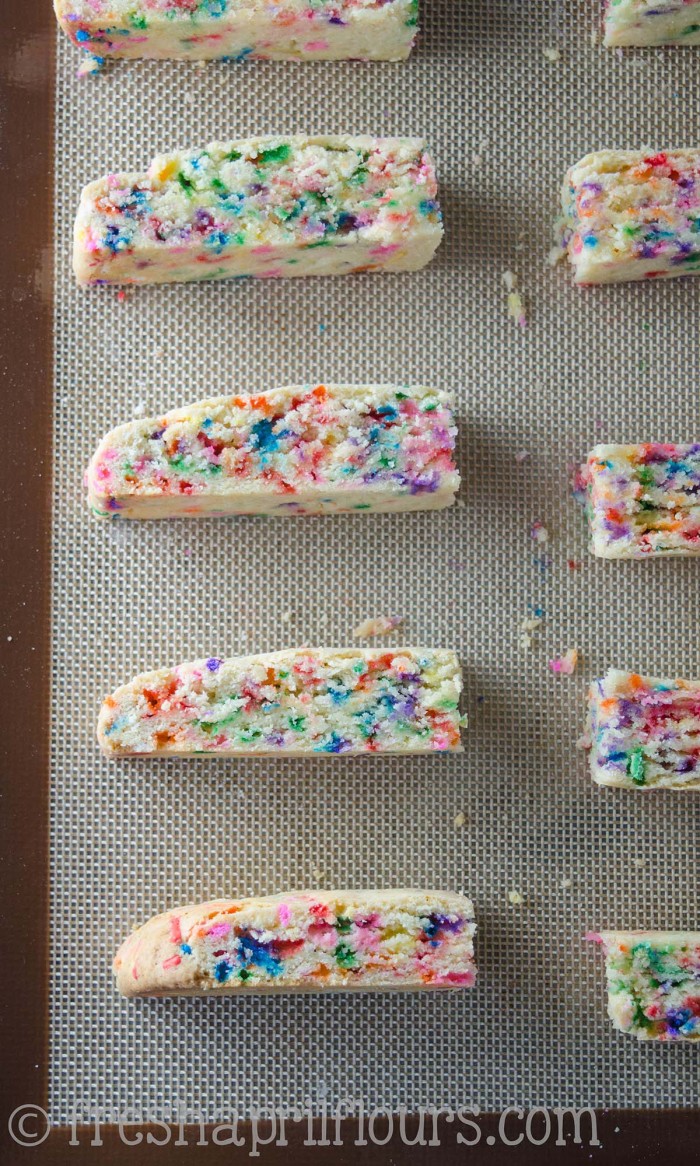 Remove from oven, turn biscotti over, and bake the other side for 9 minutes. Remove from the oven and allow to cool for 3 minutes on the baking sheet (cookies will become crunchy as they cool). Transfer biscotti to a wire rack to cool completely before dipping in chocolate.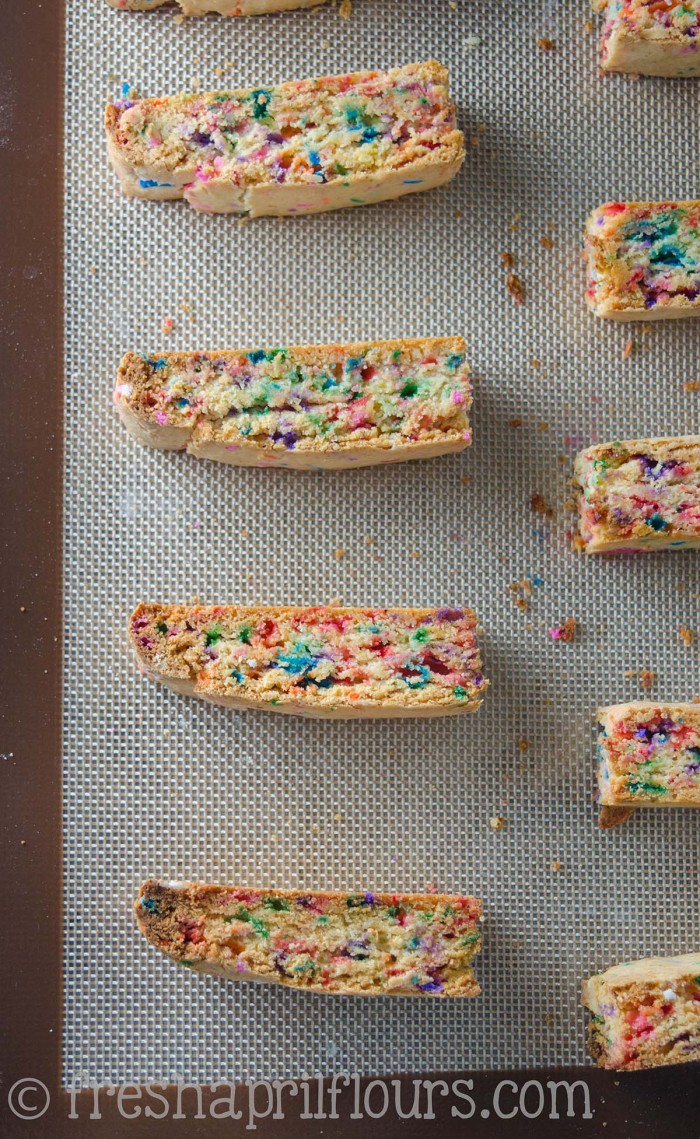 DIPPING THE BISCOTTI
Place the chocolate in a small microwave safe bowl. Heat in microwave for 20 seconds on HIGH, stir, and heat again as necessary in 20-second increments until completely melted.
If you would like to dip your biscotti like I did, transfer melted chocolate to a small, shallow dish. Drop each cookie into the chocolate so the bottom gets coated.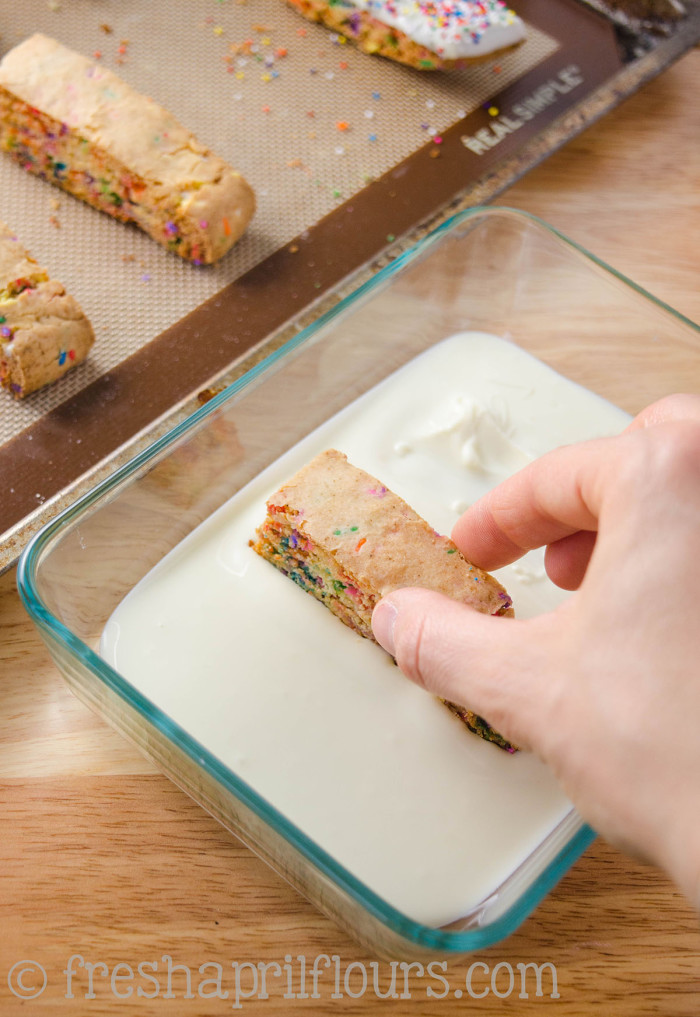 Turn each biscotto upside down onto baking sheet so chocolate is undisturbed. If desired, add sprinkles while the chocolate is still wet. Allow chocolate to set at room temperature (about 30 minutes).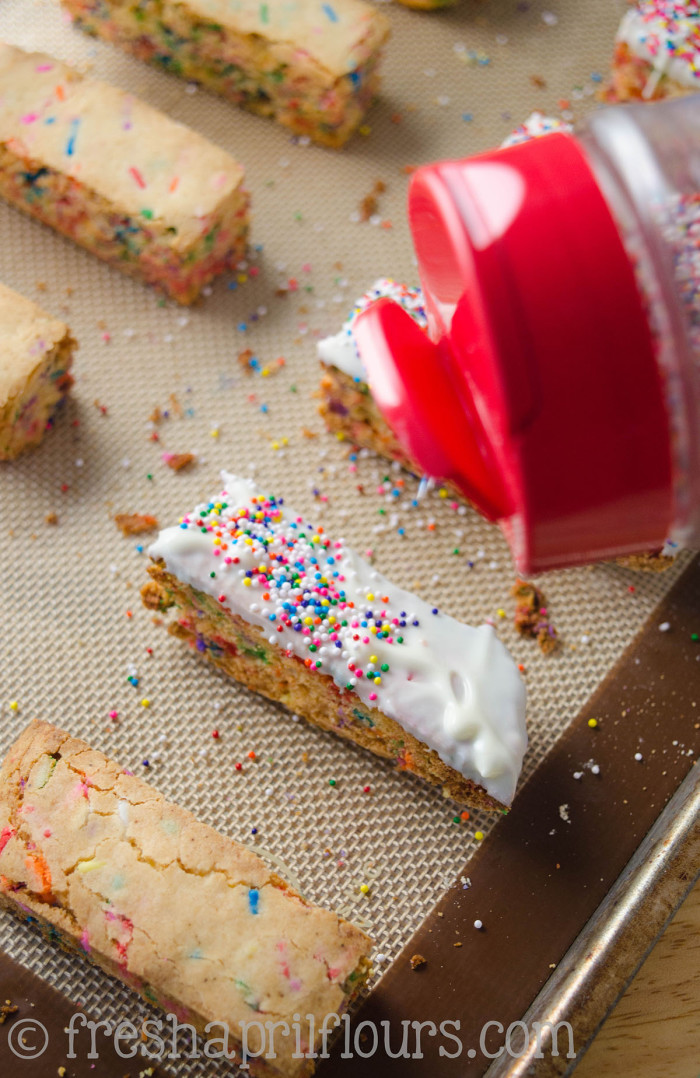 You may also leave the chocolate in the bowl and dip one side of each cookie in the melted chocolate. Add sprinkles while the chocolate is still wet. Allow chocolate to set at room temperature (about 30 minutes).
You may also choose to simply drizzle your biscotti with the chocolate. Pour the melted chocolate into a decorating bottle or a zip-top bag with the corner snipped off and drizzle over the biscotti, again, adding sprinkles while the chocolate is still wet, if desired. Allow chocolate to set at room temperature (about 30 minutes).
Love funfetti? Check out all of my recipes containing SPRINKLES.