As an Amazon Associate I earn from qualifying purchases.
This giveaway is now closed.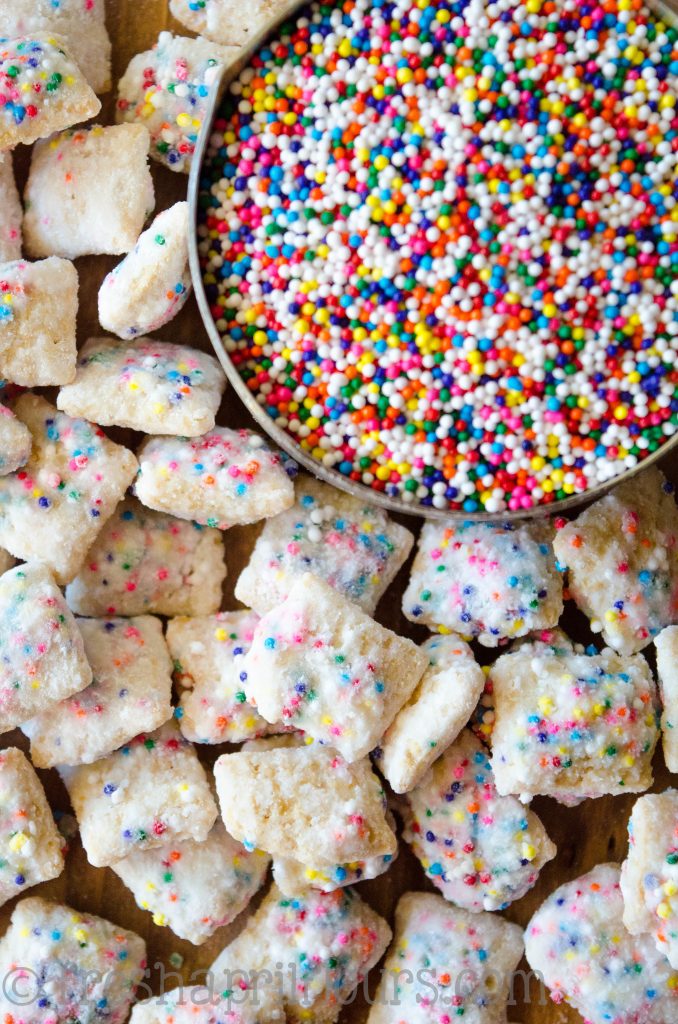 Last year, when I started Fresh April Flours, a puppy chow recipe was one of the first recipes I posted. And it was SUCH a winner recipe. It has gotten rave reviews from people who have made it, and it is one of the most popular recipes on my blog. Cake Batter Puppy Chow, for the win!
If you haven't realized by now, I wrote a cookbook filled with just puppy chow recipes.
Yes, it's true. I am a crazy puppy chow lady (it's like a crazy cat lady, but different).
While writing my book, I decided that my original puppy chow variation needed a photo facelift, and it just slowly worked its way into the pages of my cookbook and even planted itself right smack dab on the cover of the book.
It has kind of become the "mascot" for my book, and I am so glad about that. It's bright, colorful, so tasty, and really a great introduction to the world of creative puppy chow recipes.
I wanted to make a little promo video for The Chow Down, and because my cake batter version of puppy chow is so near and dear to my heart, I decided that a little video tutorial about how to make it would be the perfect way to
1) show you how easy it is to make and
2) get you excited about all of the recipes in my book!
(PS– the recipe is written out in the video and also plugged into the end of this post.)
To help celebrate the release of my cookbook, there are a few things going on today.
First: The video. Duh.
Huge thanks to Matt Arters of Real Guys Productions for this one.
Second: I have a few bloggy friends who have so graciously decided to help celebrate the release of my cookbook! All of these lovely ladies made their own creative versions of my cake batter puppy chow! And because they're all just such creative bloggers, all 3 of them presented or used the puppy chow in different ways. Check out…
Amy from Thoroughly Nourished Life's dessert cereal
Cate from Chez CateyLou's ice cream topping
and
Leah from Grain Changer's Memorial Day version!
I am so grateful to have these bloggers as friends and fans, and I am happy to have them spreading the celebration love to their corners of the internet.
Lastly: I am GIVING AWAY a free copy of The Chow Down!
How can you win? I'm so glad you asked.
First, share FAF's status about this giveaway on Facebook or Instagram (by using either a regram or a screen shot of the Facebook status with the hashtag #chowdownbook), and then come back to this post and comment on it telling me where/how you shared the post. That's it!
One winner will be chosen using random.org and notified via email. He or she will have 24 hours to respond or another winner will be chosen.
This giveaway ends at 11:59pm (EST) on May 21st, so get to sharing!
And now, for your snacky enjoyment, here is the updated, more user-friendly recipe for Cake Batter Puppy Chow. Enjoy, my friends!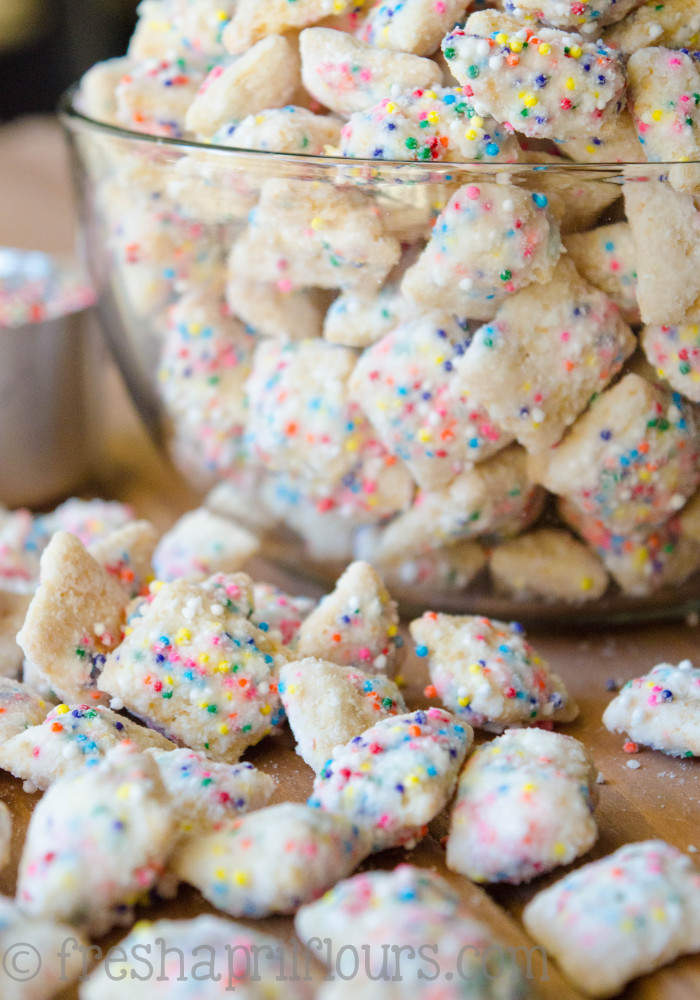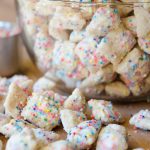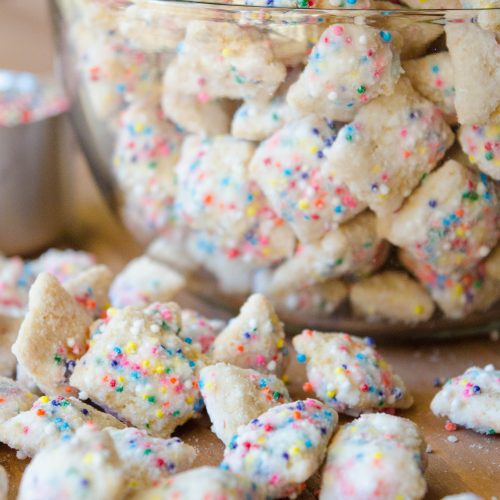 Print Recipe
Cake Batter Puppy Chow
A crunchy, cake-battery take on the classic Puppy Chow!
Ingredients
4 and 1/2

cups

Rice Chex® cereal

4

Tablespoons

unsalted butter

cut into 8 slices

8

ounces

white chocolate

1

teaspoon

almond extract*

1

teaspoon

vanilla extract*

⅔

cup

sprinkles of your choice

1

cup

powdered sugar
Instructions
Pour the cereal into a large bowl and set aside.

In a medium saucepan over low heat, melt the butter, white chocolate, almond extract and vanilla extract, stirring constantly until completely melted. Remove from heat.

Immediately pour melted mixture over cereal and stir gently to coat.

Pour cereal into a large zip-top bag or large container with a tight-fitting lid and add the sprinkles. Shake until all of the sprinkles are dispersed evenly.

Add the powdered sugar and shake again until everything is coated. Spread onto baking sheet lined with foil or parchment and allow to cool. Discard excess powder. Store in an airtight container at room temperature up to one week.
Notes
*It is important to add extract at the beginning of the melting process. Adding it later will cause the mixture to seize up, and you will be unable to use it.
I cannot stress enough that you should not use white chocolate chips for this recipe. Chocolate chips contain stabilizers that help them keep their shape, so melting them smoothly can be tricky. Because you're introducing moisture (the extract and the butter) to your melting material, it is already going to be a little less smooth than if you left those things out to begin with.