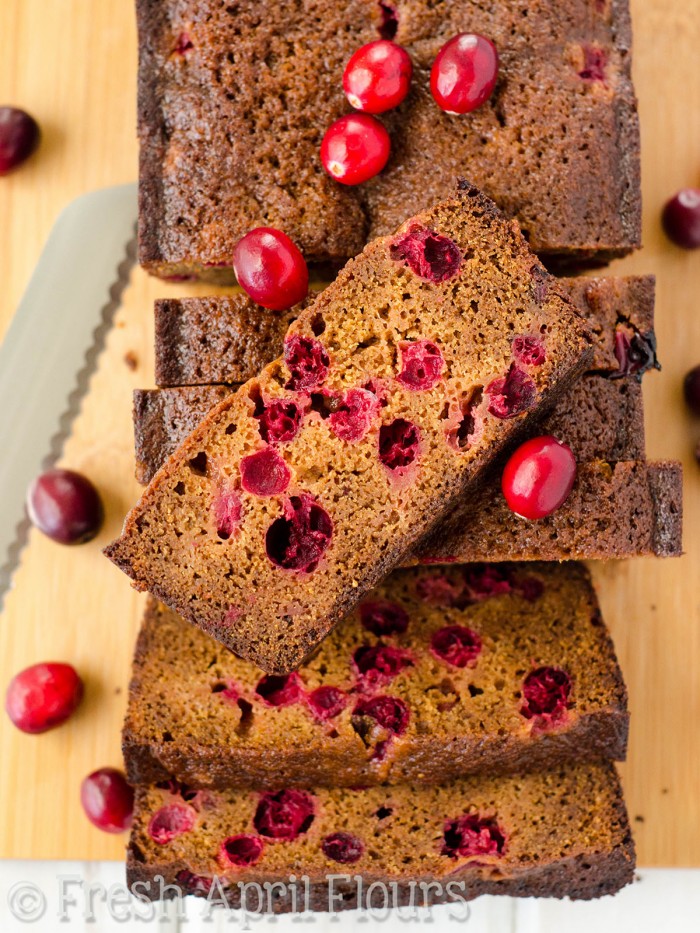 I wish I could tell you this recipe was a breeze for me to develop, that it only took one magical time to throw the ingredients together and miraculously have this beautiful, tasty, holiday-tastic bread sitting on my Thanksgiving dessert table.
But the truth of the matter is that this was the 4th time I made this bread, and the first time? Was a year ago. GASP! You might be thinking "but Lynn! Why on earth would you spend so much time and energy on one little recipe that seems so insignificant in the grand scheme of all of the goodies on your blog?" Because, dear reader, I have a problem. As do most food bloggers– just ask them (we cray cray, yo).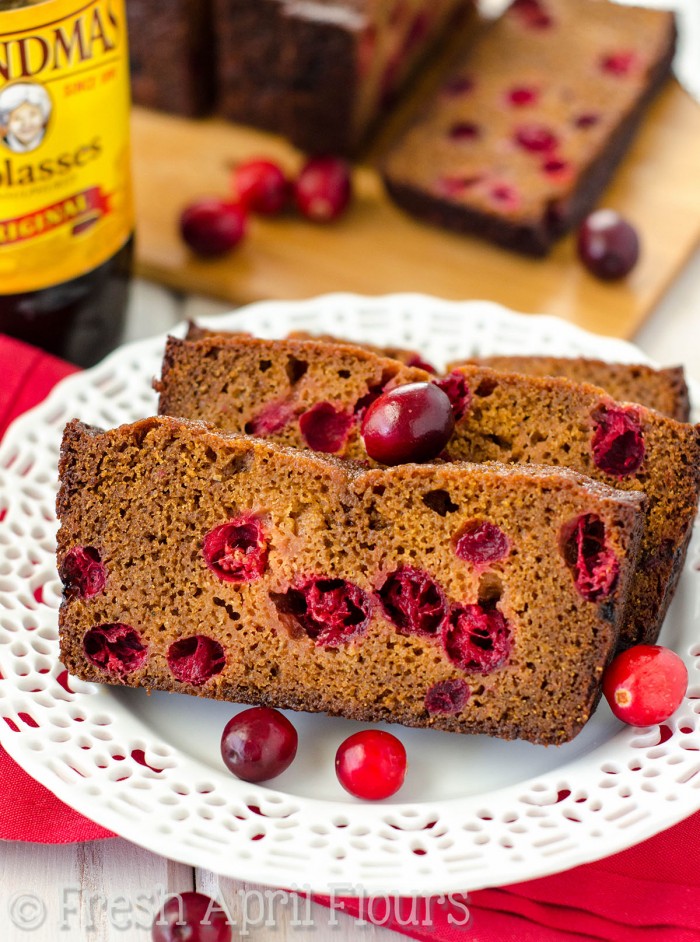 Also, I knew it would be well worth it when I got the recipe right. I just had to put my favorite things about Thanksgiving and Christmas together in one happy holiday mash-up recipe that could fit either holiday spread and all of the days in between. I was determined!!
So let's talk about what makes this 4th-time-the-charm quick bread so easy and wonderful and why you need it in your life this holiday season.
First of all, quick breads. I love 'em. You know this about me. Why? Because they're quick (shocking), easy, and usually require minimal dirtying of bowls and/or utensils. This cranberry gingerbread is no different.
You'll start by creaming together butter and brown sugar. I love using brown sugar for baked goods because it brings so much moisture with its deep, rich sweetness. After that's nice and fluffy, you'll add your spices and cream everything together for a bit longer. I do this with my spiced gingerbread cookies, because it allows the spices to marry into the fats to help boost the flavor once it's all together in the bread. Trust me– it makes a big difference!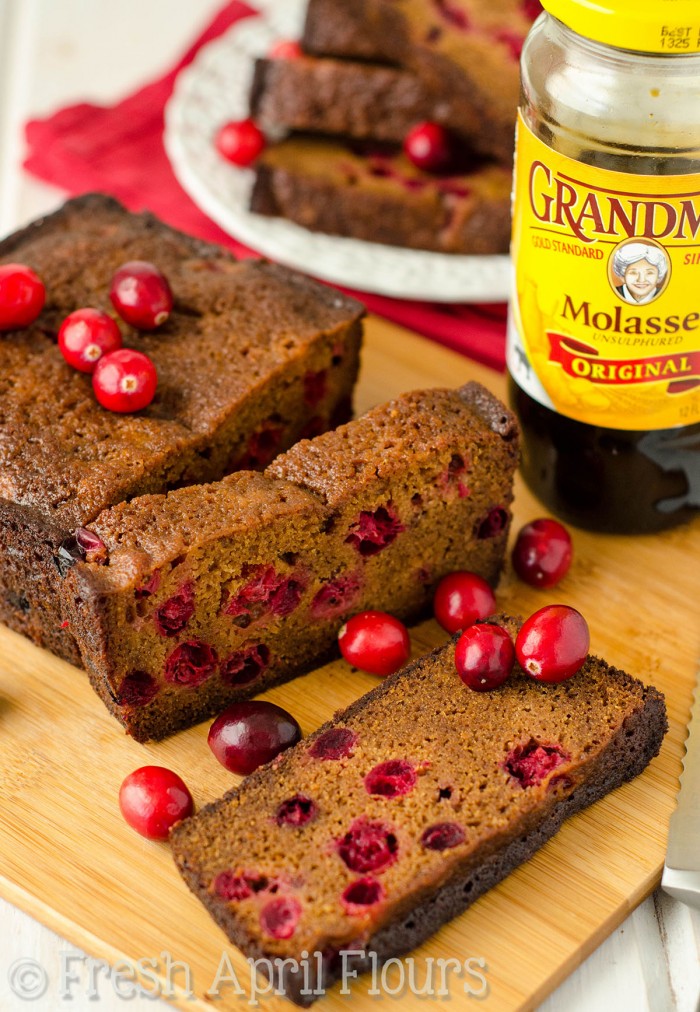 You'll notice that along with cinnamon, ginger, and cloves, you'll also be using black pepper. Yes, you read that right. Trust me on this one. If you've made those spiced gingerbread cookies from last year, you'll know you can't even tell it's in there and it also makes the spice factor out of this world. Don't leave it out!
To really amp up the flavor, you'll be using molasses again. We used molasses in our gingerbread Rice Krispies treats from earlier this week, and we'll also be using it again during my cookie explosion in December. Molasses is a great ingredient to have on hand, as it can sometimes pop up in recipes you wouldn't expect it to… Like my chewy oatmeal raisin cookies (my personal favorite and a FAF fan favorite– TRY THEM) and homemade apple butter.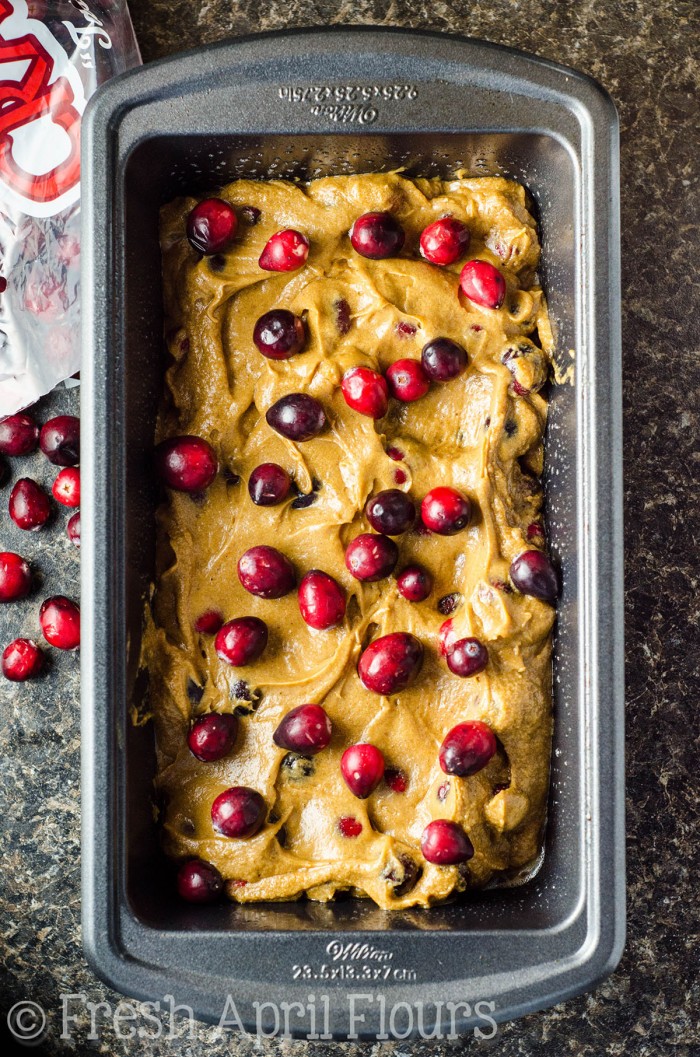 And then, of course, the co-stars of the show: the cranberries crannies. Fresh or frozen, you don't need to do anything to them. While crannies are tart and usually not so appetizing without some sugar on them, there is no need for anything fancy with them in this bread. They add the perfect tartness to the spicy, sweetened bread and also… They just look so darn pretty speckling those beautiful brown crumbs!
This cranberry gingerbread is one of my new favorite go-to recipes for the holidays. It's quick, it's easy, and it was a definite crowd pleaser at our Thanksgiving dinner and dessert party. It freezes well, it travels well, and it even packages up beautifully for homemade holiday gifts or a host/hostess gift during your holiday entertaining rounds. It's perfectly tender and spicy, and the tart and juicy cranberries make for a delightful contrast of textures and flavors.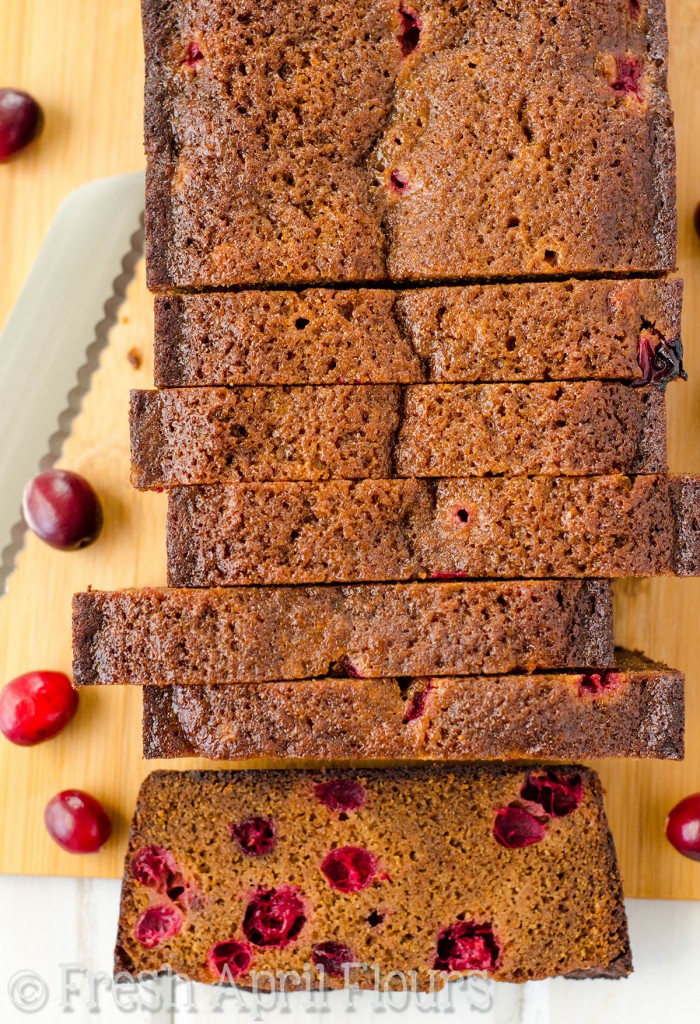 Serve for dessert, a snack, heck– even breakfast! There's fruit in there… That means anything goes, right?!
Need another use for the rest of your crannies?
Try my Mulled Cranberry Sangria next!