It's no secret I love coffee. It's right up there with my husband on the list of things I love the most in this world. I have made a couple coffee creamers (another one coming soon!), an out-of-this-world cappuccino cookie, and I even throw some coffee into this cake. I love my coffee bold and piping hot, often taking it from the Keurig and putting it right into the microwave. Even in the summer, it has to be hot hot hot.
I don't love iced coffee. It's just… Weird to me. The idea always sounds good, and maybe like a refreshing beverage to have in the afternoon. But whenever I drink it, I'm reminded that it really just tastes like watered down coffee (umm, the absolute worst– no thank you, light roast). Which, essentially it is…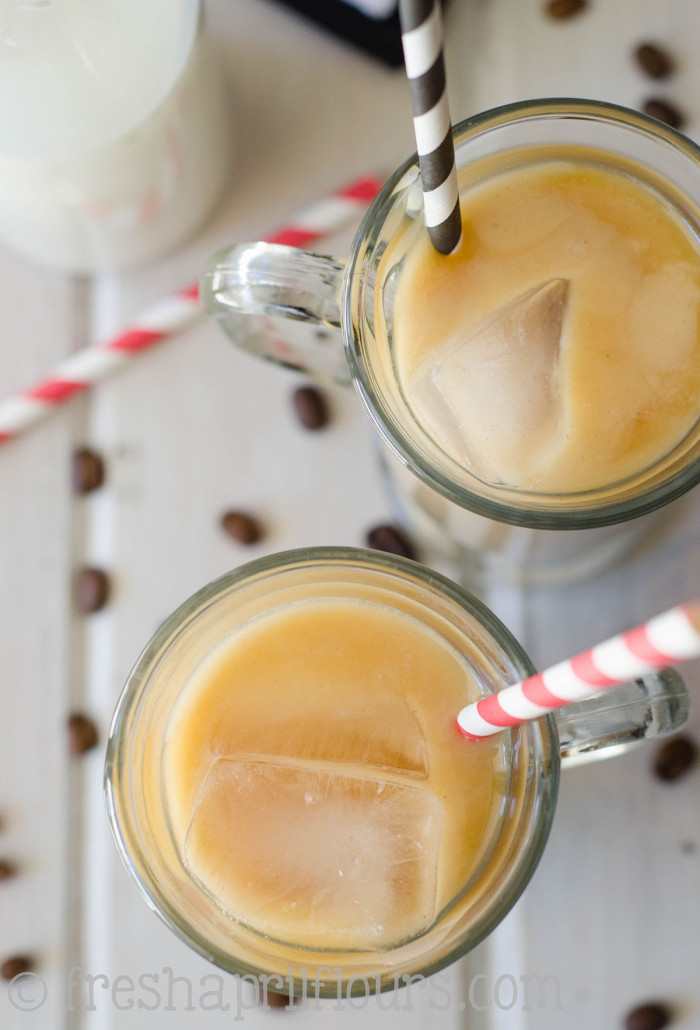 There's a big science lesson brewing (<–HA, didn't even try that!) here, can you tell? I'm about to dive into exactly what happens when we brew coffee, so if you don't care to read about that, scroll down to the recipe and have at it.
*adjusts lab coat*
Coffee. It's a solution, made up of coffee solubles + water. Coffee grounds contain many things: oils, acids, aromatic molecules… All of which are referred to as "coffee solubles." Brewing is simply the process of removing these solubles from the grounds with water. Simple, right?
Well, this is where it gets complicated. Coffee solubles dissolve best at hot temperatures, producing the most full-bodied and flavorful cup of coffee. With this, the aromatics of a hot brewed cup of coffee are able to travel through the vapors and bring our noses that scent we love so much. With these scents and flavors that we love so much come ones that we don't love so much (well, some of you). Stronger cups of coffee can be described by those with a sensitive palate as "bitter," thanks to a process called oxidation. This is why we add cream (a fat) to our coffee– to cut the bitterness and smooth out the flavors.
When coffee is cold brewed, a lot of the same things happen, but they happen in a different way, producing a completely different tasting cup of coffee. First of all, the time is takes to cold brew coffee is much longer than that of hot brew. We're talking 24 hours here. Even after those 24 hours, not all of the solubles will be extracted from the coffee, so the ratio of coffee grounds to water is much higher to increase the amount of the solubles that do make it through to the solution. You also don't get as much of an aromatic experience from the whole process because there is no vapor involved.
The resulting cup of coffee, however, is not the slightest bit disappointing (if you're not too snobby about your coffee… I consider myself only a moderate snob 😉 ). What you'll find in a cup of cold brew coffee is all the wonderful tastes of a hot cup of coffee without the bitterness. It's much smoother, but it still has quite a bold taste, and it's just a tiny bit naturally sweetened.
So let's talk about just how to cold brew. It's quite simple.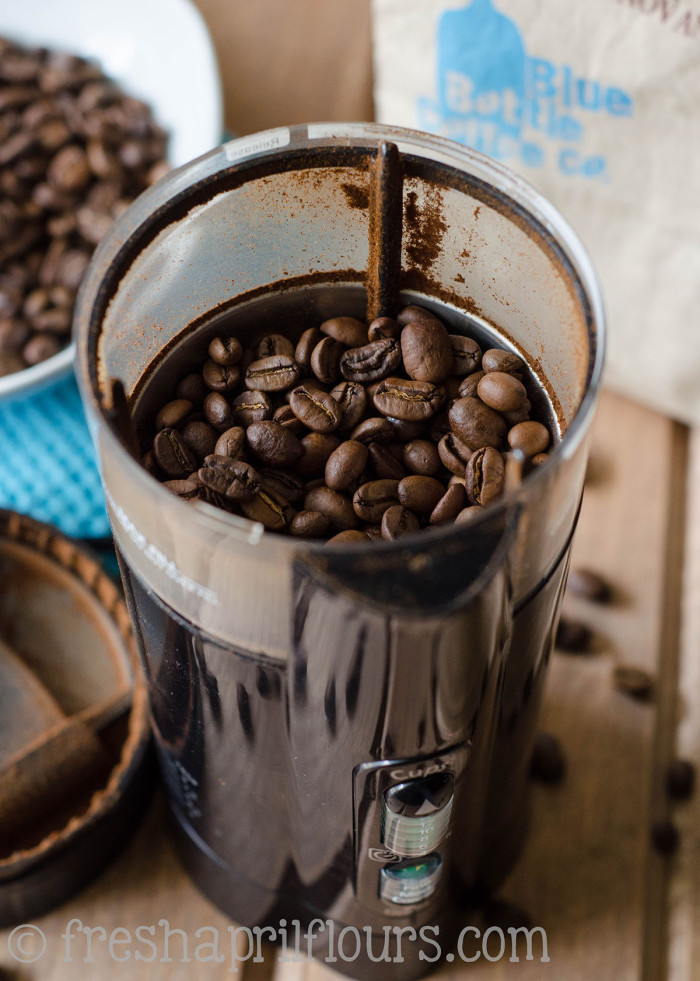 First, start with whole coffee beans. You'll want to grind them right before you use them to preserve the freshness of the coffee. If you don't have a coffee grinder, you can use a very strong blender/bullet type of deal (this is the one we have), or just grind the beans wherever you buy them and try to use them as soon as possible.
To determine how much coffee to grind, let's work backwards. The liquid you'll be brewing is actually coffee concentrate, which you will dilute with water. We prefer our cold brew at a 2:1 ratio, but also enjoy it at 1:1. You're going to use 1 cup of coffee grounds per 4 cups of cold water for brewing. You'll wind up with about 3 and 1/2 cups of coffee concentrate when the brewing is all done, so you'll have a batch of about 7 cups of cold brew coffee after diluting. That's enough for a week! Ta-da! Adjust this math accordingly if you want more or less.
Grind your beans in your coffee grinder (this is the coffee grinder we have) or blender to a coarse grind.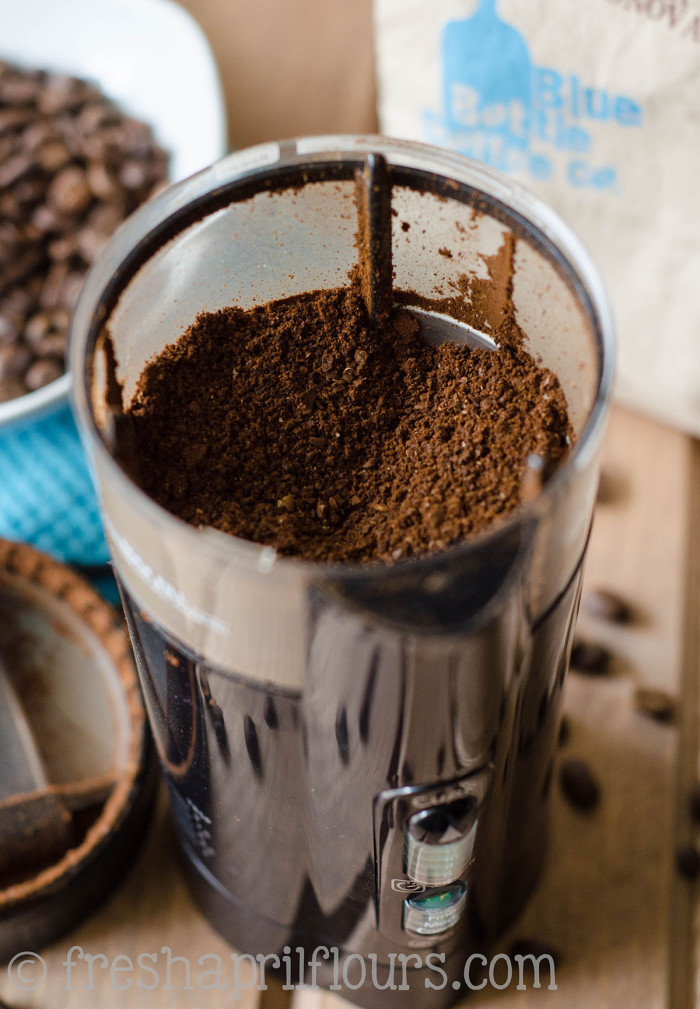 Next, add your grounds to a large container with a spout, preferably glass or ceramic (just not metal), and add cold water. I was working with 1/2 cup of grounds here, so I added 2 cups of cold water.
Stir with a wooden spoon or plastic spatula (again, no metal), cover tightly with plastic wrap or a lid, and store in the refrigerator for 24 hours.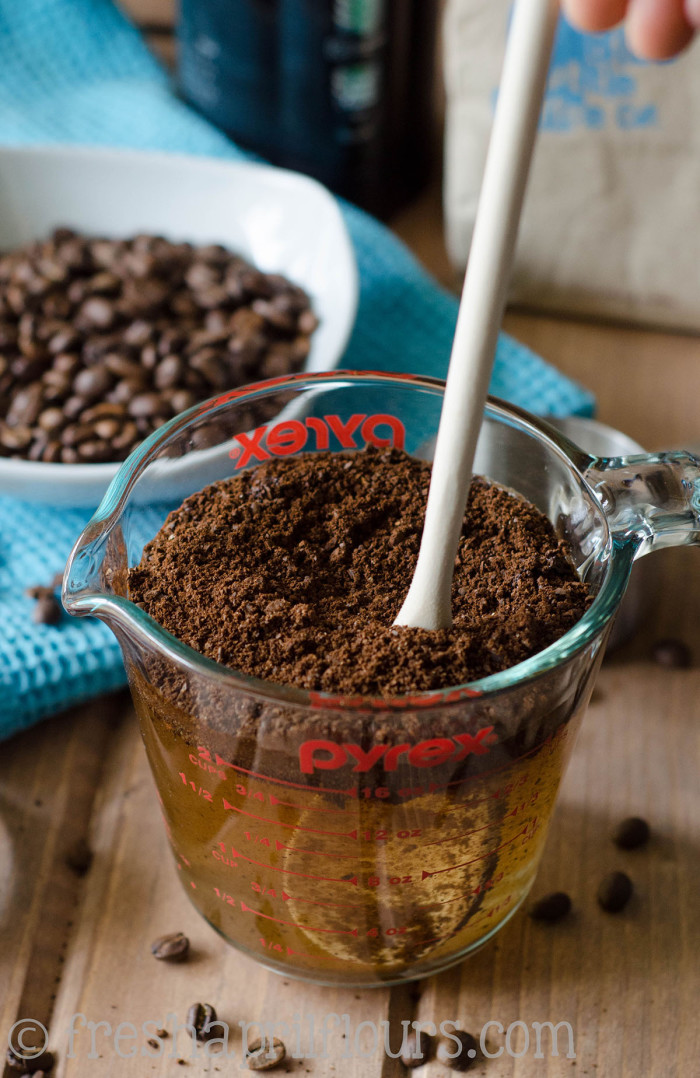 Once your 24 hours is up, fit a fine mesh strainer with some cheesecloth or a paper coffee filter and place it over a measuring cup.
Pour your soaked grounds into the strainer. Measure the amount of coffee concentrate you have, and dilute as necessary into a vessel large enough for the amount of cold brew coffee you will wind up with. Don't forget to put this in some sort of bottle or carafe for easy pouring! Store in the refrigerator and use as needed.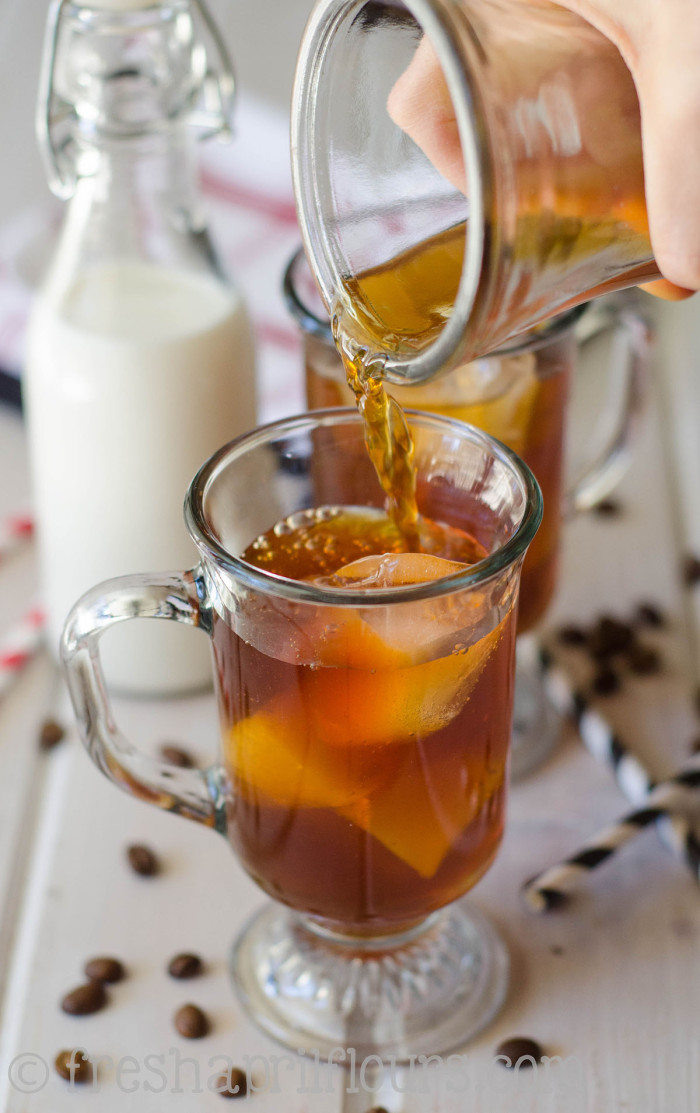 The other cool thing you can do with your coffee concentrate is make a large batch of hot coffee to serve a crowd. Simply dilute your concentrate with hot or boiling water and keep in a thermal carafe. Easy, peasy! It sure beats brewing several pots of coffee or having guests wait for a Keurig every time they want another cup of coffee.
Add cream, milk, sugar, flavoring… Whatever you prefer. Just give cold brew a shot. I think you'll find the taste is worth the time it takes to put together– which isn't really all that much time at all. A lot of it is idle!
Smooth and ever so slightly sweet yet still bursting with bold coffee flavor. Sounds like a perfect addition to your coffee repertoire.