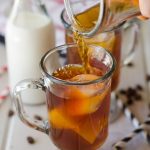 Print Recipe
How To Make Cold Brew Coffee
Cold brew coffee is smooth and ever so slightly sweet yet still bursting with bold coffee flavor. All you need are your favorite coffee beans, cold water, and 24 hours.
Servings:
7
cups of coffee
Place coarsely ground coffee into a large container with a spout, preferably glass or ceramic (just not metal) and add cold water. Stir with a wooden spoon or plastic spatula (again, no metal), cover tightly with plastic wrap or a lid, and store in the refrigerator for 24 hours.

After 24 hours, fit a fine mesh strainer with some cheesecloth or a paper coffee filter and place it over a measuring cup. Pour your soaked grounds into the strainer. Measure the amount of coffee concentrate you have, and dilute as necessary into a vessel large enough for the amount of cold brew coffee you will wind up with (I suggest starting with a 1:1 ratio of concentrate to additional cold water). Discard grounds. Don't forget to put this in some sort of bottle or carafe for easy pouring! Store in the refrigerator and use as needed. You may also leave the concentrate as is and dilute per cup.

To serve hot, simply dilute your concentrate with hot or boiling water and keep in a thermal carafe. Again, you may leave concentrate as is and dilute per cup.

Add cream/milk/sugar to your liking and enjoy.