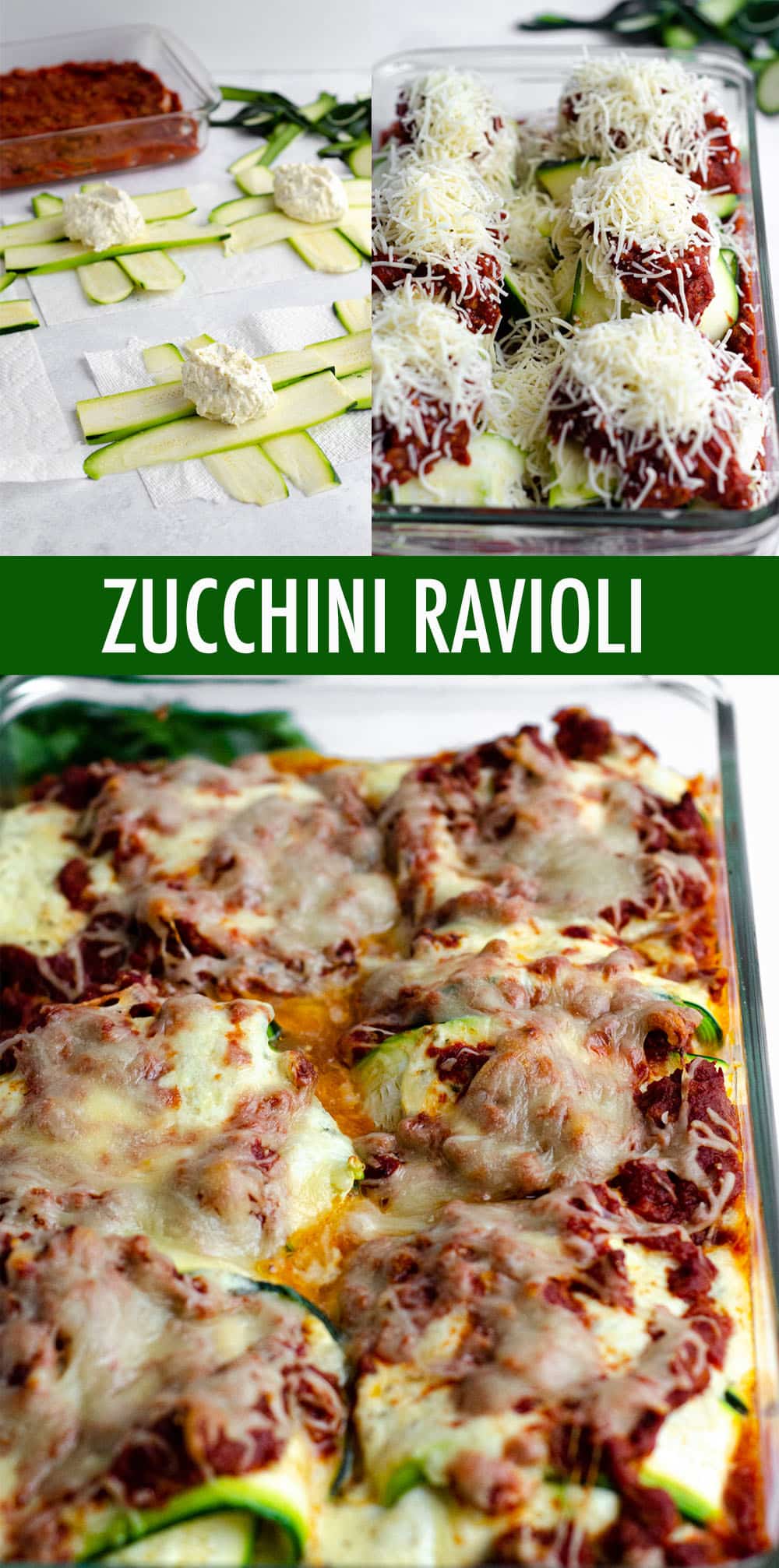 As an Amazon Associate, I earn from qualifying purchases. Read the full disclosure here.
Traditional ravioli get a vegetable makeover– use zucchini in place of pasta for a gluten free, keto, or low carb ravioli substitute. These simple zucchini ravioli bring all the flavor and filling without the noodles!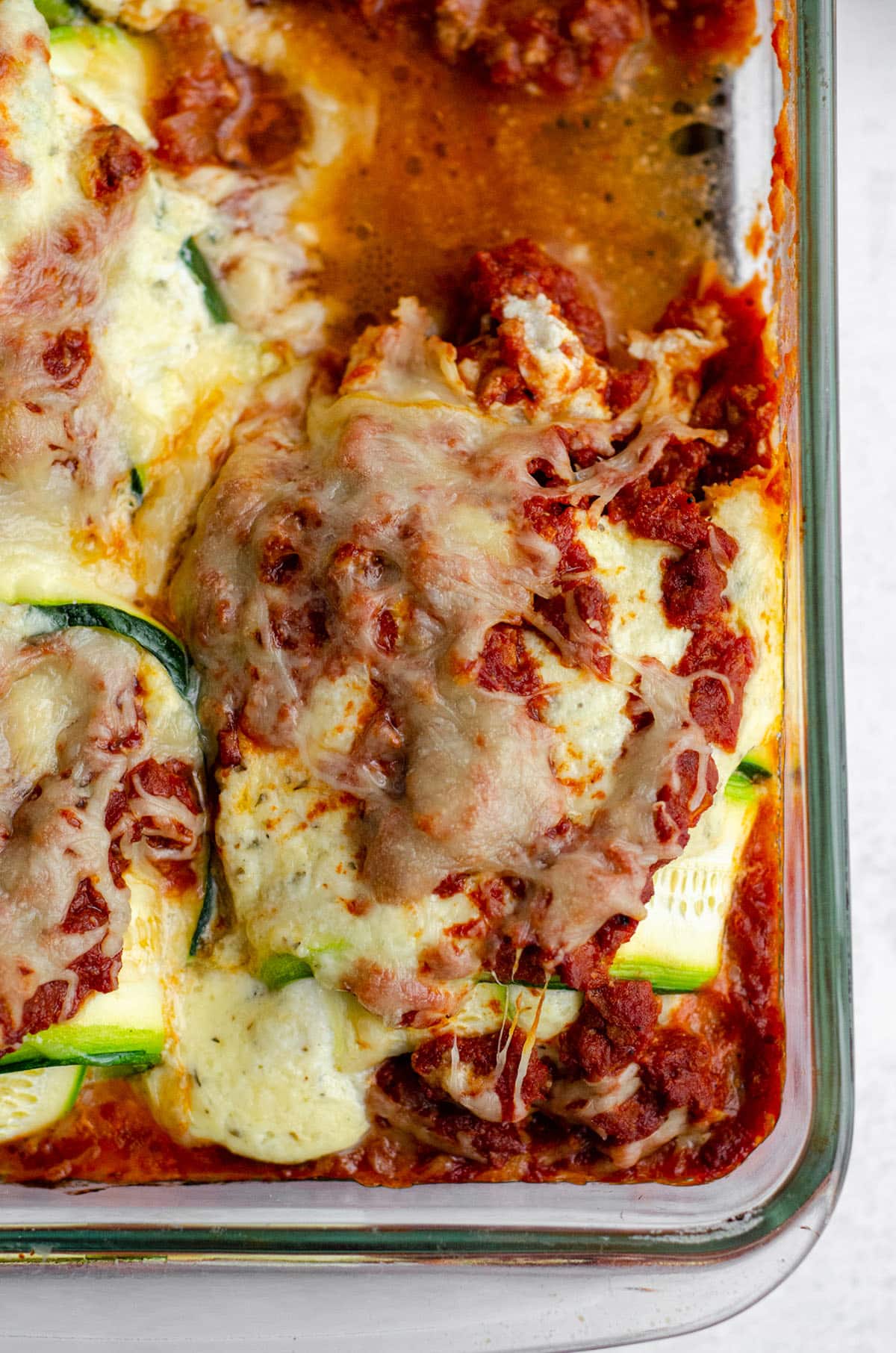 Ahh, summer. So close we can taste it, right?
What does summer taste like to you? S'mores? Lemonade? Cones on the boardwalk? Fresh seafood at the beach?
For some of you, especially you home gardeners, fresh produce is the name of the game.
We don't personally have a garden. We don't have an ideal place for it, and truthfully, with little kids around, we feel our attention to a garden is better suited for later in life when they are more apt to entertain themselves and let us do yard work.
Wishful thinking? Maybe. But a home garden is on our list of things to start when we eventually have more space.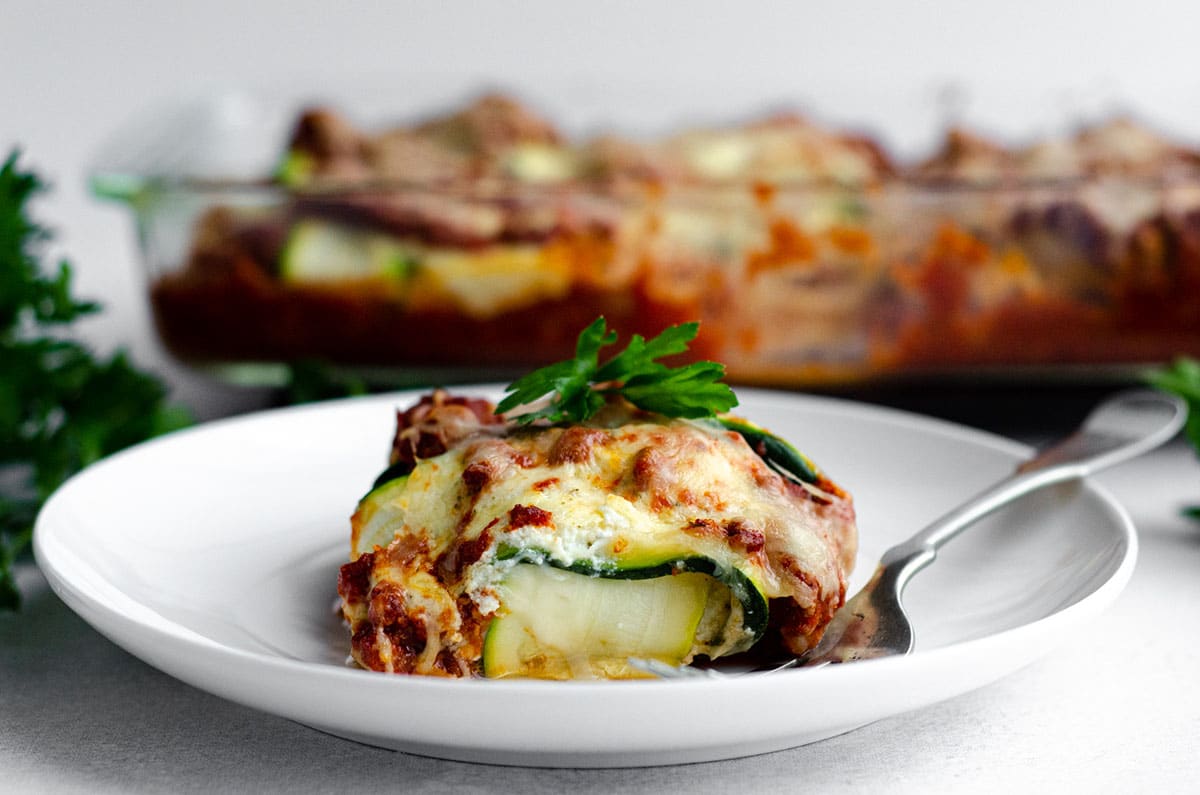 This summer, like many other summers, we will gladly accept produce from friends, neighbors, and gym members when they undoubtedly find themselves elbow-deep in zucchini and tomatoes.
And I know just the recipes to use both of them for!
A few months ago, I shared with you my family's homemade meat sauce recipe. While that recipe uses canned crushed tomatoes, I include in the recipe instructions for crushing your own tomatoes, if you found yourself with a reason to do such a thing.
See where I'm going with this?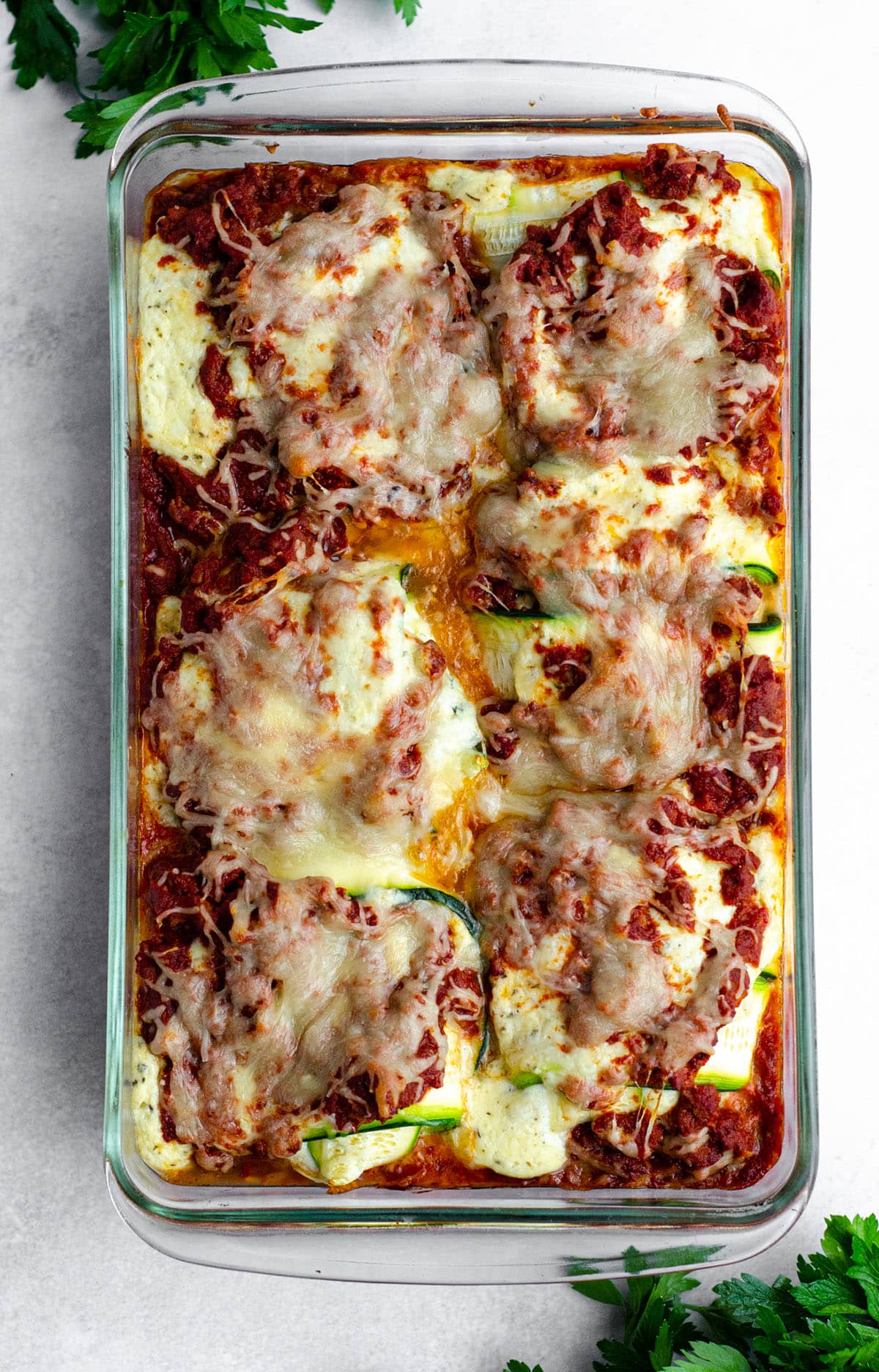 I stowed away a portion of that sauce in the freezer because I knew that this zucchini ravioli recipe was on my schedule, and since these ravioli don't have a solid protein component aside from the dairy, using a meat sauce completes the wholeness of a balanced meal and make the whole dish a bit heartier.
Meat sauce is absolutely not a requirement, especially if you're looking for a vegetarian option, but if you're into the added protein and meat, meat sauce is definitely the way to go!
So let's break down exactly how to make these, because while the recipe is simple and straightforward, the method to making ravioli noodles that are actually zucchini, well, that takes a little explaining.
First of all, let's discuss exactly how to slice zucchini for these ravioli.
I used a large knife, and I don't recommend that method, only because it was quite difficult to get the exact thickness I wanted.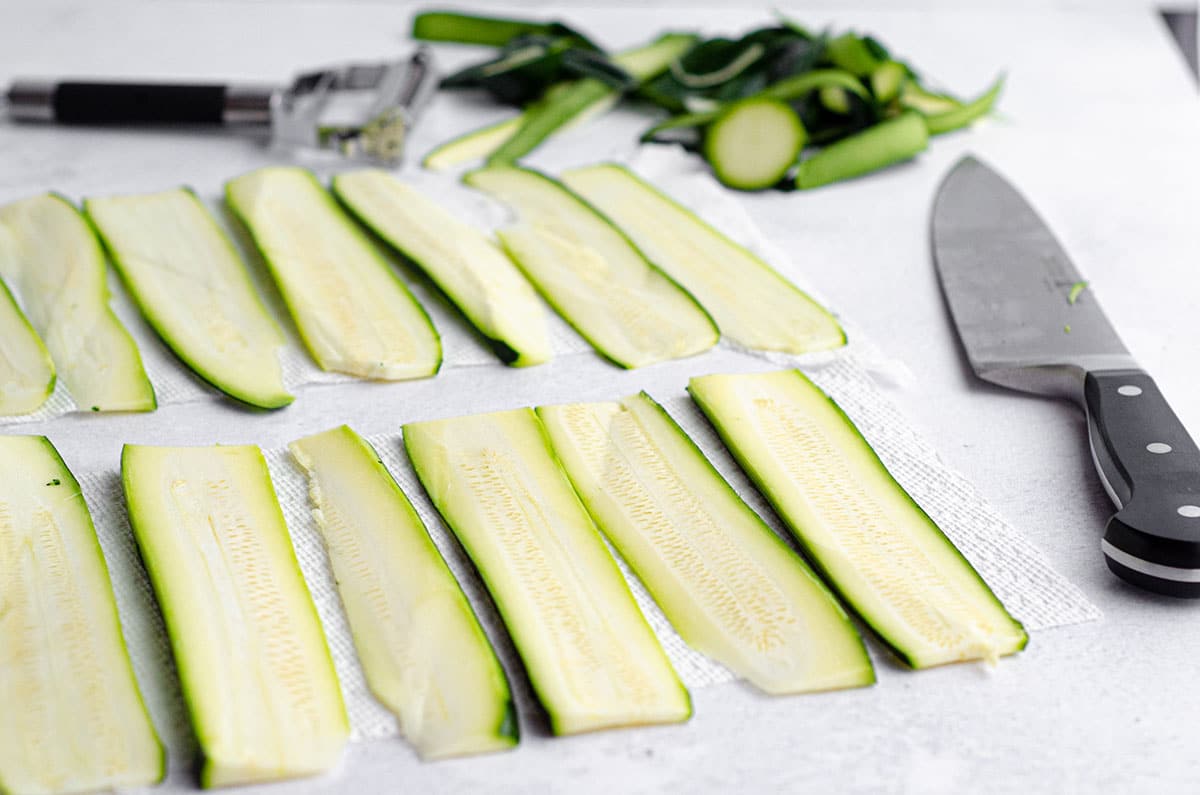 Also, slicing zucchini is now one of my least favorite culinary activities.
If you've got a mandolin or other type of vegetable cutting device, use it.
Here's an example of a mandolin I wish I had. What doesn't kill you makes you stronger… Right?
You'll also want to use medium sized zucchini that are as straight as possible. I had one curved zucchini that was a nightmare to slice. Of course, this isn't always possible, but the straighter the zucchini, the easier!
You're looking for about ¼" slices of zucchini. And you'll want at least 24 of them. I got about 6 slices out of each of my zucchini, and I would call them medium size (they were about 8″ long and about 1 and ½" in diameter).
Once you have your zucchini sliced, lay them out on paper towels and salt them very lightly. Not only will the salt help flavor the zucchini, it will also help draw out some of the moisture so you're not working with soggy zucchini.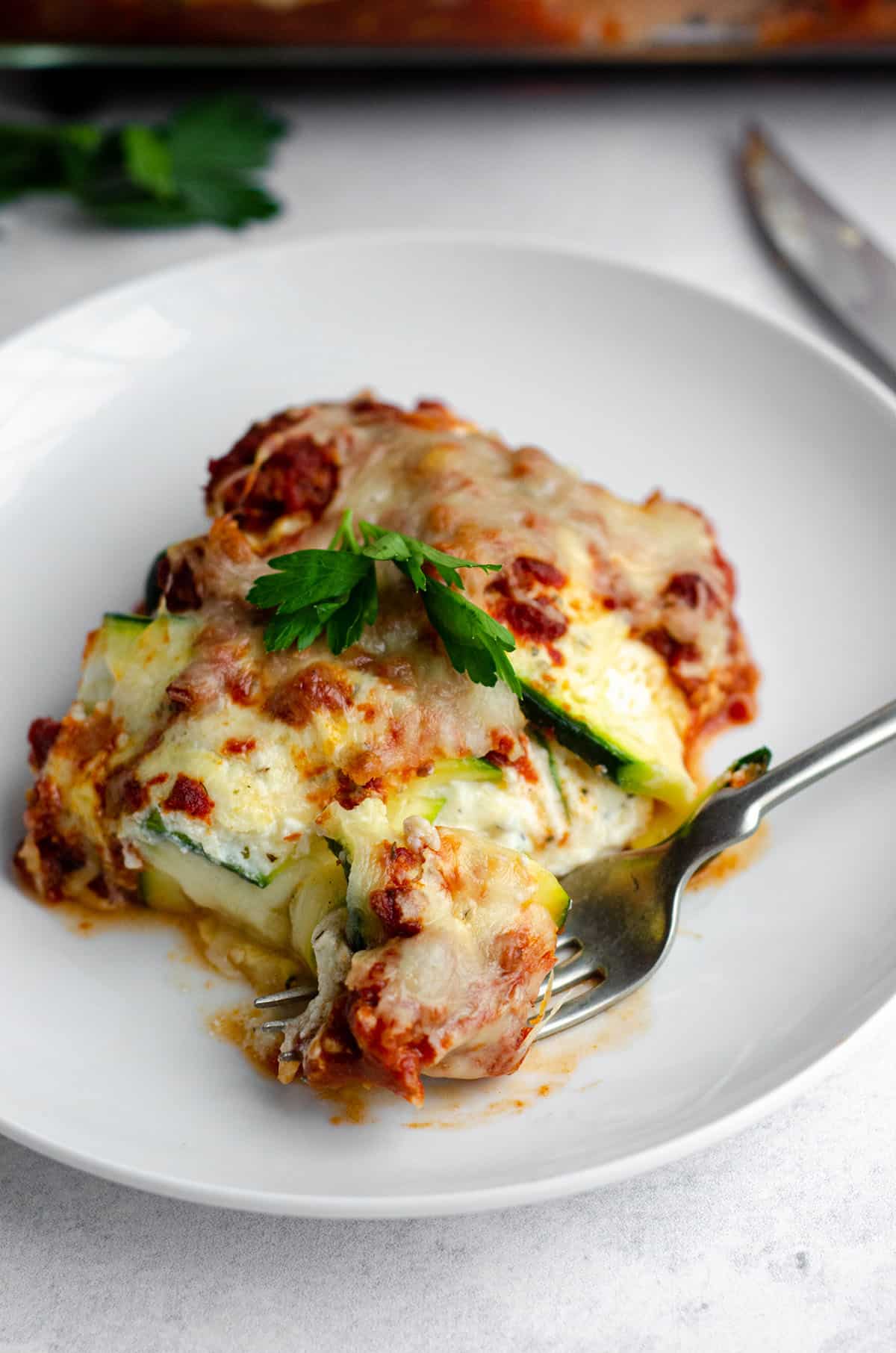 As your zucchini rest, you'll prepare the filling. This filling is the same as traditional ravioli filling– ricotta cheese, shredded cheese, grated Parmesan, some spices, and an egg to help keep it all together.
Pro tip: the egg goes in last. Taste the filling before adding the egg and adjust spices to your liking.
Before starting to fill your ravioli pockets, you'll line a baking pan with some of your sauce.
To make the ravioli, you'll use 4 slices of zucchini per pocket. Lay two slices down, making sure they overlap a tiny bit, and then lay two more on top, perpendicularly, insuring they also overlap. You'll have made a small "t," which is now ready to receive a dollop of filling (a ¼ cup for each).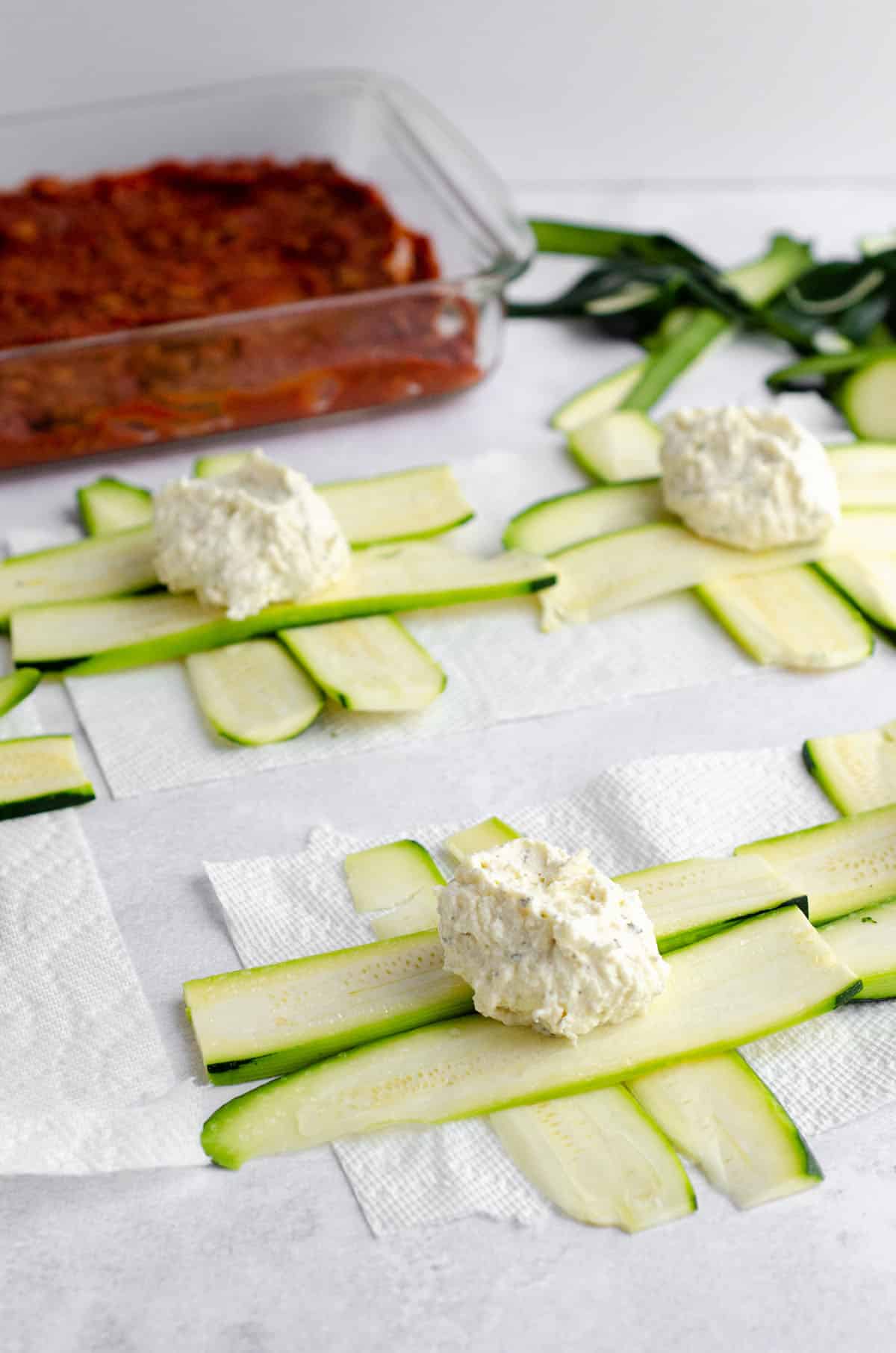 Folding up the sides is as simple as starting with the two slices on the bottom, bringing the ends into the middle, and then finishing the pocket with the remaining ends.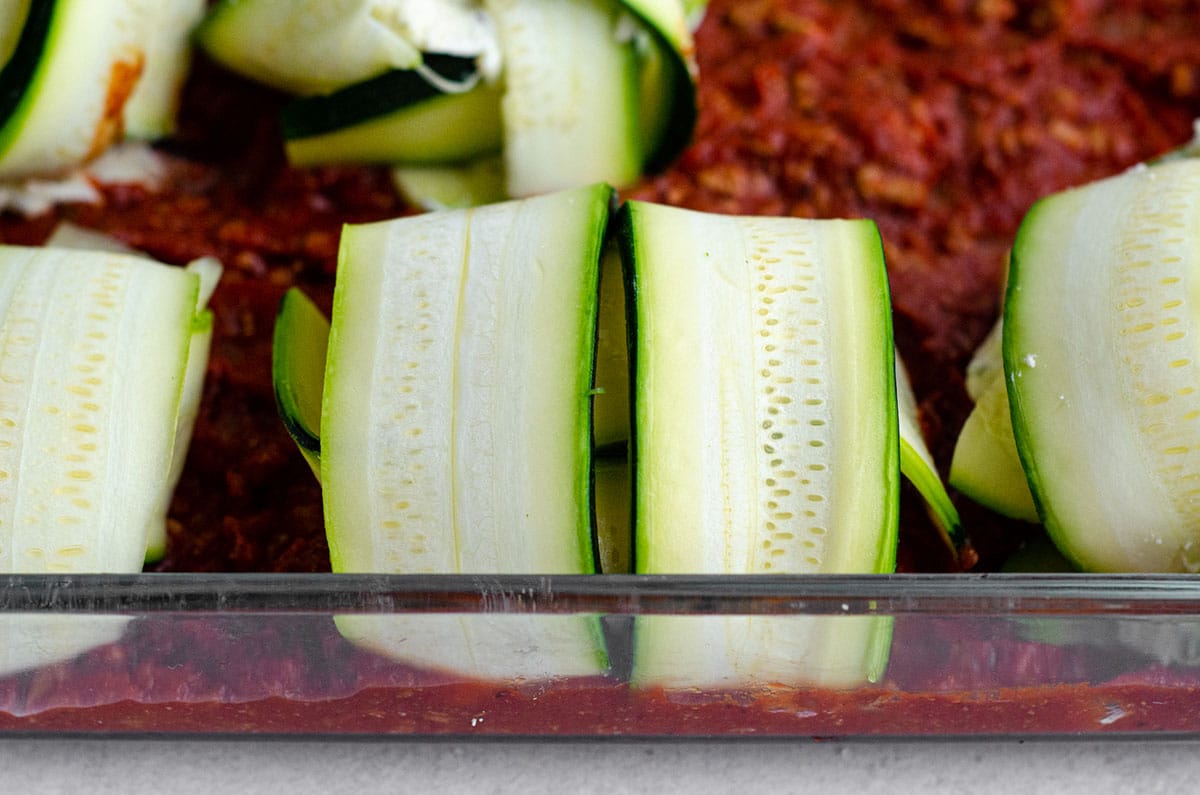 Gently flip it all over, place it in the prepared pan, and then top with a little more filling, more sauce, and finish off the whole thing with shredded cheese.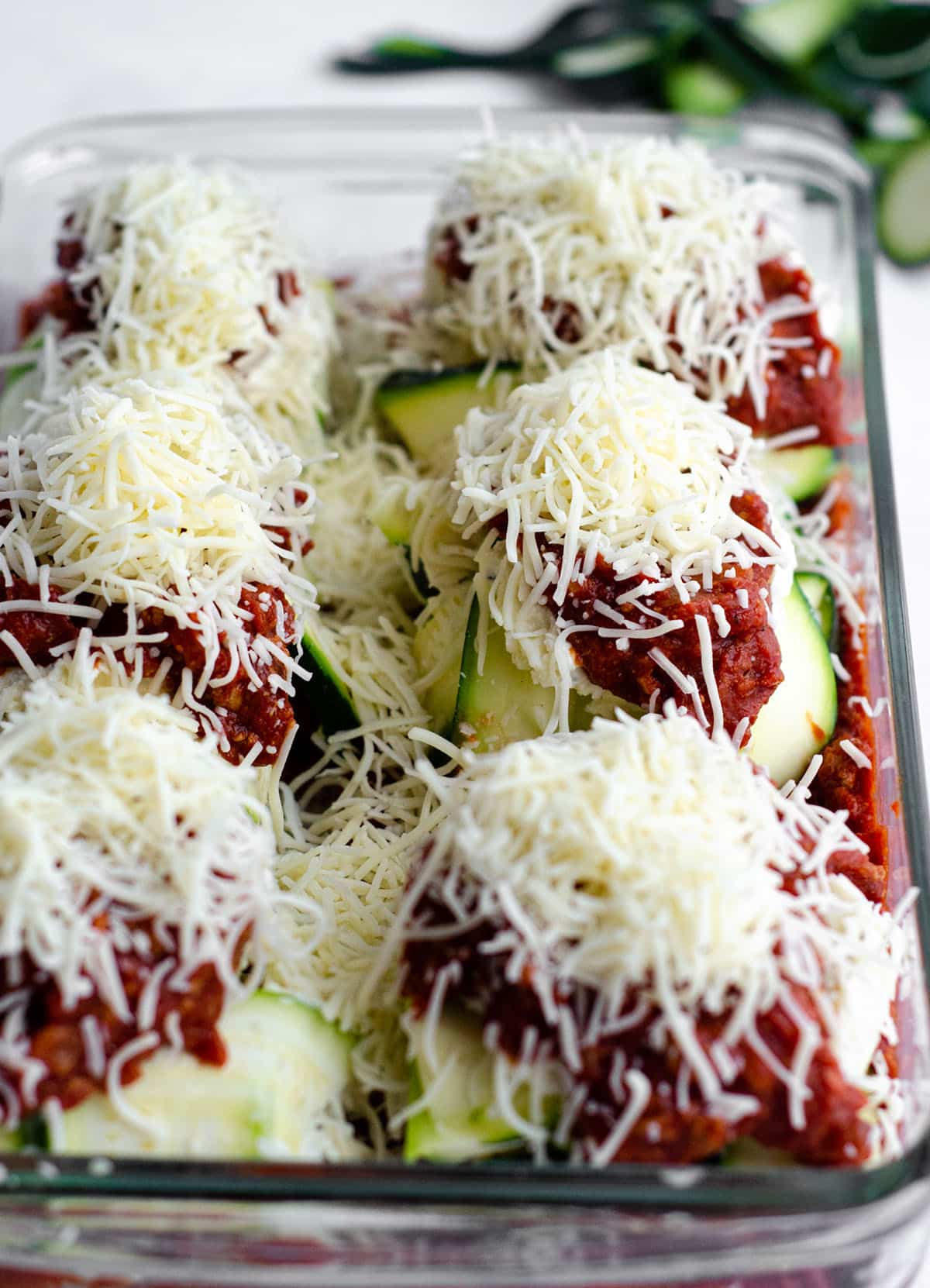 After about 25 minutes in the oven, you'll find yourself with neat little pockets of zucchini that are low carb, keto, and gluten free all rolled into one.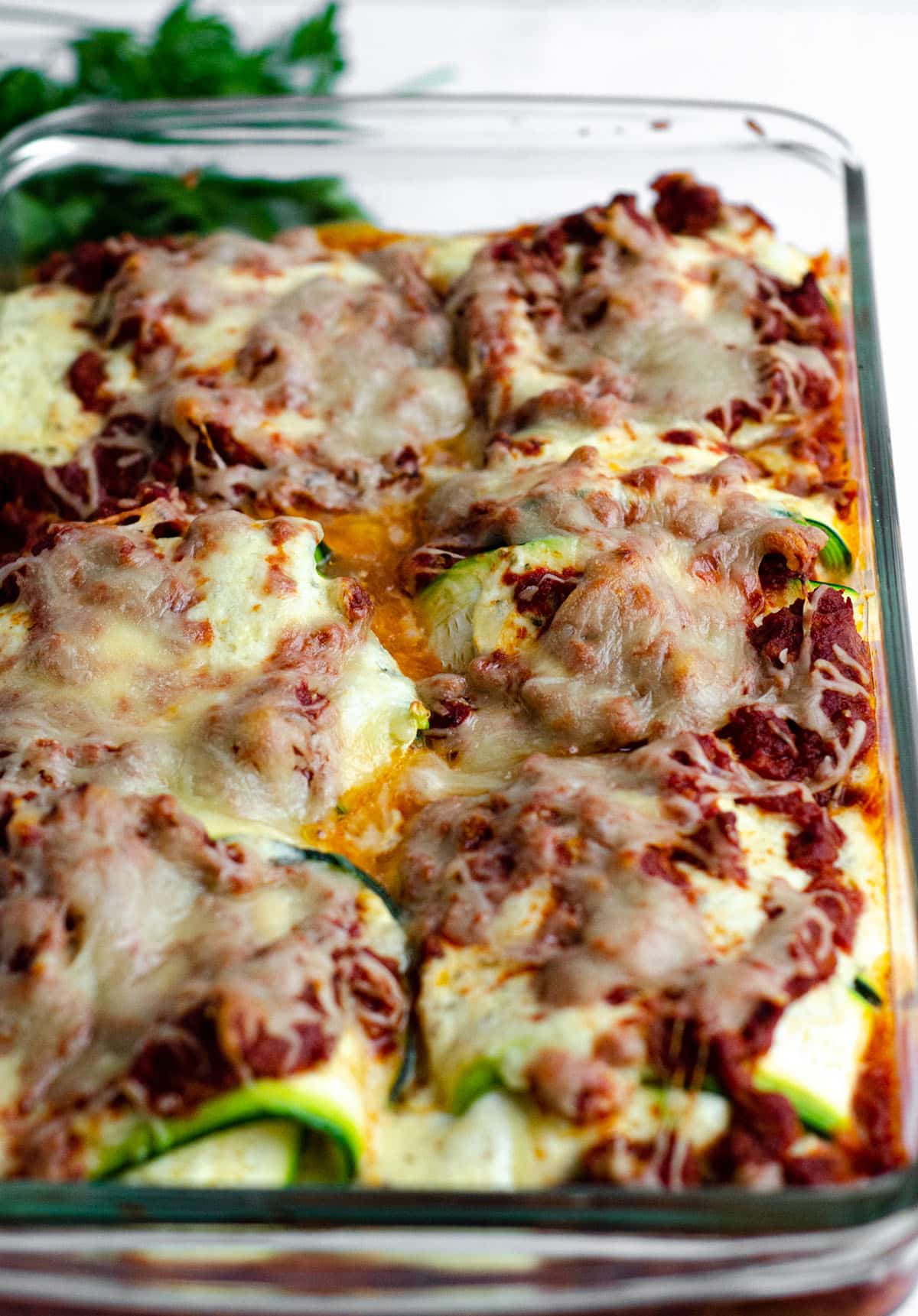 You don't even miss the pasta because really and truly, the best part about ravioli is the filling that goes into it and the sauce that fills every nook and cranny.
We ate these delish zucchini ravioli for lunch a handful of days in a row, and they were still perfect reheated in the microwave. I actually preferred the leftovers to the fresh batch because the flavors married together and the noodles soaked up even more sauce and cheese flavor.
They were truly wonderful and I'm excited to make this dish again and again this summer.
If you're looking for a way to use up your fresh zucchini and don't want to make another loaf of zucchini bread, I urge you to try this method. Lunch, dinner, shareable, freezable… It's all here in this simple recipe.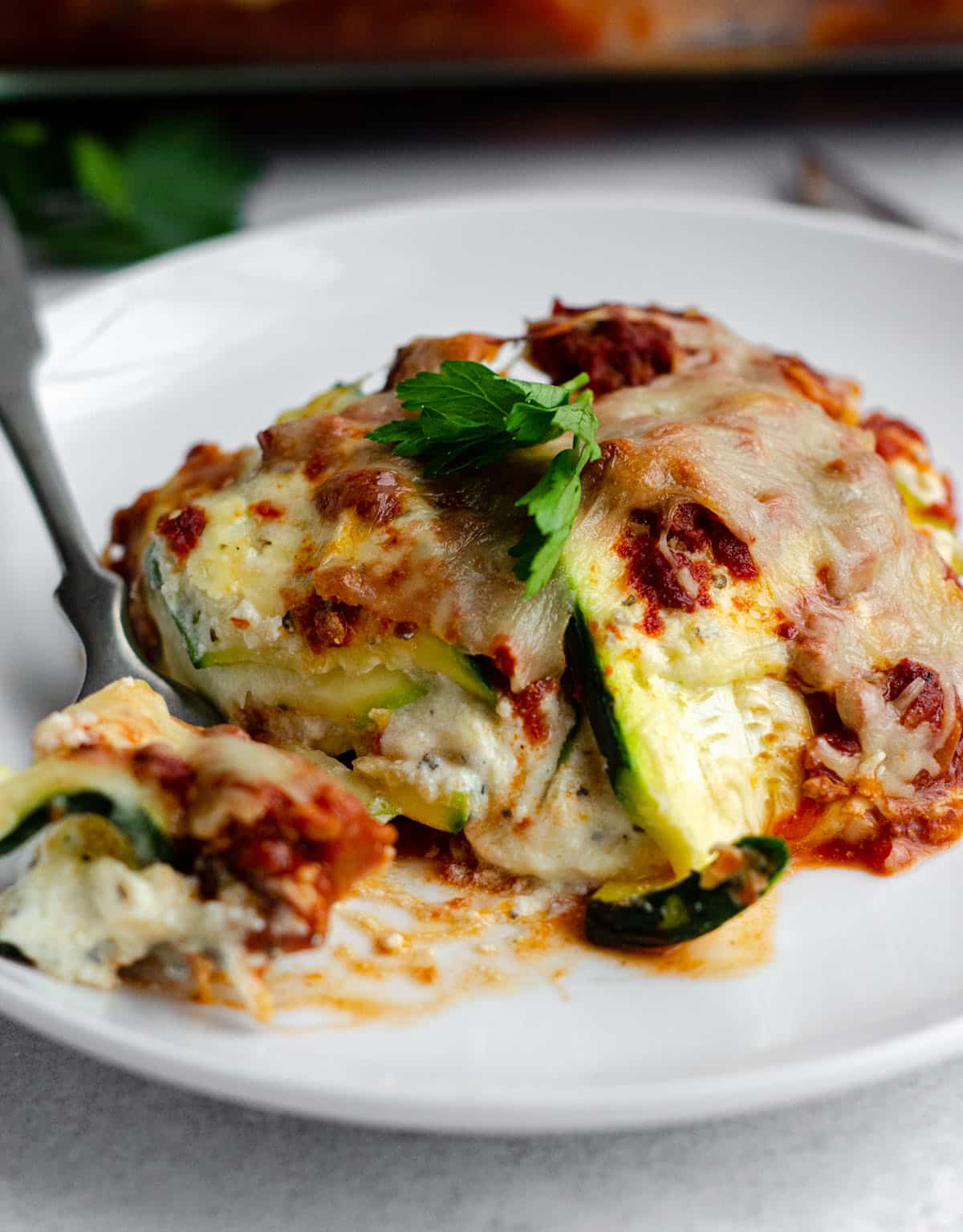 Bring on summer! And all those veggies!
Zucchini Ravioli
Traditional ravioli get a vegetable makeover– use zucchini in place of pasta for a gluten free, keto, or low carb ravioli substitute. These simple zucchini ravioli bring all the flavor and filling without the noodles!
Servings:
6
large ravioli
Ingredients
2 and ¾

cups (708g)

homemade meat sauce

divided; store bought (25 ounce jar) and/or non-meat sauce is also fine

3

medium size zucchini

15

ounces

(425g) ricotta cheese

8

ounces

(227g) Italian blend shredded cheese

divided

3

Tablespoons

(17g) grated Parmesan cheese

2

teaspoons

Italian seasoning1

1

teaspoon

garlic powder

¼

teaspoon

salt

1

large egg

lightly beaten
Instructions
Preheat the oven to 375ºF (191ºC). Line a baking pan (I used a 7" x 11") with 1 and ½ cups of sauce. Set aside.

Using a mandolin or vegetable slicer, slice zucchini lengthwise to ¼" thickness. You'll want at least 24 slices in total. Lay zucchini slices on a paper towel, sprinkle with salt, and allow to sit while you prepare the filling.

In a medium size bowl, combine the ricotta, 4 ounces of the shredded cheese, grated Parmesan, seasoning, garlic powder, and salt. Mix well. Taste the filling, add more seasoning if desired, then add the beaten egg. Mix again until everything is incorporated. Set aside.

Blot zucchini dry with a paper towel. Lay out 4 zucchini slices like a lowercase "t," using 2 horizontally and 2 vertically, making sure that the slices going in the same direction are slightly overlapping. Place ¼ cup of prepared filling in the middle of each "t," then, starting with the pair of slices on the bottom, fold up the ends to form a pocket. Place ravioli seam side down in the prepared pan.

Cover each ravioli with an additional 2 Tablespoons of filling, and about ¼ cup of sauce. Sprinkle the remaining shredded cheese evenly over everything, then bake 20 to 25 minutes, or until cheese is bubbly. Allow to cool about 15 minutes before serving. Store leftovers covered in the refrigerator up to 5 days. Ravioli freeze well, up to 3 months. Thaw in refrigerator overnight.2
Notes
Italian seasoning: alternatively, you can use 1 teaspoon dried basil, 1 teaspoon dried oregano, and

⅛

teaspoon dried thyme.
Moisture after thaw: since zucchini are very wet, excess water can accumulate after thawing. You can carefully pour off any unwanted water before reheating.
Nutrition Disclosure
All nutritional values are approximate and provided to the reader as a courtesy. Changing ingredients and/or quantities will alter the estimated nutritional calculations.