As an Amazon Associate I earn from qualifying purchases.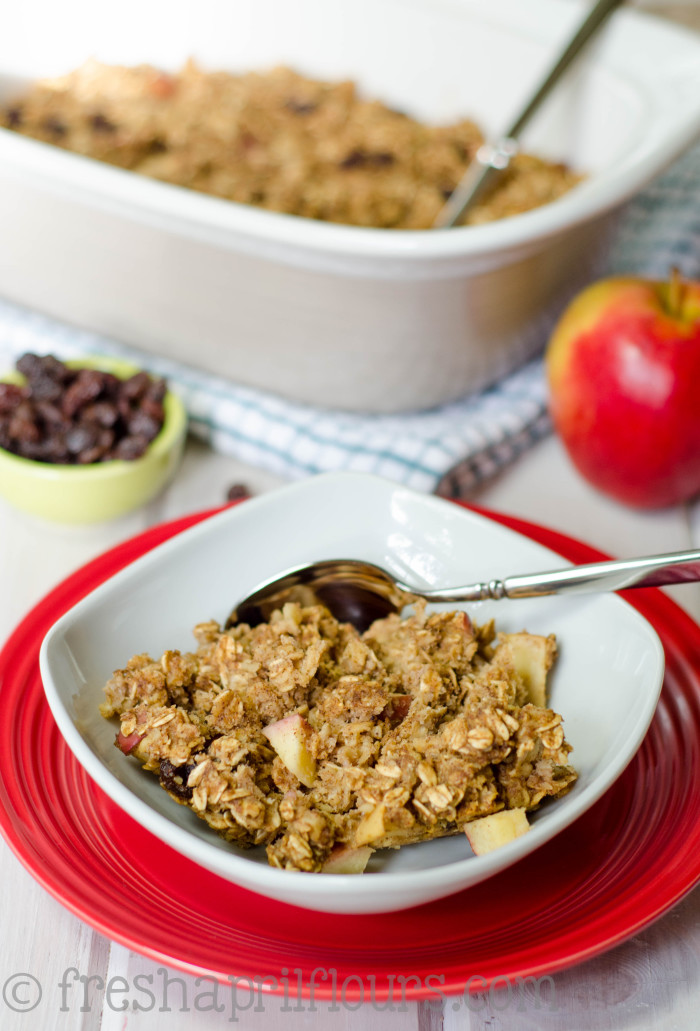 It's that time of year that I start wanting warm, cinnamon-y breakfast. Maybe it's because the weather is chilly and cozy, but it probably has a lot to do with the fact that I am a vacation hoarder and have myself a nice 2 weeks off of work. I normally grab one of these in the morning, but when I have time to sit down and relax and enjoy my breakfast, it's nice to eat something that requires some utensils.
If you've never had baked oatmeal, you are in for a fabulous treat. It's kind of like an oatmeal casserole that is similar in texture to bread pudding. Fragrant, flavorful, and tender. I used to make this stuff all the time in college, but I used instant oatmeal packets and butter. Lots of butter. I have since graduated to wholesome scratch baking and this recipe doesn't use a drop of butter or oil. My secret weapon? Unsweetened applesauce.
My baked oatmeal starts with the basics: old-fashioned oats (not quick oats– you don't want oatmeal mush!), cinnamon, a little salt, and some baking powder (which helps keep this dish slightly fluffy and not dense and goopy). The "glue" involves unsweetened applesauce, some brown sugar, a little milk, a touch of vanilla extract, and an egg to hold everything together. That's it!
The add-ins (a.k.a. the goodies) include a chopped apple (use your favorite), raisins, and chopped walnuts. Don't like nuts? Leave them out. Prefer pecans? Use them instead. Raisins are also totally optional, because I know there are some raisin haters out there. You raisin lovers? We've been here before. Load it up.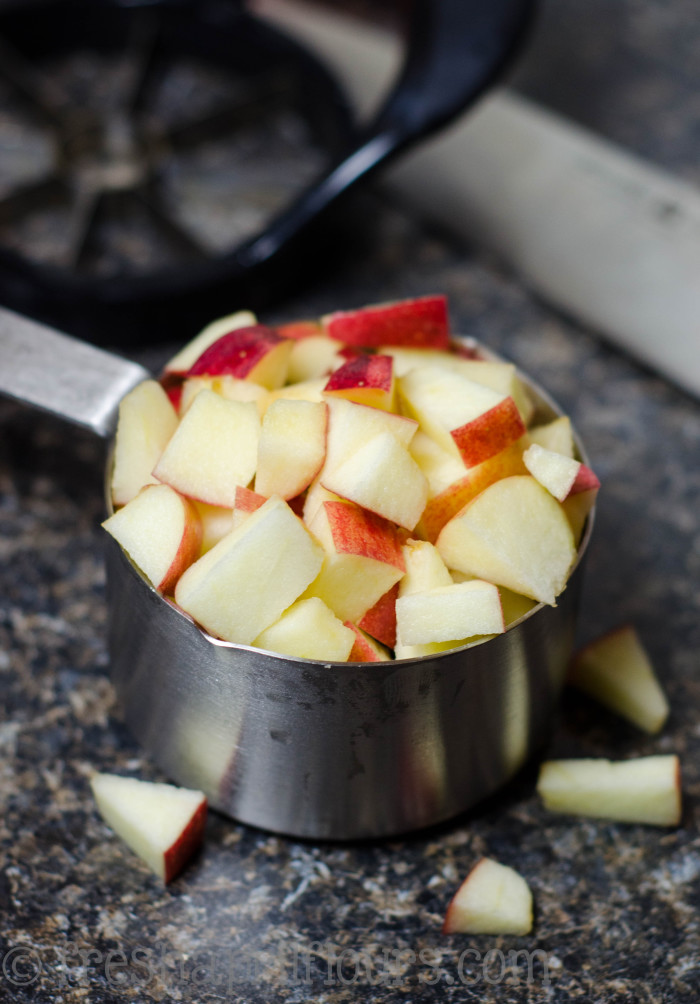 I put my baked oatmeal in a 2.5 quart casserole, but this fits nicely in an 8″ or 9″ square baking dish. If you would like to double it, bump up to a 9″ x 13″ baking dish and increase the baking time by 4 minutes.
You'll know your baked oatmeal is done when it's a nice golden brown on the top and the oats no longer feel moist when you touch them.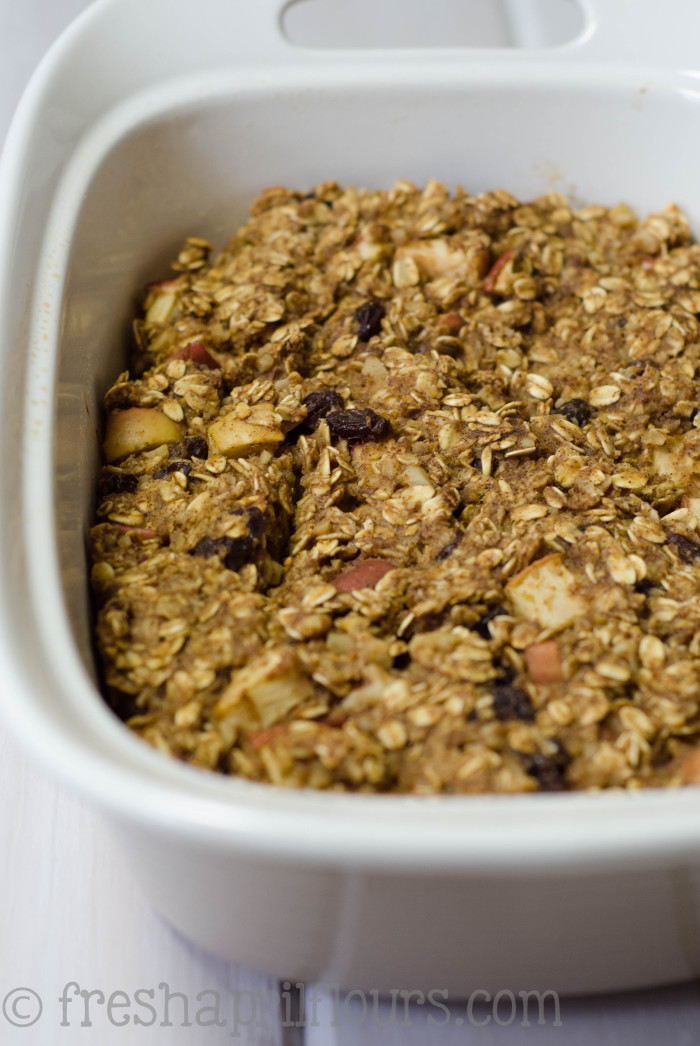 This recipe is great for feeding a crowd. It comes together in less than 10 minutes, is baked immediately, and is ready to eat in half an hour. It's great for a holiday breakfast or brunch, and can also be made and baked ahead for breakfasts during the week. It reheats well and you can even eat it cold. It can easily be doubled and is completely customizable. If your crowd can't agree on nuts/no nuts or raisins/no raisins, feel free to offer these items as toppings to add right before eating. You could even throw some chocolate chips in or on your baked oatmeal, and I definitely wouldn't judge you. In fact, invite me over, please?
I prefer my baked oatmeal warm, swimming in milk, and with extra raisins on top (does this make me old lady-ish?).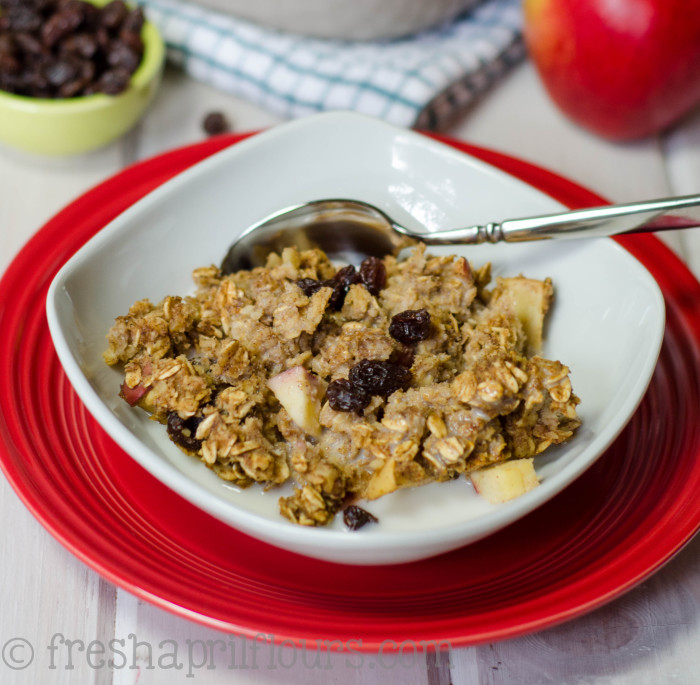 What I love most about this recipe is that it is at the perfect level of sweetness. I don't love super sweet oatmeal (unless it's in the form of a cookie, duh), and if you find it's not sweet enough for you, you can just sprinkle some on top before you eat it. Another great option? Using certified gluten-free oats makes this entire dish GF. Boom. Everyone can eat it.
Easy, customizable, crowd-pleasing baked oatmeal spiced with cinnamon, loaded with chunks of apples, and studded with plump raisins.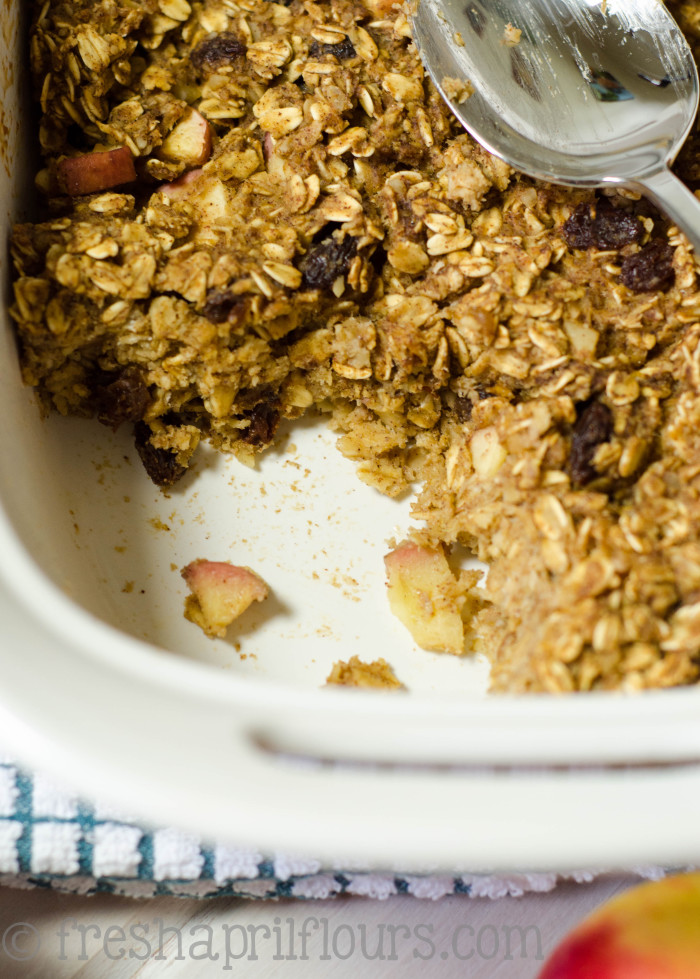 You're going to love this cozy breakfast!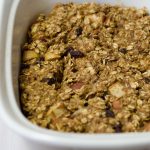 Print Recipe
Apple Cinnamon Baked Oatmeal
Easy, customizable, crowd-pleasing baked oatmeal spiced with cinnamon, loaded with chunks of apples, and studded with plump raisins.
Ingredients
2

and 1/2 cups old-fashioned oats

not quick --use certified gluten-free oats here to make the entire recipe GF

2

teaspoons

ground cinnamon

1

and 1/2 teaspoons baking powder

1/2

teaspoon

salt

1

cup

unsweetened applesauce*

1/3

cup

brown

light or dark sugar, firmly packed

1/4

cup

milk

any

1

teaspoon

vanilla extract

1

large egg

1

medium apple

cored and chopped (approximately 1 heaping cup) (I used a gala and left the skin on)

1/2

cup

raisins

1/2

cup

chopped nuts

I used walnuts
Instructions
Preheat oven to 350ºF. Spray a 2.5 quart casserole dish (or 8" or 9" square baking dish) with non-stick spray. Set aside.

In a medium bowl, combine oats, ground cinnamon, baking powder, and salt. Set aside.

In another medium bowl, whisk together unsweetened applesauce, brown sugar, milk, vanilla, and egg until smooth. Add to dry ingredients and stir until all of the oats are coated.

Carefully stir in apples, raisins, and nuts (if using). Pour into prepared baking dish, dispersing mixture evenly, and bake uncovered for 30 minutes or until golden brown and oats no longer feel moist when you touch them. Serve immediately. I like mine in a bowl with milk. Baked oatmeal will keep well in refrigerator covered up to 5 days.
Notes
*If you prefer sweetened applesauce, reduce brown sugar to 1/4 cup
To double recipe, bake in 9" x 13" baking dish. Increase baking time by about 4 minutes. <-- this is an estimate as I have not doubled this recipe!
Feel free to leave out the add-ins and make a "baked oatmeal bar" when serving large crowds (extra brown sugar, chopped nuts, dried fruit, jam, chocolate chips, etc.)