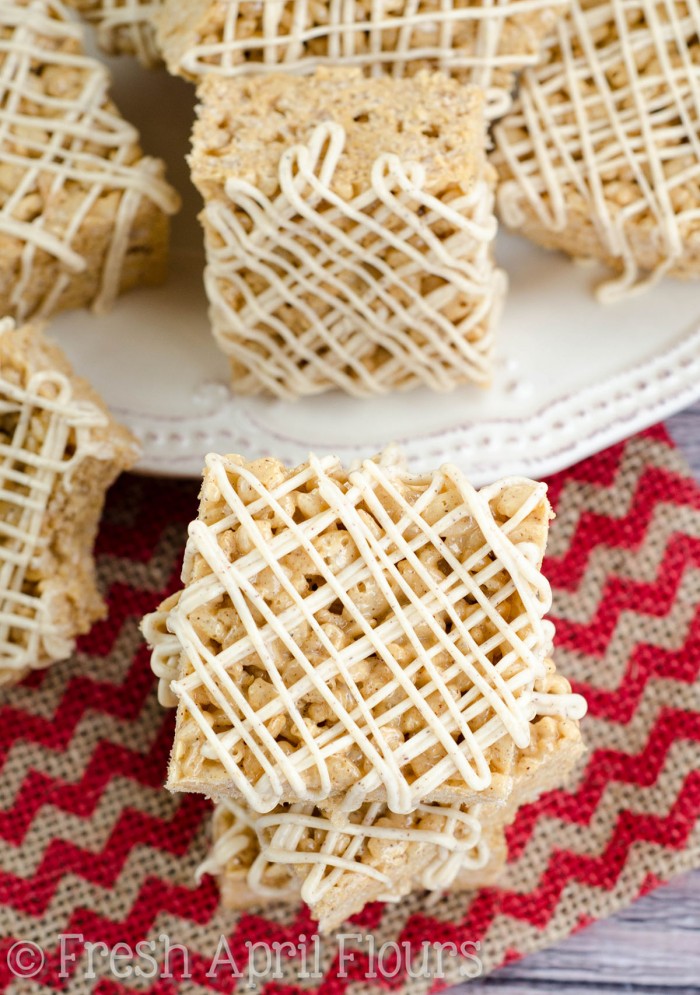 I think I've mentioned a time or two over the past monthish that there is going to be a ton of cookie-ing going on in the next few weeks on the blog. It's true– there is. And that's because the holidays are full of cookie sharing, cookie exchange parties, endless entertaining, and every excuse in the world to eat nothing but cookies.
Thank goodness for the cookie graveyard.
I love making up cookie trays for people, and I also love receiving them! It's so fun to see what cookies people enjoy baking, whether they be classics or something passed down through generations of bakers. Plus, it's fun to see others' takes on recipes I may be incredibly familiar with. No two cookie givers ever gift the same cookies. There's always a special touch!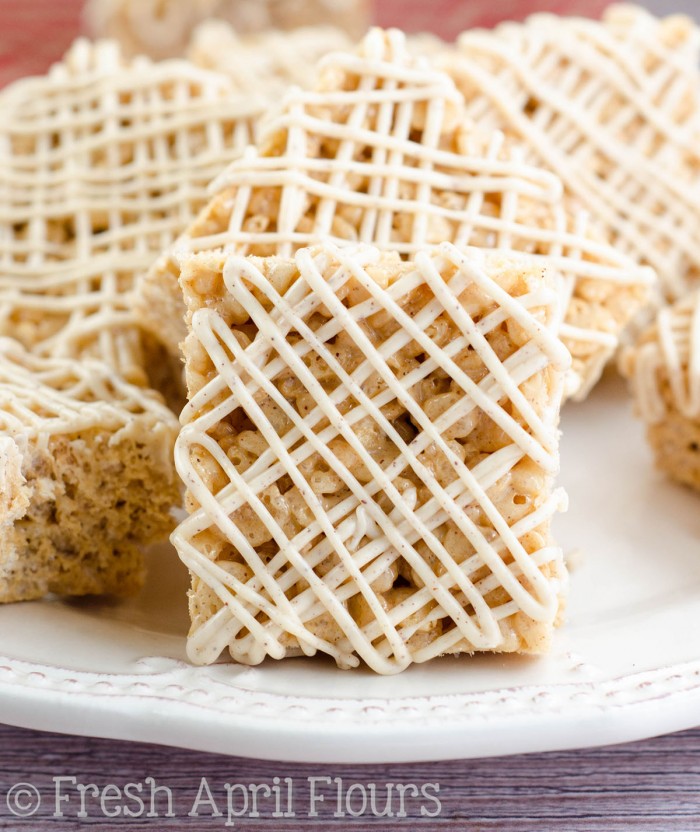 My MIL is the queen of cookie trays (I'll be speaking about her and her cookie specialties in the next few weeks), and what I love about her trays is that they are always so cute and filled with things to accent the cookies: Hershey's kisses, red and green Rice Krispies treats, and a special sprinkle of powdered sugar over the whole thing to look like snow. Love them. They're adorable.
SO, I'm taking a note from my MIL in order to prepare you for my cookiepalooza by bringing you some cute little "extras" this week to help fill the cookie trays you are about to build up over the next month of cookie recipes.
Now don't get me wrong, I love me some classic Rice Krispies treats, but I wanted to do something a little seasonally different, so I decided to throw some wintery spices together to see what would happen. And, umm, I think these may be my new favorite RKTs ever. I may never eat a regular RKT ever again. Bring on the gingerbread variety, pleaseandthankyou!
So what's in these gingerbread RKTs, you ask? Well, I started with molasses because, duh, main ingredient in gingerbread cookies. To kick the spices up a notch, I added some ground cinnamon and ground ginger. Nice and spicy but still sweet enough to stay true to classic RKTs. Sweet and spicy– that's what winter is all about!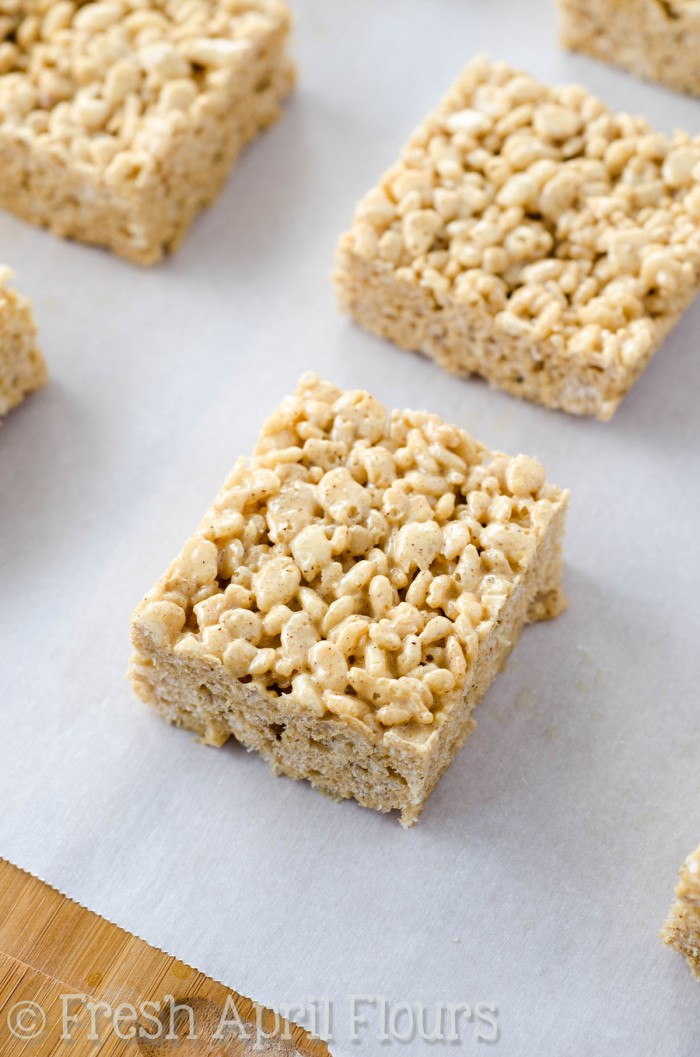 I was ready to be done with these gingerbread RKTs, but when I looked at them and thought about photographing them, I thought "how boring." So what better way to jazz things up than add some spiced white chocolate drizzle? I figured the worst that could happen was they were too sweet and I ruined them and we would probably still eat and share all of them anyway. Thankfully, it turns out, adding that white chocolate (with extra cinnamon and ginger stirred into it!) was the perfect touch. Just a little more sweetness and extra spiciness that really seal the gingerbread flavor deal.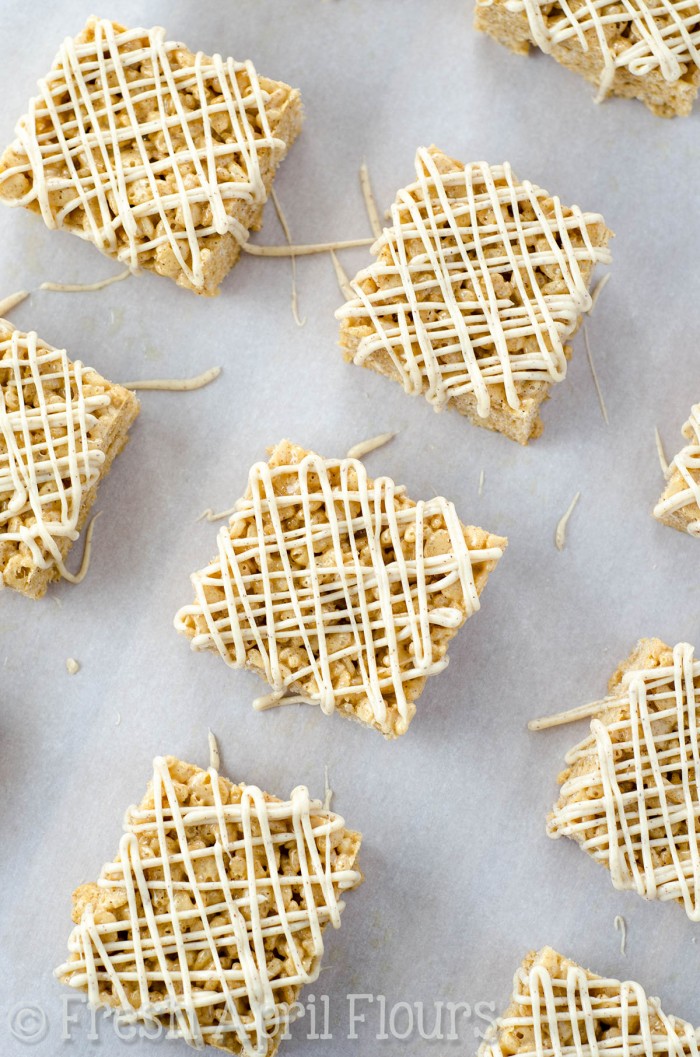 We ate several of these before shuffling the rest of them off to a dinner party, where they were met with eager taste testers who asked us to leave the leftovers. Yes. Absolutely we will do that, because nothing makes me happier than when people love the things that come out of my kitchen.
Perfectly sweet and crunchy Rice Krispies treats with a little holiday upgrade are definitely something that will make your cookie trays stand out among the rest. They taste like Christmas and I think that they are one of the first things you should make once you finish up your Thanksgiving leftovers.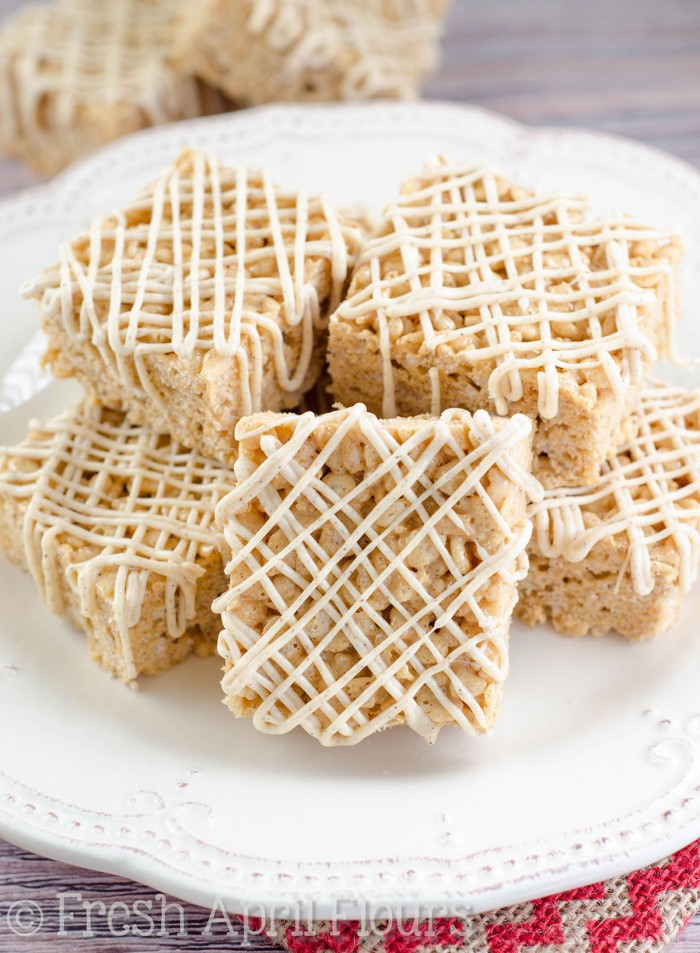 They'll certainly get you in the mood for the holidays and bring you some extra cheer!
Need more recipes to get you in the holiday spirit?