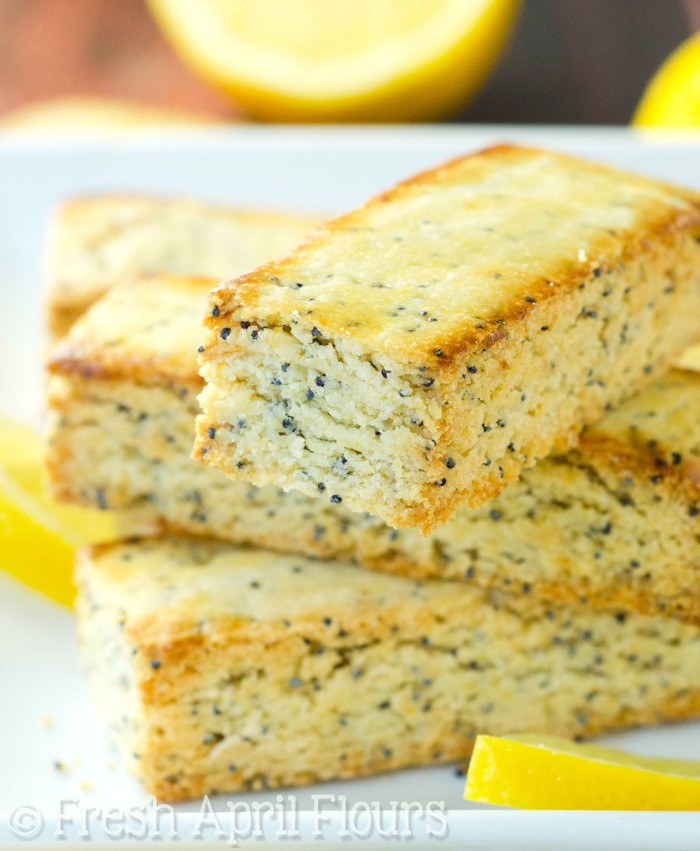 So the biscotti bug bit me pretty hard. Ever since I made my first ever batch of biscotti back in June, I have been itching to make another variety. Aaaaand I totally have one planned for the Christmas season, so stay tuned for that one!
I said it before and I'll say it again, biscotti are not difficult, they're just a bit time consuming and take a little planning ahead. I think those two things are what always scared me away from trying my hand at this beloved cookie of mine, but when I realized the work wasn't difficult, I found the time spent on the biscotti was more fun!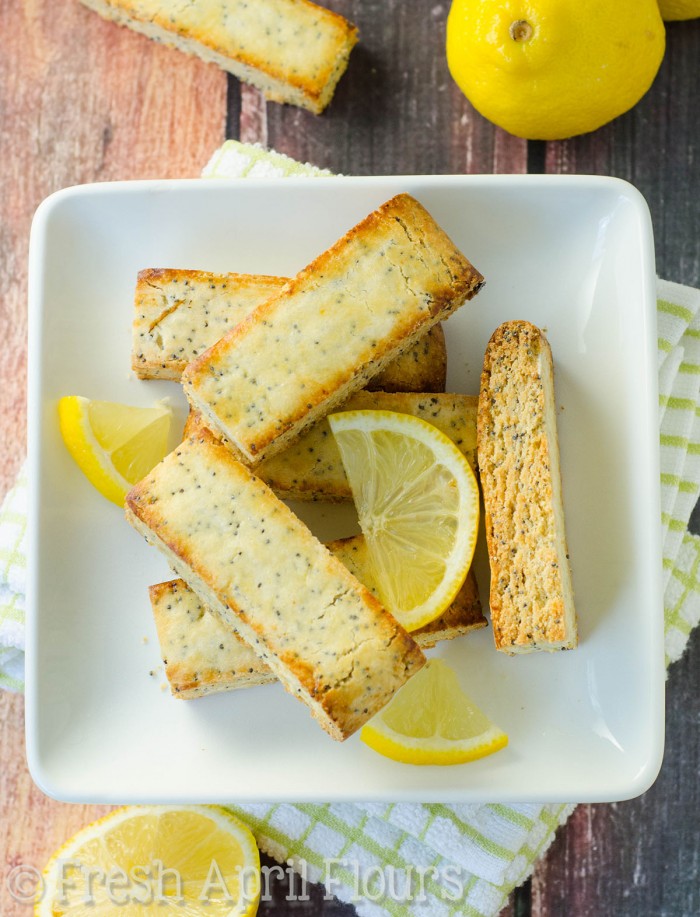 And of course, as I said back in my funfetti biscotti post… It's ALLLL about the dunk. Lemon poppy seed dunked in my coffee? Uhhhhmazing.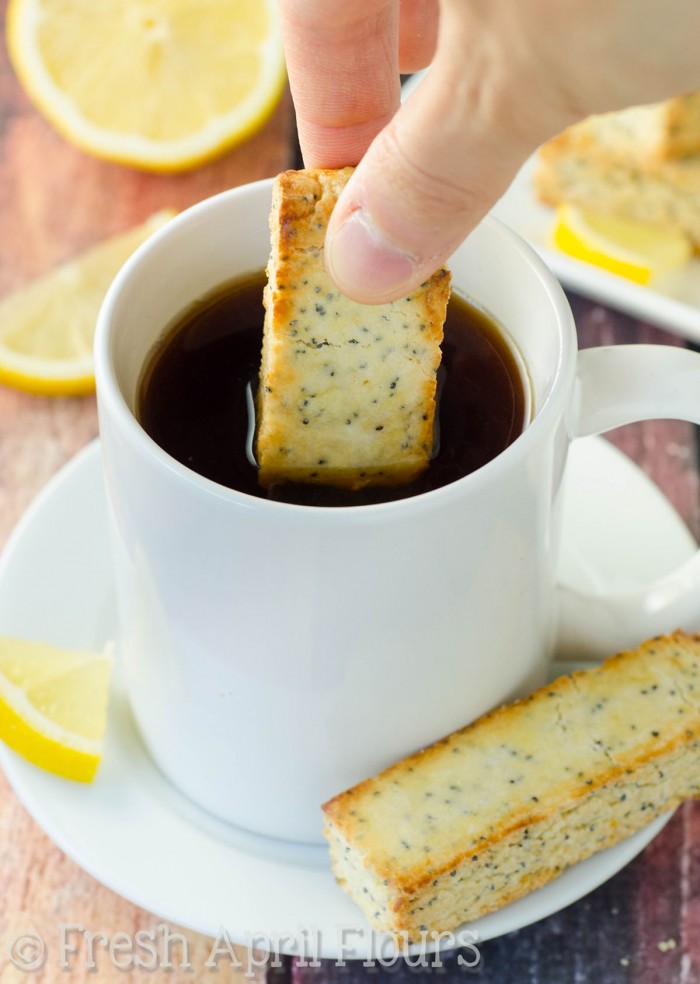 This recipe is almost identical to my funfetti biscotti recipe, which I used as a guide for these lemon poppy seed dunkers. I swapped out a few ingredients and rearranged the method a little bit to create the most lemony biscotti possible: before you do anything else with ingredients, you're going to make sunshine, I mean lemon sugar. This sounds way harder than it actually is and will take you no time at all. Before you juice your lemon, you'll zest the whole thing right into your 1/2 cup of sugar. You should get about 2 teaspoons of zest from one medium size lemon. From there, you'll use your fingers to rub the zest into the sugar crystals. What this does is release the oils in the zest, allowing lemon flavor to really seep into the sugar. Would you get lemon flavor from simply adding lemon zest and calling it a day? Of course! But making this lemon sugar is super easy and gives the flavor a head start, maximizing the lemon tang of each biscotto. Can you argue with that??
Lemon sugar should be nice and yellow and fluffy!
↓↓↓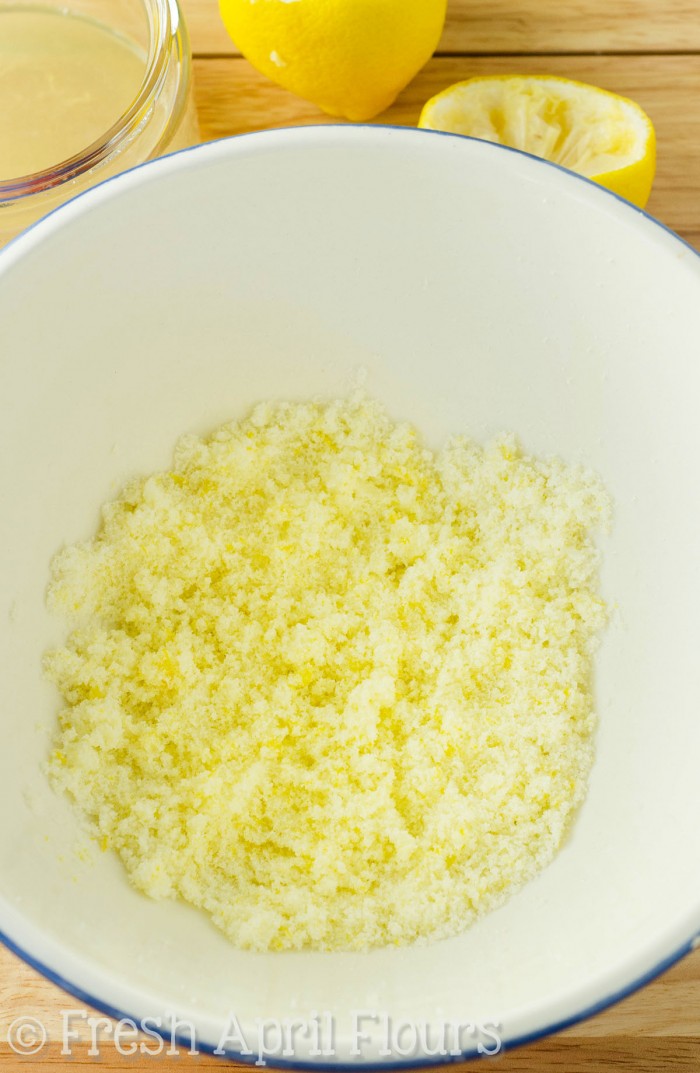 After you've created the sunshiniest sugar in the world (lick your fingers before you wash your hands off– you're welcome), you'll create your wet ingredient team, combine it with your dry ingredient team, turn all of the dough out onto a lightly floured baking sheet, and form it into a rectangle (don't worry, I have some step-by-step photos under the recipe).
As far as the ingredients go, you'll be working with only one tablespoon of butter which somehow, magically, brings such a buttery taste to each cookie. You'd think there was a whole stick of butter in this dough! But there's not. Like I said: magic. You'll combine that butter with bit of vegetable oil which prevents the interior from getting dry, but also helps make the exterior a bit crunchy. Just one egg keeps the interior crumbly without being like sand, and a hefty dose of poppy seeds go so nicely with that bright citrus. Seriously, who ever decided that citrus + poppy seed was such a wonderful combination?? I want to be besties with that person.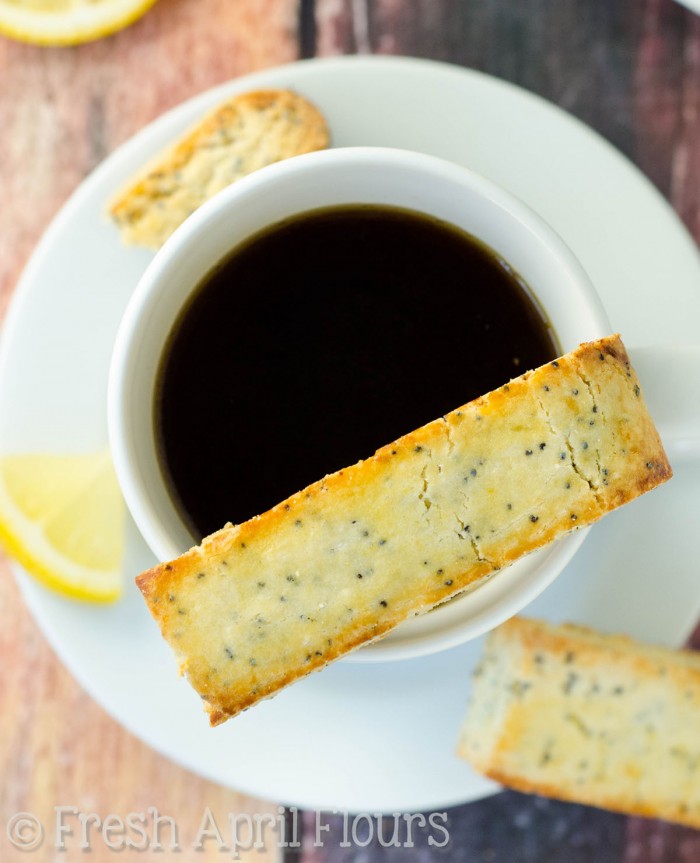 Anywho… I decided to put an egg wash on these biscotti because I wanted a little bit of a shiny look. Also, the egg wash helps the edges brown a bit and gives them a nice golden color. Although there is a ton of lemon in these biscotti, the yellow color doesn't come through all that much. And despite how tasty biscotti are, they aren't the most photogenic treat in the world. Let's brighten up the surfaces as much as we can with a little golden shine! 1 egg + some lemon juice = shiny, lemony, crispy edged cookies. Is your mouth watering yet?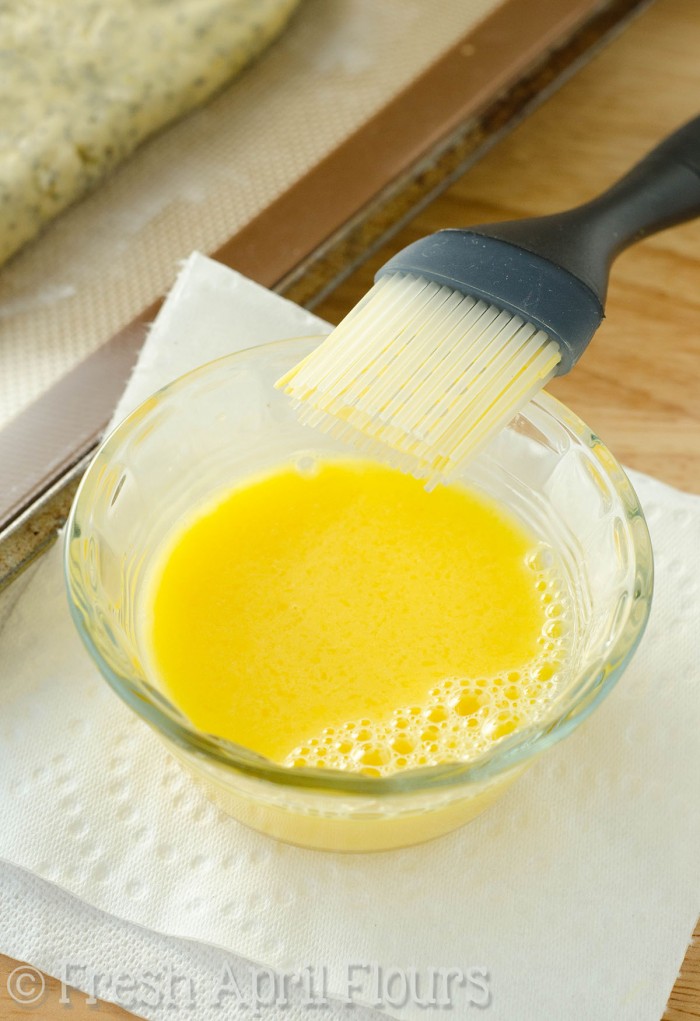 What I love most about these biscotti are that they have the most crunchy, crispy exterior that gives you a wonderful texture to sink your teeth into. Inside that crunchified (yep, crunchified) exterior is a tender, buttery, undeniably lemony interior that is bursting with crunchy little poppy seeds.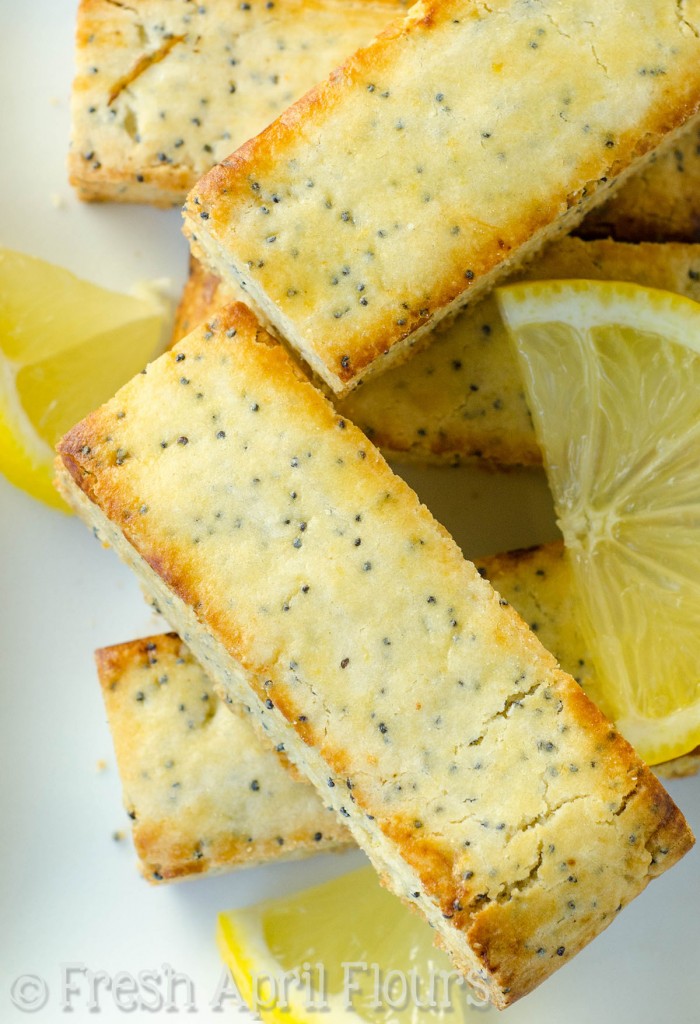 Like I said, not the most attractive treat I've ever made, but how much my tastebuds love them totally makes up for that.
Try your hand at this tasty little cookie, make another batch of these party-filled ones, and prepare yourself for a special holiday edition come December. You might just find yourself a biscotti aficionado. I'm totally trying to be one…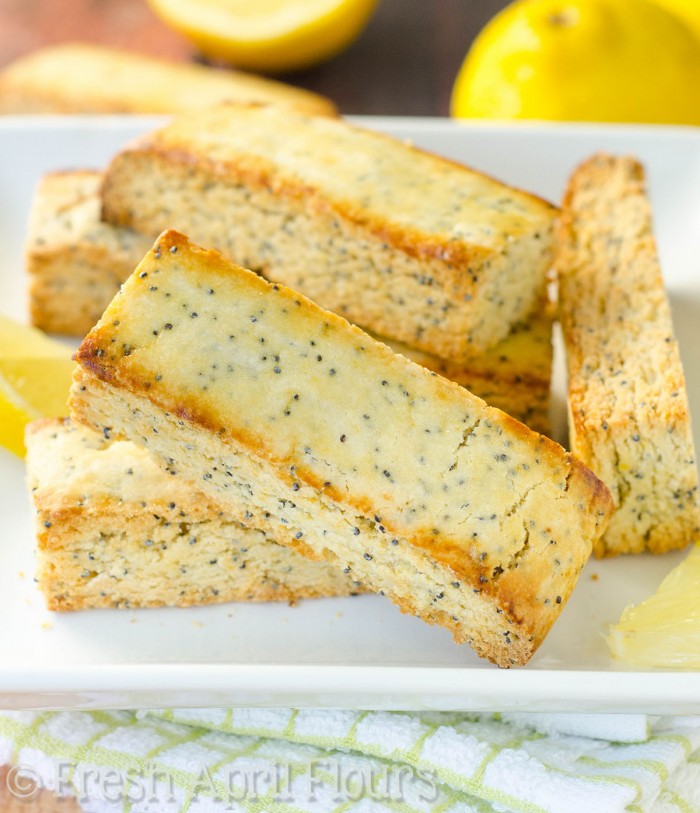 …just kidding.
Kind of.
Preheat oven to 350ºF degrees. Line a large baking sheet with parchment paper or a silicone baking mat. Lightly flour the baking sheet. Set aside.
Place the sugar in a medium size bowl and add the lemon zest. Using your fingers, rub the zest into the sugar until all of the zest has been incorporated and most if not all of the sugar is pale yellow.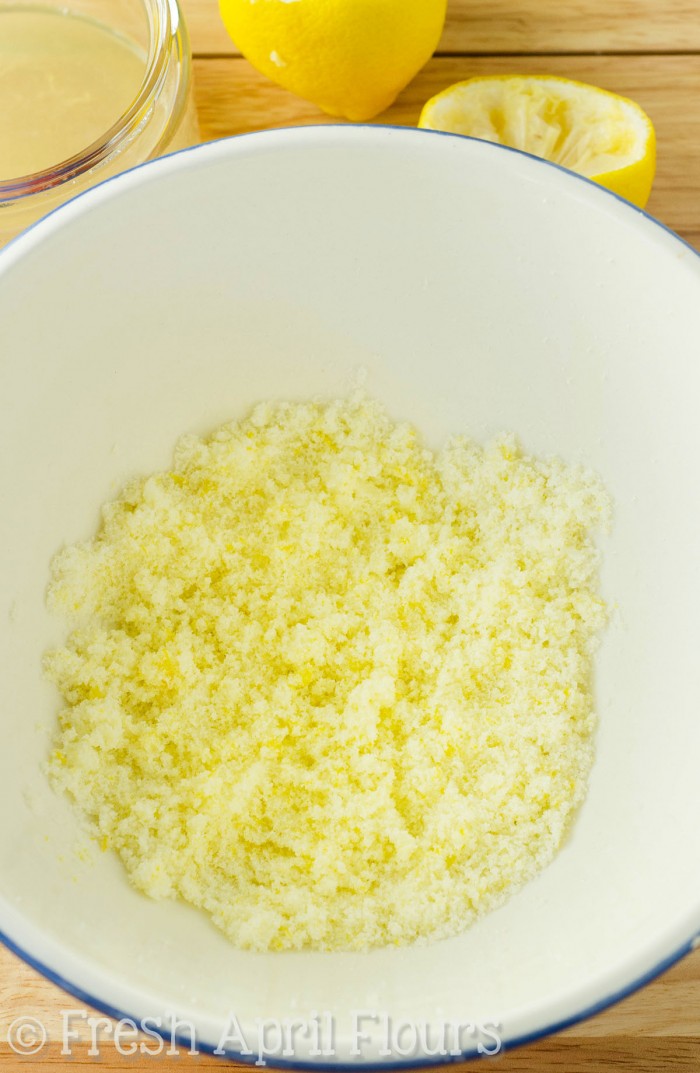 Whisk in the butter, oil, egg, vanilla extract, and 1 teaspoon of the lemon juice until combined. Set aside.
In a large bowl, toss together the flour, baking powder, salt, and poppy seeds. Add the wet ingredients to the dry ingredients and gently mix with a large wooden spoon or sturdy rubber spatula until everything is combined.
Turn dough out onto lightly floured baking sheet and, with floured hands, pat dough into a rectangle about 1/2″ thick. My rectangle was 6″ wide and 7 and 1/2″ long (using a ruler or a ruled silicone baking mat is helpful here).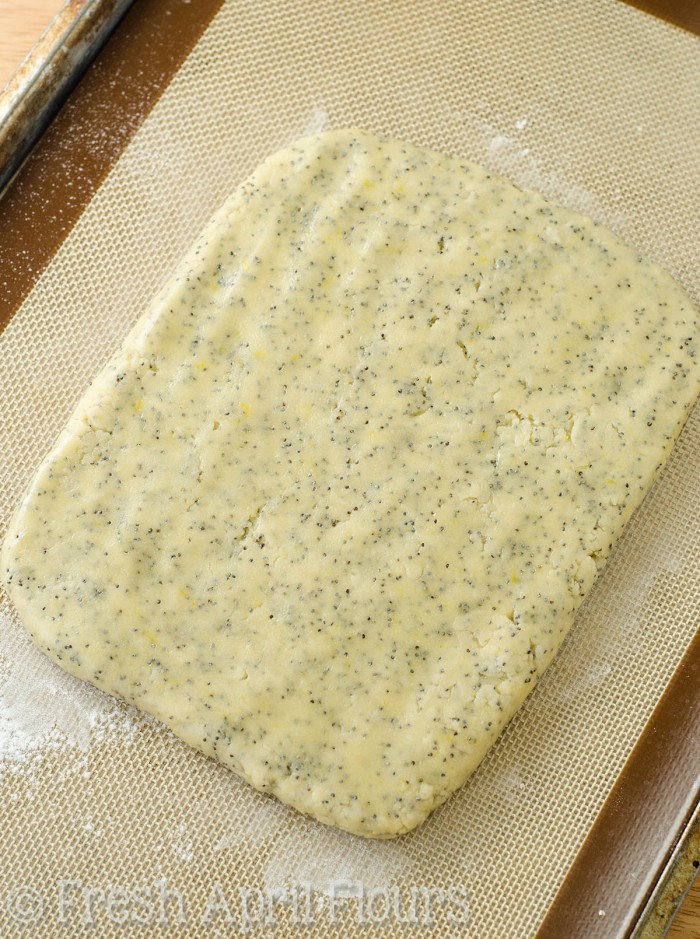 Make the egg wash using the remaining lemon juice (approximately 5-6 teaspoons) and brush onto the entire rectangle, being sure to get the egg wash on the sides of the dough as well.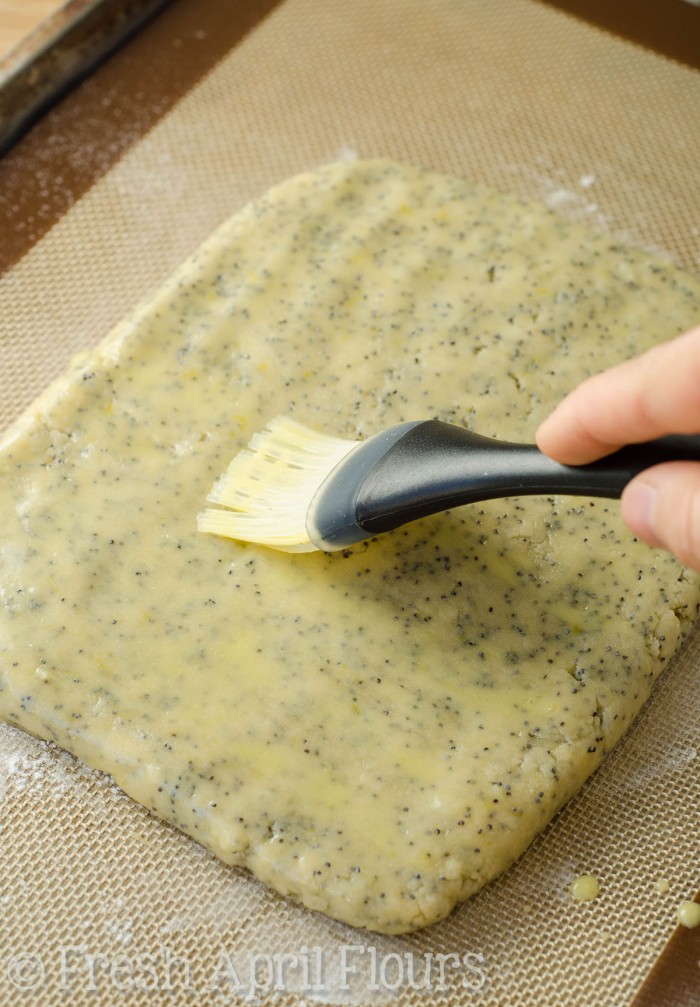 Bake dough slab for 20-22 minutes, or until the top and sides of the slab are lightly browned. Remove from the oven, but do not turn off the heat. Place baking sheet on a wire rack and allow to cool for 10 minutes.
Once the dough is cool enough to touch, cut into 1″ thick slices using a sharp knife. Cut these 1″ slices in half, making a perpendicular slice down the entire slab.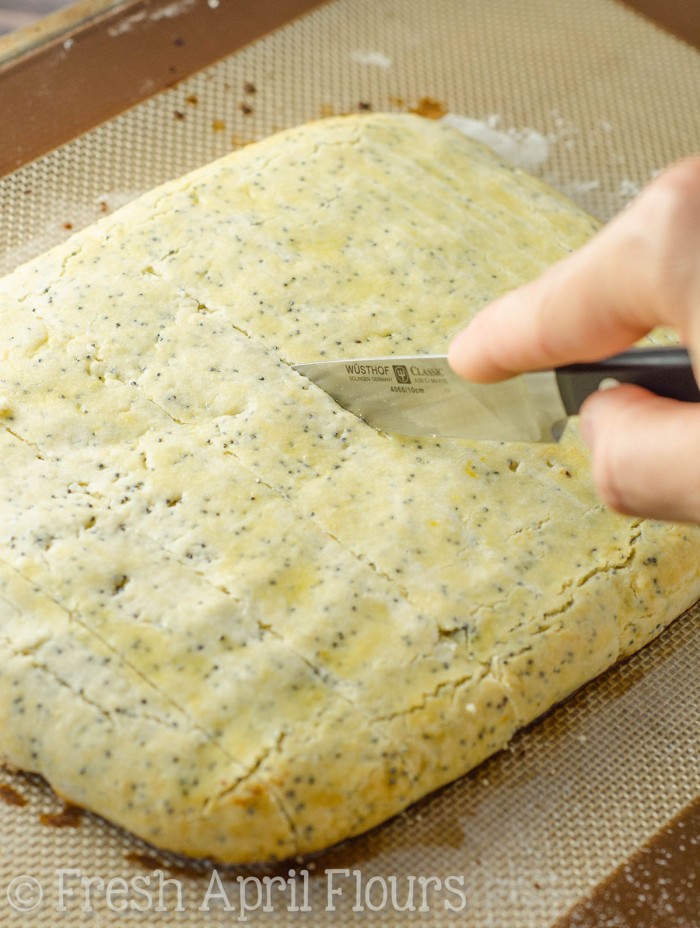 Set slices cut sides up on the baking sheet. Return to the oven to bake for 8 minutes.
Remove from oven, turn biscotti over, and bake the other side for 8 minutes. Remove from the oven and allow to cool for 3 minutes on the baking sheet (cookies will become crunchy as they cool).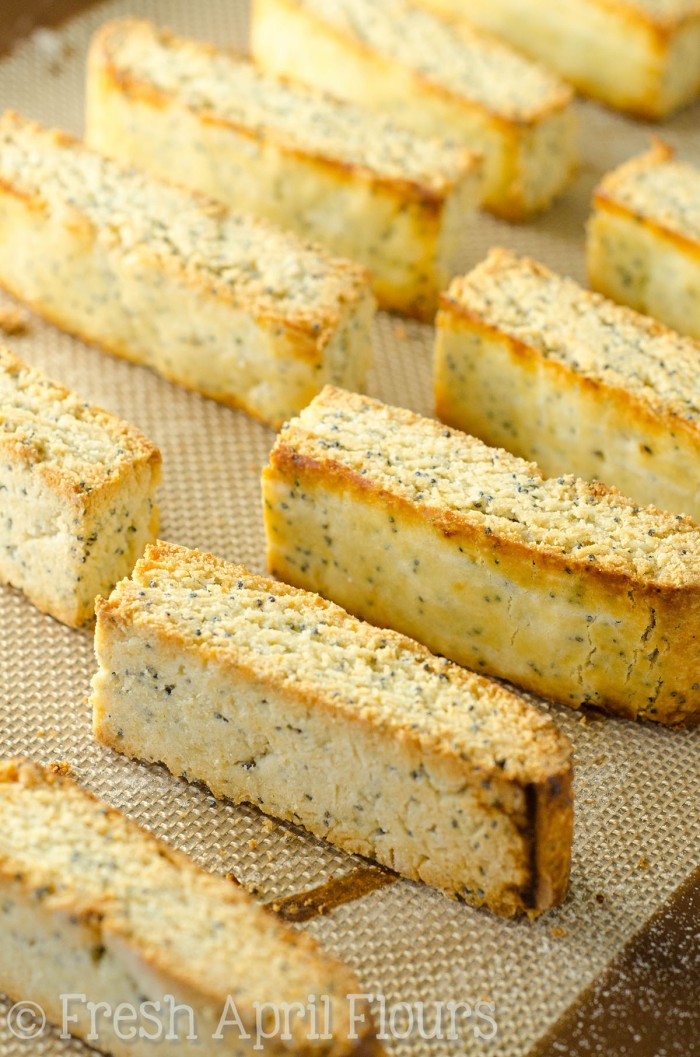 Transfer biscotti to a wire rack to cool completely.
If you love lemon poppy seed, you might enjoy my Orange Poppy Seed Scones!