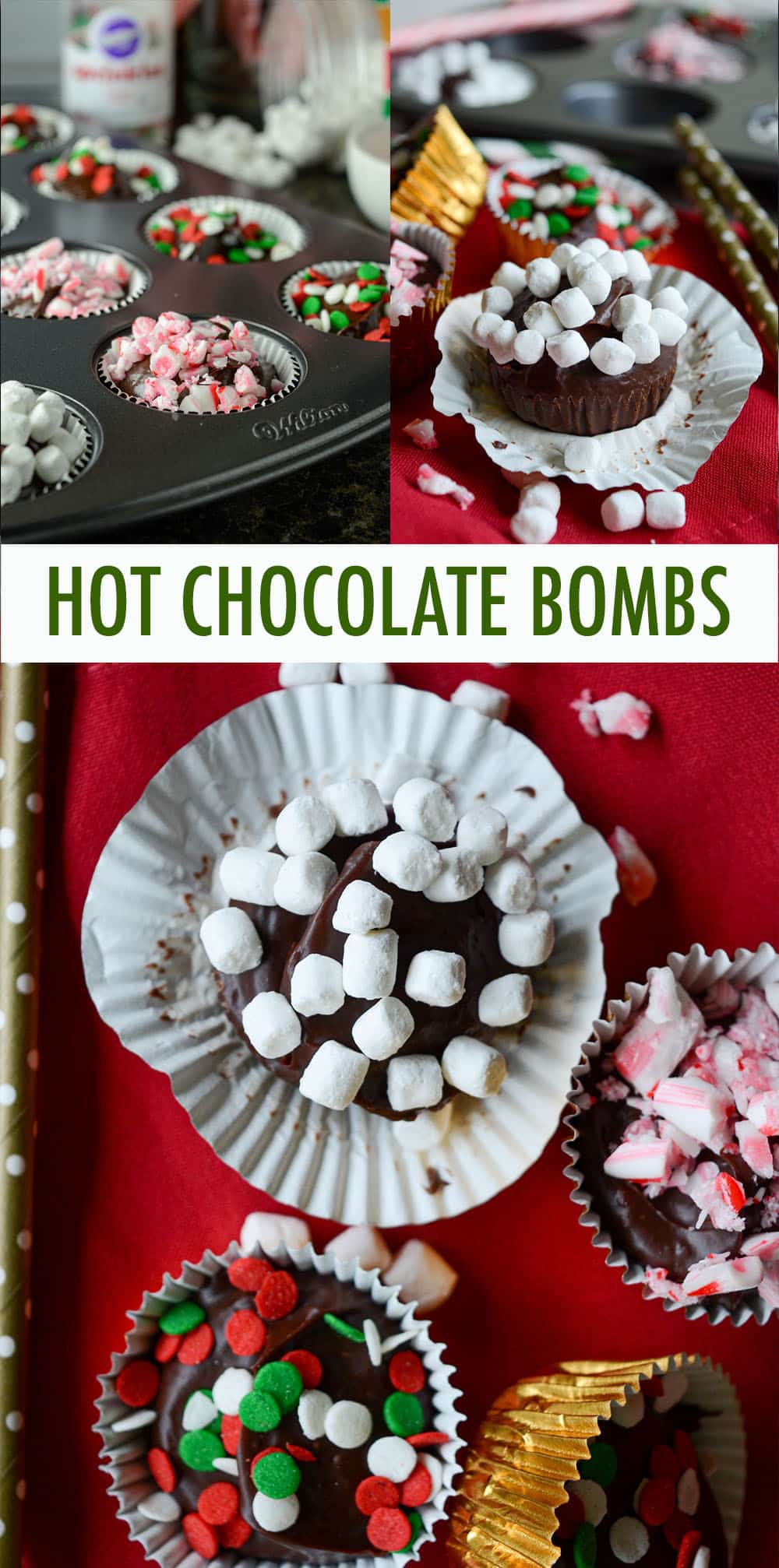 As an Amazon Associate, I earn from qualifying purchases. Read the full disclosure here.
Toss these hot chocolate bombs into a mug of warm milk and you instantly have smooth, creamy, homemade hot chocolate! Add your favorite candies or sprinkles on top to make your hot chocolate even better!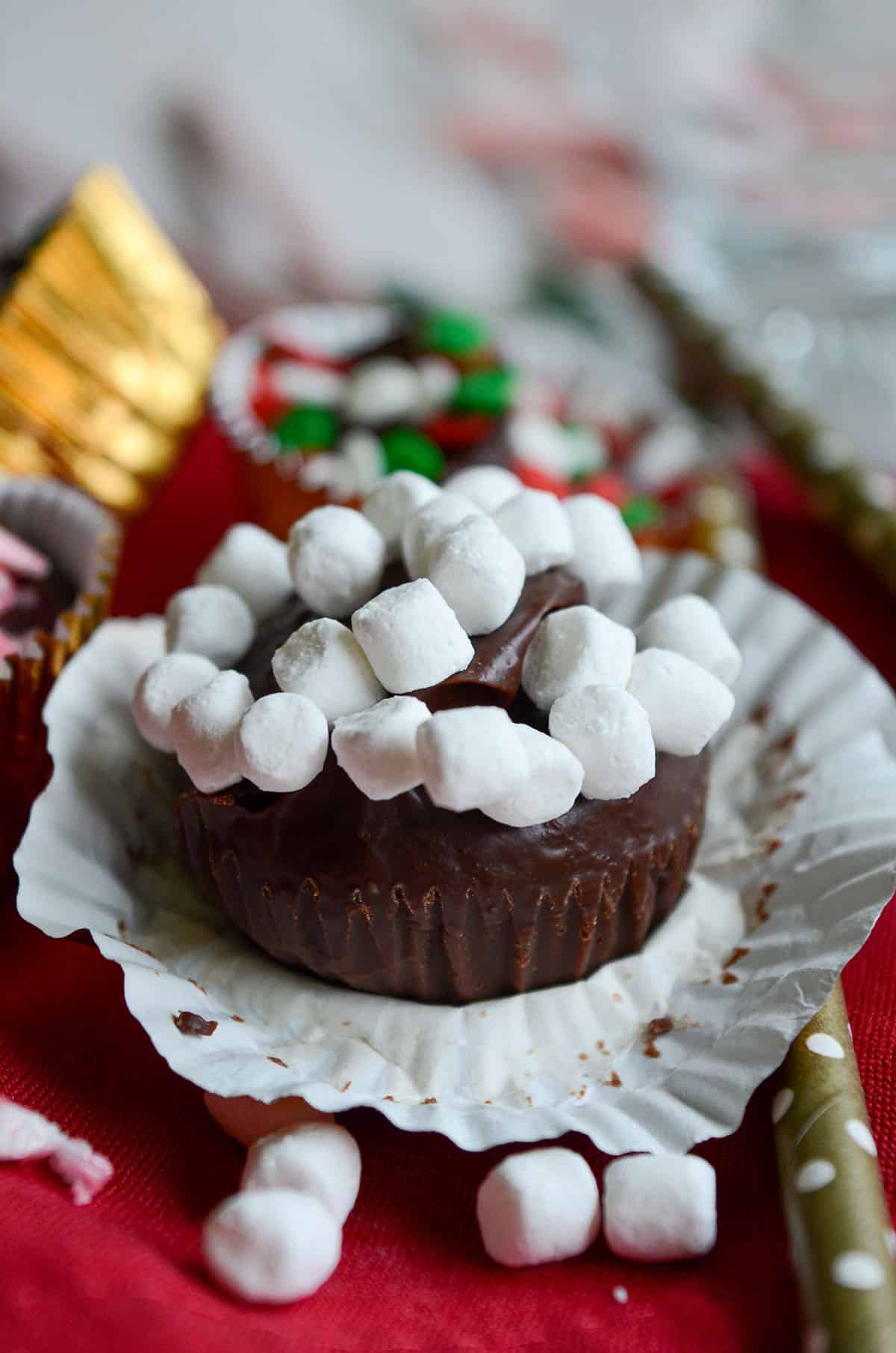 I KNOW I KNOW, it's just barely November, but it is definitely not too early to start thinking about Christmas goodies and presents. Especially the homemade kind. So… Hear me out!
I actually shared this little recipe specifically for a brand in December 2014, but it has come to my attention that these cuties are blowing up (pardon the pun) right now.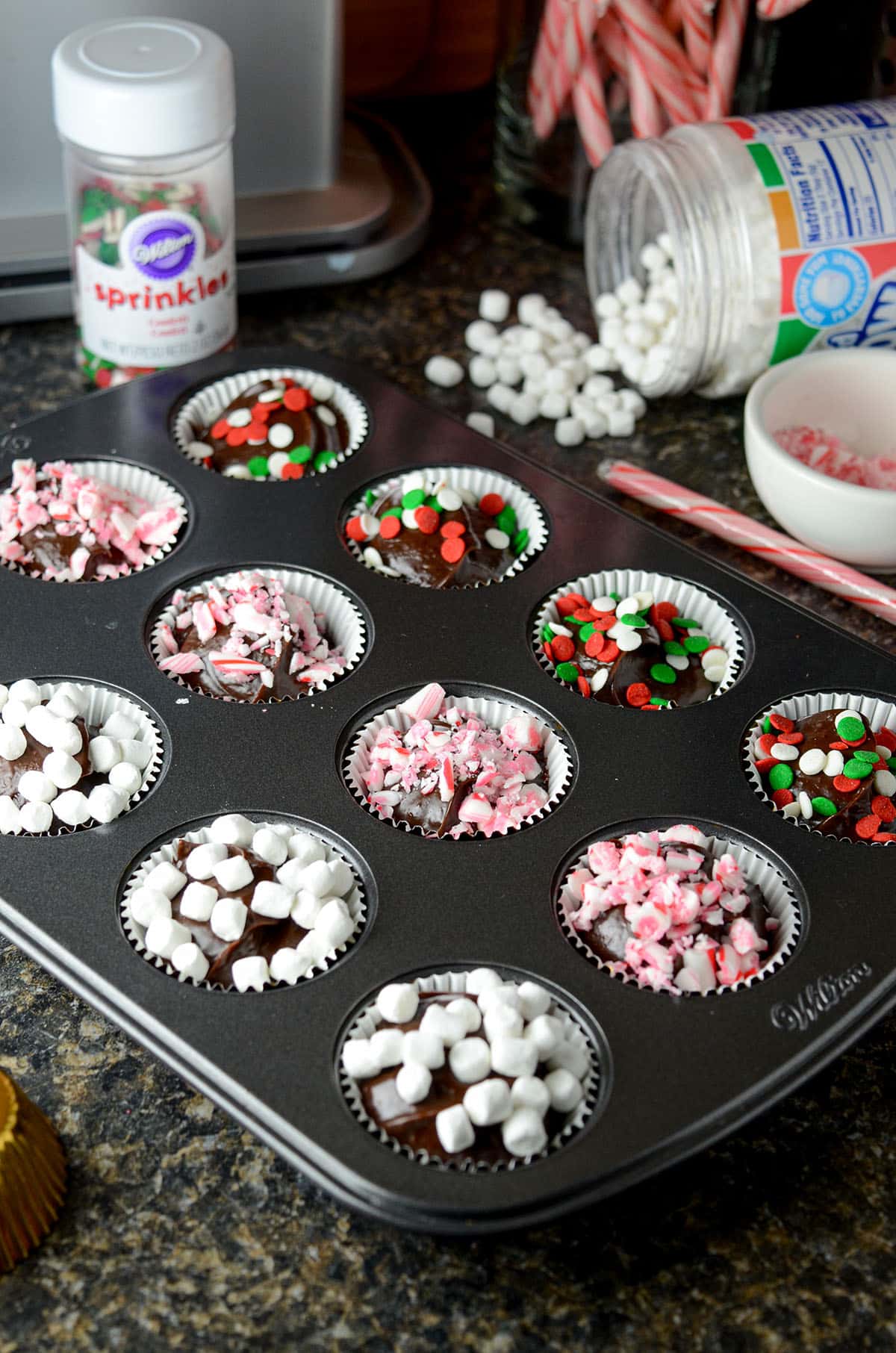 I have loved these little guys so much (and so have the people I have gifted them to over the years) that I needed to re-share them again with you this season.
One of my favorite things about cozy weather is most definitely the excuse it gives me to drink hot chocolate. I'm not one to drink it year round, but when cold weather rears its chilly head, it's time for a mug of sweet, smooth, milky chocolate.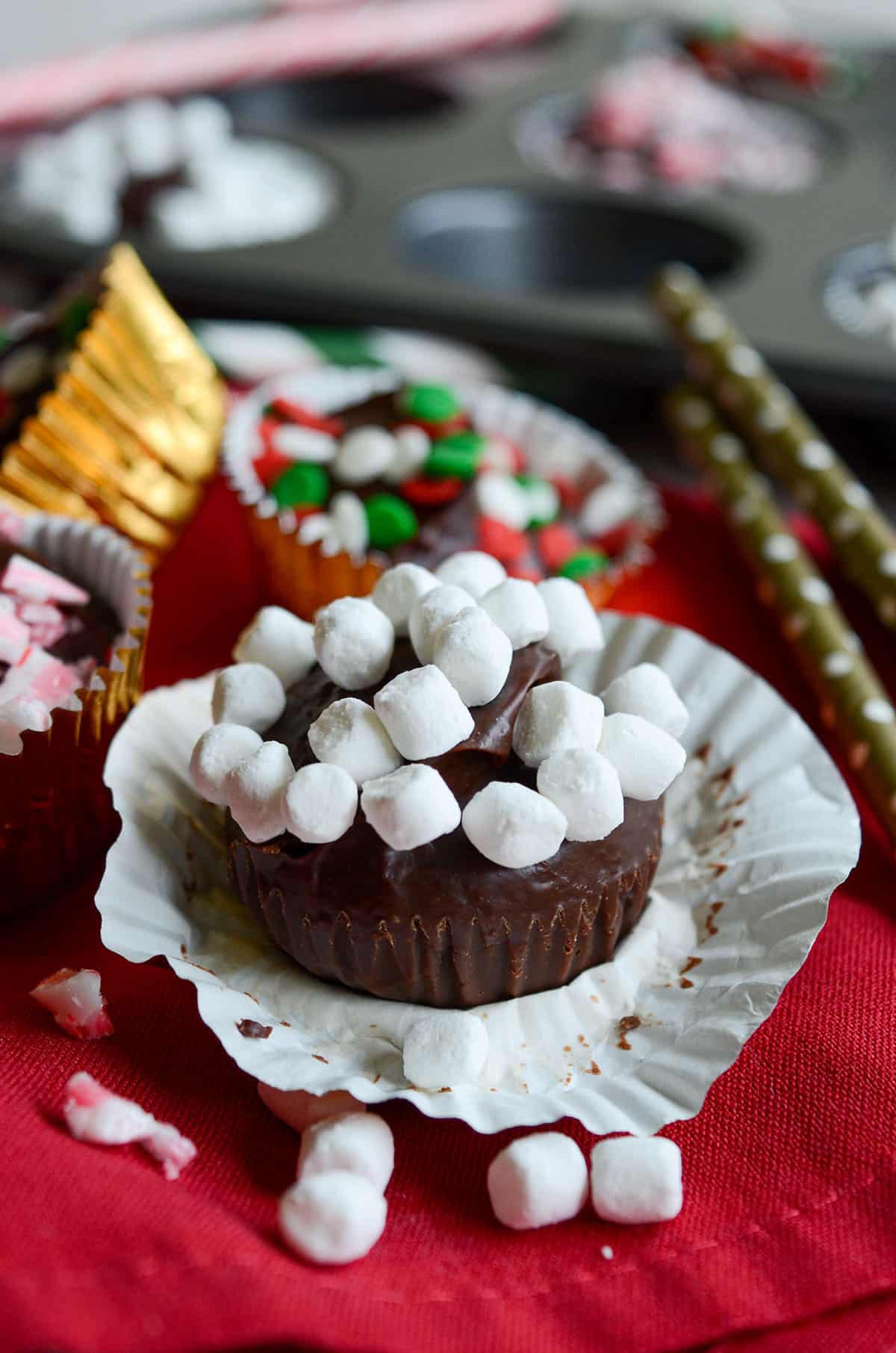 With mini marshmallows, of course!
WHAT ARE HOT CHOCOLATE BOMBS?
If you're wondering… What is going on here? How do hot chocolate bombs work?
SImple– each hot chocolate bomb is made up of essentially chocolate ganache that's been allowed to harden into a ball/pod. When added to hot milk, it dissolves and you've instantly got a creamy cup of hot chocolate.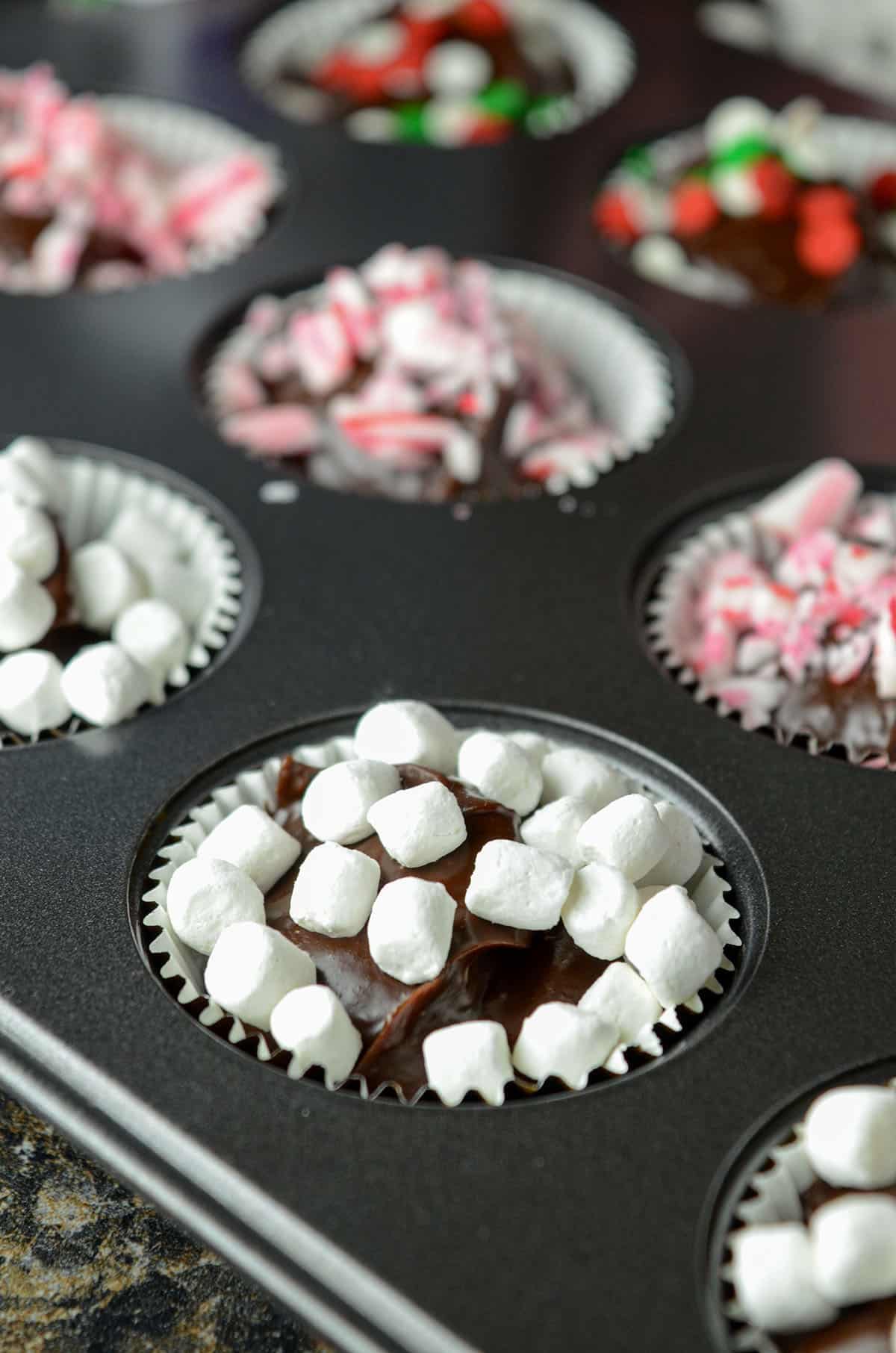 Yes, you can always take the traditional route of powdered hot chocolate mix (don't miss my homemade hot cocoa mix!), but that takes the fun out of turning chocolate chips, heavy cream, and sweetened condensed milk into beautiful pods of ganache that melt oh-so-wonderfully in some warm milk.
Plus, these little cuties make wonderful additions to gifts, cookie trays, and party displays. Your friends, family, and party guests will love you for this one, I promise.
Other than a few ingredients, you'll need 3 essential tools to get this job done:
•a mini-cupcake pan
•some mini-cupcake liners (totally optional, though!) in white or fun colors
•and a medium cookie scoop with a trigger (a medium cookie scoop holds about 1 and ½ Tablespoons)
As you can see, you don't need a fancy hot chocolate bomb mold. That mini-cupcake pan is perfect!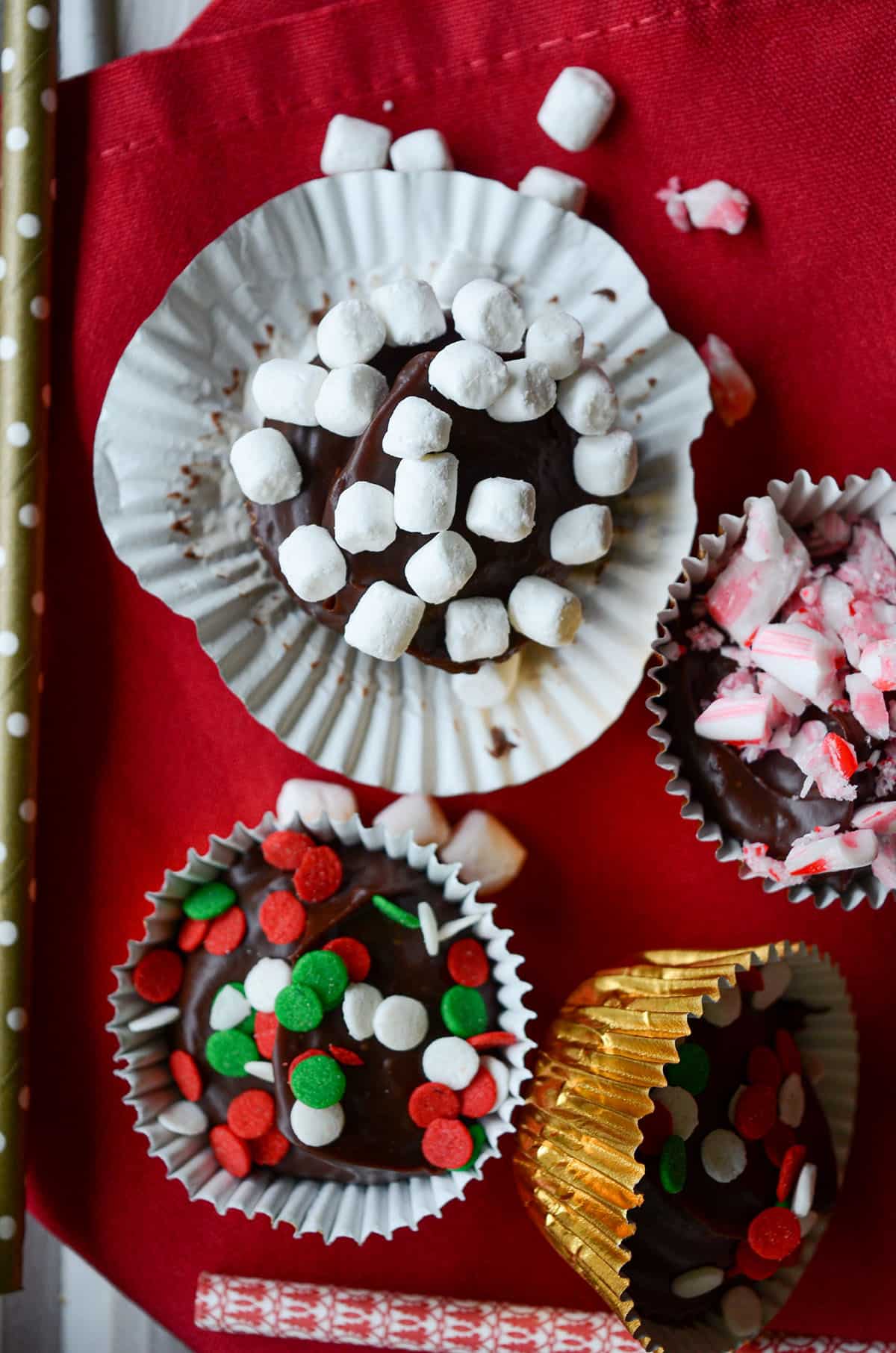 Lastly, you'll need some kind of decorative toppings… For this batch, I chose Christmas sprinkles, mini-marshmallows, and crushed candy canes. Try adding any kind of candy or sprinkles that you like.
You may certainly leave your hot chocolate pods plain, but what's the fun in that? Get creative and colorful!
To make these pods, you'll heat your sweetened condensed milk and heavy cream in a saucepan just until it starts to boil.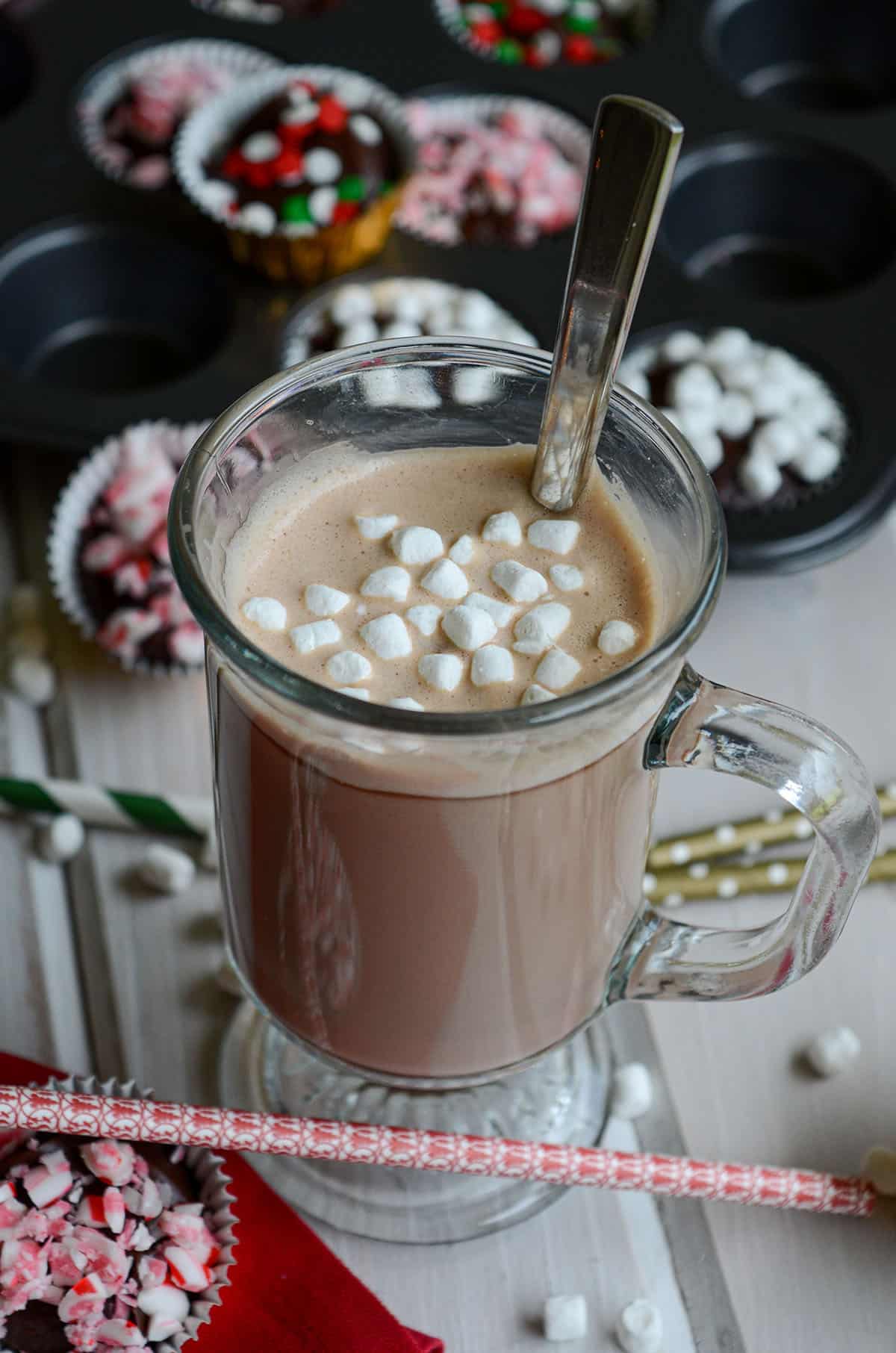 Then, you'll pour all of that over your chocolate chips, stir vigorously, and scoop into your prepared liners in the mini-cupcake pan with your medium cookie scoop.
They're essentially chocolate ganache bombs, as this is the way we've made chocolate ganache and strawberry ganache in past recipes here at FAF!
Decorate your hot chocolate bombs with your chosen candies or sprinkles, and let them set up in the fridge for an hour.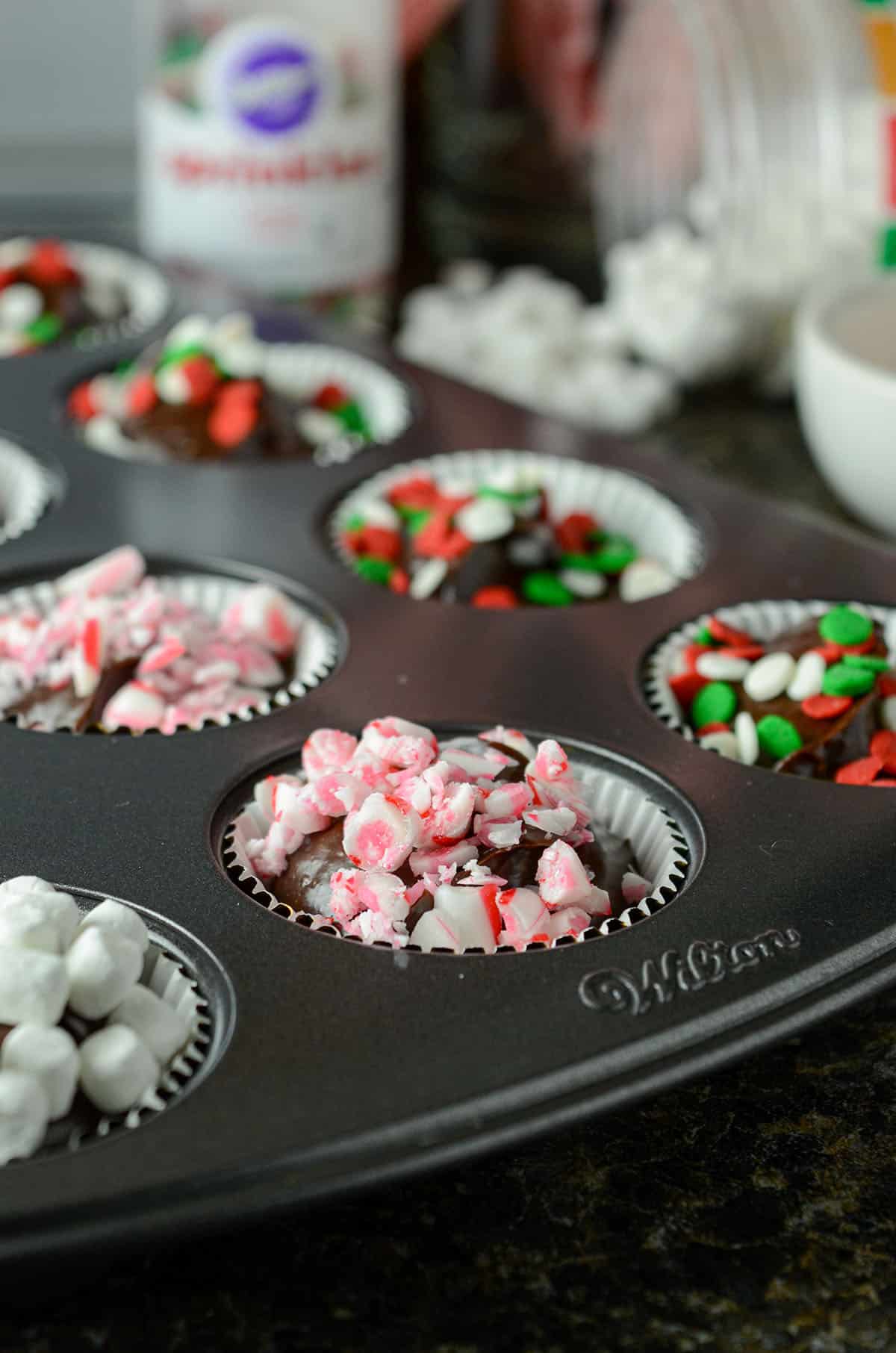 To use one, bring 6oz of milk just to a boil (on the stove or in the microwave) and stir in a bomb until it is completely dissolved. If you really want to kick up the chocolate, add 2 bombs!
I'm telling you what– these hot chocolate bombs changed my hot cocoa world many years ago, and I can't wait to whip up a batch of them this year! I might share, but it's likely I will use a lot of them myself.
Maybe all of them.
Yes, in fact… I see a lot of mugs of steamy, creamy hot chocolate in my future.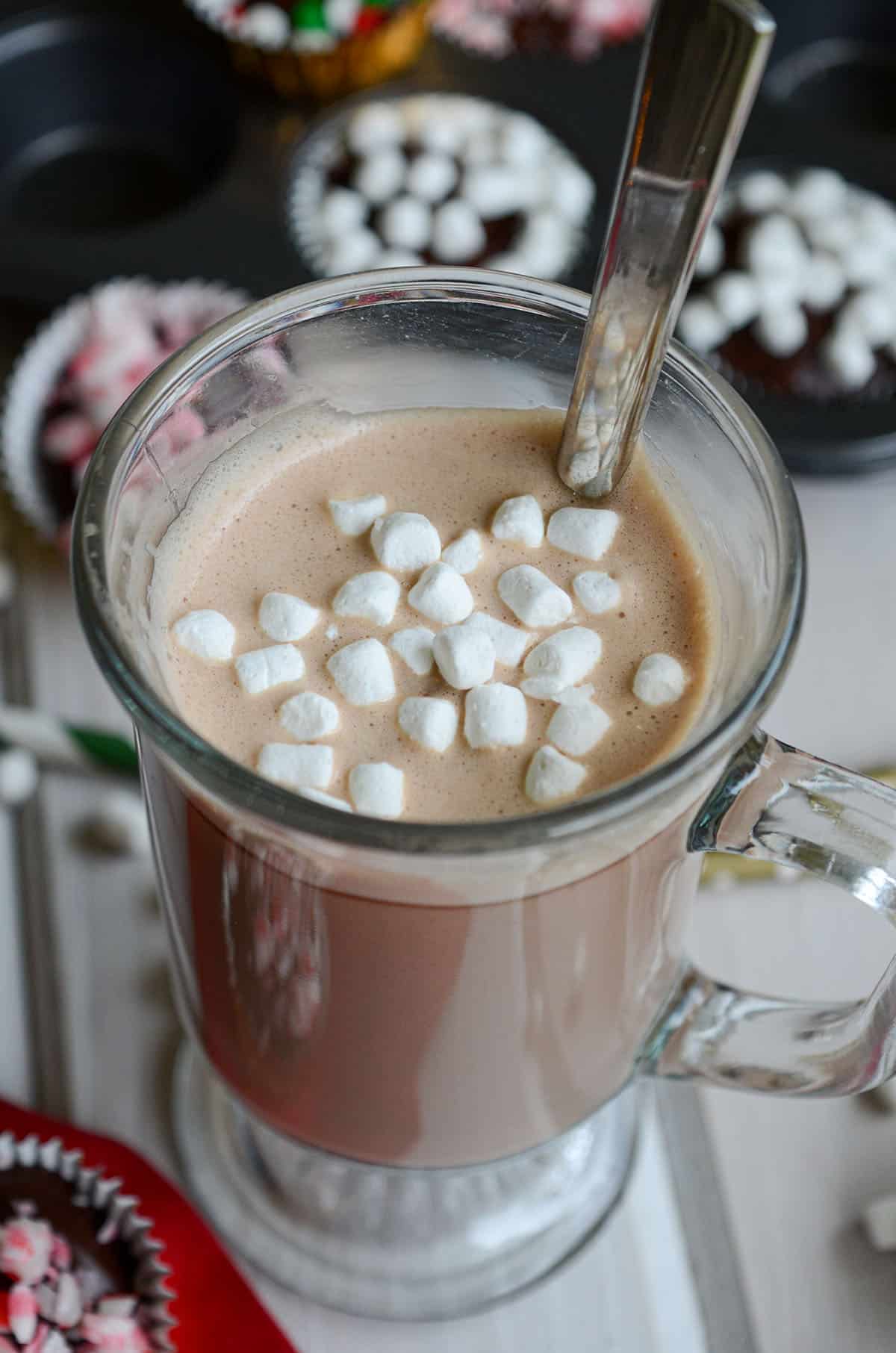 Make sure there's some in yours, too!
Hot Chocolate Bombs
Toss these hot chocolate bombs into a mug of warm milk and you instantly have smooth, creamy, homemade hot chocolate! Add your favorite candies or sprinkles on top to make your hot chocolate even better!
Ingredients
3 and ½

cups

(595g) chocolate chips

semi-sweet, dark, or white

1

14-ounce can

(420mL) sweetened condensed milk

½

cup

(120mL) heavy whipping cream
assorted toppings: sprinkles, crushed candy canes, marshmallows, etc.
Instructions
Place chocolate chips in a large heat-safe bowl. Line mini-cupcake pan with liners (you can leave them unlined, too). Set both aside.

In a small saucepan over medium heat, whisk together the sweetened condensed milk and cream, stirring frequently to prevent scorching. Remove from heat when mixture just starts boiling.

Immediately pour heated milk mixture over chocolate chips and stir vigorously with a spatula until smooth.

Using a medium size cookie scoop (approximately 1 and ½ Tablespoons), scoop chocolate ganache into wells. Decorate as desired while chocolate is still soft. Refrigerate for at least 1 hour.

To use, bring 6oz of milk just to a boil. Stir in chocolate bomb until completely dissolved. Add 2 bombs if you want your hot chocolate extra rich. Bombs cane be kept in the refrigerator or at room temperature (but they last longer in the fridge).
Nutrition Disclosure
All nutritional values are approximate and provided to the reader as a courtesy. Changing ingredients and/or quantities will alter the estimated nutritional calculations.