As an Amazon Associate I earn from qualifying purchases.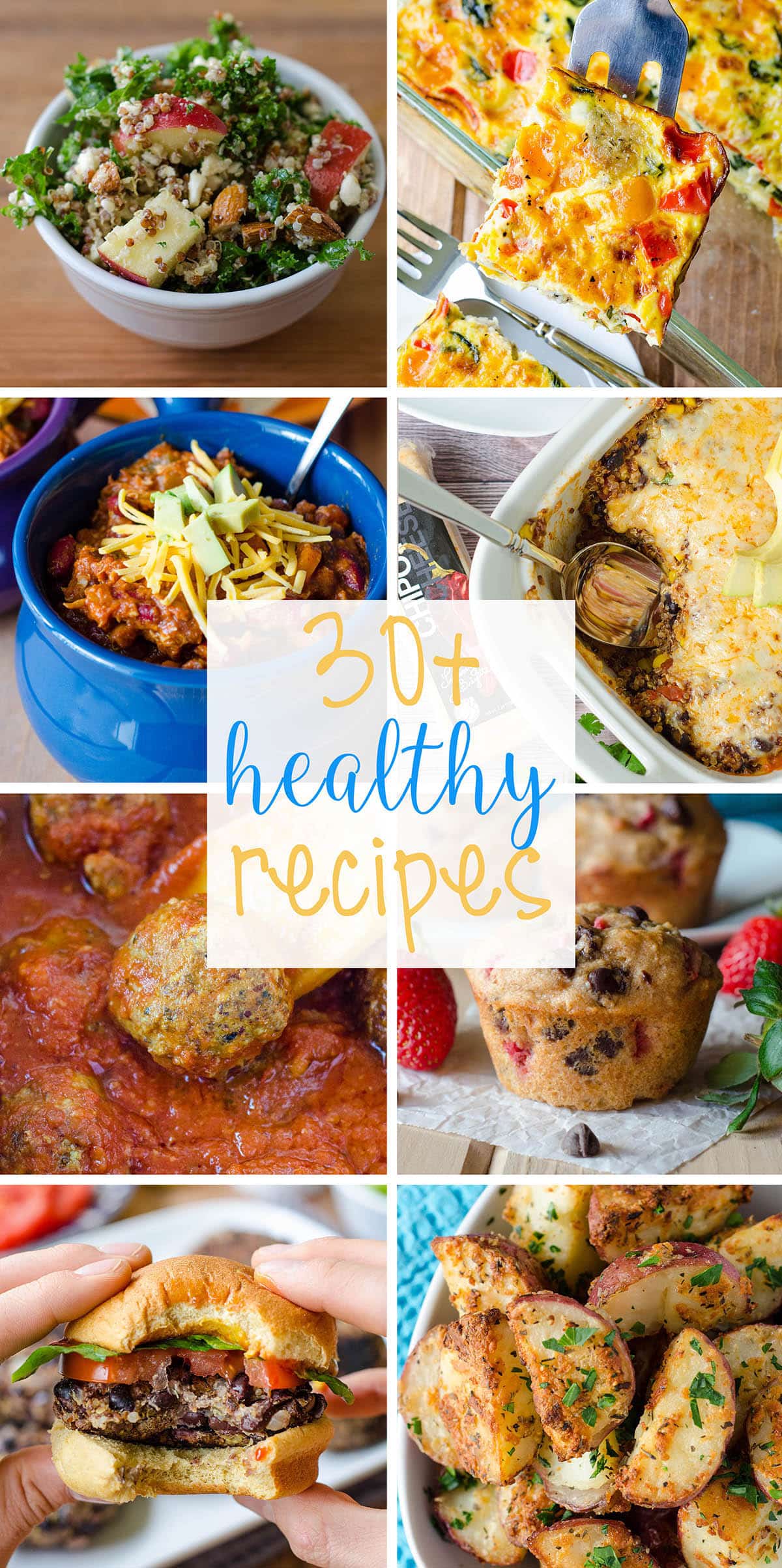 Happy 2017! How has it been to you so far? If you're on the east coast, it's been pretty freaking cold and a little bit snowy. If you live in a place where it's been warm and sunny, zip it. We don't want to hear about that, thankyouverymuch.
From a personal, non-weather related standpoint, 2017 has been pretty great to us so far. Our little buddy sprouted his 2nd tooth, and became a scooter and an unassisted sitter all since Christmas. Hard to believe he will be 7 months this weekend already. Time is flyingggg and life sure is getting more interesting and hectic!
Have you set any resolutions for 2017? I have a few, both personally and professionally. From a personal standpoint, I've set a goal to be able to squat as much as I could before I got pregnant (135lb) by J's first birthday. I have 5 months to get there, and I'm starting basically from scratch (good thing I have a great trainer). Let's hope I can do it!
From a professional standpoint, I set a goal to make more cakes for the blog. Since I used to own a cake baking/decorating business, they're sort of my specialty. But because I baked so many of them so often for so long, I have gotten away from them as I wanted to focus my blog on more things I had never done before.
Now that I've gotten a lot of those done, and I've had many readers and friends ask for my cake recipes, I'd like to start putting some of them out there for all of you. I've got 3 "classics" done already and should be sharing at least 1 of them in the next couple of weeks. So you have that to look forward to, you know… If cake is your thing, or whatever.
If cake isn't your thing, that's totally ok. Perhaps you're in more of a healthy state of mind at the moment, leaving the indulgent holiday months behind you. If so, I'm glad you're here, because I've got a wonderful collection of recipes from all over the internets for healthy recipes to get your 2017 off to a great start. Some are from me, some are from my friends, but all of them are, I guarantee, recipes that will be great to have on hand for healthier baking/cooking/eating.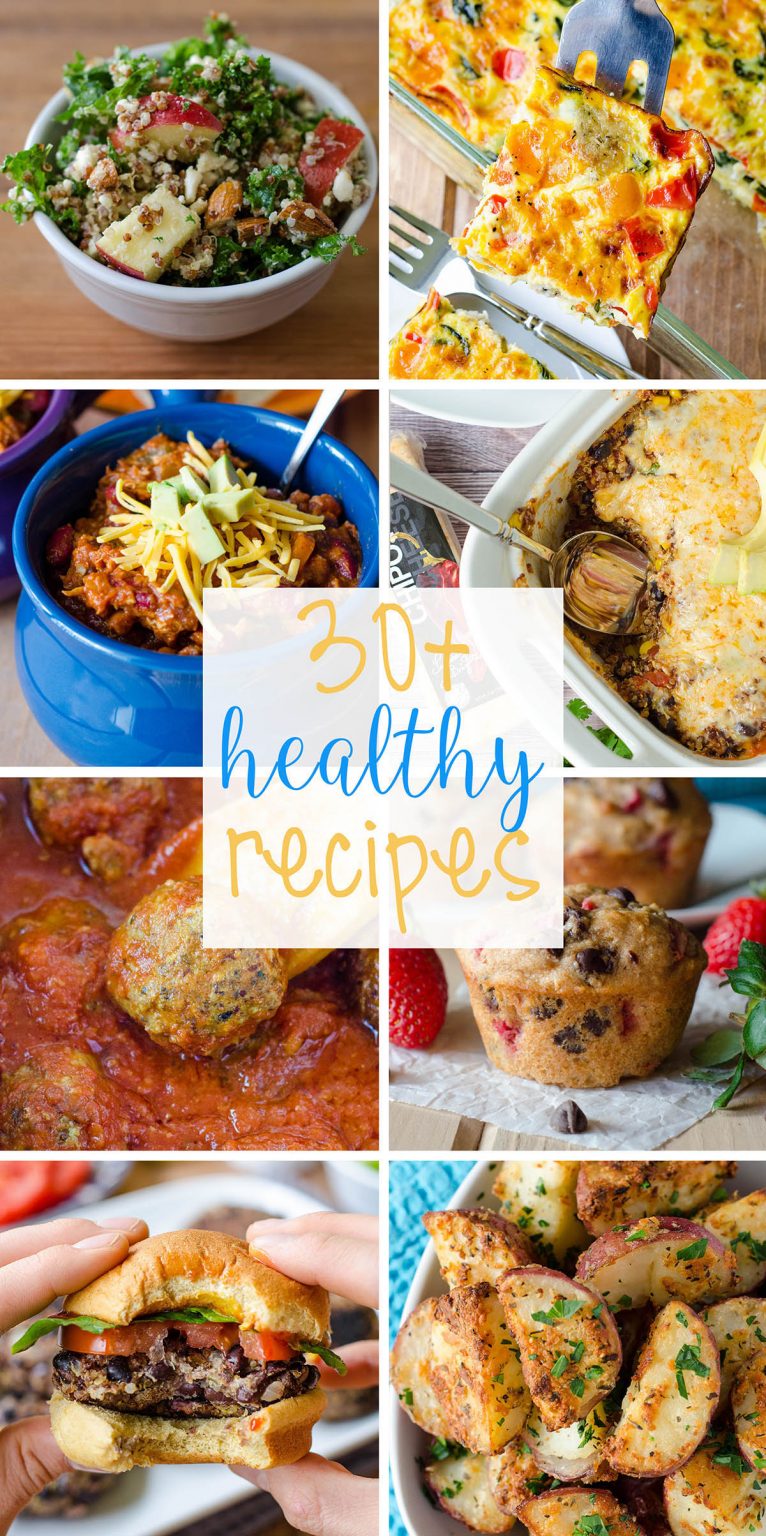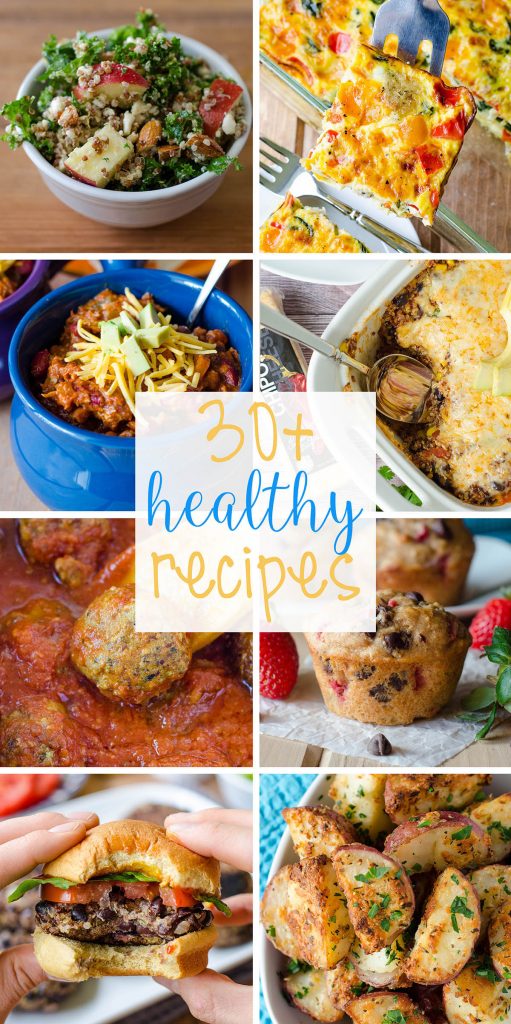 Have a look around– we've got all sorts of categories going on so you can find whatever it is you're interested in easily.
Once you're done clicking around, tell me: what have you resolved to do for 2017?
Breakfast
Gluten Free Blackberry Pecan Oatmeal Muffins from Grain Changer
Apple Cinnamon Baked Oatmeal from FAF
Hash Brown Sausage Egg Cups from Grain Changer
Make Ahead Breakfast Casserole from FAF
Corn and Feta Frittata from Thoroughly Nourished Life
Skinny Strawberry Chocolate Chip Muffins from FAF
Crustless Caprese Quiche from FAF
Skinny Banana Chocolate Chip Muffins from Show Me The Yummy
Side Dishes & Apps
Spiral Vegetable Tart from Bunsen Burner Bakery
Honey Glazed Brussels Sprouts from Grain Changer
Strawberry Caprese Salad from Thoroughly Nourished Life
Apple, Quinoa, and Almond Kale Salad from FAF
Roasted Herbed Red Potatoes from FAF
Oven Baked Curly Fries from FAF
Creamy Southwest Corn Dip from FAF
Philly Cheesesteak Stuffed Mini Peppers from FAF
Entrees
One Skillet Crispy Mediterranean Chicken from Bunsen Burner Bakery
Slow Cooker Salsa Verde Chicken Soup from Grain Changer
Greek Lentil and Quinoa Stuffed Peppers from Thoroughly Nourished Life
Buffalo Chicken Chili from FAF
Slow Cooker Creamy Chicken and Wild Rice Soup from FAF
Quinoa, Kale, and Flaxseed Patties from FAF
Cheesy Enchilada Quinoa Casserole from FAF
Black Bean Veggie Burgers from FAF
Thai Peanut Soup from FAF
Slow Cooker Turkey Meatballs (Gluten Free) from FAF
Spicy Chicken Cashew Zucchini Noodles from Fit Mitten Kitchen
Snacks & Desserts
Baked Plantain Chips from Grain Changer
Apple Quinoa Granola from FAF
Healthy Apple Pie Smoothie from FAF
Toasted Coconut Curry Peanuts from FAF
Almond Butter Chocolate Chunk Cookies from FAF
Blueberry Pineapple Fruit Salsa from Eazy Peazy Mealz
Zucchini Pizza Bites from The Food Charlatan
Healthy Peach Cobbler Smoothie from Show Me The Yummy