Chocolate Chip Cookie Dough Ice Cream Pie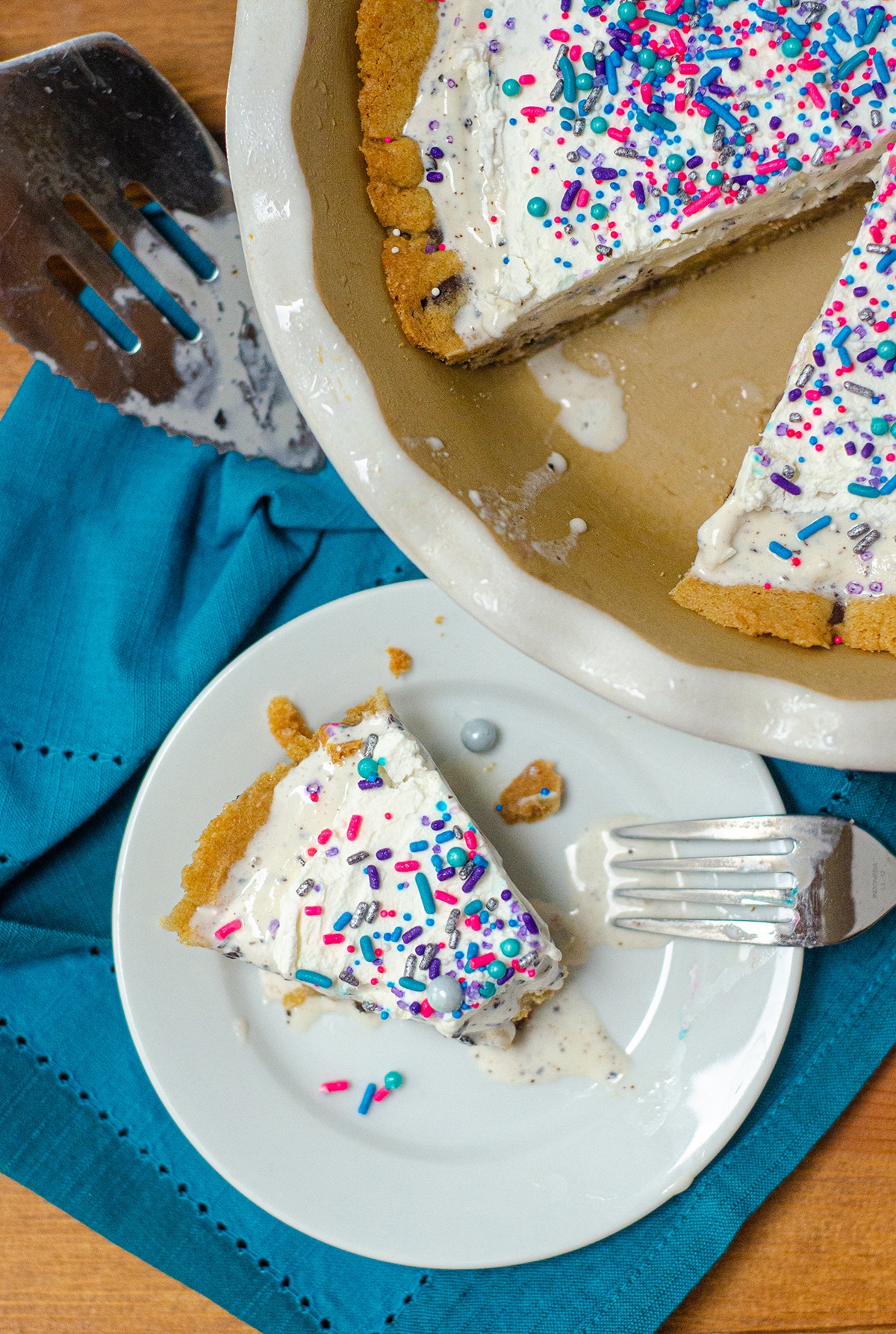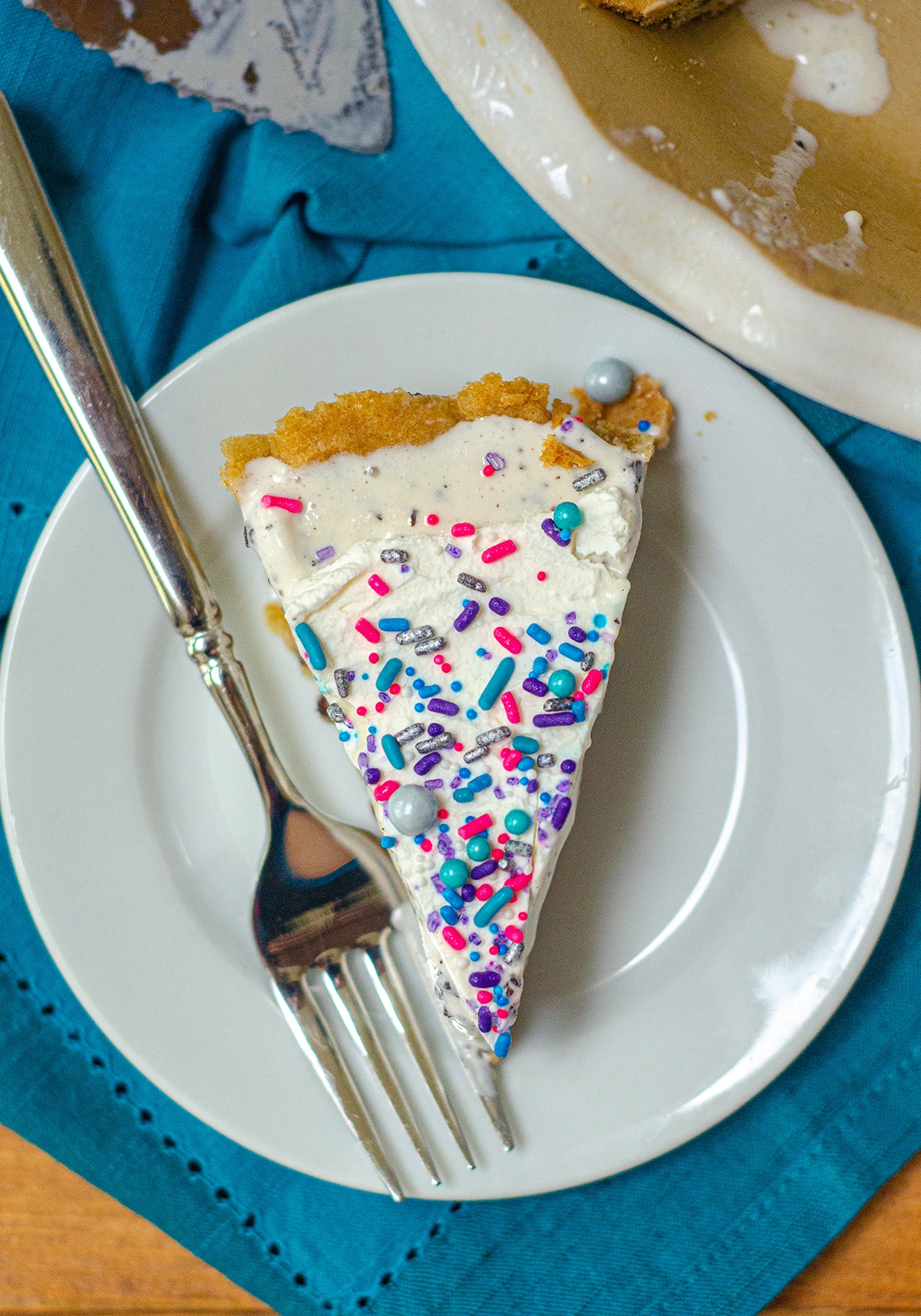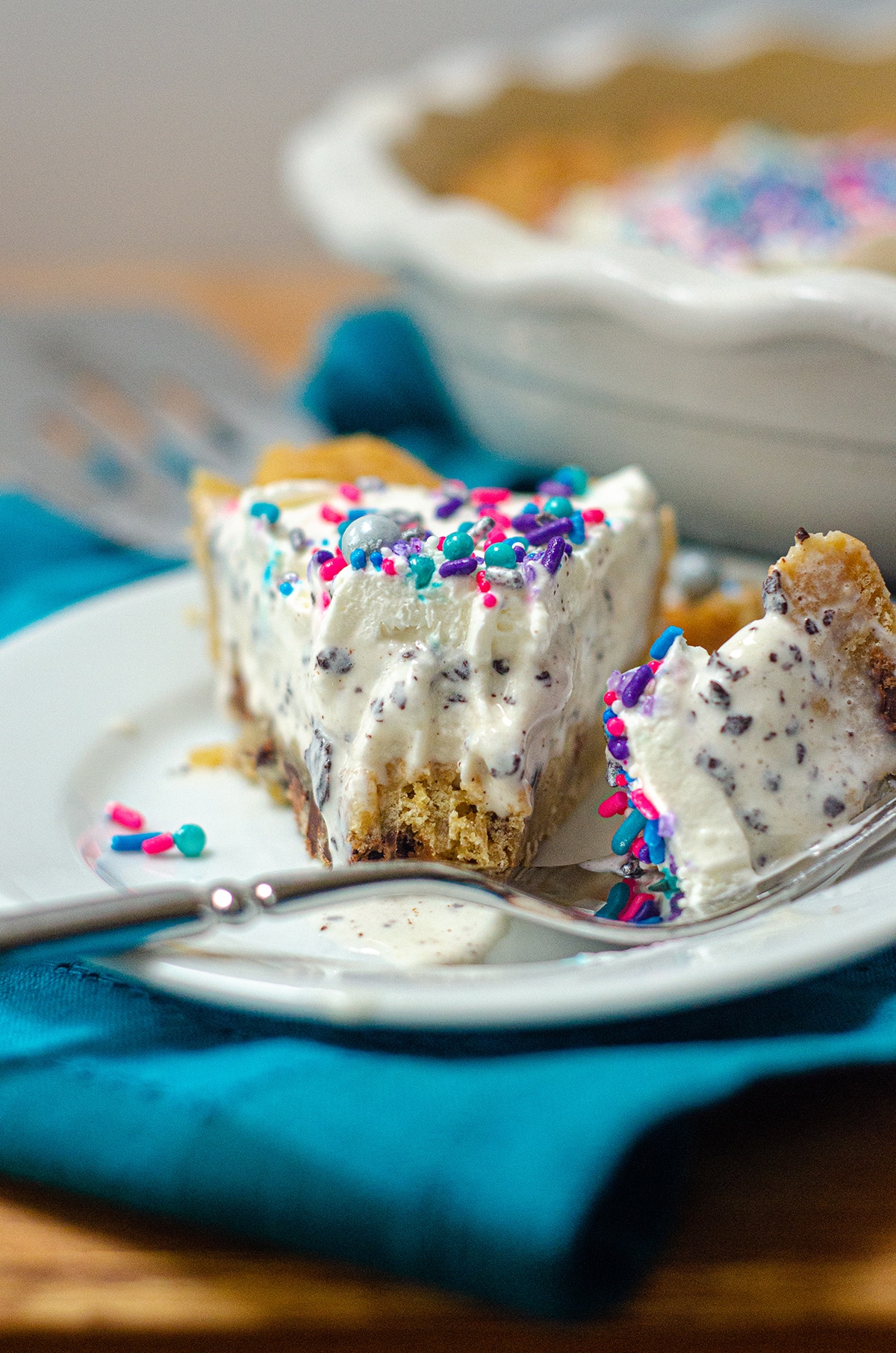 As an Amazon Associate, I earn from qualifying purchases. Read the full disclosure here.
Creamy chocolate chip cookie dough ice cream is the filling for this frozen pie and sits atop a buttery chocolate chip cookie crust.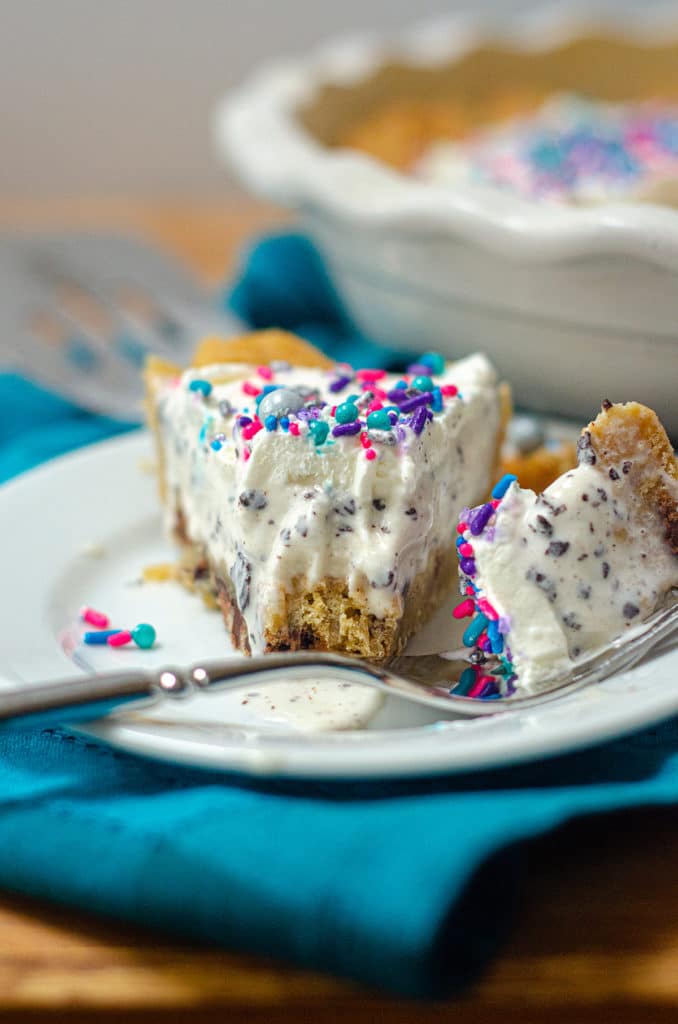 I KNOW! Ice cream? In October? Didn't I just share pumpkin week with you?
Yes, yes, I did.
But stick with me. This is going to be great.
Yes, today we're talking about ice cream PIE. Because today we're discussing this amazingly fabulous cookbook I recently received AND chatting about how you can enter to win a copy!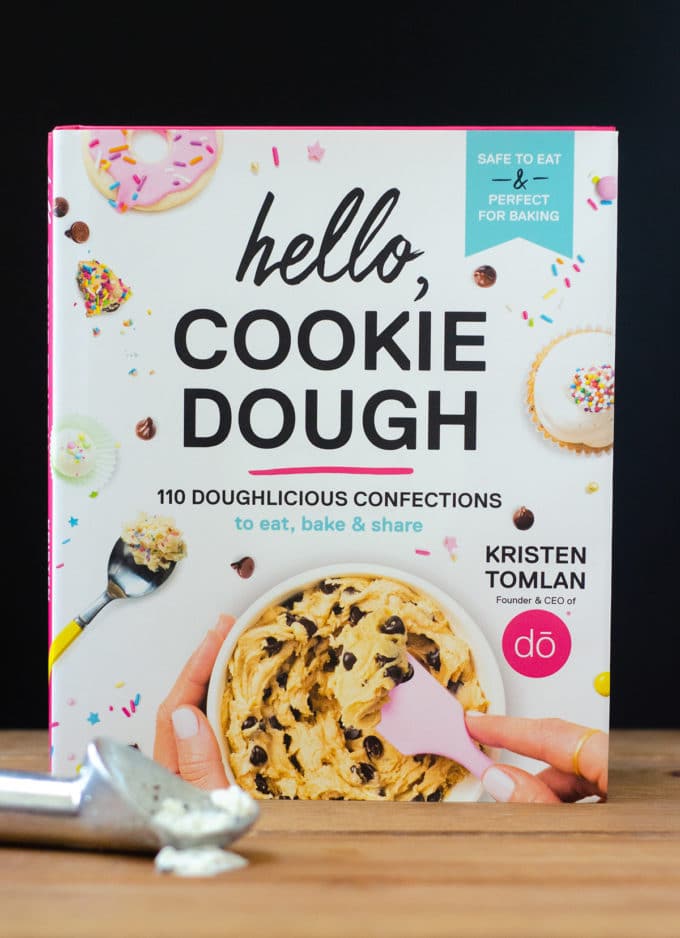 The book we're baking from today is Kristen Tomlan's Hello, Cookie Dough, which will be available for sale everywhere books are sold on Monday 10/14.
Kristen is the founder and CEO of DŌ, Cookie Dough Confections in NYC.Kristen's shop is the world's FIRST cookie dough scoop shop, and she turned her popular treat idea into something you can make in your own kitchen.
Kristen's book has 110 recipes, some she sells in her store, and some that are brand new to the book.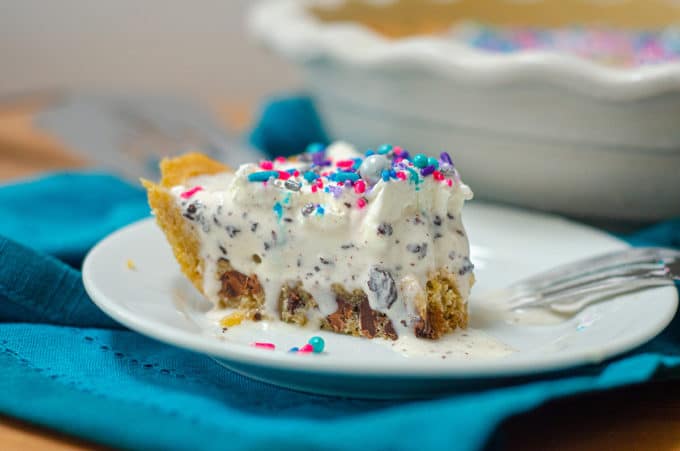 And GUYS, this book is gorgeous! I read it cover-to-cover and I love Kristen's wit and humor, which she sprinkles in with her recipes' descriptions, ingredient lists, and instructions. Like, how do you even do that? It's great.
While I don't know Kristen personally, I've chatted with her a bit through Insta (and admittedly fan girled a bit– I've been following DŌ on Insta for years and years), and she is super sweet and SUPER proud of this book. Rightfully so, I think!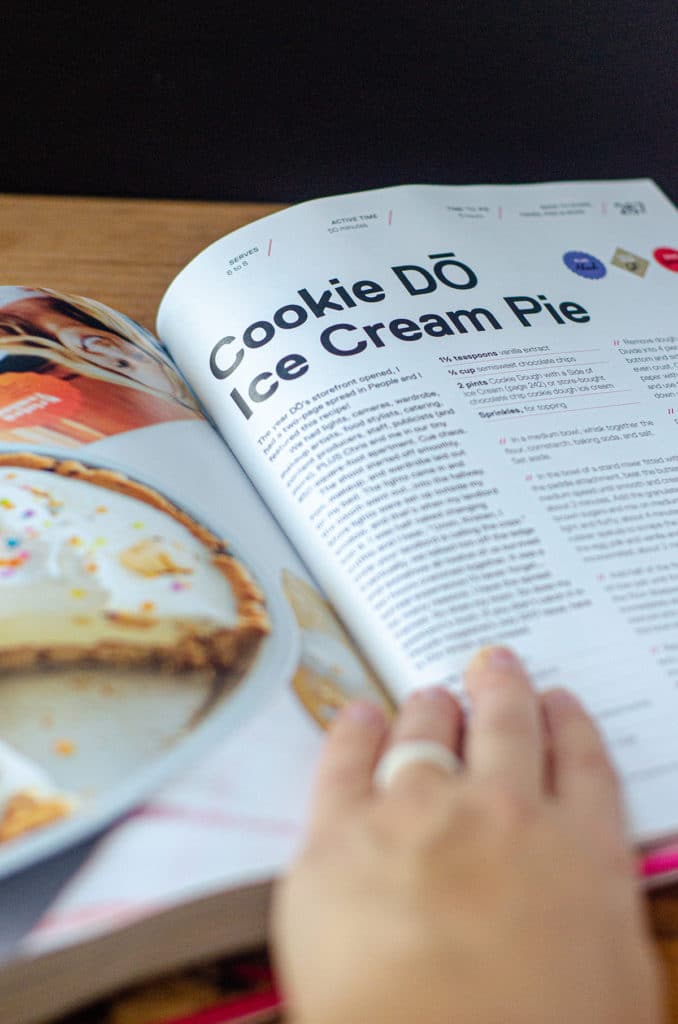 This is such a fun cookbook, and I had a hard time picking which recipe to make, but I ultimately chose this Cookie DŌ Ice Cream Pie because I am suuuuuch a sucker for chocolate chip cookie dough ice cream.
Kristen has a recipe for homemade chocolate chip cookie dough ice cream, but I chose the quicker route and use store-bought. I also have a very favorite chocolate chip cookie dough ice cream, so any excuse to buy it is a-ok with me (looking at you, Turkey Hill ice cream).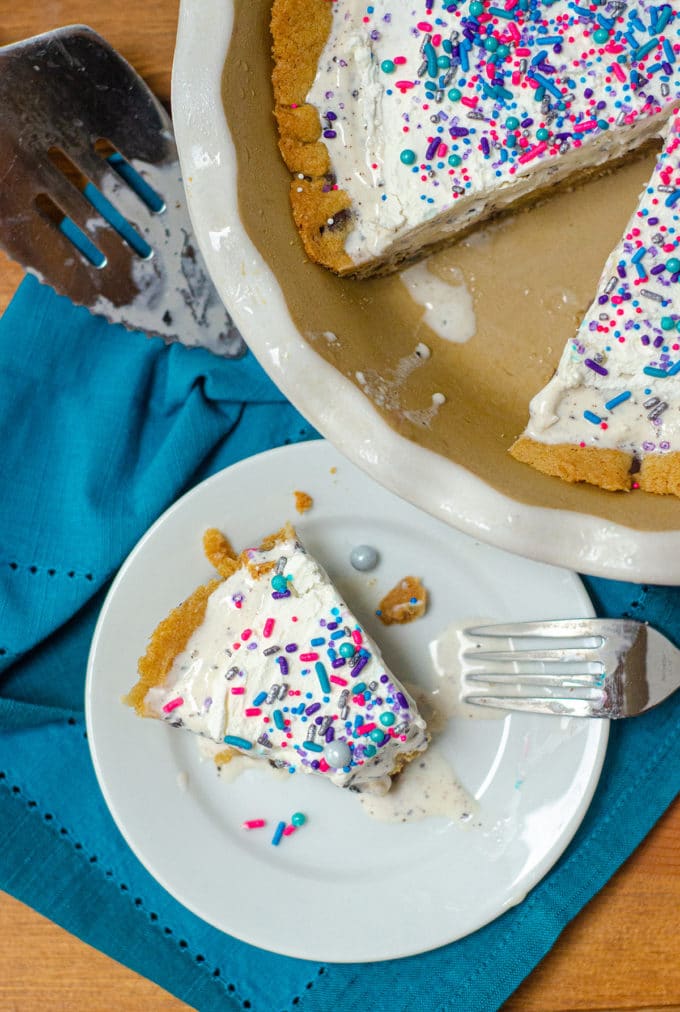 The base of this ice cream pie is, of course, a chocolate chip cookie. And let me tell you what… Glorious. It's kind of like a giant Chipwich, but different. And better.
The batter for the cookie base is simple. And you'll refrigerate it for a few hours before putting it into a foil lined pie plate.
The key to getting the dough into the pie plate is splitting it into 4 large chunks. SO SMART! It makes the whole "molding" process more manageable, and you're not trying to maneuver a huge chunk of cookie dough into a plate.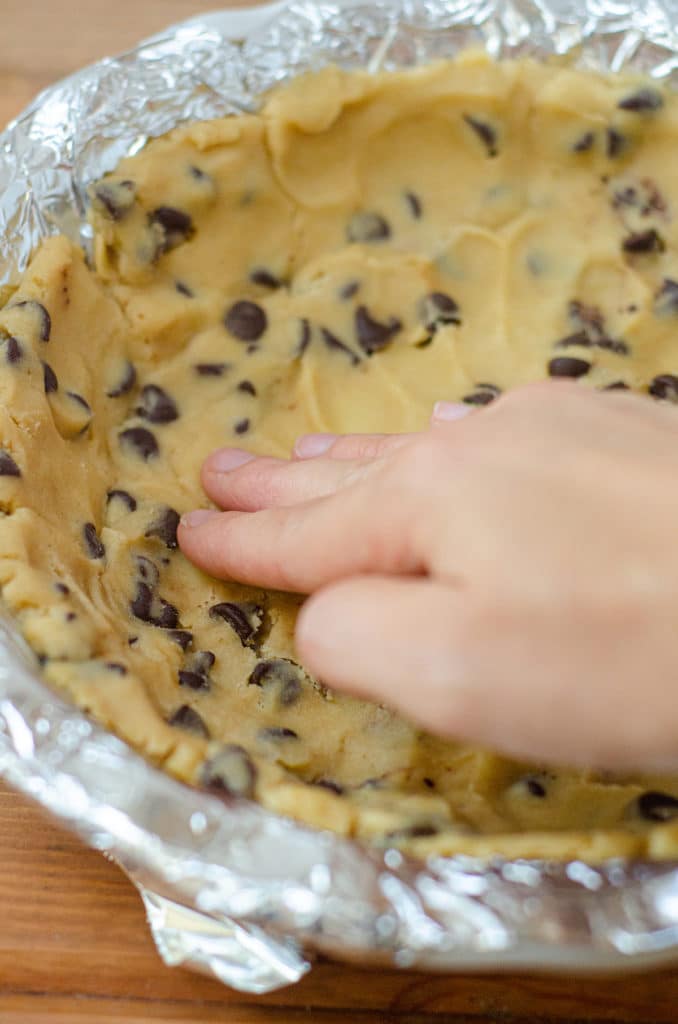 Once the base is baked, Kristen instructs you to remove the foil and place the cookie back into the plate. I found this best to do after I chilled the base for a bit.
Then… It's time for ice cream.
The best method for getting ice cream into a spreadable state is simple. I laid out exactly how to do this in my ice cream sheet cake recipe.
The key to getting the perfect consistency for spreading the ice cream into the prepared chocolate chip cookie crust is to smooth it out. You don't want it melted, but you want it uncomfortably frozen. Like… It sat out too long and it's getting soupy, but you could still enjoy it if you wanted to… You'd just have to eat it pretty fast.
The best way to achieve this consistency is to put it into a large bowl and stir it around with a spatula. This will distribute the super cold spots and the warmer melted spots to create a uniform texture that is easily spread.
This photo is from that ice cream sheet cake recipe.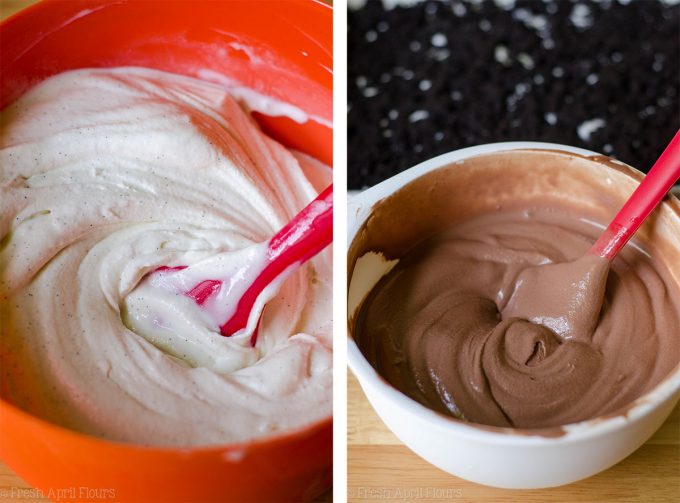 Once it's in, top with homemade whipped cream and, DUH, sprinkles.
I used the mermaid sparkle blend from our Fresh April Sprinkles line.
Once the pie is set up, it's time to grab your sharpest knife and cut into that bad boy. A super sharp knife helps to cleanly get through the ice cream and slice through the frozen chocolate chip cookie at the bottom.
It's funny, I used a form to dig into this pie while I was photographing it, and then everyone I shared it with picked it up and bit into it. Even the toddler! I think that's a great method, though any way you get into this pie is top notch.
Because who can resist cookie + ice cream?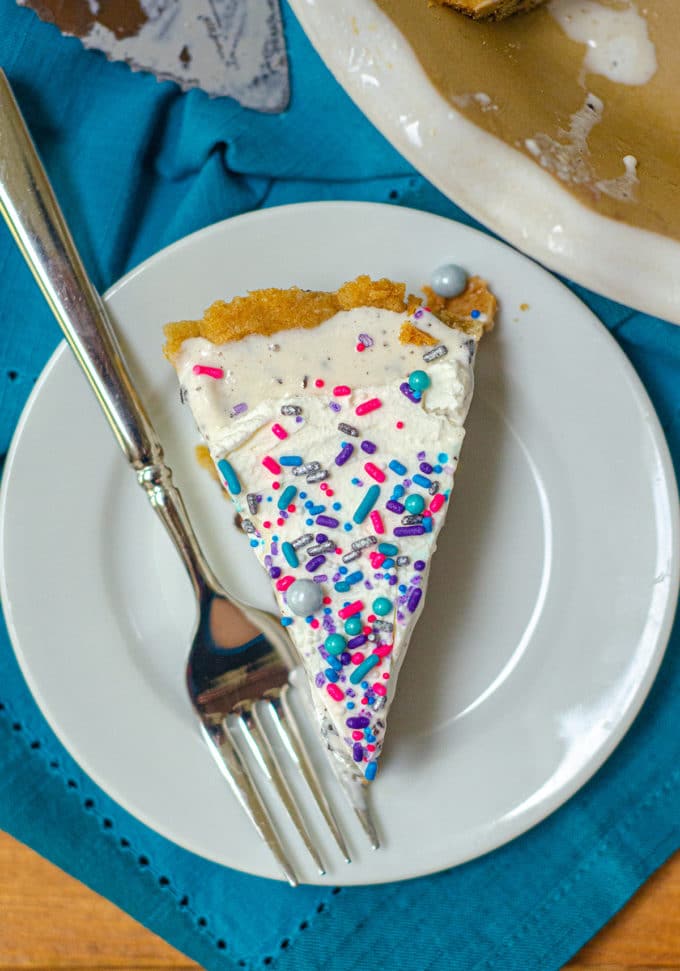 Now, details about this giveaway!
I'm hosting two giveaways for this cookbook, so feel free to enter both! Only one entry per person on the blog post, but over on Insta, anything goes. You can enter as many times as you want over there!
HOW TO ENTER
Comment on this post and tell me your favorite flavor of ice cream!
WHO CAN ENTER
This contest is open to anyone in the U.S. and Canada!
Giveaway ends at 11:59pm EST on Tuesday 10/15. Winner will be chosen at random.
Chocolate Chip Cookie Dough Ice Cream Pie
Creamy chocolate chip cookie dough ice cream is the filling for this frozen pie and sits atop a buttery chocolate chip cookie crust.
Ingredients
FOR ICE CREAM PIE
1

cup

(120g) all-purpose flour

1 and ½

teaspoons

(6g) cornstarch

¼

teaspoon

baking soda

¼

teaspoon

salt

6

Tablespoons

(85g) unsalted butter

softened to room temperature

2

Tablespoons

(25g) granulated sugar

½

cup

(100g) firmly packed light brown sugar

1

large egg yolk

room temperature

1 and ½

teaspoons

vanilla extract

½

cup

(85g) semi-sweet chocolate chips

2

pints

chocolate chip cookie dough ice cream
Instructions
In a medium bowl, whisk together the flour, cornstarch, baking soda, and salt. Set aside.

In the bowl of a stand mixer fitted with the paddle attachment, beat the butter on medium speed until smooth and creamy, about 2 minutes. Add the granulated and brown sugars and mix on medium until light and fluffy, about 4 minutes. Use a rubber spatula to scrape the bowl. Add the egg yolk and vanilla and mix until fully incorporated, about 2 minutes.

Add half of the flour mixture and mix on low until the powdery texture of the flour disappears, about 15 seconds. Immediately add the rest of the flour mixture and mix until combined. Scrape the bowl and mix a final 15 seconds.

Remove the bowl from the mixer and use a rubber spatula to fold in the chocolate chips. Cover with plastic wrap and refrigerate for at least 4 hours.

Preheat the oven to 350ºF. Line a 9" round deep dish pie pan with foil. Foil should extend over the lip of the pan to make handles. Lightly coat the foil with cooking spray.

Remove dough from the refrigerator. Divide into 4 pieces and press into the bottom and sides of the pan to make an even crust. Coat a sheet of parchment paper with cooking spray on both sides and use to cover the crust and weigh down with pie weights.

Bake for 15 minutes, then remove parchment paper and weights. Bake for an additional 5 to 10 minutes, until the crust is golden brown. Transfer to a wire rack to cool for 15 minutes. Lynn's note: I found it easier to stick in the freezer at this point for 15 extra minutes before moving to the next instruction. Use the foil to carefully remove the crust from the pan. Remove the foil from the crust and return the crust to the pan. Cool completely.

Meanwhile, remove the ice cream from the freezer and soften on the counter for 15 minutes. Use a rubber spatula to transfer the ice cream to a large bowl. Stir with a rubber spatula until it is spreadable but not melted.

Spoon ice cream into the completely cooled crust and smooth the top. Lynn's note: I topped with homemade whipped cream. Freeze the entire pie for at least 4 hours to harden. Remove the pie from the freezer just before serving. Use a warm knife to slice and serve immediately. Store the pie covered in the freezer for up to 1 month.
Nutrition Disclosure
All nutritional values are approximate and provided to the reader as a courtesy. Changing ingredients and/or quantities will alter the estimated nutritional calculations.
Serving:
1
serving
|
Calories:
430
kcal
|
Carbohydrates:
52
g
|
Protein:
6
g
|
Fat:
22
g
|
Saturated Fat:
14
g
|
Polyunsaturated Fat:
1
g
|
Monounsaturated Fat:
6
g
|
Trans Fat:
0.3
g
|
Cholesterol:
80
mg
|
Sodium:
168
mg
|
Potassium:
288
mg
|
Fiber:
2
g
|
Sugar:
38
g
|
Vitamin A:
640
IU
|
Vitamin C:
1
mg
|
Calcium:
144
mg
|
Iron:
2
mg