I don't know how you feel about fries, but if you're in the same camp as I am, you're firmly planted in the I feel very strongly about them camp. Very strongly as in gimme all the fries. If fries are an option as a side, and I get two sides, I'll take two sides of fries, pleaseandthankyou.
We recently tried a new-to-us restaurant in our town after hearing that we just had to try their cheesesteak. Now, I've covered this topic before, and to say that locals here think a cheesesteak around these parts is worth ordering considering Philly is not that far away, that's a cheesesteak I want to try.  And I have to say… It was amazing. Not only that, but we also ordered a Reuben stromboli (and you know how I feel about Reubens!) which might be one of the best things I've ever eaten. Ever.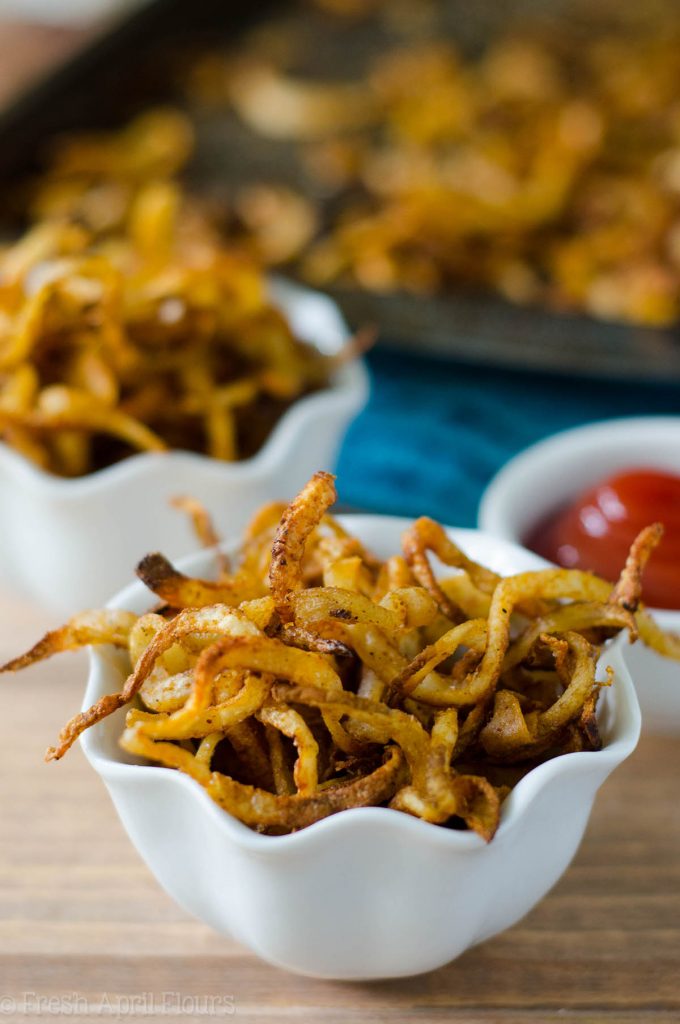 This little hole-in-the-wall, divey restaurant was so good that we actually went back… Uhh… The next night. Oops. In our defense, it is within walking distance of our apartment, we've been taking more walks than usual because of the little guy, I'm basically eating everything in sight thanks to breastfeeding, and Matt is, well, Matt. That night, we ordered and split an Italian hoagie and got a side of Old Bay fries.
Ever since that night, I've just wanted all the fries. All the time. But since ordering fries from that restaurant whenever a craving hits is not such a financially wise decision, aaaaand eating that amount of fried potatoes wouldn't be so great for my health, Matt and I took to the kitchen one afternoon during nap time* and made baked curly fries happen right in our own oven.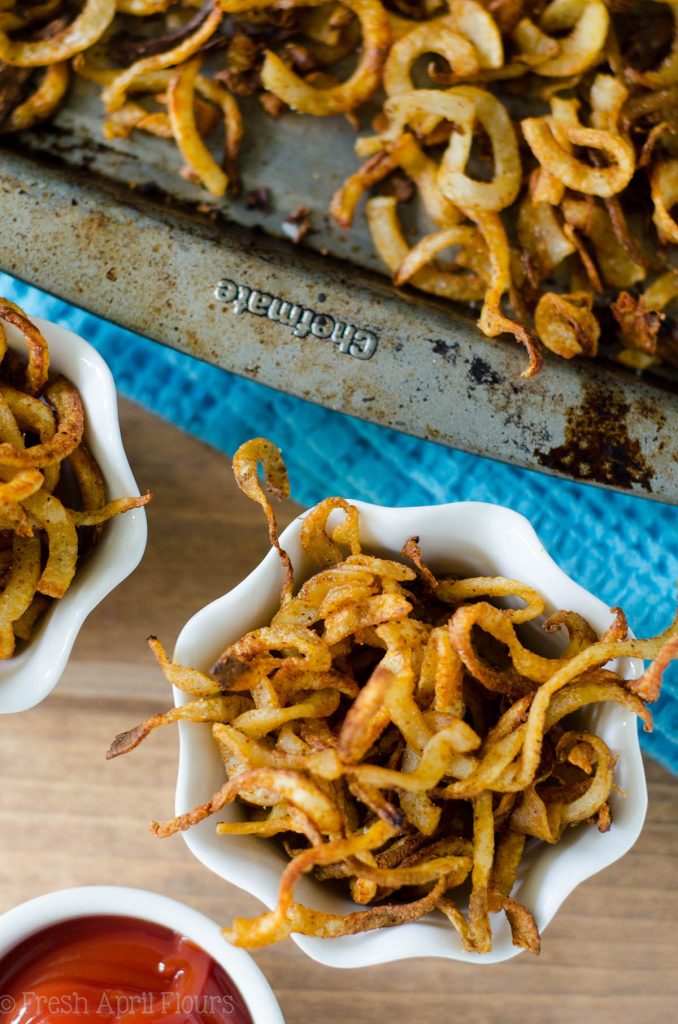 *Just so you know how quick and easy it is to make these fries, please know that I put our little guy down for a nap while Matt washed the potatoes, and I was able to photograph them all before he woke up. Which by that point, there were zero left. And this kid doesn't nap for all that long these days.
You totally have time to make these happen.
The most important tool you'll need for these baked curly fries is some sort of contraption that turns food into spirals. This is the one we have, but there are a ton out there these days. It's highly likely you own one and you've probably made all kinds of zoodles and regular foods in spiral form so that they're more fun. If not, get spiraling, because you'll want to be a pro at spiraling some potatoes ASAP once you see how easy it is to make your own curly fries at home.
You'll start by getting two potatoes into some fun spiral pieces. We found that the larger setting on our spiraler worked the best. If you're going to use a small blade, you will definitely have some trouble baking these and likely wind up with mostly burned fries. Use your best fry judgment on the size blade you choose! We roughly sliced our pile of potatoes so that there were more "fry" length pieces.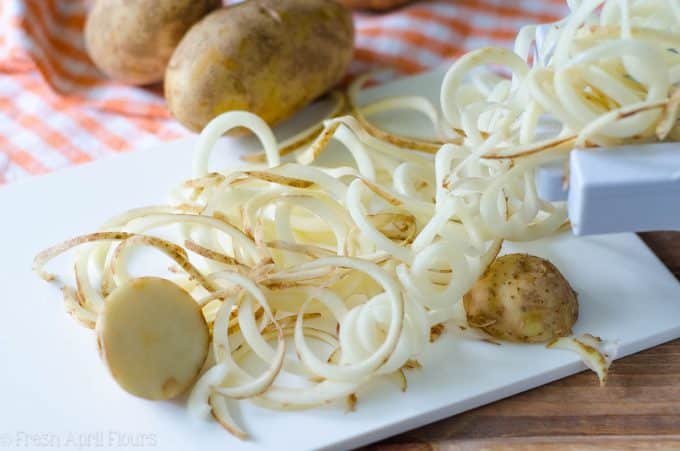 After you have your potatoes all spirally, toss them with some olive oil and spices. We used Old Bay, but you're welcome to use whatever spices you like best on your fries. Just don't forget some salt if you're using individual spices and not a blend (like Old Bay) that already contains salt. Plain, seasoned potatoes don't sound all that tasty.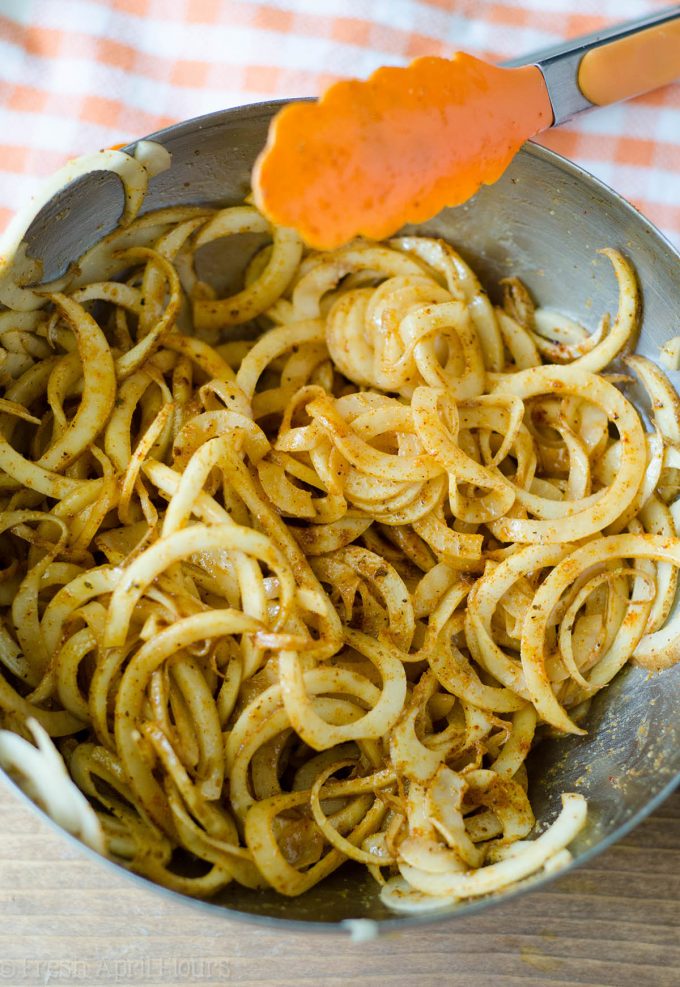 Arrange potatoes on a baking sheet and set the oven to broil. You'll need to stick close by the oven to make sure you don't burn all of your fries, but that's ok– only about 15 minutes total. They will go fast. And you get fries at the end. Worth it.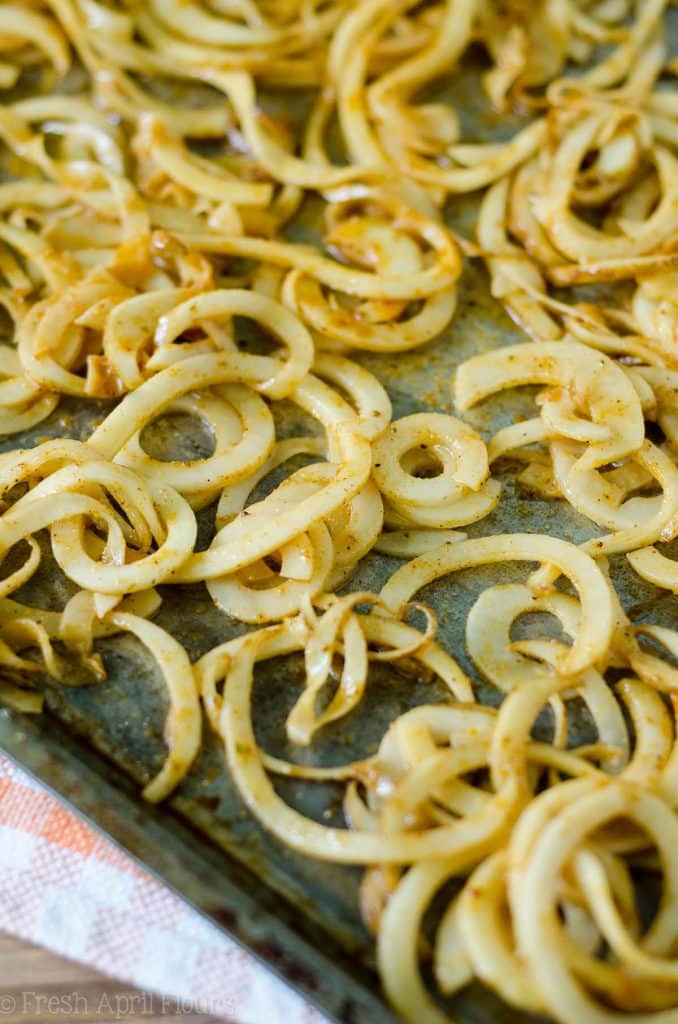 You'll start on the very top rack position and broil the potatoes for about 5 minutes, after which you'll move the fries around every 1-2 minutes as the pieces start to brown a little faster. After everything is cooked, move the baking sheet to the very bottom rack to give the fries one last bake without the harsh broiler. Only about 2 minutes there. Then you're done!
Dip in ketchup, honey mustard, vinegar, whatever your choice of dipping sauce is and you'll be satisfying that curly fry need in no time! We also made another batch and enjoyed them as a side with chicken and Brussels sprouts. These oven baked curly fries would also be great with some breakfast items!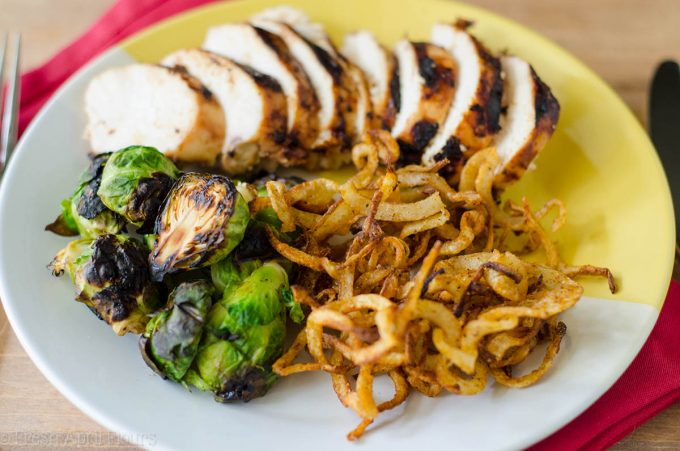 Yes. Totally get a poached egg all up on these bad boys and thank me later.
More fun potatoes!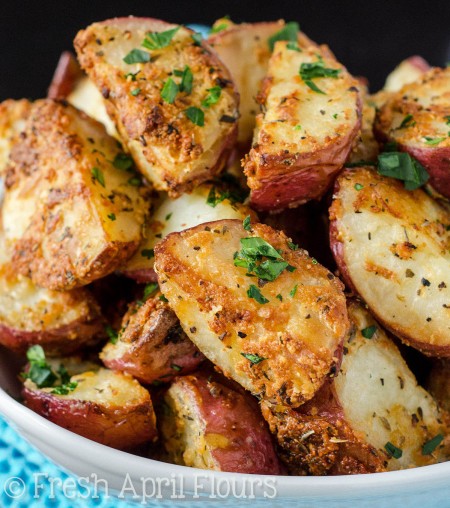 Add your fries to the side of your black bean veggie burger…