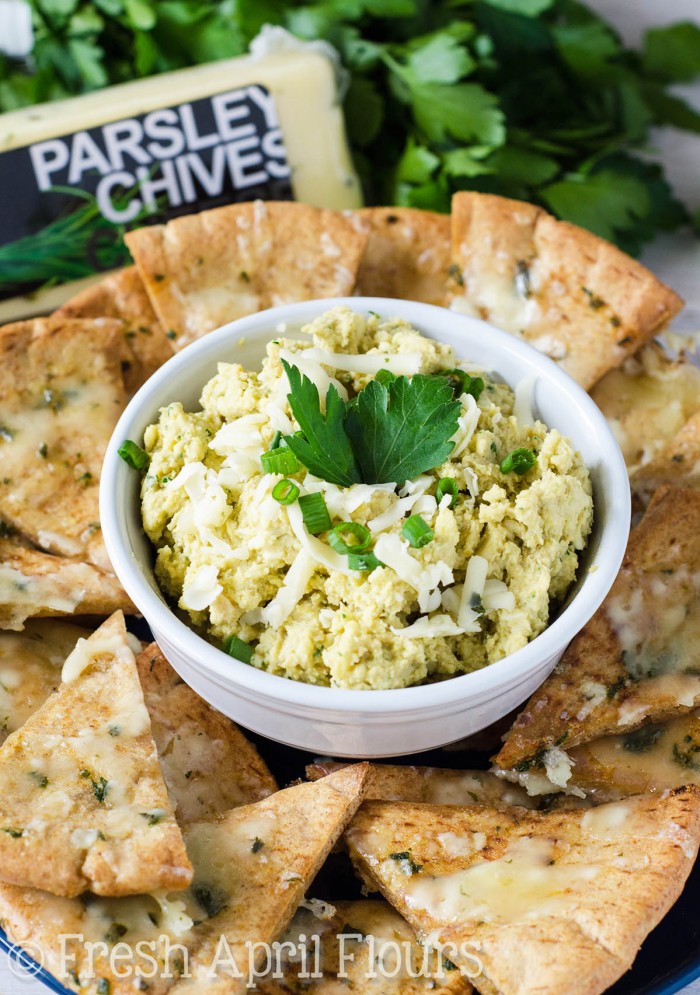 GUYS. I did something crazy recently. Not only did I peel chickpeas again after knowing how boring and seemingly endless it feels when it's happening, but I also put something in my hummus that I wasn't sure was going to work well, but I went with it anyway. And that thing was, of course, cheese.
I've spoken about my love of cheese (and coffee and biscotti and all of these things) plenty of times before, but this time I was taking a huge risk. I thought this could flop big time but then also thought "meh," and dove in head (chip?) first.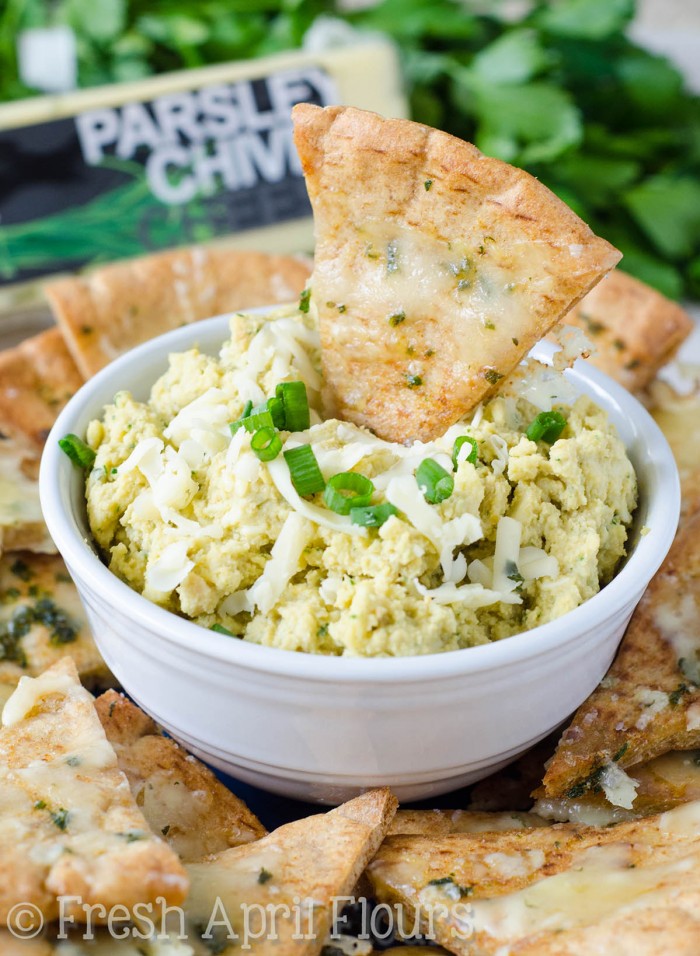 Well, it turns out that cheese and chickpeas (and fresh herbs and spices!) go really well together, and it's possible I may just throw some cheese into every future batch of homemade hummus I ever make.
For this incredibly easy and cheesy, naturally gluten free dip, I chose my faaaaavorite brand of cheese (Sincerely, Brigitte). This time, I worked with the parsley chives flavor, which, let me tell you, is one flavor intense cheese. Slightly bitter parsley pairs so nicely with the delicate onion flavor of fresh chives to bring you a creamy cheese that, in the words of SB themselves, "brings you the flavor of Spring no matter what time of year."
Umm, hellooooo! Could this be more perfect of a recipe today?! Not just that, but apparently National Chip & Dip day is later this week, so what better way to kick that off than with this hummus and my homemade cheese & herb pita chips that I've also posted today (psssst, there's a video over on that recipe as well).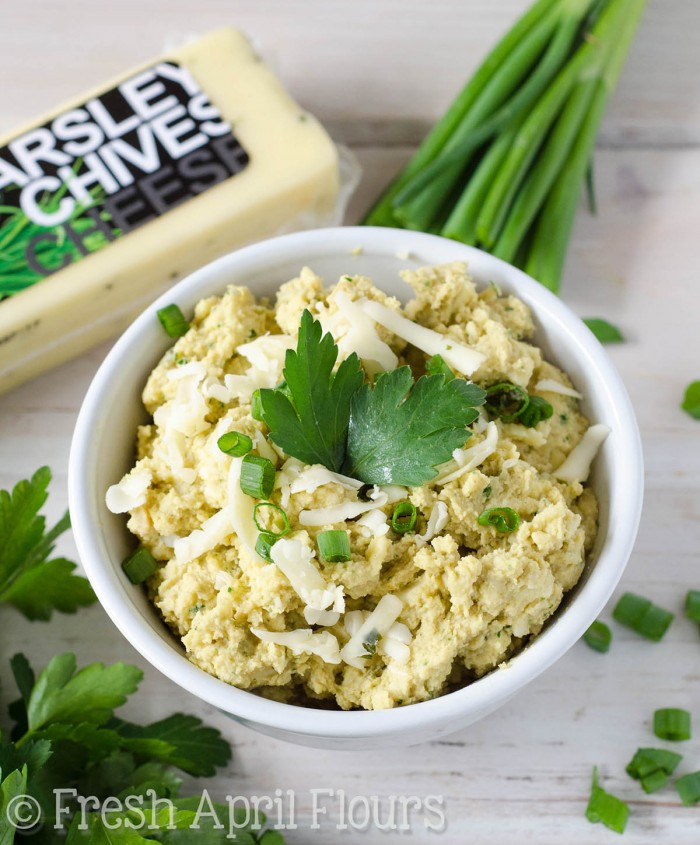 As I mentioned, I peeled my chickpeas again, just like I did when I made my creamy buffalo hummus. This is totally optional, but I will say, it yields the creamiest hummus texture. With the shells on, the chickpeas don't blend as smoothly and the texture of your hummus will be grittier, no matter how much liquid you add. But still totally delicious, I promise! Just ask my everything hummus.
This hummus comes together in a snap: chickpeas, garlic, olive oil, lemon juice, tahini (crucial for that unmistakable hummus flavor!), fresh parsley and chives, and of course, the star of the show, the cheese.
To help you out, I made you a video! It's short, it's sweet, and if you're not drooling for this cheesy parsley & chive hummus by the end of it, you better check your tastebuds!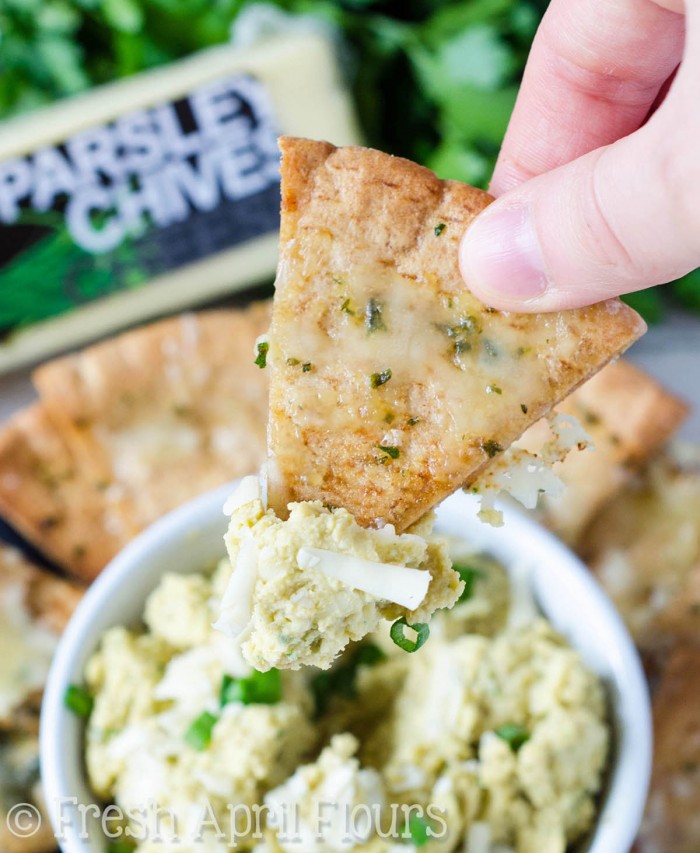 Simple simple simple. That's how I like my dips! And don't forget to check out the homemade cheese & herb pita chips to go with it!
Can't view the video? Click here to view it on YouTube.
My friends at Sincerely, Brigitte provided me with the cheese to bring you this recipe. All opinions are 100% my own.
More dips!