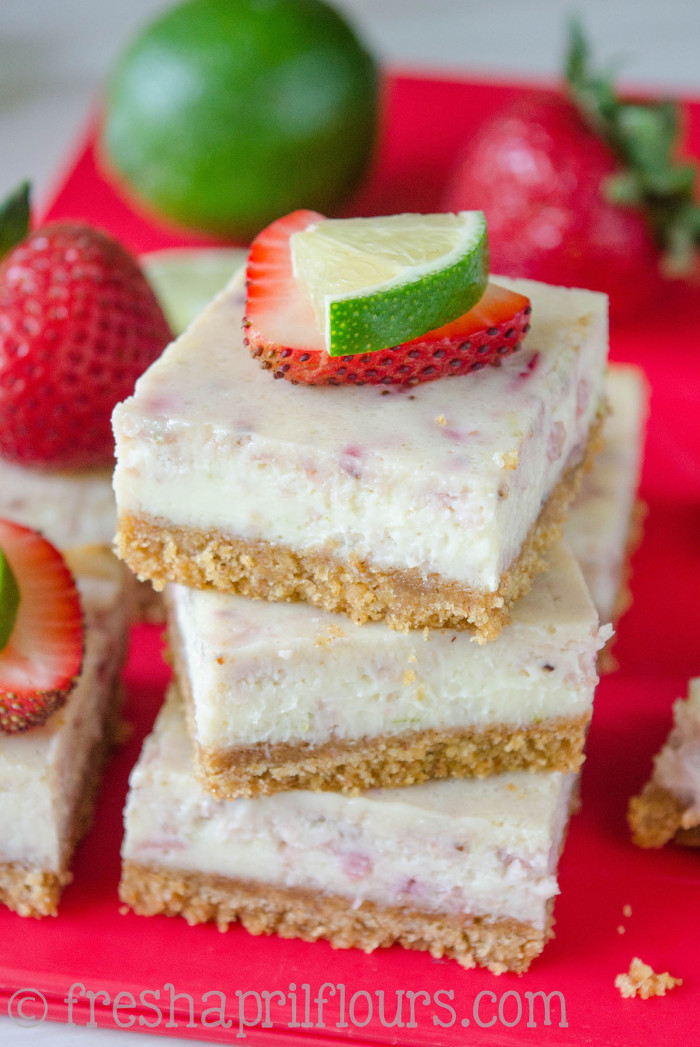 Ahh, summer. It's so close, I can taste it. And it tastes like strawberries, and limes, and tequila. Bring on the margaritas!
In reality, I'm sitting here on the couch, snuggled up in a blanket because it's May 21st and dreary and cold and rainy outside, super unlike May in Pennsylvania at all. BUMMER. But the weather people tell me that tomorrow is full of sunshine, and that is the day this post is scheduled to publish, so it should work out nicely. PHEW!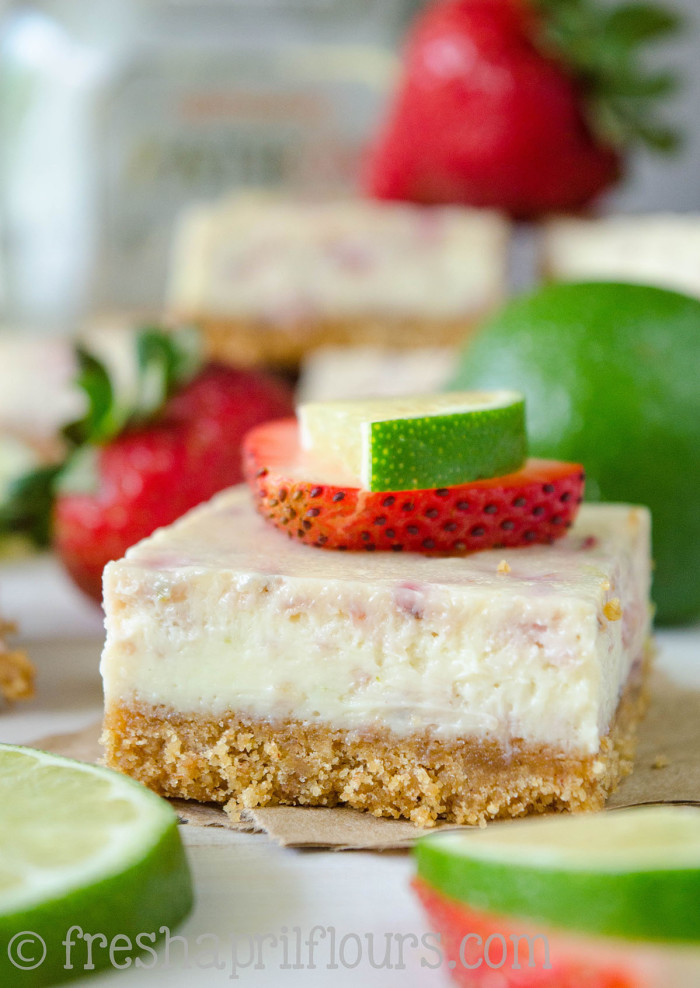 I'm bringing this recipe to you on a Friday, which is something I don't normally do, because I feel like you all need one more option for something to bring to whatever kind of picnic, party, or BBQ you're going to this weekend. This nice longggg weekend. Hallelujah, right? I think we need to celebrate a lot of things: America, our military service men and women, and the unofficial start of summer. What better way to do that than with tequila? Err, I mean… Strawberries and limes and graham crackers and maybe a little bit of tequila thrown into the mix to jazz things up.
Some of you have started receiving your cookbooks! Will you make some puppy chow to take with you to your celebrations??
Anyway… These strawberry margarita squares are totally going to rock your world this holiday weekend and, frankly, all summer long. I originally called them "bars," but thought that might get confusing with "margarita" in the title, and then maybe I would get searches to my blog for people looking for drink recipes, and they would be sorely disappointed (or not?) and then everyone would be disappointed. Why are desserts so confusing?
I modeled these squares (bars??????) after my key lime pie bars, which you all went crazy for last summer. I kept the recipe quite similar, but added a few different twists to achieve a whole new fancy flavor profile bursting with juicy strawberry pieces and kissed with the bite of tequila. I wasn't quite sure they would turn out, but one bite and I was in l-o-v-e. I think you will be too.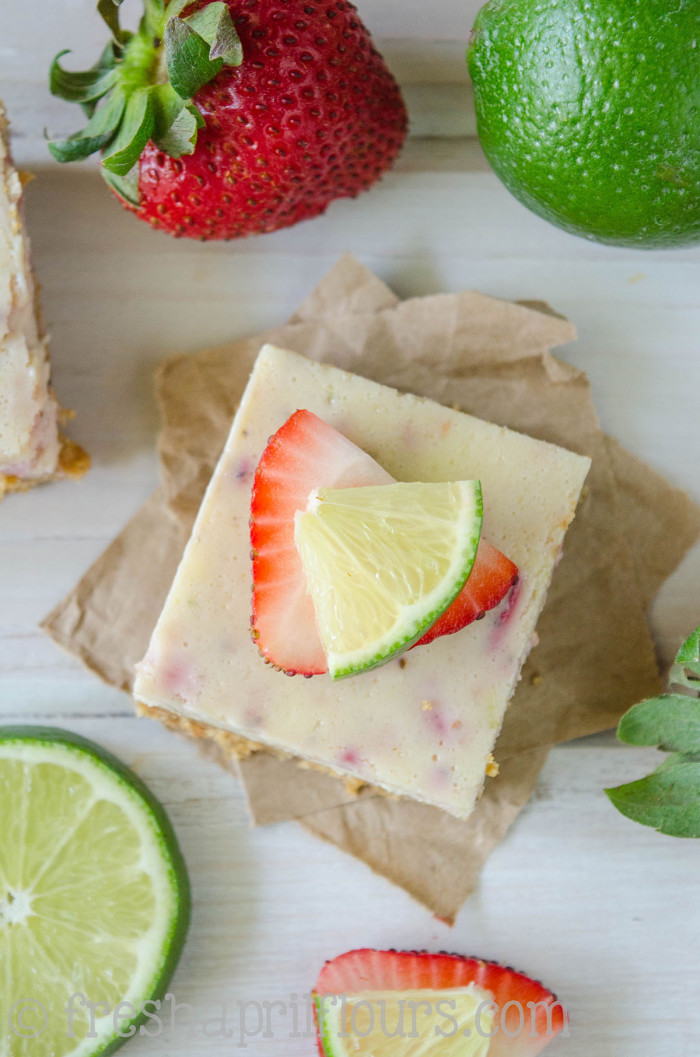 The squares sit atop a spicy, buttery graham cracker crust. This crust is crucial in giving the soft, creamy filling on top of it a place to sit. Otherwise, you'll just have a goopy strawberry cheesecake lime tequila mess (maybe that wouldn't be all bad?). The crust is so simple: about 12 full sheets of graham crackers, some brown sugar, a little ground cinnamon and ginger to keep things interesting, and melted butter. That's it. Press this mixture firmly into an 8″ x 8″ pan that's been lined with foil.
While your crust is baking, you'll work on your filling, which you will be finished with before the crust is done in the oven. It is equally as simple as the crust: some softened cream cheese, egg yolks, a can of sweetened condensed milk, lime zest and juice, puréed strawberries, and of course… Tequila. Any tequila will do. We don't regularly buy Patrón. We aren't that fancy. We just happen to have a bottle left from when my husband turned 21. He's currently 26. Cleary, we don't break it out often, but for these strawberry margarita squares, it was totally necessary. There's also the option to leave the tequila out completely. You'll just want to reduce the baking time a bit (note about that in the recipe).
Once your filling is ready to go, pour it on top of your baked crust, pop it in the oven, and let that puppy bake away for just under a half an hour. They do not take long at all. The hardest part is right after this step… When you have to wait for them to cool and then refrigerate them for at least 2 hours (1 hour in the freezer). TORTURE, I tell you.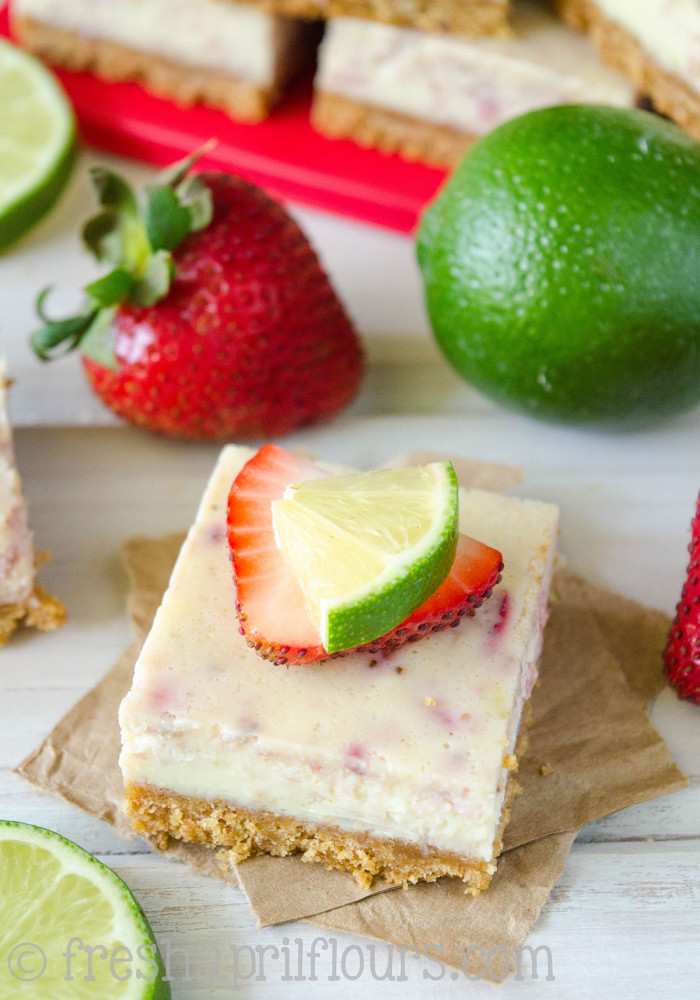 Once they're completely chilled, you'll want to cut them with a very sharp knife. I find the best way to get clean edges is to clean off my knife every cut or two. It keeps the globs and crumbs that gather during slicing from messing up any new, clean edges. It takes a little more time, but it's worth it. Prettier desserts for the win, yeah? Feel free to cut them as small as you want. Or as big as you want (a.k.a. ONE BIG SQUARE ALL FOR ME)!
I'm telling you what… These strawberry margarita squares will be a hit wherever you take them. They are fruity, juicy, and spiked with just the right amount of liquor to make you say "mmm" and not feel like you're eating something too boozy. The buttery and crunchy crust makes every bite almost cheesecake-like, without the mess of forks and plates! Portable, picnic friendly, and with "summer" written all over them.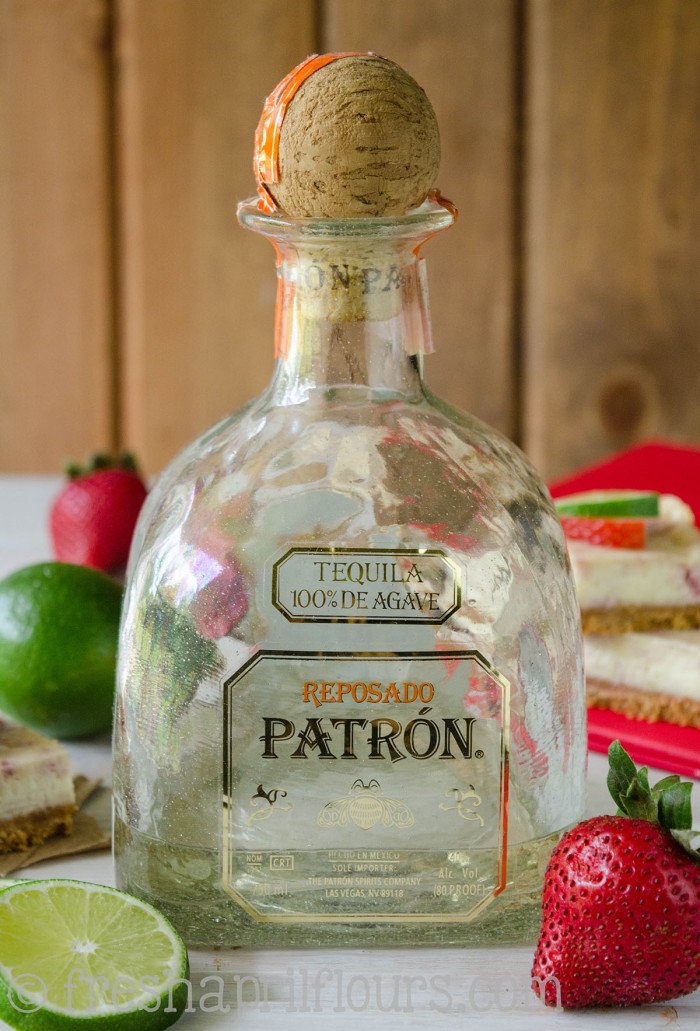 God bless America. And tequila.
If you're into summery desserts, check out my Key Lime Pie Bars…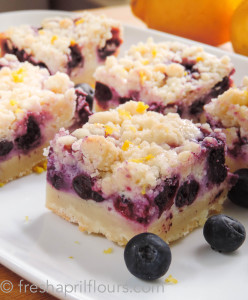 …or Fluffernutter Bars!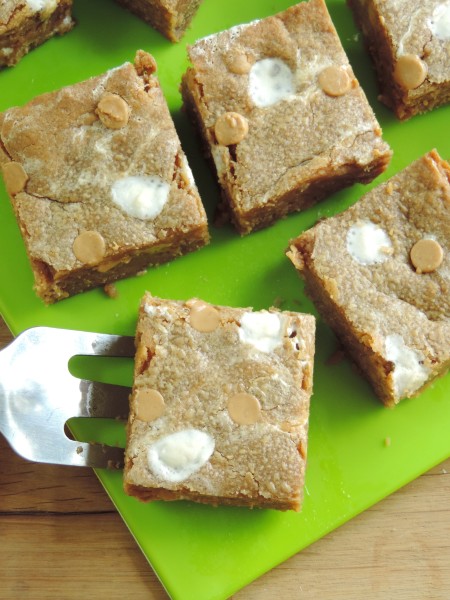 Also, if you're into summery AND boozy desserts, my Piña Colada Bars will surely tickle your fancy!