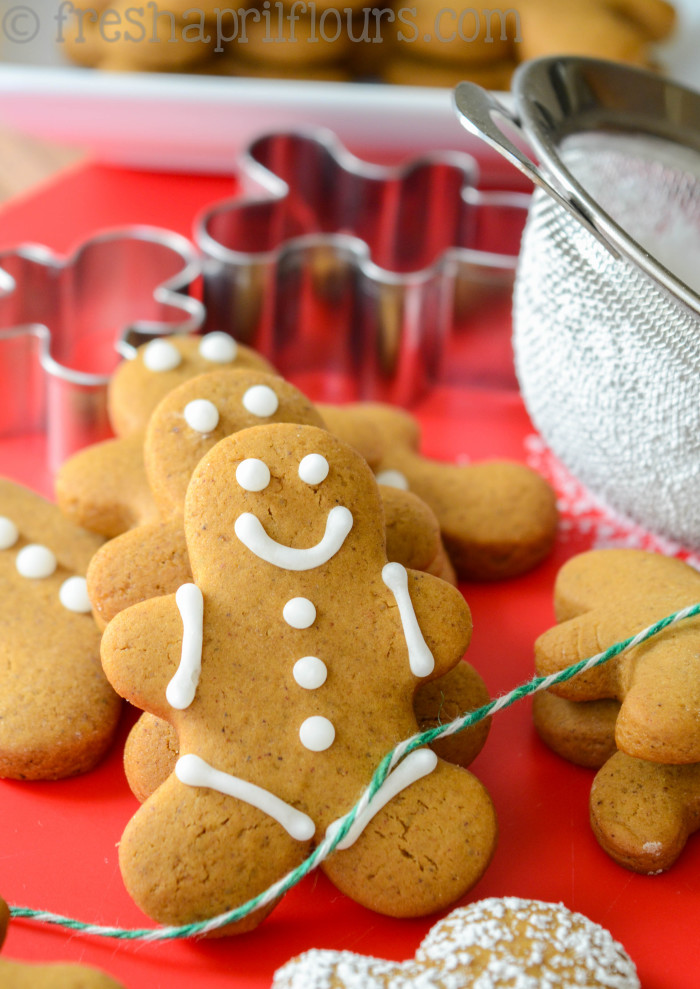 I realize it's late(ish) in the game to be giving you a Christmas cookie recipe, but hey, that's how it crumbles, and I don't know… Maybe some of you wait until Christmas Eve or even Christmas to bake your cookies… Or maybe who really cares because COOKIES and who doesn't love them all year round? Also, these cookies are smiling at you. How can you be mad?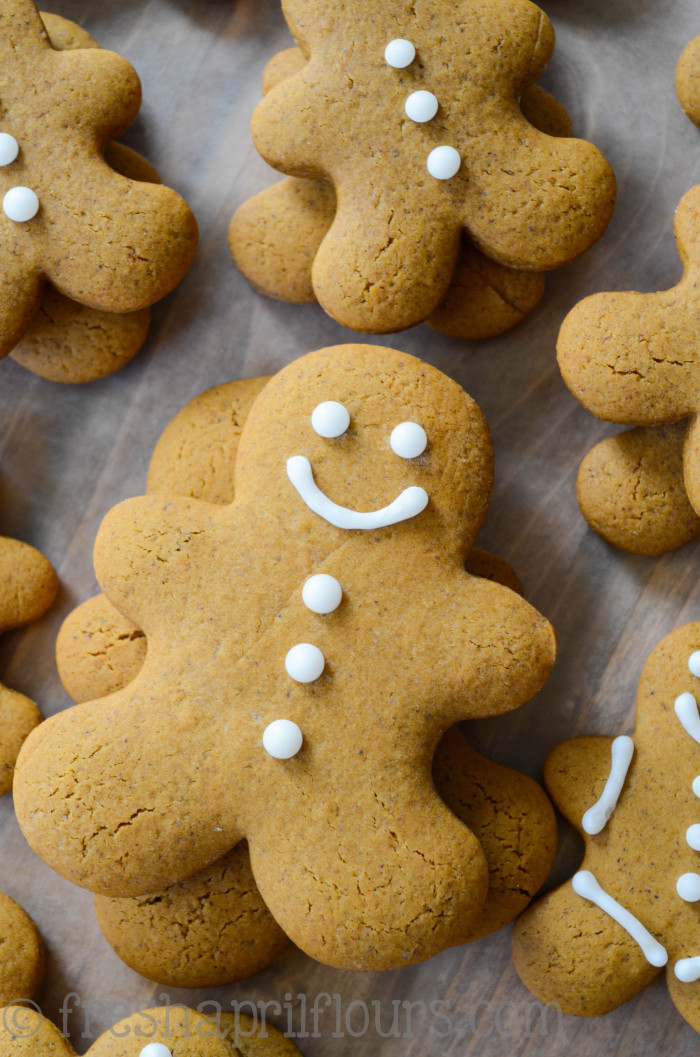 That's what I thought.
Every year, my work girlfriends get together and do a cookie exchange. We started this tradition a few years ago when we decided it was way more fun than just exchanging presents at work (because we then combined it with food and wine and girl time– hellOOOOO much better) and it's turned into quite the event! We only have one rule: you must make a cookie you've never made before.
I love that rule! It's brought about so many fun discussions at work (I'm sure our management just looooves hearing about Christmas cookies starting in, like, September) and a few laughable moments when it comes time to exchange, but it always challenges us to take on something new which is one of the things I'm always looking to do!
I decided to check something off of my list and attempt gingerbread men. And when I say "attempt," I mean absolutely nail. Gingerbread is, like, the flavor of Christmas. I needed it in my life to make my holiday season complete. Mission: accomplished.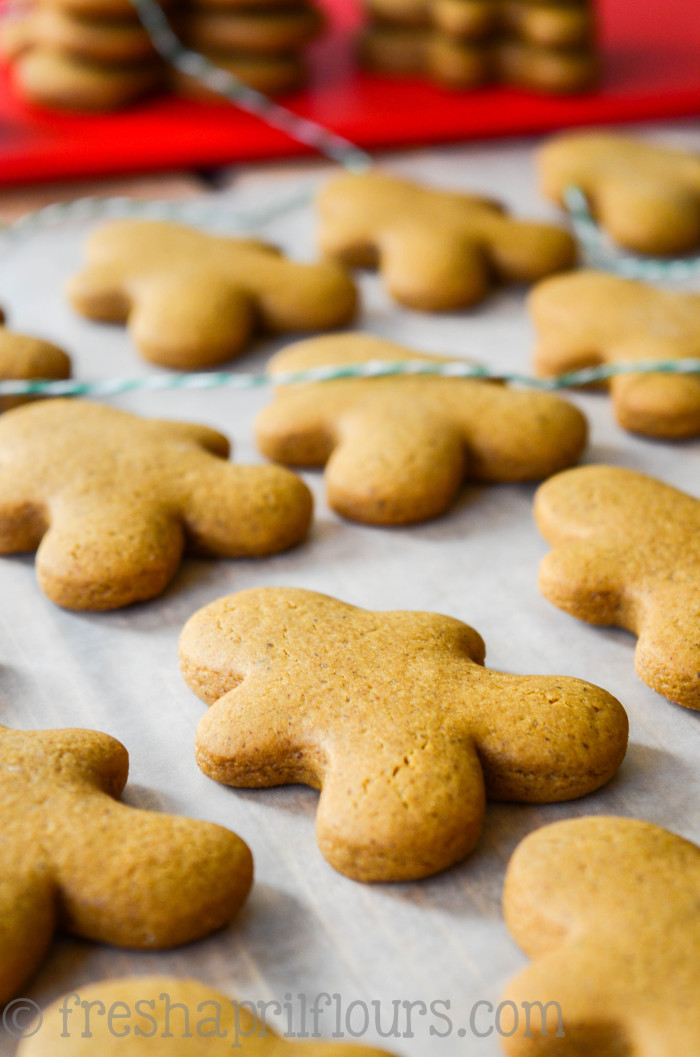 If you're not familiar with roll-out cookies, they're not something you can just whip up and expect to be done in no time. They are quick to put together, but the dough must be refrigerated in order for rolling to be a success. The fat in these cookies is mainly butter (I use a little shortening for some sturdiness), so all of that needs to firm up so that you don't have a goopy mess of sloppy dough everywhere. Chilling is not optional. At least 2 hours. They also need to be chilled on the baking sheet right before baking to keep the edges nice. Seriously… Do I need to say it again? CHILLING IS MANDATORY!
Not only does the chilling allow the butter to firm up, but it also allows the spices to marry together. Are you familiar with gingerbread? The main source of flavor comes from molasses (we've added it to this and these to create deep, rich flavors), but you're also going to add a whole slew of other spices to really make the gingerbread flavor pop.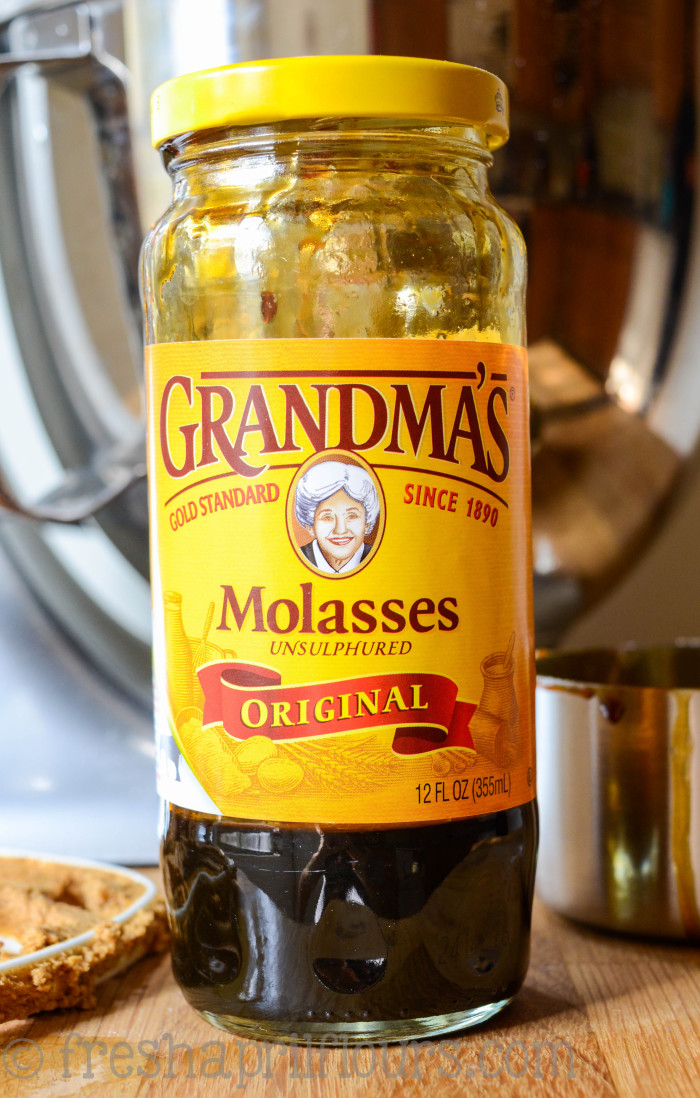 We've got our typical sources of spice (cinnamon, ginger, nutmeg, and cloves), but my secret weapon to the perfect gingerbread taste? Black pepper. Yes, you read that right.
My favorite gingerbread cookies have black pepper in them.
If you think about it, all of those spices are earthy, bold, bitter, and some even with sour undertones. Black pepper is right up there in that flavor profile, and it really helps round out the flavor of the cookies as a whole when they're all combined with the deep flavor of dark brown sugar. Just 1/8 teaspoon of the black pepper. Don't leave it out, puhleeeeease!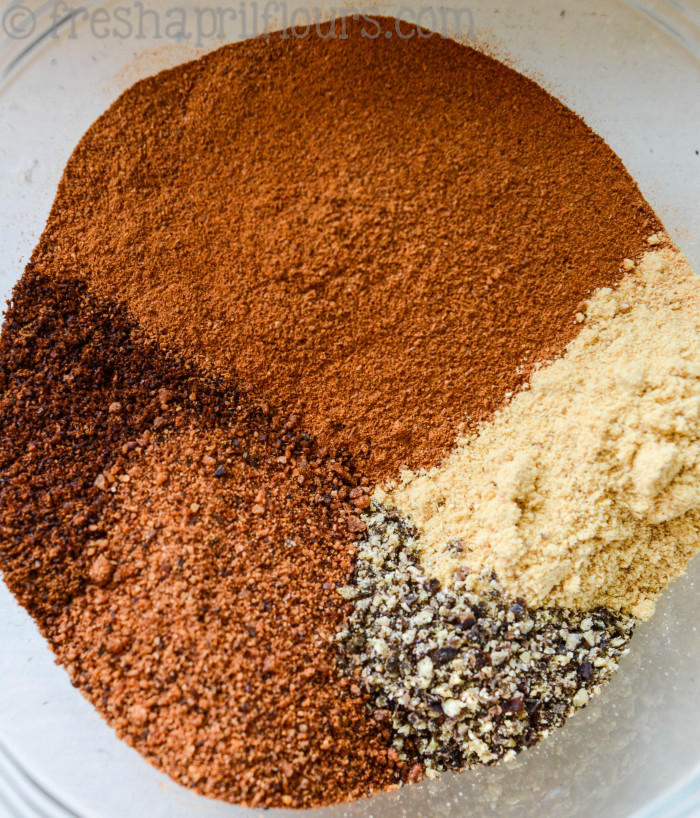 Typically, recipes say to add spices in with the flour, but that's not how I roll. Once you cream together your butter, shortening, and granulated sugar/dark brown sugar, you're going to throw in your spices and beat it all again. It's kind of like rubbing spices together in your hand to "activate" them. Plus, fat is a great vehicle for transporting flavor (think: BACON).
You'll see my recipe calls for 2 and 1/2 to 3 cups of flour. This is where you'll need to pay careful attention. You want your dough to be a little bit thicker than typical cookie dough (such as chocolate chip cookie dough that can be scooped and baked nearly immediately) but you definitely don't want it to feel wet. The best way I can describe it to you is tacky. Just a tad bit of moisture. If you poke the dough with medium pressure, it should leave an imprint, but your finger should pull away easily.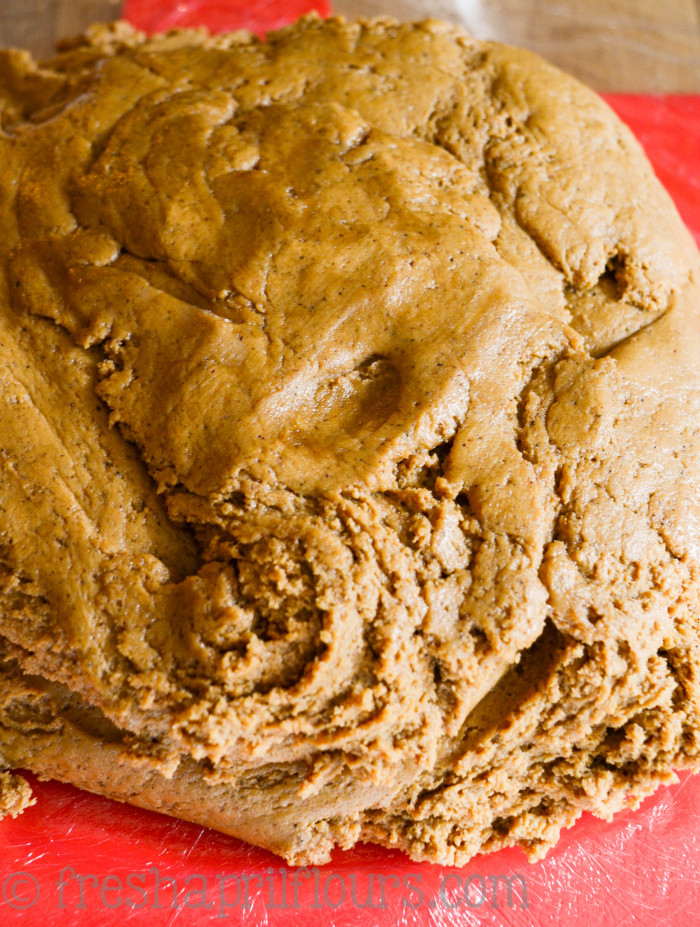 Once your dough is all together, you'll split it in half, pat the dough into 1″ thick discs, wrap them in plastic wrap, and pop them in the fridge.
When you're ready to roll and bake, lightly flour a flat surface (a countertop or my favorite rolling mat) and roll your dough to 1/4″ thickness (if you missed my tip on how to get this exact, see it now), and get to cutting! If you want your cookies on the crunchier side, you can either roll them to 1/8″ thickness or just bake your 1/4″ cookies for a couple minutes longer.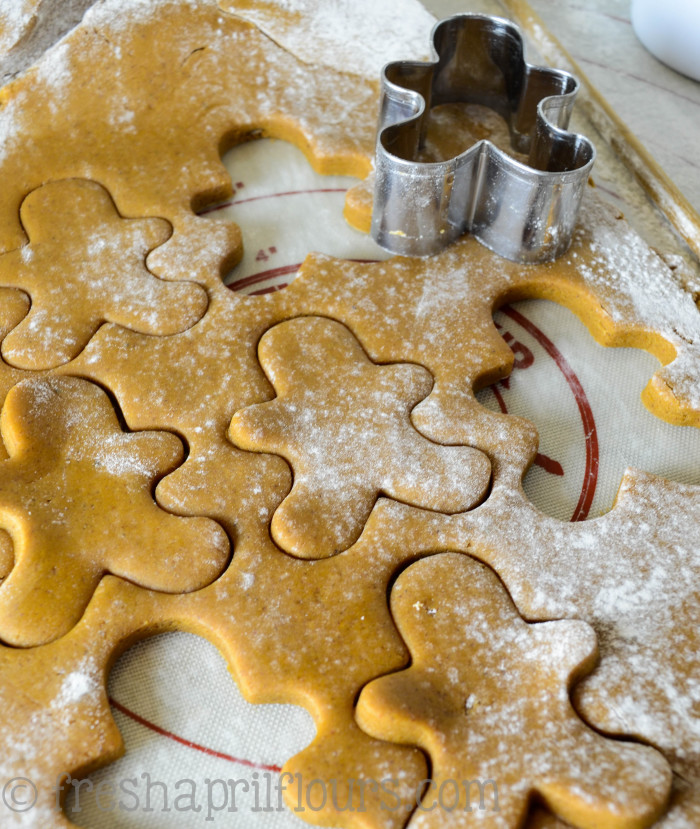 Once they're cut out, put them on a baking sheet lined with parchment paper or a silicone baking mat (this is my fav) and refrigerate them again for 10 minutes. If you prefer, the freezer for 5 minutes does the trick as well. Keep dough that isn't being rolled or already cut refrigerated.
My large gingerbread men (about 3″) took 9 minutes, my medium ones (2″) took 7 minutes, and the babies (1″) took 6 minutes. Your best bet is to do a test run with 1 or 2 cookies. It's far better to ruin a teeny tiny batch than a big one if you find your baking times to be off from mine. If your cookies start to brown (well, dark brown), they're overdone. Or… Maybe you like them super crunchy. Like I said: test batch.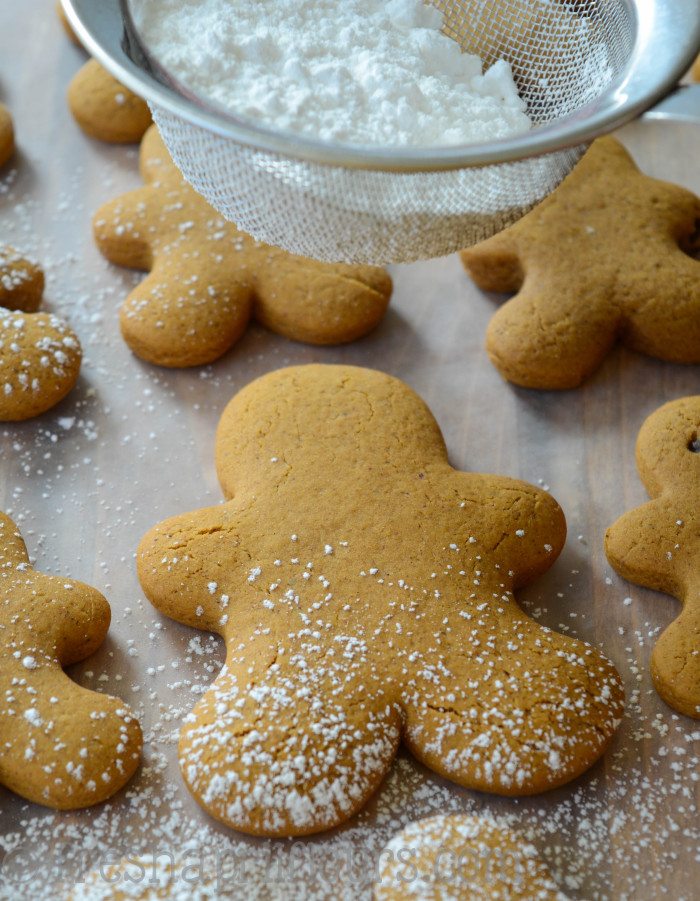 Decorate as you wish, sprinkle them with powdered sugar, or leave them plain! For my gingerbread men, I used a super easy royal icing recipe. It's not my very favorite (this one is), but it works great in a pinch, and it doesn't require meringue powder. Just water, vanilla, light corn syrup, and powdered sugar. You're looking for a consistency that drips slowly and takes a few seconds for the drips to disappear. It's about 15 seconds.

These cookies are seriously tender. I love them this way. The edges are a tiny bit crunchy, and the middles are soft and slightly chewy. What I love most about them (aside from the fact that they are absolutely divineeeee dunked in a hot cup of chai) is that they're not overly sweet. They have just the right amount of sugar to balance out the amazing spiciness that should definitely be present in a gingerbread cookie. Matt, who apparently had never had a gingerbread cookie (?!?!), said the spice was subtle at first, but then it hits you with just the right amount of zing.
Spicy, Christmas-y perfection…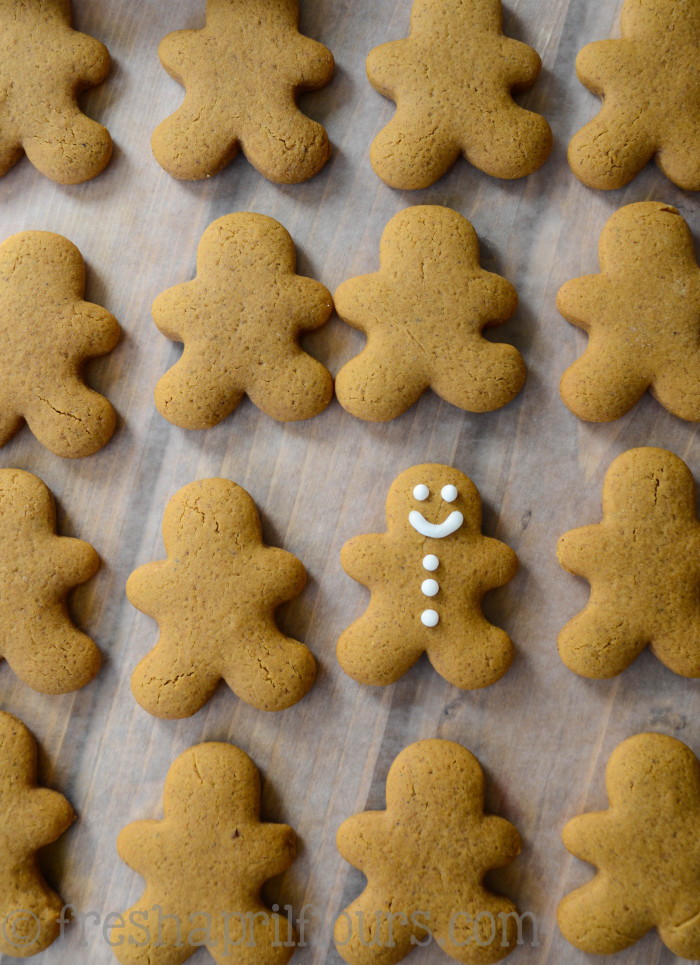 …with a smile.
Merry Christmas, friends!
"Lilly, what did you think of all the cookies?"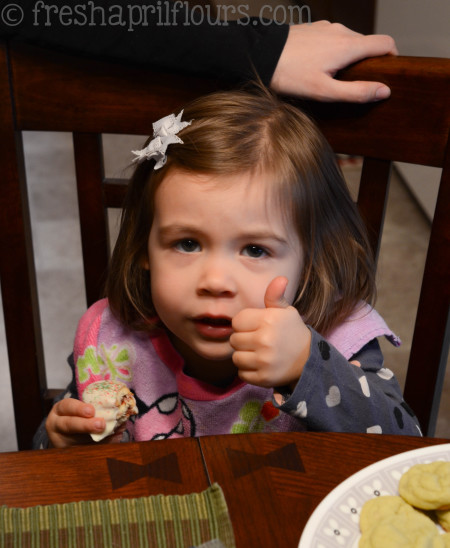 QUESTION: What's your favorite Christmas cookie?