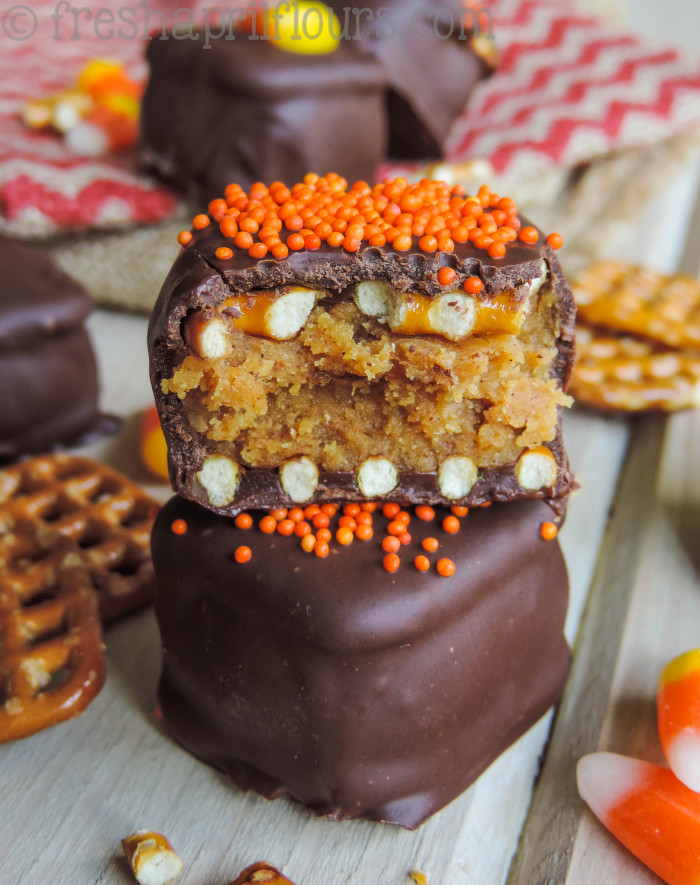 It's officially fall, so that means it's officially time for pumpkin and apple flavors! I eased you in last week with my coffee creamer, but I couldn't last another week without sharing this amazing little treat with my readers.
Let me tell you where this recipe idea came from. A few weeks ago, I did some informal research and asked all of you what your favorite candy is. It's no surprise that Reese's (and really, the chocolate and peanut butter combination in all forms) reigned supreme. Around the same time, my friend Stef 'grammed a picture of her Reese's pumpkin, and people were all kinds of confused about what exactly it was. A lot of people were thinking it was a pumpkin flavored peanut butter cup (I mean, are the Santas and Trees confusing to people??), and it got me thinking this was a flavor combination I had to try.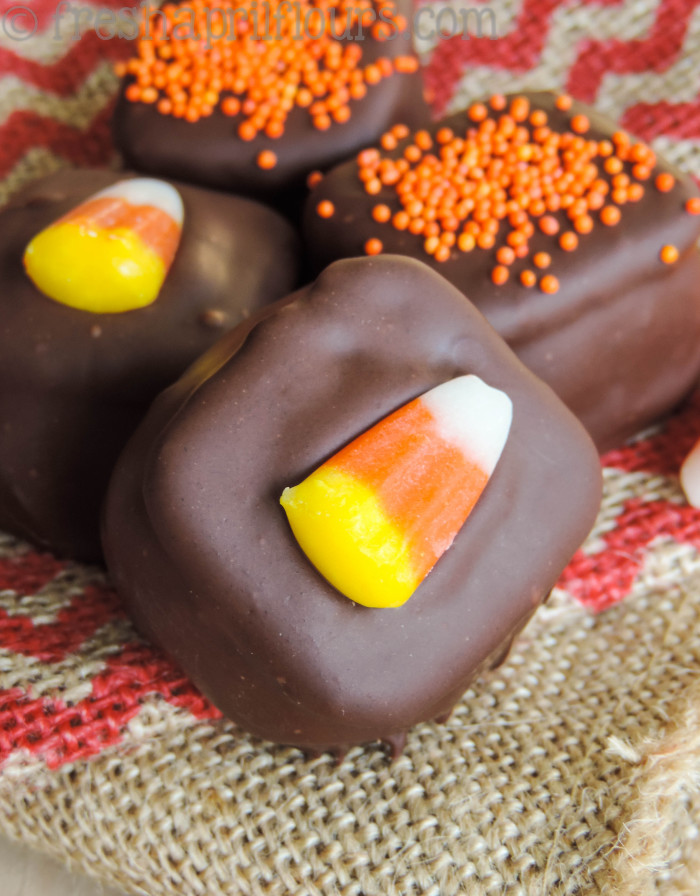 I was a little hesitant, so I waited until Matt and one of my brothers-in-law were both here so I had some taste testers. Matt is a self-proclaimed pumpkin hater (but a peanut butter and chocolate crazy person) and my BIL is the opposite (at least when it comes to pumpkin). I figured they were the perfect subjects for my experiment.
Since you all loved my first chocolate and peanut butter creation, I used it as a guide. I simply removed the butter and subbed in some pumpkin. To make up for the loss of crunch from also removing the graham crackers, I figured this pumpkin peanut butter mixture would go nicely between two pretzels. Snaps, for the prettiest shape. And then, of course, it must be dipped in chocolate to bring the whole Reese's-pumpkin-confusion dilemma full circle.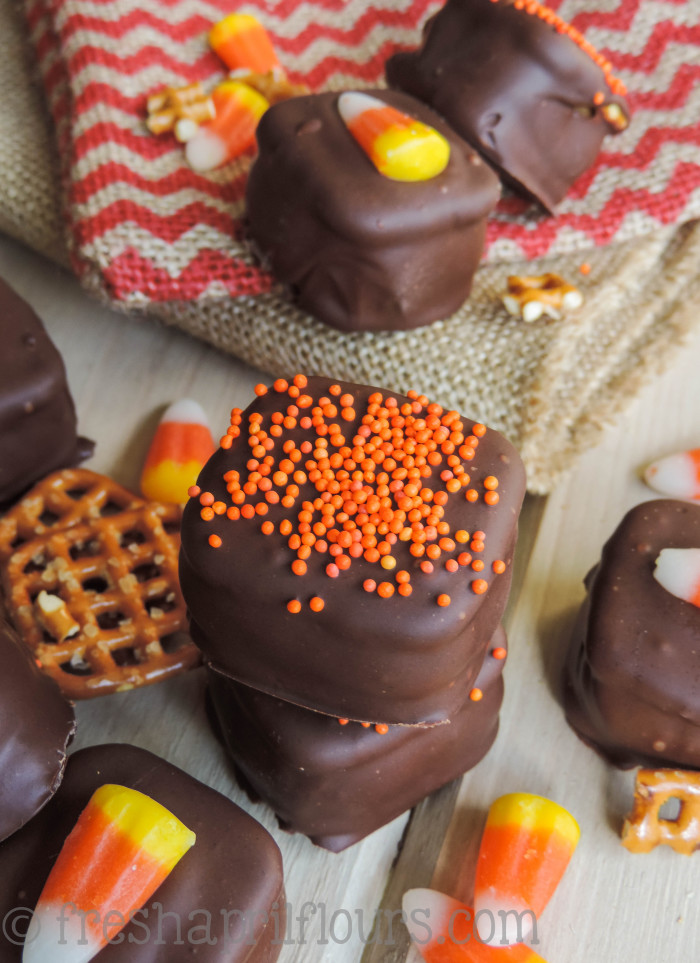 Guys… This filling is amaze-balls. I hate that word, and kind of want to punch myself in the face for typing it, but there's really no other way to describe it. I started with a small amount of pumpkin pie spice in the filling, taste-testing and slowly adding more until we got to the perfect amount. I didn't want too much spice, but I also didn't want the peanut butter to be the only flavor profile. It was clear when I got to 1 and 1/2 teaspoons it was the winning amount. All 3 of us said "oh yeah" practically in unison. Perfect.
Once you've created this filling, try really hard not to eat it all, and roll it into balls. I measured mine with a 1/2 Tablespoon measure to keep them all uniform. Once you place the ball between two pretzels, press them together lightly and use a gentle touch to square off the sides.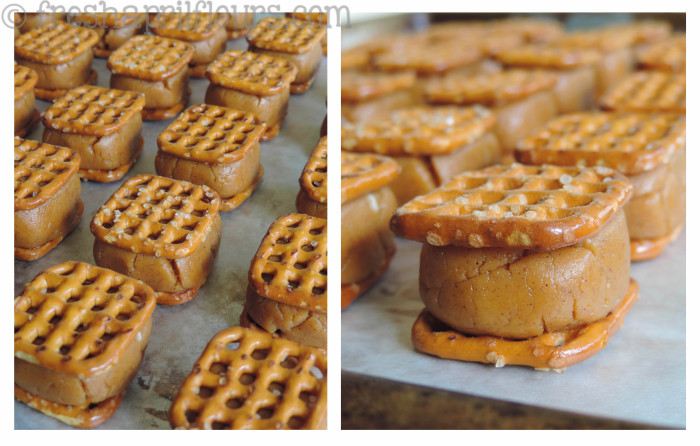 Once all of your little peanut butter pumpkin pretzel sandwiches are assembled, you'll need to freeze them for at least 30 minutes to ensure they stay together during the dipping action. Once you're ready for dipping, you'll melt your chocolate, dip the sandwiches, place them on a cookie sheet lined with parchment, and pop the finished product into the fridge for about 15 minutes until completely cool. *During the dipping phase, I removed bites from the freezer in small batches so the ones sitting longer didn't get too soft. 
You may also choose just to drizzle chocolate on your bites. Also a great option.
If you don't believe that this flavor combination is a winner, I'm going to need you to make them so you can see for yourself just how amazing it is. The nuttiness of the peanut butter is only enhanced by the spicy pumpkin pie spice flavors, the pretzel adds just a touch of salt while crunchily (yep, making words up again) mixing with the gooey texture of the filling, and the chocolate just seals the deal. Always chocolate when it comes to sealing any kind of deal.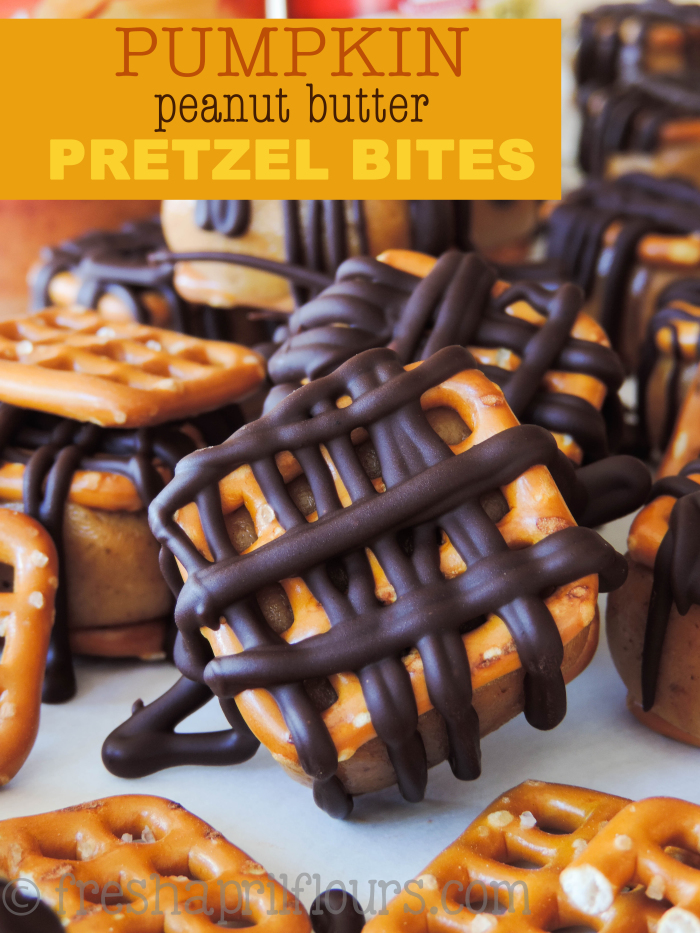 Decorate as you wish, as usual. Share with your pumpkin lovers and try to convert those who claim to hate it. Just ask my darling husband… He made me pack these up pretty swiftly after they were ready. He cannot be trusted around pumpkin peanut butter pretzel perfection. And I bet you can't be either!
Wondering what to do with your leftover pretzels? Throw together some Halloween bark!