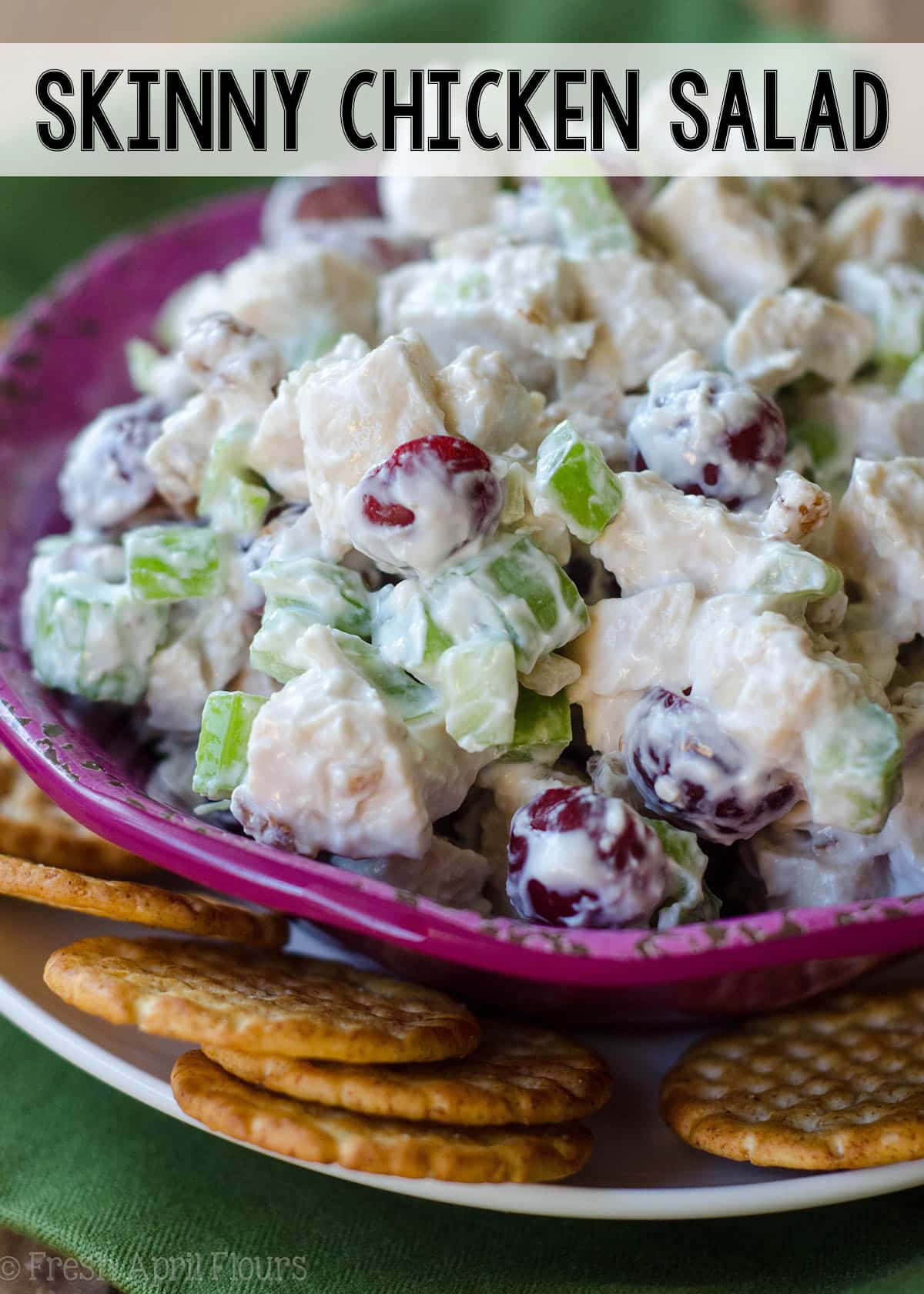 As an Amazon Associate, I earn from qualifying purchases. Read the full disclosure here.
Traditionally calorie-laden chicken salad gets a healthy upgrade using Greek yogurt and spices. Celery, grapes, and walnuts add the perfect crunch and flavors to insure you won't miss the "real" thing!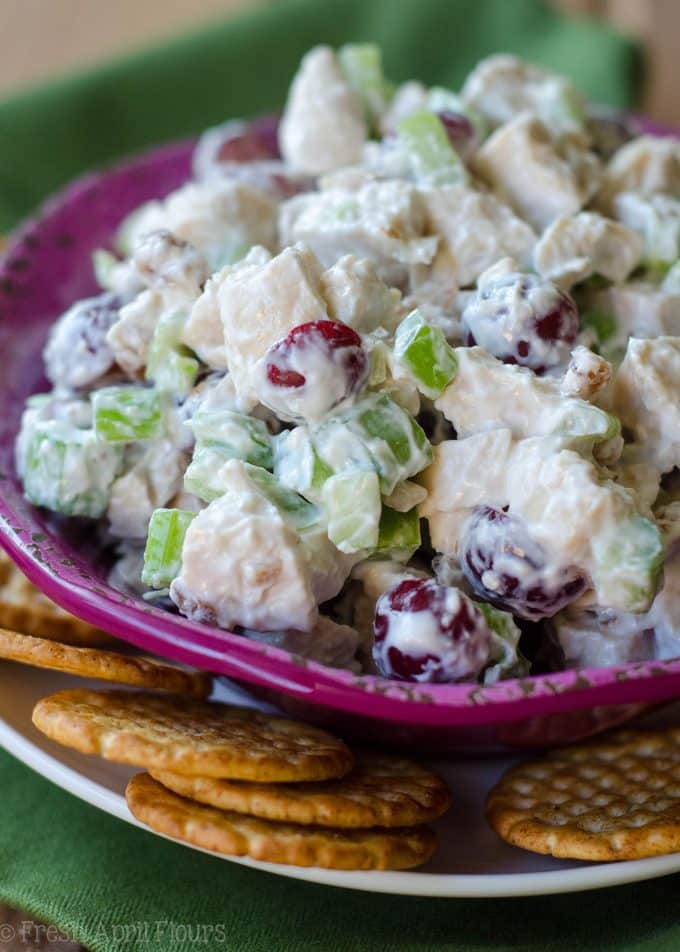 Tell me, friend… Are you a chicken salad fan or no?
I think it's one of those things you either love or hate, and then if you're a lover, you've got your specifics.
Right?
Level of creaminess, add-ins vs no add-ins, shredded vs cubed chicken, and the list goes on.
You may even have the perfect chicken salad in your mind right now and you know exactly where to get it, if it's served at a restaurant/store, or you know exactly which relative makes it the best and are contemplating running to their house right this moment in order to have some.
TELL ME, I am not alone in my dear love for chicken salad!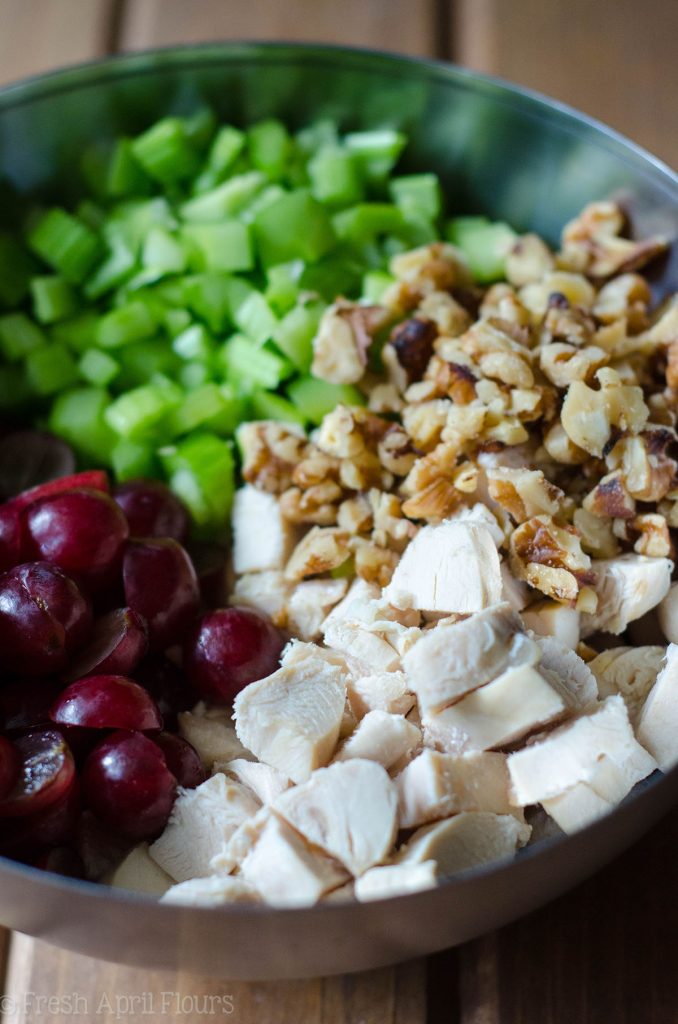 The truth is, one of my very favorite chicken salads is no longer a staple in my diet, available in my corner of the state of Pennsylvania, or even on my mind all that much since I discovered a second fav that my coworkers and I have deemed "heaven on a roll."
(Yeah. It's that good.)
HEALTHY OPTION AND STILL DELICIOUS
BUT, when I got a few requests last May (2016!) for some easy and healthier options for summer eating, my version of my first chicken salad love made its way onto my editorial calendar and floated around until this past weekend when I attended a bachelorette party in which a request from the bride was that we all bring "snacks."
I figured we could all use something a little different, and it was easily transportable (bowl with a lid, DONE), so I deemed it time to put my floating "skinny chicken salad" tab on my calendar to work.
Thank you, procrastination.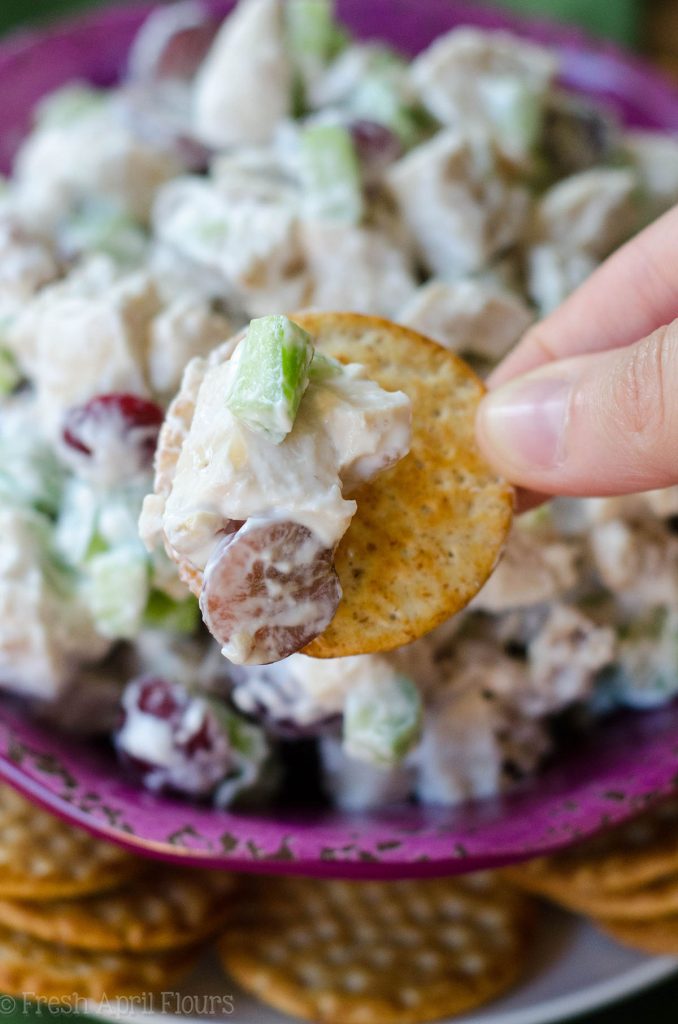 This chicken salad entered my life in the summer of 2006 when I lived, for the first time, completely at college.
The farmer's market down the road from where I worked had this absolutely amazing chicken salad that I ate probably more than I really should have, but it was always so good, perfectly flavored, and bursting with crisp celery, sweet grapes, and crunchy walnuts.
It was so hard to resist, but I know it was full of mayo and a billion calories, and I always wondered if I could achieve as wonderful of a recipe without all of the added calories and fat.
Turns out: I CAN.
GREEK YOGURT BRINGS THE CREAMINESS WITHOUT ALL THE CALORIES
The "secret" is Greek yogurt, which takes the creamy place of mayo. Because the yogurt really has no specific flavor or anything really to offer to complement all of the tasty things in this chicken salad, a little sea salt, black pepper, and onion powder get the job done.
The yogurt becomes perfectly flavored without taking away from the chicken, celery, grapes, or walnuts, and the creaminess is so perfect, you'll barely notice it isn't mayo.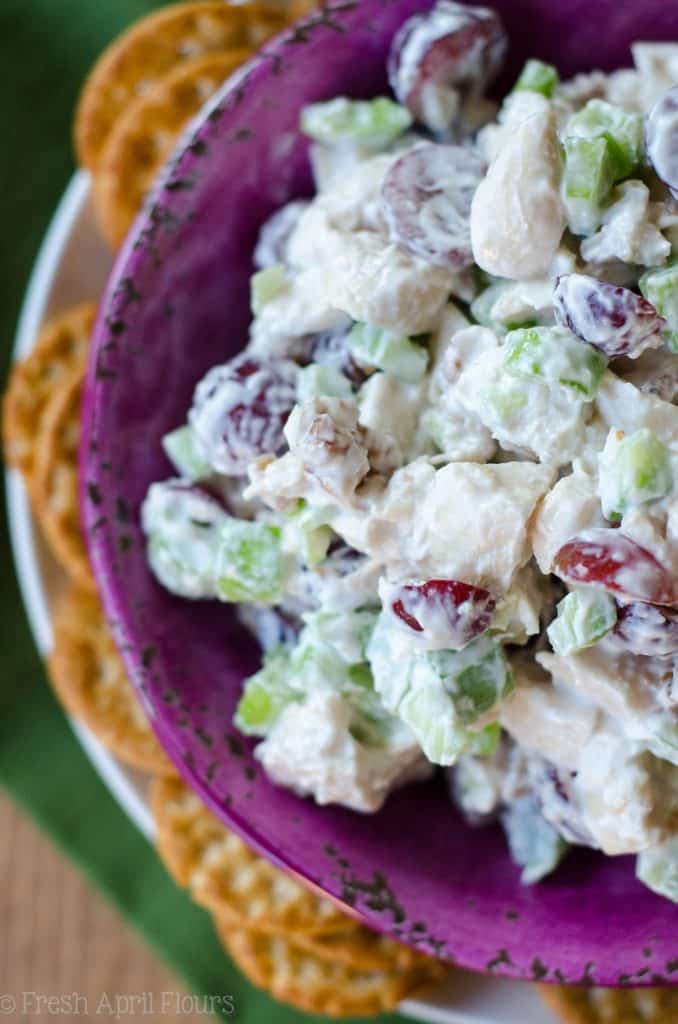 You don't have to feel guilty for indulging in loaded chicken salad any more.
Hoorayyyyyy!
Crackers, bread, pretzels, over lettuce, plain as a side… All are appropriate vehicles for consuming this skinny chicken salad, and you'll be happy all you had to do was cook up some chicken and cut up some add-ins. The recipe writes itself!
GREAT FOR MEALS OR SNACKS
Grab this easy recipe for your next picnic, to pack for lunches, or for that time you need a snack with ALL the texture but without all the crap. And if you're not into walnuts, consider pecans!
Red and green grapes? Go for it.
Load it up and make your next chicken salad one to add to the top of your favorite chicken salads list!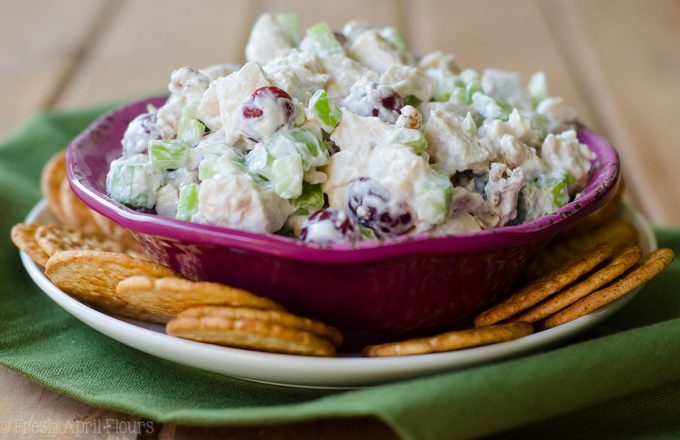 Because everyone has one of those… Right?!
Skinny Chicken Salad
Traditionally calorie-laden chicken salad gets a healthy upgrade using Greek yogurt and spices. Celery, grapes, and walnuts add the perfect crunch and flavors to insure you won't miss the "real" thing!
Ingredients
1 and 1/2

pounds

diced cooked chicken

approximately 2 and 1/2 cups

2-3

large stalks celery chopped celery

about 3/4 cup

1

cup

seedless grapes

halved

1/3

cup

chopped walnuts

3/4

cup

plain low fat Greek yogurt

1/2

teaspoon

black pepper

1/4

teaspoon

sea salt

1/4

teaspoon

onion powder
Instructions
In a large bowl, combine the chicken, celery, grapes, and walnuts. Stir to combine. Set aside.

In a small bowl, combine the Greek yogurt, pepper, sea salt, and onion powder until evenly dispersed.

Pour the seasoned Greek yogurt mixture over the chicken mixture until everything is coated. Serve immediately or chill until ready to serve. Store in an airtight container in the refrigerator up to 4 days.
Nutrition Disclosure
All nutritional values are approximate and provided to the reader as a courtesy. Changing ingredients and/or quantities will alter the estimated nutritional calculations.