As an Amazon Associate I earn from qualifying purchases.

A lightly sweetened sangria flavored with cranberries that have been mulled in cinnamon and cloves.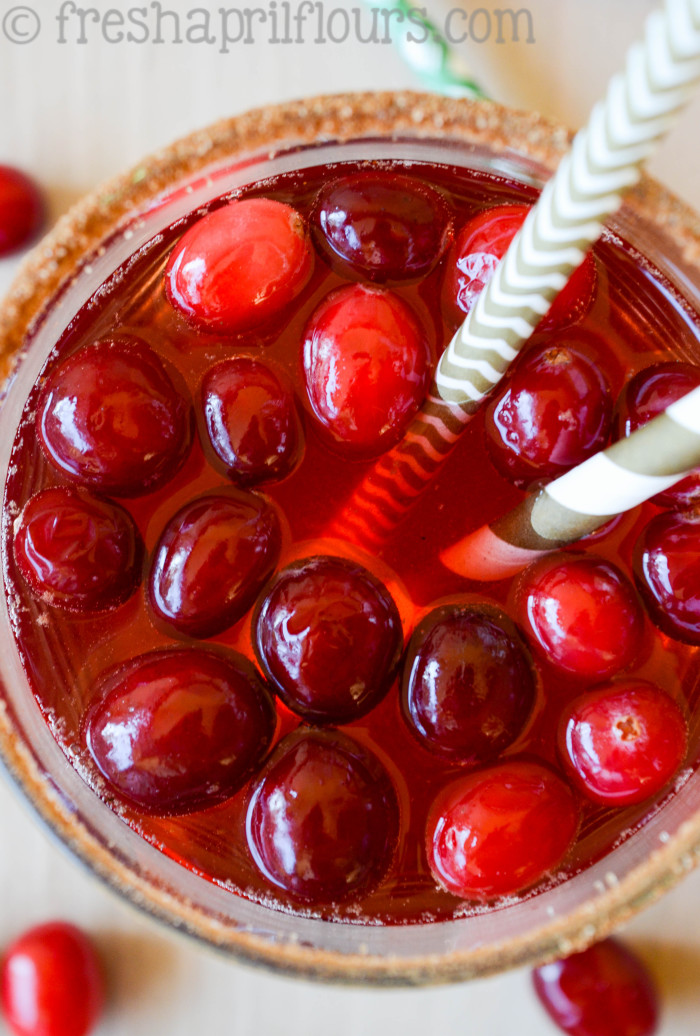 Well, this is different, yeah? I've been wanting to throw a drink on here for awhile now, but just hadn't gotten around to it.
I'll admit, this was a last minute recipe. It came about because I was doing some baking experimenting, and although it wasn't a total fail, the recipe still needs some minor tweaks. I'm thinking just another go will bring me success!
Anyway, the experimental recipe includes cranberries… So when I realized that recipe wasn't getting photographed and I had a lot of cranberries leftover, it only made sense to create my first drink recipe!
That's logical, right?
PLUS, my youngest brother-in-law turns 21 today, so cheers to THAT (love you, kiddo)!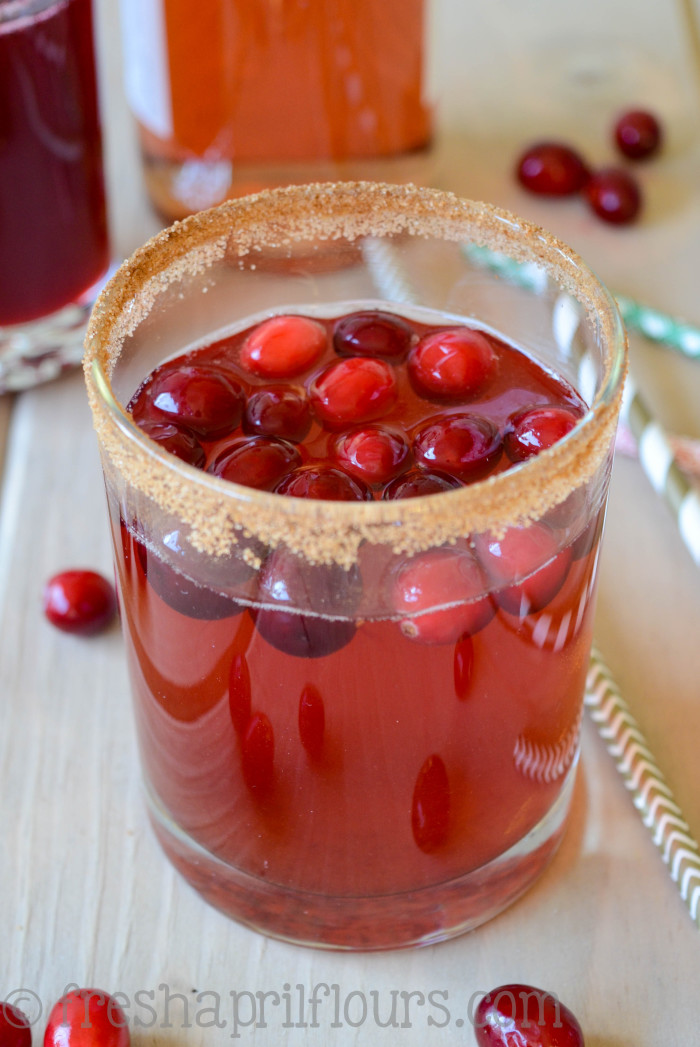 Speaking of food photography sessions, this is my first recipe with my new camera (!!!!). That's right, I graduated to the DSLR world. My previous camera was an amazing beginner camera, allowing me to learn all about aperture, shutter speed, and ISO without being too complicated.
This new camera is… A learning experience. But I've got a great coach (<– my good friend and website guru) and tons of things to take pictures of for practice! So if my pictures look extra fab today, that's because they are. Hollaaaaa!
Ok, enough about me. You're here for holiday sangria! But SURPRISE! You get 3 things out of this post…
1. a mulled cranberry simple syrup
2. a spiced cranberry chutney
3. a mulled cranberry sangria
A three-fer!
WHAT DOES MULLED MEAN?
So… Mulled. Are you familiar with mulled beverages? Typically, things that get mulled are apple cider and red wine. Mulling is just a fancy term for "warming (usually) a beverage that has been spiced with cinnamon, cloves, allspice, and/or nutmeg."
My mom used to make a big batch of mulled wine for her annual holiday party, and I remember it smelling so good and I wanted to taste it so badly, but I was very underage for many of her parties.
You're going to start off your sangria by making a mulled cranberry simple syrup. We've talked about simple syrup when we made pumpkin spice coffee creamer and also peppermint mocha coffee creamer, and I'm sure we'll talk about it again.
It's seriously simple (whoever named it = genius) as it's just equal parts water and sugar. You'll start with a cup of each, and to that you'll add some ground cinnamon, ground cloves, and some cranberries (fresh or frozen).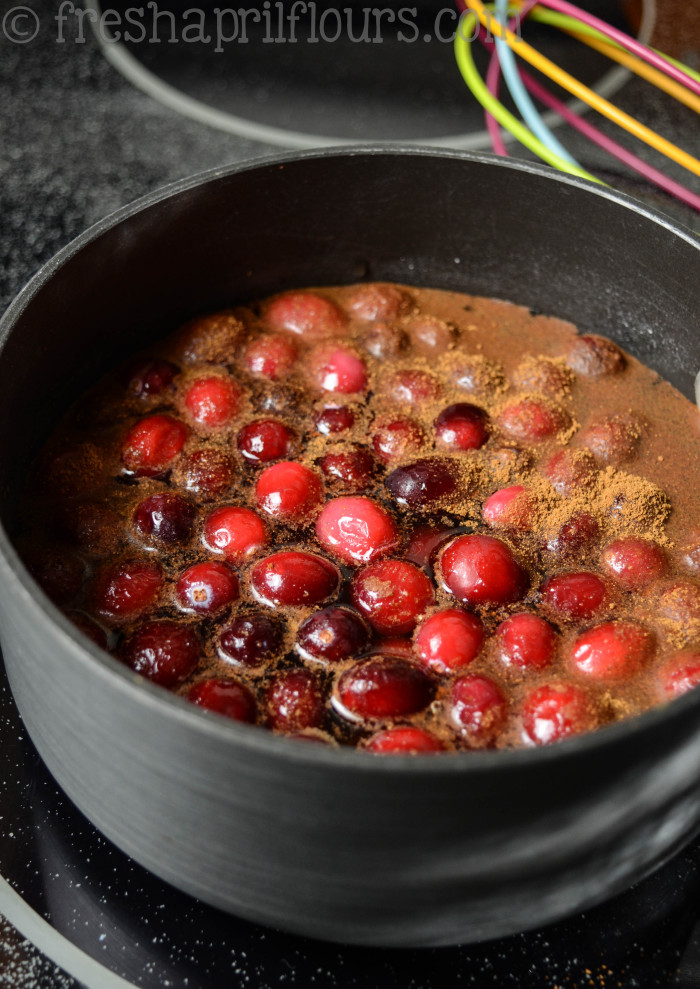 All of this gets heated on the stove, brought to a boil, and then immediately turned down to a simmer for 10 minutes. After 10 minutes, you'll find your home smells aaaamazing and that your cranberries are nice and macerated.
After this mixture cools down, you'll strain it through a mesh sieve and you're left with 1 cup of spicy, sweet liquid to add to cocktails and wine.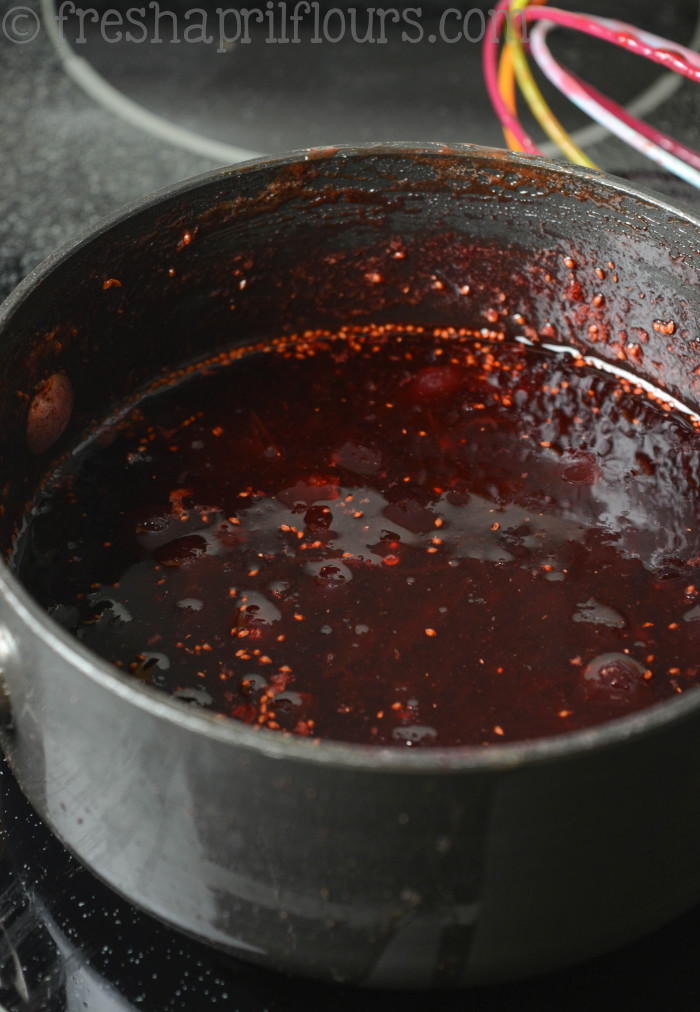 BUT DON'T GET RID OF THE CHUNKS OF CRANBERRIES. Just like that, you've made spiced cranberry chutney, which is another fancy term (what's with fancy terms anyway, huh??) for a cooked fruit/sugar/spices/often vinegar condiment typically used in Indian food.
We'll talk about what to do with your chutney in a bit.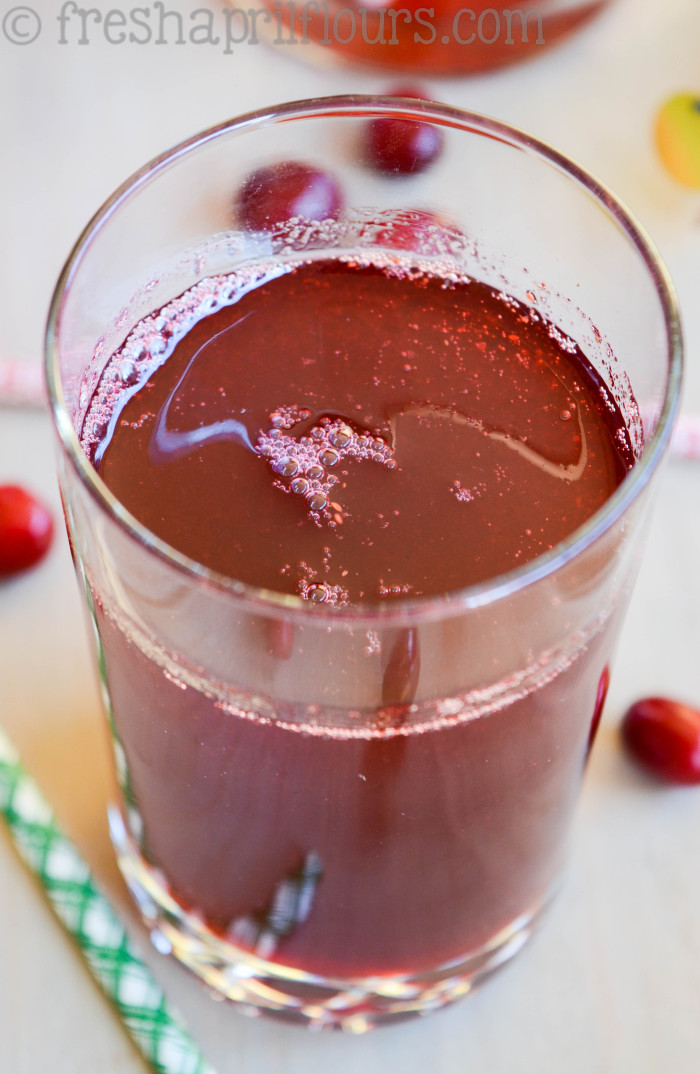 Back to the sangria.
Depending on how much sangria you want to make, you can use your mulled cranberry syrup glass by glass or make one big pitcher. I made one glass (6 ounces of wine) with 2 Tablespoons of syrup. This was the perfect combination for my tastebuds.
That converts to 8 Tablespoons per bottle (750 mL) of wine, so you can use your syrup for a different bottle! Or make double the sangria. Double the sangria sounds like the better option here, buuuuut that's just me.
Add some club soda to your sangria to make it a celebration! Or… Warm it up and make things really cozy. You could always use your syrup to spice up a vodka cranberry or any other cocktail you enjoy involving cranberry.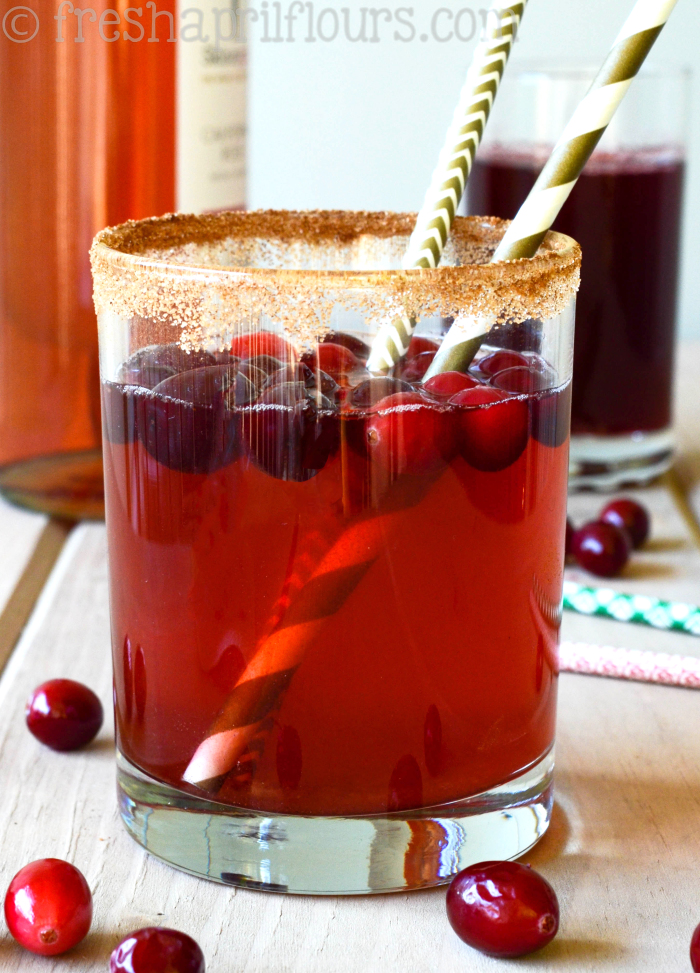 As far as the chutney goes… I enjoy just eating it, but you can also…
•spread it on crackers
•spread it on bread
•spread it on a block of cream cheese to eat with crackers and/or bread
•eat it with pork, lamb, or venison
•spread it on a sandwich
•use it at Thanksgiving (here is my actual recipe for homemade mulled cranberry sauce)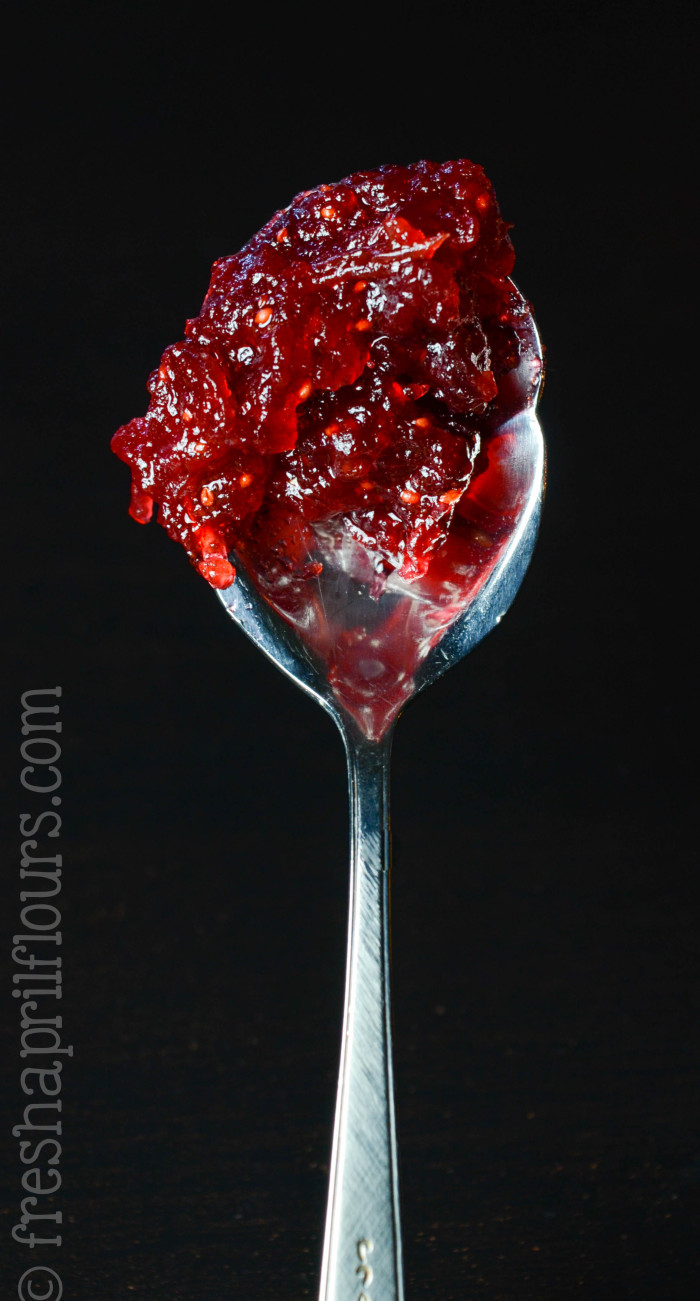 You're going to love this spiciness in your holiday sangria! Although the cranberries are sweetened up, their inherent tartness is definitely not lost. The cinnamon and cloves marry so nicely with each other to add just the right amount of seasonal flavor to every glass.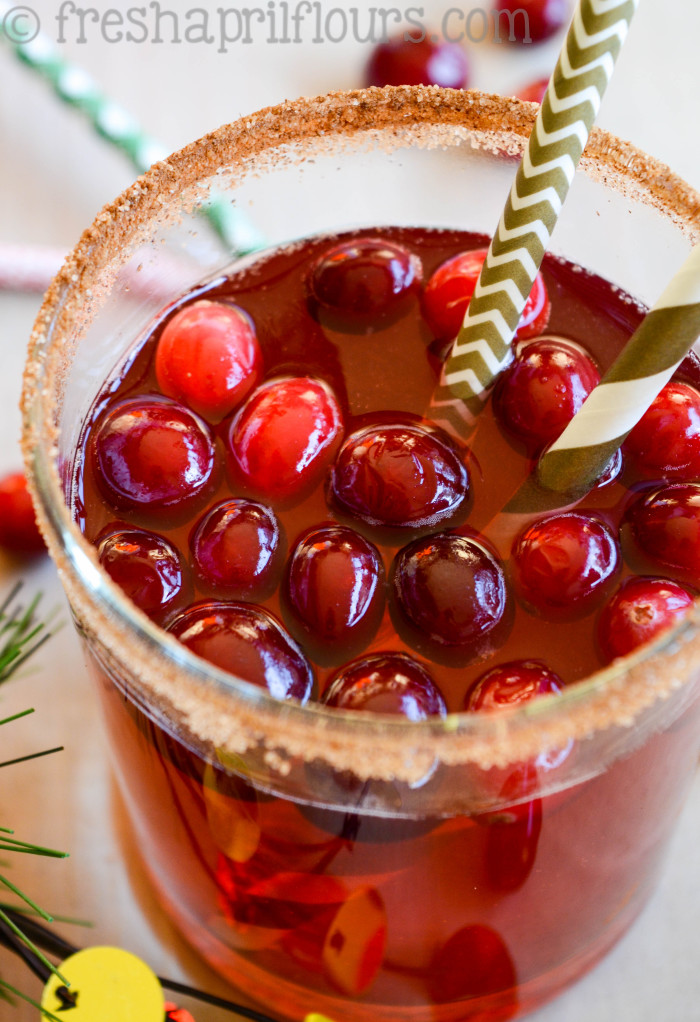 Cranberries, cinnamon, cloves, and wine… It doesn't get much more holiday-y than this, folks. Let's get to it. Bottoms up!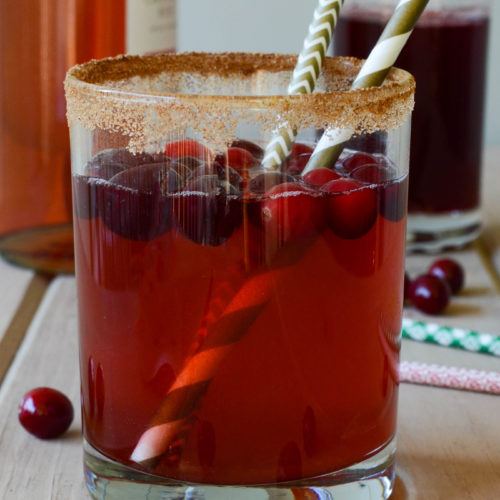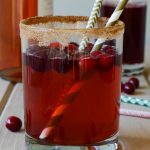 Print Recipe
Mulled Cranberry Sangria
A lightly sweetened sangria flavored with cranberries that have been mulled in cinnamon and cloves.
Ingredients
1

cup

granulated sugar

1

cup

water

1

teaspoon

ground cinnamon

1/4

teaspoon

ground cloves

3/4

cup

cranberries

fresh or frozen

1-750

mL

bottle of your favorite wine

I used a rosé
Instructions
In a medium saucepan over medium heat, combine sugar, water, cinnamon, cloves, and cranberries. This recipe produces quite a spicy syrup. If you're concerned it might be too strong for you, start with 1/2 teaspoon ground cinnamon and 1/8 teaspoon ground cloves, taste test after a few minutes of simmering, and add the rest if necessary. Bring to a boil and immediately turn down to a simmer. Simmer for 10 minutes, stirring frequently and being careful not to let mixture boil over sides of saucepan. After 10 minutes, cranberries will be macerated and mixture will have thickened. Allow to cool.

Once cranberry mixture has cooled, strain through a mesh sieve, cheesecloth, or fine strainer into a small container. Save the cranberry chunks and use as chutney.*

You should now have about 1 cup of mulled cranberry syrup. Use 1/2 cup per 1-750mL bottle of wine, or add 2 Tablespoons to each 6 ounce serving (or add to taste). You can also use your syrup for any cocktail in which you enjoy cranberry juice. Store mulled cranberry syrup in an airtight container at room temperature and use as needed (mixture will thicken as it cools-- heat up to return to liquid).
To serve chilled:
Add a touch of club soda (if desired) right before serving.

Moisten the rim of a glass with water and roll in cinnamon sugar (optional). Garnish with cranberries and ice (if desired).
To serve warm:
Heat wine and syrup in a large saucepan or pot over low heat until heated through.

Moisten the rim of a mug with water and roll in cinnamon sugar (optional). Garnish with cranberries (if desired).
Notes
Your spiced cranberry chutney can be used for spreading on crackers or bread, spreading on a block of cream cheese to eat with crackers and/or bread, with pork, lamb, or venison, on a sandwich, or at Thanksgiving.