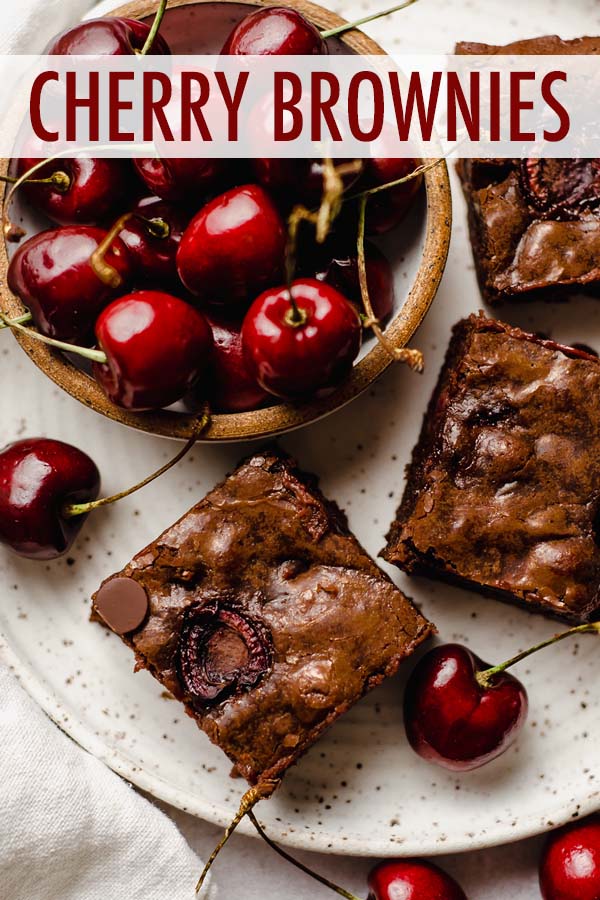 As an Amazon Associate, I earn from qualifying purchases. Read the full disclosure here.
Chewy and fudgy scratch brownies studded with plump and juicy Bing cherries and chocolate chips. You can also make these cherry brownies with sweet dried cherries or jarred Maraschino cherries.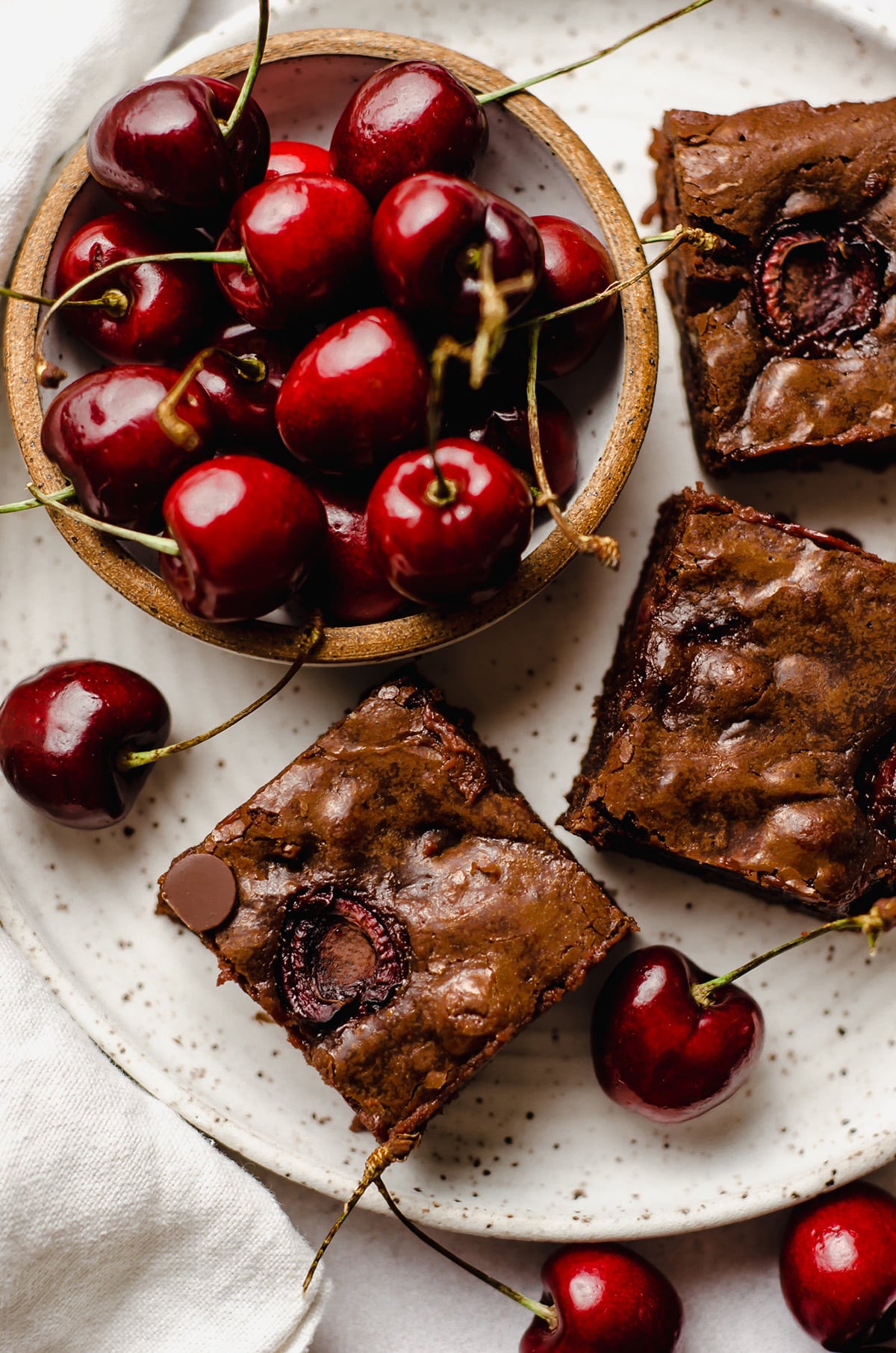 I wholeheartedly believe that the cherry + chocolate flavor combo is incredibly underrated in the dessert world. Cherry Garcia is my very favorite ice cream flavor and anything Black Forest (like my Black Forest cookies) is totally what I'll gravitate toward on a dessert menu.
Several years ago, I published these chocolate cherry brownies on my blog, and I originally used dried cherries.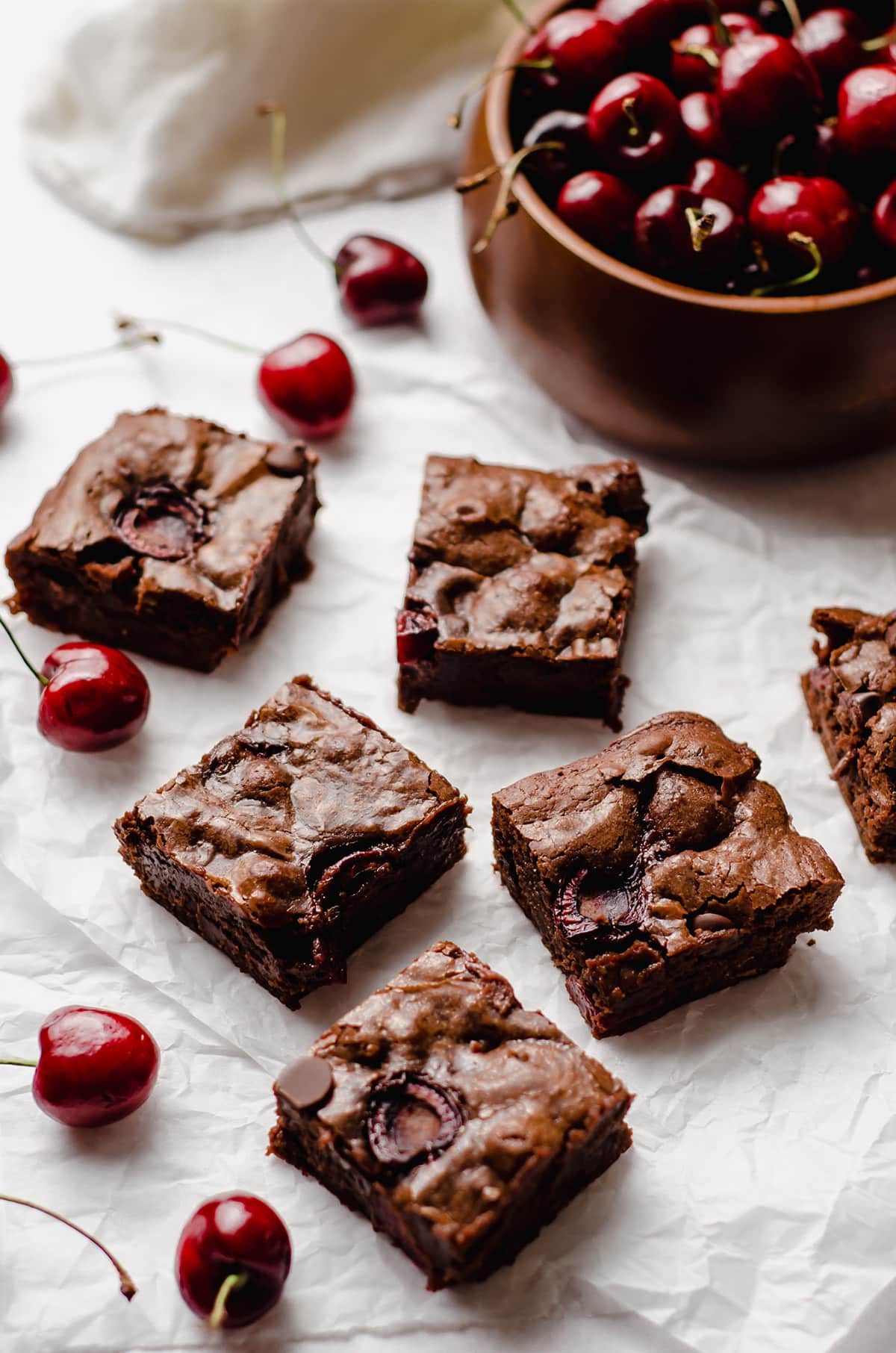 I've made them a bunch of times over the years and have tested out different types of cherries to use, and I'm happy to report that I'm updating the recipe to include instructions for all the kinds of cherries you might like and/or have available to you based on the season or your pantry.
Scratch brownies are nothing new around here. In fact, in 2020, I did a Brownie of The Month series, bringing 12 scratch brownie recipes to my collection.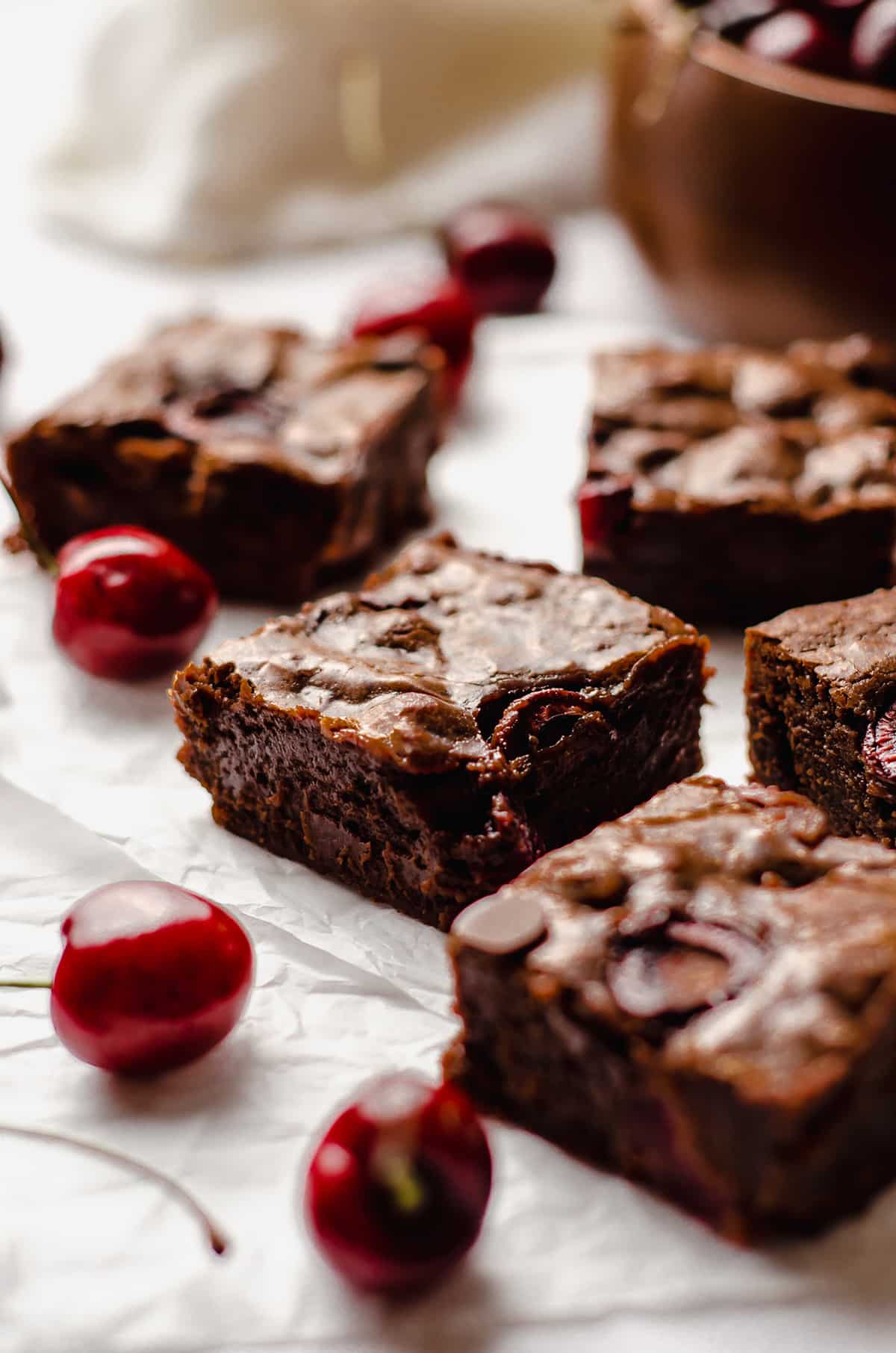 To kick that series off, I shared my favorite, go-to, basic homemade fudgy brownie recipe, which is the recipe I use for all of my brownie bases.
To be perfectly honest, these easy cherry brownies came first, and those basic scratch brownies were a branch off of these.
HOW TO MAKE CHERRY BROWNIES
Over the years of learning the ins and outs of brownies, I have kept one less egg in these brownies with cherries simply because whether we're using fresh cherries, dried cherries, or Maraschino cherries, there is a significant amount of added moisture from the cherries, so using just 3 eggs and not 4 helps keep them moist but not too moist.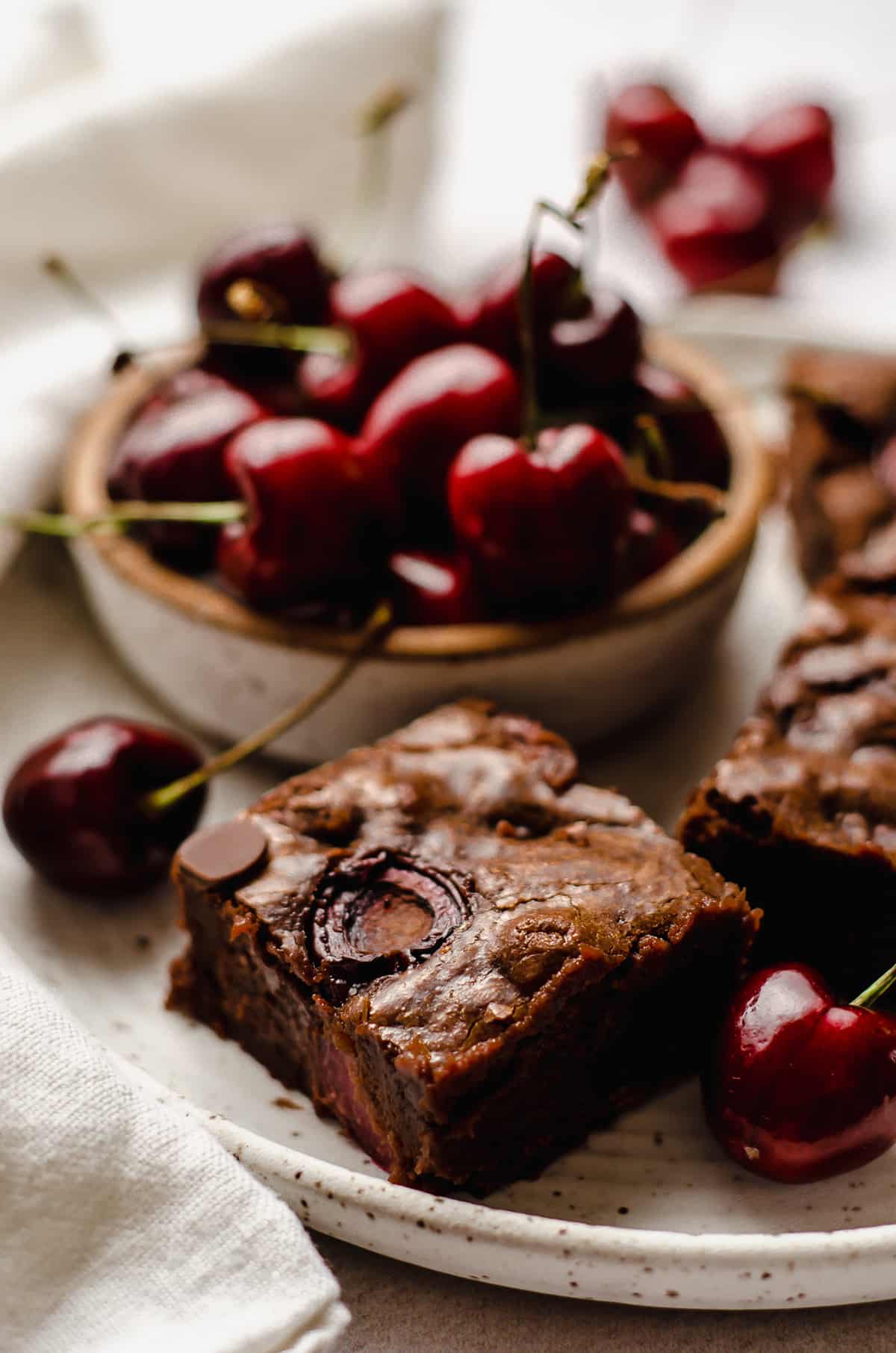 Among some of the other ingredients in my scratch brownie base are brown and granulated sugar, chopped quality chocolate, and a tiny bit of flour.
For the sugar, we're using mostly brown sugar with just a touch of granulated sugar. Why? Brown sugar makes things extra moist, which in turn helps keep these brownies fudgy. Plus, brown sugar has a deep, rich flavor. The granulated sugar is for that serious sweetness.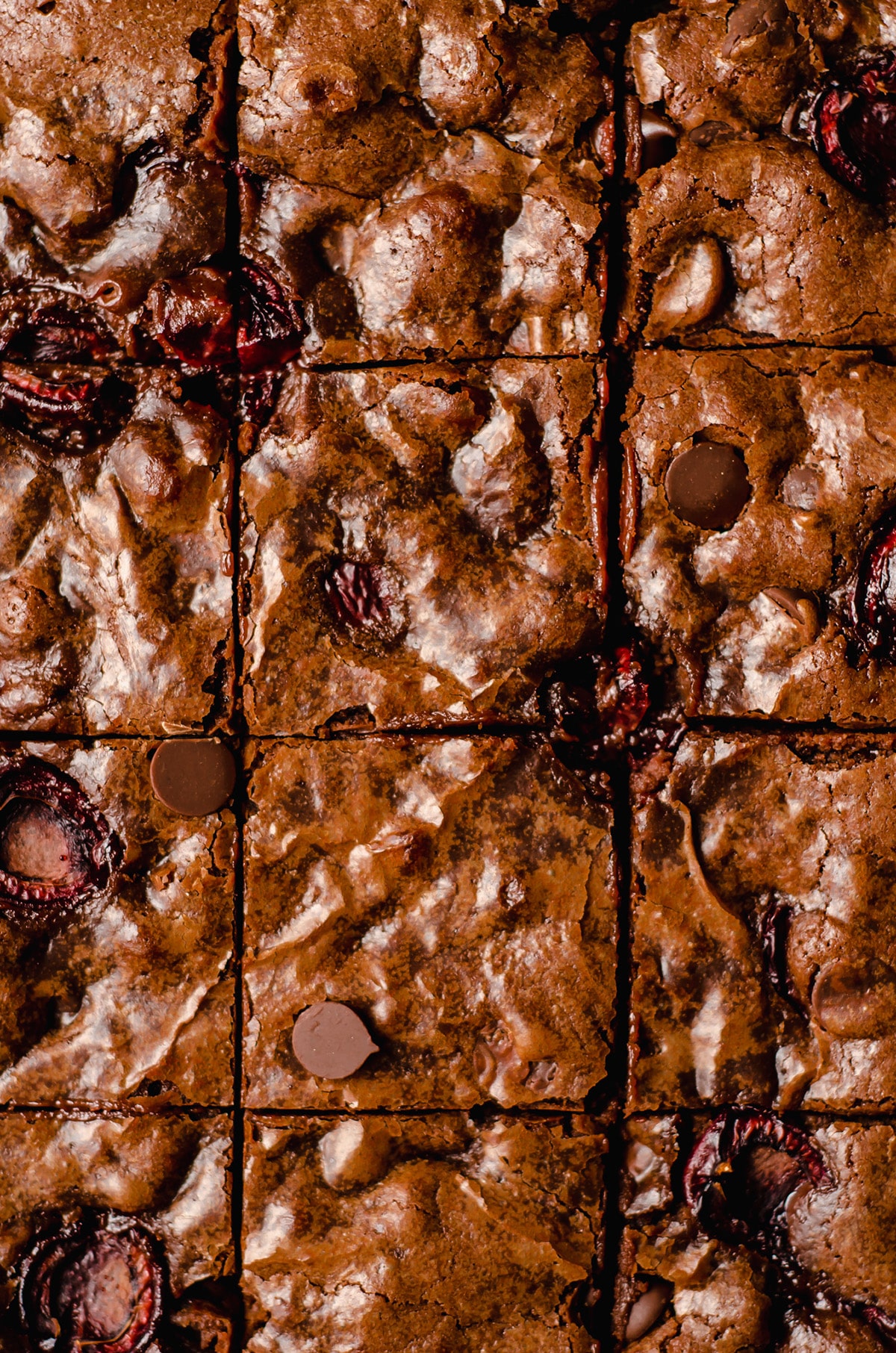 The addition of a small amount of flour is just the trick for puffing these brownies up ever so slightly so that you don't end up with a pile of fudge. Too much flour and you'll wind up with cakey brownies. We want these ones to stay nice and dense.
The final ingredients you'll add are some chocolate chips and then your choice of cherries.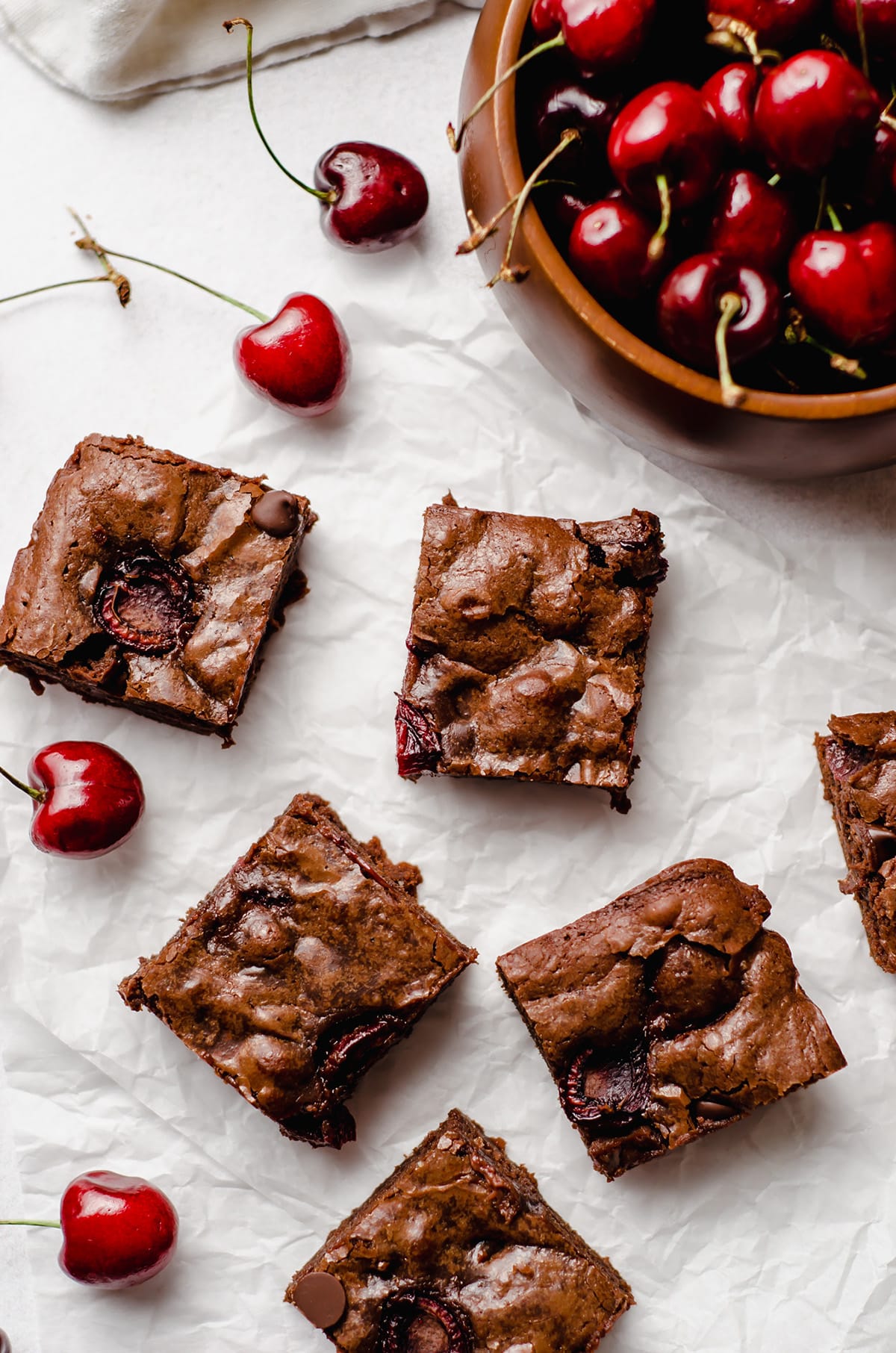 WHAT KIND OF CHERRIES DO I USE FOR THESE BROWNIES?
If you're using fresh cherries, you'll use 12 halved cherries. My favorite tool for pitting cherries is this cherry pitter. Ours is quite old, and this is the newer version. We LOVE it. It works perfectly every time!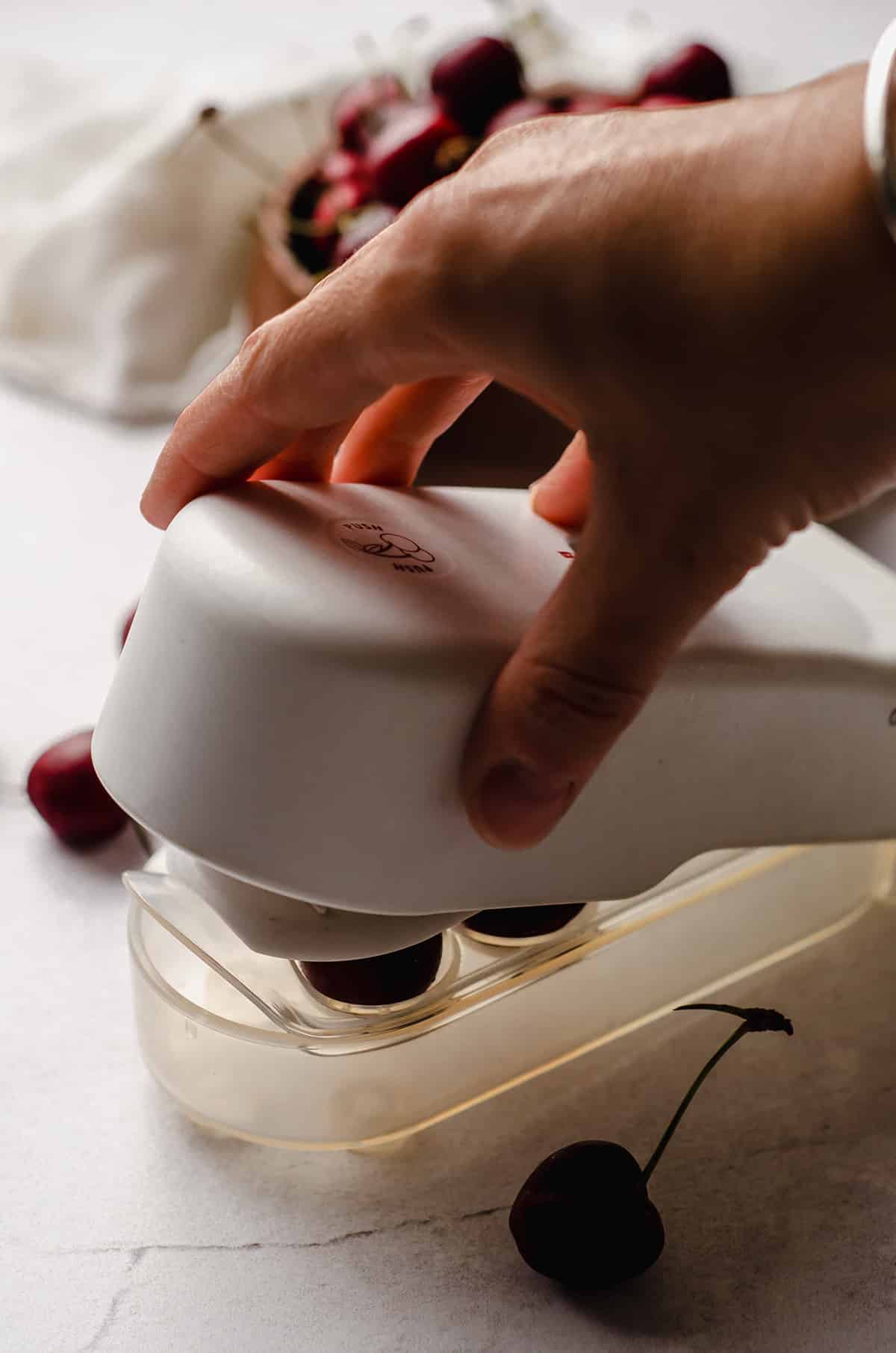 If you're using dried cherries, make sure you use sweet dried cherries and not the tart ones.
Prefer Maraschino cherries? Halve those as well, and aim for ¾ cup of them.
The chocolate chips bring some creamy chocolate pockets that pair oh-so-nicely with those juicy cherry bits.
My favorite thing about these fresh cherry brownies is that every bite has a delicious chunk of something.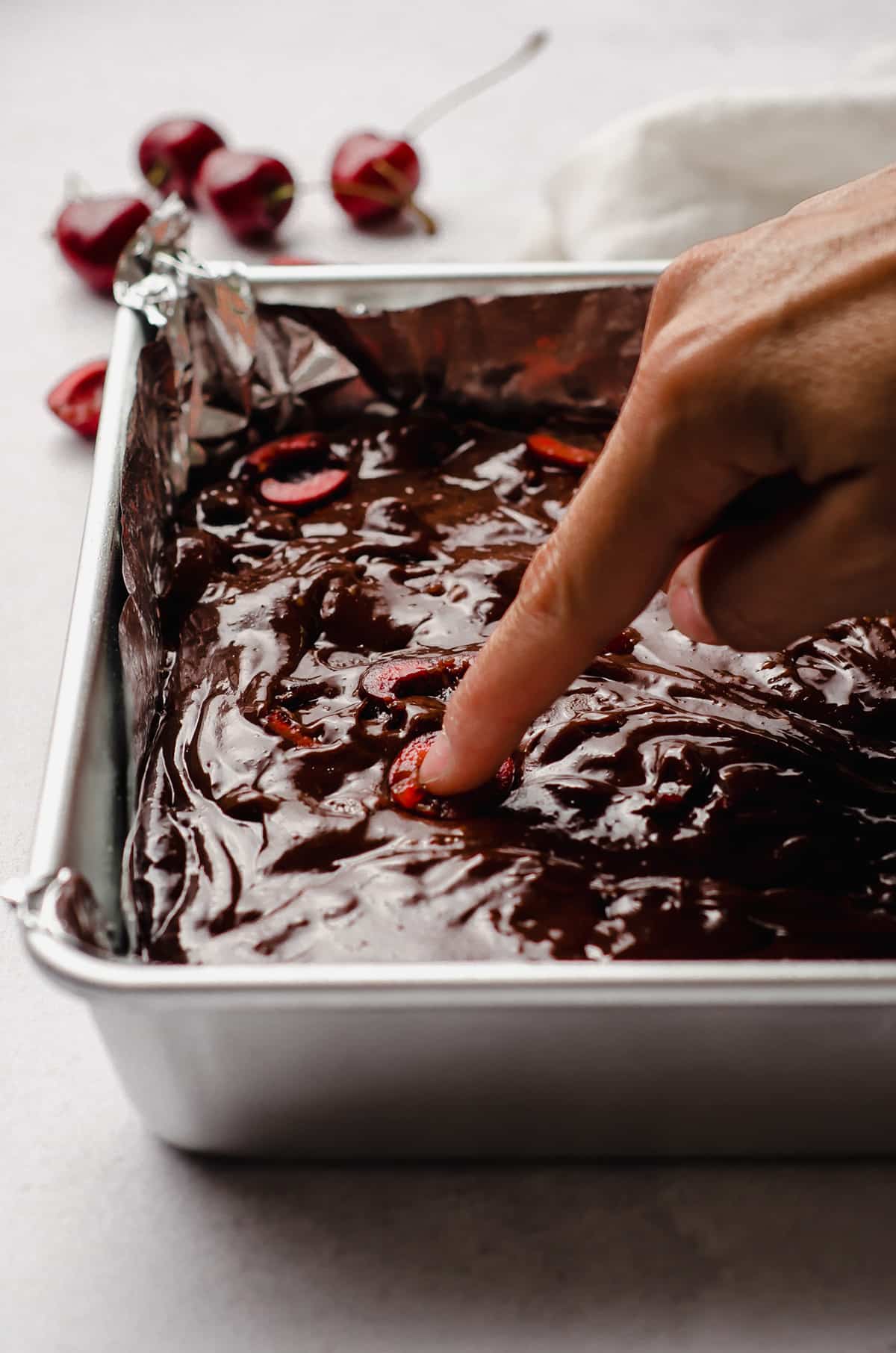 Whether that was a melty chocolate chip or a big ol' chunk of an actual cherry, I am always in brownie heaven when I dig into these cherry chocolate brownies.
There is cherry flavor in every single bite, and sinking your teeth into a plump cherry is the cherry on top (??? cherry in the middle?? WHAT?). I've typed the word "cherry" far too many times, and I think you get the idea that these brownies are incredible.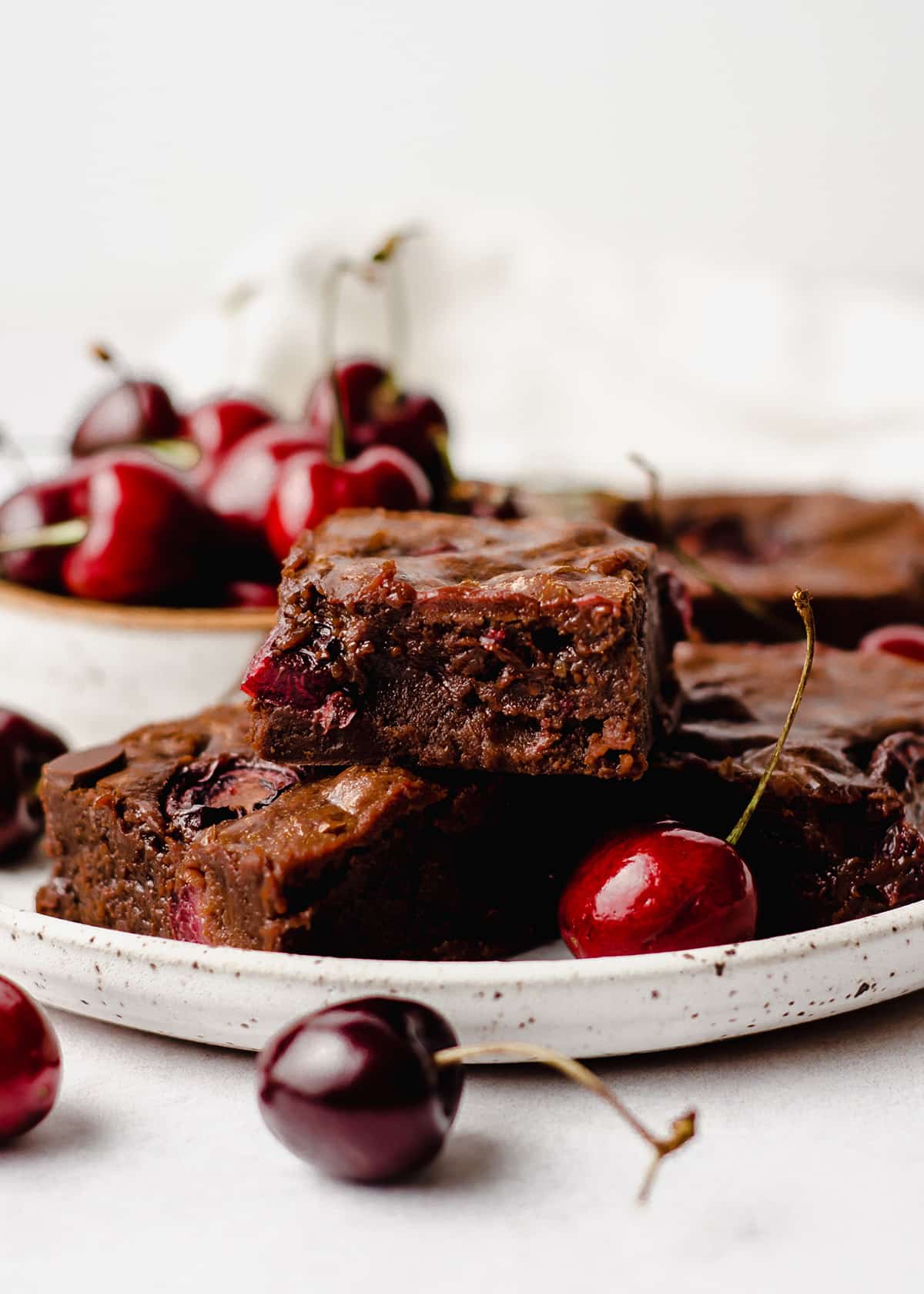 Fudgy, chewy, dense brownies with all the goodness of a chocolate covered cherry rolled into each and every bite. Now that's what I call a successful from scratch brownie recipe, and I'm excited to finally have this cherry brownie recipe span all seasons of cherries!
Cherry Brownies
Chewy and fudgy scratch brownies studded with plump and juicy Bing cherries and chocolate chips. You can also make these cherry brownies with sweet dried cherries or jarred Maraschino cherries.
Ingredients
½

cup

(113g) unsalted butter

cut into 6-8 slices

8

ounces

(225g) quality semi-sweet chocolate

coarsely chopped

¾

cup

(150g) firmly packed brown sugar

¼

cup

(50g) granulated sugar

3

large eggs

½

teaspoon

vanilla extract

¾

cup

(90g) all-purpose flour be sure to measure properly

¼

teaspoon

salt

½

cup

(85g) semi-sweet chocolate chips

12

fresh Bing cherries1 pitted2 and halved
Instructions
Preheat the oven to 350ºF (177ºC). Line the bottom and sides of an 8" or 9" square baking dish with aluminum foil, leaving an overhang on all sides. Set aside.

In a medium saucepan over medium heat, melt the butter and chopped chocolate, stirring constantly, until completely melted and smooth. Remove from heat, set aside, and allow to cool for about 10-15 minutes.

When the chocolate/butter mixture has cooled, whisk in the brown sugar and granulated sugars until smooth. Add the eggs one at a time, whisking until smooth after each egg addition, then whisk in the vanilla.

Gently fold in the flour and salt. After everything is combined, add chocolate chips and halved cherries and stir gently until evenly dispersed.

Pour batter into prepared baking pan, pressing additional cherry halves into the top of the batter, if desired. Bake the brownies for 28-32 minutes or until a toothpick inserted in the center comes out with only a few moist crumbs on it. Allow the brownies to cool completely on a wire rack before serving. Once cooled, lift the foil out of the pan using the overhang on the sides and cut into squares with a very sharp knife. Store leftovers covered tightly at room temperature up to 5 days. Brownies freeze well, up to 3 months. Thaw at room temperature.
Notes
Cherries: I have also used dried sweet cherries (not tart) and maraschino cherries. Use 1 cup of dried cherries or

¾ cup halved Maraschino cherries.

Pitting cherries: this is our favorite cherry pitter.
Adapted from homemade fudgy brownies
Nutrition Disclosure
All nutritional values are approximate and provided to the reader as a courtesy. Changing ingredients and/or quantities will alter the estimated nutritional calculations.
Serving:
1
brownie
|
Calories:
254
kcal
|
Carbohydrates:
29
g
|
Protein:
3
g
|
Fat:
14
g
|
Saturated Fat:
8
g
|
Polyunsaturated Fat:
1
g
|
Monounsaturated Fat:
4
g
|
Trans Fat:
0.3
g
|
Cholesterol:
47
mg
|
Sodium:
54
mg
|
Potassium:
159
mg
|
Fiber:
2
g
|
Sugar:
21
g
|
Vitamin A:
236
IU
|
Vitamin C:
0.4
mg
|
Calcium:
29
mg
|
Iron:
2
mg