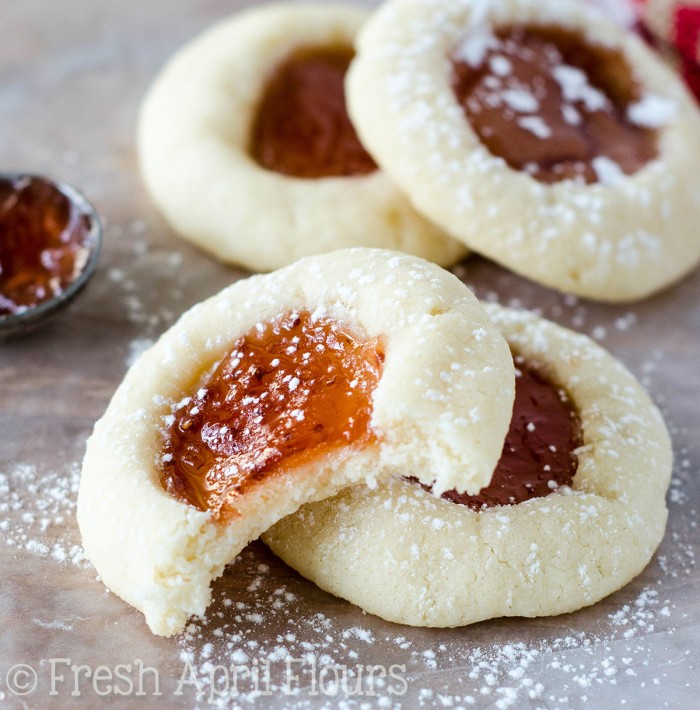 Hi. Me again. The crazy cookie lady. And this time, I've got a cookie that involves fruit, so… Consider it healthy.
Ok. It's not healthy at all, but it's EASY. So less stressful on you which in turn can be good for your health?
Uhh… I think I need a cookie break.
Ohhh, who am I kidding?? Let's get to recipe #8 in my 12 Days of Christmas Cookies!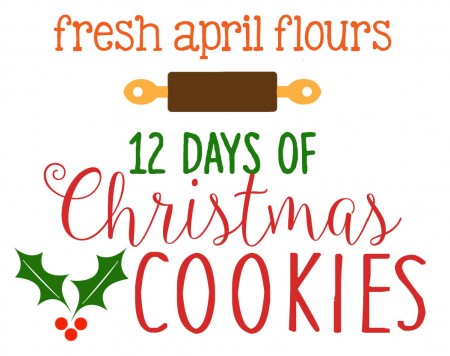 This cookie is iconic around Christmas time. A soft and buttery shortbread cookie becomes the vehicle for a puddle of jam or jelly. I mean… How delightful is that? Buttery and slightly salty + tart and fruity?? I'd like to give the inventor of thumbprint cookies a sticky jam high five.
Ok, I'm getting ahead of myself. Have you made thumbprint cookies before? I hadn't, so this was my first attempt. And as some first attempts go… I failed, HARD, twice before coming across the perfect combination of ingredients.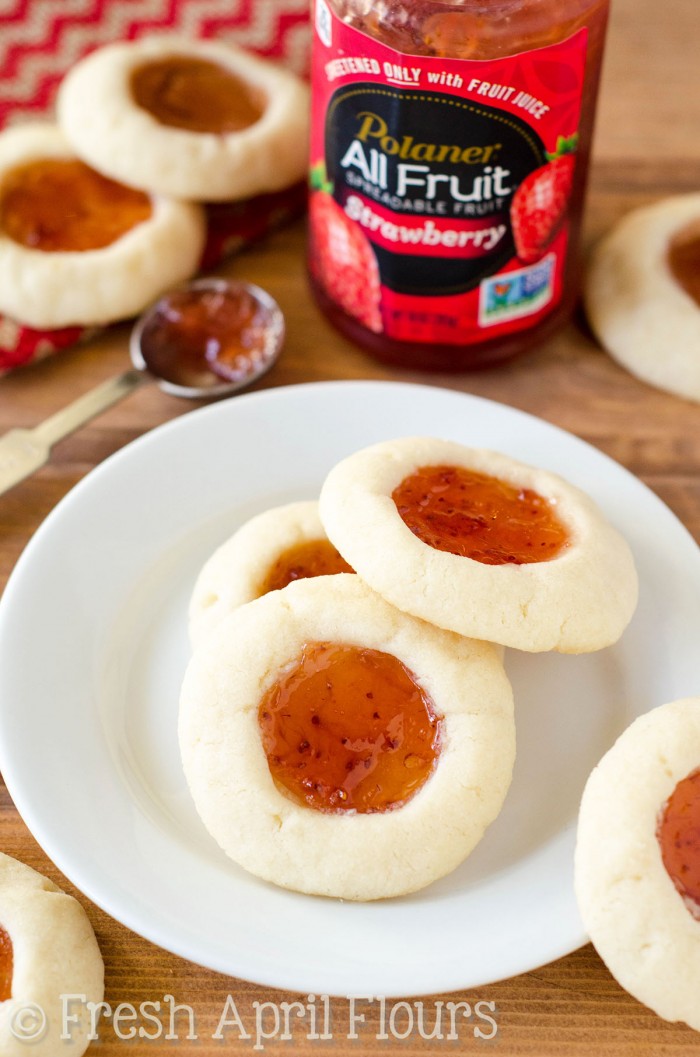 Let's have a little shortbread history lesson to earn our cookies. Shortbread is a traditional Scottish cookie typically made up of one part sugar, two parts butter, and three parts flour. With this ratio in mind, I went for what I figured would be gold. And it was not. I even chilled my dough overnight to ensure the butter was nice and hard. But they spread all over the place. See my hideous IG post here.
So, I tried again. I rolled my warm dough and then chilled it, hoping that the warmth of my hands wouldn't even touch the dough after it was chilled. Nope. Same spready deal.
So I consulted my bloggy/baking buddy Sally and she said to up my flour just a touch. And perfection!
Look how pretty!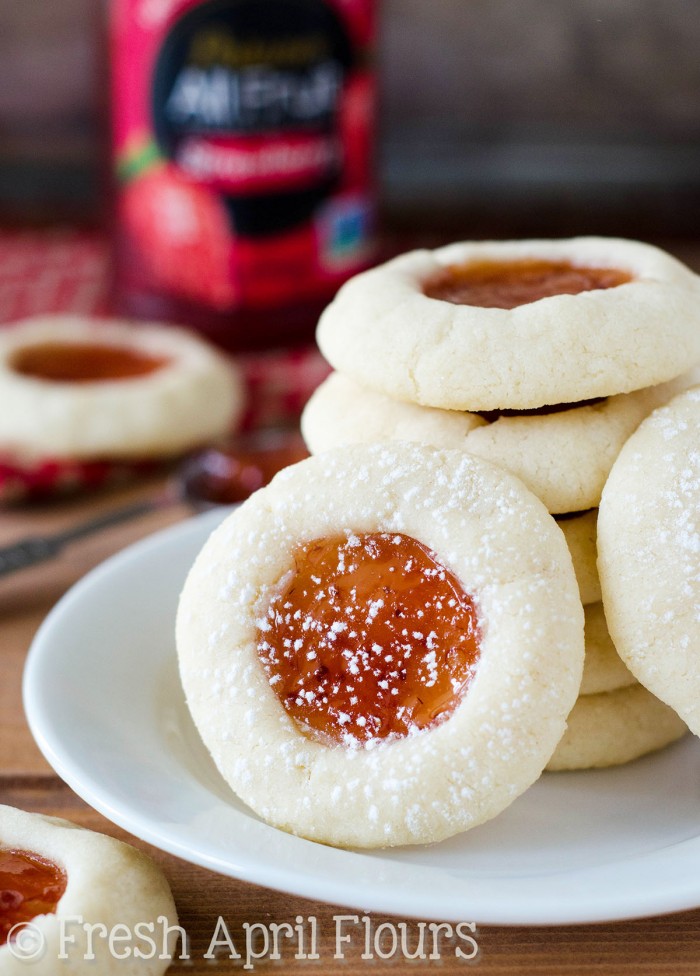 Why do I tell you this? I tell you this because I stress in my recipe that you must measure your flour properly, and this is the perfect example of why. Even the slightest bit off on your measurements, and you can totally have a complete recipe fail. But yes, the cookies did taste wonderful. They just looked horrendous. Ugh.
You'll also notice that these shortbread cookies contain no leavener and no eggs. Just butter, sugar, flour, vanilla, and salt. Just like my snowballs, which are also a shortbread cookie. The cookie dough will puff and spread in the oven, which is why chilling in the fridge is so important.
Once you have your dough all together, you're going to roll it into balls.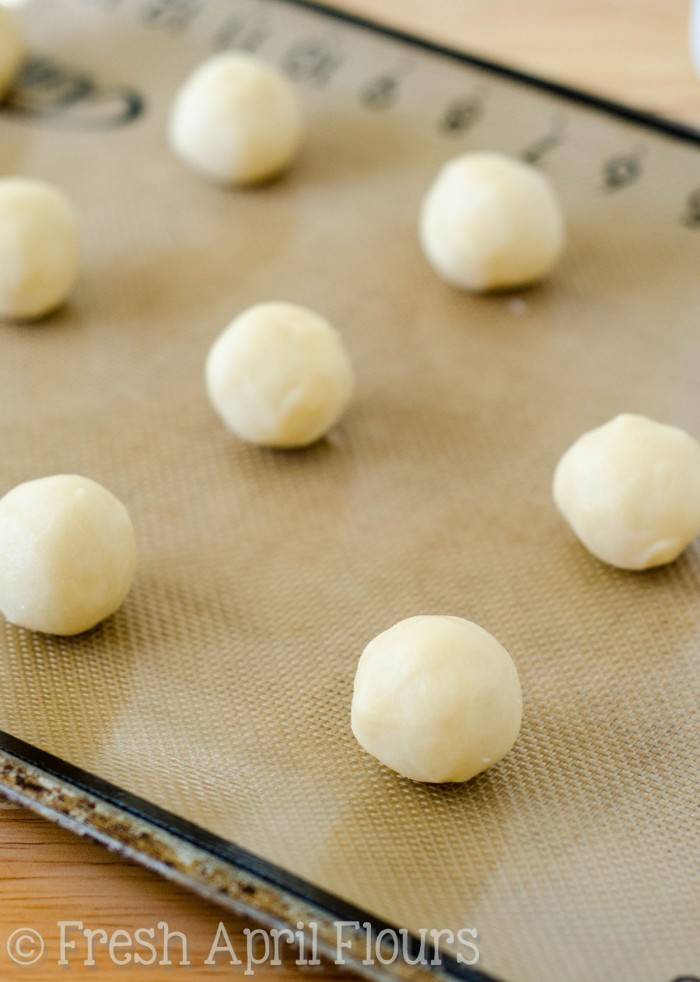 Then, you'll print them with your thumb* (hence, thumbprints, duhhh) and chill them for at least 2 hours. You can chill them for longer than this, but if you're going to chill for longer than just a few hours, I would cover them with plastic wrap. If you'd like to save room in the fridge and not put a big baking sheet in there, put your rolled and printed cookie dough balls on a plate. It will take up much less room, and you can just transfer the dough balls right before filling.
*your cookies will crack when you print them. This is completely fine. Smooth the cracks with the warmth of your fingers, if desired.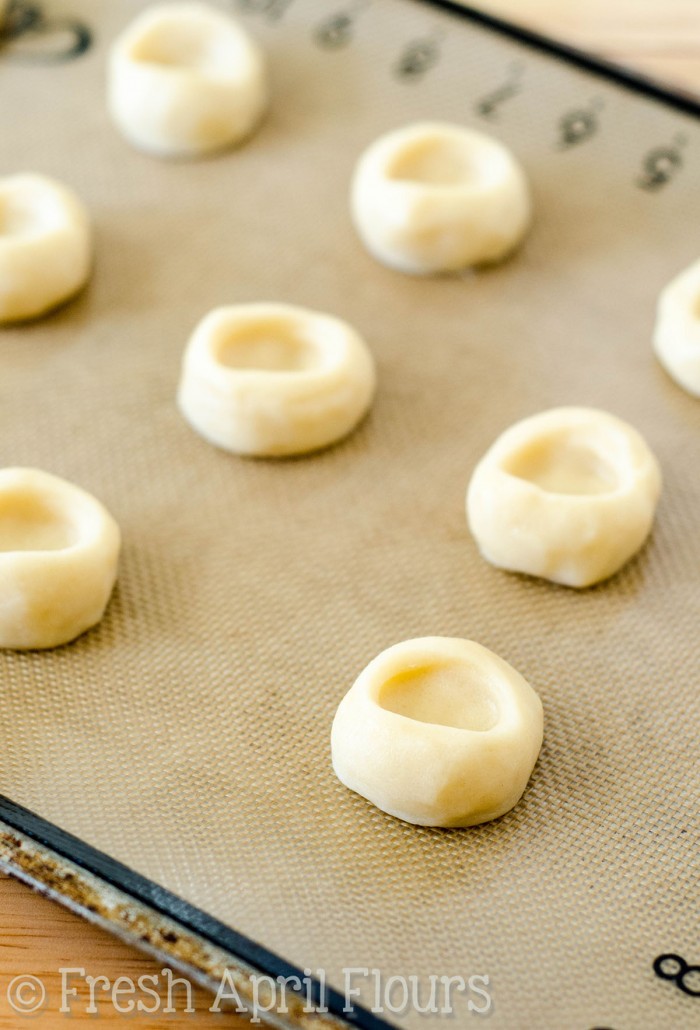 Once your dough balls are completely chilled, fill them with your favorite jam or jelly. I prefer seedless all fruit spreads. Any flavor! I used strawberry and raspberry, but in some of my failed batches, I used grape and also apricot. YUM! Whatever your preference.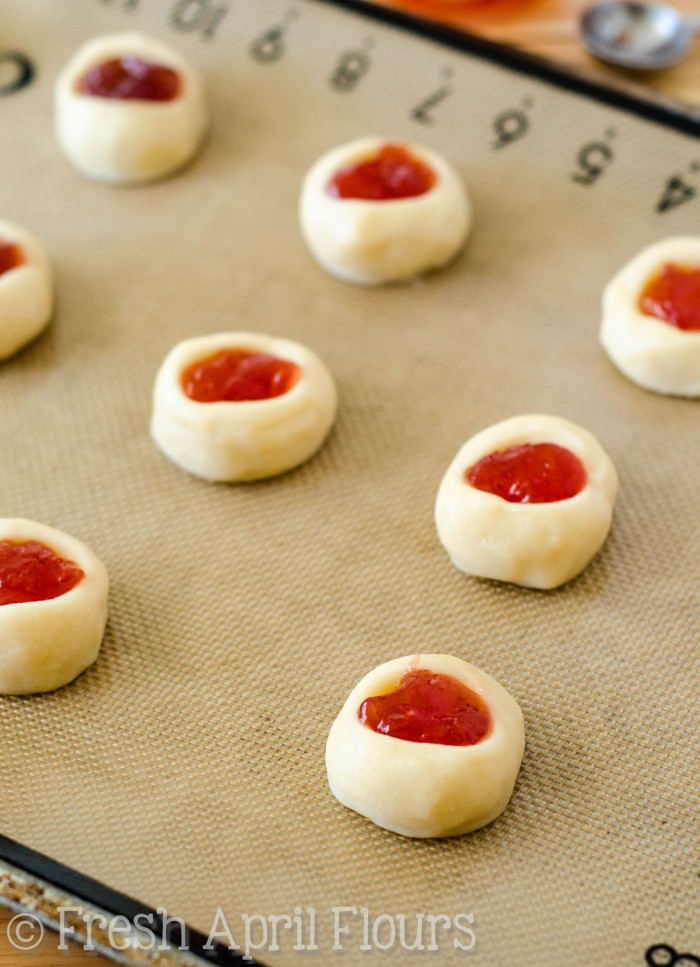 As I said, the cookies will spread. If you're doubling the recipe, do not put more than 12 cookies on a baking sheet at one time.
Once the cookies are completely cool, you can leave them plain or dust them with powdered sugar. I did both! Bump up that cuteness and make it look like snow with the added powdered sugar.
These cookies have become one of my favorite. I love that the jam/jelly you can fill the cookies with can be literally any flavor you want. And if you're like us and you have 4 jars of jams in your fridge at any given time, you can have a variety of cookies to taste test share with your friends!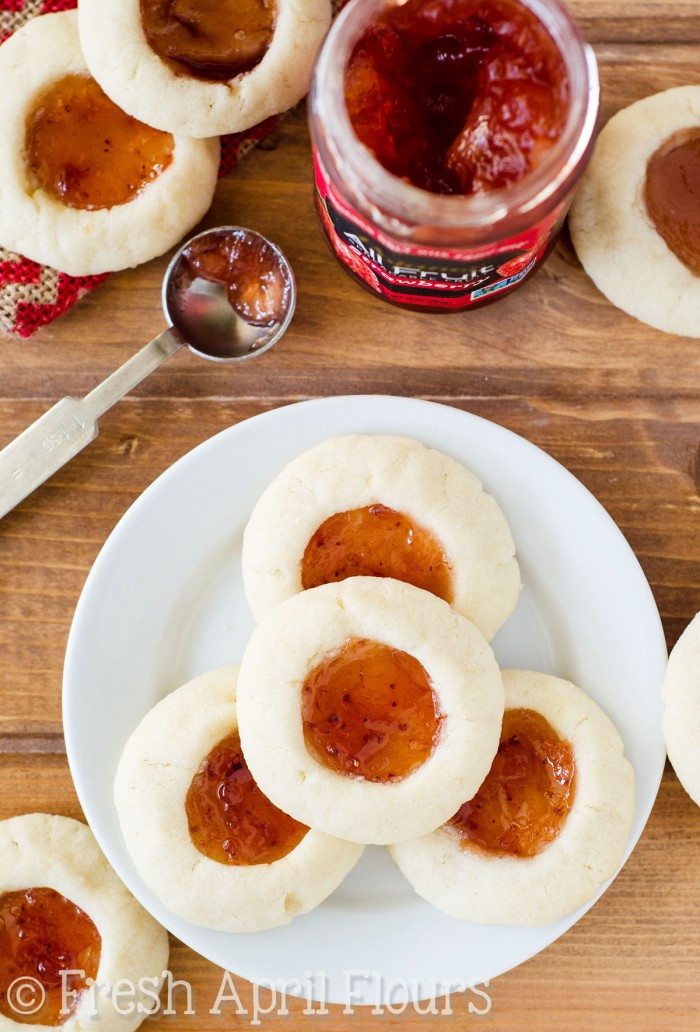 Plus, added variety and colors for your cookie trays!
Soft, buttery shortbread cookies with sweet fruity jam puddled all up in the center. A Christmas classic but a cookie that can fill up your cookie jar any time of the year. These would be perfect to fill with homemade jams and jellies, and even marmalade (oh man– orange marmalade thumbprints?! Someone make those for me!).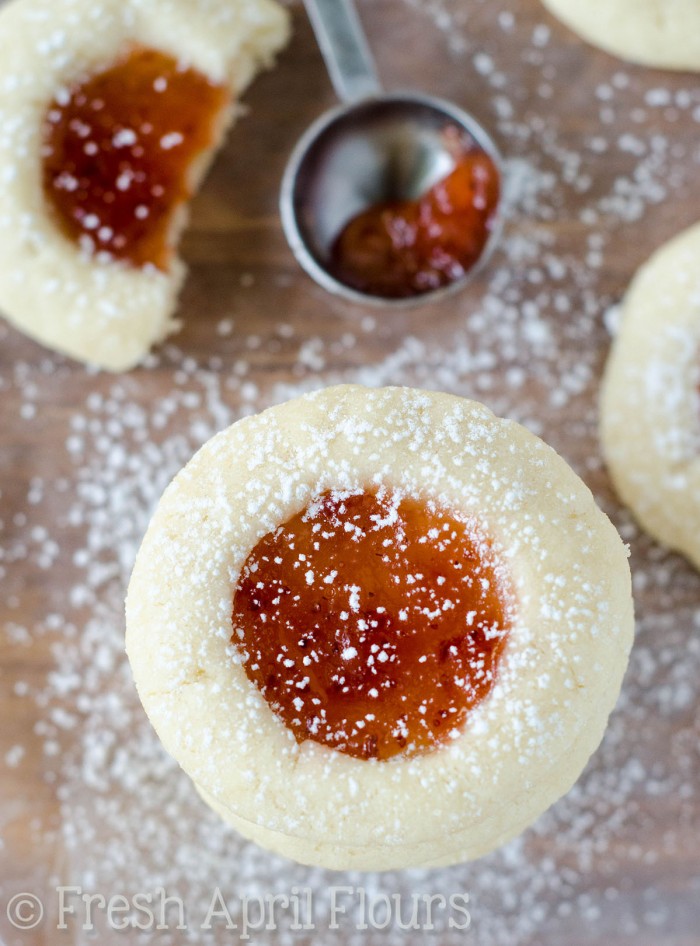 The cookie possibilities are endless! What flavor will you make yours?